By Lambert Strether of Corrente.
Readers, I took too long struggling in and out of my yellow waders, writing about the Donna Brazile and the DNC. Talk amongst yourselves, and I'll return in a bit with more. –lambert UPDATE 4:20PM All done. The material is a bit oddly distributed today, because I found myself writing several little mini-essays.
Politics
2016 Post Mortem
"The DNC/HFA Agreement & Donna Brazile's Growing Pile of Nonsense" [Josh Marshall, Talking Points Memo]. I don't link to Marshall for the same reason I don't link to other party organs like Breitbart; I mean, it's called "Talking Points" Memo for a reason, no? But just this one time… Putting aside the sloppy writing for a moment ("But they also wanted control over the building of the what they expected to inherit") check this out: "As I wrote in yesterday's post, there's nothing here that remotely qualifies as 'rigging' the election. That is inflammatory talk and frankly a smear. Just why Brazile went that route I do not know and don't care to speculate." As I wrote (see footnote 4, here) Brazile, in her Politico piece, does not actually claim that the primary was rigged, so she didn't "go that route." Marshall is a careless reader, besides being a sloppy writer. (I think Brazile is wrong, and Warren, who does claim the primary was "rigged," is right. And yet Marshall reserves his efforts at character assassination for Brazile only. One can only wonder why.)

"OPEN LETTER FROM HILLARY FOR AMERICA 2016 TEAM" [Medium]. 216 signatures (not including Clinton finance chair Gary Gensler, who was so helpful to Donna Brazile). A few points, first the second sentence of the lead:

It is particularly troubling and puzzling that [Brazile] would seemingly buy into false Russian-fueled propaganda, spread by both the Russians and our opponent, about our candidate's health.

.

Holy moley. When Clinton collapsed on September 11, 2016, and her staff had to drag her into her van like a sack of potatoes, the whole country saw it.

If these people think it took Russian propaganda to make people who saw that video concerned about Clinton's health, then it's no wonder they lost the election. (Clinton takes coumadin, as did my mother. My mother had a fall, hit her head, and the blood clot that formed killed her. When I saw Clinton fall, that's what I thought of. It didn't take Russians to make me think that.)

Second, this odd passage:

Finally, we are pretty tired of people who were not part of our campaign telling the world what it was like to be on the inside of our campaign and how we felt about it. We loved our candidate and each other and it remains our honor to have been part of the effort to make Hillary Clinton the 45th President of the United States.

I can't imagine who "the team" has in mind, here, because Brazile doesn't claim to be part of the Clinton campaign (except, I suppose, when she was passing them debate questions, for which they seem insufficiently grateful). Second, who cares if "we loved our candidate and each other"? Who cares? Spare me! The passage reminds me forcibly of Thomas Frank's portrait of ClintonWorld:

Everyone strode with polished informality about the stage, reading their lines from an invisible teleprompter. And back and forth, the presenters called out to one another in tones of supportiveness and sweet flattery.

… Chelsea Clinton, who announced herself "completely awed" by the "incredible swell of people and partners" who had participated in some event the previous day, invited us to hearken to the "inspiring voices of leaders, of communities, of companies, of countries."

Those were just the first few minutes. It kept on like that for hours. When someone's "potential" was mentioned, it was described as "boundless." People's "stories" were "compelling" when they weren't "inspiring," "incredible," or "incredibly inspiring."

Maybe if there had been fewer sycophantic Schwärmerei in the Clinton hive mind, it would have invested its resources in the states needed to win the electoral college, as opposed to running up the score in states that didn't matter; that "three million votes" talking point isn't proof of competence or even good faith; quite the reverse. Or maybe less worshipful staffers would have been able to help Clinton invent a good reason for running. Who knows?

Oh, and I almost forgot! The author of this screed, Jesse Ferguson, is the author of this piece, from Politico: "Democrats' Secret Weapon: Romney Voters." So you can see that Schumer's idea of throwing working class voters under the bus — those that are not already under the bus — in order to appeal to wealthy suburban Republicans is not only alive and well, it's regarded as credible by all 216 signatories of his "OPEN LETTER" in Medium. Wowsers.

"Why Donna Brazile's Story Matters – But Not for the Reason You Might Think" [Matt Taibbi, Rolling Stone]. Taibbi writes that "Actually, what Brazile found were things we mostly already knew." I don't agree; the detail is important. It's one thing to know that you've been the victim of sleight of hand; it's another to know exactly how the trick was worked. However, this:

The point of the Brazile story isn't that the people who "rigged" the primary were afraid of losing an election. It's that they weren't afraid of betraying democratic principles, probably because they didn't believe in them anymore.

If you're not frightened by the growing appeal of that line of thinking, you should be. There is a history of this sort of thing. And it never ends well.

The defenestation of Ellison and the purging of Sanders people from the DNC fall into much the same pattern.

Recently, a reader commented that a lot of the material in "2016 Post Mortem" could also fit in "Realignment and Legitimacy." How right they were!
2017
"Virginia Governor – Gillespie vs. Northam" [RealClearPolitics]. The average of all polls: Northam 3.3% (Friday: 3.5%). Monmouth; FOX.

"There seems to be little doubt that [the Gillespie vs. Northam] race is narrowing in the final days, although there is disagreement among pollsters as to just how much…. Some of this variability we see isn't due to sampling effects; it is due to pollster assumptions about what the electorate looks like" [RealClearPolitics]. "[T]his is entirely independent of the error you see reported in error margins. Worse, you can't minimize this error through aggregation. To borrow statistical terms, there's no Law of Large Numbers for opinions; while I suspect these errors average out to zero over time, there's no formal proof for this." Very useful; the whole thing is worth a read.
Stats Watch
A dull day in the world of official statistics!
Employment Situation: "October 2017 Conference Board Employment Index Growth Rate Significantly Improves" [Econintersect]. "The Conference Board's Employment Trends Index – which forecasts employment for the next 6 months improved with the author's saying 'The bounce back in the Employment Trends Index in October was one of the largest monthly increases ever.'" The Conference Board index is an aggregate of indices; Econintersect comments; "Unfortunately many of these indices are not accurate in real time being subject to at times significant backward revision."
Retail: "The e-commerce giant generally controls pricing only on the goods it sells directly, but the new lower prices come with a tag that the "discount is provided by Amazon." The discounts could be a mixed bag for some merchants, helping drive sales at no extra cost to the seller while unexpectedly depleting inventory. And they could violate a merchant's agreement with a brand on pricing of products. Third-party sales have become more important to Amazon, boosting revenue without adding inventory, and the company is showing it's willing to pay for a bigger share of the market" [Wall Street Journal]. Since Amazon — unlike the supplier — doesn't have to make a profit, and because there's still so much free money sloshing about, the "discount provided by Amazon" can be just about anything, can't it? Isn't this a weird, even a Soviet-style, pricing signal?
Retail: "Kroger Co. plans to launch an apparel line in the coming year in a bid to bring more shoppers into its stores" [Wall Street Journal]. "The clothing line will operate under a private-label umbrella, part of a broader move by the grocer to push its own branded products." I grew up in the Midwest, and I have very fond memories of the Kroger logo (they gave Green Stamps). So I think they should plaster the Kroger logo all over everything, heck with the private label: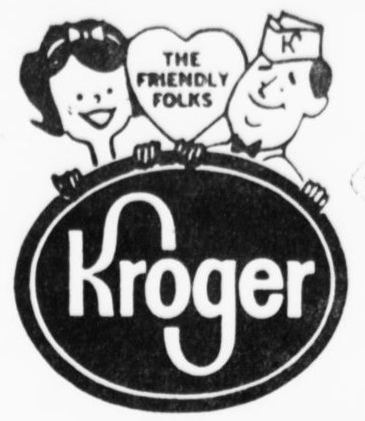 It's so retro, it's futuristic!
Big Ag: "Americans may have some competition this year for a staple of their holiday dinner table. A newfound taste among Chinese consumers for cranberries is turning the berries into a booming export busines" [Wall Street Journal]. "the consumer tastes for those imports are triggering more investment in supply chains within China, including the refrigeration needed to get the goods to market." If refrigeration means that the default Chinese food shopper doesn't shop for fresh food every day, that will be very bad not only for Chinese cuisine, but for Chinese health. Bring on the High Fructose Corn Syrup!
The Bezzle: "WeWork Is Launching a Grade School for Budding Entrepreneurs" [Bloomberg]. "The $20 billion startup, built on a vast network of hip co-working spaces where entrepreneurs and freelancers rent desks, is making its move into children's education, launching a private elementary school for "conscious entrepreneurship" inside a New York City WeWork next fall. A pilot program of seven students, including one of the five young children of WeWork Cos. founders Adam and Rebekah Neumann, is under way." So it's a vanity project, then? Good of the "founder" squillionaires to use their own kids as guinea pigs, I must say; better than Gates, and DeVos, et al. Skin in the game, if not precisely one's own.
Concentration: "TL;DR Chrome team breaks web to make Chrome perform better" [tonsky.me]. Horrid mixture of technical detail and sausage making at a large monopoly.
Honey for the Bears: "Bank credit growth continues to decelerate, to where historically, after revisions, the economy would already be in recession. Housing and vehicles look like they are already reporting negative growth, and personal income growth has decelerated to about 0% growth, with personal spending holding positive only because people are dipping into savings, which historically has always been followed by a reduction in spending" (lots of FRED charts) [Mosler Economics]. Bumblebees can't fly. And they don't really make honey, either. But Mosler is always worth reading, this post especially. Readers, thoughts?
Rapture Index: Closes up 1 on Oil Supply/Price. "The price of oil has new yearly highs" [Rapture Ready]. Record High, October 10, 2016: 189. Current: 185.
Today's Fear & Greed Index: 66 Greed (previous close: 69, Greed) [CNN]. One week ago: 74 (Greed). (0 is Extreme Fear; 100 is Extreme Greed. Last updated Nov 2 at 8:00pm. Yes, that's the date. A year ago: 14, Extreme fear. Election day was coming!
Health Care
"[A]pparently, even in California, one out of five consumers will see premiums increase because of the termination of CSR payments" [STATE OF CALIFORNIA, et al., Plaintiffs, v. DONALD J. TRUMP, et al., Defendants, ORDER DENYING MOTION FOR PRELIMINARY INJUNCTION]. This is a case denying the State's request for an injunction against the Trump administration's termination of CSR payments. Many states, including California, implemented the "Silver Switcharoo" (see Naked Capitalism here), in essence dickering with the prices of Silver plans to make sure the government subsides, once provided by the CSR payments, continued through another mechanism. And so — surprise, surprise! — 20% of consumers will be screwed by the Silver Switcharoo, some going to Happyville, and others to Pain City. And nobody knows why! The judge writes: "[T]he states certainly haven't offered a concrete explanation for why some people might see increased premiums." it would be funny if it weren't so sick…
"If you live in one of the places where the gold plan is cheaper than the silver plan, and you earn more than about $24,000, you should not buy the more expensive silver option. The gold plan will cost less, and have a lower deductible. There are also high-deductible bronze plans that will have substantially lower premiums that you may also want to consider. If you qualify for a government subsidy, those will be your best options" [Margot Sanger-Katz and Kevin Quealy, New York Times]. Thank heavens we've got the neoliberals at the Times to explain to us how to be "Smart Shoppers." I love that "about $24,000." How much to you wanna bet that if you're on the bubble, a few dollars this way or that make a huge difference? But wait! There's more!
"How to Be a Smart Obamacare Shopper" [By Margot Sanger-Katz and and Haeyoun Park, New York Times]. "But the pricing chaos has also created great deals for some consumers, who can sign up during open enrollment beginning today. Here's our advice on how to shop — the best strategy depends on how much you earn." Of course it does…
"Unlike Single Payer, Obamacare's Design Neglects Black People" [People's Policy Project]. "Consider that the United States, as a deliberate feature of monetary policy, maintains about a 4% unemployment rate. This alone is damning evidence against an employment-based model. Then note, highlight, and carve deep into memory that black unemployment consistently doubles white unemployment, that the same is true of black poverty, and that the median white family is worth more than 33 times the median black family. The outcome is about what you'd expect: higher uninsured rates among black people. And a higher likelihood of experiencing all the horror that comes with―needless financial and physical ruin chief among them."
"What Canada taught Bernie Sanders about health care" [Vox]. "'It was interesting to talk to patients who said, 'We believe health care is a right,' Sanders responded. 'I think if you walked out in the street and you talked to people, they would find it inconceivable that somebody would not be able to get the health care they need because they don't have that money.' Sanders is pointing toward a genuine chasm in the values that separates America from Canada. Recent Gallup polling finds that 52 percent of Americans believe the government should guarantee access to health care and 45 percent disagree." Of course, if liberal Democrats would stop taking the conservative side on this issue, we might push 52% to a supermajority.
News of the Wired
"Current World Record of distant landscape photography" [Beyond Horizons].
"Facebook Says It's Policing Fake Accounts. But They're Still Easy to Spot." [New York Times]. So if they're so easy to spot, why do they influence anybody? "Serious question," as they say.
* * *
Readers, feel free to contact me at lambert [UNDERSCORE] strether [DOT] corrente [AT] yahoo [DOT] com, with (a) links, and even better (b) sources I should curate regularly, (c) how to send me a check if you are allergic to PayPal, and (d) to find out how to send me images of plants. Vegetables are fine! Fungi are deemed to be honorary plants! If you want your handle to appear as a credit, please put it in the subject line. Otherwise, I will anonymize by using your initials. See the previous Water Cooler (with plant) here. Today's plant (KH):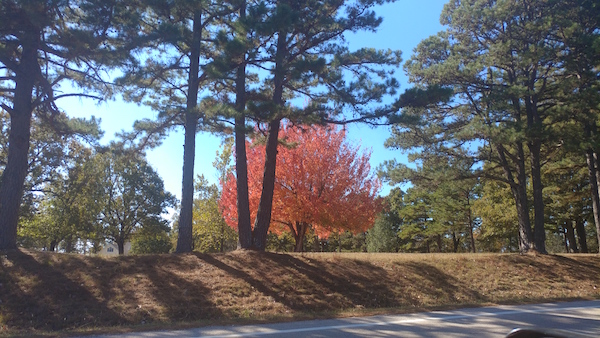 KH writes: "Caught this beauty outside of Yellville, Arkansas today. Aloha!"
Also, it would be nice to have more pictures of people's gardens buttoned up for the winter, for those of you for whom winter is coming. And fall foliage, ditto. Looks like most of the country is past the peak, but maybe people have some images sitting in their camera's memory…
* * *
Readers: Water Cooler is a standalone entity not covered by the NC fundraiser. So do feel free to use the dropdown and click the hat to make a contribution today or any day. Here is why: Regular positive feedback both makes me feel good and lets me know I'm on the right track with coverage. When I get no donations for five or ten days I get worried. More tangibly, a constant trickle of small donations helps me with expenses, and I factor that trickle in when setting fundraising goals. So if you see something you especially appreciate, do feel free to click the hat!