Jerri-Lynn here: Interesting post, discussing who is behind the influential Legatum think tank–  source of some of the misguided and magical thinking that's seduced many elite Brexit supporters, both in politics and the media
By Peter Geoghegan, an Irish writer and journalist based in Glasgow. His books include 'A Difficult Difference: Race, Religion and the 'new' Northern Ireland'. Originally published at openDemocracy
It's arguably the most influential think tank in the country, pushing a free market pro-Brexit vision and enjoying privileged access to media and ministers. But what does their background in 'disaster capitalism' tell us about Legatum's Brexit agenda?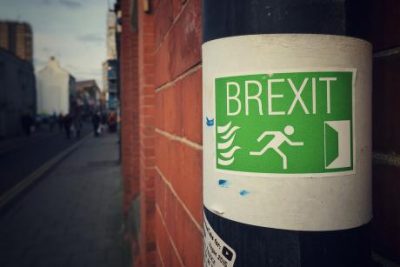 In June 2016, the Legatum Institute was just another free market think tank floating around the edges of Westminster. If you'd heard of it at all, it was probably for its regular 'prosperity indexes', which provided fodder for countless news stories about the happiest, richest and even the 'most hard-up' places to live.
Fast forward less than eighteen months. Legatum is now the Brexiteers' think tank of choice.
Funded by a Dubai-based, New Zealand-born billionaire as well as around 40 mostly anonymous donors and based in plush Mayfair offices, Legatum has the ear of large sections of the British media and government.
But former Legatum employees and others we spoke to called into question the think tank's experience and raised concerns about the burgeoning influence of the group. Labour MP Ben Bradshaw recently called for the UK government "to look at the Legatum Institute, its relationship with the Government, and the background of its founder and main funder, Christopher Chandler."
Legatum's belief that Britain should remove all tariffs has almost become an article of faith for leading eurosceptics, including Brexit minister Steve Baker. In a recent Times op-ed Shanker Singham, chairman of Legatum's self-styled 'special trade commission', wrote that Britain could "maximise the benefits and minimise the disruptions of Brexit" by leaving the EU as soon as possible and removing tariffs.
The Irish border is a mere bagatelle, easily resolved by drones and 'creative thinking'.
Legatum has garnered lots of publicity of late. This weekend the Mail on Sunday reported that Singham was involved in drawing up Boris and Johnson and Michael Gove's recent Brexit ultimatum. Meanwhile, Edward Lucas in the Times accused anyone who wanted to know more about Legatum and their influence on the UK government of 'breathtaking' hypocrisy.
But what do trade experts think of Legatum? The FT said that Legatum's most recent report, the Brexit Inflection Point, report was "riddled with misconceptions large and small." On Twitter, George Peretz, a lawyer specialising in trade law, described the proposal that the UK could become a "world leader" by immediate radical deregulation of tariffs as "not a realistic way forward".
Australia has just knocked back such a vision for post-Brexit trade with the UK. Previous Legatum reports have also met disdainful responses from experts. In September, the thinktank suggested it could solve the Irish border problem using drones. It also proposed the UK government "should consider giving a prize for technological solutions to incentivise the development of innovative solutions".
A prize to solve the Irish border problem? Publicly, politicos in Belfast politely described Legatum's ideas as "highly problematic". Privately, the language was far less restrained.
But of course, we have all had enough of experts. Except, it seems, if the expert is Shanker Singham. Michael Gove himself told the Commons in February that he was "sanguine" about Brexit because he was taking "the lead from Shanker Singham and other distinguished trade negotiators" who believe leaving the EU will deliver economic growth both in the UK and "across the world".
While business complains of a lack of access to government, Singham has not struggled to get a hearing, meeting ministries at least seven times, most recently Michael Gove on Friday. When executives and business figures met with David Davis and other ministers at Chevening House during the summer, Singham was the sole think-tank representative present.
In July and August, Singham held private meetings with Philip Rycroft, a topcivil servant at DExEU. Singham gave evidence to the Committee on Exiting the European Union. He also had meetings with Lord Headley of Bridges at Downing Street before the peer resigned from DExEU in June – although the Brexit department refused to release minutes of that meeting or a list of attendees, in a response to a Freedom of Information request made by WhatDoTheyKnow. David Davis's department has been similarly reluctant to release information about other meetings between Legatum and Brexit ministers and officials, despite requests from openDemocracy and others.
Steve Baker, the ardently eurosceptic Brexit minister, has heaped praise on Legatum in parliament and on his own website on at least 20 occasions.
When Baker spoke highly of Legatum during a Commons debate in February 2017, his fellow Tory and Remainer Ed Vaizey responded: "I know the Legatum Institute well because the chap who has become flavour of the month for his knowledge of trade deals, Shanker Singham, was at school with me, which automatically makes him a dangerous member of the liberal metropolitan elite. It is important that we are aware that one of the Brexiteers' great champions is a member of the dangerous liberal metropolitan elite."
Singham, and Legatum, is certainly very well thought of in Conservative circles. "He is undoubtedly very knowledgeable regarding trade agreements," a well-placed Tory source said. "He seems to know more about the possibilities created by Brexit than anyone else." Theresa May, then home secretary, was guest speaker at the 2015 Legatum summer party. Many leading Conservatives have approvingly cited Legatum reports in recent months.
Some have questioned the depth of Legatum – and Singham's – trade expertise. Before joining Legatum at the start of 2016 as "director of economic policy and prosperity studies" , Singham was managing director for competitiveness and enterprise cities at Babson Global, in Boston. Among Babson's clients were the government of Republika Srpska, which comprises roughly half of Bosnia and Herzegovina. Republika Srpska has been controlled for more than a decade by the authoritarian Bosnian Serb leader Milorad Dodik. Earlier this year, the US imposed sanctions on Dodik.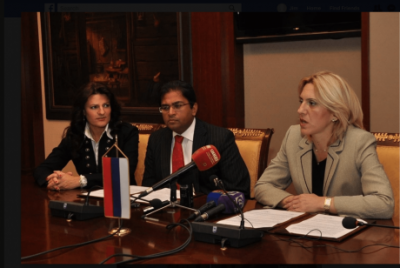 Legatum director Shankam Signham in the Bosnian statelet of Republika Srpska. Facebook/Fair rights usage.
In October 2014, Singham met with Republika Srpska president Zeljka Cvijanovic in Banja Luka to sign a 'letter of intent' to build an 'entrepreneur's city' in the Serb-run statelet. From our inquiries this city has yet to be built.
Legatum was not always well disposed towards Brexit. Before the June 2016 referendum, it widely seen as a liberal, pro-EU outfit. Among those employed from its Mayfair offices were US author Anne Applebaum and Soviet-born British journalist Peter Pomerantsev.
That changed in the wake of Brexit. Applebaum left after Philippa Stroud was appointed as CEO, in September 2016. The eurosceptic Baroness Stroud co-founded the Centre for Social Justice think-tank and was a special adviser to Brexiteer Iain Duncan Smith. Although a Remain voter during the EU referendum, Singham became head of a new Legatum special trade commission.
There were other personnel changes at Legatum. Matthew Elliot, head of Vote Leave, became a senior fellow. Toby Baxendale, who helped run Andrea Leadsom's Tory leadership campaign, became a trustee.
Baxendale established the radical free market think tank called Cobden Centre alongside Steve Baker. The think tank's objective, he said, was "to go for the jugular of the state, to cut the oxygen and the blood supply off and force it to be honest". Among the Cobden Centre's policies is a return to the gold standard.
In August, British-born New Zealander Crawford Falconer left Legatum's trade commission to become chief trade negotiation adviser at Liam Fox's Department for International Trade. The following month he made headlines when he insisted that UK regulations should be scrapped to get trade deals.
The Legatum Institute is a charity. Its 'lead sponsor' is the Legatum Foundation, according to annual accounts filed with the Charity Commission. The Legatum Foundation is controlled by Christopher Chandler, a Dubai-based private hedge fund billionaire originally from New Zealand. The foundation is registered in Bermuda and controlled by a company in the Cayman Islands. The Legatum Institute's income has grown significantly in recent years, from £35,000 in 2012, to more than £4m in 2016, its accounts reveal.
Christopher Chandler and his older brother, Richard, have been described as 'disaster capitalists'. They created a hedge fund in the 1980s after selling the family department store in Hamilton, New Zealand. They piled into Russia in the 'shock therapy' years when the Soviet Union's state-run businesses were rapidly privatised.
Sovereign Global, the brothers' fund, was by their reckoning the largest foreign portfolio investor in Russia by 1994. By 2002 the pair were the fourth largest investor in Gazprom, the Russian state-controlled gas company.
As Private Eye has reported, the brothers have given just one press interview in the 21st century – back in 2006. The Chandlers explained that they made money from "transition economies or distressed sectors where information is not easily available and standard metrics don't apply".
The brothers split their fortunes in 2006 and went their separate ways. Under Christopher's auspices, Sovereign turned into the Legatum Group, which now operates from a building it named Legatum Plaza in Dubai's financial centre.
The Legatum think tank in London still receives the bulk of its funding from Chandler and the Legatum Foundation. The charity also receives support from more than 40 separate donors. A spokesperson for Legatum said: "The Legatum Foundation provides the Institute with its core funding, as part of its vision is to see a more prosperous world for all…. We receive support from more than 40 separate donors covering a broad mix of individuals, businesses, trusts and foundations. All donors can remain anonymous if they wish – if not, they can receive credit in select publications, in our building, and on our website."
Legatum has received funding from British Brexit backers including major City figures. In 2015, prominent pro-Brexit hedge fund manager Sir Paul Marshall bankrolled a 12-month research programme entitled 'A Vision for Capitalism'. The programme was run by Conservative commentator Tim Montgomerie and launched by then chancellor George Osborne. Montgomerie is now editor of UnHerd, a website backed by Marshall.
A spokesperson for Marshall said the multimillionaire investor no longer funded Legatum. "Paul co-chairs with Lord Hill something called Prosperity UK, which a group of us put together to bring Remainers and Leavers together to implement Brexit constructively. Legatum were one of the partners of the first conference. That might be why people might think he has supported their Brexit work. But they were helping him rather than the other way round."
In a statement, a spokesperson for Legatum said:
"The best possible Brexit outcome for the UK would be one that sees Britain flourish. The UK must be able to strike free trade deals with the EU and nations around the world. This is the goal we are working towards. Brexit will be a defining moment in the history of our nation. We must ensure that it becomes a pathway to greater prosperity for this and future generations."
But others, like Professor David Miller of Spinwatch, remain concerned. Miller told openDemocracy:
"Legatum has risen from nowhere, taken over by Philippa Stroud the former SPAD for Iain Duncan Smith, director of his think tank the Centre for social Justice and Christian fundamentalist. It is amazing how easy it is for partisan think tanks to gain charitable status and to do so while mostly funded by a single secretive offshore donor. The Charity Commission has been pushed into investigating these kind of issues before with groups like the Taxpayers Alliance. It should be rapidly investigating Legatum and its offshore connections."
openDemocracy has contacted Shanker Singham for comment and will add any response received.