By Enrico Verga, a writer, consultant, and entrepreneur based in Milan. As a consultant, he concentrates on firms interested in opportunities in international and digital markets. His articles have appeared in Il Sole 24 Ore, Capo Horn, Longitude, Il Fatto Quotidiano, and many other publications. You can follow him on Twitter @enricoverga.
Bitcoin, and cryptocurrencies more generally, consume huge amounts of energy.
According to an analysis by Digiconomist, Bitcoin alone is currently eating up nearly as much energy as the entire Slovak Republic.
Per the same site, the energy devoted to a single Bitcoin transaction could power 10 American households for a day. Keep in mind that Americans devour energy – in Italy the same transaction could power more than 50 households for a day.
It is worth remembering that there are three other virtual currencies not included in these figures.
The activity known as "Bitcoin mining," as currently conceived, not only consumes energy quickly, but does so at a continually increasing rate. Continuing in this manner will lead to steadily more severe environmental consequences, absent changes in the relevant technological systems.
If you search for "Bitcoin" on Google, you get about 200 million results; if you search for "Bitcoin pollution," you get about 800,000. One wouldn't say that the media finds the environmental impact of Bitcoin mining a particularly thrilling topic.
To understand better the complexities and dangers here, let's look more closely at the world of cryptocurrency mining.
Hard Labor in the Mines
"Miners" play a crucial role in every cryptocurrency system.
A cryptocurrency's goals include (1) validating new transactions in a way resistant to fraud, and (2) enforcing a limit on how fast Bitcoins can be created and transactions validated.
The basic setup involves mathematical functions called "hashes" that are easy to calculate but hard to reverse. It is easy to compute the hash function even of a large amount of data, but it is very difficult to tamper with the data without causing major changes in the hash value.
In the case of cryptocurrencies, the large block of data is the records describing a collection of new transactions. All of the blocks together form a linked list (the "block chain" or "ledger"), with each block containing the hash of the block added just before it.
Suppose now that a hacker tries to modify a block. That will trash its hash value, and comparing the hash with the value that's supposed to match it in the following block will reveal that something is wrong.
The way this regulates the speed of creation of new blocks is that a part of the new block's header (the "nonce") is not fixed in advance. It has to be chosen so that the new block's hash will satisfy some sort of restriction (typically, starting with a certain number of zeros). The only way to validate the new block is to calculate hashes for every possible value of the nonce until you hit one that works.
In practice, there is a global contest to see who can solve the computing puzzle for a new block. The winner is paid in Bitcoin.
Solving the contest requires a ton of computing power ("work"). In this sense, the activity of a Bitcoin "miner" is not entirely dissimilar to that of an ordinary miner who toils in order to extract raw materials (gold, copper, silver) that will make it possible for a mint to coin money. For more details on this process, see for example here.
Miners Evolve
Digital mining has undergone substantial evolution. Once, it was the hobby of a few individuals who knew something about IT, trying to pump as much performance as possible out of their PCs. Today it is a capital-intensive industry that uses machines with hardware configurations designed specifically for mining.
As a result, a small number of large hardware manufacturers profits from offering the cryptocurrency industry their newest and most efficient equipment.
Meanwhile, single miners have turned into big mining conglomerates of various types.
Remote hosting systems and cloud-based mining services offer customers the possibility of getting involved with mining without having to deal with computing equipment directly – this is "virtual mining."
There are also the big "physical" miners who over time have become increasingly structured, and now maintain large data centers throughout the world.
A third type of conglomerate has also developed, so-called "mining pools." These involve individual and corporate miners who pool their computing power into virtual aggregates that aim to solve mining (hashing) problems more frequently and thus increase their profits. Pools subdivide their winnings in proportion to the amount of computing power each miner has contributed. Many of these pools have become professional organizations that go so far as to provide customer support services to their members.
The Better the Miners Become, the More Energy Gets Consumed
Imagine a mining computer capable of earning one Bitcoin each month. Then 10 such computers should in theory be able to earn 10 Bitcoins.
The virtual currency world must therefore constantly keep in mind the potential problem of overproduction. The solution currently in use is straightforward: the more computing power is collectively brought to bear on mining, the more the "puzzles" to solve are made more difficult.
This ceaseless struggle between computing power and computing difficulty has led to a circle that may seem virtuous – but only if one ignores the impact on the environment.
Nothing Is Created, Nothing Is Destroyed
Now that we understand this virtuous or vicious circle, let's map out where the major "real" miners are (i.e. the locations of the machines that actually do calculations and burn energy).
According to a University of Cambridge study, miners in just two countries account for the bulk of mining activity: China (58%) and the US (16%).
Mining consumes energy in two ways: energy directly consumed while doing calculations, and energy required by the air-conditioning units that keep the computers from overheating (gamer readers can relate to this by recalling how much a PC can heat up while playing a computationally intensive game).
Compare the huge server farms of IT and media companies (e.g. Facebook and Google) – here the choice of where to locate this large energy consumption tends to fall on areas where energy costs are low, and if possible also where there is cooler weather. Miners tend to make similar choices, with little interest in how the energy they consume is produced.
Miners want three things in a mining location: (1) low energy costs, (2) a cold climate, (3) fast Internet connections.
Regarding low energy costs, several countries (such as China, see the map below) have clear advantages.
On climate, northern Europe, Russia, Canada, and Alaska are the best options. As a matter of fact, little mining takes place in Russia, but mining in Canada is increasing.
For fast and reliable Internet access, it is essential to be in a country where networks have high capacity and are well-maintained and secure.
The following map (again from the Cambridge study) shows the interplay of these factors with mining activity: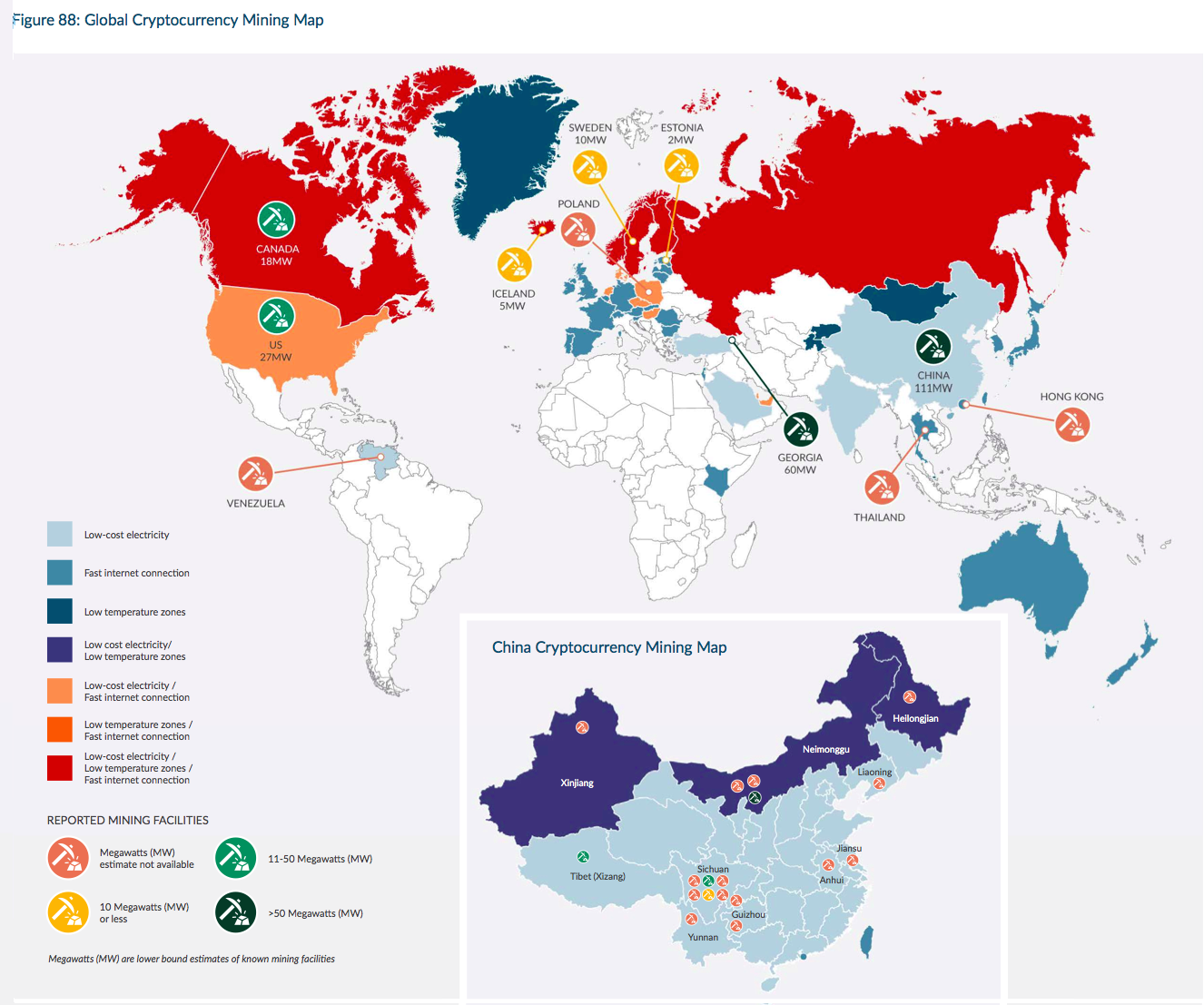 How Is the Energy Produced?
As mentioned above, the US and China alone represent nearly three quarters of all mining activity.
With this in mind, it is important to remember that their energy markets are far from being environmentally sustainable.
According to the U.S. Energy Information Administration (EIA), 73% of China's energy production in 2016 was based on the consumption of coal and other fossil fuels. Although the EIA estimates that China's coal consumption will eventually stabilize, through 2040 we are looking at consumption that is at least 40% based on fossil fuels.
Thus, for example, the Bitmain group bases its mining activity in the Chinese region of Ordos, and it satisfies its demand for energy by using local coal-based energy production.
The US (the base of almost one sixth of cryptocurrency mining) is also heavily dependent on fossil fuels. Between coal and natural gas, more than 64% of American energy production depends on polluting, nonrenewable forms of energy.
Solutions?
Recently there have been indications that the electrical company of Sichuan intends to disrupt the supply of electricity to cryptocurrency miners – it has in fact started to raise prices for large consumers. This is perhaps a wise move, but the result might only be that miners relocate elsewhere.
Bram Cohen, the inventor of the BitTorrent system for file sharing, has proposed a radical way out. A few weeks ago, Cohen announced that he is working on a new system, whose goal is to base verification on "Proof of Time" and "Proof of Storage."
The existing cryptocurrency verification system is based on "Proof of Work," i.e. making sure that verifying a new block requires a certain substantial amount of computations ("work"). Cohen's intent is to develop a system in which verification is based not on energy consumption but on hard disk space that miners keep free over time.
The idea is an intriguing one and its proponent already has on his resume the creation of one innovative approach to distributing data.
However, in the absence of changes along these or similar lines, the problem of the energy demand of Bitcoin and other cryptocurrencies is a real and growing one.
If today, with Bitcoin at $8000, Bitcoin rivals the Slovak Republic in energy consumption, think about what will happen if (as its optimists dream) Bitcoin reaches $40,000.
Currently, the matter is straightforward.
Whoever uses Bitcoin is a polluter.
Tell them to stop.
An earlier version of this article, in Italian, was published by Forbes and can be read here.