I'm behind on Brexit, and not yet able to write the sort of big picture post I'd like to, probably because it is too ambitious to do properly in a post format. I'd like to identify and discuss the importance of boundary conditions and become more systematic about trying to come up with a decent list. One disincentive is that you don't have to identify all that many to see that it is very hard to see how the UK even gets to a "hard Brexit," meaning an formal departure agreement but no trade deal by March 2019 or the longest transition period the EU has apparently said it is willing to offer, until the end of 2020. That means the UK is at a serious risk of what I have been calling a "disorderly Brexit," or crashing out of the EU with no deal at all.
Since this the EU and UK are in talks this week, an update is overdue. But let me spend a few more minutes on the "disorderly Brexit" issue. The reason it is important isn't just that it might very well happen, but that the outcomes are so catastrophic that the UK officialdom is literally averting its eyes from it. Yet in yet another bizarre display of Brexit schizophrenia, the UK keeps overplaying its hand in the talks, although some UK leaders seem to be waking up to the fact that Brexit will be a national disaster and they can think of no way to back out, even though the EU reportedly will allow that up to the very drop dead date. Recall that we quoted a press report of Theresa May acting like a broken woman, with a visitor finding her unwilling to speak, resulting in a full ten minutes of silence before the guest withdrew. Our Richard Smith regards the fixation of the sex scandals as a form of official displacement, to keep from looking in the maw of Brexit.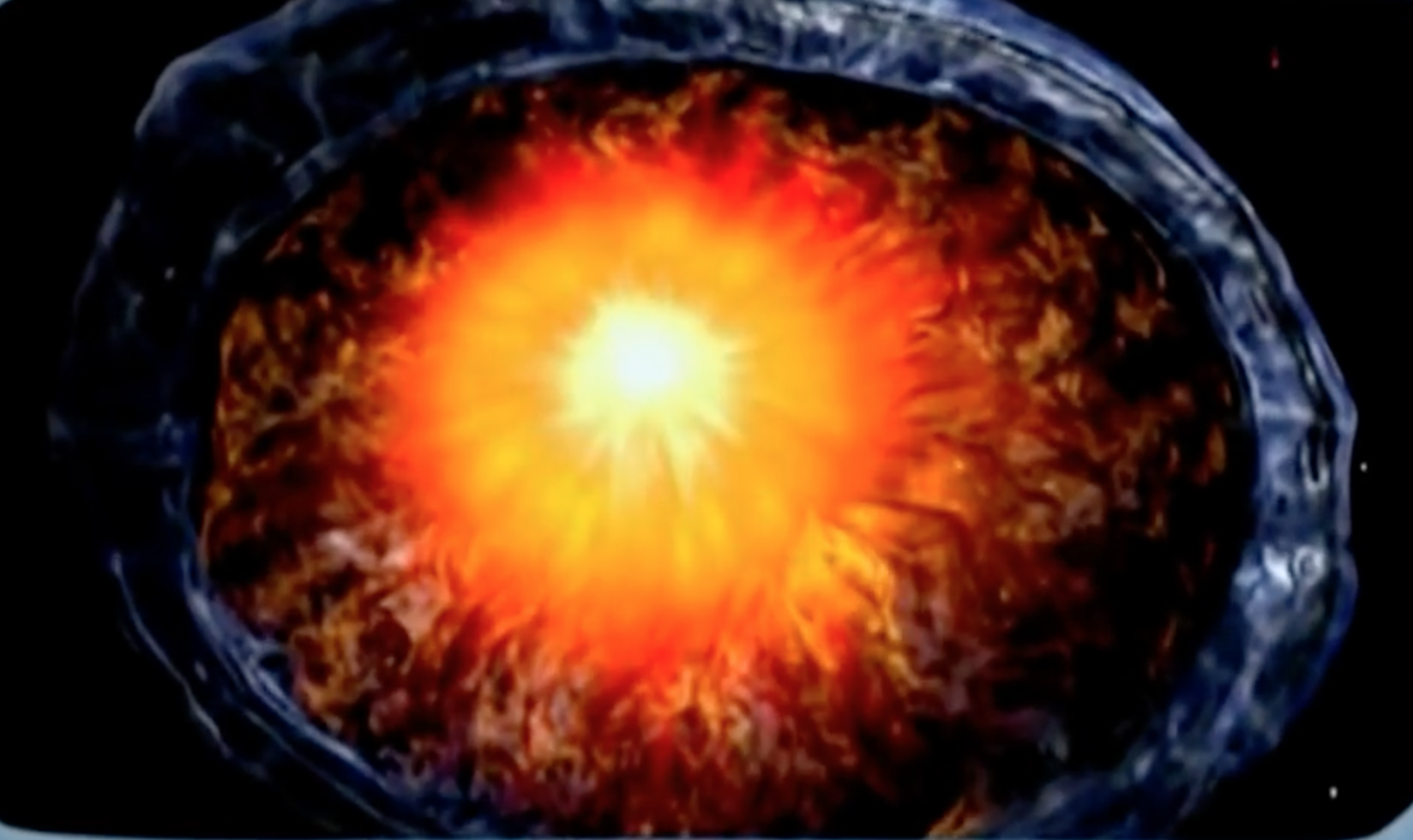 Reader Mark P. recommended the October 25 testimony of Sir Ivan Rogers, the UK's former Permanent Representative to the EU, along with other experts, to the Treasury Committee. The entire document is important reading. Let me flag this section. It's a bit lengthy perhaps because Rogers finds it necessary to leave no room for misunderstanding:
To complete my point on no deal, I have looked at all the no deal literature at the moment. I have extensively gone through every argument in favour of no deal that I have been able to examine.

Everybody talking about no deal does not mean no deal. They mean when we get to the wire there would be a succession of mini deals that we would be able to negotiate, and that the other side would be willing to negotiate. They would assure us of very significant continuity in all the areas that we would be most concerned about, ranging, as I say, from electricity interconnectors, to financial services, to data protection, to whatever.

The proposition that you really get from the people advocating no deal is not no deal. No deal does not mean no deal, if I can coin a phrase. No deal equals no deal. I have not seen anybody actually advocate no deal, because they know that jumping into a legal void without any legal provisions in any of these areas is potentially very damaging.

I do not think no deal does not exist. I think it is so dire to contemplate that people, as soon as they talk about no deal, say, "But in practice there would be lots of mini deals." I am questioning just how valid a proposition that is, and how viable it is. Maybe I could give you a couple of examples. People get very bogged down in this and think "It is so dire it obviously would not happen, and something would happen." I do not want to be unfair to no dealer rhetoric, but people always come back to say, "Obviously they would not allow that to happen, because they would be damaging themselves either more than us or as much as us."…

I have been working on this and multiple of other examples in case the Committee is interested. With no agreement in place, our air carriers lose the right to operate EU-UK air services. Any flights between the EU and the UK would cease to operate. UK air carriers that had been operating within the single market pre-Brexit would lose their EU air traffic rights. To keep operating flights within the EU and continue to qualify as EU air carriers, which is the precondition to operate intra-EU air services, those companies would need to relocate their principal place of business into the EU27, i.e. where they oversee those air services' conduct, maintenance and repairs and maintain their principal financial functions.

This is not theoretical. Air companies were coming and talking to me about that in 2015, 2016. Immediately after the referendum CEOs were coming to talk to me. The UK would fall out of 50 aviation agreements between EU and third countries, including the EU-US Open Skies Agreement, under which UK-US air traffic currently accounts for about 40% of the EU-US air traffic. We need to negotiate new bilateral agreements with third countries in replacement.

Then you say, "Can you not revive the old bilateral air service agreements with the individual member states? Would that not provide a solution?" I defer to my legal colleagues, but my advice is I do not think so, because those are outdated, restrictive and unfit for purpose. Where the EU has exercised competence, which it has in this case, it seems to me very improbable that individual member states would step back.
Keep in mind that even the "tah dah" of lots of mini-deals that keep the UK out of the ditch requires staffing, organizational capacity, and focus that has been sorely wanting on the UK side. Politico points out that today is the midpoint between the date of the Brexit vote and when the UK is set to leave the EU. The Government has largely frittered away this time.
The fact that the UK is simply refusing to consider what a pretty probable worst case scenario also means the UK is too often playing hardball with the EU when it is in no position to do so. (FWIW, I peg the likelihood of a disorderly Brexit at 40%, which is higher than the 20-30% odds I gave to a major financial crisis as of early 2007, and deemed then to be uncomfortably high).
Mind you, there was much more sobering material in Sir Ivan's remarks. He thought that the UK, meaning both the Government and businesses, were not prepared for being put off again until March for a decision on "future relationship" talks, and you'd see increasing panic among businesses ("panic" is not a Rogers word, but that was the drift of the gist). He also thought the UK was unrealistic as to what kind of trade deal it would get. It expects a special deal, a "Canada plus plus plus" when the EU will say that the sort of relationship the UK wants looks like a "Canada" or even "Canada minus" deal, which the UK pols and press would deem to be insulting ("We are much bigger and closer than Canada. What are you talking about?"). A hostile reaction to what ought to be understood as the logical outcome of the EU's clearly articulated parameters would be yet another impediment to getting a pact completed. Rogers also pointed out that a trade deal would take until the early to mid 2020s, when the longest transition period the EU is reportedly willing to entertain is to the end of 2020.
Sir Ivan also took note of this subtle but important source of friction:
There are things that are more difficult because we are a diverging partner rather than a converging partner. All trade deals in history are struck between people that are trying to get closer together. This is the first trade deal in history struck between partners who are trying to get further apart….

If you are them, that is quite a worrying trade deal to strike because you are striking a trade deal with a partner who is deliberately taking themselves further out of your regulatory orbit. You can imagine the kinds of things that the other side will be putting on the table as part of the negotiating, and I can imagine some of the political reactions to the things they will put on table.
Jonathan Lis identified another critical impediment to the negotiations in his November 6 tweetstorm, a basic incomprehension by the UK of the EU view of negotiation procedures. And remember, the EU does set the rules. Article 50 stipulated that the EU side would come up with the guidelines, and also stipulates that the European Parliament must give a "qualified majority" approval to an exit pact.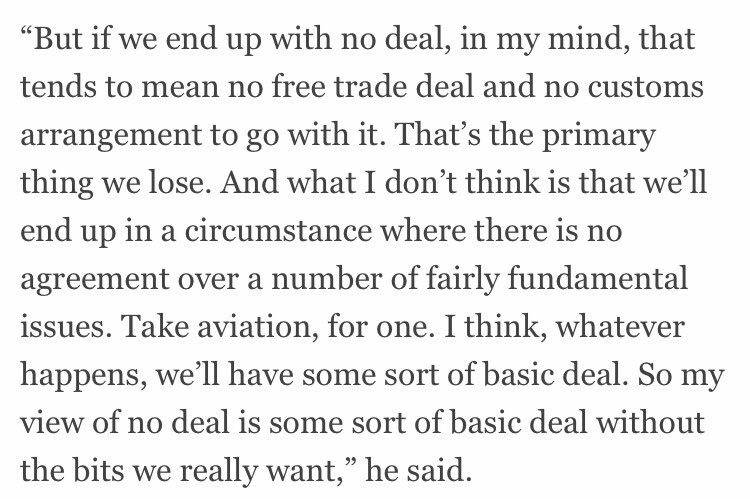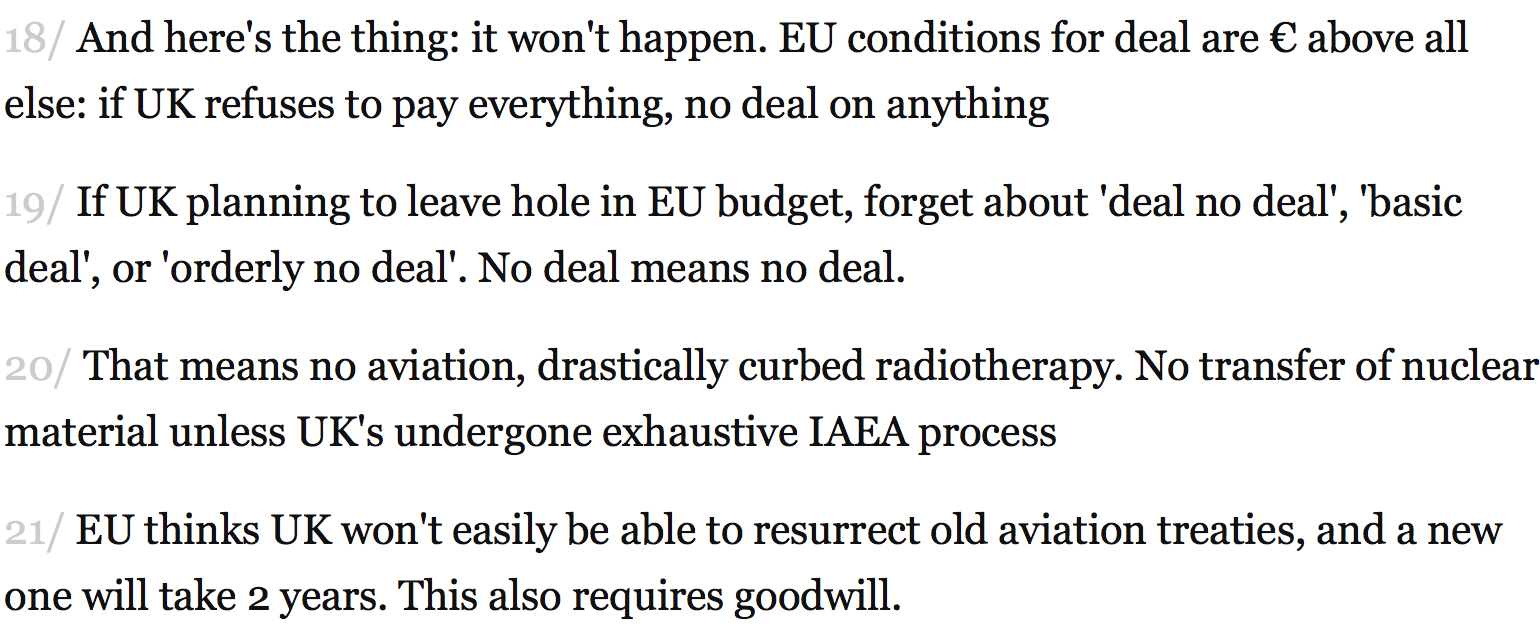 Now finally to the update. Recall that December is a critical month. It is another decision point for the EU, as to whether it will authorize entering into discussions on "the future relationship," meaning above all, trade. As the tweetstorm above indicated, the UK making a concession on the exit obligations is critical. Other important issues are that the UK is expected to put more meat on the bones of the transition proposal that Theresa May sketched out in her Florence speech and the Northern Irish border conundrum.
At first blush, the Financial Times and Politico differ sharply on the state of play. Yesterday, the Financial Times stated that the Tories were coming around to recognizing the need to commit more to the so-called divorce bill. From the pink paper:
Theresa May is ready to increase Britain's offer to the EU over the Brexit divorce bill, after signs that the hard Eurosceptics in her party will tolerate paying more money to break the deadlock in negotiations.

Mrs May has said that Britain "will honour commitments we have made during the period of our membership" and her team are working on different scenarios that would see her considerably increase the €20bn she has already put on the table.

No big breakthroughs on money were made in the sixth round of Brexit talks, which conclude on Friday in Brussels.

But the two sides touched on the delicate choreography of a possible December deal, where a UK financial pledge would be tied to an agreement in principle on a transition period after Brexit.
However, if you read this carefully, I am skeptical that this is consistent with the EU's repeateldy stated position, which is that the UK must show sufficient progress on three issues, the exit bill, the treatment of EU and UK citizens, and the Irish border issue, before any other issues are up for consideration. And the EU has also said it regards May's Florence sketch as promising but it needs more detail to know what to make of it. To demand a transition commitment in parallel with considerably narrowing the differences after money, as opposed to afterwards, and when that transition idea is still a pig in the poke as far as the EU is concerned, sound like another UK face-saving scheme that won't get very far.
Politico is far more downbeat:
Brexit negotiators sat face to face in Brussels Thursday for the first time in nearly a month — but officials close to the talks said there was no progress on the key stumbling block, the U.K.'s financial settlement.

"No major breakthroughs," was the straightforward assessment of one senior U.K. figure close to the talks. A senior EU official agreed. If the U.K. is planning on making a great leap forward soon, they haven't told the EU…

According to a senior EU official involved in the Brexit process, there had been no substantive discussions on the money question up to this round of Brussels talks since Theresa May's Florence speech on September 22….

EU leaders welcomed May's pledge in the Florence speech that the U.K. would continue making EU budget payments until the end of the current budget round in 2020 and "honor commitments" during its four decades as an EU member. But the U.K. has refused to be more specific on the latter component — something that the EU27 leaders say they need for the talks to progress…

The EU is looking for a commitment from the U.K. not just to keep the EU budget whole, but to cover its share of ongoing EU programs such as regional and overseas aid (known as the reste à liquider or RAL), plus pension obligations accrued during Britain's four decades as an EU member.
The Northern Ireland front isn't going well either. The Telegraph reports that the Irish border issue was being deferred until the "future relationship" negotiations were underway. I do try to keep on top of these things, and I don't recall the EU agreeing to that, which is why the tone of outrage in this article seems surprising:
British hopes of opening Brexit trade and transition talks this December were thrown into renewed doubt as it emerged that Ireland is making fresh demands over the Northern Ireland border question, the Telegraph can reveal.

The toughened Irish stance, reflected in a leaked European Commission document obtained by The Telegraph, blindsided British officials at Brexit negotiations in Brussels on Thursday as Ireland piled on pressure in the talks.

British officials had believed that question of how to avoid creating a hard Irish border when the UK quits the EU single market and customs union had been 'parked' until the EU opened talks over trade and the future relationship.

However the leaked talking points paper entitled 'Dialogue on Ireland/Northern Ireland' shows Ireland is now pushing hard for concrete reassurance on the Irish border question ahead of the crucial EU leaders' summit in December.
Of course, the reason the Government had been hoping to deal with this hot potato later is that there does not seem to be any solution other than a hard border, which among other things would fatally undermine May's shaky coalition.
And that's before we get to the wee problem that May's government looks like it won't last till Christmas thanks to the exodus of randy ministers and that the Great Repeal Bill is also going pear shaped.
As Sir Ivan stated:
We cannot expect simple continuity, whether it is in energy, telecoms, financial services or multiple other things. The British cannot simply expect the world to carry on broadly as is. They cannot suspend free movement of people because that is no longer applicable to them, live outside the jurisdiction of the Court of Justice, but still have everything that they liked about the levels of market access when they were inside the venture.
Translation: assume the brace position.