By Lambert Strether of Corrente.
Net Neutrality
"Use This Tool to See If Your Name Was Used to Support Net Neutrality Repeal" [Gizmodo]. "The net neutrality repeal is coming on December 14th. Might as well use this page before your ISP throttles the hell out of it."
"What you need to know about net neutrality (before it gets taken away)" [Engadget]. "[Under Pai's proposal there are] built-in transparency requirements about problematic practices. But they don't prevent ISPs from prioritizing content they like and throttling data they don't, nor does it penalize them for doing so. ISPs just have to declare what they're doing and explain why. This means they are free to carry out these activities, which were banned under the Title II order, so long as they disclose it. It would be like letting your partner get away with cheating as long as they explain why they did it."
"Public Comments to the Federal Communications Commission About Net Neutrality Contain Many Inaccuracies and Duplicates" [Pew Research Center]. "Fully 57% of comments used temporary or duplicate email addresses, and seven popular comments accounted for 38% of all submissions…. the seven most-submitted comments (six of which argued against net neutrality regulations) comprise 38% of all the submissions over the four-month comment period." So, in response, Pai proposes to ignore all comments, including the ones for net neutrality.
"Reddit revamps homepage to rally for net neutrality" [Axios]. "Protests like this can be effective at raising awareness about the issue, but the 11th hour campaign seems unlikely to change the minds at the FCC, which seems solidly split along party lines. The next battles will be to persuade Congress to take up the issue or fight the change in court."
Trade
"The global oversupply in steel looks unbreakable. A meeting in Berlin among the world's major steelmaking countries aimed at addressing the glut fell apart without an agreement" [Wall Street Journal].
"The US has already imposed punitive tariffs on a number of Chinese steel imports, but China's industry is so huge that it dictates prices around the world. European nations are also concerned that their steel producers would be affected by US tariffs" [Handelsblatt].
Politics
2017
"Alabama Senate Special Election – Moore vs. Jones" [RealClearPolitics]. "Moore +2.0" (no new polling).

"Minister who sang for Roy Moore lied for son accused of molesting Honduran orphans" [AL.com]. What's the word I'm looking for, here? "Lurid"? Is "lurid" the word I want?
2016 Post Mortem
"Bernie Sanders's wife to MSNBC anchor: 'Don't ever use me to demean my husband'" [The Hill]. Joy Reid on the job.

"A year ago, Trump promised Carrier workers help. We're still waiting" [WaPo]. "The workers at Carrier aren't the only ones who feel victimized by Trump's false promises. United Technologies, Carrier's parent company, is laying off another 700 workers right up the road from the Carrier plant in Huntington. And Rexnord, another plant in Indianapolis, just closed its doors, too. Workers at both plants hoped that Trump would come to the rescue, but he never showed up."
Tax Reform
"Sen. Mitch McConnell: 'We have the votes' to pass tax bill" [CNBC]. "As McConnell spoke, the GOP still had not released the final text of the bill it wants to push through later Friday…. Following the Republican meeting, holdout Sen. Susan Collins, R-Maine, tweeted that the bill would allow up to $10,000 in state and local property tax deductions — a concession she sought. She did not say she would back the legislation. Even without Collins' vote, the GOP appeared to have the 50 votes needed to approve the bill."

Sanders v. Rubio:

A brief thread coming explaining drama that went down on the Senate floor tonight between Sen. Marco Rubio (R-Fl) and Sen. Bernie Sanders (I-Vt.)

— Jeff Stein (@JStein_Wonkblog) December 1, 2017

"Part of the problem for Republicans is that their support for this bill seems driven not by economic necessity but by electoral politics and a philosophical belief that taxes are inherently bad and should be cut at any possible opportunity. Strong economic growth, a record-high stock market, and strong consumer confidence, accompanied by remarkably low unemployment rates, do not suggest that tax cuts are needed now. These House and Senate bills no longer seem to meet the definition of actual tax reform, something that virtually everyone agrees is necessary. They're simply about cuts" [Charles Cook, Cook Political Report]. "Collectively speaking, congressional Republicans have probably climbed too far out on the tax limb to retreat now."
New Cold War
"Flynn has promised special counsel 'full cooperation' in Russia probe: Source" [ABC]. "Retired Lt. Gen Michael Flynn has promised "full cooperation" in the special counsel's Russia investigation and, according to a confidant, is prepared to testify that Donald Trump directed him to make contact with the Russians, initially as a way to work together to fight ISIS in Syria." An idea The Blob hated.

"The sharp-eyed reader will note that Flynn is being charged with lying to the FBI about activity that isn't criminal" [National Review]. "If that's all there is, then it's terribly unjust. t's so unjust, in fact, that I sincerely doubt that's 'all there is.'"

"Judge says Michael Flynn agreed to provide 'substantial assistance for prosecution of another person'" [Los Angeles Times]. "According to the plea deal, Flynn lied to FBI agents about whether he asked the Russian government in December 2016 to hold off on retaliating against sanctions imposed by then-President Obama for trying to interfere with the campaign. He also lied about how the Russian government had agreed to 'moderate its response.'"

"Timeline: What Flynn copped to — and what he didn't" [Philip Bump, WaPo]. "The indictment simply formalizes what we already knew…. Dec. 31: Kislyak calls Flynn and tells him that Russia didn't escalate at the Trump team's request. Flynn again informs "senior members" of the transition team about the conversation."
Trump Transition
"Yet Trump's presidency operates on a largely separate track than his Twitter feed and his other off-script interjections and pronouncements. His domestic policy is so conventional that it could've been cooked up by Paul Ryan and Mitch McConnell — and, in fact, it was. He's pursued a largely status quo foreign policy, except more cautious than Barack Obama's and, especially, George W. Bush's" [Rich Lowry, National Review]. "Amid the miasma of manufactured controversies, lurid distractions and conspiracy theories, Trump's presidency is, as Mark Twain is supposed to have said of Wagner's music, 'better than it sounds.'"

"White House Work Orders Reveal Mice, Roaches, Redecorating" [NBC]. Watch for "synecdotes" on this one.
Realignment and Legitimacy
"Democrats need to find some honor and get rid of Al Franken and John Conyers" [The Week]. "They had the moral high ground against Roy Moore at first, but Franken and Conyers failing to resign make Democrats look like hypocrites, because they are."

"Sex and Power in Washington" [Elizabeth Drew, The New Republic]. "Washington has all the ingredients for inappropriate sexual adventuring. For one thing, it's full of lonely people—in particular men disconnected from their families…. Washington is the land of opportunity for sexual conquest, with members of Congress working late nights (yes, they often do) or traveling with aides on supposedly essential business. And, finally, it's a city stuffed with people who have power over others…. It seems to me that a major factor in the issue of who should be punished is: Does or did the harasser have power over his victim(s)? "

"Black lawmakers wonder why Conyers has to go — but not Franken" [Politico].

"Sexual harassment standard different for Congress, SC's Clyburn suggests" [The State].
Stats Watch
Institute for Supply Management Manufacturing Index, November 2017: "Very strong results" [Econoday]. "Pulling the composite down is improvement in delivery times which had backed up significantly during this year's heavy hurricane season. Not all anecdotal reports like this one have been reporting improvement in times though this result should ease concerns that supply chain issues could constrain holiday activity…. ISM's sample has been on fire all year, correctly predicting a rise for government data that has gradually emerged. The factory sector looks ready to end the year on a strong note and offer an important contribution to fourth-quarter GDP." But: "Based on these surveys [ISM and PMI] and the district Federal Reserve Surveys, one would expect the Fed's Industrial Production index growth rate to modestly decline. Overall, surveys do not have a high correlation to the movement of industrial production (manufacturing) since the Great Recession" [Econintersect].
Purchasing Managers Manufacturing Index, November 2017: "a slightly slower rate of growth in November" [Econoday]. "Despite the slowing and despite the moderate level, details are positive led by a solid showing for new orders, where foreign demand is keeping up with domestic demand, and including a fourth straight build in backlogs. Production slowed but employment was strong in the month and capacity pressures, as in other diffusion reports, are apparent with delivery delays a problem and input costs on a steep rise."
Personal Income and Outlays (yesterday): "Income a bit higher than expected due to higher interest income, but as per the charts income growth has slowed and seems the only thing keeping spending growing even at these very modest levels is consumers dipping into savings" [Mosler Economics].
Construction Spending, October 2017: "It's not housing that drove construction spending up a very sharp 1.4 percent in October but non-residential activity which had been lagging in this report" [Econoday]. "Spending on private non-residential construction jumped 0.9 percent in the month with strength centered in office construction and transportation construction. Despite the improvement, year-on-year spending on the non-residential side is still negative, at minus 1.3 percent. Public building also had a strong month with educational building up 10.9 percent for a standout year-on-year rate of 14.6 percent. Spending on highways & streets was also strong in October, up 1.1 percent though still down on the year, at minus 8.5 percent." But: "There continues to be significant backward revision to the date – this month was slightly upward and did not change the trends. The rolling averages declined. Also note that inflation is grabbing hold – and the inflation adjusted numbers are showing contraction in this sector" [Econintersect].
Shipping: "From Southern California seaports to central Ohio warehouses, freight shipping activity in the U.S. is on a roll. Operators are reporting some of the strongest demand in years for land, water and air transport this fall… , with a resurgent industrial sector and a big seasonal boost in e-commerce shipments fueling a shipping rush" [Wall Street Journal]. "Even seaports that usually see volumes taper off as the holidays near say their business remains strong, suggesting more goods are flowing into domestic distribution channels late in the season."
The Bezzle: "The U.S. Commodities Futures Trading Commission (CFTC) Friday morning approved proposals by CME Group Inc. to list bitcoin futures and provide a regulated trading platform for the cryptocurrency futures market. The Chicago Board of Exchange (CBOE) and the Cantor Exchange also self-certified new contracts for bitcoin futures and bitcoin binary options, respectively" [247 Wall Street].
The Bezzle: "Google Does Evil" [Moon of Alabama]. From November, still germane: "Up to about 2006 or 2007 Google provided an excellent search engine. It then started to prioritize and present more general results even where one searched for very specific information. It became cumbersome to search for and find details. The situation has since further deteriorated. The Google News search is now completely useless. It delivers the main stream media trash without showing divergent views or opinions. What is the use of a search result page that links to twenty sites with the same slightly rewritten Associated Press story? Google's algorithms now amount to censorship." I can't even use Google to find stuff I know exists (becaue I wrote it).
Gentlemen Prefer Bonds: "How to spot the next crisis" [Economist]. "Where might trouble first emerge? The most likely venue is the corporate bond market. This has changed a lot over the past ten years. As late as 2008, more than 80% of non-financial corporate bond issuance was rated A or above, according to Torsten Slok of Deutsche Bank; in the past five years, the proportion has been consistently under 60%. That means the average corporate bond is riskier than before. At the same time, the reforms that followed the crash of 2008 mean that banks have to hold more capital (quite rightly). But this also means they are less willing to devote capital to market-making; as a result, the bond market is less liquid than before. So investors in corporate bonds are holding a riskier, less liquid asset."
Mr. Market: "U.S. stocks turn lower following reports Flynn will testify about Trump" [MarketWatch].
Five Horsemen: "Big Tech wobbles as punters plunge back into five-figure Bitcoin" [Hat tip, Jim Haygood].
Today's Fear & Greed Index: 55 Neutral (previous close: 73, Greed) [CNN]. One week ago: 58 (Neutral). (0 is Extreme Fear; 100 is Extreme Greed. Last updated Dec 1 at 11:45am. Big swing!
Our Famously Free Press
From the Department of Don't Worry, Everything Will Be on Facebook:
"BuzzFeed is laying off 100 employees after missing its revenue goals" [Recode]. "The cuts come as digital publishers worry that most of the money online advertisers are spending is going to two companies: Google and Facebook."
"LA Weekly's staff was gutted Wednesday as Voice Media Group completed its sale of the alternative newsweekly to a newly created company, Semanal Media" [Los Angeles Times]. "Semanal investor and Chief Executive David Welch, a Los Angeles attorney known for representing members of the cannabis industry, declined to comment."
"Who's Behind The 'Project Veritas' Sting Operation Against The Washington Post?" [International Business Times]. "An International Business Times review of publicly available 990 tax records and data compiled by Conservative Transparency found that Project Veritas gets much of its funding from two connected nonprofits that act as "pass-through" vehicles for conservative millionaires and billionaires who wish to dissociate their names from the organizations they fund. Donors Trust, and to a lesser extent Donors Capital Fund, have provided Project Veritas with millions of dollars since its founding in 2010. Both groups are financed by foundations run by wealthy conservative mega-donors such as Charles and David Koch and the Bradley and Searle families."
Big Brother Is Watching You Watch
"For the last three years I had been investigating the grassroots crypto tech accessories at the heart of today's powerful privacy movement: internet anonymizers, encrypted chat apps, untraceable drop boxes for whistleblowers, and super-secure operating systems that even the NSA supposedly couldn't crack. These tools were promoted by Pulitzer Prize-winning journalists, hackers, whistleblowers, and the biggest and most credible names in the privacy trade—from Edward Snowden to the Electronic Frontier Foundation and the American Civil Liberties Union. Apps like Tor and Signal promised to protect users from America's all-seeing surveillance apparatus. And the cryptographers and programmers who built these people's crypto weapons? Well, many of them claimed to live on the edge: subversive crypto-anarchists fighting The Man, pursued and assailed by shadowy U.S. government forces. Citing harassment, some of them had fled the United States altogether, forced to live in self-imposed exile in Berlin" [Yasha Levine, The Baffler]. "At least that's how they saw themselves. My reporting revealed a different reality. As I found out by digging through financial records and FOIA requests, many of these self-styled online radicals were actually military contractors, drawing salaries with benefits from the very same U.S. national security state they claimed to be fighting. Their spunky crypto-tech also turned out, on closer inspection, to be a jury-rigged and porous Potemkin Village version of secure digital communications. What's more, the relevant software here was itself financed by the U.S. government: millions of dollars a year flowing to crypto radicals from the Pentagon, the State Department, and organizations spun off from the CIA." Ka-ching.
Gaia
Truth:
True last week… true this week #Gardenersworld #shoutyhalfhour pic.twitter.com/H3xsKn1iYk

— Sheppard Seed Co (@Sheppardseedco) October 13, 2017
"Can a River Sue a Farmer?" [AgWeb]. "Does a river have rights? Indeed, according to a lawsuit filed in Colorado…. Filed by the Community Environmental Legal Defense Fund (CELDF) on Sept. 26, the lawsuit claims the state of Colorado and Gov. John Hickenlooper are violating the rights of the Colorado River. CELDF asks the federal court to recognize the rights of the river, acknowledge personhood of the river, and place the river under the protection of a guardian."
"Old well bubbles up, oil spills onto Colorado 60 near Berthoud" [Reporter-Herald]. "An old well that was capped in 1984 began spilling oil on Colorado 60 east of U.S. 287 on Sunday, and emergency crews used special equipment and dirt piles to keep it from flowing down the highway…. Whoever owns the well will be responsible for determining what is causing the seepage and stopping it from flowing, according to [Justin Rupert of the Berthoud Fire Protection District]. If the well is abandoned, the state will step in, he said."
"Sustainability should not be legally impossible" [Boulder Weekly]. "I write today on behalf of the Boulder Democratic Socialists of America (DSA). This is our statement of solidarity with frontline communities worldwide, and in particular with East Boulder County United, the Boulder County Protectors, and the Erie Protectors…. Over the past few years, Colorado courts have struck down fracking bans enacted by the citizens of Lafayette, Longmont, Broomfield and Fort Collins. These court decisions are symptomatic of the fact that our current system of law was designed to protect corporate profits over the rights of workers, communities and nature itself. On May 1 of this year, the Boulder County Commissioners ended the Boulder County drilling moratorium that had been in place since 2012 and began paving the way for the County to be fracked. In order to preserve the possibility of a habitable climate, we reject this system and refuse to lend legitimacy to the laws that make sustainability legally impossible."
"Alaska's Coast Is Vanishing, 1 Storm at a Time" [Scientific American]. "[R]un-of-the-mill storms are eating away Alaska's shores—which account for over 50 percent of the entire U.S. coastline—as the state's protective shield of sea ice disappears. Storms that meteorologists and locals would have barely noted 30 years ago now crumble off land in a death-by-a-thousand-cuts fashion."
"Corporations Make Big Climate Promises Only To Retreat After A Few Years, Study Finds" [HuffPo]. "But a study published this month in the peer-reviewed Academy of Management Journal found that several big companies that had announced ambitious sustainability goals retreated when profits decreased or top executives changed…. 'There's so much hype about corporate good deeds, corporations will save us," Christopher Wright, a co-author of the study and professor at the University of Sydney Business School, told HuffPost by phone on Sunday. "It's so at odds with the reality that it's pretty frightening.'"
"WHO urges drastic cuts in use of antibiotics in agriculture and aquaculture" [Fern's AG Insider]. "[T]he goal of the new recommendations is not only to reduce antibiotic use in livestock, but also to reduce the flow of antibiotic-resistant bacteria from farm animals to humans. A paper published today in the journal Lancet Planetary Health, to coincide with the WHO announcement, surveyed 179 scientific studies on antibiotics in livestock and found that reducing antibiotic use also reduces the occurrence of resistant bacteria in animals and in people."
Black Injustice Tipping Point
"Ku Klux Klambakes" [New York Review of Books]. "The Klan of the 1920s strongly echoes the world of Donald Trump. This Klan was a movement, but also a profit-making business. On economic issues, it took a few mildly populist stands. It was heavily supported by evangelicals. It was deeply hostile to science and trafficked in false assertions. And it was masterfully guided by a team of public relations advisers as skillful as any political consultants today…. [Founder Joseph] Simmons signed a contract giving [two skilled public relations professionals, Elizabeth Tyler and Edward Young Clarke] an amazing 80 percent of dues and other revenue gleaned from new recruits. They are believed to have reaped $850,000—worth more than $11 million today—in their first fifteen months on the job. The whole enterprise was organized on a commission basis: everyone from the recruiters, or Kleagles, up through higher officers (King Kleagles, Grand Goblins, and more) kept a percentage of the initiation fee ($10, the equivalent of $122 today) and monthly dues. The movement was a highly lucrative brand." Ka-ching.
Class Warfare
"Q&A with the author of Masterless Men" (interview with historian Keri Leigh Merritt) [Political Orphans]. "Surely, at certain times and in certain places, racial superiority is all that matters to some people. But life is generally a lot more complicated than simple racial hatred. All people resent their own oppression, even when they are much 'less oppressed' than other groups. Even if you finish last in the 'Pain and Oppression Olympics,' you're still in pain and oppressed. Most (certainly not all, but most) historians today completely ignore class as a unit of analysis, as another possibly-complicating factor. But American history has always been driven by class strife, class aspirations, and class divisions – and this spans across every time period and every racial/ethnic group. By simply including class as a factor in our narratives, we are able to provide a much more nuanced, accurate reality."
"Commerce Without Law" [Credit Slips]. "Barak carefully documents how the diamond the industry has evolved and thrived without state enforcement. Firmly grounded in institutional economics, his account also draws insight from sociology, religion, economics, management, history, anthropology, and law. The core narrative is that the combination of strong religious institutions and thick ethnic ties (such as those found in the Orthodox Jewish community in New York or the Palanpuri Jains in Gujrat) can operate to create a system of law that enables commerce across borders in a way that state-centered legal systems find hard to duplicate. Yet the picture is not entirely rosy, as he also explains how thick ethnic ties and strong religious institutions can be vulnerable to capture by insiders, lack transparency, and exhibit hostility to outsiders and unwillingness to innovate." Fascinating.
"A Closer Look: Why Are Many Megachurches Located in the Sun Belt?" [247 Wall Street]. "[Dr. David Eagle, a research associate at the Center for Health Policy and Inequalities Research at Duke University] added that zoning laws also play a part in the growth of these big churches. 'It's no accident that Houston and Dallas, which have very lax zoning laws, have lots of megachurches,' he said. 'It is comparatively easier to set up shop as a megachurch in these locations.' Oil wealth in Texas and Oklahoma has also played a role in the megachurch expansion, according to Eagle.'"Megachurches require significant financial backing,' he said. 'The presence of wealthy conservative Protestants in a particular locale plays a role in the location of megachurches. The oil wealth in Oklahoma and Texas must have something to do with the presence of lots of megachurches.'"
"Brooklyn Hospital Bills Sex Assault Survivors for Rape Kits: Attorney General" [NBC New York]. Show any weakness, and you're immediately set on by predators and parasites…
News of the Wired
Brighten the corner where you are:
Oh.

OH. pic.twitter.com/oezGTz1n9d

— Ruthanne Reid (@RuthanneReid) November 29, 2017
* * *
Readers, feel free to contact me at lambert [UNDERSCORE] strether [DOT] corrente [AT] yahoo [DOT] com, with (a) links, and even better (b) sources I should curate regularly, (c) how to send me a check if you are allergic to PayPal, and (d) to find out how to send me images of plants. Vegetables are fine! Fungi are deemed to be honorary plants! If you want your handle to appear as a credit, please put it in the subject line. Otherwise, I will anonymize by using your initials. See the previous Water Cooler (with plant) here. Today's plant (timotheus):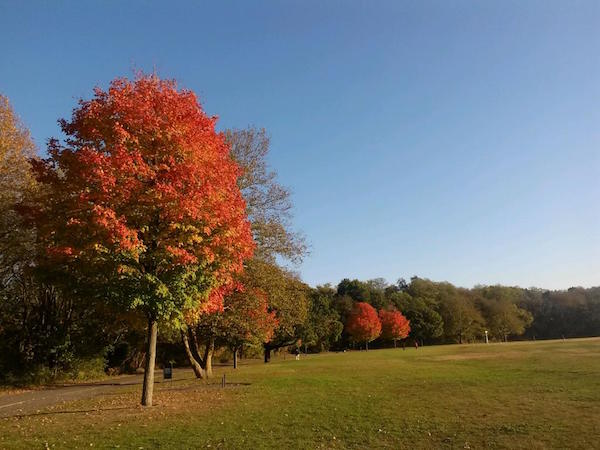 Timotheus writes: "Fall in Van Cortlandt Park, Bronx, NY."
* * *
Readers: Water Cooler is a standalone entity not covered by the NC fundraiser. So do feel free to use the dropdown and click the hat to make a contribution today or any day. Here is why: Regular positive feedback both makes me feel good and lets me know I'm on the right track with coverage. When I get no donations for five or ten days I get worried. More tangibly, a constant trickle of small donations helps me with expenses, and I factor that trickle in when setting fundraising goals. So if you see something you especially appreciate, do feel free to click the hat!