By Lambert Strether of Corrente.
Net Neutrality
"The FCC's Attack On Net Neutrality Is Based Entirely On Debunked Lobbyist Garbage Data" [TechDirt]. "That net neutrality didn't harm sector investment isn't really debatable. Just ask industry executives from Frontier, Comcast, Cablevision, Sprint, AT&T, Sonic and even neutrality public enemy number one, Verizon all of who are on public record telling investors the "net neutrality killed sector investment" claim simply isn't true. That this concept is a canard is also supported by public SEC filings and earnings reports, as well as the billions being spent on spectrum as these companies rush toward the fifth generation (5G) wireless networks of tomorrow."
"The New Sewer Socialists Are Building an Equitable Internet" [The Nation]. "Chattanooga is widely known by a silicon-tinged moniker that sounds a bit more Santa Clara: "Gig City," a reference to "the Gig," the city's municipally owned fiber-optic network. Funded in part by a $111 million federal stimulus grant and maintained by the Electric Power Board (EPB), Chattanooga's public electric utility, the Gig's ambitions feel more collectivist—and more fundamental—than the superficial "disruption" on offer from private-sector techno-utopians."
Trade
"The Trump administration took the rare step on Tuesday of "self-initiating" a trade remedy case against China, launching a pair of investigations that could lead to steep duties on imports of aluminum sheet valued at more than $600 million" [Politico]. This strikes me as a bad time to drive the price up tinfoil up.
Politics
2017
"Alabama Senate Special Election – Moore vs. Jones" [Real Clear Politics]. "Moore +2.0." (11/28: Jones +0.8). The pollster, JMC, comments: "[T]here are three main takeaways: (1) Roy Moore has regained his lead in the polls; (2) Republicans have similarly regained the lead in the generic ballot test, and (3) allegations of sexual misconduct against Roy Moore have not materially impacted the race." If the poll's model of electorate is correct, then, Moore voters are acting exactly like Democrats who support Bill Clinton act: They are saying that their candidate's views on policy outweigh personal flaws. Isn't that — within reason — how we want voters to act?
2016 Post Mortem
UPDATE "Bernie Sanders nominated for a Grammy" [The Hill]. "The former presidential candidate and actor Mark Ruffalo were nominated Tuesday in the spoken word category for the audiobook of "Our Revolution: A Future to Believe In," Sanders's 2016 tome."
Trump Transition
Tax "reform":

"Trump, Republicans back Democrats ideas to sell tax cut bill" [McClatchy]. "The Senate's big, Republican-authored tax bill is teetering, needing the support of wavering GOP senators. To win the support of the last holdouts, the president and Republican leaders are suggesting sweeteners to Sen. Susan Collins, R-Maine, that have the imprimatur of two Senate Democrats." Alexander-Murray, of course! (This is from November 28, so the situation may have changed.)

"Manchin, Heitkamp won't rule out voting for GOP tax bill" [The Hill].

"Tennessee Republican [Bob Corker] negotiated a budget deal in September that the tax cuts cannot increase the national debt by more than $1.5 trillion over the next 10 years. Now he's concerned about various gimmicks and overly rosy assumptions [incroyable!] in the bill that would almost certainly mean the true impact on the debt is far greater than that. So the retiring senator has been pushing in recent days to include a 'trigger' that would automatically increase taxes down the road if the bill fails to generate the level of economic growth that Republicans leaders keep publicly predicting" [WaPo]. Raising taxes in a recession? What could go wrong?

"Republican voters' support for the House GOP tax plan dropped significantly in the past week, from 66% to 59%, per a new Politico/Morning Consult poll" [Axios]. "The poll found what voters consider the least popular provision in the plan — the House's proposal to eliminate the state and local tax deduction (SALT) for income taxes (it will remain in place for property taxes up to $10,000)."

UPDATE "Live Coverage of CNN Tax Bill Debate: Sanders & Cantwell vs Cruz & Scott" [Progressive Army]. Live blog. Good collective effort by Progressive Army!
Realignment and Legitimacy
"It took all of five minutes for Tom Perez to quote Hamilton. The DNC honcho was dispensing his stump speech—he had done about twenty of these events in the last couple weeks—to a gaggle of millennials at the DNC's Young Professional Leadership Council Launch" [The Baffler]. "There were other signs that this was the same bloated corpse of a political racket that had stumbled through the 2016 election amid a steady stream of embarrassing revelations about its top-down, self-dealing managerial ethos. One corner of the bar had been cordoned off with velvet rope, behind which Perez, before he ascended the stage, schmoozed and took selfies with donors of a certain tier. Once he did take the mic, Perez praised his DNC colleague Meng and then for some reason saw fit to tell the room, "She knows that the most important title she'll have in her life is 'mom.'" (Again, Meng is a member of Congress.)" Read the whole thing. I didn't know whether to puke or go blind, as my father used to say. And don't miss the part about "The Gyroscope"; it reminds me of Baudrillard's "The Regulon," as described by Adam Gopnik (before he lost his mind).

"Democrats Missed Their Opportunity" [Amy Walter, Cook Political Report]. "We are reportedly at a 'watershed' moment on the issue of sexual harassment… From an electoral standpoint, this new focus on empowering and energizing women voters should be an opportunity for Democrats… Given the lack of immediate consequences for Conyers and Franken, it isn't all that surprising that despite expectations of a flood of accusations, we've seen just a trickle…. Democrats had the first shot at breaking new ground….. Imagine if, instead, Democratic leaders stood up and said, 'this is unacceptable, this is the line in the sand, and these are the consequences.' Maybe it would have been public call for resignation or expulsion. Or, a loss of committee assignments. Or, the loss of their pension. Yes, it would be messy. Yes, it might be challenged in court. And, yes it would have caused intra-party friction. But, it would be a shock to the system. It would say to voters that we are able to exceed the low expectations you have set for us. Instead, the system — and the status quo — continue to survive." Strong piece from the level-headed Walter. For example–

"An Anguished Congressional Black Caucus Is Trying To Figure Out What To Do About John Conyers" [Buzzfeed]. "'We all just don't know what to think,' said one senior Democrat, who agreed to speak to BuzzFeed News on the condition of anonymity. 'You don't want to believe anyone just would lie about something like this. But you don't want to believe he would do it, either, because we know him. And it's one thing if it's Harvey Weinstein, but it's another thing when it's somebody you know.'" Weinstein was a fully paid-up member of the donor class, and enough of an insider to have email exchanges with DNC insiders ("Mook wrote back replying to Weinstein's offer to meet up and discuss strategy: 'Are you kidding? Let's do it! I'm here all week. This is all hands on deck–it's must win! Would tomorrow or Tuesday work?'" Hi, Robbie! [waves]). And this "senior Democrat" "didn't know" Weinstein? Please.

"The Blatant Democratic Hypocrisy on Sexual Misconduct" [Current Affairs]. "Here's something that shouldn't need saying: if you claim to oppose some kind of conduct, but modify your stance on it based on whether the person who is engaging in it is a member of your political party, people will probably not believe that you are very sincere in your convictions. The test for whether you're actually principled is whether you are consistent. If someone condemns George W. Bush for some act, but defends it when Barack Obama does it, they don't really care about the act itself. Likewise, one's response to sexual misconduct by Democrats has to be the same as it would be to sexual misconduct by Republicans." Includes excellent Garrison Keillor takedown, which is sad, because I loved A Prairie Home Companion back in, oh, the early 80's, when Keillor's schtick was still bitter, astringent, and uncurdled.

"Millennial poll: Strong majority want a third political party" [NBC]. "White millennials, at 75 percent, are most likely to express a desire for a third party, with strong majorities of African Americans (69 percent), Asian Americans (69 percent) and Latinos (64 percent) agreeing." Imagine taking a poll on third parties in the United States in 1853, a year before the Republican Party was founded, based on ascriptive identities like "white" and "black," and not on issues, like Abolition! And imagine doing it with a straight face!

This should be interesting:

I've been working on this national electoral strategy doc for the last month & I'm looking forward to putting it out soon. pic.twitter.com/YSliIDHdZz

— process truster (@LarryWebsite) November 29, 2017

@LarryWebsite in on the DSA National Political Committee, and seems to have done a lot of the on-the-road organizing work for many of the new chapters that emerged in the last year.
Stats Watch
GDP, Q3 2017 (Preliminary): "Third-quarter GDP proved even more solid than the first estimate, revised 3 tenths higher in the second estimate to an as-expected 3.3 percent annualized rate" [Econoday]. "Turning back to inventories, whether builds are actually positive or negative for the outlook are always difficult to assess, but given this year's general strength in consumer and business demand, the third-quarter build is probably a positive for the outlook, suggesting that businesses were stocking up for strength ahead including for the holiday shopping season… Early expectations for fourth-quarter GDP are once again in the 3 percent range." And but: "First revision has the consumer a bit weaker than expected, which means the savings rate isn't quite as weak as initially reported. The savings rate, however, is still unsustainabl[y] weak, meaning either consumer spending falls further or personal income growth reverses its deceleration. The other revisions include an increase in already too high inventories that have already turned negative in Q4, and a smaller trade deficit that is now showing increases in q4" [Mosler Economics]. And: "The consumer spending declined, but the real improvement came from fixed investment. I am not a fan of quarter-over-quarter exaggerated method of measuring GDP – but my year-over-year preferred method showed moderate acceleration from last quarter" [Econintersect]. And: "Residential investment was revised up slightly from -6.0% to -5.1%. This was at the consensus forecast" [Calculated Risk]. And: "It was no secret that the economic activity was looking stronger in 2017, but now the talk of getting back to 3.0% growth in gross domestic product (GDP) is more of a reality than a theory" [247 Wall Street].
Corporate Profits, Q3 2017 (Preliminary): "Corporate profits, at an annualized rate of $1.86 trillion in the first estimate for the third quarter, rose 10.0 percent compared to the third quarter of 2016" [Econoday].
Pending Home Sales Index, October 2017: "Led by a hurricane bounce in the South, the pending home sales index jumped a much sharper-than-expected 3.5 percent in October which points to continued gains for final sales of existing homes" [Econoday]. But: "The rolling averages are in negative territory. The data is very noisy and must be averaged to make sense of the situation. There is no signs of a surge in home sales, although the trends are now upward" [Econintersect]. And: "This was above expectations of a 1.0% increase for this index. Note: Contract signings usually lead sales by about 45 to 60 days, so this would usually be for closed sales in November and December" [Calculated Risk].
MBA Mortgage Applications, week of November 24, 2017: "Purchase applications for home mortgages rose by a seasonally adjusted 2 percent in the November 24 week, while applications for refinancing declined sharply again, falling 8 percent" [Econoday].
Real Estate: "[Real estate and logistics services firm CBRE Inc.] analyzed the average size of U.S. warehouses built during the 2002-07 development upswing and compared those figures to the 2012-17 period, when e-commerce took hold in the mainstream. The analysis found that the average facility size increased by 143 percent, to 184,693 square feet, and that the average warehouse's clear height rose by 3.7 feet, to 32.3 feet" [DC Velocity]. "The largest expansions came in metropolitan areas with the big populations coveted by online sellers and the abundant land required by developers."
Real Estate: "The concept of self-driving, or autonomous, trucks continues to receive more heightened attention. And that is for a variety of reasons, including the difficulty carriers are having in filling trucks with drivers, an aging workforce for active drivers in the market, as well as the impact of fuel on over all trucking costs, among others" [Logistics Management]. This is interesting:
And it outlined what it termed the main consequences of real estate related to autonomous trucking technology, including:

lower transport costs, with supply chains needing fewer warehouses, which may lead to fewer but larger warehouses being built in remote locations;
last-mile delivery facilities being crucial elements in the network, switching from diesel to electric, with these facilities needing to be able to receive large, or, semi-automated truck convoys and deploy electric city delivery vehicles. CBRE also said these sites will need to be equipped with extensive battery loading stations;
and

all warehouses will need a courtyard that allows automatic maneuvering, accommodating self-driving trucks going to and from facilities
(Assuming we get to Level 5, because that's what "autonomous" means, which I don't.). But this "courtyard." Readers? What's up with that?
Shipping: "A Christmas bonus for carriers as demand for air freight capacity 'goes crazy'" [The Loadstar]. "Intense demand for air freight space has led to shippers opting for sea freight as a faster option. Demand 'has gone crazy' said one forwarder, citing a four-to-five-week wait for maindeck capacity from Europe to the US and Mexico. 'I've never seen anything like it.'"
The Bezzle: "The scandal in Japan over faked quality data on industrial suppliers is widening and taking in more transport operations. Toray Industries Inc. says a manufacturing subsidiary falsified information on materials used to strengthen car tires… and that irregularities hit shipments sent to at least 13 companies" [Wall Street Journal].
The Bezzle: "Tesla will charge $150,000 for the Tesla Semi model with a 300-mile range and $180,000 for the model with a 500-mile range, according to the Palo Alto, Calif.-based company's website. Trucks with internal combustion engines typically sell for slightly more than $100,000, so Tesla's price tag is expensive but 'not too terribly crazy,' said Doug Rabeneck, director in the operations excellence practice at business and technology consulting firm West Monroe Partners" [DC Velocity]. "Tesla said today it had increased the deposit required to reserve a Tesla Semi from $5,000 to $20,000. The company also announced it had set a fee of $200,000 to reserve a "Founders Series" edition of the semi, which represents the full price of that model. Tesla did not define what Founders Series meant, but published reports suggest the name refers to the first 1,000 vehicles to be produced." In other words, the *.0 release, which no sensible person should ever pay full price for.
The Bezzle: "Elon Musk, We Have Some Questions Before Ordering Our Tesla Semi" (PDF) [Stifel (via DC Velocity)]. This is excellent. Read the whole thing. One question: "3. What assumptions go into the total cost of ownership (TCO) and payback calculations? Not having answers here is a non-starter. Tesla claims a diesel truck will be 20% more expensive to operate than its electric Semi, but the company offers little information to support that claim. Outside of vehicle price, our key questions here are around the assumptions for miles driven and the use case for the vehicle." (Of course, if the real use case is robot trucks….)
The Bezzle: "G.M. Unveils Its Driverless Cars, Aiming to Lead the Pack" [New York Times]. "On Thursday, G.M. will demonstrate its growing fleet of computer-operated, battery-powered Chevrolet Bolts in San Francisco to dozens of investment analysts, who are eager to evaluate the automaker's advanced test vehicles…. To emphasize the company's progress, Mr. Ammann said the cars would be ready for consumer applications in 'quarters, not years.'" Hmm. GM only started testing robot cars in Manhattan recently, so I'd like to know how many quarters. That said, I take GM more seriously than Tesla, let alone Uber, because they actually know something about cars. And I give credit to them for testing in Manhattan, as opposed to sunny Phoenix, with its wide, gridded streets. But Level 5? We shall see.
The Bezzle: A trivial addition to Yves's post this morning on the Uber v. Waymo trial. This is how I saw the industrial espionage moment flash by on the Twitter, live:
Q: Uber had a group dedicated to stealing trade secrets and confidential information from competitors, correct?

[extremely long pause]

A: I believe that's a hyperbolic way to state something…

— kate conger (@kateconger) November 28, 2017
"[extremely long pause]." So awesome.
The Bezzle: Joseph Stiglitz: "Bitcoin is successful only because of its potential for circumvention, lack of oversight. So it seems to me it ought to be outlawed. It doesn't serve any socially useful function" [MarketWatch].
Tech: "Apple releases a macOS security update to fix huge login security flaw" [TechCrunch]. To describe the "flaw" — calling this a flaw is a bit like calling Fukushima an accident — in macOS "High Sierra" once more:
On the login screen or in the preference panel, you could bypass all security screens by entering the root username and no password. Multiple persons at TechCrunch tested the flaw and could replicate it effortlessly. After that, you can see everything on the computer even if it's not yours. It even works with a screen sharing session. For hackers, it's a great way to access your emails, personal data and more.
So, in other words, your Mac had zero factor authentication and was just as vulnerable as the stupidest Internet of Shit toaster or coffee maker or whatever. And this same technical culture is also going to be programming your robot cars and trucks. What could go wrong?
Tech: "Watch Snapchat's CEO explain the new app design in 60 seconds" [Business Insider]. Snap CEO Evan Spiegel: ""One of the complaints we've heard about social media is that photos and videos from your friends are mixed in with content from publishers and creators and influencers. But your friends aren't content — they're relationships." The redesign separates the two forms of content. Note that this is precisely what Facebook does not do; Facebooks "News Feed" expresses the idea in UI/UX form that your transactions are friendly and your friends are transactional. (No wonder kids these days think libraries rent books.) So, contra Tech Crunch, I don't think algorithmic personalization of published content is the biggest deal here. Spiegel writes in Axios:
The combination of social and media has yielded incredible business results, but has ultimately undermined our relationships with our friends and our relationships with the media. We believe that the best path forward is disentangling the two by providing a personalized content feed based on what you want to watch, not what your friends post.

Our thought bubble: It's vitally important that future content feeds are built on top of a human-curated supply of content – rather than just anything that surfaces on the Internet. Curating content in this way will change the social media model and also give us both reliable content and the content we want.
I suppose Spiegel tracks me just as much as Zuck, but I'm down to using Facebook for occasional messaging, the experience is so bad. Perhaps I should move on…
Five Horsemen: "Air hisses out of the Fab Five as the mania rotates to the financial sector." [Hat tip, Jim Haygood].
Today's Fear & Greed Index: 65 Greed (previous close: 64, Greed) [CNN]. One week ago: 54 (Neutral). (0 is Extreme Fear; 100 is Extreme Greed. Last updated Nov 29 at 11:49am. Mr. Market thinks the tax bill will pass?
Big Brother Is Watching You Watch
Little elves:
So I have found the worst thing. pic.twitter.com/aBEenJIgnp

— Lydia Nicholas (@LydNicholas) November 28, 2017
Dear Old Blighty
"Viagra to be sold without prescription in Britain" [France24]. Noted.
Gaia
"Moody's Warns Cities to Address Climate Risks or Face Downgrades" [Bloomberg]. "In its report, Moody's lists six indicators it uses "to assess the exposure and overall susceptibility of U.S. states to the physical effects of climate change." They include the share of economic activity that comes from coastal areas, hurricane and extreme-weather damage as a share of the economy, and the share of homes in a flood plain. Based on those overall risks, Texas, Florida, Georgia and Mississippi are among the states most at risk from climate change. Moody's didn't identify which cities or municipalities were most exposed."
Guillotine Watch
The 1% have horrible taste:
My friend is showing me pictures of a super upscale sex shop and the amount of empty space is driving me crazy. "Look they're rich they can afford empty space" IT'S TOO MUCH I CAN'T HANDLE IT, IT'S SO MUCH IT DOESN'T EVEN LOOK GOOD pic.twitter.com/EhlVO5IHvx

— Kayin (@KayinNasaki) November 28, 2017
Class Warfare
"Want to Stop Sexual Abuse in the Workplace? Unionize" [PortSide]. "Harassment occurs at all levels of the economy precisely because it's bound up with economic hierarchy. Women (and sometimes men) are targeted because they're dependent on someone else — be it a boss or customer — for an income, a job, a promotion, a career path, etc. Women in low-wage work also often face retaliation for trying to fight back: not merely the loss of a career, but the loss of a viable income of any form."
"BLOOD SUCKERS: CALL CENTER WORKERS BATTLE ABUSIVE CUSTOMERS, MANAGERS, BEDBUGS" [digboston]. "Abraham Zamcheck had had enough. On Wednesday, Nov 8, the 32-year-old call center representative jumped onto his desk in the offices of downtown Boston security systems firm SimpliSafe and attempted to rally his fellow workers to fight for their rights…. This time, it was an infestation in the company's third- and fourth-floor call centers at 294 Washington St in Downtown Crossing. The bed bugs issue, which has reportedly been a problem since April and continues to plague the company's Boston offices, was the tipping point for SimpliSafe workers." Holy moley. Solidarity is the antidote to precarity… And bedbugs.
R.I.P. Douglas Oliver:
Restaurant kitchens are full of unsung heroes, obscurity toilers, invisible workers like Douglas Oliver, who died last month. For over three decades, Douglas worked as a pitmaster at Sweatman's Bar-B-Que in Holly Hill, SC. He called himself a "worker ant." pic.twitter.com/esNU0jchLD

— Rien Fertel (@rienfertel) November 27, 2017
This tweetstorm is both joyful (I love good food and respect those who make it) and immensely sad.
News of the Wired
"Thank You" [Your Man for Fun in Rapidan]. A belated link to a Thanksgiving Post (and an example of the sort of small blog that would be utterly disappeared with the Packaged Internet brought about by ending net neutrality).
Internet of Shit:
Holy shit, someone really did it pic.twitter.com/z0v58bGWol

— David Weiner (@daweiner) November 9, 2017
So what happens to the dog when the Internet goes down?
* * *
Readers, feel free to contact me at lambert [UNDERSCORE] strether [DOT] corrente [AT] yahoo [DOT] com, with (a) links, and even better (b) sources I should curate regularly, (c) how to send me a check if you are allergic to PayPal, and (d) to find out how to send me images of plants. Vegetables are fine! Fungi are deemed to be honorary plants! If you want your handle to appear as a credit, please put it in the subject line. Otherwise, I will anonymize by using your initials. See the previous Water Cooler (with plant) here. Today's plant (CR):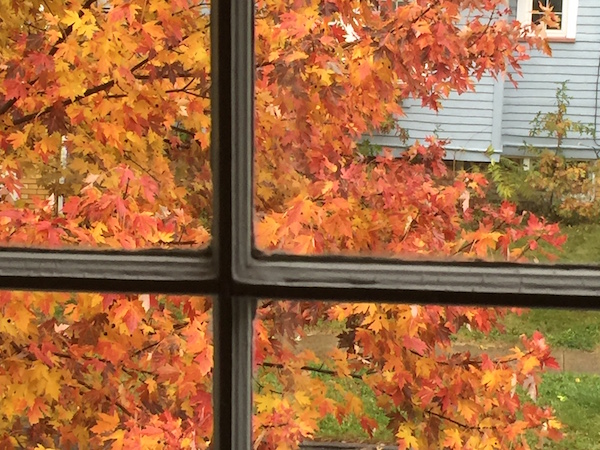 From Cleveland, OH (though it could be out my kitchen window in Maine).
* * *
Readers: Water Cooler is a standalone entity not covered by the NC fundraiser. So do feel free to use the dropdown and click the hat to make a contribution today or any day. Here is why: Regular positive feedback both makes me feel good and lets me know I'm on the right track with coverage. When I get no donations for five or ten days I get worried. More tangibly, a constant trickle of small donations helps me with expenses, and I factor that trickle in when setting fundraising goals. So if you see something you especially appreciate, do feel free to click the hat!