By Lambert Strether of Corrente.
Net Neutrality
"HOW TO BREAK THE INTERNET" [Battle for the Net]. Not really: "Net neutrality affects everyone who uses the Internet. This protest is for all of us. Here's a big list of creative ways to "Break the Internet" for the 48 hours before the FCC vote. Go wild and Tweet every 10 minutes until the FCC vote, change your job on LinkedIn to "Defending Net Neutrality" or say you're 'Married to the Open Internet' on Facebook. Do whatever you can to get *everyone's* attention and drive phone calls to Congress."
Get access to everything…
Unless we #StopTheFCC, your Internet is going to start looking like your cable. That's bad for consumers and entrepreneurs alike. Take action now to save #NetNeutrality: https://t.co/S8d0OxZQe0 pic.twitter.com/WpRCSAncQt

— Fight for the Future (@fightfortheftr) December 13, 2017
Trade
"'Investment Facilitation for Development' is a Trojan Horse for Investment Rules in WTO, Say Civil Society Advocates" [Public Citizen]. ""Investment is called a 'Singapore issue' because its inclusion in the WTO was rejected at the Singapore ministerial in 1996 for a simple reason that still applies today: foreign investment is not trade, so foreign investment rules don't belong in the WTO. The Multilateral Agreement on Investment in the OECD died in 1998. A new push to negotiate on investment in the WTO was rejected for lack of explicit consensus at the Cancun ministerial in 2003. Now they are trying to re-legitimise the discredited international investment regime using the Trojan Horse of "investment facilitation" for "development" in the WTO. They say it won't include market access, investor protection and ISDS. But once investment is on the WTO agenda they are bound to reappear."
Politics
2020
"Longtime friendship with Joe Biden pays off for Jones in Senate election" [NBC]. He's running.
2018
"10 Thoughts After the Alabama Senate Election" [Inside Elections]. One nugget: "The last Democrat to win a Senate race in Alabama was Sen. Richard Shelby in 1992, and he's now the state's senior senator as a Republican." But 'twas a famous victory. Close to the present day: "In the longer term, it puts Democrats one seat closer to the majority in 2019. It was also the most difficult seat of the three-seat gain Democrats need, considering the party has better takeover opportunities in Nevada and Arizona next year. They still have to run the table for a majority, but it's now easier with the special election victory in Alabama."
2017
The World Jones Made:

"Democrats now have miraculously added a Senate seat that, truth be told, they have no business having, and it's one they do not have to defend next year" [Larrry Sabato's Crystal Ball]. Lots of good detail on the electorate here.

"I got this" (1):

The reason I originally endorsed Luther Strange (and his numbers went up mightily), is that I said Roy Moore will not be able to win the General Election. I was right! Roy worked hard but the deck was stacked against him!

— Donald J. Trump (@realDonaldTrump) December 13, 2017

"I got this" (2):

Tonight, Alabama voters elected a senator who'll make them proud.

And if Democrats can win in Alabama, we can — and must — compete everywhere.

Onward!

— Hillary Clinton (@HillaryClinton) December 13, 2017

"I got this" (3):

I'm hearing lots of Dems talking about lessons to learn from #Alabama. Here's one from me: when we run against a white supremacist, Islamophobe, w/ a record of abusing women – we ought be be able to win. Why then did we lose PA, WI, MI etc in 2016? Soul searching, please.

— James J. Zogby (@jjz1600) December 13, 2017

As always, beware of monocausal explanations. From the FInancial Times, "Trump suffers setback in Alabama Senate election":

Immediately after the result, Mr Trump congratulated Mr Jones on a "hard fought victory" but said on Twitter that write-in votes — which totalled 1.7 per cent — had been a "very big factor".

Ahead of the election, Richard Shelby, a popular Republican who holds the other Alabama Senate seat, urged voters not to back Mr Moore and to write in the name of another prominent Republican rather than vote for either party's candidate.

"The GOP establishment got behind the deeply unpopular Strange and even convinced President Trump to support him. McConnell's SuperPAC spent more than $10 million to get him to the runoff, which he lost to Roy Moore" [Washington Examiner]. If not for this interference, it is very likely that Rep. Mo Brooks, R-Ala., a conservative congressman from northern Alabama, would have beaten Moore in the primary runoff. One can thus attribute Moore's nomination and his defeat as a result of the D.C. establishment trying to pick Alabama's next senator instead of letting Alabamians do it themselves. And the Republican establishment's culpability goes even beyond that. Even before the sexual misconduct allegations surfaced against him, Moore was an unpopular and highly controversial figure in Alabama. If even he was able to win a primary by default simply by running against the Washington GOP, that suggests the Washington GOP is doing something wrong."

* * *

"Sources say Lt. Gov. Tina Smith to be named U.S. Senator to replace Al Franken on Wednesday" [Minneapolis Star-Tribune]. "In selecting Smith, the governor is choosing one of his most trusted advisers and someone who has worked for years traveling the state and building relationships with influential DFLers and business leaders. Smith was Dayton's first chief-of-staff after careers at General Mills, Planned Parenthood and the city of Minneapolis, where she was chief-of-staff to former Mayor R.T. Rybak."
Tax "Reform"
"Doug Jones's victory in the Alabama Senate election Tuesday night does not change prospects for the Republican tax bill, said Brian Gardner of Keefe, Bruyette & Woods in a note Wednesday. 'We expect the tax bill will probably be passed by Congress before Christmas,' Gardner said. He noted Jones won't be sworn in until the Senate receives certification from Alabama. Alabama's secretary of state estimates certification will be between Dec. 26 and Jan. 3. The election 'should not impact the tax bill unless some other factor(s) derail the tax bill and push the issue into 2018,' Gardner said" [MarketWatch]. Dunno. An even tighter margin, even if in the next Congress, has to affect the sausage-making.
Realignment and Legitimacy
"Was the Heated 2016 Democratic Primary Rigged for Debbie Wasserman Schultz?" [Alternet]. "Now new evidence of original ballots being destroyed [in 2016's Wasserman Schultz v. Canova v. and cast ballots not matching voter lists calls into question the results of that election." Detail: "After almost a year of wrangling with the Supervisor of Elections' office, we were allowed a ballot inspection on November 1st and 2nd. We arrived to find that there were no actual ballots to be inspected. The county instead insisted on showing us digital scans of ballots. In the subsequent court hearing they admitted they destroyed the originals." That smells, as Nomiki Konst would say.

"How the GOP Can Hang on to the Working Class" [The American Conservative]. "Conservatism is evolving from its post-World War II origins. Republicans witnessed last year how Trump's voting base had shifted towards expanded health care access, crackdowns on monopolistic sectors, tax increases for the wealthy, and a prudent foreign policy. They maintain a traditional conservative disposition on social issues, but their economic outlook is more in alignment with the New Deal era than the Republican Revolution of 1994. Preserving this coalition will require an inclusive approach. Working-class regions are geographically and culturally diverse, ranging from Appalachian villages to poor city neighborhoods. Republicans must compassionately respond to white senior citizens who cannot retire, Latino small business owners who struggle to finance their dreams, and African-American families in failing urban school districts." Let me know how that works out…

"Household Financial Distress and Voter Participation" [William Benedict McCartney, SSRN]. From the abstract: "[H]ighly leveraged homeowners, a ten percent decline in local house prices decreases voter participation by two percentage points. Furthermore, homeowners, especially highly leveraged homeowners, are significantly more affected by house price declines than their renter-neighbors. Back of the envelope calculations suggest that mortgage distress can explain approximately 500,000 abstentions in the 2012 general election."

"Austerity and the rise of the Nazi party" [Gregori Galofré-Vilà, Christopher M. Meissner, Martin McKee, David Stuckler, NBER]. From the abstract: "Depending on how we measure austerity and the elections we consider, each 1 standard deviation increase in austerity is associated with a 2 to 5 percentage point increase in vote share for the Nazis. Consistent with existing evidence, we find that unemployment rates were linked with greater votes for the Communist party…. The coalition that allowed a majority to form government in March 1933 might not have been able to form had fiscal policy been more expansionary." Important for the next recession.
Stats Watch
MBA Mortgage Applications, week of December 8, 2018: "Purchase applications for home mortgages fell by a seasonally adjusted 1 percent in the December 8 week, while applications for refinancing declined 3 percent. Unadjusted, the purchase index fell 6 percent in the week, putting it 10 percent above the level in the same week a year ago" [Econoday].
Consumer Price Index, November 2017: "Higher gasoline prices gave a superficial boost to the CPI headline which managed to meet expectations with a 0.4 percent November gain yet when excluding energy and also food, the core comes up 1 tenth short of Econoday's consensus and inched only 0.1 percent higher" [Econoday]. "Inflation is just lying around, not getting much push from wages in what is an increasing anomaly of this expansion. Yet however soft inflation remains, the labor market appears to be at full employment which gives Federal Reserve policy makers little choice but to raise rates at today's FOMC."
Commodities: "According to the [Glencore-commissioned CRU] study as early as 2020, when [Electric Vehicles (EVs)] would still make up only 2% of new vehicle sales, related metal demand already becomes significant, requiring an additional 390,000 tonnes of copper, 85,000 tonnes of nickel and 24,000 tonnes of cobalt" [Mining.com]. "Based on an EV market share of less than 32% in 2030, forecast metal requirements are roughly 4.1m tonnes of additional copper (18% of 2016 supply). The move away from gasoline and diesel-powered vehicles would need 56% more nickel production or 1.1m tonnes compared to 2016 and 314,000 tonnes of cobalt, a fourfold increase from 2016 supply."
Energy: "An explosion in Austria highlights the thin band of infrastructure used for natural gas distribution. The blast at Austria's largest import hub left one person dead and reverberated across Europe…, triggering a state of emergency in Italy and the highest gas prices in 3 years in the U.K. Almost a third of Italy's supply flows through the hub, and the explosion compounded existing gas-supply concerns in the U.K., coming just a day after a major supplier said it was shutting down an important section of a Scottish pipeline" [Wall Street Journal].
Shipping: "There's hardly any slack in the slack season at U.S. ports heading toward the end of the year. Southern California's big seaports are reporting an unusually strong late-season surge in imports.., a sign that retailers boosted by strong consumer sales are restocking inventories at a rapid pace to tap into the resurgent sales demand" [Wall Street Journal]. "Experts say the late surge is being driven by accelerating e-commerce growth, which is driving a big increase in airfreight and ocean shipments across the Pacific. Trade data group Panjiva Inc. says U.S. seaports overall saw a 5.6% year-over-year gain in volume last month. But the growth was far stronger at the ports of Los Angeles and Long Beach, which together were up 10.6% from last year. More important, their imports jumped 8.4% from October to November to levels closer to the peak season. The containers are pushing more goods to road and rail distribution networks, and to consumers that the retailers hope are still in a buying mood."
Shipping: "The [Port of Los Angeles's] November volumes were helped by last-minute shipments of holiday merchandise, as well as by poor weather, which forced some vessels originally scheduled to call the port in October to delay their arrivals until November, according to Phillip Sanfield, a port spokesman" [DC Velocity].
Shipping: "Last year, 185,000 teu were moved by rail to Europe on 1,800 trains and, according to projections from the Chinese government [hmm], this will grow to 5,000 trains in 2020" [The Loadstar]. "More recently there have been allegations that the leadership in Beijing is thinking of cutting subsidies for the [Belt & Road] programme, which would have serious ramifications for users of the service."
Shipping: "Declaration on shipping emissions signed by 35 nations in Paris" [Splash 247]. "The declaration states shipping must set a level of ambition for the sector that is compatible with that of the Paris Agreement, including a peak on emissions in the short-term and then reducing them to neutrality towards the second half of this century."
Infrastructure: "AT&T Launches Broadband Over Power Line Project, a Threat to Traditional Broadband" [247 Wall Street]. "The result of success would bear fruit in several ways. Among these is that remote areas that do not have broadband would have access to high-speed internet. This includes, in particular, rural areas and other places that have never been wired or do not have wireless broadband access. More important to the telecom and cable industries, their multibillion investments in wireline and wireless broadband could be eroded by a new form of technology that would be cheap to deploy and, perhaps consequently, less expensive for customers." I hate to seem paranoid, but the article does mention that this idea has been around "for decades," and so my first thought was that this was Net Neutrality-related PR.
The Bezzle: "South Korea considers cryptocurrency tax as regulators grapple with 'speculative mania'" [Reuters]. "In Seoul, after an emergency meeting on Wednesday, South Korea's government said it will consider taxing capital gains from trading of virtual coins and will also ban minors from opening accounts on exchanges, according to a statement obtained by Reuters ahead of its official release. To be eligible, exchanges in South Korea will need to uphold investor protection rules and disclose all bid and offer quotes."
The Bezzle: "The voracious appetite for new cryptos, in one mesmerizing graphic" [MarketWatch]. Musical interlude…
The Bezzle: "Review Amazon wants a key to your house. I did it, and I regret it" [Los Angeles Times]. "But make no mistake, the $250 Amazon Key isn't just about stopping thieves. It's the most aggressive effort I've seen from a tech giant to connect your home to the internet in a way that puts itself at the center….. The good news is nobody ran off with my boxes — or burgled my house. The bad news is Amazon missed four of my in-home deliveries and charged me (on top of a Prime membership) for gear that occasionally jammed and ." That's not a bug….
The Bezzle: Apple in the news again:
HomeKit, the "secure" IOT platform… had a zero day… that allowed remote door unlocking https://t.co/KGucULM6mG

— Internet of Shiiiiiiiiiiiiiiiiiiiiiiiiiiiiiiiiiiit (@internetofshit) December 8, 2017
The Bezzle: "In February, months before the #MeToo movement erupted, I ran an experiment in which I sexually harassed Apple's Siri, Amazon's Alexa, Microsoft's Cortana, and Google's Google Home to document how these digital personal servants—whose names and voices are already feminized—peddle stereotypes of female subservience, putting their "progressive" parent companies in a moral predicament" [Quartz], "'I'd blush if I could' is not the response you'd expected to hear when you tell Siri she's a slut—but it is." So that's how Apple is training children…
The Bezzle: "Meet the man trying to catch Google search at its worst" [The Outline]. "There is one group working on a concept for a system that would establish a record of search engine results. The idea is similar to the Internet Archive, which downloads periodic copies of websites, but more complicated since search engines display different results depending on the time as well as the location and history of the user. The solution for tracking such a complicated system is described in a prospectus for the Sunlight Society, founded by a group of 20 researchers under the banner of the American Institute for Behavioral Research and Technology (AIBRT), a nonprofit in Vista, California that conducts research in psychology and tech…. 'This is about new methods of influence that have never existed before, and that are affecting the decisions of billions of people every day without their knowledge, and without leaving a paper trail,' said Robert Epstein, a 64-year-old researcher, book author, and former editor-in-chief of Psychology Today." Sounds like a phishing equilibrium….
Pensions: "According to [Fitch Ratings] report, Illinois' unfunded pension liabilities amounted to 22.8% of residents' personal income at the end of fiscal year 2016, compared to a median 3.1% for all states and 1% for Florida, the least burdened state" [Pensions & Investment].
The Fed: "The growing use of the Web-driven comparison shopping that consumers are doing on their smartphones is starting to have a big impact on the basic measures of the economy…, adding new complications to the Federal Reserve's decisions on interest rates. The problem is that consumer knowledge is keeping a lid on prices that retailers can charge, and that's become a growing factor holding down inflation in advanced economies" [Wall Street Journal]. "Central bankers want inflation to rise to an annual rate of around 2%, considered a healthy level. But recent research suggests online price competition may be subtracting as much as a tenth of a percentage point from core inflation."
The Fed: "Expect the Fed to Stand By Its 2018 Outlook" [Tim Duy, Bloomberg]. "The Fed is likely to continue to point toward another 75 basis points of tightening in 2018 when it releases the next Summary of Economic Projections. To be sure, the minutes of the last FOMC meeting painted a dovish outlook as participants fretted about the inflation picture. But these concerns need to be weighed against the outlook for growth, which improved throughout 2017, and the implications of that accelerated growth on unemployment." We'll soon know!
Five Horsemen: "The Fab Five sputter as the broad market sails higher on end-of-year autopilot" [Hat tip, Jim Haygood].
Today's Fear & Greed Index: 66 Greed (previous close: 62, Greed) [CNN]. One week ago: 59 (Greed). (0 is Extreme Fear; 100 is Extreme Greed. Last updated Dec 12 at 4:36pm.
Gaia
"World's third-largest insurer to divest from oil sands and pipelines" [Mining.com]. "AXA SA, the third-largest insurer in the world, announced today that it will divest about $822 million from the main oil sands producers and associated pipelines, and will stop further investments in these businesses. The move could affect companies such as TransCanada, Enbridge and Kinder Morgan. In a media statement, the French giant said its decision is based on the fact that oil sands are an extremely carbon-intensive form of energy and a serious cause of environmental pollution."
Big Brother Is Watching You Watch
"Surveillance firms spied on campaign groups for big companies, leak shows" [Guardian]. "British Airways, the Royal Bank of Scotland and Porsche are among five large companies that have been identified as having paid corporate intelligence firms to monitor political groups that challenged their businesses, leaked documents reveal. The surveillance included the use of infiltrators to spy on campaigners."
Neoliberal Epidemics
"A Nasty, Nafta-Related Surprise: Mexico's Soaring Obesity" [New York Times]. "[T]he Ruizes have become both consumers and participants in an extraordinary transformation of the country's food system, one that has saddled them and millions of other Mexicans with diet-related illnesses. It is a seismic shift that some nutritionists say has an underappreciated cause: free trade."
"OPINION: For-profit financing of health care is bad for our nation's health" [Citizen Times]. "Humans have a very elaborate and effective physical and emotional system for dealing with life threatening stress which is known as the "Fright or Flight" response. The downside of this system is that when fear and anxiety become chronic and unrelenting, the chemicals produced begin to break down normal tissues and we are more likely to become ill, both physically and emotionally. The result: The "status quo" profit driven financing of health care is literally causing our citizens physical and emotional illness, driving up the their need for services which they already know they cannot afford."
Guillotine Watch
"We finally have proof that visionary founders make the worst CEOs" [Quartz]. " Firms led by the people who founded them were 9.4% less productive, on average, and on average had consistently lower management scores—which typically rose once the founder-CEO was replaced."
Class Warfare
"Executives in Politics" [The Harvard Law School Forum on Corporate Governance and Financial Regulation]. "[B]usinessman politicians generate large benefits for their firms. We find that an average firm in our sample adds more than $390 million to its stock value around the time when its executive wins a federal election. Furthermore, some of these firm-level benefits accrue to executives directly, via personal stockholdings in their firms. An average businessman politician in our sample experiences a more than $540 thousand increase in the value of his or her holdings upon winning the election. We also find similar effects when Congress passes legislation introduced by former corporate executives. Thus, it appears that the stock market expects businessman politicians to generate large private benefits for their firms (and perhaps for themselves." Ka-ching.
"Changes proposed by the Department of Labor on Dec. 5 would allow employers to legally pocket tips that servers earn at restaurants. The change, which would repeal part of a 2011 ruling that said employers could not pocket their workers' tips, is meant to level a growing disparity between what tipped employees like servers make compared with back-of-house employees like cooks. After the changes, employers could take all tips earned by servers and redistribute them to employees that are not tipped" [MarketWatch]. "That sounds like a fair plan, in theory. However, there is no guarantee employers would redistribute pooled tips and critics say economic models show they will likely pocket them instead."
"IN DEFENCE OF THE LABOUR THEORY OF VALUE" (!) [Stumbling and Mumbling]. "As I approach retirement, however, I've begun to change my mind. I think of major expenses in terms of labour-time because they mean I have to work longer. A trip to the vet is an extra fortnight of work; a good guitar an extra month, a car an extra year, and so on. When I consider my spending, I ask: what must I give up in order to get that? And the answer is my time and freedom. My labour-time is the measure of value. This is a reasonable basis for the claim that workers are exploited. To buy a bundle of goods and services, we must work a number of hours a week. But taking all workers together, the hours we work are greater than the hours needed to produce those bundles because we must also work to provide a profit for the capitalist." Concluding: "By the (low) standards of economic theories, perhaps the LTV isn't so bad." Ha.
"Karl Marx was so broke in 1859 he couldn't afford the postage stamps to mail off his new manuscript, leading the philosopher to lament, 'I don't suppose anyone has ever written about 'money' when so short the stuff'" [MarketWatch]. "He was probably right about that. However, the most famous book about money written by someone strapped for cash wasn't 'Das Kapital' or 'The Communist Manifesto.' It was 'A Christmas Carol.'" Always good to see literary criticism in MarketWatch! Fun piece, eorth a read.
Class and gender and power:
"No is a luxury, and I have spent most of my life saying yes to every single job and request that came my way. I did it out of fear. I did it because I live paycheck to paycheck."

— Tressie Mc (@tressiemcphd) December 10, 2017
"Robots are being used to deter homeless people from setting up camp in San Francisco" [Business Insider]. "The K9 robot circling the SF SPCA has drawn mixed responses. Within the first week of the robot's deployment, some people who were setting up a homeless encampment nearby allegedly "put a tarp over it, knocked it over, and put barbecue sauce on all the sensors," according to Jennifer Scarlett, president of the SF SPCA." News you can use!
News of the Wired
"Vast and Protean, Unimaginably Hungry" [blckdgrd]. R.I.P. William Gass.
"Internet protocols are changing" [APNIC]. "The newest change on the horizon is DOH — DNS over HTTP. A significant amount of research has shown that networks commonly use DNS as a means of imposing policy (whether on behalf of the network operator or a greater authority). Circumventing this kind of control with encryption has been discussed for a while, but it has a disadvantage (at least from some standpoints) — it is possible to discriminate it from other traffic; for example, by using its port number to block access. DOH addresses that by piggybacking DNS traffic onto an existing HTTP connection, thereby removing any discriminators. A network that wishes to block access to that DNS resolver can only do so by blocking access to the website as well." Readers?
* * *
Readers, feel free to contact me at lambert [UNDERSCORE] strether [DOT] corrente [AT] yahoo [DOT] com, with (a) links, and even better (b) sources I should curate regularly, (c) how to send me a check if you are allergic to PayPal, and (d) to find out how to send me images of plants. Vegetables are fine! Fungi are deemed to be honorary plants! If you want your handle to appear as a credit, pleas s e place it at the start of your mail in parentheses: (thus). Otherwise, I will anonymize by using your initials. See the previous Water Cooler (with plant)
here
. Today's plant (RW):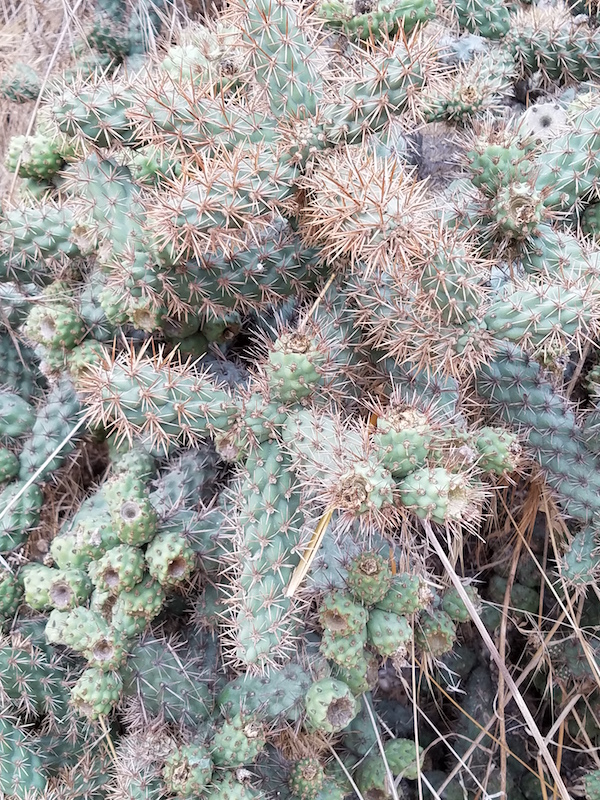 RW writes: "Coastal cholla cactus in San Diego (National City)."
Readers, I'm still running a bit short on plants, although thanks for the photos you have sent so far. Buttoned-up gardens? Fall foliage? Forest fires?! First snow? Those happy snaps from the summer you never had time to look at? Thanks!
* * *
Readers: Water Cooler is a standalone entity not covered by the NC fundraiser. So do feel free to use the dropdown and click the hat to make a contribution today or any day. Here is why: Regular positive feedback both makes me feel good and lets me know I'm on the right track with coverage. When I get no donations for five or ten days I get worried. More tangibly, a constant trickle of small donations helps me with expenses, and I factor that trickle in when setting fundraising goals. So if you see something you especially appreciate, do feel free to click the hat!