By Lambert Strether of Corrente.
Patient readers, this post isn't nearly done; I got a late start because I got all tangled up in mesh networks. I'll have more of everything for you — not excessively more, since this is after all a holiday — shortly –lambert UPDATE 3:40PM All done!
Trade
"TABLE OF FOREIGN INVESTOR-STATE CASES AND CLAIMS UNDER NAFTA AND OTHER U.S. "TRADE" DEALS" (PDF) [Public Citizen]. "While fewer than 50 cases were filed in the first three decades of the investor-state system, corporations launched at least 50 cases each year for the last six years, intensifying concerns about the system's threats to democracy, taxpayers and the public interest.1 Countries from South Africa to Indonesia to India have withdrawn from or renegotiated their ISDS-enforced pacts. The corporate lobby is desperately trying to save their ISDS regime, but are increasingly isolated. The U.S. National Conference of State Legislatures representing the mainly Republican GOP-controlled U.S. state legislative bodies, the U.S. National Association of Attorneys General, small business organizations, unions and consumer and environmental groups and Democratic and Republican members of the U.S. Congress alike have called for ISDS to be removed from U.S. trade agreements. Stark criticism of ISDS also has come from voices as disparate as U.S. Supreme Court Chief Justice John Roberts and pro-free trade think tanks such as the Cato Institute and progressive Democratic U.S. Senator Elizabeth Warren (D-Mass.) and former Vice President Biden's chief economist Jared Bernstein."
Politics
2018
"Dems see 2018 as best chance in years to win back House" [The Hill]. "Midterm elections for first-term presidents are typically grim for the party in control of the White House. And with President Trump's approval rating hovering in the 30s — an historic low in the modern era — the Democrats are increasingly optimistic they can mine the White House turmoil to energize their base, attract disheartened Republicans and pick up the 25 seats they'll need to win back the Speaker's gavel after eight years in the minority… [T]he leading election prognosticators increasingly consider the House up for grabs next year. Here are some of the factors affecting the odds." If they run true to form, the Democrats will squander their victory on bad policy, as in 2006 (when they regained the House and Senate) and in 2008 (when they won the Presidency). I mean, that's why we are where we are…

"The future is female and that's bad news for this version of the Republican Party" [Moneyish]. "That's according to a new Wall Street Journal/NBC News poll, which reveals a powerful Democratic advantage among female voters as America is about to enter an election year. The survey of 900 adults found that women favor Democratic control of Congress by 20 points, a significant shift from 2010's midterm elections, when a slim majority of females preferred the GOP and delivered what then-President Barack Obama called a 'shellacking' against his party. The Democrats' edge is especially pronounced when it comes to college-educated women, who prefer the party of Chuck Schumer and Nancy Pelosi by a whooping 32 points."

"More than 4 in 5 enrolled in 'Obamacare' are in Trump states" [ABC News]. "An Associated Press analysis of new figures from the government found that 7.3 million of the 8.8 million consumers signed up so far for next year come from states Trump won in the 2016 presidential election. The four states with the highest number of sign-ups — Florida, Texas, North Carolina and Georgia, accounting for nearly 3.9 million customers — were all Trump states." If only the Democrats had something even better to offer these voters. Let me think….
2017
"The inside story of Doug Jones's win in Alabama" [Ezra Klein, Vox]. In other words, Young Ezra interviewed a Jones staffer, Joe Trippi (for whom I must say I retain a lingering affection, unlike Axelrove): "Trippi says the central insight of the Jones campaign was that many voters, including many Trump-friendly Republicans, are already exhausted by the chaos and hostility of Trump's Washington, and they're open to alternatives. That was the opportunity Jones exploited, and it's a lesson Trippi thinks is a model other Democrats could learn from in 2018." Attaboy. The Democrat Establishment narrative for 2018 is now being sold in all venues, and the first sentence of the first paragraph of that narrative, the "Call me Ishmael," the "Stately, plump Buck Mulligan," the "It is a truth universally acknowledged," was the defenestration of Keith Ellison, orchestrated by Obama. It will be interesting to see what role RussiaBate plays, if any, in converting these Republicans…
New Cold War
"10 times the intel community violated the trust of America's citizens, lawmakers and allies" [Sharyl Attkisson, The Hill]. The list is good, but seems short to me. "Perhaps more alarming is the growing evidence that suggests some officials at all levels in intelligence and justice agencies are operating in a way that is clearly intended to serve their own political beliefs and interests — not the public's interests." Atkinson (sigh) is a host at Sinclair, so we're looking at yet another example of a partisan speaking the truth to serve a lower purpose, but truth it is, the liberal Democrats prove it, by lauding high officials like Clapper (perjury), Brennan (torture), and Mueller (entrapment) as icons, and Heroes of the Republic.

"Where's the 'Collusion'?" [Real News Network]. Brutal.
Realignment and Legitimacy
"Meanwhile, liberal safe havens, the places where a certain class of liberals goes for succor and strength, or even for a thoughtful diversion from a world teeming with Orcs, are in tumult. Everywhere, institutions that liberals rely on are drowning beneath a progressive wave of #metoo" [Bloomberg]. Like that's a bad thing. Still, it will be amusing to see, in the fullness of time, that "power corrupts" is gender fluid.
Stats Watch
Dallas Fed Manufacturing Survey, December 2017: "Regional factory reports, in some contrast to government data at the national level, continue to run at unusually strong rates of growth including the Dallas Fed's general activity index" [Econoday]. "Yet the strength of the Dallas Fed, along with similar reports, has not panned out to quite the same strength for factory orders, which have been solid but still mixed, nor the manufacturing component of the industrial production report which also has been mixed. Still, the factory sector is on the rise and looks to be an important contributor to fourth-quarter growth." Surveys vs. Data, Godzilla vs. Mothra… And: "This survey remains well into positive territory with new orders improving and unfilled orders declining. This was a stronger report than last month" [Econintersect]. And: "Based on these regional surveys, it seems likely the ISM manufacturing index will be strong again in December (to be released Wednesday, Jan 3rd)" [Calculated Risk].
Richmond Fed Manufacturing Index, December 2017: "Manufacturing activity in the Fifth District cooled to a more moderate growth pace in December" [Econoday]. "Despite the moderation in current company conditions, optimism among manufacturing executives increased on nearly all fronts in December, with expectations exceeding November's exuberance in all readings except vendor lead times." But: "The important Richmond Fed subcategories declined with backlog contracting, The data is worse than last month" [Econintersect],
S&P Corelogic Case-Shiller Home Price Index, October 2017: "Strength in home prices is one of the biggest stories of the 2017 economy, reflected in S&P Case-Shiller data where October's seasonally adjusted gain for the 20-city index is a sharp 0.7 percent" [Econoday]. "Lack of supply of available homes on the market is a central factor helping home prices not to mention the general acceleration in housing demand that is clearly underway." And: "In real terms, house prices are back to 2004 levels" [Calculated Risk].
State Street Investor Confidence Index, December 2017: "Global institutional investor appetite for equities continued to diminish in December" [Econoday]. "Today's report shows global investors becoming more risk averse for the fifth consecutive month … Globally, however, while the broader economic outlook appears increasingly rosy, the more cautious nature of institutional investors points to concerns that financial markets have already discounted much of the good news."
Retail: "Fueled by high consumer confidence and a robust job market, U.S. retail sales in the holiday period rose at their best pace since 2011, according to Mastercard SpendingPulse, which tracks both online and in-store spending" [MarketWatch]. "Sales, excluding automobiles, rose 4.9% from Nov. 1 through Christmas Eve, compared with a 3.7% gain in the same period last year."
Retail: The headine: "Amazon Reports Biggest Holiday Season Ever" [247 Wall Street]. The lead: ", Amazon.com Inc. on Tuesday said that its 2017 holiday season had customers around the world 'shopping at record levels' for 'hundreds of millions of products.'"
The Bezzle: "Uber to sell U.S. subprime auto-leasing business to startup Fair.com" [MarketWatch]. "Uber Technologies Inc. has agreed to sell its U.S. subprime auto-leasing business to startup car marketplace Fair.com, people familiar with the matter said, bringing to an end the ride-hailing giant's failed attempt to attract new drivers who lack regular access to vehicles." Never eat at a place called Mom's, never lease a car from a dealer named Fair…
The Bezzle: "Heed Warren Buffett's warning: bitcoin is pure FOMO" (Fear Of Missing Out, by Erica Jong) [MarketWatch]. The warning is not actually Buffet's, but the authors. Nevertheless: "Buffett is having none of it. "'You can't value bitcoin, because it's not a value-producing asset,' he said recently. Earlier, in 2014, when bitcoin was worth much, much less, Buffett said, 'Stay away from it. It's a mirage, basically,' adding, 'The idea that it has some huge intrinsic value is just a joke, in my view.' So what drives the value of an essentially value-free asset? FOMO…. As with dot-coms and real estate, the fuel driving the bitcoin fire is the continual entry of new investors, more and more people motivated by FOMO, fear of missing out. (Remember Beanie Babies? Exactly…)."
The Bezzle: "Bitcoin, the biggest cryptocurrency, extended its decline over the long holiday weekend, failing to reverse a selloff that began after an unprecedented rally fell short of breaching $20,000" [Bloomberg]. "Bitcoin's record high was reached on Dec. 18 hours after CME Group Inc. debuted futures contracts, which some traders said would encourage short position-taking."
The Bezzle: "Russia Setting Rules for Cryptocurrency Miners" [247 Wall Street]. "The activity follows orders from Russian President Vladimir Putin, who in October told officials that he wants regulation of digital currencies, ICOs and cryptocurrency mining. Mining operations are to be registered with the government and taxed. Officials have a July 2018 deadline for completing their work. The United States and China currently account for about 75% of all the world's cryptocurrency mining, but Russian cities from St. Petersburg to Kaliningrad also host large mining farms."
Tech: "Apple's iPhone X is selling, but no one's quite sure how much" [MarketWatch]. "How has the iPhone X performed in its highly anticipated launch? It's anyone's guess, and plenty of people seem to be guessing." Not seeing a lot of strong methodology from analysts here… And: "Micron, Universal Display stocks fall after reports of weak demand for Apple's iPhone X" [MarketWatch].
Tech: "If Everyone in China Has a Smartphone, What Does Apple Do Now?" [247 Wall Street]. "A report this morning from Taiwan's DigiTimes cites the latest report from China's Ministry of Industry and Information Technology (MIIT) on the number of Chinese subscribers to mobile communication services at the end of November. According to MIIT, the country has 1.41 billion subscribers. The CIA World Factbook in July estimated the country's population at 1.379 billion, and Worldometers pegs the population as of Christmas Day at 1.412 billion. Of course some people have multiple subscriptions and some have none, but the numbers are striking in any event."
Fodder for the Bulls: "The odds of an extended run in stocks next year appears to be strong, as the aging bull will likely get a shot in the arm from long-awaited tax cuts, which appear likely to win passage this week. But it also faces challenges from tighter monetary policy around the world and a market viewed as overdue for a pullback of at least 10%" [MarketWatch]. "A notable outlier among forecasters was Ian Winer, head of the equities division at Wedbush Securities." Winer on tax "reform": "'Because they have essentially given everyone something, the actual rates for taxes are not that much of a boost. Companies have 10 years to repatriate and —so I don't attach the same multiple to that,' he said."
Five Horseman: "Apple's 2.8% drop this morning creates a two-tier market: Seattle-based Amazon and Microsoft sport 28% gains since late April, while the Silicon Valley trio (Apple, Alphabet, Facebook) show 20% gains" [Hat tip, Jim Haygood].
Rapture Index: Closes unchanged [Rapture Ready]. Record High: 189, October 10, 2016. Current: 187.
Today's Fear & Greed Index: 64 Greed (previous close: 66, Greed) [CNN]. One week ago: 73 (Greed). (0 is Extreme Fear; 100 is Extreme Greed. Last updated Dec 26 at 1:30pm.
Big Brother Is Watching You Watch
"Not Ready for Takeoff Face Scans at Airport Departure Gates" [Georgetown Law Center on Privacy and Technology]. "Making matters worse, the face scanning technology used by DHS may make frequent mistakes. According to DHS' own data, DHS' face recognition systems erroneously reject as many as 1 in 25 travelers using valid credentials. At this high rate, DHS' error-prone face scanning system could cause 1,632 passengers to be wrongfully delayed or denied boarding every day at New York's John F. Kennedy (JFK) International Airport alone. What's more, DHS does not appear to have any sense of how effective its system will be at actually catching impostors—the system's primary goal. The privacy concerns implicated by biometric exit are at least as troubling as the system's legal and technical problems." Sounds to me like grift is "the system's primary goal." Ka-ching.
Black Injustice Tipping Point
"Eric Garner's daughter remains in grave condition after heart attack" [NY Daily News]. Check her account for the latest.
News of the Wired
"Prehistoric bling: Research uncovers factors behind the development of earliest copper alloys" [Mining.com] (original). "Knowing the importance of aesthetics in ancient metallurgy, Radivojevic and her team decided to dig into those [archaeological artifacts]' initial colour by experimentally replicating the most common prehistoric alloys, made of binary and ternary combinations of copper, arsenic and tin. Once they did that, they were able to produce a colour chart that comes the closest to showing the true 'bling' of such artifacts in the past."
"How I amplified my home's Wi-Fi with aluminum foil" [JiffChat]. News you can use!
* * *
Readers, feel free to contact me at lambert [UNDERSCORE] strether [DOT] corrente [AT] yahoo [DOT] com, with (a) links, and even better (b) sources I should curate regularly, (c) how to send me a check if you are allergic to PayPal, and (d) to find out how to send me images of plants. Vegetables are fine! Fungi are deemed to be honorary plants! If you want your handle to appear as a credit, pleas s e place it at the start of your mail in parentheses: (thus). Otherwise, I will anonymize by using your initials. See the previous Water Cooler (with plant) here. Today's plant (Nippersmom):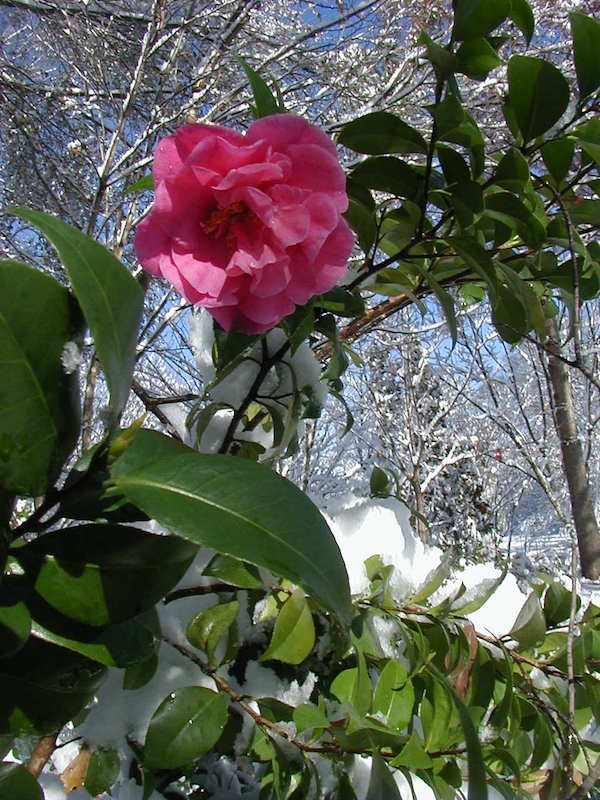 Nippersmom writes: "Taken after our recent snowfall in west Georgia."
Beautiful, and beautifully composed, too!
* * *
Readers: Water Cooler is a standalone entity not covered by the NC fundraiser. So do feel free to use the dropdown and click the hat to make a contribution today or any day. Here is why: Regular positive feedback both makes me feel good and lets me know I'm on the right track with coverage. When I get no donations for five or ten days I get worried. More tangibly, a constant trickle of small donations helps me with expenses, and I factor that trickle in when setting fundraising goals. So if you see something you especially appreciate, do feel free to click the hat!