By Lambert Strether of Corrente.
Politics
2018
"[T]his year's election results suggest there's good reason for the reports of panic among national Republicans as they look ahead to 2018. Simply put, the Democratic base appears significantly more energized under Trump than its Republican counterpart" [NBC News]. "More alarming for Republicans is that all of this is consistent with historical patterns when a president's popularity is low. Trump is ending the year with an approval rating of 36 percent in Gallup's tracking poll. That's squarely in the range that has translated into massive midterm losses in the past."

"Midterm election results have gotten even more in the last 25 years. Four out of the last six midterm elections have resulted in the House, the Senate or both changing parties. In the last six midterm elections, the only years in which the President's party did not lose either their House or Senate Majority, were 1998 (during Clinton's impeachment backlash) and 2002 (during the aftermath of 9/11)" [Cook Political Report]. The volatility happens because people keep voting for change and not getting it.
2017
"Minnesotans Don't Think Franken Should Resign; Franken Remains Popular, Especially With Women" [Public Policy Polling]. But it was important to take "the high moral ground," so under the bus with Franken immediately.

* * *

The Vanity Fair Video:

Maybe it's time for Hillary Clinton to take up a new hobby in 2018 pic.twitter.com/sbE78rA5At

— VANITY FAIR (@VanityFair) December 23, 2017

The Twitter thread:

The Vanity Fair Cave: "Vanity Fair sorry for suggesting Hillary Clinton 'knit'" [BBC]. Vanity Fair is quite right to apologize. What Hillary Clinton ought to be doing is spattering the glass ceiling with the blood of faraway brown children. For shame, Vanity Fair! For shame!

UPDATE Quick thoughts on the Vanity Fair flap:

1) Vanity Fair should have backed up its new (woman) editor, Radhika Jones, instead of caving to a mob of soi-disant resistors inflamed by Clinton enforcers on social media. Here is a Clintonite enforcer in action:

1. I have some serious advice for @radhikajones, the brand new editor of @vanityfair, who took over from the legendary Graydon Carter and stepped immediately into a major scandal over a stupid sexist video.

— Tom Watson (@tomwatson) December 27, 2017

What Watson is doing, this time on the national stage, is just what Neera Tanden did a year ago when she got Matt Bruenig fired. If getting people fired for the views they express — I'm gonna say "modulo Nazis," here — isn't McCarthyism, I don't know what is. I mean, come on. I guess there's one thing liberals just aren't liberal about, and that's insulting royalty, eh?

2) It may be that one reason Clinton's enforcers were so concerned to attack the video — which was, all things considered, rather gentle — was that so many of the participants in the video (one of whom, at least, was doxed) were young women; watching Clintonites fat-shaming one such women was a delicious irony. The idea that Clinton no longer appeals to young women would no doubt be deeply threatening to Clintonites and, apparently, needed to be dealt with at once, firmly.

3) I won't go so far as to say "She's running," but Clinton is certainly maintaining an apparatus of media enforcement that would suggest she is. It also seems highly likely to me that Clinton has not even reached the "acceptance" stage in dealing with her loss in 2016, that the sycophants who surround her — whose livelihoods depend on her continued political prominence — are telling her that she could run again and win, and that she believes them. Of course, the split in the Democrat Party this would cause isn't necessarily a bad thing.

4) You should really go poke through that thread if you want to get insight into the mindset of Clinton's current, remaining supporters. It's really hard for me to process this. It's like watching one of those movies where humans turn into pod people. Which is a horrible trope, and now I'm dehumanizing (unless, of course, it's all-too-human to turn into a pod person). Help!

5) Twitter failed technically — see the highlights — in serving the public that was hashing this issue out. You'd think that a conversation with "too many replies' would be important to represent. Do better, Jack.

NOTE * I've seen the tweets, too slackish to find them. Read the thread, you'll see plenty.
New Cold War
"Donald Trump is not attacking the FBI, even as he attacks the FBI" [The Hill]. Meaning: Trump is attacking a "compromised" FBI leadership, not the rank and file, and the rank and file, not being that dumb, understands this. On "compromised," this, after a list of oddities: "In the immortal words of Arsenio Hall, these are things that can fairly make a reasonable person go 'Hmmm…'" A good rundown, worth a read, despite the rather uninformative headline.
Tax "Reform"
"IRS says only these 2018 property taxes can be prepaid in 2017" [MarketWatch]. "The IRS said property taxes that haven't been assessed before 2018 won't be deductible on 2017 tax returns. State and local law determines when property taxes are assessed and those dates vary by location, the IRS said." Read for detail.
Realignment and Legitimacy
"Radical economic populism is the only thing that can save the Democrats now" [The Week]. "The story is the same for most other major programs: food stamps, TANF, housing assistance, energy assistance, child tax credits, and more. Nearly half of the money goes to the bottom 20 percent of the income ladder. : Think of the deduction for mortgage payments, or the tax break to employers for providing health insurance."

"In October, the court heard arguments in a case from Wisconsin, where legislators so distorted the state's political map that Republicans went on to win almost two-thirds of the state assembly seats with less than half of the popular vote. The case involves an explicit attempt to provide an objective standard: the so-called vote efficiency test" [Bloomberg]. "Then, in an unusual move, earlier this month the Supreme Court agreed to consider arguments in a case challenging Maryland's 2011 congressional district map. (The court doesn't normally take a case if it's already considering one raising similar issues.) In Maryland, the controversy is over a district that Democrats designed to make it very hard for Republicans to win…. Combining the Wisconsin and Maryland cases offers the court something that neither case can provide on its own: partisan symmetry."

"When billionaire Democratic donor Tom Steyer launched a digital petition drive to impeach President Donald Trump two months ago, some Democratic Party leaders dismissed it as an unhelpful vanity project — and even Steyer thought he'd top out at a million signatures" [Politico]. "But nearly 4 million digital signatures later, the philanthropist and environmental activist's unlikely campaign has seized on an issue — impeaching Trump — that could become part of the Democratic mainstream in 2018." Beware of squillionaires with bright ideas. If Steyer wants to blow the country apart, this is an excellent way to do it.

"Libtards and Rethugs: Insulting Each Other as the "Elites" Laugh at Us" [Ghion Journal]. "America has been turned into a barrel and the bottom 99% are the crabs caged in it. Instead of uniting to claw at the barrel that is oppressing us, we claw at each other and then wonder why nothing gets done by our leaders. Our leaders are getting paid handsomely to incite our emotions and then sit back and watch as we unleash torpedoes upon each other. Neighbor against neighbor, siblings against siblings; politics is tearing us, our families and our nation apart. Until we learn to disagree without being disagreeable and until we can more loyal to ideas than to ideologies, we will keep getting the government we deserve—Trump is the man in the mirror who is a projection of US."
Stats Watch
International Trade in Goods, November 2017: "Net exports look to be holding back fourth-quarter GDP following a second month of deep deficit in cross-border goods trade" [Econoday]. "But there is very good news in the report and that's exports which rose a very strong 3.0 percent in November in to $133.7 billion, led by strong improvement in the key category of capital goods at a 5.6 percent monthly increase, vehicles at a gain of 7.5 percent, and consumer goods which rose 4.0 percent. Imports, however, also rose, up 2.7 percent in the month to $203.4 billion with industrial supplies up 4.7 percent, consumer goods up 4.2 percent, and capital goods up 2.6 percent."
Jobless Claims, week of December 23, 2017: "Initial jobless claims were unchanged at 245,000 in the December 23 week though, due to the holidays, an unusually large total of 15 states had to be estimated (this includes the territories of the Virgin Islands and also Puerto Rico where post-hurricane conditions are still disrupted" [Econoday]. "The large number of estimates clouds this report but earlier readings in December point to strong health for the labor market and to another favorable monthly employment report." And: "This marks 143 consecutive weeks of initial claims below 300,000, the longest streak since 1970. The general trend of the 4 week rolling average is a slowing rate of improvement year-over-year which historically suggests a slowing economy" [Econintersect]. But not in the new normal?
Retail and Wholesale Inventories, November 2017 (Preliminary): "Preliminary inventory data for November show builds for both retailers and especially wholesalers" [Econoday]. Since the holidays are coming, I assume?
Chicago Purchasing Managers Index, December 2017: "Chicago's PMI sample ends an enormously strong year at a 6-1/2 year high" [Econoday]. "One area not improving, however, is employment which is losing ground as members of the sample are having difficulty finding candidates. Lack of employment growth is of special note and has been cited by the Federal Reserve's Beige Book as a risk to continued business expansion. Signs of overheating are evident in this report which includes respondents from Chicago's manufacturing and non-manufacturing sectors." If only there were some market-based solution for that!
Housing: "Reis reported that the apartment vacancy rate was at 4.5% in Q4 2017, up from 4.4% in Q3, and up from 4.2% in Q4 2016. This is the highest vacancy rate since Q4 2012 (although the increase has been small). The vacancy rate peaked at 8.0% at the end of 2009, and bottomed at 4.1% in 2016" [Calculated Risk].
Commodities: "Thousands protest in Morocco against the 'mines of death'" [Mining.com]. "For four days in a row, thousands of people have been protesting in the city of Jerada, northeastern Morocco, in a cry for jobs, social development and government intervention in what the call 'the mines of death.' The massive demonstrations started around December 12 with people demanding lower electricity and water bills. However, the rallies were reignited last Friday after brothers Houcine and Jedouane Dioui died at an abandoned coal pit in the mountains surrounding the town, when the tunnel they were digging 85 metres below ground flooded."
Commodities: "All That New Shale Oil May Not Be Enough as Big Discoveries Drop" [Industry Week]. "Three years after causing an oil-price crash, the shale boom may not be enough to meet rising global demand because the industry has cut back so sharply on higher-risk mega-projects. Discoveries of new reserves this year were the fewest on record and replaced just 11% of what was produced, according to a Dec. 21 report by consultant Rystad Energy. While shale wells are creating a glut now, without more investment in bigger, conventional supply, the world may see output deficits as soon as 2019, according to Canadian producer Suncor Energy Inc."
Shipping: "China can now boast the world's first port to have an annual throughput of more than 1bn tonnes. Ningbo-Zhoushan port to the south of Shanghai hit the milestone on Wednesday, cementing its position as the world's largest port in overall tonnage terms" [Splash 247]. "The ports of Ningbo and Zhoushan in Zhejiang province merged nearly a decade ago. Considered to be one of China's finest natural deepwater harbours, Ningbo-Zhoushan has grown solidly on all cargo fronts, with overall throughput set to register double digit growth this year. Its container operations have been among the fastest growing all century too, rising from less than 500,000 teu 17 years ago to become part of the elite club of 20m-plus teu ports around the world."
Banks: "Why Are Short Sellers Making Big Bets Against Major Banks?" [247 Wall Street]. "[W]hen short sellers make a play against these major banks, they are effectively betting for a downturn, and conversely when they back off they might be expecting a surge. Granted, some plays are directly against individual companies, like we saw with Wells Fargo early in 2017. The December 15 short interest data have been compared with the previous figures, and short interest in most of these selected bank stocks increased." Those "selected bank stocks" being Bank of America (short interest up), JP Morgan Chase (up), Citigroup (up), Wells Fargo (up), Goldman Sachs (slightly up), Morgan Stanley (down).
The Bezzle: "CVS Settles Overcharge Case" [Corrporate Crime Reporter]. "The pharmacy chain reached a $2.4 million settlement in May 2015 for allegedly engaging in misleading advertising by charging more than the advertised price for products and as required by state law." What a bunch of chisellers. I bet with a fine of that size, CVS netted out positive on the fraud. I wonder if the executives who devised it got a promotion? They certainly didn't go to jail, as you are I would if we lifted a single item from CVS shelves.
The Bezzle: "Will the Tesla Semi be a game-changer or are we witnessing a well-orchestrated public relations exercise aimed primarily at investors, who have given Tesla a market cap approaching that of General Motors? Perhaps a little bit of both" [Journal of Commerce]. "[T]he truck will go from 0 to 60 mph in five seconds. The last item is perhaps one hint as to the main purpose of the rollout. One would be hard-pressed to find an industry analyst who knows many trucking executives who are longing for a truck that can burn rubber, and performance claims such as these seem to be aimed more at the general public. Unlike the prospective purchaser of the Tesla Model S sports car, the prospective buyers of the Tesla Semi are profit-oriented and will be interested in economics, not glitz. Tesla predicts a 20 percent savings versus conventional, fossil fuel trucks and says the Semi represents 'economic suicide for rail.' Without the economic calculations to support these claims, however, they need to be taken with a healthy dose of salt."
The Bezzle: "AI in 2018: Waiting for driverless cars to become a reality" [MarketWatch]. "Full, disruptive autonomy is likely further away than most may think, analysts at Evercore ISI said in a note earlier this year. It is a "science project," currently, albeit one that "the greatest minds globally are tackling at a feverish pace," the analysts said. The analysts have singled out Delphi and Nvidia as the top companies to target for investment in the space. The first truly driverless cars will likely be robo taxis, such as a campus, a business complex, or a downtown loop, until their use is more widespread and people start to get comfortable." If your algorithm doesn't work, control the parameters until it does. Programming 101.
Five Horseman: "A small bounce in Apple in tepid pre-holiday trading leaves Alphabet in last place, with its near-20% gain since April 26th beating a near-14% gain in the S&P 500 tracker" [Hat tip, Jim Haygood].
Today's Fear & Greed Index: 61 Greed (previous close: 61, Greed) [CNN]. One week ago: 68 (Greed). (0 is Extreme Fear; 100 is Extreme Greed. Last updated Dec 28 at 11:58am.
Black Injustice Tipping Point
"Eric Garner's daughter Erica declared brain dead with no chance of recovery after massive heart attack" [NY Daily News]. "When her son was born in August, she named her newborn after her fallen father. She suffered her first heart attack shortly after the delivery, with doctors saying the pregnancy stressed her already enlarged heart."
"Eric Garner's Daughter: 'He Was Crying Out to Get Back Home to Us'" [Diversity Inc]. From that story:
And of course:
This ad was (rarely for political ads, I must say) such a lovely moment.
Our Famously Free Press
"[N]ews outlets are increasingly seen as partisan tools in the age of Trump, some conservatives are renewing opposition to CNN's outsized presence in airports and other public spaces, especially taxpayer-subsidized venues" [RealClearInvestigations]. Can't we just turn off the goddamned TVs in public spaces altogether? It's degrading.
Crapification Watch
My iPad's screen is now routinely unresponsive at certain oft-tapped spots — for example, the place where Twitter's email dialog comes up when I'm forwarding myself a link and holding it vertically — such that I have to rotate the iPad to find a spot that's responsive. Now, part of that could just be a dirty screen, and I suppose there could be some degradation in the iPad's surface coating, but it occurs to me that screen degradation would be very easy for Apple to simulate in software, and they have the means, motive, and opportunity to install such functionality, as the iPhone battery scandal shows. IOW, iOS is a phishing equilibrium. I hate to think that way, but it seems like the only way. Just spitballing here!
Puerto Rico
"Subsistence Farmers in Puerto Rico Suffer Devastating Losses" [Daily Yonder]. The headline is overstated since there are no stats. That said: "Looking at the average age of the principal operator, Puerto Rican farmers were not too different from farmers on the mainland. The average age was 59 with 507 of the 13,159 principal operators under the age of 35. Of the households of the principal operators, 7,876 reported total income of less than $20,000. With such a large portion of Puerto Rican farmers at subsistence or near-subsistence levels of income, the impact of Maria on farm households must be devastating." Yep.
Neoliberal Epidemics
"Addiction Inc." [New York Times]. "America's Addiction Crisis ranks among the great epidemics of our age. Millions of people have fallen victim to painkiller abuse, alcoholism, the rise of meth and the revival of heroin. Sorrowful tales of death at a young age and of families torn apart have become a defining feature of the early 21st century American experience. In crisis, there is opportunity — and entrepreneurs have swept in. The industry of addiction treatment is haphazardly regulated, poorly understood and expanding at a rapid clip, bringing in $35 billion a year. Remarkably, this business is often conducted behind the closed doors of suburban homes scattered across the nation." This is a four-part series; interestingly, in this part, a short seller is a major protagonist.
Imperial Collapse Watch
"The US Military: Without Rival & Without Victory" [Catalyst Journal] "This article explains the dichotomy between the United States's unparalleled military advantage over all rival powers and its record of military defeat since the end of the Cold War as the product of three factors. First, the career imperatives of military officers combine with the profit interests of defense contractors to direct the ample budget toward the purchase of high-tech weapons unsuited for fighting counterinsurgency wars. Second, both the military itself and civilian Americans have become far less tolerant of casualties. Finally, the United States has turned toward plunder neoliberalism in the twenty-first century, undermining its ability to recruit local elites to serve as US agents."
"Hours-long power failure at Disneyland leaves some stranded on rides" [MarketWatch]. Disneyland?! Third World stuff.
Class Warfare
"Absolute poverty means that your life is governed by linear programing, says [Robert C. Allen, a distinguished economic historian}, not by standard consumer theory. You eat to live. Necessity displaces desire. Inevitably there is a little "wiggle-room" in the diets of the absolute poor: a small amount of sugar, a favorite spice, food prepared for festivals. But for those on the margin of survival, linear programming pretty much describes the choices made" [Economic Principals]. And here is the original–
"Absolute Poverty: When Necessity Displaces Desire" (PDF) [Robert C. Allen, American Economic Review]. Page 3694:
An objection to linear programming diets is that they are unrepresentative of ctual behavior and so of no use in setting a poverty line or for any other practical purpose. The second plane on which the paper operates is positive and aims to assess the predictive power of linear programming diets. I agree with the conventional view (Stigler 1945) that linear programming utterly fails to explain the diets in rich countries. It is a different story in developing countries, however. Linear programming does a reasonable job in explaining the total quantity of food and its distribution among broad categories. The linear programming diets are predominantly vegetarian. Grain bulks are very large. Small quantities of animal proteins and oil are also consumed. Linear programming usually predicts the predominant grain consumed in a country. It cannot predict the variety of fruits and vegetables that the poor eat, nor can it explain the universal consumption of small quantities of sugar nor eating associated with festivals. There is a small amount of "wiggle room" in which people have some space to consume a little sugar, favorite spices, or traditional foods at the expense of a healthy diet. But it is the nature of poverty that the latitude for these substitutions is limited, certainly in comparison to rich countries.
What about certain areas in "rich countries"?
News of the Wired
"Neutrinos Suggest Solution to Mystery of Universe's Existence" [Quanta]. "Scientists believe that the Big Bang should have produced equal amounts of matter and antimatter, which would imply that everything should have vanished fairly quickly. But it didn't. A very small fraction of the original matter survived and went on to form the known universe. Researchers don't know why." An off-by-one error, probably.
"Consciousness: Where Are Words?" [New York Review of Books]. Holy moley.
"Q: High Sierra macOS freezing and stops" [Apple.com]. Only 26 pages of comments since October, so…
* * *
Readers, feel free to contact me at lambert [UNDERSCORE] strether [DOT] corrente [AT] yahoo [DOT] com, with (a) links, and even better (b) sources I should curate regularly, (c) how to send me a check if you are allergic to PayPal, and (d) to find out how to send me images of plants. Vegetables are fine! Fungi are deemed to be honorary plants! If you want your handle to appear as a credit, pleas s e place it at the start of your mail in parentheses: (thus). Otherwise, I will anonymize by using your initials. See the previous Water Cooler (with plant) here. Today's plant (Nippersmom):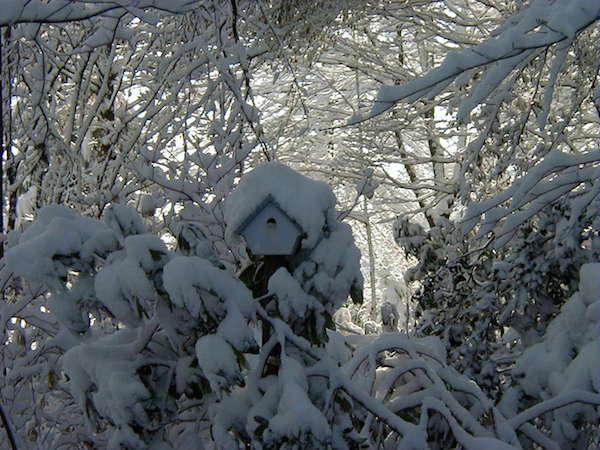 ZOMG, the lighting…
* * *
Readers: Water Cooler is a standalone entity not covered by the NC fundraiser. So do feel free to use the dropdown and click the hat to make a contribution today or any day. Here is why: Regular positive feedback both makes me feel good and lets me know I'm on the right track with coverage. When I get no donations for five or ten days I get worried. More tangibly, a constant trickle of small donations helps me with expenses, and I factor that trickle in when setting fundraising goals. So if you see something you especially appreciate, do feel free to click the hat!