By Lambert Strether of Corrente.
Net Neutrality
"In more than 700 U.S. towns and cities, from Cranberry Township, Pennsylvania, to San Francisco, people took to the streets Thursday to protest the proposed changes to net neutrality regulations" [247 Wall Street]. "Thursday's protests mostly took place outside Verizon Wireless stores….
"FCC Boss Lies Again, Insists Net Neutrality Harms The Sick And Disabled" [TechDirt]. "For a decade now one major ISP talking point against net neutrality is that it hurts the sick and disabled. Verizon, for example, has tried to pretend that net neutrality rules hurt the hearing impaired because it prevents them from getting access to prioritized medical services like video relay or other technologies. Comcast has frequently trotted out this argument as well… You may be shocked to learn that this isn't, nor has it ever been, true. Both the discarded 2010 rules, and the 2015 rules, carve out mammoth, tractor-trailer-sized exemptions for medical services. In the 2015 rules, the FCC was careful to distinguish between "Broadband Internet Access Services (BIAS)" (generalized internet traffic like browsing and app data) and "Non-BIAS data services," which are often given prioritized, isolated capacity to ensure lower latency, better speed, and greater reliability. VoIP services, pace makers, energy meters and all telemedicine applications fall under this category and are exempt from the rules."
"Why I Changed My Mind On Net Neutrality" [TechDirt]. "[Stratechery's Ben Thompson's] position (and the position of everyone, including Ajit Pai) who insist that there's no evidence of "systematic abuse" are (conveniently) ignoring (or are unaware of) the long history here. This is not a situation where broadband providers have shown no interest in abuse. They have regularly and clearly stated their intent to systematically abuse their dominant position in the market… There is a decently long list of examples of bad behavior by broadband providers (though Pai and his supporters like to dismiss those as anomalies). But the more important point is that it's always been the… threat of rules that have kept the big broadband providers in check."
Trade
"Trade negotiators from Canada, Mexico and the United States will begin meeting in Washington on Saturday" [Politico]. "Rules of origin, financial services, regulatory practices and the sectoral annexes will take up a bulk of negotiators' time, as all four groups are scheduled to meet for three days apiece. Negotiators will also meet for two days each to discuss state-owned enterprises, telecommunications, customs, environment, digital trade, goods and technical barriers to trade. They will spend one day each on textiles, anti-corruption, energy and competitiveness, the schedule shows."
"Sen. Chuck Grassley said it's become clear after recent meetings with top administration officials that President Donald Trump isn't ready to abandon his brinkmanship over a possible withdrawal from NAFTA, even as he and other lawmakers continue to make the argument that a potential NAFTA pullout, or even the threat of doing so, could have disastrous consequences for farmers" [Politico]. "'You get the impression that this president has taken a tough negotiating position and he's going to stick with it,' Grassley said in an interview with Adam Behsudi."
"Canada wants its two North American partners to ratify eight core conventions, including the right to organize, laid out by the International Labour Organization to make Nafta work. 'We did put forward a very ambitious proposal on labor,' chief negotiator Steve Verheul told lawmakers this week. While Canada has adopted all eight and Mexico has nearly done so, the U.S. has adopted only two, Verheul said. 'The U.S. is resisting that proposal'" [Bloomberg]. "Canada's call to claw back U.S. 'right-to-work' laws, which ban unions from requiring workers to pay dues, is another obstacle." Sounds like the Canadians are doing better by labor than our own Democrats.
Politics
2018
"One constant in recent years has been the Republicans' preoccupation with their base, an all-consuming focus on placating their die-hard supporters regardless of the feelings of people who are not among the party faithful. The political math argues against this strategy: Hard-core Republicans and conservatives constitute only about a third of the electorate, and their views often aggravate the two-thirds outside their circle" [Charles Cook, Cook Political Report]. "Can Republicans count on pulling [a 2016-like victory] off again in 2018? The answer is probably yes in the upper chamber. Trump carried 10 states that have Democratic senators facing reelection next year, plus two other potentially important states (Arizona and Tennessee, the latter of which would be competitive in 2018 only if former Democratic Gov. Phil Bredesen runs), leaving only one Republican, Sen. Dean Heller of Nevada, up for election in a state where Hillary Clinton prevailed. But in the House, where Democrats need a gain of 24 seats and with Clinton having won 23 seats that are held by the GOP, this base-oriented strategy is less compelling. The danger for Republicans is that the intensity in politics today seems to be far greater on the Democratic side than it is on their own, and they are marginalizing themselves among the swing voters in the middle."

"Don't snooze on the battle for Senate control in 2018" [NBC]. "If Jones wins, pickups in Arizona and Nevada — plus Democrats successfully defending all of their seats — would give them control of the Senate. That's far from easy. But it looks more doable than it did a year ago."
2017
"Alabama Senate Special Election – Moore vs. Jones" [RealClearPolitics]. "Moore +2.3" (Previous: Moore +1.5). No new polls.

"Roy Moore accuser alters story on yearbook signing, to hold press conference" [AL.com]. Not helpful to Jones.

"Back in September, one of the few African-Americans in the crowd asked the [Roy Moore] when he thought was the "last time" America was great. [Moore:] 'I think it was great at the time when families were united. Even though we had slavery, they cared for one another. … Our families were strong, our country had a direction,' Moore responded, according to a Los Angeles Times report in September" [HuffPo].

"A Racist Flyer Might Cost Doug Jones the Election Because the Entire Democratic Party Is Trash" [The Root]. "On the rare occasions when the Democratic Party does address black voters, it only talks about the "black issues": policing, mass incarceration, civil rights, etc. For the party leadership, black people aren't whole people who have the same concerns about taxes, job creation, education initiatives, international policy and economics as other voters. They are simply bodies collected in the coffers of the party's ineffective longing for power." Inspired by a Democrat campaign flyer, which is indeed a doozy.
2016 Post Mortem
"Leaked emails reveal how Dataminr was pitched to foreign governmenta" [The Verge]. "In March 2015, Philippe Reines, a former aide to Hillary Clinton at the US State Department, reached out to an old colleague about his consulting firm's client. Reines contacted Capricia Marshall, a consultant who had been the US chief of protocol, a top State Department officer who acts as a liaison with foreign diplomats. Reines wanted Marshall to arrange meetings with foreign embassies for Dataminr — a company that has come under scrutiny from privacy experts for its service analyzing Twitter data. 'If you could pull this off, would be a great way to get you a solid ongoing retainer,' Reines wrote in an email. Marshall responded: 'Talking to Azerbaijan. May then ask Saudi?' … The leaked emails shed light on the largely unregulated world of international lobbying in Washington, where 'strategic advisors,' 'consultants,. and lawyers use their US government experience to benefit clients and themselves, while avoiding public scrutiny both at home and overseas."
New Cold War
The headline: "Donald Trump Is Guilty" [Max Boot, Foreign Policy]. The deck: "The only remaining question is what exactly he's guilty of." Alrighty then.

UPDATE "Exclusive: Email shows effort to give Trump campaign WikiLeaks documents" [CNN]. "Congressional investigators are uncertain who the sender is, and CNN was unable to make contact with the individual. It's not clear whether the email was a legitimate effort to provide the hacked documents to the Trump campaign."

UPDATE "Email pointed Trump campaign to WikiLeaks documents that were already public" [WaPo]. That was fast.
Tax "Reform"
"The tax bill working its way through Congress is designed to lower corporate tax burdens, but some logistics and transportation companies worry they might be left out in the cold. The Senate version of the legislation does not include many family-owned businesses among the types of corporations subject to a lower tax rate. Companies structured as 'electing small business trusts,' or ESBTs, are particularly vulnerable, as they would pay 10% to 20% higher taxes than competitors that qualify for reduced rates on 'pass-through' income. Small, family-run businesses are common in many corners of the logistics sector, and some of the industry's best-known names, including truck-stop chain Love's Travel Stop, are set up as trusts" [Wall Street Journal].

"Sen. Susan Collins Strikes a Bum Deal" [Moyers and Company]. " Sen. Collins is a centrist but not a moderate in many ways. She is the one that made President Obama scale back the stimulus package during the Great Recession." Hmm. Collins voted for the final $787 billion bill. IIRC, it was Democrat Larry Summers, then Obama's top economic adviser, who threw out Christina Romer's high-end proposal, making sure it never reached Obama's desk. So, Collins most certainly did not "made President Obama scale back the stimulus package," since any negotiations with her would have been after Summer intervened.

The Collins version:


Susan Collins tells Maine TV station @WABI_TV5 that she is "absolutely certain" that the GOP tax package won't trigger Medicare cuts.

"I have it in writing from both the Speaker of the House Paul Ryan and also Senator Mitch McConnell." pic.twitter.com/qYO5NYzYx2

— Dan Diamond (@ddiamond) December 8, 2017

UPDATE "Religious leaders arrested at Sen. Collins' Portland office after sit-in to protest her vote on tax bill" [Portland Press Herald]. "During their prayer, members of the group said they were in Collins' office to represent 'the poor and disadvantaged' who they believe will be harmed by the tax bill. The clergy said that Jesus taught spiritual leaders to 'walk with the disenfranchised and to stand against the tax collectors.'"

UPDATE "Apple could get a staggering $47 billion windfall from the tax bill" [Vox]. "What's particularly striking about this windfall is that though Apple has been a fierce advocate for corporate tax reform — $47 billion is a lot of money after all — Apple CEO Tim Cook has explained over and over again that shoveling billions into his corporate treasury won't boost his investment spending. He already has plenty of cash, but beyond that, when Cook wants Apple to invest more, he borrows the money."
Trump Transition
"Commentary: President Trump starts to rack up wins" [CBS]. "Congress is likely to soon pass a tax reform bill. Robert Mueller's "Russia Squad" is getting its first round of bad press. Judge Roy Moore is favored to win next week's Senate election in Alabama with Trump's support. The Supreme Court has acquiesced to Trump's travel ban for now (while it waits for the lower courts to rule). The Supreme Court also offers hope to social conservatives in the Masterpiece Cakeshop case, facilitated by Trump's appointment of Neil Gorsuch to the bench. The economy is booming. Blue-collar wages are on the rise. Meanwhile, many of Trump's enemies are still harboring their go-nowhere fantasies of impeachment. This isn't to say that Trump's presidency couldn't still end in his removal from office. But even if it does, that day is still a long way off, and will likely depend on massive Democratic gains in next year's midterms." My view on the economy is — and readers know I'm a Maine Bear, so discount as you will — is a good deal less sunny than "booming." Ditto on blue-collar wages. Nevertheless, it is true that the real economy hadn't collapsed, and that's not such a bad thing, especially with a "recovery" that is by now quite long in the tooth. NTDT, but nevertheless, if in 2020 Trump is in a position to say to working class voters in swing states that, for all the chaos and crudeness, that he delivered on the economy, and is perceived to have done so, then he might do much better than conventional wisdom suggests. "Have you see the other guys," but in reverse.

"Despite Trump's Rancor for the Global System, the World Economy Is Surging" [David Ignatius, WaPo]. "The global economy has surged forward this year, significantly outperforming expectations. As the International Monetary Fund wrote in its latest world economic outlook, published in October: 'The current upswing reaches more broadly than any in a decade — roughly 75 percent of the world economy … is sharing in the acceleration.'… Boosting U.S. demand by increasing workers' real wages would make this recovery as real and powerful at home as it seems to be abroad. If we're really talking about making America great again, rebuilding middle-class incomes is where to start."

"That is the essential question: do voters choose to give [Trump] credit for a healthy economy or choose to focus on his erratic and divisive behavior? [bold in original] In other words, should we look to Trump's overall job approval rating, or his approval rating on the economy as the more accurate representation of the president's standing with voters?" [Amy Walter, Cook Political Report]. "Elections are driven by the fundamentals. And, nothing is more fundamental to voters than the health of the economy. In 1998, even at the height of the Monica Lewinsky scandal and the impeachment proceedings, President Clinton enjoyed job approval ratings in the 60's. Why? Voters determined that a good economy superseded their personal feelings about Clinton's behavior. This year, voters give Trump low marks on job approval, even as they give the economy higher marks. The enduring question for this president is which number accurately reflects how voters will ultimately judge him? Will they continue to express disapproval of his presidency, but ultimately choose to vote on the basis of their more positive feelings on the economy? Or, will they give Trump some credit for the economy but determine that his behavior is the more important variable in their vote?"
Realignment and Legitimacy
No, not Kamala Harris:

Thanks To You Leftist Fucks Apparently I Am Proud To Support Medicare For All #AnitaApparently4All pic.twitter.com/80kZ2haHhj

— Anita Hawkins (@SenAnitaHawkins) December 7, 2017

"The Party of Lincoln Has Devolved Into the Party of Trump" [Eugene Robinson, RealClearPolitics]. Robinson: "[O]nce corruption has become established, it takes Herculean effort to root it out; once respect for the rule of law is lost, it takes generations to restore." Agreed, and it's sad. Reagan prosecuted his financial crooks (the S&L crisis). Bush the Younger prosecuted his (Enron). But under Obama, elite impunity became the, er, norm. No banksters were prosecuted for the Crash. Not even Wells Fargo before election 2016, which surely would have handed the election to Clinton!

"Democrats saw Franken as a liability" [The Hill]. "A second Democratic senator said there was strong 'concern that we were losing the moral high ground with Roy Moore and the president,' referring to the Republican candidate for Senate in Alabama and President Trump." Cf. John 11:50? And "if you want a friend in Washington, get a dog."

"On what he called the worst day of his political life, Senator Al Franken articulated two points that are central to understanding what has become known as the #MeToo moment. In an eleven-minute speech, in which Franken announced his intention to resign from the Senate, he made this much clear: the force that is ending his political career is greater than the truth, and this force operates on only roughly half of this country's population—those who voted for Hillary Clinton and who consume what we still refer to as mainstream media" [Masha Gessen, The New Yorker]. "The case of Franken makes it all that much more clear that this conversation is, in fact, about sex, not about power, violence, or illegal acts. The accusations against him, which involve groping and forcible kissing, arguably fall into the emergent, undefined, and most likely undefinable category of 'sexual misconduct.' Put more simply, Franken stands accused of acting repeatedly like a jerk, and he denies that he acted this way. The entire sequence of events, from the initial accusations to Franken's resignation, is based on the premise that Americans, as a society, or at least half of a society, should be policing non-criminal behavior related to sex."

"America, it seems, is at a tipping point on the issue of sexual misconduct. But, in politics, of course, nothing is that easy. If Democrats want to be the party of "zero tolerance" they also have to accept that it may come with unpredictable – or even negative – political consequences. For Republicans, while Trump was able to weather the "Access Hollywood" scandal in 2016, his party may pay the price for his behavior – and that of other Republicans like Roy Moore – in 2018″ [Amy Walter, Cook Political Report]. And nobody mentions The Big Dog in the Room. Or his enabler. "Moral high ground" my sweet Aunt Fanny. Except–

"[Kirsten Gillibrand] had just come from a podcast interview with the New York Times in which she'd blown through the Democratic code of silence on Clinton misdeeds by saying that yes, if Bill Clinton were president now, he would have to resign after something like the Monica Lewinsky affair" [Politico]. Oddly not mentioned by the normally astute Walter, in whose article the word "Clinton" does not appear.

"Is the Democratic Congressional Campaign Committee stifling dissent within the party?" [Mic]. "Under the document's section labeled "Communications," for example, the DCCC lays out a number of provisions requiring candidates focus on 'shared values' and 'unity' — and even requiring candidates to hold a 'unity event' with their primary opponent or opponents after the primary race." You know. Values like taking corporate money. Unity like purging your opponents from party institutions.

"A Democratic victory in Georgia's state Senate election on Tuesday put an end to the Republican's two-thirds supermajority" [The Hill].
Stats Watch
Employment Situation, November 2017: "Overheating may not be the description of the labor market but heating up definitely is" [Econoday]. "Pointing to the risk of labor constraints is a rise in the average workweek, up 1 tenth to 34.5 hours for private-sector employees. Another risk is the lack of available workers, reflected most clearly in the unemployment rate which is unchanged at a 17-year low of 4.1 percent. Yet all this demand has yet to translate into wage inflation… The bumps have come and gone and the labor market is where it was before the hurricane season, continuing to grow and continuing to absorb what is a very thin pool of available labor." And: "The number of unemployed persons was essentially unchanged at 6.6 million. Also, the number of long-term unemployed, which is those who have been jobless for 27 weeks or more, was essentially unchanged at 1.6 million. Long-term unemployed persons accounted for 23.8% of the unemployed" [247 Wall Street]. But: "The household and establishment surveys were extremely out of sync from each other. The unemployment rate is dubious as there is so much difference between the household and establishment surveys" [Econintersect].
Capital Spending: "Combined U.S. & Canadian Industrial Spending Falls 30 Percent" [Industrial Reports]. "November spending for the two nations totaled $36.83 billion compared to October's $53.37 billion. The research organization reported 239 planned U.S. and Canadian projects in November."
Consumer Sentiment, December 2017 (Preliminary): "The consumer sentiment index… remains elevated though continues to edge back from October's expansion peak" [Econoday]. "Immediate indications on consumer spirits, in what is a positive for the holiday shopping outlook, are in fact very positive as the current conditions component actually rose sharply….
This component is getting a boost from rising income expectations which is a reflection of the strong jobs market and also perhaps that income gains will not be eaten away by inflation…. [B]uying plans for durables which are improving this month."
Wholesale Trade, October 2017: "Inventories are getting off to a slow start in the fourth quarter as those at the wholesale level fell a sizable 0.5 percent" [Econoday]. "The draw reflects strong demand for autos…. Declining inventories are a negative for GDP but are in fact very welcome during a time of solid expansion, pointing to the need for restocking and gains for future production and employment." And: "The improvement this month in the headline data was primarily due to durable goods. Overally, I believe the rolling averages tell the real story – and they improved this month. The current trends appear flat (little acceleration or deceleration)" [Econintersect]. "To add to the confusion, year-over-year employment changes and sales growth do not match."
Energy: "The demise of King Coal is working its way up the power supply chain. General Electric Co. is cutting 12,000 jobs in its power division…, after a big bet on turbines for coal and gas-fired plants ran into the reality of declining demand for conventional power fuels" [Wall Street Journal].
Retail: "How Can Dollar General Afford to Open 900 Stores?" [247 Wall Street]. "The primary theory about the success of Dollar General is that its store locations are in rural and sprawling suburban areas that other retailers have either abandoned or never targeted. It keeps the costs of what its sells low, perhaps lower than Walmart. It can do this in part because it operates on a shoe-string, with very low expenses to operate each store." And holy moley, what a quote:
[Todd Vasos, Dollar General's chief executive officer] told The Wall Street Journal:

.

We are putting stores today [in areas] that perhaps five years ago were just on the cusp of probably not being our demographic, and it has now turned to being our demographic.

That demographic is lower income people in remote locations.
Thanks, Obama! For your wonderful recovery.
Shipping: "[A] bit of an anomaly occurred during the fourth quarter of 2016 … with indications that efforts made by motor carriers to fill driver seats, an issue, which has plagued the sector for several years, appeared to be paying off. But the traditional trend of high turnover returned in the second quarter of this year and, based on the data issued by the ATA today, the third quarter as well" [Logistics Management]. "For the third quarter, ATA reported that the annualized turnover rate for large truckload carriers with more than $30 million in revenue increased 5% to an annualized turnover rate of 95%." But: "At the same time, though, turnover at less-than-truckload (LTL) fleets dipped 2 percentage points year over year to 7 percent, hitting the lowest level since the second quarter of 2016. LTL driver turnover is much less than in the much-larger truckload sector because LTL drivers are typically better paid and because their relatively shorter lengths of haul afford them more home time and a better work-life balance" [DC Velocity].
Shipping: "Dockworkers and East Coast port employers entered negotiations this week hoping to agree on an extension to a contract set to expire next September. But instead the talks exposed deep rifts that could point to a rocky path to labor peace for ports from Maine to Texas. Union officials ended the meeting early, citing disagreements over port automation" [Wall Street Journal]. "ILA leaders fear driverless forklifts and artificial intelligence will replace many port jobs, as they have already in many European container terminals. Both sides have much to lose if they fail to reach an agreement."
Shipping: "with Seller Flex, Amazon will oversee package pickups from the warehouses of third-party merchants selling goods through Amazon.com and delivery to customers' homes. These tasks are currently handled for Amazon by UPS and FedEx. And while Amazon may still use UPS and FedEx for delivery, the report said that Amazon will decide how to send a package, as opposed to leaving that at the discretion of the seller. And among the benefits of handling more deliveries for Amazon, cited in the report, are things like providing greater flexibility and control over the last mile to consumer's homes, saving money through volume discounts, and helping to avoid congestion in Amazon warehouses through keeping merchandise in outside sellers' facilities" [Logistics Management]. "In a blog posting, [James Thompson, a former Amazon executive and now a partner for Buy Box Experts, an Amazon consultancy firm], explained that Seller Flex is a big deal for Amazon on multiple fronts: "Seller Flex provides Amazon with additional capacity to ensure that products can be shipped to customers inside their 2 day window. Amazon has a problem that they are not keen on discussing externally: their warehouses are full, which has historically presented a problem during the busy holiday season.
Transportation: "Anheuser-Busch has preordered 40 of Tesla Inc.'s electric Semi trucks, the WSJ Logistics Report's Jennifer Smith writes, which the company says are well-suited for making short shipments to wholesalers. Anheuser-Busch, the U.S. subsidiary of Anheuser-Busch InBev has a history of being first in line for new transportation technology, which it sees as a way to reduce the company's fuel costs and vehicle emissions" [Wall Street Journal]. Investments include compressed natural-gas delivery trucks and hiring a driverless big rig to make a supply run in Colorado last year."
The Bezzle: "AI researchers are trying to combat how AI can be used to lie and deceive" [Quartz]. "As modern AI systems begin to power more services, such as malware detection and , some are beginning to question whether such systems themselves 'understand' enough to avoid deception."
Five Horsemen: "Favorable end-of-year seasonality takes hold as the Fab Five reach for the stars" [Hat tip, Jim Haygood].
Today's Fear & Greed Index: 64 Greed (previous close: 60, Greed) [CNN]. One week ago: 70 (Greed). (0 is Extreme Fear; 100 is Extreme Greed. Last updated Dec 8 at 11:59am.
Gaia
"Canada's Desjardins not scratching pipeline loans after all" [Mining.com]. "Canada's Desjardins, the largest association of credit unions in North America, has decided to lift a moratorium on loans for energy and pipeline projects, noting that it will weigh its clients' environmental, social and governance practices in all future lending decisions… Effective immediately, the lender will purchase carbon credits to offset its greenhouse gas emissions. It has also vowed to focus on renewables for the direct investment of its own assets in energy infrastructure. The Desjardins Group pension plan is making this same commitment, it noted."
"Fall storm took out power company's $200 million smart meter network" [Bangor Daily News]. "When power w ent out for some half a million Mainers after the October windstorm, another system went down, too — Central Maine Power's $200 million smart-grid communications network that, among other things, was supposed to improve outage communications and storm recovery…. [A]s utility poles went down in the storm, it wasn't just power lines that got taken out — so did radio transmitters for the wireless that were installed at the top of the poles. Meters themselves lost power, and over time battery backup power for some components was drained." $200 million is real money, in Maine (paid for on our utility bills, too, although the profits, naturally, go out of state.) I gotta say, I'm getting so whenever I hear the word "smart," I think "stupid" (or possiibly "screw job").
Black Injustice Tipping Point
"'This is all people crave: accountability.' Michael Slager gets 20 years for Walter Scott death" [Post and Courier]. "Slager was patrolling one of North Charleston's most hardened communities on April 4, 2015 when . The police had long used minor traffic stops to check on residents and look for greater crimes afoot. This stop was ordinary until Scott, 50, jumped out and ran. Slager gave chase and tried to stop him with a Taser…. Scott is running away at the first gunshot and is still running at the eighth, which brought him down. ." And that, my friends, is why DSA repairs brakelights today.
Class Warfare
"Destruction Of Black Wealth During The Obama Presidency" [People's Policy Project]. "The paper finds that while President Obama had wide discretion and appropriated funds to relieve homeowners caught in the economic crisis, the policy design his administration chose for his housing program was a disaster. Instead of helping homeowners, at every turn the administration was obsessed with protecting the financial system — and so homeowners were left to drown. As a result, the percentage of black homeowners who were underwater on their mortgage exploded 20-fold from 2007 to 2013." Thanks, Obama!
News of the Wired
"DNA has gone digital – what could possibly go wrong?" [The Conversation]. "The ability to manipulate DNA was once the privilege of the select few and very limited in scope and application. Today, life scientists rely on a global supply chain and a network of computers that manipulate DNA in unprecedented ways. The time to start thinking about the security of the digital/DNA interface is now, not after a new Stuxnet-like cyberbiosecurity breach."
Indeed:
COMMAS ARE IMPORTANT PEOPLE

— RJ (@RedArmband) December 6, 2017
* * *
Readers, feel free to contact me at lambert [UNDERSCORE] strether [DOT] corrente [AT] yahoo [DOT] com, with (a) links, and even better (b) sources I should curate regularly, (c) how to send me a check if you are allergic to PayPal, and (d) to find out how to send me images of plants. Vegetables are fine! Fungi are deemed to be honorary plants! If you want your handle to appear as a credit, please put it in the subject line. Otherwise, I will anonymize by using your initials. See the previous Water Cooler (with plant)
here
. Today's plant (LR):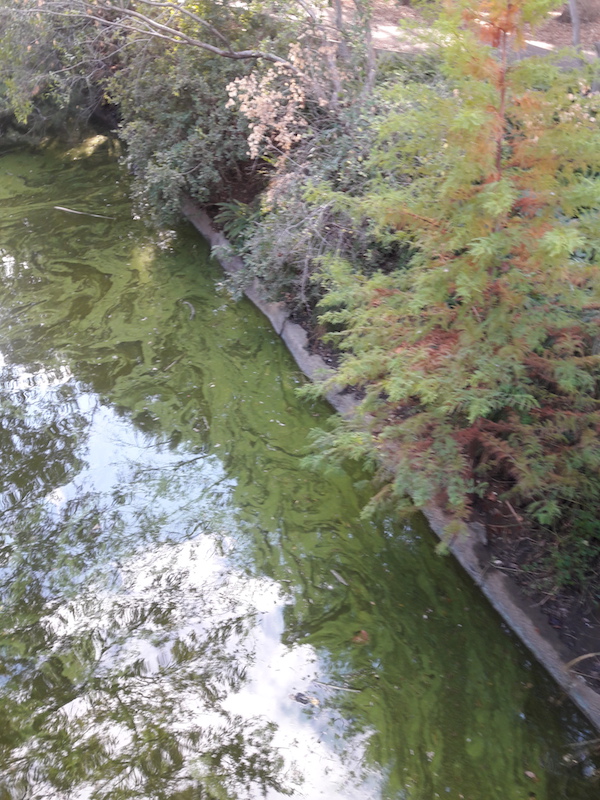 LR writes: "UC Davis arboretum. The slime on the water surface was gorgeous in color…."
Readers, I'm running a bit short on plants. Buttoned-up gardens? Fall foliage? Forest fires?! First snow? Those photos from the summer you never had time to look at? Thanks!
* * *
Readers: Water Cooler is a standalone entity not covered by the NC fundraiser. So do feel free to use the dropdown and click the hat to make a contribution today or any day. Here is why: Regular positive feedback both makes me feel good and lets me know I'm on the right track with coverage. When I get no donations for five or ten days I get worried. More tangibly, a constant trickle of small donations helps me with expenses, and I factor that trickle in when setting fundraising goals. So if you see something you especially appreciate, do feel free to click the hat!