By Lambert Strether of Corrente.
Net Neutrality
"FCC's next step on net neutrality: Blocking the states" [Politico]. Stil germane. "[Pai's 'Restoring Internet Freedom' order] calls broadband an interstate information service, and any state or local law regulating the service could not subvert or undermine the federal policy of deregulation, a second FCC senior official said."
"We're thinking about internet freedom in all the wrong ways" [The Week]. "The net neutrality debate, however, has a problem: It discusses the social and cultural effects of the internet almost entirely in terms of the free market. In this narrow scope, it appears that only options for ensuring internet freedom are letting the market work, or limiting what large corporations can do. And in constraining the conversation to these terms of the companies who operate on the internet, we obscure the real threat to freedom in general: those companies themselves… Put another way: There is no public space on the internet. The net neutrality debate has a free-market problem. In only thinking in terms of what commercial enterprises can and cannot do, we limit ourselves to thinking of the web as a privately owned space." Once again:
Municipalize the ISPs, nationalize the backbones, cooperativize the platforms

— Ben Tarnoff (@bentarnoff) November 22, 2017
Why not?
The shape of things to come:
Google Is Blocking YouTube on Amazon's Echo Show and Fire TV https://t.co/Gx29n44qea

— Liberationtech (@Liberationtech) December 6, 2017
Trade
"Despite the opportunity to blow open Canada's dairy market in a NAFTA 2.0, major U.S. dairy producers say they know where the money is and it's south of the border" [Politico]. "'We'd prefer to win both battles, but if you were to ask me if I had to choose one or the other, I'd pick south of the border and give up north of the border. Simply because of the math and the number of consumers,' said Andrei Mikhalevsky, president and CEO of California Dairies Inc., a dairy cooperative of 400 large farms that produce 9 percent and 23 percent of the nation's milk and butter, respectively…. However, the Trump administration has already taken a hard line on dairy, proposing NAFTA provisions that would effectively hobble Canada's supply management system and open more access for U.S. farmers than ever before."
Politics
2018
"In a recruiting victory for Democrats, former Gov. Phil Bredesen announced today that he will run for the open seat created by the retirement of GOP U.S. Sen. Bob Corker. Bredesen's announcement puts the race into the Toss Up column, a rating change that has larger implications for the 2018 Senate map" [Cook Political Report]. "Many Democratic strategists believe that Bredesen can appeal to voters across party lines in a state that has become increasingly more Republican in recent years…. The national significance of Bredesen's candidacy and the race's move to Toss Up is that it puts three Republican-held seats in play. (For the purposes of this math equation, we are excluding Tuesday's contest in Alabama.) As the Senate stands today, Democrats need a net gain of three seats to win the majority. Until now, it has been mathematically impossible as only two GOP seats have been considered truly vulnerable. This does not mean that Democrats will win the majority; only that it is now mathematically possible."
2017
"Alabama Senate Special Election – Moore vs. Jones" [RealClearPolitics]. "Moore +2.3" (Previous: Moore +1.5). No new polls. Worth noting that the race has been within the margin of error for some time; remarkable for a Democrat in Alabama.
New Cold War
"Robert Mueller Jumps Onto the Trump Money Trail" [The New Yorker]. Here's the conclusion: "Whether these inquiries will lead anywhere remains an open question. One thing seems clear, though: Mueller's investigators are following Deep Throat's advice and following the money. For Trump and his associates, that has to be disturbing."

"Mueller's probe doesn't end with a bang, but with a whimper" [Ned Ryun, The Hill]. From a Bush speechwriter. "I think it's high time for President Trump to do what he should have done a year ago: declassify everything related to the Russian collusion case and the Hillary Clinton email investigation, both of which go to the heart of the Obama administration's Department of Justice, FBI and, possibly, the White House." Interesting idea…

"Liberal America's unhealthy fixation on Russia" [Edward Luce, Financial Times]. "[L]iberal America has worked itself [note lack of agency] up into a moral panic. If it were not for Vladimir Putin, we are asked to believe, western democracy would be in reasonable shape. Without Russia, there would be no Donald Trump." And:

The latest to join the fray is Joe Biden, the former vice-president. As a potential White House candidate, Mr Biden is a good barometer of Democratic thinking. In a co-authored article for Foreign Affairs, Mr Biden calls for the creation of a 9/11-style commission "to examine Russia's assault on American democracy". The body would identify tools to fight the Russian menace. "Americans need a thorough, detailed inquest into how Russia's strike on their democratic institutions was carried out and how another one might be prevented," he writes.

In sum, Mr Biden is calling for a new Cold War.

As I've been saying….

"Palestinians recognize Texas as part of Mexico" [The Beaverton]. "'The territory north and east of the Rio Grande is very important to the Mexican people,' explained a [Palestinian National Authority] spokesperson. 'Before American settlers showed up and implemented slavery, Mexico oversaw this land. Then, President Polk sent his armies to invade the rest of these Mexican territories, and force the country to give up California, New Mexico, most of Arizona, Nevada, and Utah, and parts of Wyoming and Colorado. We may soon recognize these states as part of Mexico too.'"
Tax Reform
"The GOP not only entirely excluded Democrats from the process of drafting the bills, but the party punished Democratic constituencies—from residents of high-tax states to graduate students—in the bills' substance. The tax plans represent a political closed circle: bills written solely by Republicans and passed solely by Republican votes that shower their greatest benefits on Republican constituencies. Meanwhile, the biggest losers in the plans are the constituencies of the Democrats who universally opposed them. It's not just redistribution: The tax bills are also grounded in retribution" [Ron Brownstein, The Atlantic]. "In all these ways, the Trump-era GOP has grown impervious to virtually any opinion that resists its own internal consensus. Next November's midterm elections will begin answering whether the party has drawn that closed circle too narrowly to preserve its upper hand in Washington." Well, yes and no. I'm not sure "internal consensus" is all that much a Republican thing, as we've seen on health care, and the continuing efforts of the #NeverTrump thing. To put this another way, it's not all that difficult to create consensus around rewarding your party's friends and punishing its enemies. 'Twas ever thus! And as far as "closed circles," surely there are rather a lot of those around right now?

"Few Americans think the plan will lead to lower taxes for them personally, and this is true of Republicans as well, despite their strong support of the plan. One-third of Republicans think their taxes will be lowered; most Democrats expect their own taxes will go up. By almost a 2 to 1 margin, independents are more likely to think they'll go up rather than down" [CBS News].
Trump Transition
"Top Republicans left no doubt that the House will approve legislation Thursday preventing a weekend partial government shutdown, erasing any suspense over an impending budget clash that would put a calamitous exclamation point at the end of the capital's tumultuous year" [AP]. "The leader of the conservative House Freedom Caucus, whose members had been threatening to withhold needed support, also made clear that the bill would be approved."

"Donald Trump's Brains" [New York Review of Books]. Interesting on the conservative institutions that actually do influence Trump. "A battle for the future of conservatism is in effect being fought between these anti-Trump conservatives and pro-Trump conservatives associated with the Claremont Institute, a right-wing think tank based in California, which for years has been discussing the Federalist Papers, the dangers of progressivism, and, above all, the wisdom of the German exile and political philosopher Leo Strauss, who taught for several decades at the University of Chicago." ZOMG!!! The Struassians!!!! Not again!!!! (I can see the "liar" part just fine, but "noble"?)

"President Trump might actually be able to pull off [vs. Mueller] what Nixon failed to accomplish [vs. Cox and Jaworski]. He has a number of advantages that Nixon lacked—from a Congress controlled by fiercely partisan Republicans whose political calculations have led them to stand by their president regardless of almost anything that he does, to a conservative media that perpetually broadcasts his points of view" [The Atlantic].

Very poor advance work:

Zinke had already rigged his fishing rod when our writer showed up to interview him at the edge of a lake in Glacier National Park. He'd rigged it backwards. https://t.co/ZJujN2c8hm pic.twitter.com/dOXv3mLxGP

— Outside Magazine (@outsidemagazine) December 6, 2017
Realignment and Legitimacy
"Al Franken announces he will resign from the Senate" [WaPo]. Franken: "Some of the allegations against me simply are not true, others I remember very differently. But this decision is not about me. It's about the people of Minnesota. It's become clear that I can't both pursue the Ethics Committee process and at the same time, remain an effective senator for them."

"Minnesota Gov. Mark Dayton is expected to appoint his lieutenant governor and close ally, Tina Smith, to Al Franken's seat if the Democratic senator resigns on Thursday, three people familiar with the Democratic governor's thinking said" [Politico]. "But that appointment would be just the start of an upheaval in Minnesota. Part of the reason Smith could be heading to the Senate, the sources said, is that she has indicated no interest in running for Congress in the past and would not run for the remainder of Franken's term, which expires in 2020, in a 2018 special election. That would clear the way for a wide open Democratic primary next year if Franken steps down." Hmm. "Senator Ellison" has a nice ring to it.

"While there is a presumption that Republicans aren't competitive statewide in Minnesota, Franken's close 2008 race and Democratic presidential nominee Hillary Clinton's narrow 43,695-vote victory in 2016 would suggest otherwise" [Cook Political Report]. "At this writing, the situation is very fluid and is likely to take weeks to sort itself out."

"Conyers' exit after decades could open political floodgates" [ABC]. "John Conyers' resignation from the U.S. House amid sexual harassment allegations unlocks the seat he has held for more than a half-century — and sets off a free-for-all race to replace him with at least three potential legacy candidates, including two relatives of Conyers and a son of a prominent former mayor."

"On Wednesday, Democratic senators sought to claim [the moral high ground] by pushing Franken to resign just one day after Conyers — the longest-serving House member — resigned over harassment allegations. The calls from nearly three dozen senators, members of the House, and the chairman of the Democratic National Committee came less than a week before voters in Alabama head to the polls for a special election to replace Jeff Sessions" [RealClearPolitics].

* * *

"I followed Bernie Sanders as he went to Ohio and explained to crowds how Democrats could win back Trump voters." [Vice]. Important:

"It is clear that there is an element of Trump supporters who are racists, sexists, homophobes, and there's nothing I'm going to say that's going to appeal to them," he said. "But I think that the vast majority of Trump supporters are people who are in pain, who are struggling economically, who are worried to death that their kids are going to be in even worse shape economically than they are, and they turned to Trump because Trump said things that made sense. He said he was going to take on the establishment, and he was going to provide healthcare to everybody. You know what, it's pretty much what I said."

The difference, of course, is that Sanders seems to have a plan to provide benefits like health insurance to large swathes of Americans. The question—which may not be answered until 2020—is whether Trump spoke to those voters because of his vague populist promises or because of his willingness to embrace the nastiest aspects of the culture war.

Sanders, evidently, thinks that it's the former. He has obvious compassion for subsection of Trump supporters, an undeniably practical perspective to have—while some on the left might be giddy about writing off the 62,979,879 Americans who voted for the guy, Sanders wants to win them over with his populist, anti-elitist platform.

"We are winning the fight for the future of America," he told the audience in Dayton. "Please never forget we're the vast majority of the American people."

There's a good deal of heart-burning about this from liberal Democrats, even those of good faith, but let us again remember the key role that Obama voters who flipped to Trump played in 2016. And then there's this:

Morning Consult/Politico poll released in late November showed 15 percent of Republicans would vote for Sanders over Trump 12% aren't sure https://t.co/ZeeTlyVHyZ pic.twitter.com/uV90rVpMuP

— Zaid Jilani (@ZaidJilani) December 7, 2017




So, there are other paths to victory for Democrats than appealing to wealthy suburbanite Republicans. Who knew?

"How Trump Is Ending the American Era" [Eliot A. Cohen, The Atlantic]. An important perspective from a conservative member of The Blob:

To a degree rarely appreciated outside Washington, it is virtually impossible to conduct an effective foreign policy without political appointees at the assistant-secretary rank who share a president's conceptions and will implement his agenda. As of mid-August, the administration had yet to even nominate a new undersecretary of state for political affairs; assistant secretaries for Near Eastern, East Asian and Pacific, or Western Hemisphere Affairs; or ambassadors to Germany, India, or Saudi Arabia. At lower levels, the State Department is being actively thinned out—2,300 jobs are slated for elimination—and is losing experience by the week as disaffected professionals quietly leave.

High-level diplomatic contact with allies and adversaries alike has withered. Meanwhile, for fear of contradicting him, Trump's underlings avoid saying too much publicly. As a result, the administration's foreign policy will continue to be as opaque externally as it is confused internally.

One consequence will be a corresponding confusion on the part of foreign powers about the administration's goals, commitments, and red lines—and the likely misinterpretation of stray signals. Even well-run administrations can fail to communicate their intentions clearly, with dire consequences.

I feel the author's pain, I really do. After all, WASPs of my age were raised to do our little bit for the empire, even if "only" maintaining American hegemony at several removes (say, though symbol manipulation). That said, it's very hard to see how "the American Era" — certainly since 9/11, and probably since elites decided to move our manufacturing base offshore as neoliberalism took hold — has been a substantial net positive for most Americans, certainly those outside our swollen Imperial City.
Stats Watch
Challenger Job-Cut Report, November 2017: "Lay-off announcements rose to 35,038 in November vs 29,831 in October and 26,936 in November last year. This is the highest total in seven months and, though still at an historically low level, does hint at softer-than-expected results for tomorrow's monthly employment report" [Econoday]. "Lay-off announcements rose to 35,038 in November vs 29,831 in October and 26,936 in November last year. This is the highest total in seven months and, though still at an historically low level, does hint at softer-than-expected results for tomorrow's monthly employment report."
Jobless Claims, week of December 2, 2017: Fell, lower than expected [Econoday]. "The labor market is very healthy though claims data, along with this morning's Challenger report, are not pointing to increasing strength for November's employment data." In such rude health that Walmart doesn't have to pay a living wage… However, and: "The weekly claims was not the only report that offered support for a solid employment situation report this week from the Labor Department. ADP forecast earlier this week that private sector payrolls rose by 190,000 in November. That was marginally above the consensus estimates" [247 Wall Street].
Bloomberg Consumer Comfort Index, week of December 3, 2017: Very strong, below August's peak [Econoday]. "Full employment, the rally in the stock market, and solid home-price appreciation are all important pluses for confidence measures."
Quarterly Services Survey, Q3 2017: "Information revenue rose 1.8 percent to $391.2 billion in the third quarter compared to the second quarter with the year-on-year rate at plus 5.8 percent" [Econoday].
Manufacturing: "General Motors Co. is building the future of its pickup trucks on the expensive and complicated supply chain for carbon fiber" [Wall Street Journal]. "Auto makers have been working with carbon fiber producers to ready the material for auto production, and researchers say carbon fiber prices have been falling. Carbon fiber is complicated and time-consuming to produce, however, and so GM would likely have to reset production operations by having fully formed parts shipped to its plants. The costs and complexity could improve if GM's use pushes broader adoption of the material at auto factories."
Shipping: "Drewry Supply Chain Advisors say ocean cargo rates will firm up in 2018" [Logistics Management]. "Despite the increase in deliveries of large containerships scheduled for 2018, we do not expect a new price war in ocean transportation, as robust demand growth and higher carrier concentration will also influence the market…. Retailers and manufacturers should watch the ocean transportation providers closely in 2018 to see whether the effects of carrier concentration are starting to be felt in negotiations and in pricing, as they may have to rethink their vendor contract strategy to align with a narrower base of much larger carriers." Concentrations works!
Shipping: "Contract talks between the International Longshoremen's Association (ILA) and the United States Maritime Alliance (USMX) broke down on Wednesday over union concerns about potentially job-killing automation" [Splash 247]. "Union officials fear employers aim to use automation to wipe out dockworker jobs entirely rather than have automated features that would be operated by workers."
The Bezzle: "The contents of a digital wallet belonging to cryptocurrency company NiceHash, which included potentially millions of dollars worth of customers' bitcoin, was stolen in a major security breach early Wednesday" [Business Insider]. "NiceHash is only the latest cryptocurrency company to suffer a major hack in recent months. Despite the widespread notion that the blockchain technology behind bitcoin and other cryptocurrencies is safer and more trustworthy than that underlying other kinds of digital financial transactions, startups in the industry have struggled to secure their sites and software against hackers."
The Bezzle: "A brief history of Bitcoin hacks and frauds" [Ars Technica]. "Here we present a short history of the Bitcoin world's most significant scams and hacks. It's worth noting that all of these attacks were against Bitcoin-related services, not the core Bitcoin software. As far as we know, the Bitcoin network itself is highly secure, though of course that's little comfort if you entrust your bitcoins to a third party that gets hacked. Also, the list seems to skew toward older incidents. Users seem to have faced greater dangers of hacking and fraud in 2011 and 2012 than they do today."
The Bezzle: Old news to NC readers.
"Uber is only cheap because each journey is subsidised by venture capitalists, and because it exploits its workers"

Watch @L__Macfarlane at this year's Disruptive Innovation Festival. Full video: https://t.co/wcjZaPBOPC pic.twitter.com/eUB6ZHNlw8

— openDemocracyUK (@openDemocracyUK) December 6, 2017
(I love "Disruptive Innovation Festival"…)
The Bezzle: "Airbnb guests are finding hidden cameras planted in their rentals" [CBS News]. "In late November, activist and filmmaker Jason Scott tweeted his colleague found a camera disguised in a motion detector at an Airbnb. The company called the discovery 'incredibly rare,' [they would, wouldn't they?] and said the host was banned. In October, an Indiana couple said they found a camera in a smoke detector in the bedroom at their Airbnb in Florida. The home owner was arrested for 'video voyeurism."" But don't worry: "The company told CBS News about two million people use Airbnb on any given night, and they are always willing to work with law enforcement when complaints are made. Experts say there are a few things consumers can do to protect themselves: ." Or maybe disrupt AirBnB and stay in a normal hotel, where you don't have to do things like that.
Concentration: "Amazon is raising prices at Whole Foods after its highly-publicized cuts" [Business Insider]. "The average price increase on each item was about 1.6%, [research firm Gordon Haskett] said. The findings are surprising, given the 'myriad of positive press' around Amazon's price cuts at Whole Foods since the acquisition, Gordon Haskett analyst Chuck Grom wrote." It's not surprising at all. It's classic monopolistic behavior.
Five Horsemen: "So far Facebook is bouncing best out of Tech Wreck II" [Hat tip, Jim Haygood].
Today's Fear & Greed Index: 60 Greed (previous close: 60, Greed) [CNN]. One week ago: 73 (Greed). (0 is Extreme Fear; 100 is Extreme Greed. Last updated Dec 7 at 11:58am.
Health Care
"Ben Jealous calls for single-payer health care in Maryland" [WaPo]. "In a 19-page proposal that echoes U.S. Sen. Bernie Sanders' national plan for the government to cover everyone's health insurance through Medicare, Jealous said a state-run, single-payer system would be the next logical step for a state like Maryland, which has an all-payer system, but he offered no specific details on how the government would cover the cost of the ambitious plan…. Jealous said the state has saved more than $400 million under its all-payer system and a move toward single-payer would only lead to greater cost savings, money that could help pay for the program. He also did not rule out an increase in sales or income taxes to pay for the universal coverage."
Our Famously Free Press
"MSNBC Reverses Decision to Fire Contributor Sam Seder" [The Intercept]. "Seder and MSNBC were set to part ways when his contributor contract expired next year, with reports indicating the departure had to do with a 2009 tweet from Seder surfaced by the far-right provocateur Mike Cernovich. After initially caving in to right-wing internet outrage over the tweet, MSNBC reversed its decision to not renew Seder's contract."
"10 Things You Can Do Now to Up Your Social Media Game in 2018" [Media Shift]. For news venues. One interesting nugget: "Facebook still leads the pack, but over 20 other platforms now have more than 100 million users each."
Meet the new boss:
LA Weekly just fired 9 well-established experts on LA culture, news, music, etc. Now are calling all "Angelinos" for help writing the paper, misspelling Angeleno, the common demonym for LA residents. pic.twitter.com/8UYhJGSWCJ

— Ryan Deto (@RyanDeto) December 2, 2017
Break out the mops and buckets:
Wow. It's real. This'll be featured in newspaper sub-editing courses for years. And available at all good newsagents near you today, folks. pic.twitter.com/JS8YpuedVW

— Chris Rand (@ChrisRandWrites) December 6, 2017
Class Warfare
"Georgetown University refuses to recognize graduate student union" [WaPo]. "Georgetown's decision echoes opposition to graduate student unions at other prestigious universities. Yale University, Boston College and Columbia University have railed against a 2016 National Labor Relations Board ruling that granted teaching and research assistants the legal protection to unionize. Yale, Columbia and Princeton posted information on their websites warning students that unionizing could alter their relationship with faculty and limit their individual rights once a union becomes their collective voice." Good liberal institutions…
News of the Wired
"AI is now so complex its creators can't trust why it makes decisions" [Quartz]. "Modern artificial intelligence is still new. Big tech companies have only ramped up investment and research in the last five years, after a decades-old theory was shown to finally work in 2012. Inspired by the human brain, an artificial neural network relied on layers of thousands to millions of tiny connections between 'neurons' or little clusters of mathematic computation, like the connections of neurons in the brain. But that software architecture came with a trade-off: Since the changes throughout those millions of connections were so complex and minute, researchers aren't able to exactly determine what is happening. They just get an output that works."
Waze, from Google:
LA peeps: DON'T USE WAZE to get past 405 fire. It is taking people right into the neighborhoods that are on fire! #SkirballFire #TechnologyFail #LAFire

— justin bellamy (@siliconbeacher) December 6, 2017
Can any Los Angeles readers confirm?
* * *
Readers, feel free to contact me at lambert [UNDERSCORE] strether [DOT] corrente [AT] yahoo [DOT] com, with (a) links, and even better (b) sources I should curate regularly, (c) how to send me a check if you are allergic to PayPal, and (d) to find out how to send me images of plants. Vegetables are fine! Fungi are deemed to be honorary plants! If you want your handle to appear as a credit, please put it in the subject line. Otherwise, I will anonymize by using your initials. See the previous Water Cooler (with plant)
here
. Today's plant (EJ):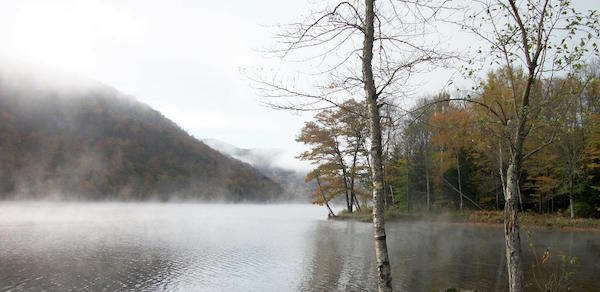 EJ writes: "Technically, on review, the site is best judged (years later) as at approx. lat. 42.7454 long -72.9276 in or at the Western edge of Sherman Reservoir inside the Green Mountain National Forest at the locations where the branches of the Deerfield River combine and get repleenished from reservoir (creating seasonal rapids rafting out of Zoar, MA)."
* * *
Readers
: Water Cooler is a standalone entity
not
covered by the NC fundraiser. So do feel free to use the dropdown and click the hat to make a contribution today or any day. Here is why: Regular positive feedback both makes me feel good and lets me know I'm on the right track with coverage. When I get no donations for five or ten days I get worried. More tangibly, a constant trickle of small donations helps me with expenses, and I factor that trickle in when setting fundraising goals. So if you see something you especially appreciate, do feel free to click the hat!