By Lambert Strether of Corrente.
Trade
"U.S. lawmakers are urging AT&T Inc, the No. 2 wireless carrier, to cut commercial ties to Chinese phone maker Huawei Technologies Co Ltd and oppose plans by telecom operator China Mobile Ltd to enter the U.S. market because of national security concerns, two congressional aides said" [Reuters].
"Imagining a World Without NAFTA" [Oxford Economics]. "Three main blocks of states rely upon exports to Canada and Mexico for a sizable share of their gross state products: Small border states, such as Vermont and North Dakota; Emerging Southern production nodes, such as South Carolina and Alabama; Traditional manufacturing hubs of the Midwest, such as Michigan and Ohio. Interestingly, two of the most notable states that swung for Trump, Michigan and Ohio, are among the top exporters to Canada and Mexico — with 8 percent of Michigan exports and 5 percent of Ohio's being destined for these countries (mostly related to the automotive industry)." (CNN coverage here.)
Politics
2018
"Wisconsin Upset Raises Hopes for Democrats in 2018 Races" [New York Times]. "A Wisconsin Democrat won a State Senate seat on Tuesday night that had been held by a Republican for 17 years, setting off a flurry of political predictions across a state that President Trump won…. 'Everything is in play now," Melanie Conklin, a spokeswoman for the Democratic Party of Wisconsin, said on Wednesday. 'This is a district that has been a very red district for a long time, and the numbers last night were very blue.'" Hmm. What do readers say?

"Trump Tests His Political Capital in a Bellwether House Race" [Bloomberg]. "Trump will find his political capital tested when he visits the Pittsburgh suburb of North Fayette on Thursday after suffering an embarrassing defeat late last year in Alabama, where he backed two losing candidates and the state elected its first Democrat to the Senate in a quarter century…. The House Republican leadership has urged Trump to pay attention to the election in Pennsylvania's 18th congressional district, scheduled for March 13, to help bolster the profile of Republican candidate Rick Saccone, according to two people familiar with the matter. Democrats didn't even field a candidate there in the last two elections, showing that Republicans and the White House acknowledge the 2018 stakes."
2016
"Hillary Clinton Could Still Become President if Russia Probe Finds Conspiracy Evidence" [Newsweek]. All over the map. Resurrects an October 2017 essay from Larry Lessig with an 11-dimensional chess scenario involving many "should"s, then quotes him now: "Since the essay was published, there hasn't been 'any evidence that's come out that's resolved the question, whether there was some conspiracy to steal the election,' [Lessig] said. 'I don't feel that we've seen anything that increases that probability,' he added." And any evidence produced at this point would have to have very strong provenance.
Obama Legacy
"Protesters demanding Obama sign community benefits agreement make voices heard" [Chicago Sun-Times]. An antidote to the "I miss Obama" tweets you might see:

"We cannot take the president's word on the fact that they're not gonna push African-Americans out with the Obama Presidential Center. There is no history that says their word is worth anything," [Jitu] Brown said.

"What we need is an in-writing community benefits agreement that says that people who live in those communities will benefit — not in a profiteering way, but jobs, investment in neighborhood elementary schools, transportation infrastructure. That is not a lot to ask. In the case of the Staples Center in Los Angeles, it kept people in their communities."

Brown was asked why he is so convinced that promises made by the nation's first African-American president won't be kept.

"The situation will not be different because our African-American president endorsed school privatization — the closing of schools all across the United States. Our African-American aldermen have sat by while 50 schools closed in the city of Chicago. And it had a harmful effect on Chicago's children," Brown said.
New Cold War
"Twitter may alert users exposed to Russian propaganda" [USA Today]. " Twitter says it's exploring ways to notify millions of users if they were exposed to Russian propaganda. The social media service is working to identify and inform individuals who saw tweets from Kremlin-linked accounts spreading disinformation and divisive messages during the 2016 presidential election, Twitter's director of public policy Carlos Monje told lawmakers Wednesday." "Divisive messages." Hold my pearls as I head to the fainting couch!
Realignment and Legitimacy
"Schakowsky, Gutierrez endorsing Lipinski Democratic primary rival Marie Newman" [Chicago Sun-Times]. "In a rare break from the usual tradition of House incumbents either backing each other or staying neutral in a primary, Illinois Democratic Reps. Jan Schakowsky and Luis Gutierrez on Wednesday endorsed challenger Marie Newman over Rep. Dan Lipinski. 'It's not easy to endorse a challenger over a colleague in the House of Representatives," Gutierrez said at a press conference on Capitol Hill with Newman and Schakowsky. Especially when that colleague is a member of your party. But I think this is a very special and at the same time a very dangerous time,' he said. Said Schakowsky, "this is not personal," with the split, she said, 'based on issues.'" DNC: "Issues? What are these issues of which you speak?"

"A free-for-all destroyed the Republican Party. Could Democrats be next?" [Matt Bai, Yahoo News]. "The lesson is this: When a field is divided 20 different ways among a bunch of candidates who cancel each other out, the candidate who makes a loud, emotional or even outrageous appeal can incite enough of a disenchanted plurality to win…. Leftists like Bernie Sanders and Elizabeth Warren are nowhere near Trump when it comes to sheer depravity and ignorance, but they are just as capable of offering simplistic and dated answers for modern problems." My goodness!

How it's done:

neighbors told me their pipes froze so I went out there in my @HoustonDSA shirt that says "try socialism, y'all", unfroze their pipes, then talked about how our land lord is a piece of shit and doesn't deserve our money

— bryan ? (@barduuuk) January 17, 2018
Stats Watch
Housing Starts, December 2017: "A surprising but perhaps one-time drop in single-family starts masks what is otherwise a very solid housing starts and permits report for December" [Econoday]. "The backlog behind future starts continues to build as permits came in very strong."
Jobless Claims, week of January 13, 2018: "A rash of estimates in the January 13 week clouds an unusually steep decline in initial jobless claims" [Econoday]. "The estimates aside, the drop in the latest claims does speak to strength in the labor market and is underscored once again by how low the unemployment rate is for insured workers, holding steady in the week at 1.4 percent."
Philadelphia Fed Business Outlook Survey, January 2018: "The Philly Fed's manufacturing index remains very strong though it did ease a bit in this month" [Econoday]. "This report was the first to take off this time last year in what correctly signaled a healthy 2017 for the factory sector."
Bloomberg Consumer Comfort Index, week of January 14, 2018: "The consumer comfort index rose 3 tenths in the January 14 week to a new 17-year high" [Econoday]. "This report has been showing increasing strength in contrast to the consumer sentiment where strength has been easing."
Treasury International Capital, November 2017: "Foreign accounts, at $34.8 billion, were active buyers of long-term U.S. securities in November while U.S. accounts, at $22.7 billion, were active sellers of long-term foreign securities, together making for monthly asset inflow of $57.5 billion" [Econoday]. "Foreign demand for U.S. securities is a major plus for the economy, helping to offset the nation's large trade gap and government deficit."
Banks: "Wrecking ball swings through Russia's private banks" [Financial Times]. "At the start of 2017, half the banks in Russia's top 10 by assets were privately owned — no mean feat when the state sector makes up 70 per cent of gross domestic product. One year later, only Alfa-Bank, one of Russia's oldest, has escaped rescue. Three of the four members of the "Moscow Garden Ring" of privately held banks that grew rapidly in recent years have been nationalised…. Central bank governor Elvira Nabiullina won praise for acting quickly to limit a developing crisis after the now nationalised banks revealed huge balance sheet holes."
Banks: "JPMorgan's Equity Traders Took a $143 Million Loss on a Single Client" [Bloomberg]. "The bank recognized a $143 million mark-to-market loss on a margin loan to a single customer in its stock-trading unit, the New York-based firm said Friday in a statement. Chief Financial Officer Marianne Lake confirmed on a conference call with reporters that the writedown was tied to Steinhoff, the South African retailer engulfed in an accounting scandal."
Big Ag: "Countries comprising the former USSR harvested 18 percent of the global wheat crop in 2017, the most since 1980, according to U.S. Department of Agriculture data. Russia is projected to become the biggest shipper by volume this year, overtaking the U.S., the agency estimates. America's share of the global crop fell to 6 percent in 2017, the lowest based on records going back to 1960." [Bloomberg].
Retail: "15 companies that are defying the retail meltdown by opening hundreds of new stores" [Business Insider]. "A large majority of the retailers that are opening new stores this year are discounters, including Dollar General, Dollar Tree, Family Dollar, Aldi, Lidl, Five Below, and Hobby Lobby. Those retailers and others will collectively open more than 2,100 stores this year, according to a Business Insider analysis based on company data…. US shoppers started gravitating toward discount stores during the recession, and most never returned to shopping full-price…. This shift coincided with a seismic change in how Americans spend their money. Shoppers are now devoting a smaller share of their wallets to clothing and accessories and instead spending more on big-ticket items like cars and travel, as well as food, technology, and health care. Shoppers are also purchasing more online. At the same time, mall visits have dropped precipitously."
Retail: "Whole Foods is facing a crush of food shortages in stores that's leading to empty shelves, furious customers, and frustrated employees" [Business Insider]. "Whole Foods employees say the problems began before the acquisition. They blame the shortages on a buying system called order-to-shelf that Whole Foods implemented across its stores early last year… 'On paper, things look good — our spoilage is in check, and I don't have a lot of back stock,' [the manager] said. 'But I have never seen so many empty shelves in my store.'" The idea is to minimize inventory, but: "If a truck breaks down and you don't get a delivery, then you have empty shelves,' an assistant manager of a Chicago-area Whole Foods said." What food shortages would look like, I suppose….
Supply Chain: "Amazon Chooses 20 Finalists for Second Headquarters" [New York Times (Katy)]. "The full list [here] of finalists leans toward locations in the Midwest and South and on the East Coast, and away from the tech-saturated hubs of the West Coast.
Supply Chain: "Amazon names top 20 finalists in second headquarters race" [USA Today]. "An interesting geographical anomaly is the D.C. area. Montgomery County, Md., Northern Virginia and Washington D.C. all made it to the second round. That means 15% of the possibilities are in or next to the federal government — presumably important because of Amazon's increasing visibility in the national economy and need to keep Washington on its side."
I seem to have accumulated a good deal of Bezzle material:
The Bezzle: "Price Manipulation in the Bitcoin Ecosystem" [ScienceDirect]. Highlights:
Suspicious trades on a Bitcoin currency exchange are linked to rises in the exchange rate.
A single actor likely drove the USD/BTC exchange rate from $150 to $1000 in 2 months.
Trading volume on all exchanges increased greatly on days with suspicious activity.
Unregulated cryptocurrency markets remain vulnerable to manipulation today.
The Bezzle: "Bitcoin rallies more than 30% to briefly top $12,000 in latest wild swing" [CNBC] (most recent as of this writing). "'Large dips of 25 percent or greater are a feature of the global, super liquid, near-instant cryptocurrency trading environment,' Nolan Bauerle, director of research at CoinDesk, said in an email. 'There have been six such large sell-offs since the summer of 2016,' Bauerle said. 'The pattern is familiar: Bitcoin falls, finds a bottom and consolidates at previous all-time high. Traders who seek to increase their total bitcoin holdings take a fiat position, or move to another cryptocurrency, then buy back into bitcoin. This massive, global traffic pushes prices back up.'"
The Bezzle: "Can Hedge Funds Handle a Bitcoin Bust?" [Bloomberg]. "The allure of 1,000 percent returns in a market of unsophisticated punters who behave in herd-like ways is undeniable. But how long before crypto fund managers start having their own bedtime terrors?"
The Bezzle: "This week's Bitcoin crash was all about fraud and regulation" [The Verge]. "However, this current bubble comes against a new backdrop: a global tide of regulation against the inchoate cryptocurrency industry. On one hand, these regulations may be scaring bitcoin investors into selling their coins now before the full impact of regulation makes itself felt. On the other, it may also be threatening suspect exchanges such as BitConnect, with its own token declining in value by 46 percent between December 17th and January 15th — the day before it announced its closure. In the United States, regulation has reared its head in the form of the SEC. Last month, its newly formed Cyber Unit pressed charges for the first time against PlexCorps, which was accused of defrauding investors through a questionable initial coin offering, or ICO."
The Bezzle: "Next week the popular cryptocurrency event, The North American Bitcoin Conference (TNABC) will be hosted in downtown Miami at the James L Knight Center, January 18-19. However, bitcoin proponents got some unfortunate news this week as the event organizers have announced they have stopped accepting bitcoin payments for conference tickets due to network fees and congestion" [d].
The Bezzle: "One approach to pricing Bitcoin [and similar] has to been try to ask oneself what the fundamental value might be in terms of its enduring use and appeal to the community wishing to store value or make payments outside the reach of regulatory and tax authorities" [longandvariable]. "Bitcoin's current high cost of individual payments make it unappealing for small and legal payments. For small payments, the payment fee is a large fraction or multiple of the actual payment, and so highly inefficient. For legal payments, there are cheaper alternatives and no obvious benefit, yet to using Bitcoin. However, for those seeking to keep their wealth hidden, and move it around without the knowledge of the authorities, or being taxed, Bitcoin may still be useful…. I think it's a mistake to think of Bitcoin's value, therefore, as underpinned by a reliable long term demand from badly behaved or private people; that community may be as fickle in coordinating on a currency as our own, and as responsive to what they think we will do as we are to them."
The Bezzle: "Pop-Punk Bassist Made $27 Million From a Telemarketing Scam, Is Probably Going to Jail" [TrackRecord]. Former Ataris bassist Michael Davenport, whoever they are and whoever he is. "Davenport, along with fellow California resident Cynthia Rawlinson, operated a nationwide real estate telemarketing scam that cheated 100,000 people out of $27 million from 2009 to 2016…. Their plan was fairly simple: post ads on Craigslist for extremely affordable "pre-foreclosure" homes with limited information. After people responded to the ads, American Standard would then request a $199 fee to access the property information." And you can guess how it goes from there. I like it, however, that bottom feeders were still taking advantage of the aftermath of the foreclosure crisis in 2016. Best economy ever!
The Arts: "Modern patronage offers artists a new way to earn a living" [Financial Times]. "Some creators have suggested that Patreon made the fee changes to increase its revenue after an injection of venture capital last year valued the company at $450m, but Mr Horowitz denies this, saying the changes were planned long before that round of investment. Regardless, the debacle revealed how, despite all the rhetoric about independence for this democratic form of funding, creators are always at the mercy of the platform." If your business depends on a platform, you don't have a business…
The Arts: "YouTube is trying to clean itself up by making it much harder for small video makers to make money" [Recode]. "YouTube's new rules require anyone who wants to generate ad dollars on the platform to first generate 4,000 hours of "watchtime" over a 12-month period, and to attract at least 1,000 subscribers. That replaces a lower hurdle of 10,000 lifetime views, which the site instituted last spring, after a first wave of negative stories about rogue content. The rules are retroactive for existing YouTube 'partners,' who share ad revenue with the platform, which means that the site will kick some out of the rev-share program after a 30-day grace period." 4,000 hours is a lot of sharecropping. If your business depends on a platform, you don't have a business…
The Arts: "Exclusive: Amazon Studios to cut back on indie films in programming shift: sources" [Reuters]. "Amazon.com Inc (AMZN.O), which has made waves in recent years buying art-house movies at the Sundance Film Festival, is heading to the prestigious event this week with a long-term change in the works: It plans to shift resources from independent films to more commercial projects, people familiar with the matter told Reuters." If your business depends on a platform, you don't have a business…
Five Horsemen: "Seattle sluggers Amazon and Microsoft continue to thrash their Silicon Valley counterparts" [Hat Tip, Jim Haygood].
Today's Fear & Greed Index: 72 Greed (previous close: 75, Extreme Greed) [CNN]. One week ago: 77 (Extreme Greed). (0 is Extreme Fear; 100 is Extreme Greed. Last updated Jan 18 at 11:58am. Mr. Market worried about government shutdown?
Health Care
"The Health of the States" [Virginia Commonwealth University]. From the Summary Report (PDF): "In many cities, life expectancy varies by as much as 20 years between neighborhoods."
"Call Gov. Matt Bevin's Medicaid plan what it is: 'Kentucky Death' [Courier-Journal]. "Between 100,000 and half a million Kentuckians will lose health insurance in the next year because of Bevin's new Medicaid program, which requires recipients to pay for Medicaid and for some of them to get jobs or work as volunteers. That will mean suffering and that will mean death." The endowment effect, indeed…
Gaia
"Peru's alpine herders revive ancient technologies to face the future" [Reuters]. "With their alpine grasslands shrinking due to erratic rainfall and glacier retreat, herders in Peru's central Andes have decided that the future lies in reviving the past. To improve access to water and save their livestock, indigenous communities in the villages of Canchayllo and Miraflores have restored abandoned dams, reservoirs and canals that date back over 3,000 years."
"The latest cutting-edge technology changing our landscapes? Trees" [Guardian]. "Against all precedent, the Briggs planted rows of fruit trees at 21-metre gaps in their cereal fields to provide both windbreaks and alternate crops. "Our neighbours thought we were absolutely crazy," says Stephen. His soil, however, began to stay put. They were helped in their plan by plant pathologist Martin Wolfe, who had devoted his retirement to experimenting with an innovative technique called agroforestry. The theory is fairly simple; trees are integrated into agricultural landscapes to create microclimates and shelter for animals or crops, also improving biodiversity and water and soil conservation. The trees also produce crops in their own right in the form of timber, coppicing or fruit."
"Paul Fenn Wants to Give Your Electric Company the Boot" [Blomberg]. "Paul Fenn is a little-known consultant with an academic bent, but he may be the utility industry's enemy No. 1. For more than 25 years he's been pushing the idea that local communities ought to be able to set up their own power agencies to compete with established utilities. Local control, he says, can produce lower rates and greater use of renewable energy….. Fenn's campaign is finally getting traction, especially in green-minded California. His efforts are another disruption to the nation's once dominant utilities."
"Black Death spread by humans, vindicating rats" [CNN]. "To understand the historic outbreak, scientists from the University of Oslo modeled the three transmission routes for the disease — rats, airborne and human fleas and lice — using mortality data for nine outbreaks that spanned the time period of the second pandemic. Their analysis found that human ectoparasites, such as fleas, reflected the death trends most accurately."
Neoliberal Epidemics
"As opioid crisis strains foster care, states aren't tracking the damage" [Reveal News].
News of the Wired
Unintended consequences: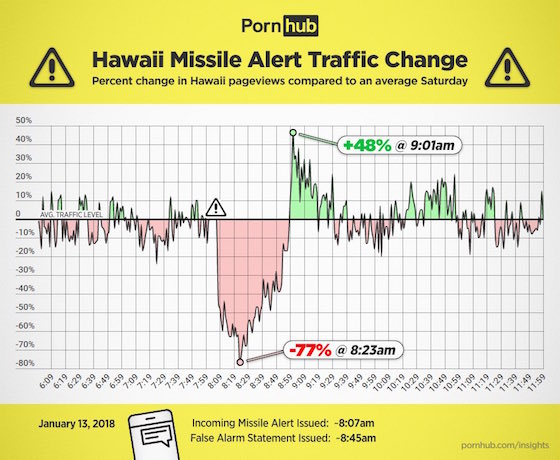 "Google's art selfies aren't available in Illinois. Here's why." [Chicago Tribune]. "The Google Arts & Culture app's new feature seems to be everywhere as social media streams are flooded with photos of friends and the great works of art that resemble them — that is, nearly everywhere but Illinois. The state is one of two in the country where the Google app's art selfie feature — which matches users' uploaded selfies with portraits or faces depicted in works of art — is not available. Google won't say why. But it's likely because Illinois has one of the nation's most strict laws on the use of biometrics, which include facial, fingerprint and iris scans."
Yes, it is a joke:
This image is a TCP/IP Joke. This tweet is a UDP joke. I don't care if you get it. pic.twitter.com/GLy8QadqOC

— Kirk Bater (@KirkBater) January 17, 2018
The responses are pretty good, too.
"Map: Economic Might by U.S. Metro Area" [Visual Capitalist]. Interesting data here. Handy map: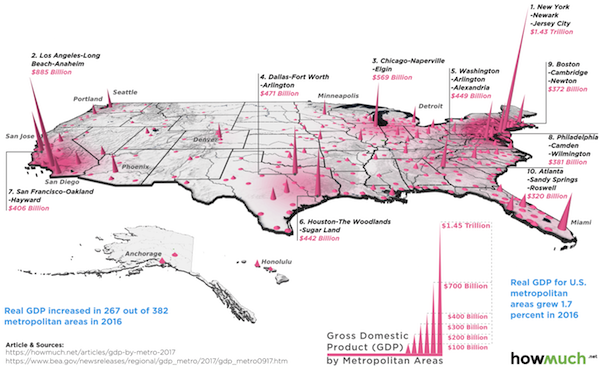 * * *
Readers, feel free to contact me at lambert [UNDERSCORE] strether [DOT] corrente [AT] yahoo [DOT] com, with (a) links, and even better (b) sources I should curate regularly, (c) how to send me a check if you are allergic to PayPal, and (d) to find out how to send me images of plants. Vegetables are fine! Fungi are deemed to be honorary plants! If you want your handle to appear as a credit, please place it at the start of your mail in parentheses: (thus). Otherwise, I will anonymize by using your initials. See the previous Water Cooler (with plant) here. Today's plant (handford):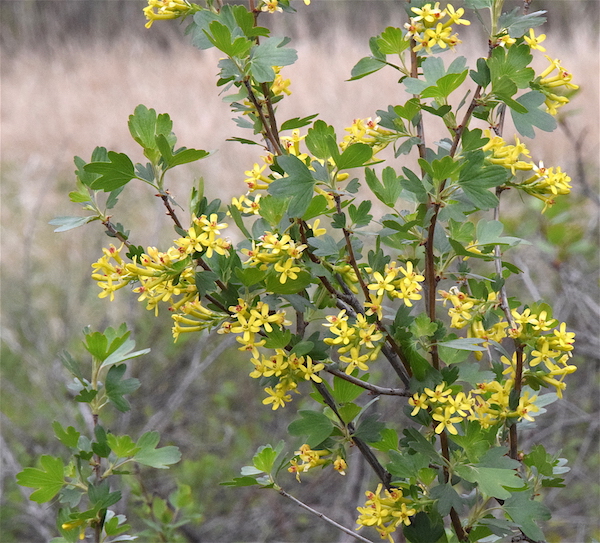 Ribes aureum, Golden currant.
* * *
Readers: Water Cooler is a standalone entity not covered by the NC fundraiser. So do feel free to use the dropdown and click the hat to make a contribution today or any day. Here is why: Regular positive feedback both makes me feel good and lets me know I'm on the right track with coverage. When I get no donations for five or ten days I get worried. More tangibly, a constant trickle of small donations helps me with expenses, and I factor that trickle in when setting fundraising goals. So if you see something you especially appreciate, do feel free to click the hat!