By Lambert Strether of Corrente.
Trade
"Just when we thought things couldn't get more exciting, the U.S. uranium mining industry is asking the Commerce Department to initiate another Section 232 investigation into the national security risks of uranium imports. The request comes as the Trump administration considers what actions it could take in similar national security probes of steel and aluminum imports" [Politico].
Politics
Obama Legacy
This is an excellent, J'accuse-level thread:

[Thread] Obama years, in no particular order …. pic.twitter.com/jCdg0m8liU

— Esha ?? (@eshaLegal) December 19, 2017
"The Resistance"
The word "promo" caught my eye:

So many anniversaries, so little time! In the last month, we've seen several Indivisible groups celebrate birthdays, one year since the Women's March, and many more milestones! Make sure to check out @thenation's special issue, "The Resistance Turns One" https://t.co/xUfiKRc1FR

— Indivisible Guide (@IndivisibleTeam) January 17, 2018

So I clicked through link in the quote and downloaded the "THE RESISTANCE TURNS ONE"* (it's a PDF).

I noticed two things: First, there's no article about the structure of "The Resistance" as a political entity. We have a section entitled "Leading the Resistance," where there are "Nine Profiles in Courage" like Colin Kaepernick (and hats off to him) as well as Clintonite Rebecca Solnit. But there's no indication that these nine "leaders" are even communicating with each other, let alone that they share political views, or have adopted common strategies and tactics. How are they leading? And what are they leading? It seems that whatever "the Resistance" might be, it's not a movement, because there's no evidence that it has the characteristics of a movement.

Second, as an old-timer from the world of publishing, I thought I'd check the health of The Nation by taking an inventory of its advertising. Here are the full page ads (and there's virtually nothing else):

As an old codger myself, I think I can say, without being ageist, that I sense a certain theme (except perhaps the last ad; who, after all, does not enjoy, of a quiet, leisurely afternoon, unscrewing the cap from a bottle of wine before opening the Twitter?). And what those ads mean to me is that either the appeal of "the Resistance" is really quite limited, or that the Nation and its readers are completely disconnected from it (except, perhaps, as soi disant "leaders").

As Greenwald remarks, in the context of the Democrat Party voting Hitler — Hitler also being a Russian puppet, apparently — vast warrantless surveillance powers:

It's almost starting to seem like "#TheResistance" is more of a re-branding slogan for a defeated party, or a profiteering bonanza for many activists & media outlets, rather than an actual belief system about the current administration…. https://t.co/K9goB2HFhg

— Glenn Greenwald (@ggreenwald) January 17, 2018

NOTE * Usage note on "turns one": You should always watch out for category errors where political systems are treated as people. The Bush administration constantly talked of "young democracies" — for example, Iraq — as if democracies aged like people. Here, The Nation marks the birthday of "The Resistance" as if it were a baby.
Realignment and Legitimacy
"The Democrats' Savior" [Stuart Rothenberg, Inside Elections]. Excerpt A: "[I]t was Obama's vision for the country — diversity, equality, fairness and bipartisan cooperation — that made him so attractive, even to nonideological voters." Excerpt B: "Clinton won the popular vote by more than 2 points in 2016 even though key Democratic demographic groups underperformed." Disposing of the headline immediately, the joke is that Trump is the Democrats' savior, because he's united them (dubious). Does Rothenberg not see that A contradicts B? If Clinton and Obama's "vision" was the same, and vision is what does the trick — and not charisma on the one hand or policy on the other — then why did demographic groups "underperform" for Clinton? This particularly warmed over piece is just another apologia for the Obama Coalition, which in my view does not exist, except as a fetish in some sectors of the political class.

"DNC overhaul struggles as Sanders-Clinton rivalries persist" [The Hill]. "[Former Sanders campaign manager Jeff] Weaver said, though, that there won't ever be a point when Sanders gives the DNC access to his voter data. 'I don't think you should expect that to happen. If people think the Sanders list is just an ATM, they're sadly mistaken,' he said. 'It's a list of millions of people who are motivated by a certain policy agenda. If they think it can be easily transferred, I think it's a fantasy.'" What is Weaver, anyhow? A Russian puppet?

"Former Obama officials are defending the White House doctor as he takes heat for saying Trump is in 'excellent' health" [Business Insider]. Maybe the doctor is a Russian puppet?

"There Is No Rampaging #MeToo Mob" [Slate]. On Aziz Ansari: "It would indeed be tragic if Grace had—in a professional sense—fatally shot without reason the only good young Muslim man in America as he was riding through town in an open convertible, but that isn't precisely what has happened here." I don't get this; I thought Ansari had a good identity, not a bad one. Maybe Ansari is a Russian puppet too?
Stats Watch
Industrial Production, December 2017: "Another surge in mining and a bounce in utilities offset another disappointment for manufacturing to drive industrial production up" [Econoday]. "Mining production, up a year-on-year 11.5 percent, has been rising in large monthly clips including December at 1.6 percent. Utility production often swings month-to-month based on weather and rose 5.6 percent in December in contrast to the yearly change which is very modest at plus 1.8 percent… The lack of strength in manufacturing volumes in this report, which is produced by the Federal Reserve, has been a consistent surprise and stands out against factory orders data where year-on-year shipments and new orders growth, measured in dollar terms and produced by the Commerce Department, is in the mid-to-high single digits and, most importantly, is showing acceleration." And: "US industry surged back to life in 2017, posting the biggest increase in output in seven years, with the largest gain in the mining sector, the Federal Reserve said on Jan. 17" [Industry Week]. Less of the heavy breathing, please. Nevertheless: "There was insignificant revision to the existing data over the last 6 months. The best way to view this is the 3 month rolling averages which improved. Industrial production is in a long term upward trend" [Econintersect]. But: "Capacity utilization at 77.9% is 2.0% below the average from 1972 to 2015 and below the pre-recession level of 80.8% in December 2007" [Calculated Risk].
Housing Market Index, January 2018: "Sentiment remains very strong among the nation's home builders" [Econoday]. "A key strength in January, as it especially was in December, is the traffic component." And: "This was slightly below the consensus forecast, and a strong reading" [Calculated Risk]. But: "Up more than expected this month, but last month revised down, inline with a recent pattern of reporting a better than expected number that subsequently gets revised down to where it no longer looks so good" [Mosler Economics].
Real Estate: "Two-day shipping has helped double warehouse land prices" [Recode]. "[I]n order to ship goods to customers within a day or two — a time frame popularized by the likes of Amazon that has now become expected — e-commerce companies need to locate their distribution warehouses as close to their customers as possible. Industrially zoned land, especially near cities, is already hard to come by. And new construction has consistently been unable to meet demand, though it's starting to catch up. All of this has led the average cost of land for large warehouses to double last year to over $100,000 an acre, from about $50,000 in 2016, according to data from real estate firm CBRE."
Retail: "Resale is a multi-billion dollar a year industry. First Research estimates the resale industry in the U.S. to have annual revenues of approximately $17 billion including revenue from antique stores which are 13% of their statistics. Goodwill Industries alone generated $5.37 billion in retail sales from more than 2,000 Not For Profit resale stores and online sales in 2014" [The Association of Resale Professionals]. "Resale shopping attracts consumers from all economic levels. There is no typical resale shopper, just as there is no typical resale shop. No one is immune to the excitement of finding a treasure and saving money. Shrewd shoppers take advantage of the opportunity resale offers to save money on apparel, furniture and other consumer goods. These savings can add quality to life when used for vacations, entertainment, funding college and retirement accounts, and expanding family activities. According to America's Research Group, a consumer research firm, about 16 – 18% of Americans will shop at a thrift store during a given year." I went looking for this data inspired by alert reader ambrit's comment on cast iron skillets here. Do any readers know of an index or a site that tracks resales data on a monthly basis? And perhaps also covers dollar stores?
Retail: "No One Wants Your Used Clothes Anymore" [Bloomberg]. "Fashion trends are accelerating, new clothes are becoming as cheap as used ones, and poor countries are turning their backs on the secondhand trade. Without significant changes in the way that clothes are made and marketed, this could add up to an environmental disaster in the making."
The Bezzle: "5 key reasons bitcoin, other cryptocurrencies have lost a stunning $400 billion in 10 days" [MarketWatch]. "Futures for bitcoin on exchange platforms are set to expire this month. January bitcoin futures on Cboe Global Markets Inc. were set to expire on Wednesday, down 42% over the past 30 days at $10,447, while those trading for the same month on the CME Group Inc. are due to expire on Jan. 26. Those futures also are down about 42% at $10,455. Expiring futures contracts, in theory, can add to volatility." However, since prices fo bitcoin et al are still quite high, bitcoin is (presumably) not levered, and ownership is highly concentrated, does this really matter?
The Bezzle: "Cryptocurrency bloodbath continues as bitcoin falls below $10,000" [Ars Technica]. "The big question is what will happen after this shake-up is over. We might find out that the run-up of the last few months was a purely speculative boom, in which case Bitcoin might never recover its earlier highs. On the other hand, people might see bitcoin's low price—at least compared to a few days ago—as a buying opportunity, causing bitcoin's price to start rising once again." I believe that's called a "bull trap"?
The Bezzle: "Beyond the Bitcoin Bubble" [New York Times]. "The true believers behind blockchain platforms like Ethereum argue that a network of distributed trust is one of those advances in software architecture that will prove, in the long run, to have historic significance. That promise has helped fuel the huge jump in cryptocurrency valuations. But in a way, the Bitcoin bubble may ultimately turn out to be a distraction from the true significance of the blockchain. The real promise of these new technologies, many of their evangelists believe, lies not in displacing our currencies but in replacing much of what we now think of as the internet, while at the same time returning the online world to a more decentralized and egalitarian system. If you believe the evangelists, the blockchain is the future. But it is also a way of getting back to the internet's roots."
The Bezzle: "A User's Guide to the Dawn of Robot Driving" [Bloomberg]. The deck: "The driverless future starts in 2018." And: "The first robot rides will operate at low speeds, moving cautiously enough even in dense traffic that for automated vehicles. That will help prevent rear-enders and other similar crashes that result from impatient, inattentive humans. There will also probably be human minders, either on board or monitoring remotely, poised to take control if artificial intelligence needs to be replaced with the biological variety." There it is: The demand for infrastructural spending (because when you can't fix your algo, control your inputs). Do note that none of the putative benefits of robot cars apply in these scenarios; it will be hard to show any benefits whatever, other than the "cool" factor, and there will certainly not be the lives saved that robot car public relations claims.
Tech: "Maersk, IBM launch first blockchain joint venture for trade, transportation" [DC Velocity]. "After more than 18 months of theorizing and tinkering, Maersk Line and IBM Corp. today announced the formation of a joint venture to apply blockchain technology, a distributed ledger that creates a transparent and indelible trail of each transaction, to global trade and transportation."
Five Horsemen: "Facebook fades to last place as Zuck lightens up" [Hat Tip, Jim Haygood].
Today's Fear & Greed Index: 80 Extreme Greed (previous close: 75, Extreme Greed) [CNN]. One week ago: 75 (Extreme Greed). (0 is Extreme Fear; 100 is Extreme Greed. Last updated Jan 17 at 1:11pm.
Health Care
"Ryan suggests room for bipartisanship on ObamaCare" [The Hill]. "House Speaker Paul Ryan (R-Wis.) said Friday there might be an opportunity for a bipartisan deal to shore up ObamaCare's insurance markets. Ryan expressed optimism that Congress could pass a bill similar to one sponsored by Sens. Susan Collins (R-Maine) and Bill Nelson (D-Fla.) The bill would provide billions of dollars to states to help establish high-risk pools or reinsurance programs, mechanisms that help cover the costs of expensive patients." Ryan pivots because of the challenge in his district? Mosler comments: "They are inching their way towards single payer, as once you've decided not to let people die in the streets the 'process' will get you there, one way or another."
Gaia
"Safeguarding our soils" [Nature]. "Healthy soils are essential for the growth of crops, filtration of water, functioning of ecosystems, and storage of vast amounts of carbon that would otherwise escape to the atmosphere. They are also under threat…. Natural drivers of soil degradation are exacerbated through human activities such as agriculture, deforestation, and urban development. Soil is essentially a non-renewable resource, much like fossil fuels, and once destroyed it is, for all practical purposes, lost forever. It is now estimated that as much as one-third of global soils are degraded, with up to 970 million tons of soil lost annually to erosion through poor management practices in Europe alone, and 24 billion tons lost globally."
Neoliberal Epidemics
We'll just hope it's nothing worse than the flu:
Public Health officials in every industrialized nation: If you have the flu, stay home so you don't spread it

Capitalism: If you're five minutes late you're fired.

— Ed Burmila (@gin_and_tacos) January 15, 2018
"Across the United States, maternal mortality — when a mother dies from pregnancy-related complications while pregnant or within 42 days of giving birth — jumped by 27 percent between 2000 and 2014, according to a 2016 study published in the medical journal Obstetrics and Gynecology" [Texas Tribune]. "But researchers were stunned by Texas, where the maternal mortality rate had apparently doubled between 2010 and 2012." Holy moley! A shithole within a shithole!
"Did Americans Turn to Opioids Out of Despair – or Just Because They Were There?" [New York Magazine]. "Economist Christopher Ruhm collected county-level data on what Case and Deaton dubbed "deaths of despair" — drug overdoses, suicides, and alcohol-induced deaths. He then looked at five measures of economic health in each county: rates of poverty and unemployment, the relative vulnerability of local industries to competition from foreign imports, median household income, and home prices. The conventional narrative would suggest that the worse the economic conditions are in a given county, the higher its "despair death" rate. But Ruhm found only a weak correlation between economic hardship and the prevalence of such deaths. He concludes that, at most, poor economic conditions can explain only 10 percent of the increase in drug overdose deaths since 1999. Ruhm's paper suggests that economic and social conditions have received undue emphasis in the media's accounts of the opioid crisis, in particular. This isn't a demand story — not primarily, anyway. Despair may have made certain American communities more vulnerable to the epidemic. Economic and social factors may have contributed to the kindling — but the explosion in the supply of opioids was a flamethrower."
"Utility wants to add 1,000-plus tons of air pollutants to Dearborn's skies" [Detroit Free Press]. Didn't I just read that there's no safe level of air pollution?
Class Warfare
"They would come to me" [London Review of Books]. A review of Catherine MacKinnon's Butterfly Politics. "More troubling to my mind, but broached far less often, is the question of whether it makes sense for feminists to attempt to change the world by changing the law. The worry isn't so much that strengthening the hand of a patriarchal state can only be bad for women; MacKinnon doesn't want to strengthen the state exactly, but to adjust the law so that state power is exercised in a way that promotes sex equality instead of maintaining and entrenching male dominance….. [I]t isn't clear that feminists should treat legal objectives as central, either as ends in themselves or as engines of social change." At this point we might contrast the gay movement (spitballing here, but: direct action, especially in the form of "coming out") and the women's movement (heavily focused on legal objectives, as in defending Roe v. Wade; an approach perhaps congenial to credentialed professionals). The gays were successful; the women's movement was not. (Not to say that the women's movement hasn't had an impact, and for the good. But not only has Roe v. Wade been rolled back, another legal objective, the Equal Rights Amendment, did not pass, and is further from achievement than ever.) The recent establishment of a $13 million fund for help working class women to sue for sexual misconduct — that is, to make such suits billable for the (presumably female) lawyers bringing such suits on their behalf — continues the focus on legal objectives. Heaven forfend that working class women should be funded to organize and act collectively!
"Ideological Training for the New Economy" [Jacobin]. "According to Michel Foucault's concept of 'governmentality,' modern power is exercised less through coercive force than through the dissemination of particular discourses and ideologies; once these ideologies are internalized, people conduct themselves accordingly, effectively governing themselves and lessening the need for explicit coercion. At Jump Start Job Club, this modern form of power is on full display. One week, jobless members heard from a motivational 'career coach.'" Nets out positive for the coach, though!
"The Democrats Need to Reinvigorate Labor by Repealing Taft-Hartley" [Progressive Army]. "Possibly the most devastating amendment of the legislation was the prohibition of secondary boycotts, which prevented companies that weren't directly involved with the company in question, from refusing to cooperate or conduct business with that specific company. Effectively this allows the business community to organize and conspire against the working class, while preventing the workers and unions from organizing in a similar fashion."
News of the Wired
"Zap your brain for a better you" [Engadget]. No. (This is another CES story, in case you hadn't guessed.)
"Our Best Hope for Civil Discourse Online Is On … Reddit" [Wired]. "So I had this opinion, and as you can tell I adored it; it made the crooked places in my brain straight and the rough places plain. As the opinion gave me comfort, I grew more tenacious. I amassed an arsenal made of words sharpened to a fine point. I was all but spoiling for a fight." Fun!
Antidote to technological triumphalism (1):
software will eat the world, but there is currently a version conflict in the build/deploy system. also, one of the disks have been filled with error logs, and an external service is down.

— inconvergent (@inconvergent) January 12, 2018
Antidote to technological triumphalism (2):
I've talked about this before but like. Sometimes I talk to people and I say "computers haven't developed one single bit since 1984" and they get mad at me

— Gravis! (@gravislizard) January 16, 2018
He's right; this is a good thread.
"Philip K. Dick and the Fake Humans" [Boston Review]. This:
Standard utopias and standard dystopias are each perfect after their own particular fashion. We live somewhere queasier—a world in which technology is developing in ways that make it increasingly hard to distinguish human beings from artificial things. The world that the Internet and social media have created is less a system than an ecology, a proliferation of unexpected niches, and entities created and adapted to exploit them in deceptive ways. Vast commercial architectures are being colonized by quasi-autonomous parasites. Scammers have built algorithms to write fake books from scratch to sell on Amazon, compiling and modifying text from other books and online sources such as Wikipedia, to fool buyers or to take advantage of loopholes in Amazon's compensation structure [Holy moley!]. Much of the world's financial system is made out of bots—automated systems designed to continually probe markets for fleeting arbitrage opportunities. Less sophisticated programs plague online commerce systems such as eBay and Amazon, occasionally with extraordinary consequences, as when two warring bots bid the price of a biology book up to $23,698,655.93 (plus $3.99 shipping).

In other words, we live in Philip K. Dick's future, not George Orwell's or Aldous Huxley's.
* * *
Readers, feel free to contact me at lambert [UNDERSCORE] strether [DOT] corrente [AT] yahoo [DOT] com, with (a) links, and even better (b) sources I should curate regularly, (c) how to send me a check if you are allergic to PayPal, and (d) to find out how to send me images of plants. Vegetables are fine! Fungi are deemed to be honorary plants! If you want your handle to appear as a credit, please place it at the start of your mail in parentheses: (thus). Otherwise, I will anonymize by using your initials. See the previous Water Cooler (with plant) here. Today's plant (via):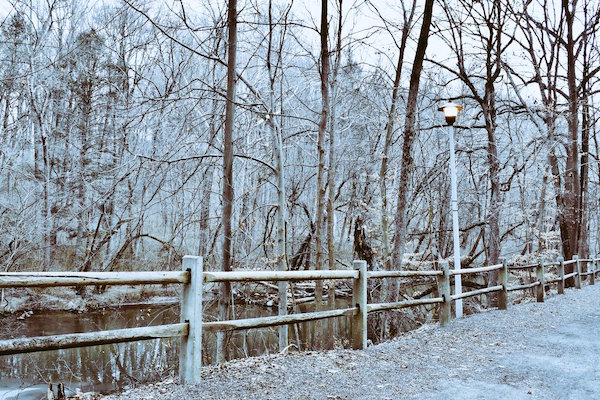 Forbidden Drive, Fairmount Park, Philly.
* * *
Readers: Water Cooler is a standalone entity not covered by the NC fundraiser. So do feel free to use the dropdown and click the hat to make a contribution today or any day. Here is why: Regular positive feedback both makes me feel good and lets me know I'm on the right track with coverage. When I get no donations for five or ten days I get worried. More tangibly, a constant trickle of small donations helps me with expenses, and I factor that trickle in when setting fundraising goals. So if you see something you especially appreciate, do feel free to click the hat!