By Lambert Strether of Corrente.
Trade
"Trans-Pacific trade deal to go ahead without US" [Financial Times]. "In a sign of how the rest of the world is ready to move on without the US, the 11 remaining countries announced on Tuesday that they would go ahead and sign the agreement in Chile on March 8 after overcoming last-minute objections from Canada…. It will also lay down a marker to China by setting high legal standards for trade while opening up the possibility that other countries such as South Korea — and possibly even the UK — could join the pact, which has been renamed the Comprehensive and Progressive Agreement for Trans-Pacific Partnership, or CPTPP." So the US gets a counterweight to China without surrenduring it national sovereignty?
"TPP resurrected: Here's what's in the latest Trans-Pacific Partnership trade deal and what it means for you" [ABC Australia]. "The big criticism of the trade deal is that it takes power away from individual governments. The major controversy is about the investor-statement-dispute-settlement mechanism, which is generally known as the ISDS. It means companies could sue the Australian Government to argue they were being denied access to the Australian market… This trade deal still includes that mechanism but it has been watered down."
"The Canadian government believes there might be a mechanism to satisfy the U.S.'s desire to raise the regional value content from the current 62.5 percent threshold [under NAFTA], Jerry Dias, the president of Canada's largest labor union, Unifor, told Morning Trade" [Politico]. "He said that includes approaching the rule at a 'different angle,' such as by adding research and development costs to the value of a car. Still unclear, he said, is how the Canadian side will deal with the U.S.-content demand. Canadian negotiators 'really want to have a good discussion on this,' he said." Not sure how to translate the Canadian English "good discussion" into American English.
"Whirlpool Corp. shares jumped nearly 4% on Wednesday heading into after-hours fourth-quarter earnings that should outline growing 2018 prospects, with new tariff measures providing an extra boost" [MarketWatch].
Politics
2020
"Senator Cory Booker Dabbles in Instagram Poetry" [New York Magazine]. Please kill me now.
2018
"Do Democrats Stand to Gain From Redrawn Pa. Maps?" [RealClearPolitics]. "[I]t appears that the court didn't order fair districts so much as it ordered compact ones… So for now, at least, a map has to be compact, equi-populous, and most importantly, must not divide political subdivisions except when needed to ensure equality of population. If the court really means what it says with this last requirement, then there are probably only a handful of maps that can actually be drawn. Moreover, the map that comes out of this may end up strengthening the GOP's position in an environment such as this one…. [T]he Democratic vote in the state is so heavily clustered in Delaware, Montgomery, and Philadelphia counties (almost half of Hillary Clinton's votes came from these three, plus Allegheny-Pittsburgh), and since you can't unpack those counties under the court's order, there are limits to how much Democrats are likely to benefit from this order." Interesting. It hadn't occured to me that two centra liberal Democrat narratives — "Democrats own the blue cities!" and "Gerrymandering is why Republicans win!" might be in contradiction.
Government Shutdown
"To give Trump his wall, as many congressional Democrats were prepared to do this week, is to validate the key tenets of Trumpism: First, that Trump himself is always dominant over politicians and other weaklings, and can (and will) deliver for constituencies other politicians can't or won't help. It also says modern American commerce and society are threatened by a freer flow of immigrants — a view that was anathema to Republicans as recently as Ronald Reagan and makes no economic sense now" [MarketWatch].
Realignment and Legitimacy
"There is an intense resistance to the idea that the rise of the right is due to the failures of the left, but it's time to take some responsibility and come to terms with the fact that a mushy neoliberal recruiting standard, paired with frequently farcical identity politics hasn't been much of a bulwark against the Republican Party" [Amber A'Lee Frost, The Baffler]. "Focus on what you're for. Think of the best part of the Bernie movement: a relentlessly positive message about what people deserve, peppered with with a dash of clear and firm disapproval of unacceptable behaviors and policies—from either the right or the Dems. Seek out the people who respond to the positive messages. Don't spend too much time fighting the wreckers—they're nasty, and destructive, but they will wash totally out only when they are eclipsed by a promising project—and you need good work to foster a healthy organizational culture. The real problem here is a lack of left institutions to engage and motivate people toward concrete politics." Some recent dogpiling on the author, but this advice strikes me as sensible.

"Whose Side Are We on? Liberalism and Socialism Are Not the Same" [Wolfgang Streeck]. " Any attempt to organize the new middle class must accommodate high fluidity of commitments, "nonideological", fleeting enthusiasm, and a continuous building and rebuilding of individual and collective identities, as in "patchwork families", in "flexible" labor markets, and in project-group work organization. This very much corresponds to the possibilities offered by the new "social media" for individually-centered social networking, as a substitute for or, depending on one's perspective, a technological improvement over older, more stable social structures. Political engagement is voluntary in this world, funded by donations rather than dues or subscriptions, often taking the form of mass petitions on the internet in support of specific causes. Basically, such engagement is a charitable activity." This is the professional, credentialed base of the Democrat Party as described by Thomas Frank in Listen, Liberal!. As Stoller remarks:

The Democratic base is not betrayed by their politicians. The Democratic base wants politicians who are weak, feckless, and fetishize symbols over substance. Democratic politicians reflect their voters.

— Matt Stoller (@matthewstoller) January 24, 2018

And no wonder, given the Democrat base as described above. If political engagement is an act of charity, that precludes governing as a goal. Obama's destruction of the Democrat Party was not a coincidence or an accident, but an expression of class interest.

"The Problem With Calling Trump a Racist" [Rolling Stone]. " But these narratives only tell a partial story. In failing to incorporate a class analysis, writers and political analysts risk unwittingly cultivating a harmful mythology: that Trump represents the best interests of white Americans…. Yet Trump is no ideologue. His antipathy for people of color has never indicated an affinity for the needs of white voters in general. While his policy prescriptions benefit wealthy (yes, predominately white) Americans, his efforts to help the white working class are relegated to lip service and unfulfilled promises."

* * *

Reader recommendations on Reconstruction:

"Eric Foner Teaches Free Online Course on the Reconstruction Era" [Columbia Center for New Media Teaching and Learning]. And WC writes: "The best book I ever read on Reconstruction was WEB Dubois's Black Reconstruction. It's a really incredible book. Eric Foner's Reconstruction is basically the same thing, but this time with citations. Dubois did things old school.
Sports Desk
"The Patriots always win because they make good teams implode" [SB Nation]. "The Patriots just have a way of dispassionately stifling beauty — of reducing creativity and spirit to ordinary, bumbling messes. Brady has now reached a Super Bowl in half of the seasons in which he has been the Patriots' starter. He's even blasé after they win."
"Eagles fan who slammed into subway pole says he's OK" [USA Today]. "'I'm not throwing bottles or punching horses,' [Jigar Desai] said. 'It was just running into a pole.'"
Stats Watch
Chemical Activity Barometer: "The Chemical Activity Barometer (CAB) expanded 0.5 percent in January on a three-month moving average (3MMA) basis and 0.7 percent on an unadjusted basis" [Econintersect]. "In January, following some weather-related stagnation, production-related indicators showed solid improvement. Strong trends in construction-related resins, pigments, and performance chemistry all suggested further gains in housing activity. Plastic resins used in packaging and in other consumer and institutional applications also improved, suggesting continued consumer confidence."
Purchasing Managers Index Composite Flash, January 2018: "Strength in manufacturing leads what is nevertheless a moderate PMI composite" [Econoday]. "Export sales are a highlight of the manufacturing results as is production, employment and overall orders. The report's sample is trying to build inventories while traction for selling prices is the strongest in more than four years, both tangible signs of strength."
Existing Home Sales, December 2017: "Lack of supply pulled down existing home sales in December and may very well pull down sales in January as well" [Econoday]. "This year-on-year price rate is well above the 1.1 percent gain in overall sales which points perhaps to future price concessions and even less supply. On the year, supply is down a very sizable 10.3 percent… Housing data are usually volatile which should take the surprise out of December's weakness." And: "This was the 31st consecutive month with a year-over-year decline in inventory" [Calculated Risk]. "We will probably have to wait until March – at the earliest – to draw any conclusions about the impact of the new tax law on home sales." And: "The biggest force in the housing market is still lopsided supply and demand. Inventory in December dropped 11.4% for the month, and 10.3% for the year. It marked the 31st month in which supply was lower compared with a year ago. At the current pace of sales, it would take 3.2 months to sell all available inventory, the lowest since NAR began tracking in 1999" [MarketWatch].
FHFA House Price Index, November 2017: "Home prices rose a solid 0.4 percent in November with the year-on-year at 6.5 percent" [Econoday]. "The West North Central posted the strongest monthly gain in November at 0.9 percent followed by the South Atlantic at 0.8 percent. The East South Central at minus 1.1 percent and New England at minus 0.1 percent were the weakest."
MBA Mortgage Applications, January 19, 2018: "Undeterred by the highest interest rates in ten months, homebuyers led the 4.5 percent increase in mortgage application activity" [Econoday].
Banks: "Aggregate net investment gains by hedge fund managers in the year ended Dec. 31 rose 48.4% to $181.5 billion in comparison to 2016" [Pensions & Investment]. "Net gains of the 10 largest hedge funds rose 140% to $25.7 billion, while net growth for the 20 largest managers was up 48.4% to $38.7 billion over the year, showed data released Sunday by hedge funds-of-funds manager LCH Investments, a subsidiary of Edmond de Rothschild Capital Holdings."
Banks: "Against Banking Trend, JPMorgan Will Open Hundreds of Branches" [247 Wall Street]. "Among the prevailing trends among large bank companies is the desire to close branches as quickly as is practical. Branches are expensive, both in terms or rent and employees. Online banking and ATMs can cover almost all the needs of consumers and small businesses. JPMorgan Chase & Co. (NYSE: JPM) said it plans to move against the tide and open about 400 new branches… The move by JPMorgan risks that people will move away from recent consumer banking technology and return to branches." Oh.
Retail: "Amazon's First Cashierless Store Looks an Awful Lot Like Whole Foods Without Employees" [Grub Street]. "The other big difference from Whole Foods, of course, is the Orwellian number of cameras hanging overhead in the 1,800-square-foot store — "hundreds of them," by the New York Times' count…. Times reporter Nick Wingfield says he tried 'with permission from Amazon' to shoplift a four-pack of soda, but the bots couldn't be fooled and charged him for the purchase." "Shrinkage" really matters in a low-margin sector like groceries…
Retail: "Jeff Bezos Gains $2.8 Billion After Amazon Go's Debut, Reaches Highest Net Worth Ever" [Forbes].
Retail: "The real winner [in the Amazon HQ search] is Amazon, which has created a feedback loop of positive press and fawning politicians just as the company increasingly needs both" [Axios]. "The Amazon HQ2 process is a Trojan Horse, designed to guzzle goodwill from the entire country, and then carry that sparkle back to Washington, D.C. when needed. Bezos the Brilliant."
Shipping: "I tend to put heavier weight on the CASS index which showed stronger growth year-over-year. The ATA data showed a decline" [Econintersect]. "It should be pointed out that although the data seems to be improving, it is nothing to write home about when compared to previous years. It is also interesting that the current trucking employment pattern shows a declining rate of growth over the last few years."
Shipping: "Capacity is already tight due to a shortage of qualified drivers and the transition to electronic logs, which are expected to reduce driver productivity by ending the practice of drivers clocking more miles than allowed by law. In addition, carriers are being forced to pay significantly higher wages to attract and retain drivers, and will seek to recoup those costs by asking for higher freight rates" [DC Velocity]. "The first sign of this will be in the upcoming semi-annual contract bid cycle, which starts in March and runs through May."
Manufacturing: "Kimberly-Clark is remodeling its supply chain to reflect a world where more adults and fewer babies will need diapers" [Wall Street Journal].
Supply Chain: "The recently passed tax overhaul could accelerate a southern shift in the nation's manufacturing supply chain. For years, automakers and other manufacturers have located factories in states like South Carolina and Tennessee, where wages and taxes tend to be lower and barriers to labor organizing are higher. The changes to the tax code exacerbate this shift by reducing deductions for state and local taxes, creating fresh incentives for high-earners and some middle-class workers from high-tax Northern states to move to warmer climes" [Wall Street Journal]. Not sure how a supply chain shift is driven by "high earners" and "middle-class workers" who want to relocate.
The Bezzle: "Two-Thirds of Americans Afraid of Self-Driving Cars" [247 Wall Street]. But from the body, via AAA: "American drivers are beginning to embrace self-driving vehicles, according to a new study from AAA. The annual survey reveals that 63 percent of U.S. drivers report feeling afraid to ride in a fully self-driving vehicle, a significant decrease from 78 percent in early 2017." And the conclusion: "Every major manufacturer in the world, which in the United States includes Ford and GM in particular, and many tech companies, like Alphabet, have poured and continue to pour tremendous sums into autonomous vehicle technology. Some plan to have a larger percentage of their model lines include self-driving vehicle cars within a few years. Those investments are at risk because of current public opinion." Eddie Bernays, courtesy phone!
The Bezzle: "Uber CEO hopes to have self-driving cars in service in 18 months" [TechCrunch]. "'True autonomy for every single use case, is some ways away,' Khosrowshahi began, acknowledging that the problem is a massive one to solve. But, he suggested that the first Uber autonomous vehicles to be deployed commercially would be on streets relatively soon. 'We will have autonomous cars on the road, I believe within the next 18 months,' he said. 'And not as a test case, as a real [use] case out there.'" Uh-huh.
The Bezzle: On one way to control inputs to the robot car's ago, fixed routes: "Fixed or semi-fixed route shared vehicles (shhh: buses) that work this well might be useful, though I think not nearly as useful as people think. The fantasy is finding ways to bring transit to places where transit is not especially good because, in part, it is just too expensive to provide decent service" [Eschaton]. "The semi-fixed route vision is you run buses on a fixed route, and people can hit the button to divert the bus to make optional stops closer to their house/work/destination. But those diversions take a lot of time and add trip time uncertainty. Too many optional stops and suddenly your 15 minute bus ride is 45 minutes. People don't like that!"
The Bezzle: "General Electric Co. is under investigation by U.S. regulators after taking a larger-than-expected charge in its finance division, dealing a new black eye to a company once enshrined as an icon of American business" [Bloomberg].
The Bezzle: "Qualcomm has been fined more than $1 billion by the EU after paying Apple to put its chips in the iPhone" [Business Insider]. This is a competition rules case, not a bribery case.
Tech: "On Saturday, January 13, police discovered a man in his Tesla vehicle on the San Francisco–Oakland Bay Bridge. The San Francisco Chronicle reports that 'the man had apparently passed out in the stopped car while stuck in the flow of busy bridge traffic at 5:30pm, according to the California Highway Patrol'" [Ars Technica]. "When police woke the man up, he assured officers that everything was fine because the car was 'on autopilot.'"
Tech: "Facebook buys Boston software company that authenticates IDs" [Reuters]. "Facebook Inc (FB.O) is buying a software firm that specializes in authenticating government-issued identification cards, the two companies said on Tuesday, a step that may help the social media company learn more about the people who buy ads on its network." That wasn't the first scenario that occurred to me…
Honey for the Bears: "What Jet Fuel Tells You About How To Invest In Now" [Econintersect]. "But I look at the data from the US Energy Information Administration on Gasoline Demand and Jet Fuel Demand for another near real time indicator of how the US economy is faring right now… The EIA reports gasoline demand weekly with a lag of less than a week. This is another source of near real-time data that the media ignores. But it is useful to us as an indicator of how the economy is doing right now. December consumption rebounded but the 3 month moving average of the annual growth rate remains below 2%, hardly a sign of broad based economic growth…. The aviation fuel tax (table above) rose 4.5% year over year in December. That was after an 8% gain in November. Air travelers tend to be a more affluent group than drivers on average. And more affluent consumers tend to fly more often. This is another sign of a bifurcated US economy, where those at the upper end of the income spectrum are doing well and spending enough to keep the top line growth numbers perking along while the rest of the country treads water…." Of course, there is the little matter of timing…
Five Horsemen: "Amazon busts the top off our chart for the second day running, as punters beg Apple to stop breaking down" [Hat Tip, Jim Haygood].
Today's Fear & Greed Index: 79 Extreme Greed (previous close: 78, Extreme Greed) [CNN]. One week ago: 75 (Extreme Greed). (0 is Extreme Fear; 100 is Extreme Greed. Last updated Jan 24 at 12:19pm. We don't seem to be able to break through to the 80s.
Net Neutrality
"AT&T wants Congress to draft a net neutrality law. Here's why that's a big deal" [WaPo]. "In a series of full-page ads Wednesday in major newspapers such as The Washington Post and the New York Times, AT&T chief executive Randall Stephenson proposed an "Internet Bill of Rights" that could help guarantee an open Internet, one in which online content is not blocked or slowed down by telecom or cable companies, nor by Internet companies such as Google or Facebook. AT&T's legislative campaign aims to head off what many analysts say could be another swing of the regulatory pendulum against broadband providers."
Our Famously Free Press
"Facebook should pay 'trusted' news publishers carriage fee: Murdoch" [Reuters].
Water
"Panic and blame as Cape Town braces for water shut-off, or 'Day Zero,' due to drought" [Japan Times], "On "Day Zero," as it is called, the ordinary water supply will be shut down and taps will run dry. Residents of the city of 4 million will then be forced to collect a daily water ration of just 25 liters (6.6 gallons) from 200 water collection points — not even enough for a two-minute shower in normal times."
Gaia
"Wildlife cooperatives boost conservation and habitat" [Capital News Service]. Wildlife as a common pool resource?
"A coalition of community and environmental groups has filed a legal challenge to Virginia regulators' decision to grant a conditional water quality permit for the proposed Atlantic Coast Pipeline" [The State].
Class Warfare
"Did Import Competition Boost Household Debt Demand?" [Liberty Street]. "In the years preceding the Great Recession, the United States experienced a dramatic rise in household debt and an unprecedented increase in import competition. In a recent staff report, we outline a link between these two seemingly unrelated phenomena. We argue that the displacement of workers exposed to import competition fueled their demand for mortgage credit, which left many households more vulnerable to the eventual downturn in the housing market."
"We used to think of "capital" as physical goods or infrastructure—something we could wrap our minds around. But as all the main features of this system for extracting surplus value from workers and rentier fees from service networks have become duly digitized, capital itself has become a form of AI. We do not have any control over this system and it is impossible to conceive of unplugging ourselves from it. Isn't that the trope we most fear about AI from science fiction—that it will reach a point where we cannot imagine life independent of it" [The Baffler]. It seems that Stross's "Slow AI" trope is making its way into the zeitgeist.
"My 'sugar daddy' pays me $12,000 a month, and marriage is on the table" [Business Insider]. Just lucky, I guess…
"Worked to Death" [Jacobin]. "Most think that retirement plans have recovered. But they really haven't. The asset recovery doesn't really tell the whole story. While 401(k)s have regained some of the losses, they're about five years behind where they should be in actuarial terms. In other words, on average these savings plans lost about five years of growth. All things being equal, workers are now going to have to work five years longer to make up for that, which will likely mean people further delaying retirement in the future."
Re Amazon's cashierless stores:
Cashier is the No. 2 most common job in the U.S. https://t.co/zCuc7Nd3Q7

— Mike Rosenberg (@ByRosenberg) January 24, 2018
News of the Wired
"This USB Drive Will Self-Destruct After Ruining Your Computer" [Hackaday]. Not really!
No:
"Japanese smartphone attachment trims your nose hairs" https://t.co/gvl9C4EFKo He looks… thrilled? pic.twitter.com/IhwTse31jB

— Stilgherrian (@stilgherrian) January 23, 2018
"In the latest indication of Apple's growing ambitions in the digital health market, the tech giant on Wednesday morning unveiled a new feature that would allow users to automatically download and see parts of their medical records on their iPhones" [New York Times]. "The feature is to become part of Apple's popular Health app. It will enable users to transfer clinical data — like cholesterol levels and lists of medications prescribed by their doctors — directly from their medical providers to their iPhones, potentially streamlining how Americans gain access to some health information. A dozen medical institutions across the United States — including Johns Hopkins Medicine in Baltimore and Cedars-Sinai in Los Angeles — have agreed to participate in the beta version of the new feature." I wish I could be enthusiastic about this.
Complexity:
Paths of 800 unmanned bicycles being pushed until they fall over
??‍♂️⚡️?‍♂️?https://t.co/wXuIsrLA8v pic.twitter.com/kMN0WZZB3O

— Tom Boughton (@BoardExplored) January 23, 2018
"Re: [RFC 09/10] x86/enter: Create macros to restrict/unrestrict Indirect Branch Speculation" [LKML.org]. "If we can be done with the shouty part, I'd actually quite like to have a sensible discussion…" This is a response to Linus Torvald's post in Links this morning. You'll like this, if this is the sort of thing you like.
"The Neuroscience of Changing Your Mind" [Scientific American]. "[A] team from Johns Hopkins University has now concluded that last-minute decision-making is a lot more complicated than previously known, involving complex neural coordination among multiple brain areas. The revelations may help scientists unravel certain aspects of addictive behaviors and understand why accidents like falls grow increasingly common as we age, according to the Johns Hopkins team." Sadly, this about short-term decision-making, not politics or culture.
"David Mitchell on Earthsea – a rival to Tolkien and George RR Martin" [Guardian]. "[E]ven the characters that appear most fleetingly seem to be endowed by Le Guin with a fully thought-out inner life, so that when they speak, act and respond, they do so as human beings who have lived lives as full, broken, light, dark, messy and real as Ged's and ours. Here a fisherman named Pechvarry, whose dying son Ged tried but failed to save, meets the young wizard on his victorious return from Pendor: "''I did not know you were so mighty, my lord.' There was fear in that because he had dared make Ged his friend, but there was reproach in it also. Ged had not saved a little child, though he had slain dragons." How human this brief passage makes Pechvarry, how conflicted, and how visible it makes his scars. Le Guin's thumbnail sketches contain the psychological depth of oil paintings." (Review of LeGuin's story "Solitude" at NC here.)
* * *
Readers, feel free to contact me at lambert [UNDERSCORE] strether [DOT] corrente [AT] yahoo [DOT] com, with (a) links, and even better (b) sources I should curate regularly, (c) how to send me a check if you are allergic to PayPal, and (d) to find out how to send me images of plants. Vegetables are fine! Fungi are deemed to be honorary plants! If you want your handle to appear as a credit, please place it at the start of your mail in parentheses: (thus). Otherwise, I will anonymize by using your initials. See the previous Water Cooler (with plant) here. Today's plant (KH):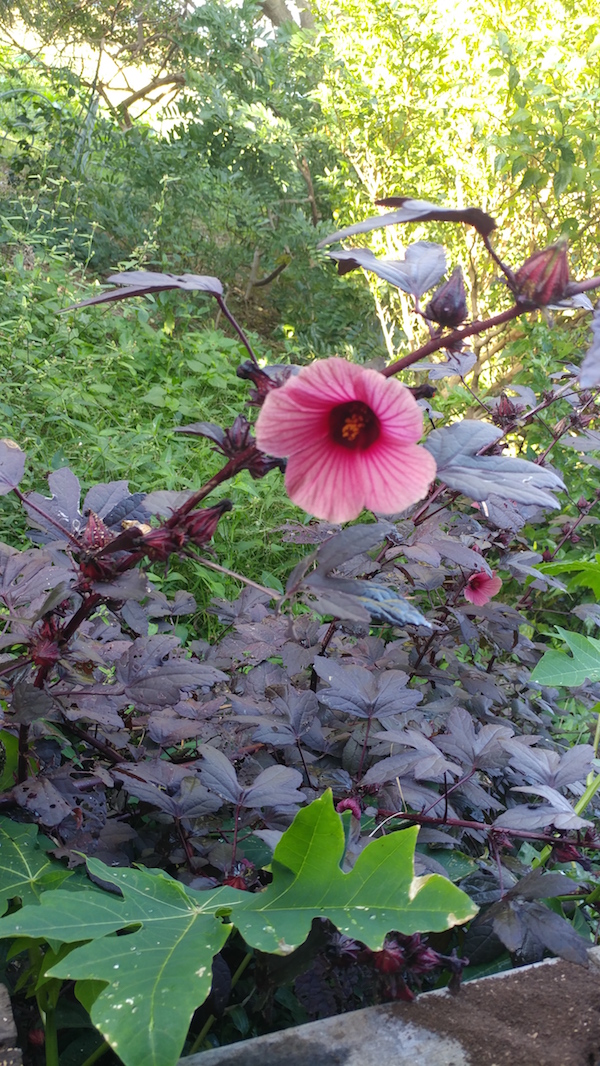 KH: "So my winter garden is a bloom. Tea hibiscus leads the parade, pepper tree behind."
Readers: Water Cooler is a standalone entity not covered by the NC fundraiser. So do feel free to use the dropdown and click the hat to make a contribution today or any day. Here is why: Regular positive feedback both makes me feel good and lets me know I'm on the right track with coverage. When I get no donations for five or ten days I get worried. More tangibly, a constant trickle of small donations helps me with expenses, and I factor that trickle in when setting fundraising goals. So if you see something you especially appreciate, do feel free to click the hat!