By Lambert Strether of Corrente.
Trade
"The timing of the [TPP/CPTPP] deal is significant for Canada, which is trying to diversify its exports" [Asia Times]. "Canada, which wanted protection of its cultural industries, and Vietnam, which has worried about labor-protection rules, will exchange separate side letters with other members on those topics at the time of the signing, [Japanese Economy Minister Toshimitsu Motegi] said."
"Trans-Pacific Partnership, Canada's Big New Trade Deal, Could Complicate NAFTA Talks" [HuffPo]. "[O]n autos, the TPP runs in the exact opposite direction of Trump's goals. He wants taller trade barriers, and fewer Asian parts; but TPP liberalizes auto-parts trade, meaning more pieces imported from Asia, including from countries not in the deal — like China. The current NAFTA allows 37.5 per cent of a car to come from outside the trade zone, before tariffs apply. Trump wants that cranked down to 15 per cent — but the new TPP zone moves dramatically in the other direction, to 55 per cent."
"U.S. auto industry officials welcomed Canada's efforts on Wednesday to change the direction of NAFTA negotiations on auto rules of origin, but they confessed to Morning Trade that they are still in the dark about what exactly Ottawa has proposed" [!!] [Politico]. "Still, anything that might steer the United States from its proposal to dramatically tighten the rules and create a new 50 percent U.S. content requirement needs to be encouraged, they said. That's because what the Trump administration has proposed 'is not workable from an industry perspective,' said John Bozzella, president and CEO of Global Automakers, which represents foreign brand automakers that build and sell cars in the United States."
"Canada is floating the idea of joining forces with Mexico to form a separate investor-state dispute mechanism if the United States is intent on pursuing a proposal that would allow it to opt out of the dispute process" [Politico].
"Negotiations to modernize NAFTA are in their sixth round with few signs of a breakthrough, even as President Donald Trump continually applies pressure by threatening to withdraw if the U.S. can't get its way" [Bloomberg]. An explainer on cars, ISDS, government procurement, agriculture, and a sunset clause.
"Nearly 100 Organizations Concerned with Health Sign Open Letter to Canadian, Mexican and U.S. Ministers of Health and Trade Urging That the NAFTA Renegotiation Not Undermine Access to Affordable Medicines" (PDF) [Doctors without Borders]. "Any changes to NAFTA should rebalance the agreement's terms in favor of competition and access to affordable healthcare, for instance by eliminating NAFTA's intellectual property chapter altogether, meaning the NAFTA countries' obligations would be those under the WTO TRIPS agreement, and eliminating investor-state dispute settlement from NAFTA. Certainly no new monopoly protections should be added, such as the biologics exclusivity terms that pharmaceutical firms seek or new "transparency" provisions affecting pharmaceutical price controls and reimbursement or formulary powers."
"To many observers, the North American free-trade agreement is about money, transactions and trade. To others, it means movement, including the movement of people, at least as it relates to cross-border trade" [Globe and Mail]. "Under NAFTA, citizens of the United States, Mexico and Canada may apply to work in any of the three countries, as long as they have a qualifying temporary employment offer. Because of the reciprocity, it is not necessary to prove that the job won't be taken away from a citizen. Most impressively, NAFTA does away with long waits, since some applications are reviewed right at the border."
"Why a TPP Without the U.S. Is Still a Big Deal" [Bloomberg]. Another explainer. "If the 16-nation RCEP had come into being in a TPP-free world, China would have enhanced its regional dominance, giving President Xi Jinping a platform to further draw his Asian neighbors into his embrace. Now, China must compete with Japan at the head of a rival trading group."
Politics
2020
"Bernie Sanders summons team to discuss 2020" [Politico]. "The top-line message the Vermont senator received from the operatives gathered during the government shutdown was a more formal version of the one they've been giving him regularly for months: You would be one of the front-runners for the Democratic nomination. And if you want to run, it's time to start seriously planning accordingly. The Democratic socialist's response to the series of presentations, according to multiple Democrats: I haven't yet made a decision about 2020, but I still think beating Donald Trump is the most important thing for this country. And I want to be ready if I do decide to run." A million viewwer for Sanders' #MedicareForAll town hall the following week — Excitement builds as Canadians detail single payer cost savings! — surely can't have discouraged any of the attendees.

"Campaign to draft Joe Biden for 2020 says it's not too early" [Des Moines Register].

Oh:


White men I don't want to run for Dem POTUS nomination in 2020:

Joe Biden
Bernie Sanders
John Kerry
Martin O'Malley

Anyone I'm missing?

— emptywheel (@emptywheel) January 25, 2018
2018
"Overall, [the data we have since Trump's election, which includes 176 regular and special elections] show that Republican candidates have run an average of 2.6 points behind Trump's share of the two-party vote since the president won office, with a median difference of just 0.8 points. That is, if Trump won 50% of the two-party vote, we might expect the GOP candidate to win 47.4% if they followed the average decline. This is obviously well short of the 5.9-point average drop seen from Obama to Democratic candidates in 2013. That should give pause to those who think a major Democratic wave in November 2018 is a sure thing…." [Larry Sabato]. "While Democrats' path to a majority in the U.S. House likely runs through the suburbs and winning seats that Clinton won in 2016, they will have to win at least some seats that Trump carried in 2016. While Democrats currently need a net gain of 24 seats to capture the House, Republicans only hold 23 seats that Clinton carried, and Democrats will be defending 12 seats that Trump carried…. This analysis of elections since Trump won the presidency suggests that caution is in order when looking ahead to November. Essentially, there is a data point for everyone. If you want a Democratic wave, you can focus on the special elections and findings such as the Democratic improvement in the Midwest. If you want the GOP to hold its ground as best it can as the presidential party in a midterm, you will focus on the aggregate, where Republicans are not underperforming Trump in the two-party vote to the same degree that Democrats underperformed Obama in 2013."

"As if the disclosure that GOP Rep. Pat Meehan (PA-07) used taxpayer dollars to settle a harassment claim wasn't bad enough, Meehan's actions since might be a lesson in how not to handle a crisis" [Cook Political Report]. "Pennsylvania's "Bullwinkle"-shaped 7th CD is among the most gerrymandered districts in the country, specifically designed by GOP state legislators in 2011 to protect Meehan. It narrowly voted for Hillary Clinton in 2016, 49 percent to 47 percent. Nonetheless, Meehan's moderate voting record and law-and-order reputation as a former Delaware County prosecutor have made him a tough target for Democrats. In 2016, he took 60 percent of the vote." And: " Shelly Chauncey, who entered the race on Monday. , Chauncey has a potentially appealing profile, but she's also a first-time candidate getting a very late start." Please kill me now.

"[Iowa' Austin Frerick] knows his audience. He's targeted agriculture consolidation as his main issue, zeroing in on the harms of Bayer AG's $66 billion takeover of Monsanto Co. that is currently being reviewed by the Justice Department. His campaign recently rolled out a video featuring a local farmer who says he's concerned about the future of agriculture as farmers are forced to pay more for seeds from big agriculture companies" [Bloomberg]. "Frerick told Bloomberg Law that these concerns about how consolidation impacts voters' bottom line 'validates the anger that fueled [President Donald Trump's] rise. I'm going to shift that conversation. Let's blame these corporations,' he said. 'We've really made inroads with the rural community, especially farmers, with this message.'" Sure, but what about the Russians? Still, if Frerick is getting play in Bloomberg so soon, he's got some wind at his back. Interesting.

"Chelsea Manning's Anarchist Campaign" [The American Conservative]. "[D]espite the fact that Paul lost miserably in both of his presidential runs, and despite Manning's almost certain loss in her senatorial race, their campaigns are infinitely more important than those of their opponents. The McCains and Cardins occupy positions of power and go through the motions of the existing political machinery. The Pauls and Mannings, however, can fundamentally transform the political culture over time. That change is more significant, because it is the political culture that defines the limits within which those with power can act in the first place."

"This is what really happened when Chelsea Manning partied with the far right" [Mic]. "Mic spoke to several right-wing media figureheads who described their experiences at both the gala in New York and Manning's participation in the escape room game in Washington. Mic also spoke with a representative from Manning's campaign for the U.S. Senate in Maryland, as well as friends of hers on both on the left and the right. They spoke not of a leftist icon with secret allegiances with far-right fascists, but of a woman led by a friend into a series of bad photo ops, and who was not careful to watch whose elbows she was brushing." In other words, an amateur. Quelle horreur!

"Nancy Pelosi to join Debbie Wasserman Schultz for FAU town hall" [Florida Politics]. What more is there to say? Other than this–

"Gov. Rick Scott's office rapped Broward County's election supervisor for giving an 'insufficient response' to an official inquiry concerning her apparently 'unacceptable' decision to destroy a congressional race's paper ballots that were the subject of litigation" [Politico]. "The ballots in question were cast in the 2016 South Florida Democratic primary between Rep. Debbie Wasserman Schultz and challenger Tim Canova, who later asked to inspect the paper trail because he was concerned about election integrity." From the article, Rick Scott, despite being Rick Scott, is correct.
2017 Post Mortem
But he's not even a Democrat!

(Via.) Granted, Jones doesn't have many votes, even if one of them is the Democrat's galaxy-brained scheme to give Senile Hitler warrantless surveillance powers. And then a lot of Democrats voted with Jones (and Trump). Which is rather the point, isn't it? Given the whole #Resistance thing?
2016 Post Mortem
"I first examined the Cooperative Congressional Election Studies 2016 Survey to get a better sense of the people who voted for Obama in 2012 but didn't vote at all in the last election. I used self-reports, which admittedly are subject to some recall problems because individuals may misreport voting, and because people are also often likely to overstate support for the winning candidate. So my analysis should not be seen as definitive, but rather suggestive. It found that , and 15 percent were black voters under 30. By comparison, 20 percent of Clinton's voters were black and 3 percent were black and under thirty" [Sean McElwee, The Nation]. Well, heck. Those 38% were racists. Or Bernie Bros. Or Russian dupes. I mean, come on.
New Cold War
"Trump stirs pot with Mueller interview offer" [CNN]. Justified skepticism, worth a read for why.

"Let's Wait and See about the FBI 'Conspiracy'" [Jonah Goldberg, National Review]. "From the outset, I've mostly taken a wait-and-see approach to the Russia "collusion" allegations and the Mueller probe. I think I'll take a wait-and-see approach to all of this Strzok-Page-secret-society stuff too. There's just too much theatrics and chest thumping involved." Jonah Goldberg, beacon of sanity. What a time to be alive!

"#ReleaseTheMemo and the conservative war on the FBI, explained" [Vox]. "If this memo is so great for Republicans, why are they so terrified to show it (or the documents it's based on) to anyone?"

"Top Democrats Urge Facebook, Twitter to Investigate Russia's Embrace of #ReleaseTheMemo" [Mother Jones]. Yes, that's what the Democrat leadership is directing our attention to: A Twittter hashtag.
Government Shutdown
"In those rare cases where Democrats and Republicans have come together on a big issue in the last fifteen years, it has almost always been in the midst of genuine crisis, or when a major deadline (usually self-inflicted) looms. There is no other kind of deal that even seems possible today—at least one of the consequential variety that unites a large majority of both parties' officeholders on an issue of national significance" [Susan Glasser, The New Yorker]. "By that standard, ." Um. So gridlock is our friend?
Realignment and Legitimacy
"Is Economic Insecurity Behind the Specter of Populism?" [Pro-Market]. "Rather than looking at medium-/long-run features, in recent work (Algan, Guriev, Papaioannou, and Passari 2017), we examine the role of the 2007–9 global financial crisis and its metastasis in Europe on voting and political beliefs in 220 subnational regions of 26 European countries. We show that crisis-driven economic insecurity is a substantial driver of populism and political distrust. We find a strong causal impact of the rises in unemployment on voting for non-mainstream, especially populist parties. Increases in unemployment go in tandem with a decline in trust in national and European political institutions."

"How Hedge Funds (Secretly) Get Their Way in Washington" [Bloomberg]. "Over the past two decades, hedge funds have grown explosively, with a collective $3.4 trillion under management. Not content to make bets and watch from the sidelines, the largest funds increasingly are trying to steer government outcomes—such as negotiations over sovereign debt—so that their investments are likelier to pay out. When billions are at stake on a given wager, a lobbying campaign looks cheap. But hedge funds know that they're politically toxic—portrayed by both parties as overpaid plutocrats—and prefer that much of these offensives be conducted in secret."

"The Atlas Of Redistricting" [FiveThirtyEight]. "Our atlas includes eight different congressional maps of the entire country. Each of those eight maps is made up of a distinct set of 43 state maps (seven states can't be redistricted because they have only one congressional district that spans the entire state)." And they drew the maps by hand!

"Within the confines of the American political system, however, replacing party leadership is nearly impossible" [In These Times]. "In lieu of root and branch changes to the structure of American democracy, here's a modest proposal: Why not make it possible to vote Democratic representatives out of leadership? Formal leadership elections could force the Democratic Party's top brass to reflect the will of the people who actually vote for them, and help turn the party into a vehicle for bold progressive policies."

"Squaring the Conservative Circle" [Los Angeles Review of Books]. "Kolozi's achievement is placing various market-skeptic conservatives alongside one another in a common history to show that there has been in the United States, for nearly two centuries, an "ongoing critique of capitalism from the right." His book makes abundantly clear that a large segment of the American right throughout its history has understood restraining the market or setting up alternative sources of social power — the family, the church, or the state — as indispensable measures for a conservative politics." Yes, as The Mind of the Master Class shows, the "positive good" theorists defending slavery has a well-thought-out critique of capitalism.

"America Is Nowhere Near a Constitutional Crisis" [Foreign Policy]. A month old, still germane. "The one undisputed constitutional crisis in American history was the Civil War. When the national government refused to recognize secession by the Southern states, an impasse arose because there was no way that the disagreement could be resolved through constitutional means. Federal property, like Fort Sumter, was claimed by the states and the national government alike. Because the South rejected the national government, no national institution — not the federal courts, not Congress — could resolve the dispute in a constitutional way. War resulted, with more than 600,000 deaths." (I'm not sure I agree.)

"Resign, replace, and disempower voters. Keep repeating." [Chicago Tribune]. "Illinois has a tradition of politicians resigning and having their successors chosen by the state parties without the bother of an election. Then the successors have time to fully exploit the advantages of incumbency before they have to face the voters in a real contest." Nice!
Stats Watch
Leading Indicators, December 2017: "The index of leading economic indicators continues to signal strength ahead" [Econoday]. "But where unusual strength has not at all translated into similar gains for government data, underscored by the factory workweek which is the only component in the negative column during December. But steady contributions continue to come from the stock market, from low interest rates, and also consumer expectations as well as the report's credit index."
Kansas City Fed Manufacturing Index, January 2018: "like other regional reports, remains steady and strong" [Econoday]. "Price data show increasing pressures for both inputs and, importantly, for selling prices as well. Inventories are also building which points to very healthy conditions for this report's sample." And: "So far all of the regional Fed surveys have been solid in January, although only the Kansas City index has been above the December levels (most indexes suggest slower growth in January than in December)" [Calculated Risk].
New Home Sales, December 2017: "The headline 9.3 percent decline in new home sales for December masks what is actually a solid new home sales report" [Econoday]. "[I]mportantly supply moved into the market, up 3.9 percent at 295,000 units…. [T]he bottom line is upward sales momentum, incoming supply and room for prices to move higher. Residential investment has been dragging down GDP in recent quarters but today's report points to a solid contribution for tomorrow's fourth-quarter report." But: "This was well below expectations of 683,000 sales SAAR, and the previous months combined were revised down significantly" [Calculated Risk]. But: "Much lower than expected, and last month's number, which was touted as the turning point for housing, was revised lower as well. And note from the chart we're still below the levels of the 1970's when the population was about 40% lower" [Mosler Economics]. Ouch….
Jobless Claims, week of January 20, 2018: "Initial jobless claims rose in the January 20 week but remain low and favorable" [Econoday].
Commodities: "Why Ford Is Blaming Costlier Metals for a 'Bad Year' Ahead" [Bloomberg]. "Although the carmaker has multiple steel-supply contracts that are phased in overtime to help smooth prices, [CFO Bob Shanks] said the market isn't robust enough to formally hedge against volatile prices. Prices have been surging as President Donald Trump considers imposing tariffs on steel imports."
Manufacturing: "At Honda and Toyota, humans remain an integral part of the automotive assembly process" [IndustryWeek]. "More than three decades after Honda Motor Co. first built an Accord sedan at its Marysville, Ohio, factory in 1982, humans are still an integral part of the assembly process — and that's unlikely to change anytime soon…. Honda isn't alone. Japanese rival Toyota Motor Corp. uses just a handful of robots on the Camry final assembly line at its plant in Georgetown, Ky., and has no plans to add more…. Carmakers keeping fully staffed assembly lines offers a distinct contrast to electric-car maker Tesla, where Chief Executive Elon Musk promises a factory within a few years where workers won't actually build cars, but rather, attend to the robots that do…. Tesla, which has been burning through cash bringing its Model 3 production up to speed, made just 2,425 of those sedans in the fourth quarter, well below the 5,000 a week run rate it said in August it was targeting by the end of 2017. The company announced the acquisition of Perbix, a closely held maker of automated machines used for manufacturing, in November, a week after Musk cited challenges with automating Model 3 production."
Retail: "The ordering ease and convenience spawned by online and mobile commerce has created an American 'entitlement culture' that thinks nothing of returning stuff that is in otherwise perfect condition just because they simply didn't want it, according to Tony Sciarrotta, executive director of the Reverse Logistics Association (RLA). In 2017, e-commerce created 400 million package returns that would not have otherwise occurred. Of those, 80 to 90 percent were shown to have "no fault found," said Sciarrotta, using reverse logistics lingo to describe a non-defective product" [DC Velocity].
Shipping: "When does a Bill of Lading become a Contract of Carriage..??" [Shipping & Freight Resource]. Fascinating for shipping nerds and paperwork fans. And more fun for any software engineers trying to represent shipping transactions programmatically…
Shipping: "Shippers say they are increasingly forced to choose between postponing shipments and paying sky-high rates for big rigs amid one of the worst trucking shortages in years" [Wall Street Journal]. "Just one truck is available for every 10 loads, with a booming economy, electronic-logging device regulations and bad weather combining to throw the market out of whack. Fleets are adding trucks as fast as they can, but difficulty attracting drivers may hamper their ability to add capacity."
Shipping: "Shippers, parcel, and less-than-truckload (LTL) carriers, and trade groups such as the U.S. Chamber of Commerce have for years supported a 10-foot extension in the length of twin trailers. They argue the longer trailers would increase a vehicle's productivity by up to 18 percent by enabling more efficient cubing of trailer space, and would not add miles traveled or increase a truck's weight beyond the legal limit. Backers of the proposal contend that the growth of digital commerce over the next 10 years will result in a 40-percent increase in LTL shipments that will move in 28-foot twin trailers. About 1.2 million more trucks will be needed to meet that demand, they argue" [DC Velocity]. "Blair Anderson, director, transportation public policy, for Seattle-based e-tailer Amazon.com Inc., which supports the measure, would not comment on the prospects of the language making it through the legislative process. However, Amazon, which is a member of "Americans for Modern Transportation," an advocacy group, is vigorously lobbying lawmakers to change the law, according to a Washington source."
Tax Reform: "Another major U.S. employer has announced a one-time employee bonus payment related to the new tax law. Home Depot Inc. (NYSE: HD) announced Thursday morning that the company will pay a one-time bonus of up to $1,000 to its U.S. workers. The payment comes in addition to the company's Success Sharing bonus plan for hourly workers" [247 Wall Street]. I'm sure the companies doing this unheard of thing only have the workers' best interests at heart…. (And "more money in your pocket" is always a useful political appeal, thinking of 2018.)
Tech: "There's another theory floating around as to why Facebook cares so much about the way it's impacting the world, and it's one that I happen to agree with. When Zuckerberg looks into his big-data crystal ball, he can see a troublesome trend occurring. A few years ago, for example, there wasn't a single person I knew who didn't have Facebook on their smartphone. These days, it's the opposite. This is largely anecdotal, but almost everyone I know has deleted at least one social app from their devices. And Facebook is almost always the first to go. Facebook, Twitter, Instagram, Snapchat, and other sneaky privacy-piercing applications are being removed by people who simply feel icky about what these platforms are doing to them, and to society" [Vanity Fair]. Yep. I use Facebook for exactly one thing: Messaging. With exactly one person. And this: "As a society, we feel like we're at war with a computer algorithm, and the only winning move is not to play." Rather like 2016's volatility voters, eh?
Tech: "'Never get high on your own supply' – why social media bosses don't use social media" [Guardian]. "For all the industry's focus on "eating your own dog food", the most diehard users of social media are rarely those sitting in a position of power… If you can't bring yourself to cut back on social media, you could try following Zuckerberg's example and hire a team of 12 to do it for you. It might not be as cheap and easy as deleting Facebook, but it is probably easier to stick to."
Honey for the Bears: "Short Sellers Up the Ante on Major Banks" [247 Wall Street]. "Generally speaking, the major financial institutions in the United States are a good barometer of the current state of U.S. markets. So when short sellers make a play against these major banks, they are effectively betting for a downturn. Conversely, when they back off they might be expecting a surge. Granted, some plays are directly against individual companies, like we saw with Wells Fargo early in 2017… The January 12 short interest data have been compared with the previous figures, and short interest in most of these selected bank stocks increased."
Five Horsemen: "Amazon surpasses a 50% gain (in nine months) as Apple wallows in its dingy doghouse" [Hat Tip, Jim Haygood].
Today's Fear & Greed Index: 78 Extreme Greed (previous close: 78, Extreme Greed) [CNN]. One week ago: 72 (Extreme Greed). (0 is Extreme Fear; 100 is Extreme Greed. Last updated Jan 25 at 11:38am. We don't seem to be able to break through to the 80s.
The 420
"NBC/WSJ poll: 60 percent of Americans now support marijuana legalization" [NBC]. "A broad majority of Democrats — 73 percent — supported legalization, as well as 64 percent of independents. By contrast, only 43 percent of Republican respondents said they supported legalization. Among voters who supported President Donald Trump in 2016, the number was even lower, at 37 percent… Seventy-three percent of respondents aged 18-34 supported legalization, compared to 67 percent of those aged 35-49, and 54 percent aged 50-64. But among those 65 or older, only a minority supported legalization, at 38 percent."
Our Famously Free Press
"An Inside Look At The Accounts Twitter Has Censored In Countries Around The World" [Buzzfeed]. "BuzzFeed News' data and analysis offer an unprecedented glimpse into Twitter's collaboration with national groups and governments — democratic and authoritarian alike — and provide a stark reminder of Twitter's ability to shape political conversations, and of governments' attempts to influence that process. It also illustrates that the Twitter experience for users is not the same from one country to the next, and that a range of accounts ranging from malicious to harmless be blocked, especially when it comes to reading opposition voices in Turkey or viewing Nazi and white supremacist content in France and Germany."
Gaia
"Gut microbiota dysbiosis contributes to the development of hypertension" [Microbiome]. "Compared to the healthy controls, we found dramatically decreased microbial richness and diversity, Prevotella-dominated gut enterotype, distinct metagenomic composition with reduced bacteria associated with healthy status and overgrowth of bacteria such as Prevotella and Klebsiella, and disease-linked microbial function in both pre-hypertensive and hypertensive populations." I'm intrigued by gut bacteria as one of many embodiment feedback loops. So I wonder what readers think of this study.
Class Warfare
"The U.S. Can No Longer Hide From Its Deep Poverty Problem" [Angus Deaton, New York Times]. "According to the World Bank, 769 million people lived on less than $1.90 a day in 2013; they are the world's very poorest. Of these, 3.2 million live in the United States… The Oxford economist Robert Allen recently estimated needs-based absolute poverty lines for rich countries that are designed to match more accurately the $1.90 line for poor countries, and $4 a day is around the middle of his estimates. When we compare absolute poverty in the United States with absolute poverty in India, or other poor countries, we should be using $4 in the United States and $1.90 in India. Once we do this, there are 5.3 million Americans who are absolutely poor by global standards. This is a small number compared with the one for India, for example, but it is more than in Sierra Leone… There are millions of Americans whose suffering, through material poverty and poor health, is as bad or worse than that of the people in Africa or in Asia."
"The Teamsters have a message for United Parcel Service Inc. as the labor union kicks off contract talks: keep robots off delivery trucks. Union demands include a ban on drones, driverless vehicles and other new technology to transport packages without human intervention" [Wall Street Journal]. "Delivery trucks are seen as a prime market for driverless technology, and UPS has been testing drone deliveries, including models that launch from vehicles' roofs. The stakes are high: some 260,000 UPS employees are covered by the Teamsters contract, which expires in July. Automation is also a contentious point in negotiations between East Coast ports and dockworkers, with union negotiators prematurely ending contract talks last month over the issue."
News of the Wired
"The Observatory of Economic Complexity" [Macro Connections]. I'm always leery of fancy-pants visualizations like this, partly because it's not easy to quote them. Here is "Complexity and Income Inequaltiy in China" (which does draw, if you wait).
* * *
Readers, feel free to contact me at lambert [UNDERSCORE] strether [DOT] corrente [AT] yahoo [DOT] com, with (a) links, and even better (b) sources I should curate regularly, (c) how to send me a check if you are allergic to PayPal, and (d) to find out how to send me images of plants. Vegetables are fine! Fungi are deemed to be honorary plants! If you want your handle to appear as a credit, please place it at the start of your mail in parentheses: (thus). Otherwise, I will anonymize by using your initials. See the previous Water Cooler (with plant) here. Today's plant (marku52):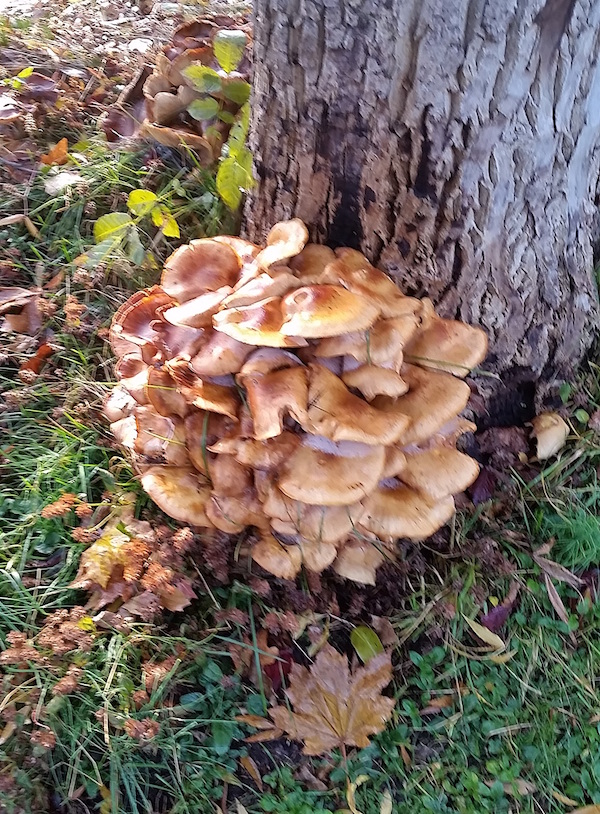 marku52 writes: "Fungi grew in about 10 days along my dog walk in Medford, OR."
Readers: Water Cooler is a standalone entity not covered by the NC fundraiser. So do feel free to use the dropdown and click the hat to make a contribution today or any day. Here is why: Regular positive feedback both makes me feel good and lets me know I'm on the right track with coverage. When I get no donations for five or ten days I get worried. More tangibly, a constant trickle of small donations helps me with expenses, and I factor that trickle in when setting fundraising goals. So if you see something you especially appreciate, do feel free to click the hat!