We had a May meetup in New York City last year, when Lambert was in town. As much as the locals very much enjoyed meeting him, we also had a lot of requests for a meetup in the gloomy January-Feburary time frame, when getting out for conversation and good cheer can be even more therapeutic than at other times.
So if you will be in the New York metro area, please join us for a meetup a week from this Friday.
Details:
Friday January 12, 2018
5:00 PM to 8:00 PM
Slàinte Bar and Lounge
304 Bowery (between Bleecker and Houston)
New York, NY 10012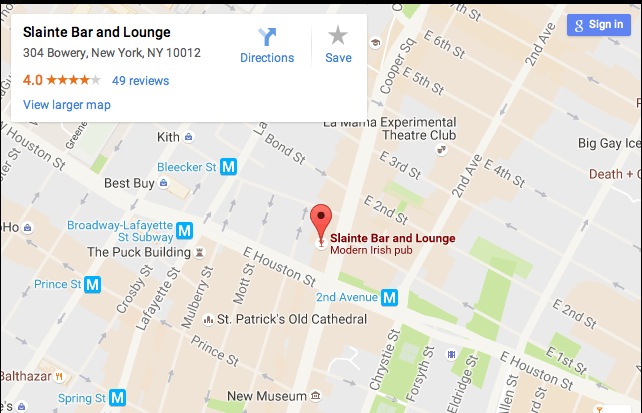 We have the back room and nearby tables, so tell the manager you are with the Naked Capitalism group. We also typically run much later than 8 PM, so don't hesitate to drop by!
As you can see, it's near stations for the B, D, F, and M, as well as the 6, so it's reasonably accessible.
Readers have very much enjoyed meeting each other, so I hope you can make it.
See you soon!