We are in a relatively quiet period regarding Brexit, which in and of itself isn't a good thing. If the UK had the remotest apprehension of the massive changes that it has set in motion, both government officials and business leaders would be moving heaven and earth to try to minimize disruption and move the country as rapidly as possible into operating like more of an autarky (not that the UK can become self-sufficient, but driving in that direction would be beneficial).
In the way of a mini-update, two stories highlight a manifestation of Brexit denialism. It has been both fascinating and distressing to watch an entire country sleepwalking towards a cliff, telling itself that things won't change much, or if they do, they won't be all that bad or will somehow be worth the sacrifice. In reality, the UK will undergo a significant, permanent decline in its standard of living. And it is not as if the UK is cohesive enough to take that at all well.
One of bizarre ongoing features is the Government's refusal to engage the question of what sort of post-Brexit arrangement it wants with the EU. The EU has, Lord only knows how many times, told the UK what its boundary conditions are, most importantly that any arrangement has to fit within the parameters of existing deals. The UK's negotiators doesn't even have the self-awareness to see the fact that Barnier had to produce this chart in December to tell them that there was only one option, given UK red lines, was pathetic: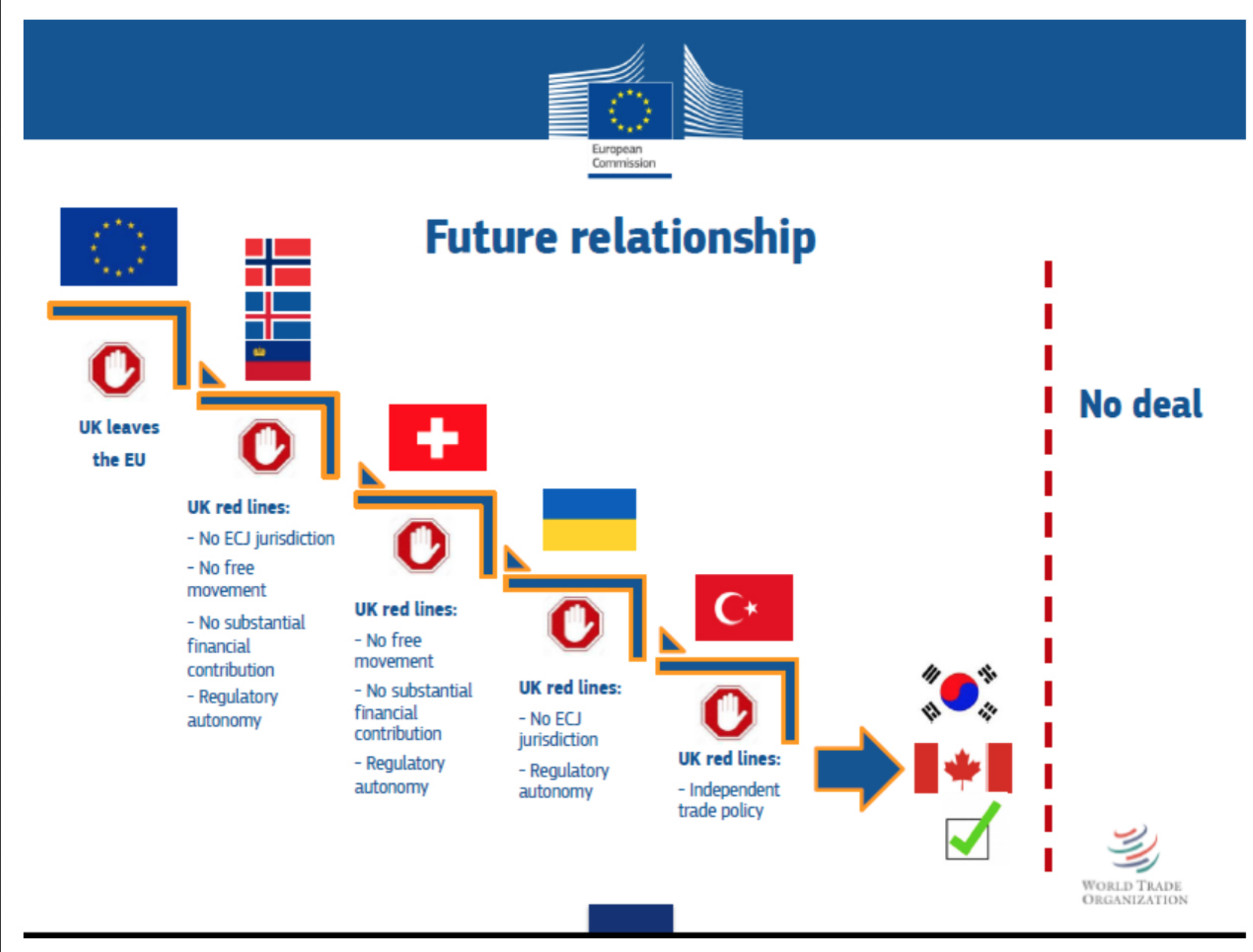 Yet we still have UK leaders prattling on about "special relationship," "bespoke," and "Canada plus plus plus" when nothing remotely like that will happen unless the UK retreats from some of its red lines.
The UK is even managing the difficult feat of regressing. Chancellor Philip Hammond, who had seemed more capable than the other ministers in May's cabinet (admittedly a very low bar), has now joined the Brexit race to the bottom with his insistence that it is the EU that is holding things up by not saying what kind of post-Brexit arrangement it wants with the UK.
Richard North does his usual able job of eviscerating this nonsense. From his post:
It is given, one would have thought, that a massive trade bloc such as the European Union (or the EEA) would not be too concerned with deciding what sort of relationships it wants with its smaller trading partners.

In the general scheme of things, the more pressing need is for the smaller partner to define the sort of relationship it is seeking, and then to prevail on the larger bloc to give it what it needs…

This, though, it not the current view being taken by Chancellor Philip Hammond. He now seems to be of a mind that it is up to the EU to produce its own ideas of how Brexit should look, instead of "obsessing" over how to "punish" British voters for their temerity in voting (by a majority) to leave the EU…

Then, even if there was some merit in Mr Hammond's view, it is more or less a matter of certainty that the EU (whether the Council or Mr Barnier's negotiation team) is not going to take much notice of it. The intervention of the Chancellor thus does nothing more than demonstrate yet again that our politicians are completely out of touch with reality….

This is something that our political masters seem to have extraordinary difficulty understanding, which really confirms that they have a limited grasp of the realities of the Single Market and how the EU's trading systems actually work.

Once again, therefore, we have to confront our own reality – that those in charge of our Brexit negotiations simply don't have sufficient knowledge and understanding to be able them to function effectively – and nor is the opposition any better. As a result, these people are expecting outcomes which simply can't be realised.

What makes this surreal is that, as we move towards the next round of the negotiations, issues raised previously and as yet unresolved will be re-presented. If not on this round, the scope for ambiguity will be reduced and eventually we will get to the point where reality and expectations collide. From that wreckage, one presumes, an agreement of sorts will have to emerge.
If that weren't bad enough, Hammond and David Davis were trying a "charm offensive" to persuade the EU to allow them to have something other than the Canada-type pact that their other positions have already dictated. As North foretold, "issues raised previously and as yet unresolved will be re-presented." This is the already-rejected "special close bespoke unique" deal. From the Financial Times:
Put simply, Britain is advancing the concept of what is called "managed" or "gradual" divergence in the UK-EU trade relationship. The idea, raised by Theresa May in her Florence speech in September and reaffirmed by her cabinet last month, is that the UK should reject the binary choice of a Canada-style or Norway-style deal.

Instead, as the Telegraph put it, the British think both sides should recognise the complete UK-EU alignment at the outset, and then work backwards, "managing divergence from there as the future UK-EU relationship develops".
This is ridiculous. "What about 'third country' don't you understand?"
The UK is deeply in denial that post Brexit and any stand-still transition period, it will have a hard border with the EU. The UK is still acting as if it is so important that the EU will redo its trading and regulatory regime to make life easier for the UK, which let us not forget is the party that initiated Brexit.
The BBC also takes up the Government position that it is the EU that is being unreasonable, when it was the UK that triggered Brexit and the EU has told the options that the UK has but the UK bizarrely thinks it has the right to something better. This is becoming frighteningly reminiscent of dealing with a three year old who keeps saying he wants ice cream after having been told "no" firmly. From the BBC:
If Britain is left with binary option of a "take it or leave it" Canada-style free trade deal (which excludes for example financial services, vital for the UK economy) or membership of the European Economic Area (which allows for free movement of people), then both are likely to be rejected, officials suggest.
Well, reject away and see where that gets you. Services deals take longer to negotiate than trade pacts, so putting trade and services negotiations on parallel tracks is more likely to result in the trade deal being consummated in a not-interminable amount of time than doing them tout ensemble.
We will turn the mike over to FT reader Italianstallion:
What the UK is asking is completely mad. In fact one could say that the UK would like a bit more cake. Say more control over FOM in a norway style deal, and perhaps more influence over rules. But this is known cake.

But what the UK believes is that a club of 27 nations, and 500 odd million people should allow it to gradually change rules in the UK's favour, and to invest time and money in monitoring this and only to change access arrangements if the rules cannot be justified as being equivalent.

Also the UK is saying that it will seek to change the rules, and that existing bodies [ECJ] cannot rule on things in the UK. So disruptive sanctions is the only alternative.

In simple language: "I want to change my rules, and will not accept some rules now, but until I change other rules, I would like you to not change anything. And by the way when I change the rules I want you to prove that the rules have changed enough. That way until I get the benefit of changing the rules I don't lose anything"

Dream on idiots. No sane individual, company, country or group of countries would deal on this basis.
Yet a front page Financial Times story bizarrely contradicts this reporting: Brussels raises prospect of longer Brexit transition. However, if you read the article, as well as sanity check it, this appears to be the sort of piece the pink paper runs once in a while, where it gives false Brexit hope that are at best based on the views of EU members like Poland and Hungary who are willing to align with the UK to poke a stick in the eye of the other EU members, and at most some other small states that export a lot to the UK, like Denmark. After five paragraphs of cheery talk, we get to this:
However, the suggestion was strongly opposed by France and Germany and is unlikely to be included in revisions of the draft negotiating directives.
The article goes into the usual Anglo line of argument, that of course the pragmatic thing will be done and there will be some sort of extension beyond 2020. There are several problems with this line of thinking:
1. If that were to happen, it would be a continuation of the standstill which is the only realistic way a "transition phase" can work. It would be too fraught to negotiate anything other than that, with at most some not very controversial variances. That means among other things, the UK keeps paying EU dues and being subject to the ECJ while having no influence.

2. There is a limit to how long that sort of thing can go on. It's over my pay grade, but WTO rules allow only for time delimited and not very long favorable treatment, and a transition deal would fall in that category. My memory, and please correct me if this is wrong, but is that three years is the maximum that would be kosher. Other countries outside the EU could file suit with the WTO if this went on too long.

3. It took seven years for the EU to negotiate an agreement with Canada. There's every reason to think a trade agreement with the UK will take at least as long, particularly since the UK is in the deviant position of being a "diverging" partner, one that wants to deviate from rather than align more closely with the other country's rules. It seems inconceivable for the UK to stay in the half-pregnant transition state that long.
What I find particularly troubling about articles like this is that they serve to feed the UK's Brexit delusion.
And a final "gang that can't shoot straight" sighting. Some City firms were apparently willing to make payments to the EU in return for passporting rights. Hammond may have been alluding to something other than that, but whatever it was, that's been kiboshed. From the Telegraph:
Theresa May has insisted that Britain will not make substantial payments to the EU for access to market after Brexit as she appeared to contradict Philip Hammond.

Mr Hammond was asked during a trip to Berlin whether the UK would be prepared to pay for access to the EU markets for City firms.

He replied: "We will talk about all of these things."

However Downing Street said yesterday that the Prime Minister is clear that "we will not be paying for access" and insisted that the Chancellor "thought he was responding to a general point".
The UK keeps circling the same issues, expecting different results. As Einstein famously said, that is insanity.