By Lambert Strether of Corrente.
Trade
"If North American car companies 'don't have a functional Nafta — if it becomes too complicated, too bureaucratic, too costly that you can't get low-cost, high-labor products into this region — then all of a sudden we have damaged the whole Nafta region,' said Magna International Inc. Chief Executive Officer Don Walker. 'It's going to be a lose-lose-lose'" [Bloomberg]. Could be. OTOH, Don, last I checked, we the people didn't elect officials to take care of a region, eh?
"Trump Speech React: Trade Fears Calmed" [AgWeb]. "'Corrupt politics left our communities hurting, our economy stagnant and millions of hardworking Americans completely forgotten, but they, guess what, are not forgotten anymore. No more,' President Trump told a cheering crowd at the American Farm Bureau Federation (AFBF) convention on Monday. 'They are forgotten no more. Remember that, you're forgotten no more.' Trump also understands how important farmers are to him politically, according to Ray Starling, special assistant to the president on agriculture and agriculture trade. Starling said, the President recognizes that American farmers give our country an "edge.'" The devil is in the details of the deal, of course.
"A bipartisan group that shares many of President Donald Trump's populist goals on trade is urging the president to impose a "global tariff" on solar imports from China and other foreign suppliers in a case brought by Suniva and SolarWorld. Trump is due to announce his decision in the closely watched trade remedy case by Jan. 26, which is about when he will be in Davos, Switzerland, for the annual World Economic Forum" [Politico].
"Canada is taking a tough stance with the U.S. on trade just as talks between North American countries are set to resume. The country is formally complaining to the World Trade Organization over tariffs the U.S. imposed last year on Canada's softwood-lumber producers" [Wall Street Journal].
Politics
2020
"The Case Against Joe Biden" [Paste]. A very good and detailed takedown, well worth a read. Amazing that a guy with such a lovable smile could be so terrible on policy.
Oprah Boomlet
"Rasmussen poll: Oprah leads Trump by 10 points" [The Hill].

"Watch as Oprah trudges through shin-deep mud after powerful rainstorm pummels her neighborhood" [Los Angeles Times]. Holy moley. Content-free puff pieces already. Did Oprah's publicist just plant this, or what?

"Pope Oprah" [The American Conservative]. "Oprah's spirituality is consonant with Moralistic Therapeutic Deism, in that it is non-doctrinal, and sees matters of religion and spirituality as essentially about self-expression (telling "your truth") and self-improvement. As Christian Smith and his colleagues have shown, this is the de facto religion of tens of millions of Americans, though it is expressed in different ways."

Universal enthusiasm:

Oprah for president? She's got my vote.

— Lady Gaga (@ladygaga) January 8, 2018
2018
"Democrats should end the year with more governorships than they hold now. One reasonable way to measure Democrats' success is whether they get into the 20s — they have 16 governorships now, so that would mean a gain of four or more" [Center for Politics]. "To really have a strong year, Democrats need to win some of the bigger states, and several major states with Republican governors should be very competitive: Florida, Illinois, Michigan, and Ohio all qualify. Democrats realistically have only one big-state governorship that might be tricky to defend, Pennsylvania." And: "[Of] Florida, Illinois, Michigan, Ohio, and Pennsylvania, Republicans hold all but the Keystone State right now. Three are Toss-ups, while Republicans start the year with a modest edge in Ohio and Democrats a modest edge in Pennsylvania. [A]ll five governors play a key role in congressional redistricting, which is coming after the 2020 census and will be overseen by the governors elected this year in these (and many other) states." Here I'd put in a plug that governorships are good because governors govern, if it weren't for New York's truly horrid Cuomo, and the unseemly odor emanating from CalPERS in Brown's one-party state, California.

House: "Issa Retirement Moves CA-49 from Toss Up to Lean Democratic" [Cook Political Report]. "Republicans' best hope for holding the seat in the current lopsided political environment probably involves Democrats splitting the vote in the June top-two primary and allowing two Republicans to advance, but that would require a very elaborate set of circumstances. The race moves to the Lean Democratic column."

House: "California 49 Ratings Update: Issa's Open Seat Remains a Toss-up for Now" [Inside Elections]. "[S]imilar to California's 39th District, where GOP Rep. Ed Royce just announced his retirement, the 49th District in recent history has usually voted for Republican candidates yet rejected Donald Trump and nearly threw out Issa, who had become known for his Benghazi investigations. The scope of the Democratic takeover opportunity depends on whether Clinton's performance is the new normal or whether 2016 was an aberration."
New Cold War
"The Digger Who Commissioned the Trump-Russia Dossier Speaks" [The New Yorker]. "[Glenn Simpson, of Fusion GPS] also said Steele told him that the F.B.I. already had another source on Russia, one inside the Trump campaign." Interesting if true. I wonder if the FBI has moles in all the campaigns?

UPDATE Charles Cook is usually even more mild-mannered than this:


Wolff does not come off well here. https://t.co/wZDczgD2Ar

— Charles C. W. Cooke (@charlescwcooke) January 11, 2018
FISA Reform
Sadly:

House votes down #AmashAmendment 183 to 233, after both Pelosi and Ryan voiced their opposition. #FISA702

— Harrison Cramer (@HarrisonCramer) January 11, 2018

"Thoughtful leaders":

Thoughtful leaders on both sides of the aisle know FISA section 702 is a vital and carefully overseen tool to protect this country. This isn't about politics. Congress must reauthorize it.

— James Comey (@Comey) January 11, 2018

"Trump Opposes His Own Surveillance Bill" [PoliticalWire]. Paraphrasing Jonathon Chait: "[Trump] immediately tweeted out his alarmed confusion that the House was apparently on the verge of approving the very law the sinister Deep State had used to 'tapp' his phones." Sadly, Bush's program of warrantless surveillance, of which this bill is the twisted, evil, Chucku-like descendant, gutted the Fourth Amendment ("secure in their [digital] papers and effects") and is indeed "sinister." NTDT, but taking him seriously but not literally, he's quite right. (Chait's snark on a typo is just icing on the cake of liberal Democrat idiocy on this issue.)

For those who came in late: Hey, remember way back in 2008, where Obama promised to filibuster the first FISA "reform" bill in January — remember the "professor of Constitutional law" talking point? Good times — and then flip-flopped and voted for it in July? Obama gave the telcos retroactive immunity for felonies created under Bush's program of warrantless surveillance — thereby presaging, did we but know it, how Obama's "Justice" Department let criminal banksters off the hook after the crash.
Trump Transition
"Infrastructure deficit threatens booming U.S. economy, U.S. Chamber CEO warns" [Logistics Management]. Another angle on Donohue' speech. "Donohue called for a 'forward-looking infrastructure' program, adding: 'We must pay our way our way into the future. We need to rebuild our roads and bridges for changes to come, including driverless cars.'" We're going to spend billions optimizing real-world inputs for robot cars because Silicon Valley can't get its algos to work without doing that, and you know those optimizations won't be organized on any basis of fairness or public good.

The odious very well-paid Jack Lew on the the Obama and Trump administration economies: "'They've had a lot of luck so far. We, in our first few years and for a long time, there was a crisis that exploded that you just had to deal with,' Lew said from his office at investment firm [of course] Lindsay Goldberg in midtown Manhattan. 'The world is on the edge right now but is not breaking through on most of those issues. The question is what happens if one of those crises actually switches from being potential to real" [Politico]. "A crisis that exploded that you just had to deal with." And they did deal with it! They did! The smugness makes me want to put my fist through the screen.

"Trump's disavowal of Bannon, his former campaign chief executive and White House strategist, and Bannon's ensuing contrition, reminds fractious Republicans that this is Trump's party now. Political leaders must be either feared or loved. Trump showed that he should be feared by his rivals" [Christopher Buskirk, WaPo].

"Trump Suggests 2-Phase Immigration Deal for 'Dreamers'" [RealClearPolitics]. From the public Cabinet room meeting. "The head of the Congressional Hispanic Caucus, Rep. Michelle Grisham Lujan, D-N.M., said late Tuesday she was 'encouraged' by Trump's words and would work 'in good faith' toward a deal. Some of the group's members have taken a hard line against surrendering too much in a compromise with Trump."
Realignment and Legitimacy
"In the heart of Anti-Trump Country, voters still pine for an America better than its president" [Will Bunch, Philadelphia Inquirer]. "This is the push-pull of Anti-Trump Country. On one hand, there is a kind of conformity in the universal dislike of Trump — his tweets, his casual embrace of racism and misogyny, his policies that slam the poor — to the extent that the shock of his election victory made some Mount Airy/Germantown residents more aware they are living in a kind of progressive bubble. ." How about a program of universal concrete material benefits?

"Heartland Democrats to Washington: 'You're Killing Us'" [Politico]. "From the Appalachian regions of Ohio to the Iron Range of Minnesota and the northern reaches of Michigan and Wisconsin, across Iowa and Missouri and through the southern swaths of Indiana and Illinois—areas in which Bill Clinton triumphed and Hillary Clinton tanked—the quotes from the 72 rural Democrats Johnson interviewed read like a pent-up primal scream. And Terry Goodin's comments pop out in particular. In the report, he says the Democratic Party is 'lazy,' 'out of touch with mainstream America,' relying on 'too much identity politics' where 'winners and losers are picked by their labels.' The Democrats in his district, he laments, 'feel abandoned.'" I searched on the word "Sanders." Of course, no hits.

"A New Poll Shows the Public Is Overwhelmingly Opposed to Endless US Military Interventions" [The Nation]. "The study, 'Battlefield Casualties and Ballot Box Defeat: Did the Bush-Obama Wars Cost Clinton the White House?,' which was released last summer, found that 'a divide is emerging between communities whose young people are dying to defend the country, and those communities whose young people are not.' That divide, which the authors termed 'the casualty gap,' may have contributed to Donald Trump's surprise victory. Indeed, 'even controlling in a statistical model for many other alternative explanations, the authors found there was 'a significant and meaningful relationship between a community's rate of military sacrifice and its support for Trump.'"
Stats Watch
Brief pause to note that reports are rolling over into 2018, starting with the weeklies. I'll type "2017" a few times, I am sure…. –lambert
Jobless Claims, week of January 6, 2018: "In what might be an early sign of loosening in the labor market, initial jobless claims rose 11,000 in the January 6 week to a higher-than-expected 261,000. The gain is widespread and not centered in Puerto Rico" [Econoday]. "Initial claims, aside from hurricane distortions in September and October, were remarkably steady and favorable throughout last year which makes the gain in the first week of this year stand out." Yes. Jobless claims have been boringly flat for as long as I can remember…
Producer Price Index (Final Demand), December 2017: "Yesterday's weakness in import and export prices did in fact point to wide weakness in today's producer price report" [Econoday]. "Down is definitely the theme of this report which points squarely at disappointment for tomorrow's consumer price report where expectations are already soft, at an Econoday consensus gain of only 0.1 percent and 0.2 percent for the core (ex-food and ex-energy). The absence of inflation is a stubborn theme of the economy."
Bloomberg Consumer Comfort Index, week of January 7, 2017: Rose sharply [Econoday]. "Strength in consumer confidence was a major theme of the 2017 economy and today's report points to more of the same for 2018."
Shipping: "Transportation is awash with information. There's information about rates, exceptions, additional accessorial charges, discounts and other mountains of data. And due to the fact that shippers and carriers have the ability to exchange and capture information more than ever before, the volume of information is rising exponentially. The issue now is: What to do with all that data?" [Logistics Management]. U.S. Bank and Cass Information Services are the two largest freight payment companies in North America. U.S Bank says "that communication flows can be data exchanges, such as EDI, and the main flow of invoices and information. And the competition to control that flow is fierce. Like Cass, U.S. Bank Freight Payment is huge. It processes around $23 billion in global freight payments annually for some of the world's largest corporations and government agencies." That's real money!
Shipping: "U.S. Ports Update Part 1: Expanded Panama Canal Changes the Balance" [Logistics Management]. 'According to its latest throughput figures, the Panama Canal transited a total of 13,548 vessels during its fiscal year 2017, representing a 3.3% increase compared to totals the year before. Thanks to the larger Neopanamax vessels now able to transit the expanded Canal, the growth in traffic translated into a 22.2% increase in total annual tonnage from 2016, and helped the Panama Canal surpass the already ambitious cargo projection of reaching 399 million tons… Fitch Rating's latest "U.S. Transportation Trends" report indicates that all major U.S. ports are "stable" from an investment perspective, and forecasts this "neutral" status will continue in 2018. And while government funding of port infrastructure remains uncertain, there's some evidence that the private sector is wiling take a chance."
Shipping: "One of container shipping's fastest-growing operators appears to be trying to get ahead of a vessel glut before it begins. China Cosco Shipping is deferring delivery of 10 big vessels from this year to 2019, Lloyd's List Maritime Intelligence reports, pushing off what would have been a 30% increase in the shipping line's cargo capacity" [Wall Street Journal]. Because what's a cartel for?
Manufacturing: "Toyota will build a $1.6 billion factory it will share with Mazda Motor Corp. in Huntsville, Ala., the latest in a series of big-dollar expansions by Asian and European car companies in Southern states. The investments, including a $1.1 billion factory Volvo Cars is opening in South Carolina this year, are creating new backing for rail, road and port expansions to help move parts to the plants and finished cars to export gateways. Other foreign auto makers say they are considering expanding or establishing U.S. operations, adding to the drive to build a broader new eco-system of automotive manufacturing" [Wall Street Journal]. Watch out for that word "eco-system," a Silicon Valley buzzword. I don't think a market is an eco-system; and although eco-system sounds all earthy-crunchy, every ecosystem has its apex predators.
The Bezzle: The headline: "Turning brain signals into useful information" [The Economist]. The deck: "Once data have been extracted from the brain, how can they be employed to best effect?" Making the dopamine loop look like child's play. And my idea of "best effect," in this context, can best be expressed in visual form… Actually, I can't bring myself to do it. Here's a link.
Lambert here: Readers know my temperament; I'm a Maine bear. And I don't invest. I couldn't sleep nights if I did.
Fodder for the Bulls: "In his remarks, Donohue, hardly a wild-eyed optimist, waxed very optimistic about the outlook for 2018 and well into 2019, saying the strong economic gains achieved last year will extend for months to come, and will likely get stronger. Donohue acknowledged the possibility that unforeseen events or major policy errors could derail the recovery. However, the U.S. economy's current strength is so 'deep and wide' that it could withstand severe shocks, he added" [DC Velocity]. Another angle on Donohue's speech….
Honey for the Bears: "Opinion: The man who called a new bull market in 2012 says take your profits now" [MarketWatch]. "'One out of every four trading sessions in 2017 was an all-time new high,' [Piper Jaffray's Craig] Johnson said….. Johnson thinks we're just moving into the market's euphoric stage. 'There is euphoria, but it's not off the charts,' he told me."
Honey for the Bears: "Japan is the catalyst that could bring the record-setting bull market for stocks across the globe to a screeching halt, according to Société Générale's uberbear Albert Edwards" [MarketWatch]. "The prominent SocGen strategist says surprise monetary tightening in Japan could be the trigger that finally upend what has been an protracted and unrelenting global rally for assets considered risky."
Today's Fear & Greed Index: 76 Greed (previous close: 75, Greed) [CNN]. One week ago: 72 (Neutral). (0 is Extreme Fear; 100 is Extreme Greed. Last updated Jan 10 at 11:28am.
Health Care
Oh good:
As of today, 10 states have requested flexibility from CMS to incentivize #Medicaid beneficiaries to participate in community engagement activities, find work and achieve self-sufficiency. #TransformingMedicaid

— CMS Administrator (@SeemaCMS) January 11, 2018
"JAMA Forum: The Problem With Work Requirements for Medicaid" [Journal of the American Medical Association]. "The true number of healthy, able-bodied adults who could work but choose not to is small. Given that, it's worth considering the costs to administer programs such as these. They aren't cheap, nor are they easy. Forcing those who have jobs to prove that they are employed adds an extra layer of administrative burden that could cause eligible people to lose their coverage if they don't comply with more regulations." An "extra layer" of means-testing and gatekeeping is also designed into ObamaCare ("extra" in that there should be no eligibility requirement in the first place, except residence). So, for Democrats, the so-called "administrative burden" is a feature, not a bug, since it's a Jobs Guarantee for their professionall base; they also believe that only those who are worthy of assistance should get it. The Republicans believe this too, but they also believe that the unworthy should be kicked, and such a feature is worth laying out public money for.
"Here's a breakdown of the Medicaid recipients who aren't working" [MarketWatch]. Handy chart: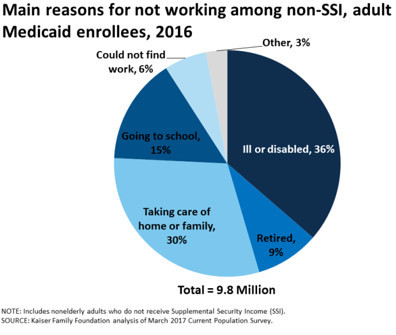 Gaia
"Trump Administration Resurrects Mining Lease in N.E. Minnesota" [Daily Yonder]. "Portions of Minnesota's rural 'Arrowhead,' with its vast freshwater lakes and forests, have experienced years of growth and development as a center of outdoor recreation. That trend could change as the Department of Interior re-authorizes a controversial copper and nickel mining lease beside the region's key attraction and nation's most visited wilderness area, the Boundary Waters Canoe Area…. The potential mining project is within the Rainy River watershed, where the majority of land and impacted waters are owned by the state and federal governments. The watershed drains into both the Boundary Waters and nearby Voyageurs National Park in Canada. Twin Metals, a subsidiary of the Chilean mining giant Antofagasta, is proposing a massive $2.8 billion underground mine and other facilities and hundreds of jobs. The company says it has already invested $400 million in exploration and pre-feasibility planning." I thought that mine was killed… Minnesota readers?
Guillotine Watch
"The 52 Places Traveler: Meet the Applicants" [New York Times]. "We received over 13,000 applications for our first-of-its-kind job: a traveler who will go to each and every place on this year's Places to Go list." Paul Blest comments: "the future of job applications is that you and 15,000 other people whose jobs have been automated out of existence have to create a 'short, fun video,' like you're trying out for master chef, that explains why you'd be the best person for a copywriting job."
$380:
Imagine all the effort we've put into parodying and satirizing libs, and then they come out with this shit, ffs pic.twitter.com/j8uCgD5dJ5

— make way for the percolator (@chessrockwell_) January 10, 2018
Class Warfare
"What the dip in US life expectancy is really about: inequality" [Vox]. "Living in the US increasingly looks like a health risk. Average life expectancy here dropped for the second year in a row, according to recent data from the Centers for Disease Control and Prevention. The grim trend stems from a toxic mixture of more drug- and alcohol-related deaths and more heart disease and obesity in many parts of the country. And it puts Americans at a higher risk of early death compared to their counterparts in other wealthy countries. But what's often lost in the conversation about the uptick in mortality here is that this trend isn't affecting all Americans. In fact, there's one group in the US that's actually doing better than ever: the rich. While poor and middle-class Americans are dying earlier these days, the wealthiest among us are enjoying unprecedented longevity."
"Consumers demonstrate a willfully ignorant memory after learning products they like were unethically made, according to new research published in the Journal of Consumer Research. In an effort to "avoid emotionally difficult ethical information" like the use of child labor or non-sustainable practices, the Ohio State University study found, people either forget it entirely or misremember unethical aspects as ethical" [Moneyish]. Sounds rather like commodity fetishism….
"Walmart To Hike Its Minimum Wage To $10, Raise Pay For 1.2 Million Employees" [HuffPo].
Walmart raises (1):
Let's also do some math on #Walmart raises:
1. If you worked 40 hrs a week/52 weeks a year at $11/hr, no time off=$22,880.
2. The federal POVERTY RATE for a family of four is $24,600
Got it?#Classwarfare #wages

— Jonathan Tasini (@jonathantasini) January 11, 2018
Walmart raises (2):
Here's the truth about Walmart's bonuses:

Only workers who have been at Walmart for 20+ yrs QUALIFY for $1,000
Workers w/ 15-19 QUALIFY for $750
Workers w/ 10-14 QUALIFY for $400
Workers w/ 5-9 QUALIFY for $300
Workers w/ 2-4 QUALIFY for $250
Workers w/ 0-2 QUALIFY for $200 pic.twitter.com/tIw7Iyqy6p

— Roberto Ferdman (@robferdman) January 11, 2018
"Who's picking your food? A record number of foreign laborers" [Los Angeles Times]. "California's recruitment of foreign laborers, virtually all of them from Mexico, grew by 3,121 workers, a 28% increase from the previous year, and nearly three times the national growth rate, according to the data analysis."
"A new study says much of the rise in inequality is an illusion. Should you believe it?" [Vox]. I think the life expectancy statistics tell the story. Income is a proxy for social relations — for power — and not necessarily a good one.
"As you may recall, shortly after Blue Ivy's birth, Beyoncé and husband Jay Z filed to register "Blue Ivy Carter" with the USPTO in 2012 in 14 classes of goods, including cosmetics/fragrances, baby products, kitchen supplies, hair accessories, playing cards. etc." [The Fashion Law]. Hard to find a more telling anecdote of what it means to be black and bourgeios. Not that the Beyoncé isn't an artist; she is, like Shakespeare, the highly successful entrepreneur…
News of the Wired
I am so [family blogging tired] of helping to create a data set to train Google's robot car AI. For free, I might add.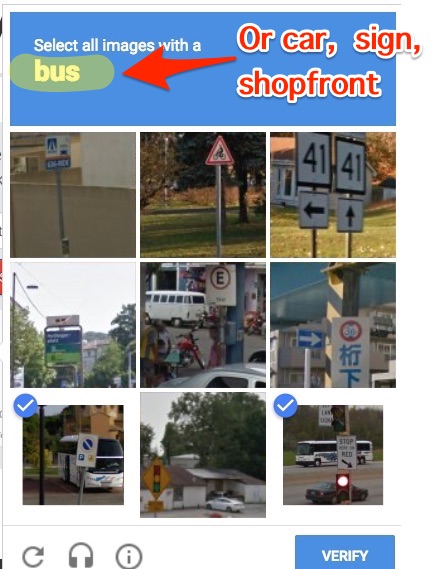 "Incredible 'Hypatia' Stone Contains Compounds Not Found in the Solar System" [Popular Mechanics]. "[M]ost of the rock in the Hypatia stone has the opposite ratio of carbons to silicons that you find in the vast majority of the asteroid belt as well as the planets Earth, Mars, and Venus. Not only that, but the mineral matrix of Hypatia also contains a significant amount of interstellar dust not generally seen in the rocky stuff of the solar system…. [P]erhaps the best indications that the Hypatia stone—or components of it—formed before the solar system are the mineral grains, the fruits and nuts of the fruit cake. These embedded grains contain phosphorus and metallic elements such as aluminum and iron, but not in ratios or configurations you would expect."
* * *
Readers, feel free to contact me at lambert [UNDERSCORE] strether [DOT] corrente [AT] yahoo [DOT] com, with (a) links, and even better (b) sources I should curate regularly, (c) how to send me a check if you are allergic to PayPal, and (d) to find out how to send me images of plants. Vegetables are fine! Fungi are deemed to be honorary plants! If you want your handle to appear as a credit, pleas s e place it at the start of your mail in parentheses: (thus). Otherwise, I will anonymize by using your initials. See the previous Water Cooler (with plant) here. Today's plant (AM):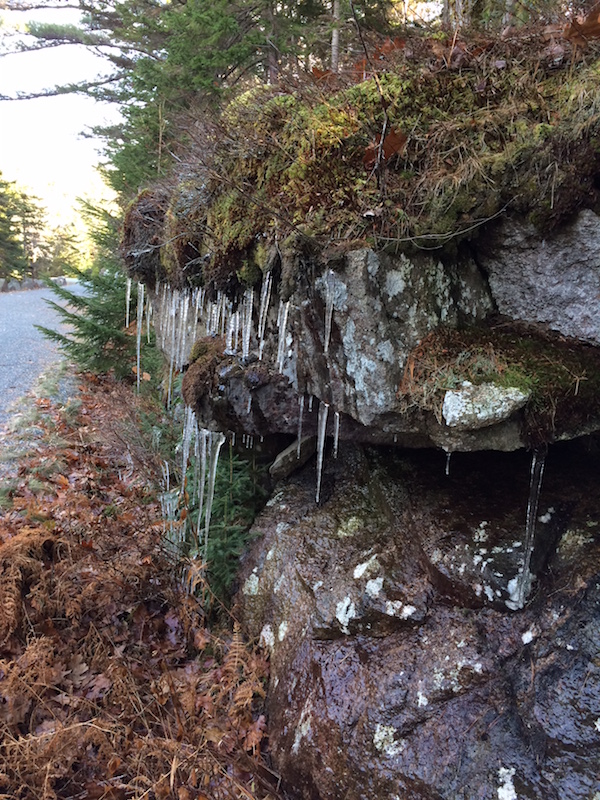 AM writes: "Evergreen trees with cones at the top and moss with icicles on one of carriage roads in Acadia National Park at Thanksgiving."
* * *
Readers: Water Cooler is a standalone entity not covered by the NC fundraiser. So do feel free to use the dropdown and click the hat to make a contribution today or any day. Here is why: Regular positive feedback both makes me feel good and lets me know I'm on the right track with coverage. When I get no donations for five or ten days I get worried. More tangibly, a constant trickle of small donations helps me with expenses, and I factor that trickle in when setting fundraising goals. So if you see something you especially appreciate, do feel free to click the hat!