Yves here. To the points that Gaius makes, we can add the pathetic performance of Team Dem over the shutdown. From the Financial Times:
"This was a winnable battle, and we lost it," said Adam Green, co-founder of the liberal Progressive Change Campaign Committee.

"The Republicans are very good at casting this debate as being about illegal immigration and Democrats were not willing to own that this was at its core around the Dreamers and to define the Republican position as hurting kids and tearing apart families . . . They got spooked," Mr Green said.

"The Trump people were clearly thinking about their messaging in advance and preparing ads in advance and there was almost no [Democratic] co-ordination with outside groups and no air cover by Democratic strategists," he said.
You can debate the merits of whether this battle was the right one to engage. But the fact that the Democrats did so in such a cack-handed manner shows that they weren't serious, no doubt because this was mainly virtue-signalling, as opposed to an important issue for their top 10% base.
By Gaius Publius, a professional writer living on the West Coast of the United States and frequent contributor to DownWithTyranny, digby, Truthout, and Naked Capitalism. Follow him on Twitter @Gaius_Publius, Tumblr and Facebook. GP article archive  here. Originally published at DownWithTyranny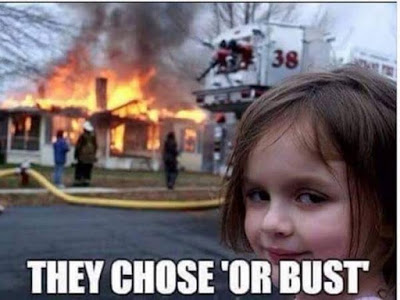 A meme from the "Sanders or Bust" camp after the primary.
I want to keep this short because it's really simple (emphasis mine throughout).
Stuff like this…
Taking Short Break From Denouncing Trump Authoritarianism, House Dems Join With GOP to 'Violate the Privacy Rights of Everyone in United States'

Democratic leadership in the House—who say that Trump is currently abusing his power to go after his political enemies—just helped him pass dangerous domestic surveillance powers.
…explained here…
45 Republicans looked at the stinky FISA bill on Thursday and could not pull themselves to vote YES. That means that had Pelosi, Hoyer and Clyburn held their caucus together, it could have been defeated. Instead, it passed 256-164. How the hell did that happen? Well, start with Pelosi, Hoyer and Clyburn; they all voted for it. In fact 65 Democrats did– basically the Republican wing of the Democratic Party, pretty much all the Blue Dogs and all the New Dems and their fellow travelers. 119 Democrats voted NO and 65 voted with the GOP. All the garbage Dems were over on the other side of the aisle as fast as they could get there[.]
…as well as stuff like this…
If Democrats Want the Support of Millennials, They Should Cut Ties with the Fossil Fuel Industry

…Oil and gas executives strive to maintain company profits, which means holding back this very transition [to 100% renewables]. They are adept at using their deep pockets to pressure politicians into carrying out their pro-fossil-fuels agenda. If Democratic candidates choose to let Big Oil ride the Blue Wave this year, the prospects for action at the scale we need are grim. partnering with these oil and gas executives would not only be disastrous for our society's ability to stop climate change, it would also be deadly for millennial voter turnout.
…produces anger like this…
I Promise To Sabotage The 2020 Campaign Of Any Establishment Democrat

If the Democratic party tries to run a pro-establishment presidential candidate in 2020, I, Caitlin Johnstone, promise unequivocally and unconditionally that I will do every single thing in my power to sabotage their candidacy and make them lose the election. … I don't care if it's a transgender Muslim eskimo with a Senate seat and their own talk show — I will do my very best to ruin them, and I will do my very best to recruit others like me to help….

[I]f the Democratic party doesn't run a very solid anti-war, pro-environment, pro-economic justice candidate in the next presidential election, there is at least one very loud voice out here who will relentlessly dedicate all available resources to making sure that it hurts. I will find every scrap of dirt I can find to help ruin your campaign. I will throw my support behind a third party candidate. I will shamelessly collaborate with conservatives. Everything legal and truthful that I can do to bring you down, I will do. You cannot manipulate me onto any other path. I will not compromise, and I will not stop. You have my most solemn word on that.
She closes, "America has become the central nesting space for an unelected power establishment which is threatening the existence of our entire species with ecocidal neoliberal policies and a neoconservative new cold war, and the Democratic establishment has been actively facilitating both. … The only way to get change is to force it, and the only way to force it is to make enforceable threats."
A plus B results in C. The eager screwing of Sanders (A), plus the eager and cynical Party self-branding as complicit faux-resisters (B), produces the happy-to-sabotage anger of people like Johnstone (C).
Make no mistake. In the world of the betrayed, she is not alone. Some may not sabotage, as she will do. Some may just stay home — with pleasure. This is the fire the Party is playing with.
Is the Democratic Leaders' "Resistance" Entirely Cynical?
Is Democratic leaders' "resistance" entirely cynical, or only partially cynical? Let's consider: If Trump is indeed a blackmailed agent of Russia, as Nancy Pelosi, surely speaking for Democratic congressional leadership, seems to think, why on earth is Nancy Pelosi handing Trump (and Putin) expanded surveillance powers, as she absolutely did, as did such noted Heroes of the Resistance as MSNBC regulars Adam Schiff and Eric Swalwell.
Again: "Democratic leadership in the House—who say that Trump is currently abusing his power to go after his political enemies—just helped him pass dangerous domestic surveillance powers."
As Johnstone writes elsewhere: "This same president who Democratic representatives like Adam Schiff and Eric Swalwell have been loudly claiming is a treasonous Russian agent has been granted uninhibited surveillance powers by both Schiff and Swalwell, as well as House opposition leader Nancy Pelosi. They do not believe that Trump is a Kremlin asset, and they do not oppose him."
What should a sane and thinking person make of that, other than the obvious — that when it comes to their own claims that Trump is a Russian agent, no one in Democratic leadership believes a word of it.
The Fire Next Time
We may be headed for a national crackup of epic proportions thanks to current Democratic leadership. The next electoral opportunity for the failed electoral revolt of 2016 to succeed is the congressional election of 2018, yet Democratic leaders seem determined to turn one more wave opportunity into another squeaker, just as they did in 2016.
To be clear, all of the anger exemplified above comes from potential Democratic voters — the next wave, if you will, of what would have been their new base — a group of voters now so disgusted with both parties that they may well stay home in droves for most of a generation. Having watched the Democrats casually and deliberately screw over Sanders, then crow about their win ("not a Democrat; not one of us; deserves what he got"); having watched Democrats, timeand again, prove they've not changed at all — many of these potential voters have settled in neither camp, hating both and trusting no one at all, save maybe Sanders.
In fact, many of these voters are solidly in the impossible-to-achieve we-want-a-third-party camp. Both mainstream parties, of course, have solidly closed that door.
A Progressive Leadership Coup, or More of the Same?
So much for the wave election of 2018, if these voters have their way. Democrats may still win Congress back, but it won't be in a wave. And lord knows what their complicit-with-Republicans leadership will field in 2020 as a presidential choice. Another neoliberal with the right identity credentials and a superficial, "populist" cover story? Or a true hero of the people — for once?
Unless current progressives in Congress stage an actual coup, replacing those leaders with their own, we're almost certain to see a series of 2016 reruns. Until enough of the nation loses patience, of course, and stages a real revolt — a situation no one will enjoy.
In 2016, Democratic leaders' hubris guaranteed a squeaker. So too it will in 2018, and barring the coup imagined above, in 2020 as well. For independent voters who are not tribally loyal to Team Blue, it's just that hard to like them.
Will I be proved wrong? Will the Democrats field so many unpalatable mainstreamers that no one will want them? We'll know in just a few months, and 2020 is just around the corner.