Yves here. Author Matthew Klippenstein gave this further observation by e-mail:
Today's SEC filing Tesla issued with respect to Musk's future stock awards refers to him almost exclusively as "Elon" instead of "Elon Musk". Which is another red flag. (Who is he trying to be, Madonna?)
By Matthew Klippenstein, who heads Electron Communications, a cleantech-centric consultancy. A long-time chronicler of the Canadian electric car market, he was the first person to report monthly Tesla sales figures for any country. He also co-hosts the CleanTech Talk podcast

Losing the Obama coalition cost Hillary Clinton the Presidency in 2016; her base wasn't big enough to bring success. Losing the Model S coalition could cost Elon Musk his own dreams, because his base isn't big enough on its own, either.
The Model S Coalition: Techies and Progressives
The Model S coalition of technophiles (techies) and progressives gave Tesla a strong tailwind when the vehicle launched. Techies formed the base, while progressives were the balance of the coalition. But while they came together for the Model S to strike a blow against Big Oil, these two groups aren't natural allies.
We can see the rift growing in real time: while techies continue to celebrate Amazon, Uber, and Silicon Valley in general, there's an escalating progressive backlash against labor conditions at warehouse distribution centres, more and more and more and more evidence of Uber's culture of toxic lawlessness, and the obscene excesses of startup culture (which include a Dickensian digital class divide, possibly-endemic sexism, predatory sex parties and entitlement complexes worthy of the sons of Trump — and that's only the stuff we know about so far).
The difference between the groups is aptly captured in the 2015 Canadian Plug-in Electric Vehicle study conducted by Simon Fraser University in Canada (webpage here, full report here, executive summary here).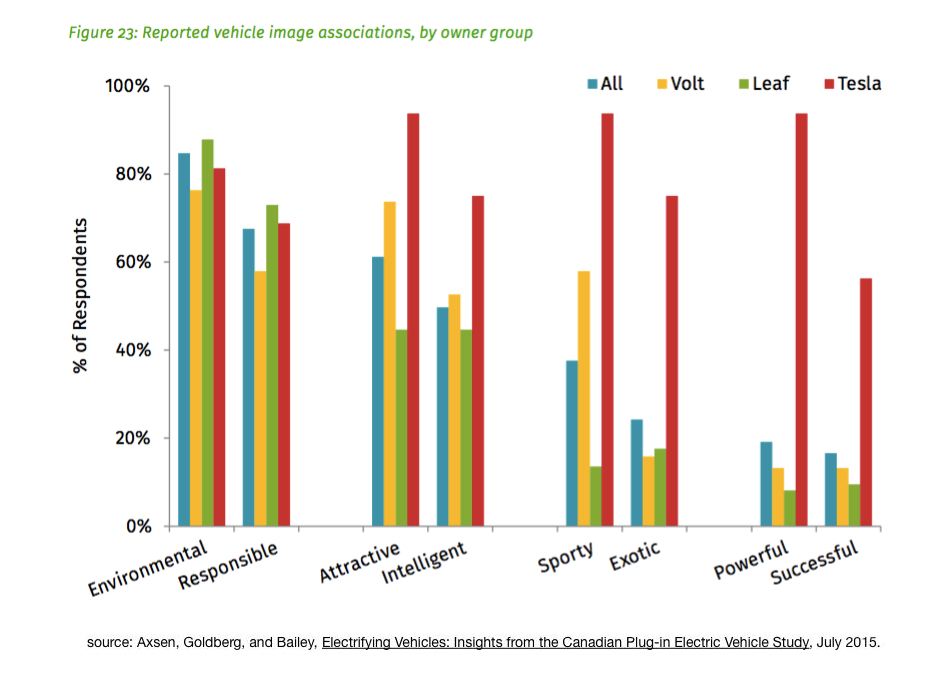 Figure 23 from the SFU Canadian Plug-in Electric Vehicle Study 2015
The chart above shows the results of a study of Volt, Leaf, and Model S early adopters who were asked what images would be attributed to their vehicles. This tells us something about the buyers, because consumers purchase products whose so-called "symbolic benefits" (the brand, basically) match their own self-image, values, interests, and aspirations.
Volt and Leaf owners (yellow and green bars, respectively) are pretty similar, except when it comes to thinking their vehicle is attractive or sporty — the styling of the Leaf 1.0 is, shall we say, an acquired taste! Joking aside, this tells us that first-generation Leaf 1.0 buyers, like first-generation Prius buyers before them, really didn't care about style. These people, and others of like mind, form the progressive coalition.
The Tesla early adopters are different in two categories, and extremely different in four, suggesting that Tesla buyers have different motivations than Volt and Leaf owners. Tesla's "tribe" wants status goods – which for automobiles means something sporty, exotic, powerful, and successful. They're Tesla's techie base.
The Model S coalition emerged from the close overlap between the two groups in the categories of wanting vehicles that were environmental and responsible. I've annotated Figure 25 from the report below. While it's based on in-depth interviews of only 24 individuals, the findings are largely consistent with a cluster analysis of 635 respondents.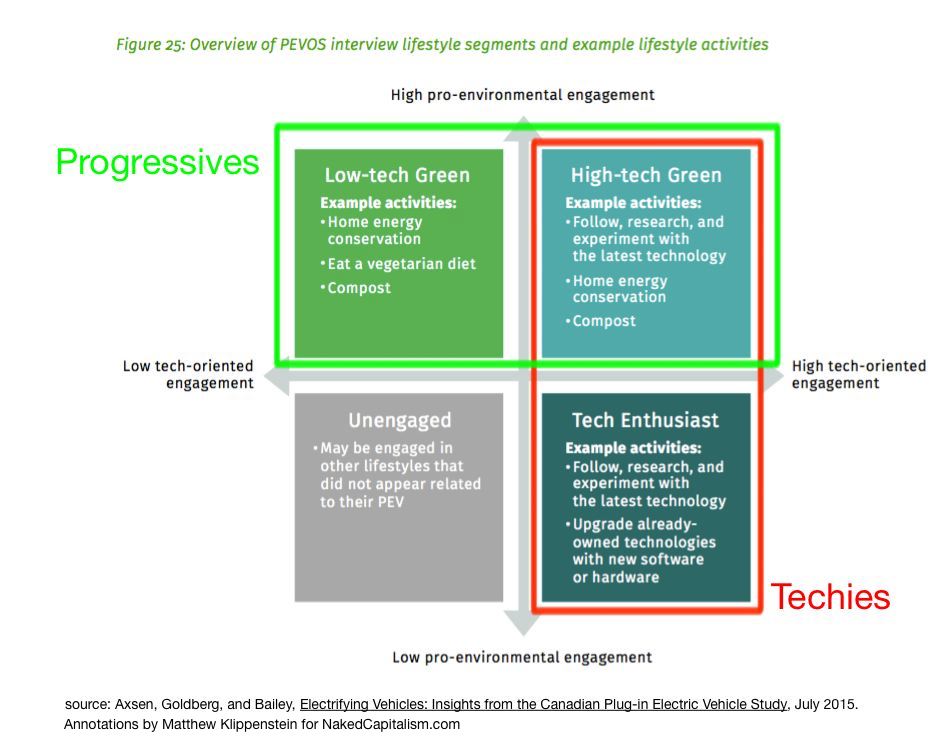 Some progressives and techies are members of the "High-tech Green" group. But some techies aren't interested in environmental issues ("Tech Enthusiast") and some progressives don't follow the tech sector ("Low-tech Green").
The challenge Musk faces is that there are a lot more progressives than there are techies; they're likely to be offended by some of his recent actions, so he risks losing their support; and that would have catastrophic consequences. We'll go through some of the more odious lowlights, then explain why these enrage progressives so.
Loose Lips Sink (Relation)ships
The University of California–Berkeley, a half-hour's AutoPilot ride from Tesla's Fremont headquarters, has performed pioneering research showing how as people gain wealth and/or social status, they lose their ability to empathize with others. This manifests as narcissism, increased unethical behavior, and reduced compassion.
What happens when we consider Musk's recent behavior through that lens?
In June 2016, journalist and Tesla gadfly Ed Niedermeyer reported that the company had taken the red flag-raising step of having some customers sign an NDA after getting repairs. Instead of issuing a simple statement explaining a misunderstanding, Tesla (Musk) issued a long and aggressive rebuttal. There wasn't anything neessarily wrong with that … until Musk insinuated that Niedermeyer might have been motivation by being short the stock. Niedermeyer posted a declaration under penalty of perjury that this wasn't the case. Tesla didn't amend their blog post.
Musk may believe that hitting back hard at critics projects strength and dissuades future attacks. That may be true. But it's also true that the group who react to criticism most aggressively … are narcissists.
When Tesla employee Jose Moran wrote a Medium post early last year explaining why he and some of his colleagues wanted to form a union, Musk claimed the fellow was on the UAW payroll and/or had been paid by them to agitate for a union. The UAW unequivocally denied this. Musk didn't correct his very public allegation, nor is he known to have apologized to the employee, both of which he clearly should have done. Would progressives deem it acceptable for, say, comedian-suing coal tyrants to treat their own union-organizing employees in the same way?
After a female engineer sued Tesla for discrimination in early 2017, the company insisted it did nothing wrong. That was fair enough. What wasn't fair was that two days after she was fired, Musk wrote a company-wide email stating "[w]e have had a few cases at Tesla where someone in a less represented group was actually given a job or promoted over more qualified highly represented candidates and then decided to sue Tesla for millions of dollars because they felt they weren't promoted enough."
Will treating her in this manner strengthen the Model S coalition, or weaken Tesla's support among progressives, feminists in particular? As loathsome as it is for a left-leaning environmentalist to type, Koch Industries has probably been more respectful towards women alleging sexual discrimination than tech's most temperamental titan.
After Facebook's Mark Zuckerberg called concerns about artificial intelligence overblown, Musk — whose SpaceX blew up a $195,000,000 Facebook (technically Spacecom) satellite in late 2016 — chose to insultingly tweet that Zuckerberg had a limited understanding of AI, rather than express respectful disagreement. Why risk being condescending toward someone who might be more of an expert in a topic than you are? Which leads us to:
After prominent urban planner Jarrett Walker criticized Musk's contempt for public transit, Musk called him an idiot, then doubled down with sanctimonious idiot, then attacked his academic credentials. Somewhere along the way, he Twitter-blocked the former Chief Planner of the city of Toronto — the fourth-largest city in North America. Musk's impulsivenes probably cost the Model S coalition the support of every urban planner and transit advocate in North America, each of whom has friends. And as Hillary Clinton discovered, it's hard to win with a shrinking coalition.
We'll finish with this hat trick:
In August 2016 Musk criticized the California Air Resources Board, whose staff are irritated by Tesla gaming their system with announced-then-withdrawn battery swapping station plans for hundreds of millions of dollars' worth of ZEV credits it otherwise wouldn't've qualified for. Instead of voicing polite-but-firm disagreement with the organization, Musk condemned CARB, saying their standards were "pathetically low. They need to be increased … they absolutely damn well should. It is a crying shame that they haven't. And as a result, you can barely sell a ZEV credit for pennies on the dollar. CARB should damn well be ashamed of themselves." (emphasis mine)
When reporters insisted on calling Tesla's 700 firings last October a layoff instead of performance review-related terminations, Musk said they "should be ashamed of themselves for lacking journalistic integrity". (emphasis mine)
Vanity Fair recently published an excerpt of journalist Emily Chang's forthcoming book describing a sex party at the house of one of Musk's long-time venture capital partners (Steve Jurvetson, who stepped down from his company after being accused of sexual harassment). Musk's response was that the journalist "conflated what happens in SF sex clubs in the Tenderloin, which have been around long before Silicon Valley was anything, with boring VC parties on the Peninsula. That is misleading to the public and she should be ashamed." (emphasis mine)
If this had been the first time I'd heard Musk trying to demolish a critic or journalist, I'd probably believe his side of the story. But the prior two times he played the "should be ashamed" card, he had a really weak case: he should have been appreciative of the $100,000,000's of 100%-profit-margin revenue CARB credits have provided Tesla, and a layoff is a layoff is a layoff, whatever euphemism you couch it in. So from past precedent, him saying the journalist should be ashamed makes me more likely to believe her reporting: to resurrect the cliched hashtag, #ImWithHer. (Several people have said they didn't see any sexual activity at the party. I believe them, having been to parties where drugs were present, but not in the rooms I was in.)
Moving away from specifics, the problem in these three cases is that repeatedly saying others should be ashamed of themselves — trying to put them in a one-down position relative to you — can't be normal. It brings to mind that other "n"-word from the Berkeley research: the one Musk's ex-wife Justine ruefully wrote about.
Elon Musk's default response to criticism is bombast and bluster, with ad hominem attacks thrown in for good measure. Three times in the past 18 months, he's even claimed other parties he disagrees with should be ashamed.
That's the Donald Trump playbook.
Let that sink in.
Shrinking to Sub-Critical Mass
Musk's techie base will probably forgive the above examples as acceptable collateral damage from an impassioned man whose heart is in the right place. But for progressives, this behavior isn't just a cardinal (deadly) sin, it's the worst of the secular sins.
Cognitive linguist George Lakoff explains why in his book, Moral Politics. For progressives, selfishness and antisocial behavior are the primary social vices. The major reason progressives have turned against Silicon Valley is the antisocial (exploitative and/or unethical) nature of many of its titans' behavior.
In Tesla's case, the examples above are nothing if not antisocial. The targets of Musk's vitriol have included women, lawyers for people of color and the LGBTQ community (perhaps he realized how bad the optics of attacking the plaintiffs directly would have been), unions, public transit advocates, CARB, and on several occasions the media. They read like a go-to scapegoat list from Fox News.
The next time Tesla needs help — and all businesses occasionally do, whether it's with finances, policy support, social licence, or other domains — will progressives stand with him? After Tesla's vindictivenes towards the aforementioned female engineer, will women's groups offer support? How about organizations for people of color, or the LGBTQ community? Or the 39% of Americans who want unions to have more influence, or the 61% of Americans who approve of unions?
And if some of those groups only express lukewarm support, will he turn on them, too? Remember, techie and progressive opinion on Silicon Valley is already divorcing. Even if Musk was a model CEO — composed, professional, never impulsive, always respectful — Tesla (and SpaceX and his other ventures) would be caught in the maelstrom. But on many occasions, he's been the polar opposite. If he doesn't rein in his temper — if he doesn't start empathizing with others when he disagrees with them — he's going to lose the progressive coalition. If and when that happens, his support will have reached sub-critical mass. It will have shrunk below the level he needs to achieve his goals:
SpaceX has suffered more failures than its main rival, ULA. The world's richest man is investing $1 billion per year into his own space company, Blue Origin, which may supply the engine for ULA's next rocket. Not only is Jeff Bezos known for cutting prices to destroy his competition, he's on the Pentagon Defense Advisory Board. SpaceX will need all the friends it can get.
The Boring Company is already at a double disadvantage for infrastructure projects, never having built any, and having a CEO renown for overpromising and under-delivering on timelines. It now has a third disadvantage in that its CEO has made enemies of almost every urban planner on the planet for ridiculing public transit and then lashing out at one of their colleagues on Twitter.
Musk will never sell many cars or solar panels to conservatives; they're predisposed to hating him. Techies alone can't buy enough cars per year to justify Tesla's valuation, so Musk needs progressives. Given the antics above and the fact that every auto company is now rolling out electric cars, many progressives may decide they no longer need him or his products. And if that happens…
Hitting Reset
I want Tesla to succeed, because I want to believe that plucky, audacious electric car upstarts can revolutionize the auto industry for the better. It's a narrative I buy into. It reinforces my dearest values.
At the same time, I want jerks to fail and suffer comeuppance for their disrespect and disdain towards others. This feeds my deepest beliefs — perhaps my deepest belief — that everyone is worthy of respect.
With the aforementioned bilious barbs (and countless others skipped over for sake of word count) my desire for Tesla's success is about evenly balanced with my desire to see Musk face serious consequences for his antisocial behaviour. And if it's a close call for me, he's probably lost a lot of progressives already: the aforementioned urban planners and transit advocates and union employees, for starters.
This is all the more reason someone needs to reach out to him before he crosses the Rubicon — someone he trusts and will listen to — to shake him out of his comfort zone and explain that what worked when he was a scrappy disruptor "punching up" against Big Oil bullies is completely backfiring, now that he's a bullying tech titan and is "punching down" at others whose station in life is more modest than his.
TL;DR
The vigorous support of the Model S coalition of techies and progressives helped propel Tesla to success. Its triumph (thus far) has brought Musk extraordinary wealth, fame, and influence. These are scientifically demonstrated to corrode people's judgment, and their fingerprints are all over his consistent inability to respond civilly to criticism. Progressives are already turning against Silicon Valley culture, and Musk's behavior will cause them to turn on him, unless he maps a fast, full change of course.
In short, Musk's path to success has narrowed to a razor's edge. With everything coming to a head this year, 2018 will tell us whether he can walk it, by keeping the coalition he needs, together.