My cat Blake died two years ago today. I still miss him.
Grazing dangerously: The Romanian sheep nibbling away at US security Daily Times (Kevin W)
Bayeux Tapestry to be displayed in UK for the first time BBC
This Guy Put on Ten Layers of Clothes When He Was Unable to Pay a Bag Fee Vice (resilc)
Brussels goes to war against plastic garbage Politico. Way way WAY overdue in the US.
New NASA Study Solves Climate Mystery, Confirms Methane Spike Tied to Oil and Gas EcoWatch (David L)
Did Bitcoin Just Burst? How It Compares to History's Big Bubbles Bloomberg
Meltdown and Spectre: very few enterprise mobile devices are patched, and many will never be BetaNews
Lawsuit filed by 22 state attorneys general seeks to block net neutrality repeal TechCrunch
Vestager wants second term as competition commissioner Politico. Google would not be happy.
Magic mushrooms: Treating depression without dulling emotions Medical News Heart
North Korea
Trump's surprise turnaround on North Korea Asia Times

Japan warns over N Korea 'charm offensive'

Korean War allies consider further sanctions against North Korea DW
Brexit
ECB official warns of abrupt Brexit 'shock' Financial Times

Labour OUTRAGE as member signals party WILL push for second Brexit referendum Express UK (Kevin W). Hahaha. Press barons having trouble keeping the peons in control.
Caralliion
Carillion held just £29m in cash when it collapsed Financial Times. OMG:

Keith Cochrane, the company's interim chief executive, has stated in a document for the company's insolvency process that there was so little funding available that the consultants PwC and EY both rejected requests that they be taken on as administrators amid concerns they would not be paid.

Kind of ironic that Carillion finance director Zafar Khan's reward for unearthing a £845m black hole in the company's accounts (i.e. doing his job properly) was to be 'fired' !! https://t.co/fG0bDvCuQk

— Ian Fraser (@Ian_Fraser) January 15, 2018
Renationalisation – when self-promoted genius becomes plain lame Bill Mitchell
Deutschland erzielt weltgrößten Bilanz-Überschuss Deutsche Wirtschafts Nachrichten See Google Translate: Germany achieves world's largest balance sheet surplus (AFXH). Not good, as any student of Keynes would tell you, and worse, Germany thinks this is great.
Syraqistan
The Balfour Declaration at 100: Remembering Its Prophetic Jewish Critics Washington Report on Middle Eastern Affairs (Judy B). From last year, still germane.

Syria Kurds vow to cleanse enclave from Turkish 'scourges' Middle East Online (resilc)
Imperial Collapse Watch
'We're Killing These Kids, We're Breaking the Army!' American Conservative (Chuck L)

U.S. Navy Filing Homicide Charges Against 5 Officers After Ship Collisions Bloomberg
Big Brother is Watching You Watch
Your Chromecast Or Google Home Might Be Screwing Up Your Wi-Fi Gizmodo (Kevin W)
Trump Transition
Democrats in Disarray
DNC overhaul struggles as Sanders-Clinton rivalries persist Politico. UserFriendly: "​How about 'failed horribly'.​"

Audacity Of Chelsea Manning's Senate Campaign Rankles Democrats ShadowProof (UserFriendly). Yes, how dare just anyone run?

Dems search for winning playbook The Hill. UserFriendly; "Kill me."
Los Angeles schemes to sue major oil companies over climate change. Grist
When sexual assault victims speak out, their institutions often betray them The Conversation (Nikki)
Fake News
YouTube Subjecting All 'Preferred' Content to Human Review Wall Street Journal
BP To Take Final Hit On 2010 Disaster OilPrice
This is What Happened to Sales & Prices of Manhattan Office Buildings as Chinese Buyers are Suddenly "Absent" Wolf Street (EM)
Brown goes to court to finish pension reforms Calpensions
Further notes on visiting Herbalife clubs in Queens John Hempton
Larry Fink's Warning to CEOs Rings Hollow Matt Levine, Bloomberg
That time when American banks basically existed to fund the government FT Alphaville
Class Warfare
Economists of the World, Unite! Democracy Journal. UserFriendly: "​Interesting VERY long history.​"

How America's 'childcare deserts' are driving women out of the workforce Guardian. And per our weekend post, the cause is not enough cheap workers.

The Real Reason Your Downtown Died Strong Towns (Darius)
Higher Education Is Drowning in BS The Chronicle of Higher Education (Alison). An excellent rant.
Antidote du jour. Boy, this bird is intense! Also handsome. MGL:
This is a white-capped mollymawk albatross. One of many we saw when doing a 2.5 hour wildlife tour (no 3 hour tours there!) just off Stewart Island, NZ in December 2017. I'd never seen so many albatross in one place; probably up to 20 at one point. They were attracted to nearby fishermen in a skiff not far away. They seemed to think our boat might also offer similar goodies.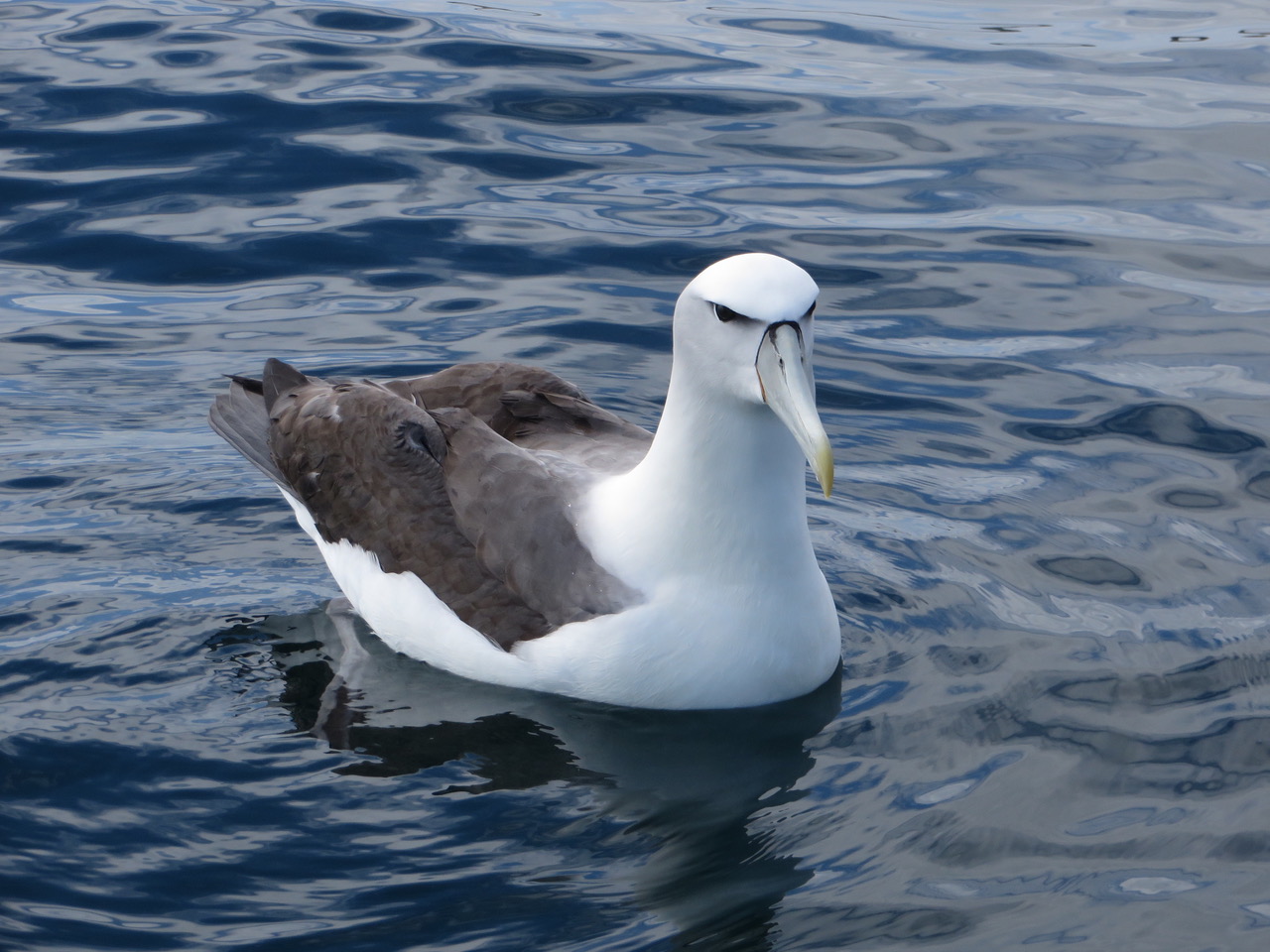 I mentioned how Abyssians (which have ticked fur but tabby markings only on their faces) were bred from tabbies. My first Aby could never have been a show cat because he had tabby rings on the end of his tail and his back legs.
This picture is a perfect example of tabbies with almost-all-the-way-to-Aby-typed ticked fur. From Tracie H: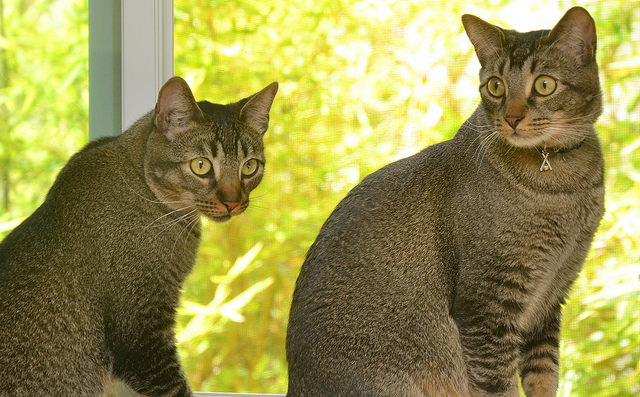 The "ticked tabbies", Jeremiah (AKA Je-reeen or Je-chan) and Salty (AKA Sea Salt or Cho-chiri or Cho-chan), love sitting at the "Bamboo window".
See yesterday's Links and Antidote du Jour here.