Yves here. While this is a reader pet peeve, horse dumps are a bona fide issue in American cities. And aside from the aesthetic and potential health cost of horse dumps, it's also a potential resource being squandered. The soil in Birmingham, Alabama isn't all that hot; it's red from iron deposits. Every year, my father would collect a load of "zoo doo" from the Birmingham Zoo to use in his vegetable garden.
By Stephen T. Ziliak, Professor of Economics at Roosevelt University and lead author of the critically acclaimed book, The Cult of Statistical Significance. His popular essay on "Haiku Economics" was featured in Who Reads Poetry: 50 Views from Poetry Magazine (University of Chicago Press, 2017; eds. Fred Sasaki and Don Share)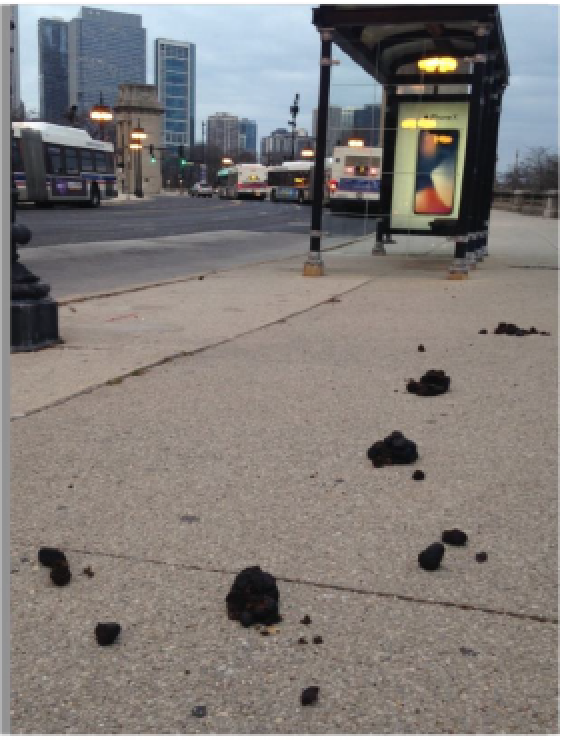 Bus stop near Michigan Ave and Congress
We've heard a lot about Goop in the Loop—Gwyneth Paltrow's controversial "lifestyle" pop up here in Chicago. But is anyone curious about those big piles of "poop" in the Loop? Poop in Chicago, period, it's popping up everywhere.
I've gathered some samples in an ethnographic vein. For the past few weeks, during afternoon walks, I've employed my (ahem) iPhone 5 to photograph the fresh and ancient piles. (I couldn't help it: no joke, the shit is everywhere.) The photos included here are a representative selection from over a hundred I've taken in the South Loop and Grant Park area.
So far as one can surmise, most of the piles have not been squeezed out by runaway horses or John Wayne's men. The Dave Matthews Band is, this time, seemingly innocent. No, this poop comes primarily from Chicago's police horses – sitting, rotting, infecting and spreading for up to weeks at a time. Even Rahm Emmanuel – the city's mayor – and Chief of Police Eddie Johnson will have to admit: that's real horseshit.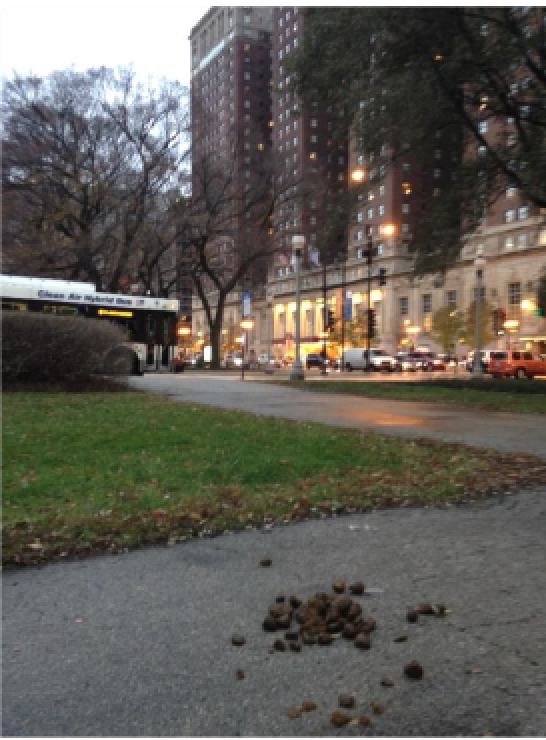 Spirit Garden, Michigan Avenue
Regardless, why is there so much poop on the sidewalks of Chicago? Or
New York
, or
San Francisco
, or other big city?
An economist would say that since there is no price assigned to horse poop it (the economic "bad") is oversupplied. People (police, in this case) behave as if there is zero price – zero cost – to their action. Thus the traffic jam which occurs when drivers gooseneck. (You really should stop.) Thus "Bubbly creek" in the Chicago River (ditto). Thus racism and sexism in the workplace (ditto). Thus texting while driving (ditto). Thus poop in the Loop, a tragedy of the commons. In common vernacular, it's called "dumping" and "running".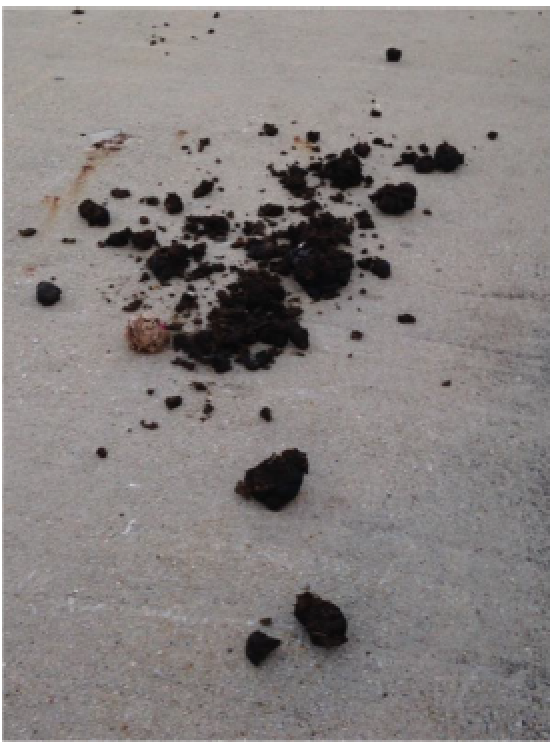 Still life with fast food bag on a Chicago Bears game day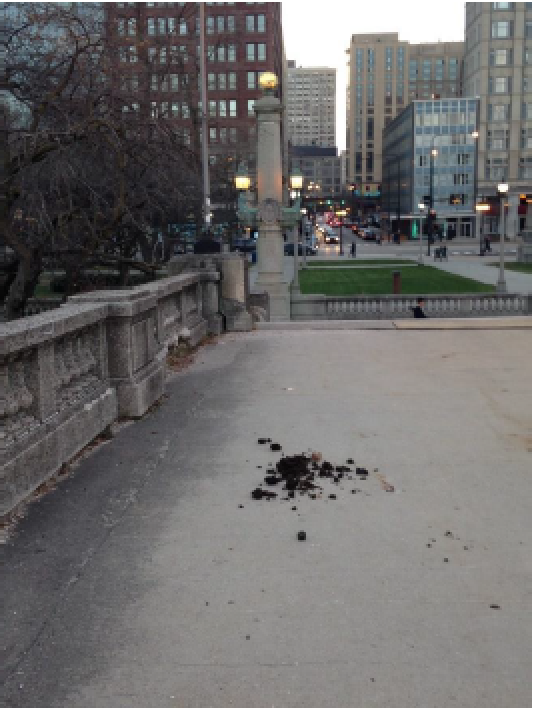 View of pedestrian bridge near Michigan Avenue and Balbo
Our city is now a canvas, the aesthetic surface, of dump and run. Some areas, such as the sidewalks around Michigan Avenue and Balbo, are literally painted with poop.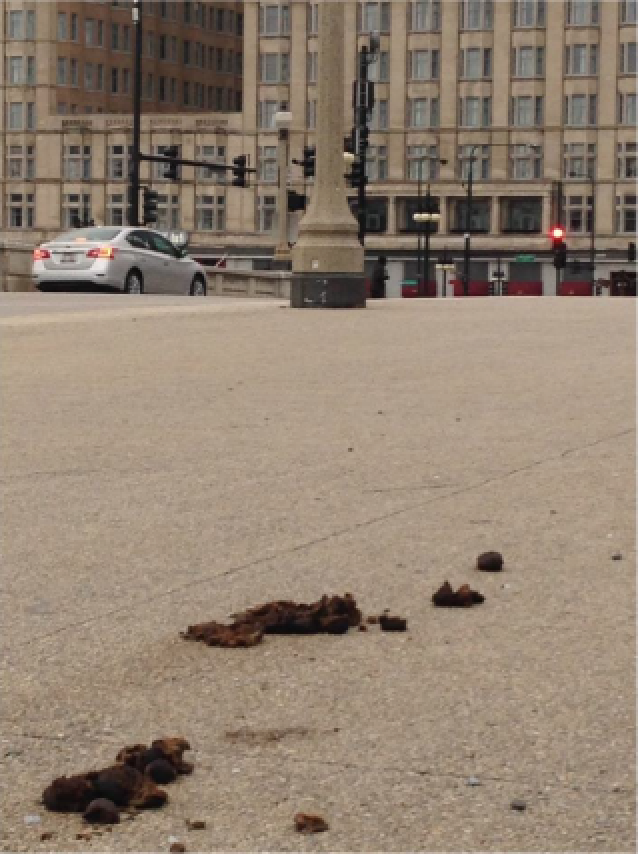 Congress Parkway pedestrian bridge, near Michigan Avenue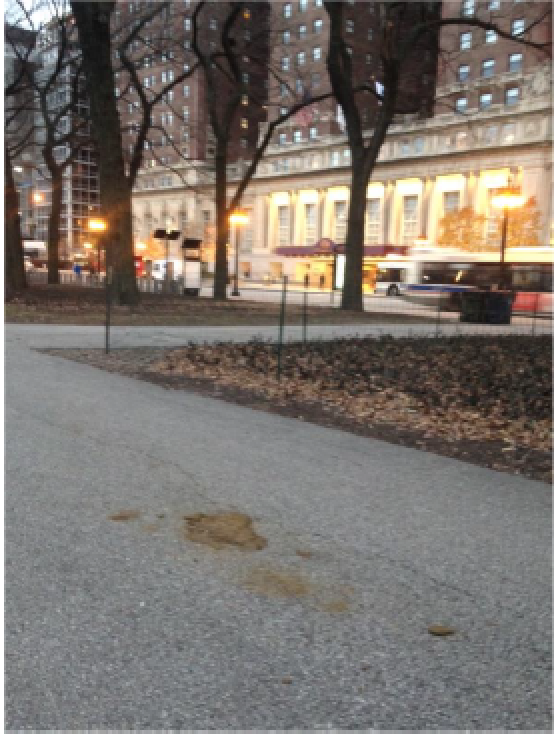 Same vintage, all spread out, one week later
Big mistake, though the biggest costs are often unseen. According to The Practical Horseman, a professional's magazine and official education partner to the U.S. Equestrian Federation, best practice horse manure management is essential. Hazards of unmanaged horse manure include:
 Spread of parasites and worms Manure often contains the eggs of roundworms and other internal parasites. These in turn can contaminate water, soil, and other animals.
 Dinner invitation to rats and other pests "Manure piles are prime breeding grounds for stable flies, face flies, houseflies and several other types. They can also become cozy burrowing sites for rats" (a major problem already).
 Damage to local soil and water quality Leeching. Nuf said.
 Damage to aesthetics, property, and society "The sight of a manure pile won't do much for your property value or your relations with neighbors, and neither will the smell. A typical pile produces nasty byproducts like methane gas as the manure slowly molders inside it."
Not to mention its spread by shoes, hands, strollers, and bicycle wheels. "Unless it's properly managed, horse manure can pose risks to the environment and to health," writes Carrie Swanson, coauthor of a technical paper on "Horse Manure Management"
What to do? As my late college mentor Roy Gardner and Indiana University coauthors James Walker and Elinor Ostrom (who won the Nobel Prize in Economics for her work on the commons) have shown, "While the tragedy of the commons is real, there are many instances where institutions develop to protect against overexploitation." Sadly in Chicago and in most big cities Ostrom's, Gardner's, and Walker's "voluntary, self-governed commons" – an institutional mix of self-imposed rewards and punishments – is scarcely visible on the horizon.
An expensive and uncertain solution would be to install tax-financed "horse porta-potties", one every third block, say. Like we had in the 19th century, only with a lot more cigar butts.
The manure, assuming it is actually deposited in the potty and is not diseased, could be stockpiled for composting. Trouble is, the typical 1,000 pound horse produces some 50 pounds of manure per day. (Per day, I repeat.) For one horse, according to Swanson's data, that adds up to more than 8.5 tons of poop per year. Chicago employs horses daily by the dozens. That's a lot of Sunday funny pages to read, not to mention porta-potties to build and maintain.
Meantime, on these same city streets, unscooped dog poop can fetch a $50.00 fine for each offense (compare at $250.00 in New York City and $320.00 in San Francisco: just saying Chicago.)
Luxe – an apartment building in Chicago's fashionable West Loop – has found a fairly cheap and accurate solution for tracking unmanaged dog poop on Luxe property. At move-in time resident dogs are given a DNA "cheek swab"; essentially, a quick Q-tip in the mouth. Unmanaged dog poop can then be matched to the doggy's owner.
A cheaper solution yet – though possibly subject to cheating by district line hopping – would be to assess progressive fines on officers who dump and run from unmanaged poop, whether on or off duty. Still, even that solution requires a clean-up method, such as City Hall hiring a full time pooper scooper. (Not a bad idea.
Finally, who wouldn't love to see horses wearing cute little horsie diapers? Pink pony, Superman, perhaps a portrait of the man-child as a young golfer. (Not so cute.)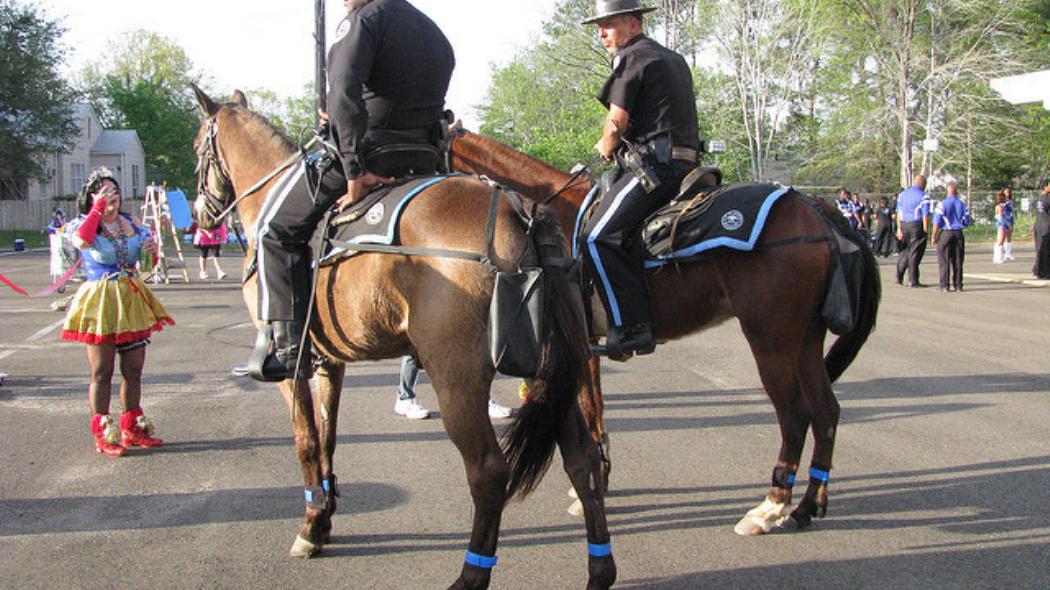 It's changing-time, regardless. Over two years ago, a local resident's video was broadcast by CBS Local. The video shows Chicago police officers at Jackson Park, shoveling manure from the back of a trailer and tossing it onto a random patch of grass, close to the street curb.
Among other negatives are spoiled views and photographs of what is arguably the greatest skyline in the nation. "Look, Mom: That's Millennium Park, that's the Art Institute, and this is a great big pile of poop."
Parading police around the city on horseback appears at the end of the day to be purely symbolic, an example of what Thorstein Veblen, author of The Theory of the Leisure Class (1899), called "invidious distinction" or (literally in this case) "conspicuous waste." A pointless exercise of power. On top of gross and dangerous and inefficient, all this poop in the Loop is plain dumb. Still, ironically, to get to the right solution we'll have to start by giving a poop.