It's 6 degrees now, and it's supposed to be 50 degrees Friday, so enjoy the respite from the winter chill and get some good conversation and grog, if you are so inclined, by coming out to join our meetup. Michael Hudson has said he plans to swing by (he usually makes his appearances on the early side).
So if you will be in the New York metro area, be sure visit our meetup this Friday.
Details:
Friday January 12, 2018
5:00 PM to 8:00 PM
Slàinte Bar and Lounge
304 Bowery (between Bleecker and Houston)
New York, NY 10012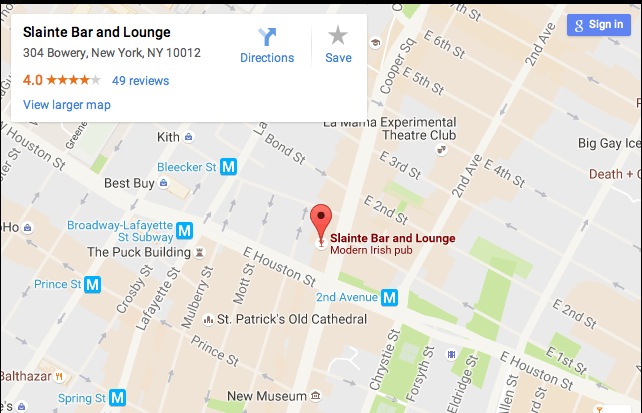 We have the back room and nearby tables, so tell the manager you are with the Naked Capitalism group. We also typically run much later than 8 PM, so don't hesitate to drop by!
As you can see, it's near stations for the B, D, F, and M, as well as the 6, so it's reasonably accessible.
Readers enjoy the lively chats and getting to know each other, so I hope you can find the time to join us.
Although I don't have dates set, I am planning first-time meetups in Florida, Portland (OR and probably Maine too), Seattle and Minneapolis sometime this year, will likely revisit some of our other ports of call too.
See you soon!