Lambert here: A nice companion to the pipeline post immediately below.
By Wolf Richter, a San Francisco based executive, entrepreneur, start up specialist, and author, with extensive international work experience. Originally published at Wolf Street
Even China is Buying U.S. LNG
In 2017, the US became a net exporter of natural gas for the first time. It started small in February, when the US exported 1 billion cubic feet more than it imported. By October, the last month for which data from the Energy Department's EIA is available, net exports surged to 45 billion cubic feet. For the first 10 months of 2017, the US exported 86 billion cubic feet more than it imported. And this is just the beginning.
Exports to Mexico via pipeline have been rising for years as more pipelines have entered service and as Mexican power generators are switching from burning oil that could be sold in the global markets to burning cheap US natural gas. The US imports no natural gas from Mexico.
Imports from and exports to Canada have both declined since 2007, with the US continuing to import more natural gas from Canada than it exports to Canada.
What is new is the surging export of liquefied natural gas (LNG) by sea to other parts of the world.
This chart shows net imports (imports minus exports) of US natural gas. Negative "net imports" (red) mean that the US exports more than it imports: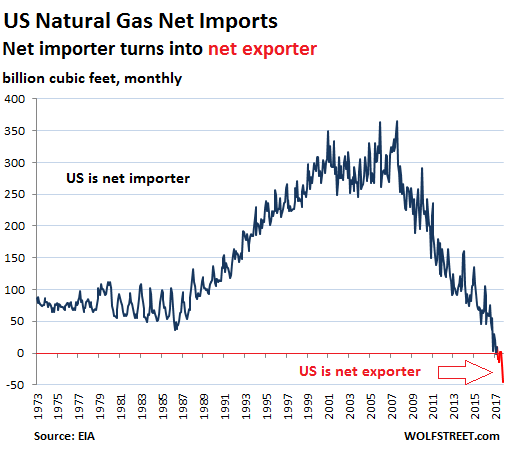 The first major LNG export terminal in the Lower 48 – Cheniere Energy's Sabine Pass terminal in Cameron Parish, Louisiana – began commercial deliveries in early 2016 when the liquefaction unit "Train 1" entered service. Trains 2 and 3 followed. The three trains have a capacity of just over 2 billion cubic feet per day (Bcf/d). In October 2017, the company announced that Train 4, with a capacity of 0.7 Bcf/d, was substantially completed and is likely to begin commercial deliveries in March 2018. Train 5 is under construction and is expected to be completed in August 2019. The company is now lining up contracts and financing for Train 6. All six trains combined will have a capacity of 4.2 Bcf/d.
This is just the Sabine Pass export terminal. In addition, there are five other LNG export terminals under construction, according to the Federal Energy Regulatory Commission (FERC), with a combined capacity of 7.5 Bcf/d. This brings total LNG export capacity to over 11 Bcf/d over the next few years and will make the US the third largest LNG exporter globally, behind Australia and Qatar.
In addition, there are several other export terminals that FERC has approved but construction has not yet started. And other projects are in the works but have not yet been approved.
According to the Institute of Energy Research, global LNG demand is currently around 37 Bcf per day. This is expected to grow substantially as China is shifting part of its power generation capacity from coal to natural gas. And US LNG exports to China have surged from nothing two years ago to 25.6 billion cubic feet in October (for the month, not per day):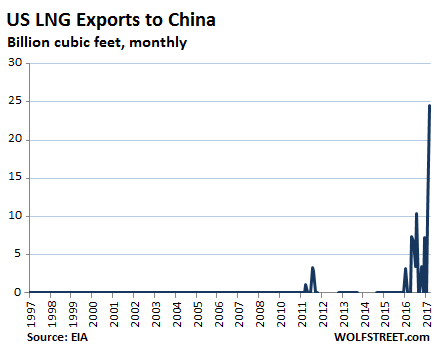 US natural gas production has been booming since 2009 as fracking in prolific shale plays took off, and the price has collapsed – it currently is below $3 per million British thermal units (mmBtu) at the NYMEX, despite tthe majestic cold wave that is gripping a big part of the country.
Exporting large quantities of LNG is a momentous shift for the US because it connects previously landlocked US production to the rest of the world. Unlike oil, the US natural gas market has largely been isolated from global pricing.
This caused some immense price differences between the US market — where a gas "glut" crushed prices, pushing them from time to time even below $2/mmBtu — and, for example, the Japanese LNG import market, with prices that were in the $16-$17/mmBtu range in 2013 and 2014. Even the average spot price contracted in November 2017, the most recent data made available by the Ministry of Economy, Trade and Industry, was $9/mmBtu. US LNG exporters hope to arbitrage these price differentials.
Meanwhile, US producers are hoping that this overseas demand will mop up the glut in the US and allow them to finally boost prices, including the prices LNG exporters pay. But funding continues pouring into the oil and gas sector to pump up production, and prices have remained low, and drillers continue to bleed.
And there are already global consequences – including in Europe, where large regions, including Germany, increasingly depend on natural gas from Russia as production in Europe is declining. The new competition from the US – though it really hasn't started in earnest yet since most of US LNG goes to places other than Europe at the moment – is already reverberating through the Europe-Russia natural gas trade. Read… Russia's grip on European gas markets is tightening