By Lambert Strether of Corrente.
Trade
"Trump offered the idea of imposing a 'reciprocal tax' on U.S. imports on Monday that economists warn would only serve to drive up prices for American consumers — and that the White House later seemed to walk back" [Politico]. "'There is nothing formal in the works right now,' a senior administration official said. 'He was simply reiterating the same sentiments he's been saying about reciprocal trade for years.'"
Politics
2020
"Bernie Sanders returns to Iowa Feb. 23 for rally with Pete D'Alessandro" [Des Moines Register]. "D'Alessandro is one of six Democrats vying to challenge Republican incumbent U.S. Rep. David Young in Iowa's 3rd District."

"Hear John Delaney's early pitch to Iowa Democrats" [Bleeding Heartland]. Delaney: "Wouldn't it be amazing if the next president said, 'I'm actually going to focus on the things we agree on.' Right? And get some of those things done. And then we could start working on some of the harder things, like how we take 60 percent of this country, that has been hollowed out by [economic] changes, and do the kind of things to make sure capital–private capital and public capital&–will flow to these communities."
2018
"Can the Economy Stop a Democratic Wave?" [Charles Cook, Cook Political Report]. "Private polling from both parties shows some pretty grisly numbers in individual states and districts. Democratic candidate recruiting in House races is going spectacularly well—in fact, some worry it's gone too well, with too many contested primaries. Fundraising for Democratic challengers is going very well (and you should ignore Democratic National Committee and Republican National Committee fundraising numbers, which are some of the most irrelevant midterm indicators in all of American politics). All of these signs support the very clear historic pattern of midterm-election losses for the party in power. A disclaimer is necessary at this point: The election is 271 days away, so things can certainly change, but that is precisely the point—things would have to change for the GOP to hang on to their majority. As of now, I'd put the odds of Democrats winning a House majority at about 60 percent, and winning the Senate a much lower 25 to 35 percent… So short of a seismic event like another 9/11, what could deter a Democratic wave? I keep coming back to the economy: Does the economy continue to grow and at some point, might Trump begin to get more credit for that than he does now? Does he become less of a liability for Republicans?"

"A leading Democratic group [SuperPAC]— Priorities USA — is warning party leaders they could squander a strong political climate in 2018 if they don't start to emphasize pocketbook issues over loose and unfocused critiques of Donald Trump" [McClatchy]. "The memo says that a broad range of metrics show the political climate is still favorable for Democrats. But it also makes an unambiguous diagnosis for Trump's recent rise: Democrats this year have stopped focusing on economic and health care issues, topics that demonstrably hurt his approval during his first year in office." Unfortunately, liberal Democrats don't have a good message on either economics or health care, which is why the Russia hysteria, the drumbeat of moral panics, etc.

Pennsylvania: "Democratic Gov. Tom Wolf will not submit a new Republican-drawn map of Pennsylvania's congressional districts to the state's high court, saying Tuesday that it uses the same unconstitutionally partisan tactics as the 6-year-old boundaries struck down in a gerrymandering case" [San Francisco Chronicle]. "Redrawing the map of Pennsylvania districts could boost Democrats nationally in their quest to take control of the U.S. House, and leaves district boundaries up in the air barely three months before May's primary election."
Obama Legacy
Not tan:

Introducing the new line: Barry, by Tommy Bahama pic.twitter.com/wbs4fn8Pt7

— Lachlan Markay (@lachlan) February 12, 2018
New Cold War
"Former Senior FBI Official Is Leading BuzzFeed's Effort to Verify Trump Dossier" [Foreign Policy]. The merger of the press and the intelligence community is certainly a healthy sign for democracy.

"Trump budget anticipates Mueller investigation will stretch into fiscal year 2019" [Politico].

"Deep State agent amused and annoyed by your conspiracy theories" [Duffel Blog]. "Luckily for the American people, the puppet-masters of the US government can't make a move without you thwarting them via social media. If not for you, we'd already be living in the future liberals want: everyone reduced to a number, mindlessly watching Netflix and ordering on Amazon, and ruled by laws that don't affect the elites that made them, all while non-compliant citizens are sent to internment camps." Um…
Realignment and Legitimacy
"RFK's visit to Appalachia, 50 years later: How Kennedy country became Trump country" [USA Today]. "In two days, Kennedy traveled 200 miles, often over poorly paved, curving mountain roads, visiting places with names like Pippa Passes and Neon that had seldom seen anyone half as famous…. To displaced miners, Kennedy promised help, with this caveat: 'What can be done to end welfare in the region, and replace it with jobs? … Welfare is no answer. Jobs is the answer.' But 50 years later, with eastern Kentucky a virtual welfare reservation, Trump's promise to bring back coal was really an offer of something even more important: self-sufficiency and self-respect."

Moderate Republican now a Democrat organizer:

I'd always considered myself a moderate Republican. My ideology hasn't changed but as the @GOP left the middle and went running to the far right the Democrats came in and filled the void. The Republicans are so far gone that now I am a Democrat party organizer. #WhyILeftTheGOP

— B. K. Reimers (@ReimersBK) February 12, 2018

Blue Dogs:

73 of the 193 House Democrats aren't cosponsoring H.R. 676, (#MedicareForAll). pic.twitter.com/JjSQmF0crh

— Rob (@philosophrob) February 8, 2018

More like this please:

WATCH: WV Dem candidate forcibly removed from public hearing after listing lawmakers with ties to oil industry https://t.co/0adrtnwXNR pic.twitter.com/r36Juircws

— The Hill (@thehill) February 13, 2018

"Sports Illustrated's #MeToo Swimsuit Issue is All About Ideology" [RealClearLife]. "It is, therefore, a bit ironic that this Swimsuit Issue will feature women with slogans of the day written all over their bodies, objectified into living slates or billboards." But if the message is correct? And what is the message?

"The Deficit Hawks Have It Wrong" [Robert Kuttner, The American Prospect]. " if they do take back control of the Congress, the last thing Democrats should do is emulate the austerity policies of Clinton and Obama. Instead: cut back military spending and tax breaks for the rich, spend the money on public investments, and appoint a Fed chair in the spirit of Janet Yellen. The stock market will take care of itself. Ditto the deficit." And see MMT below.

"Americans! Is your state attorney general secretly letting donors shape laws?" [Quartz]. ""The Briefing Room" is a file-sharing network and online bulletin board hosted by Box, a Redwood City, California-based cloud-content website that claims 41 million users. The policy arm of the Republican Attorneys General Association (RAGA), which tries to get Republicans elected as state attorneys general, has been using the board to allow donors to review and comment on laws before they are passed, according to Intercept and Maplight's investigation. A contribution of at least $25,000 gives donors "posting access" to the online board, RAGA membership documents show."

"Talk is cheap: the myth of the focus group" [Guardian]. An interesting long-read.
Stats Watch
NFIB Small Business Optimism Index, January 2018: "Leading the monthly index higher to beat consensus estimates was a 5-point gain to a net 32 percent in the view that now is a good time to expand, the highest level for this component in the history of the NFIB survey" [Econoday]. "Expectations that the economy will improve rose 4 points to 41 and plans to increase inventories also rose 4 points to 3. Current job openings rose 3 points to 34, as more than a third of small business owners reported job openings they could not fill. Rounding out the gainers were capital outlays, which rose 2 points to 29." And: "The new tax law, the Tax Cuts and Jobs Act, produced the most recent boost to small business optimism. And federal government related cost pressures continue to abate, offering a more supportive business climate for small firms. Consumer spending remains supportive, and business spending and housing remain strong" [Econintersect]. And: "Usually small business owners complain about taxes and regulations. However, during the recession, "poor sales" was the top problem" [Calculated Risk]. And then there's this:
A record number of U.S. small business owners say now is a good time to expand.

Incredible chart. Just absolutely skyrocketed once Trump was elected. https://t.co/7XW1xVBWul pic.twitter.com/OUioXbr9AP

— Joe Weisenthal (@TheStalwart) February 13, 2018
This is the chart: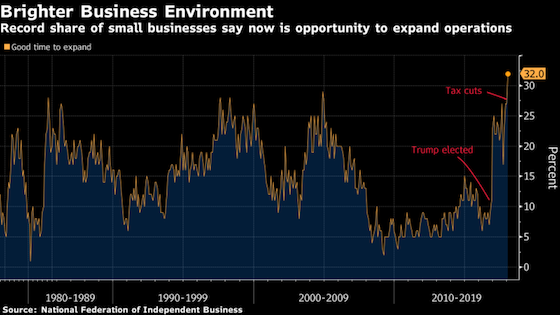 I wonder if a chart of opinion by those who participate in purchasing manager surveys (for example) would look the same.
GDP: "While the annual deficit to gdp ratio is higher than the last two cycles, it's been looking to me that the 'neutral' deficit to gdp ratio has been going up as well. This is likely because the unspent income (pension fund and other retirement accounts, corporate reserves including insurance reserves, cash in circulation, $US foreign central bank holdings and other non resident 'savings', etc.) is growing at ever higher rates, while private sector deficit spending has been subdued. Consequently, even with what may seem to be what historically has been a sufficiently high Federal deficit, GDP can retreat" [Mosler Economics].
Employment Situation: "[T]he rate at which unemployed Americans receive layoff compensation overall has fallen from about 36 percent in 2007 to about 28 percent in 2017, according to data from The Department of Labor. Wayne Vroman, an associate with the Urban Institute, said a big reason for the decline is that states are finding ways to kick unemployed people off benefits after they've already been deemed eligible" [HuffPo]. "States are still smarting from the Great Recession. At the beginning of last year, only 21 state trust funds had achieved what the Labor Department considers a minimum level of solvency. If they can't catch up before layoffs hit, there will be political pressure to follow the new path that other states have taken to reduce benefits…. It's an old pattern. After the recession of the early 1980s, changes in state benefits helped reduce the proportion of unemployed workers receiving compensation from 50 percent in 1980 to 37 percent in 1990."
Debt: "The warning signs in consumer credit data" [The American Banker]. "Still, there are reasons to be concerned about rising debt levels. The personal savings rate hit a 12-year low at the end of 2017, which means that many households likely do not have enough of a financial cushion to weather sudden economic shocks, like a major medical bill or a busted refrigerator. Delinquencies on all types of consumer loans, while nowhere near 2009 and 2010 levels, have started to tick up in recent quarters. Factor in slow wage growth and high housing costs in many urban markets and it is not hard to imagine many households struggling to keep pace with their monthly bills." And all the goods are coming East in containers on the assumption that "consumers" with depleted savings and high debt will keep buying. Maybe they will.
Housing: "Robust D.C. Home Prices All About Federal Power, Power, Power" [RealClearInvestigations]. "The beauty of buying residential real estate in Washington, D.C., is that the town is largely recession-proof. Washington is insulated from the "real" economy by your tax dollars and the permanent presence of millions of bureaucrats, contractors, lobbyists, military personnel, journalists, academics, service workers and others whose livelihoods are tied to the world's most powerful government, not to mention thousands of well-paid diplomats and official at high-powered institutions such as the World Bank. As a result, values in both luxury homes and the broader market tend to hold their ground and appreciate in value over time – providing a less obvious leg up in life's most important personal investment to those within the federal government's orbit. If you're one of the lucky ones, think of the high-end D.C. market as a casino where over time the house pretty much always wins – your house."
Commodities: "World's largest gold project just got even bigger" [Mining.com]. "The updated resource assessment shows estimated inferred gold resources have increased 302% to 20 million ounces. Estimated inferred copper resources, in turn, have grown 379% to 8.6 billion pounds."
Shipping: "Shipping first as commercial tanker crosses Arctic sea route in winter" [Guardian]. "While polar conditions remain tough, the trend creates market opportunities. The northern sea route is shorter than alternatives through the Suez Canal for many trade links between Europe and Asia." Tankers in the Arctic… What could go wrong?
The Bezzle: "John Bray: Agents use sunk-cost psychology to encourage bribery" [FCPA Blog]. "In her summary, Justice Adamson commented on the process by which the Jousif and Al Zubaidi had persuaded the Elomars to pay the bribe. They had already invested 'psychologically and financially' in Iraq before the demand came. Arguably, they were susceptible to the sunk costs fallacy – 'the more you invest in something the harder it becomes to abandon it.' However, she did not think this was a mitigating factor. The Elomars were seasoned businessmen who 'calculated the risk and decided to send the money.' She added, 'It was their greed which motivated them to do so.'"
The Bezzle: "Online furniture pioneer Wayfair Inc. proved it can solve a logistics challenge, but doing it profitably is another matter" [Wall Street Journal]. "The company's rapid growth has made it an icon in e-commerce logistics, with its in-house logistics network to manage delivery of bulky, heavy furniture to consumers helping the company pile up some $4.3 billion in sales in the past four quarters…. One study found Wayfair spends about $69 to acquire each new customer, but only gets $59 back from each acquisition. The weak brand loyalty may be tied to its lack of stores, which it must make up for with a big advertising budget, and that leaves the business vulnerable as online laggards get their web presence up to speed." Blue Apron has the same problem with customer acquisition and retention.
The Bezzle: This is an important thread; Bray is a well-respected old-timer:
1/ Suffering from disorientation and cognitive dissonance around blockchain and Bitcoin. It's time to stop the craziness.

— Tim Bray (@timbray) February 12, 2018
Mr. Market: "A Stock Market Primer, in Six Easy Steps" [Counterpunch]. "This bubble is a cloistered biosphere of Teslas and beach houses, of con artists, kleptocrats, and financial sorcerers." Fun stuff!
Infrastructure: "'The Trump administration unveiled its long-awaited plan to revitalize the country's infrastructure, and its 53-page proposal amounted to little more than "a Hollywood facade,' Schumer said from the Senate floor on Monday" [Politico]. "Schumer blasted the proposal in particular for leaving out any 'Buy America' proposals, an initiative aimed at using more American labor and materials in infrastructure projects that Democrats widely support and that Trump has championed. The top Senate Democrat went on to call on members of both parties in Congress 'to sort of ignore' the White House's infrastructure request, saying Trump was 'way off base on this.'…. Some conservative Republicans are already expressing shock at Trump's total price tag, while Democrats say the share coming from the federal government would be too little to fill the backlog of crumbling roads, bridges, railroads, tunnels and airports, along with other needs like rural broadband service."
Infrastructure: "Tennessee Republican Gov. Bill Haslam said Washington needs to replenish the Highway Trust Fund, which provides most federal transportation funding to the states. Several transportation groups are dubious about the plan. Waterways operators say it would hand them a tab for running inland navigations systems that far exceeds their trust fund. And American Trucking Associations' chief Chris Spear says it falls short of the president's campaign promise 'to go big and bold'" [Wall Street Journal].
Infrastructure: "The White House's more nuanced approach is not intended as a massive 'stimulus' program, which is not what America needs. What we do need is much better targeting of investment to infrastructure projects that deliver better value for money" [Reason]. "Both the Incentives Initiative and the Transformative Projects Program are aimed at this kind of project. And the former, in particular, is aimed at expanding the use of long-term public-private partnerships (P3s), for which hundreds of billions in private equity capital is interested and available. This money resides in for-profit infrastructure investment funds and in nonprofit public employee pension funds. Both are already investing in P3 infrastructure in Europe, Latin America, and the Asia/Pacific region, but very little here in the land of free enterprise. What they lack is a 'pipeline of P3 projects.' To the extent that states are unwilling to provide 80% of the funding for major infrastructure improvements, they will be motivated to offer such projects as long-term P3s—as pioneer states such as Colorado, Florida, Indiana, Texas, and Virginia have been doing." Oh, great. Private equity putting up a toll-both everytime you turn around. Value for money indeed!
Tech: "How Apple Plans to Root Out Bugs, Revamp iPhone Software" [Bloomberg]. "Apple Inc. concluded it needed its own major upgrade in the way the company develops and introduces new products. Instead of keeping engineers on a relentless annual schedule and cramming features into a single update, Apple will start focusing on the next two years of updates for its iPhone and iPad operating system, according to people familiar with the change. The company will continue to update its software annually, but internally engineers will have more discretion to push back features that aren't as polished to the following year."
Tech: "Facebook Sees Its Gen Z Audience Slipping Away to Snapchat" [AdAge]. "Facebook is not just losing its audience, it's losing its youth. The social network is expected to shed 18-to-24-year-old users this year for the first time, according to a new report from eMarketer, which predicts a 5.6 decline for the age group on Facebook. The analytics and data firm had already predicted a decline in usage of kids younger than 18, but now sees that exodus widening." The harder they come…
Five Horsemen: "All five Horsemen are outperforming the S&P 500 again as last-place Apple rallies" [Hat Tip, Jim Haygood].
Today's Fear & Greed Index: 12 Extreme Fear (previous close: 10, Extreme Fear) [CNN]. One week ago: 17 (Extreme Fear). (0 is Extreme Fear; 100 is Extreme Greed. Last updated Feb 11 at 7:00pm. Still lagged, WTF!!
MMT
"Warren Mosler, Connecticut's Independent candidate for U.S. Senate today announced that it is an indisputable fact that U.S. Government spending is not operationally constrained by revenue and will give $100 million of his own money to pay down the Federal deficit if any Congressman or Senator can prove him wrong" [Mosler Economics]. I checked with Mosler. The offer is still good. Bring it on!
"Shelling Out: The Origins of Money" [Nick Szabo]. "The precursors of money, along with language, enabled early modern humans to solve problemsof cooperation that other animals cannot – including problems of reciprocal altruism, kin altruism,and the mitigation of aggression. These precursors shared with non-fiat currencies very specific characteristics – they were not merely symbolic or decorative objects." Very interesting!
"The Full Employment Solution" [Mark Paul, William Darity Jr., and Darrick Hamilton, The American Prospect]. "What the nation needs is federal legislation that would guarantee employment to every American at non-poverty wages. Similar legislation to what we envision has already been introduced to Congress (H.R. 1000, the Jobs for All Act, which has 29 co-sponsors). In our proposal, we would first establish the National Investment Employment Corps (NIEC), a permanent agency to oversee direct employment of all Americans seeking a job. If individuals were unable to find adequate employment in the private sector, they could turn to the government for employment. In return, the government would provide employment at non-poverty wages. The minimum yearly salary would be at least $24,600, with guaranteed benefits as well." Darity, at least, is not a CAP creature.
Our Famously Free Press
"Giant advertiser Unilever threatens to pull its ads from Facebook and Google over 'toxic content'" [Los Angeles Times]. "One of the world's largest advertisers is threatening to pull its ads from social sites such as Facebook and YouTube if the tech companies don't do more to minimize divisive content on their platforms…. 'Fake news, racism, sexism, terrorists spreading messages of hate, toxic content directed at children — parts of the internet we have ended up with is a million miles from where we thought it would take us,' [Unilever's chief marketing officer, Keith Weed] said in a speech at the Interactive Advertising Bureau's Leadership Meeting in Palm Desert. 'It is in the digital media industry's interest to listen and act on this.'" Hopefully, a Sanders 2020 campaign message won't be declared "divisive." Not that our famously free press needed an excuse to censor Sanders in 2016.
"INSIDE THE TWO YEARS THAT SHOOK FACEBOOK—AND THE WORLD" [Wired]. A tick-tock on Facebook's ugly last two years. Nobody talks about breaking Facebook up, oddly.
Water
"When people think of water crises, they tend to think of big cities like Flint, Michigan, or Cape Town, South Africa. These places understandably attract the most attention, because one faulty system in an urban area can affect vast numbers of people at once. But, in reality, most health-based violations of drinking-water standards occur outside of big cities, in places like Martin County: small, poor, out of the way. Of the 5,000 drinking-water systems that racked up health-based violations in 2015, more than 50 percent were systems that serve 500 people or fewer. In those small areas, who is going to raise hell except for the people affected and maybe the local paper?" [The New Republic]. "Put all these systems together, however, and rural America's drinking-water situation constitutes a crisis of a magnitude greater than Flint, or any individual city."
Neoliberal Epidemics
"We know that a low sense of control is highly associated with anxiety, depression, and virtually all mental health problems. Researchers have found that a low sense of control is one of the most stressful things that people can experience" [Scientific American]. "Changes in our culture in the last 10 or 15 years appear to have contributed to an even sharper decline in a sense of control. For one, kids play much less than they did even a decade ago, as their time is taken up by more school hours, more scheduled activities, and more screen time than ever before. Researcher Peter Gray was one of the first to connect fewer opportunities to play to a decline in a sense of control. When kids could spend most of their Saturday playing, they could choose their own games and how to play them. They had a lot more autonomy and a lot more agency than kids do today. A typical Saturday now is often packed with homework and organized sports events." Oddly, the article doesn't mention security culture at all…
News of the Wired
"An effortless way to improve your memory" [BBC]. "When trying to memorise new material, it's easy to assume that the more work you put in, the better you will perform. Yet taking the occasional down time – to do literally nothing – may be exactly what you need. Just dim the lights, sit back, and enjoy 10-15 minutes of quiet contemplation, and you'll find that your memory of the facts you have just learnt is far better than if you had attempted to use that moment more productively." Wait, what?
Here is another example of tech people having no idea what they're really "disrupting":
This robot could be your next doorman https://t.co/y1AeUfGN8n pic.twitter.com/zS1sS5EVtW

— CNN (@CNN) February 13, 2018
Can they really believe that the central functions of the Manhattan door man have anything to do with opening doors?
* * *
Readers, feel free to contact me at lambert [UNDERSCORE] strether [DOT] corrente [AT] yahoo [DOT] com, with (a) links, and even better (b) sources I should curate regularly, (c) how to send me a check if you are allergic to PayPal, and (d) to find out how to send me images of plants. Vegetables are fine! Fungi are deemed to be honorary plants! If you want your handle to appear as a credit, please place it at the start of your mail in parentheses: (thus). Otherwise, I will anonymize by using your initials. See the previous Water Cooler (with plant) here. Today's plant (Annie Spratt):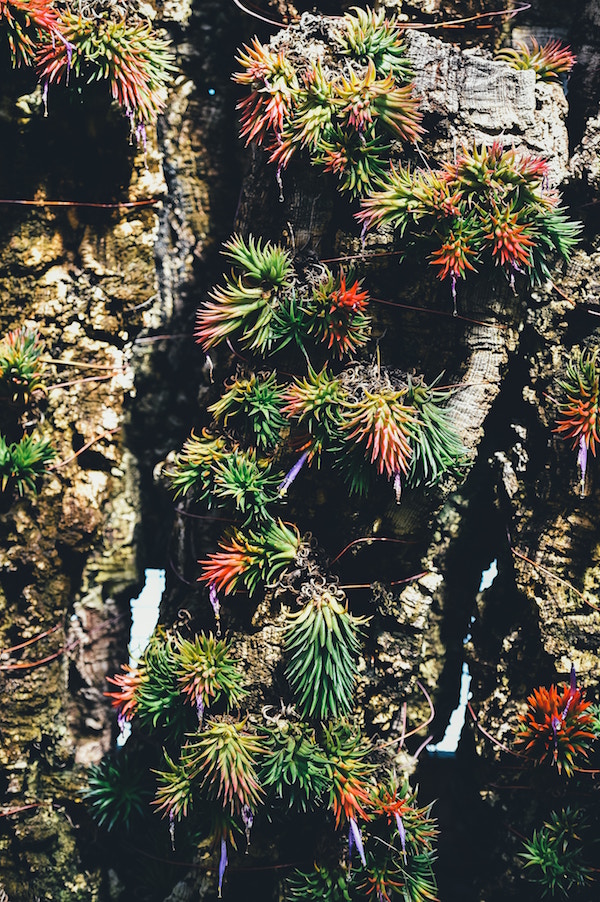 * * *
Readers: Water Cooler is a standalone entity not covered by the NC fundraiser. So do feel free to use the dropdown and click the hat to make a contribution today or any day. Here is why: Regular positive feedback both makes me feel good and lets me know I'm on the right track with coverage. When I get no donations for five or ten days I get worried. More tangibly, a constant trickle of small donations helps me with expenses, and I factor that trickle in when setting fundraising goals. So if you see something you especially appreciate, do feel free to click the hat!