By Lambert Strether of Corrente.
Trade
"President Donald Trump has yet to make any concrete decisions regarding whether to proceed with limiting imports of steel and aluminum for national security reasons — but after a bipartisan, bicameral meeting at the White House on Tuesday with lawmakers and a half-dozen of his top advisers, he's at least well-versed in both sides of the debate" [Politico]. "The hourlong gathering provided an opportunity for 19 lawmakers to sit down with Trump, U.S. Trade Representative Robert Lighthizer, Commerce Secretary Wilbur Ross and others to either urge the administration to move more quickly to restrict imports or to emphasize the need to take a narrow, targeted approach. In one exchange, Sen. Pat Toomey (R-Pa.) pressed Trump to move 'very, very cautiously' and to only go after countries that engage in unfair trading practices. 'That's all countries,' Trump replied."
Politics
2020
"Kirsten Gillibrand Pledges To Stop Accepting Donations From Corporate PACs" [Buzzfeed]. "The New York senator — a national fundraising powerhouse — joins Elizabeth Warren, Bernie Sanders, and Maria Cantwell in pledging to reject corporate PAC money. [Update: Following Gillibrand's announcement, Sen. Cory Booker of New Jersey the same pledge on Wednesday night.]" I'll need receipts, but it's an interesting trend, even if only public relations.
2018
"Republican Women Frustrated by Trump's Approach to Abuse Charges" [RealClearPolitics]. "The Trump White House's handling of abuse charges against men in its midst is frustrating prominent Republican women as the party's yearslong struggle to attract female voters stretches into the 2018 midterm elections…. 'I'm extremely disappointed in this situation. Abuse is never OK,' Sen. Joni Ernst, R-Iowa, said on CNN Tuesday…"

UPDATE "Dems: Bill Clinton too toxic to campaign in midterms" [Politico]. "Clinton's likely absence on the stump this year comes amid major demand for high-profile surrogates this year — from Obama, who's expected make select appearances, to Joe Biden and the full crop of 2020 prospects, who are likely to be all over the place in the thick of election season. Even Hillary Clinton will do some targeted campaigning."

UPDATE The headline: "Somewhere in Between" [The Nation]. Oddly, the deck: "The rise and fall of Clintonism." And the body: "Two new books help fill in the details of the rise and fall of Clintonian economics and politics: Bill Clinton, a short biography by Michael Tomasky, and Shattered, a narrative account of Hillary's 2016 election loss by Jonathan Allen and Amie Parnes. These demonstrate neatly how Clintonism—a politics of triangulation in a neoliberal age—eventually undermined itself." So, people are still reading Shattered (which I recommend). More: "In the context of postwar politics, the upper class accommodated itself to a truce in the class war, for about three decades. But when the system came under strain, the elites launched a renewed class war, leveraging stagflation to destroy and devour the welfare state. Clintonism could work in the early stages of that process, buoyed by the economic bubble of the 1990s. But when the inevitable disaster struck, it would become an anchor around the neck of the Democratic Party—and it remains one to this day."

"While voters bemoan partisanship, most members of Congress have spent their entire lives in one party and see American politics through a partisan lens. They are comfortable with that perspective, and with the personal relationships built with colleagues over the years. This helps explain why members of Congress prefer to stick with their party — and their president" [Stuart Rothenberg, Inside Elections]. "None of this is meant to excuse the deafening silence coming from most House and Senate Republicans at the all-too-frequent lunacy emanating from the White House and from the president's allies. Nor does it alter the political reality that the fine line that some GOP members are trying to walk this midterm year is so narrow and tricky that it is essentially unwalkable." "Lunacy" is a strong word for a handicapper like Rothenberg!

"Romney to announce Senate run on social media: report" [The Hill]. Oh, good.

"Are Democrats Or Republicans Winning The Race For Congress?" [FiveThirtyEight]. Handy updated chart of generic polling.

"2018 Generic Congressional Vote" [RealClearPolitics]. The same.

Iowa:

Pharma's greed has no limits. I'm running to put limits on them. #ia03https://t.co/jtygzct7oi

— Austin Frerick (@AustinFrerick) February 14, 2018
2017
UPDATE "Dems flip seat in Florida state special election" [MSN]. Democrats on Tuesday won yet another special election for a state legislative seat once held by a Republican, this time in a battleground seat south of Tampa, Fla. With all precincts reporting, attorney Margaret Good (D) took 52 percent of the vote, ousting Sarasota real estate agent James Buchanan (R). President Trump carried the state legislative district by a 5-point margin in 2016. It opened when the incumbent Republican quit to spend more time with her family and building her business."
Obama Legacy
Not tan, either:

— Shill Silverstein (@corporatony) February 14, 2018
New Cold War
"On Tuesday, the leaders of the American intelligence community testified to Congress that Russia has already set its sights on this November's midterm elections" [Paul Waldman, The Week]. "Russia may or may not succeed in that kind of hacking again. And it may not succeed in something even worse, hacking election systems; according to the U.S. government, Russia attempted to penetrate the systems of 21 separate states in 2016, and may have succeeded in some places…. At Tuesday's hearing, the intelligence officials that no one in the government is in charge of fighting back against Russian use of propaganda and social media to disrupt our elections." Lambert here: Throwing all the hacking talking points into one bucket, a few comments: Sometimes it's necessary for an imperial hegemon to grow a pair; I suggest this is one such time. One approach would be to give consideration to the idea that our own interference in other countries' elections — Yeltsin's victory in 1996 springs to mind — has induced blowback, a consistent misfeature of our foreign policy. I would also like to have it shown to me that votes were actually flipped because of Russian "meddling;" I haven't seen any reports, and I do try to keep track. We might also note that the scale of the "meddling" is utterly incommensurate with the scale of our electoral sytem. There's also a rich irony in "admitted"; the agenda, to put the intelligence community in charge of our electoral process, seems reasonably clear. Finally, there are a couple of tests of good faith: If you really want to prevent hacking, then secure the entire system with hand-marked paper ballots, hand-counted in public. And if you really care about democratic values, then make voter registration a 24/7/365 core party function (at least, if you're a D- or indeed a democrat).

UPDATE "Twitter deleted 200,000 Russian troll tweets. Read them here" [NBC]. For perspective: "Every second, on average, around 6,000 tweets are tweeted on Twitter, which corresponds to over 350,000 tweets sent per minute, 500 million tweets per day and around 200 billion tweets per year" [David Sayce]. 200000 / 350000. = 0.57. So the Russians tweeted 57% of one minute on Twitter. That doesn't seem like very much
Realignment and Legitimacy
"Black Politics After 2016" [Adolph Reed, Nonsite.org (SS)]. "A year into the Trump presidency and unimpeded Republican control of Congress and of most state governments has confirmed what many on the left have known all along, that the right's agenda is an all-out attack on working people, no matter what their racial and gender classifications and identities or sexual orientations." Important! Well worth it, as anything by Adolph Reed.

Then again:

"I knew that I wasn't a mistake. But I didn't know how to get other people to recognize the validity of my identity." – @AshleeMPreston https://t.co/IacHKZeQNo

— Sara Ramirez (@SaraRamirez) February 8, 2018

"Against Bravery Debates" [Slate Star Codex]. 2013, still relevant: One of the parlor games played in the Vampire Castle.

"Group aims to curb police stops with free brake repair event in DeKalb" [Atlanta Journal-Constitution]. The "group" being DSA.

"'Socialist' Judge, Refusing To Evict Tenants, Rankles City Landlords" [CBS Pittsburgh]. "Recently-elected District Justice Mik Pappas ran on a platform of stemming that tide by making landlords more accountable in court. 'There are good actors on the side of lessors and there are bad actors on the side of lessors, and what I promise to do is give great defense to the rights of all parties involved in each case,' Pappas said. But those lessors, or landlords, are crying foul. They are filing complaints the Court Administrator's Office saying Pappas has come down squarely on the side of the tenants — continuing or postponing cases, not granting evictions, and when he does evict, not requiring the tenant to pay the back rent owed."
Stats Watch
Consumer Price Index, January 2018: "Tangible increases in many basics lead a stronger-than-expected 0.5 percent jump in consumer prices for January" [Econoday]. "The core, which excludes food and energy, confirms the strength, up 0.3 percent which hits Econoday's high estimate. Despite the strength, neither year-on-year rate were able to advance, at 2.1 percent overall and 1.8 percent for the core." 2.1% is not very much; is in fact what the Fed is aiming for, no? More: "Consumer prices are showing what could, in retrospect, be seen as emerging life, early acceleration tied perhaps to the emergence of underlying wage pressures. Today's report is certain to lend itself to anti-inflationary prudence especially among the hawks on the FOMC." And: "Energy price changes remained the driver for inflation. Core inflation remain below 2.0 % year-over-year" [Econintersect]. And: "Using these measures, inflation picked up a little year-over-year in January. Overall, these measures are close, but still mostly below, the Fed's 2% target (Median CPI is slightly above)" [Calculated Risk].
Atlanta Fed Business Inflation Expectations, February 2018: "Inflation expectations among business held at a subdued 2.0 percent year-on-year pace in February. These results, unlike this morning's consumer price report, do not point to the risk of rising inflation" [Econoday].
Retail Sales, January 2018: "Retail sales not only proved very soft in January, but a sharp downward revision to December looks certain to pull down what had been outstanding strength for consumer spending in fourth-quarter GDP" [Econoday]. "The downward revision to December turns what had been a solid holiday shopping season into a so-so season. Control group sales, which are a direct input into GDP, did rise a very strong 1.2 percent in November but are now down 0.2 percent for December with January limping in at no change. After today's report, the consumer sector gets a one-notch downgrade from strong to solid." And: "The increase in January was well below expectations, and sales in November and December were revised down sharply. A disappointing report" [Calculated Risk]. But: "Despite the headlines, this was not a bad report – especially if one considers the rolling averages…. [T]he three month rolling averages of the unadjusted data was little changed" [Econintersect]. "Our analysis says this month's growth was above average for the growth seen in the last 12 months." And: "The long and short of the matter is that at least some of this retail sales report just doesn't feel like it really adds up to what retailers have said through December and January" [247 Wall Street]. Yep.
Business Inventories, December 2017: "Business inventories came in as expected in December, up 0.4 percent with November unrevised and also at 0.4 percent and with October unrevised at no change. December's build was centered among manufacturers where inventories rose 0.5 percent and also wholesalers at 0.4 percent. Retailers held down the total" [Econoday]. "The build in inventories slowed in the fourth quarter and the question now, given the flatness of the retail sector, is how much businesses will need to increase their stocks in the first quarter, an answer that will have direct consequences on the quarter's production and employment."
MBA Mortgage Applications, week of February 9, 2018: "Amid rising interest rates, purchase applications for home mortgages fell by a seasonally adjusted 6.0 percent in the February 9 week. Unadjusted, the year-on-year gain in the volume of purchase applications fell 4.0 percentage points to 4.0 percent" [Econoday].
Commodities: "The supply chain for minerals critical to electric cars begins in Congo but increasingly runs through China. Wholesalers in the central African nation that is the world's biggest producer of cobalt sell most of their products in makeshift markets to Chinese buyers, launching a long journey in which bags of the mineral are shipped to China and processed into lithium-ion batteries for electronics. ….[T]he process is part of a world-wide race to lock up the supply chain for cobalt, and China is far in the lead" [Wall Street Journal]. "The concentration is raising questions about market control and conditions at the mines, where significant production comes from freelance diggers working under grueling circumstances likely to gain more attention as the demand for cobalt grows."
Infrastructure: "Trump's infrastructure plan isn't a plan. It's a fantasy" [Los Angeles Times]. "In fact, cities, counties and states across the country are raising their gas and sales taxes and passing bonds to help tackle the massive backlog of unmet needs. But Measure M [for the LA Metro] and similar efforts are supposed to complement, not replace, federal funding. Without federal money, projects will take longer to build, fewer jobs will be created and backlogs will lengthen. The federal pullback sought by Trump ignores why the federal government has been contributing so much to state and local infrastructure projects: We have a shared national interest in a country that's safe and well-connected, and where people and goods move efficiently."
Shipping: "Liner shipping M&A has 'destroyed $110bn of shareholder value' in 21 years, says report" [The Loadstar]. "[The report's] author, McKinsey & Co, said this had mainly been due to continuous overcapacity in the sector. The management consultant said bulk shipping was the only transport sector with a worse performance than liner shipping's average of less than 2% return on invested capital. The profitability league table is headed by the cruise line industry, with a return of over 12%."
Shipping: "Blockchain bill of lading platform raises $7m in seven minutes" [Splash 247]. "CargoX, a startup developing a blockchain smart bill of lading platform, has managed to raise $7m in just over seven minutes in an initial coin offering of its Ethereum-based CXO Tokens…. CargoX claims logistics companies can save up to $5bn a year by using its new bill of lading platform."
The Bezzle: "Deutsche Bank to Pay $3.7 Million to Settle SEC Charge it Misled Consumers" [Corporate Crime Reporter]. "The SEC's investigation found that traders and salespeople made false and misleading statements while negotiating sales of commercial mortgage-backed securities (CMBS). Customers overpaid for CMBS because they were misled about the prices at which Deutsche Bank had originally purchased them…. Deutsche Bank and Solomon consented to the SEC's order without admitting or denying the findings."
The Bezzle: "Google's nemesis: meet the British couple who took on a giant, won… and cost it £2.1 billion" [Wired]. "Google was guilty. The European Commissioner for Competition, Margrethe Vestager, made that brutally clear. "Google abused its market dominance," Vestager declared as she announced her judgement in Brussels on June 27, 2017. She handed Google a £2.1 billion fine – the largest antitrust penalty ever handed to a single company, and gave it 90 days to change its ways. Watching the livestream 500 metres away in the Thon Hotel EU, Adam and Shivaun Raff shared a smile of relief. It had been 11 gruelling years since they realised Google was deliberately demoting their price comparison website, Foundem, in search results." This is very, very good. And the little guys, also in this case the good guys, won!
The Bezzle: "Blue Apron Holdings Inc. has been cutting its logistics costs but its been shedding customers at the same time. The meal-kit company's customer ranks fell by 15% in the fourth quarter… as the food home-delivery service suffered from the big logistics problems that have eaten into profits and the ability to market its business" [Wall Street Journal]. "Blue Apron has made progress on fulfillment challenges at a Linden, N.J., warehouse the company opened last year. The company says it now has the 'nimble infrastructure' needed to get its subscription meals delivered to homes. But Blue Apron also looks to be losing market share, and it's struggling to get its infrastructure in place as other operators push into the market. Blue Apron canceled plans last quarter to open a site in California, a blow for a business tha\t needs a stronger physical footprint to match its online ambitions."
The Bezzle: "The Corrosion of Ethics in Cryptocurrencies" [Medium]. "But in this environment, actual ethical behavior looks suspicious. It's not really believable that I would pass up significant gains for some altruistic reason, is it?"
The Bezzle: "How Wall Street's 'fear gauge' is being rigged, according to one whistleblower" [MarketWatch]. "One of the most popular measures of volatility is being manipulated, charges one individual who submitted a letter anonymously to the Securities and Exchange Commission and the Commodity Futures Trading Commission. The letter makes the claim to regulators that fake quotes for the S&P 500 index are skewing levels of the Cboe Volatility Index, which reflects bearish and bullish options bets 30-days in the future on the S&P 500 to gauge implied stock-market volatility (see excerpt from the letter below):
The flaw allows trading firms with advanced algorithms to move the VIX up or down by simply posting quotes on S&P options and without needing to physically engage in any trading or deploying any capital.
Mr. Market: "Number of fund managers who see the economy in its late cycle is at a 10-year high" [MarketWatch]. "According to the BofA Merrill Lynch fund manager survey for February, 70% of those polled believe the global economy is in its "late cycle," the highest such reading since January 2008, right as the financial crisis began to gather steam. The late part of an economic cycle typically coincides with the market's peak and precedes a decline into recession."
Five Horsemen: "Juggernaut Amazon is back in the saddle, only 1.3% below its record closing high" [Hat Tip, Jim Haygood].
Today's Fear & Greed Index: 13 Extreme Fear (previous close: 12, Extreme Fear) [CNN]. One week ago: 18 (Extreme Fear). (0 is Extreme Fear; 100 is Extreme Greed. Last updated Feb 12 at 7:00pm. Still lagged, WTF!!! Extreme Fear for a week now….
Our Famously Free Press
"Bay Area News Group Hammered by More Layoffs, Resignations" [San Jose Inside]. "The Merc used to be one of the largest daily newspapers in the industry with upward of 400 reporters and editors, according to the Media Guild. After the latest round of buyouts and layoffs, the number of union-represented newsroom staff in the South Bay is down to 41. The East Bay papers are left with 65."
"Local News is a Building Block to Rebuild Trust" [Medium]. "The challenge we face is that while local news holds some of the greatest promise for renewing the social contract between journalists and the public, it also faces the greatest threats. The economic and technological challenges buffeting local news are profound. If we are concerned about trust we also have to be concerned about sustainability and helping rebuild the infrastructure for local news around the country. This insight inspired a coalition of foundations to come together in 2017 to launch an unprecedented effort to expand trust and financial sustainability in local news. The collaboration, called NewsMatch, paired an end-of-year fundraising campaign with a targeted capacity-building effort focused on equipping newsrooms with new tools, technology and training to better engage their communities and cultivate donors."
Neoliberal Epidemics
"The Health Threats of Welfare Stigma" [JSTOR Daily]. "Jennifer Stuber and Karl Kronebusch examined what happened when states changed the rules of aid programs after the federal government revamped its policies in 1996. Among people who are eligible for means-tested programs like Medicaid, food stamps, or cash assistance, the percent who actually enroll has always been fairly low. Even before the policy change, pickup rates for various programs ranged from 40 to 70 percent. Given that people who are eligible for these programs are, by definition, facing serious economic hardship, that might seem odd. Stuber and Kronebusch write that the explanation is the incredible power of stigma…. Stuber and Kronebusch note that one argument in favor of stigmatizing government aid is to limit its use to the truly needy, discouraging anyone who can possibly get by without it from applying. But their research found that didn't happen. People with high levels of need—those with worse health or more kids, for example—were just as likely as anyone else to be scared away from applying for benefits by stigma… And yet, the current rhetoric around work requirements for Medicaid, and "welfare reform" in general, seems designed to ramp up stigma and discourage people from seeking help."
"DELAWARE'S OPIOID CRISIS" [The Outline]. "I expected Luigi to be the best man at my wedding and godfather to my children, not to die when we were 21. His funeral was my introduction to a world in which I'd be burying friends long before it was their time to go; at this point, nearly everyone I know from Wilmington has a similar story. It is perhaps the defining feature of someone my age and from my state to have a dead sibling, cousin, or friend."
"The prevalence of adverse childhood experiences, nationally, by state, and by race or ethnicity" [Child Trends]. "A growing body of research has made it increasingly apparent that adverse childhood experiences (ACEs) are a critical public health issue. ACEs are potentially traumatic experiences and events, ranging from abuse and neglect to living with an adult with a mental illness. They can have negative, lasting effects on health and well-being in childhood or later in life.1 However, more important than exposure to any specific event of this type is the accumulation of multiple adversities during childhood, which is associated with especially deleterious effects on development."
I say let the private sector handle it:
Brazilian drug dealer kidnaps medical staff, makes them vaccinate community against yellow feverhttps://t.co/xWcy02fubt#JoySMS pic.twitter.com/tbQFdfs5eQ

— Joy 99.7 FM (@Joy997FM) February 14, 2018
Class Warfare
"Home Depot Battles Tight Labor Market With Easy Application" [Bloomberg]. Heaven forfend that Home Depot raise wages or improve working conditions!
Jobs matter. Thread:
Barnes and Noble just fires almost every single receiving manager as a cost cutting measure. I worked with them for over 17 years and my weekly Storytimes are massively popular. And in the blink of an eye, I'm fired.

— THE Reverend Steve (@ReverendSteve) February 12, 2018
UPDATE Food matters. Thread:
and guys–it was my actual job working with poor people and food. and you want to know what the vast majority of 'unhealthy food' people on SNAP buy looks like?

— RustBelt Rebel (@RustBeltRebel) February 14, 2018
"Vice Media sued by former employee alleging systemic pay discrimination against women" [Los Angeles Times]. "The lawsuit, which seeks class-action certification, was filed by Elizabeth Rose, who worked at the millennial-focused media company in New York and Los Angeles from 2014 to 2016, serving as a channel manager and project manager. Vice Media operates the Viceland cable channel and produces two news programs for HBO, among other projects. Filed in Los Angeles County Superior Court, the complaint alleges that Rose, as part of her job, received internal memos that showed the salaries of about 35 Vice Media employees, revealing a pay disparity in which females 'made far less than male employees for the same or substantially similar work.' According to the lawsuit, Rose learned that a male subordinate — whom she hired — made about $25,000 more per year than her."
"Debt, Neoliberalism and Crisis: Interview with Maurizio Lazzarato on the Indebted Condition" (PDF) [Sociology]. "Drawing on the work of Deleuze and Guattari in order to connect Nietzsche and Marx, he develops a theory of debt suggesting that the power of credit, central to neoliberalism, requires the construction of an indebted subjectivity. Producing a responsible, guilty and thus hindered subject, this condition involves individuals and societies facing an infinite social debt." Interesting on the subject, but wrong on the creation of money (further in the abstract). Interesting though!
"Want to grow the US economy? Cancel student debt, new report shows" [Mic]. Levy Institute getting lots of good press. (I think we should consider giving refunds to those who were able to make their payments faithfully. Just reset the whole system.)
"The amazing true socialist miracle of the Alaska Permanent Fund" [Vox]. I wonder if we could do with data what Alaska does with oil….
News of the Wired
Tell me it's not a great country (1):
Inside Sugar Factory — the most Instagrammed restaurant in America pic.twitter.com/eyDlPebOU2

— Business Insider (@businessinsider) February 14, 2018
Tell me it's not a great country (2): "An Oral History of The Wire's Unforgettable 5-Minute 'F*ck' Scene" [Vulture].
Happy Valentine's Day:
A Virgin Atlantic plane drew a heart-shaped flight path in the sky for Valentine's Day https://t.co/NI2L4i1T7B pic.twitter.com/HeM6ggYmDD

— Business Insider (@businessinsider) February 14, 2018
* * *
Readers, feel free to contact me at lambert [UNDERSCORE] strether [DOT] corrente [AT] yahoo [DOT] com, with (a) links, and even better (b) sources I should curate regularly, (c) how to send me a check if you are allergic to PayPal, and (d) to find out how to send me images of plants. Vegetables are fine! Fungi are deemed to be honorary plants! If you want your handle to appear as a credit, please place it at the start of your mail in parentheses: (thus). Otherwise, I will anonymize by using your initials. See the previous Water Cooler (with plant) here. Today's plant (pq):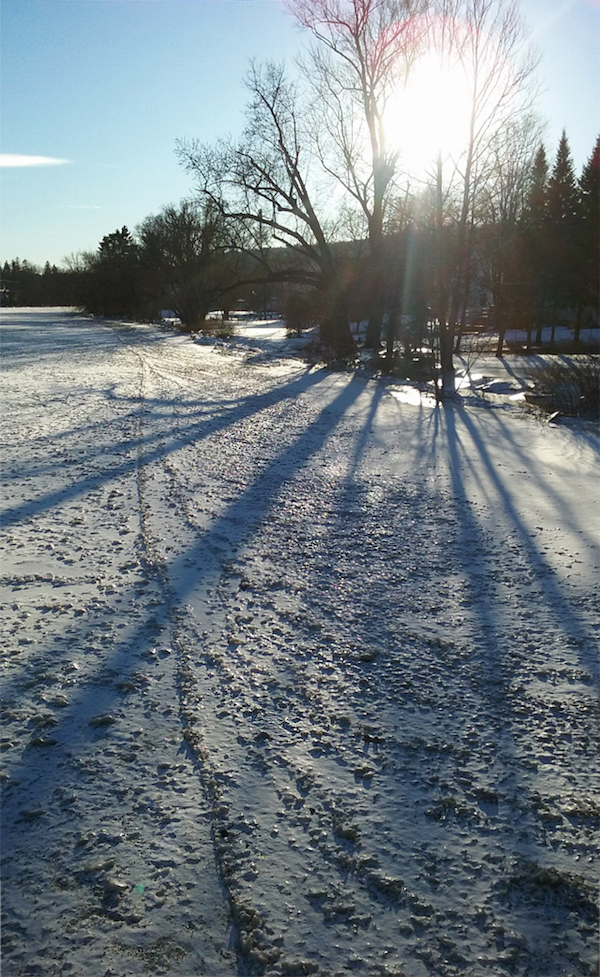 pq writes: "I took this photo Thursday from the bridge over the river through my village. The river froze solid with all the below-zero weather earlier this month. Last week, it warmed up — nearly 60 degrees last Friday — followed by two days of rain. The ice on the river rapidly started melting and flooded low-lying areas, nearly covering the picnic tables in the park. Then the temperature plummeted back down into the teens, refreezing the slushy ice chunks on the river and turning the flood plain into a skating rink. Is this the new normal, or have the Russians hacked our weather?"
Look at the texture of that ice!
* * *
Readers: Water Cooler is a standalone entity not covered by the NC fundraiser. So do feel free to use the dropdown and click the hat to make a contribution today or any day. Here is why: Regular positive feedback both makes me feel good and lets me know I'm on the right track with coverage. When I get no donations for five or ten days I get worried. More tangibly, a constant trickle of small donations helps me with expenses, and I factor that trickle in when setting fundraising goals. So if you see something you especially appreciate, do feel free to click the hat!