By Lambert Strether of Corrente.
Trade
"Trump's Passion for Tariffs Faces Stiff Headwinds from GOP" [Industry Week]. "Twice this week Trump has raised the idea of trade penalties he calls a 'reciprocal tax,' only to have White House officials insist there's no plan in the works for such an action…. But his talk has been bolder than his actions so far. He promised during the campaign to declare China a currency manipulator on "Day One," but never has. He threatened to impose tariffs on companies that send jobs overseas and then ship their products back into country, but has not done so. He flirted last April with announcing a U.S. withdrawal from NAFTA, and then backed down."
"The Trump administration wants Congress to appropriate $15 million for a "one-time trade enforcement surge," according to a White House budget office document" [Politico]. "The request would allow 'for the first-time use of USTR's Trade Enforcement Trust Fund (newly authorized in 2015, but never used yet),' the document says. 'This increase supports the president's signature trade agenda, with a focus on aggressive trade enforcement. It would bring total USTR resources available in FY2018 to $73 million" from $58 million.'"
"The Belt and Road Initiative Didn't Quite Live up to its Hype in 2017" [Council on Foreign Relations].
Politics
2018
"People are defecting from the GOP. But not to the Democrats" [CNN]. "For the last decade and a half, people have been moving away from being solidly one party or the other. But they've often instead moved to being Republican-leaning or Democrat-leaning independents. Since 2004, independents rose from 29% to 44% of voters but mostly because of the increase in leaners. The rise of pure independents — independents who aren't just closet Democrats or Republicans — has been much more modest. From 2004 to 2016, the percentage of Americans identifying as pure independents has risen and declined a point or two per year, especially in the year after a presidential election. This year, the number of pure independents rose a little more, a 3 to 4% increase over 2017…. The rise in pure independents also likely signals that the primaries of 2016 were not an outlier, and voters will continue to self-identify more like free agents, even as their partisanship is increasingly predictable. It's one of the paradoxes of recent years: As partisan polarization increases, so does distrust in institutions. But in the end, a party can no longer decide if voters don't really want to be a part of it." Important!

"Researchers at LendEDU* sponsored an online poll of 1,000 adult (age 18 or over) American consumers who reported that their take-home paychecks have risen as a result of the tax plan. The poll was conducted on February 12 and 13. The new tax tables took effect on January 11, and U.S. employers were asked to begin using the new tax tables no later than February 15" [247 Wall Street]. "Overall, 70% of respondents to the survey were either 'very happy' (44%) or 'somewhat happy' (26%) with the tax cuts. Just over half (50.3%) said the tax cut has favorably changed their 'sentiment about President Trump' while about 43% said it made no difference and about 6% said the cuts increased their unfavorable sentiment toward the president…. The tax cut is supposed to encourage Americans to spend their windfall, stimulating the economy by creating more jobs and more growth. But more than a third of Americans who reported getting a raise (35.7%) plan to use the money to pay down debt. Just under 10% say they plan to spend the money on 'life's day-to-day luxuries' such as dining out, buying new clothes and purchasing products such as smartphones." * A student loan consolidation company.

"Battle for the House: Are Crowded Democratic Primaries a Blessing or a Curse?" [Cook Political Report]. "As primary season begins, don't be tempted to buy the narrative that jam-packed Democratic primaries are bound to result in mutually-assured destruction or nominees too far left to win in November. In 2010, both moderates and true Tea Party believers powered Republicans to the majority. For most voters, ideology isn't destiny and 2018 isn't about Hillary vs. Bernie. The bigger risk for Democrats is candidates who are bad cultural fits for their districts." Bad cultural fits? What does that mean? Is #MedicareForAll a cultural thing?
Obama Legacy
"Obama's Final Arms-Export Tally More than Doubles Bush's" [Defense One] (from 2016, still relevant). "How does the Obama administration compare to its predecessors? Earlier this year, Hartung did the math: Obama has brokered more arms deals than any administration since World War II. For immediate comparison, the George W. Bush administration approved $128.6 billion in arms export between 2001 and 2008." I guess gun control is only a thing domestically.
New Cold War
"Trump Can Fire Mueller, But Not a Grand Jury" [Politico]. "For months, Mueller and his team have been presenting evidence to a federal grand jury – that grand jury has already indicted two people, and two other former Trump aides have pleaded guilty to lying to the FBI. (And those are the indictments we know of – others may still be sealed.) We ordinarily think of a grand jury as a "decider of fact," similar to a trial jury. But a grand jury is actually an investigatory body independent of the prosecutor. The grand jury here could continue its work even past the potential dismissal of Mueller and his entire staff, and indeed could draft indictments of senior White House officials or key staff of the 2016 Trump campaign."

UPDATE "But there's also a middle way. It would unite Clintonites and Sanderistas as well as peel off the right number of white working-class voters. This middle way, however, will offend anti-war liberals skeptical of America's imperialist tendencies, because it recalls our anti-communist past" [John Stoehr, US News and World Report]. "But anti-communism is a good model for what's needed. It was the glue that held the Republican Party together for decades. It can do the same for the Democrats. The party's long-term goal should be crafting a patriotic story about a new Cold War, a dangerous cyberconflict happening as we speak, one that demands the best America has to offer…. A successful candidate for the Democratic nomination in 2020, therefore, should tell a patriotic story of the United States and its place in the world. " [vomits].
Realignment and Legitimacy
"Liberal democracy is also being undermined by a tendency to emphasize 'liberal' at the expense of 'democracy.' In this kind of politics, rulers are insulated from democratic accountability by a panoply of restraints that limit the range of policies they can deliver. Bureaucratic bodies, autonomous regulators, and independent courts set policies, or they are imposed from outside by the rules of the global economy" [Dani Rodrik, Project Syndicate]. I'd argue the keyword in our discourse summarizing this "panoply of restraints" is "norms" (as in "this is not normal," when, so often, it is, just for other players).

"In the end, [Chicago Mayor Rahm] Emanuel and a surprising number of other Democratic leaders with whom I've spoken in recent months maintain that their party's divisions are more stylistic than ideological: Sanders pledges free college for all; Chicago's mayor experiments with a limited version—free community college for some" [Susan Glasser, The New Yorker]. It's quite telling that The Voice of Liberal Manhattan thinks the differences between universal programs and programs with gatekeepers determining eligibility (especially means-testing) are purely "stylistic."

"When Deplorability Is No Longer a Dealbreaker" [Conor Friedersdorf, The Atlantic]."If you were an American of Hispanic origin, would you trust this president or the people who enthusiastically support him to protect your constitutional rights?" Articles like this remind me of one of those age-old unanswerable questions: "Must the good orator also be a good person?" (Think about what ethos means before you answer). Obama, of course, deported record numbers, and the machinery Trump uses was put in place under his administration ("Obama built the car, and now Trump's driving it.") So, must the good President also be a good person? It's not clear what the answer is (and in the atomic age under a doctrine of Mutual Assured Destruction, one answer is "By definition, no"). Friedersdorf seems to think that trust should be placed in a President, because of his personal characteristics, as opposed to a system (Madison, Federalist 51: "If men were angels, no government would be necessary"). If I am the one being deported, does it matter to me if the administration doing the deporting is run by a classy guy, or a boor?

"After Annie Rice's Victory, Democrats Weigh Punishing Her Supporters" [Riverfront Times]. "Last night, Annie Rice won a resounding victory, with nearly 60 percent of 8th ward voters choosing her to represent them on the city's Board of Aldermen. But later this month, the Democratic Central Committee will weigh a bylaw change directly aimed at punishing Rice's supporters. If members approve the proposed amendments, anyone who 'supports or endorses' candidates like Rice 'shall be subject to censure.' .The ugly situation says a lot about the mutinous mood — and old guard pushback — roiling the St. Louis Democratic Party these days." Of course, the tone for this was set at the top, initially by the Clinton campaign and then by Obama's creature at the DNC, Tom Perez, who defenestrated all the Sanders supporters from the Rules and Bylaws Committee.

"As Americans prepare to celebrate Presidents' Day, they rate John F. Kennedy and Ronald Reagan the best of recent chief executives, according to a new poll conducted by Ipsos in conjunction with the University of Virginia Center for Politics" [Larry Sabato's Crystal Ball]. "Few would dispute that JFK and Reagan have worn well over the decades, more so than any of their modern colleagues, and the data in this survey confirm that." " would dispute" indeed; of course the Democrats rehabilitated Reagan, as they are rehabilitating Bush. Here are the rankings:

Averages really do conceal, don't they?

"The State and Local Election Cybersecurity Playbook" [Belfer Center]. "There are two groups on the frontlines of defending democracy: (1) political campaigns, which enable citizens to pursue elected office; and (2) election officials, who ensure the election process is free and fair…." And on voting machines: "Every machine should have an individual voter-verified paper trail." No no no no no (because — follow me closely, here — the paper trail is computer-generated, and the computer can be hacked). The paper ballot must be the vote not a receipt for a secretly counted vote. And read the rest of the suggestions. This has nothing to do with securing the vote, for which hand-marked paper ballots, hand-counted in public are the best solution; it's a jobs guarantee for IT consultants, probably politically wired ones. As the programming proverb goes: "The cheapest, fastest, and most reliable components of a computer system are those that aren't there."

"These States Are Projected to Gain House Seats After 2020 Census" [Bloomberg]. "In all, 16 states may be affected by the once-a-decade congressional reapportionment, according to the estimates, which are based on data from 2016 to 2017 and projected forward to 2020. Arizona, Colorado, Montana, North Carolina, and Oregon are each expected to gain a single seat while Texas and Florida would gain two seats. Single-seat losses may occur in Alabama — the lone southern state among the losers — Illinois, Michigan, Minnesota, New York, Ohio, Pennsylvania, Rhode Island and West Virginia."

Marches:

Fifteen years ago today millions of people marched against the Iraq War in more than 600 cities across the world. The biggest protest in history. pic.twitter.com/9tpAxRwQyi

— Jacobin (@jacobinmag) February 15, 2018
Stats Watch
Industrial Production, January 2018: "Weakness in industrial production underscores what has been the Federal Reserve's very modest assessment of the factory sector" [Econoday]. "But manufacturing production makes up the great bulk of this report and is up only 1.8 percent on the year in what is s. This report, again in contrast to the anecdotal data, is not consistent with building inflation pressures, evident in capacity utilization which is down 2 tenths to 77.5 percent and a 1/2 point under expectations. For the FOMC, today's results do not turn up pressure for more hawkish policy." So, yet again, the data contradicts the surveys (see below). This reminds me of the small business optimism index where (as readers know) professions of optimism do not equate to small business owners reaching into their pockets and (say) actually investing capital. The most optimistic explanations for this continuing — indeed scandalous — variance is animal spirits (shown in surveys) are the driver (with outcomes shown in the data.) From there we pass to wishful thinking and group think by survey participants. Perhaps readers can suggest other explanations. And but a more optimistic but long-term view: "There was insignificant revision to the existing data over the last 6 months. The best way to view this is the 3 month rolling averages which improved. Industrial production is in a long term upward trend" [Econintersect]. "The reason for the headwinds in industrial production was due to mining" [agreed at Econoday]. "Manufacturing employment rate of growth is accelerating year-over-year."
Empire State Manufacturing Survey, February 2018: "Much like the Philly Fed, the sample for the Empire State report continues to report strong conditions" [Econoday]. "Regional reports have been so strong that capacity stress, such as slowing delivery times and lack of available labor, continue to come into question. But these reports have consistently overshot actual government data." And: "I am not a fan of surveys – and this survey jumps around erratically – but has been relatively steady for the last year. Key internals in the report marginally improved so I would consider this a better report than last month" [Econintersect].
Philadelphia Fed Business Outlook Survey, February 2018: "The song remains the same for the Philly Fed where the general business conditions index beat high-end expectations" [Econoday]. "For more than a year, the Philly Fed sample has been reporting the hottest conditions of any regional manufacturing survey in results that did signal, though perhaps too far in advance, what is now an uplift underway in actual government data." And: "Consider this a significantly stronger report than last month as key elements strongly improved" [Econintersect].
Producer Price Index (Final Demand), January 2018: "Visible but still limited signs of pressure headline January's producer price report where total prices hit the high end of expectations at a 0.4 percent monthly gain" [Econoday]. "Despite the monthly pressure, however, year-on-year rates are still flat, at 2.7 percent overall and at only 2.2 percent excluding food and energy. Yet this report does fit in with recent indications, especially in yesterday's consumer price report, that inflation pressures may finally be simmering." And: "Although the monthly growth numbers appear high, the year-over-year numbers changed little from last month" [Econintersect].
Bloomberg Consumer Comfort Index, week of February 11, 2018: "The stock market's gyrations aren't apparently hurting spirits, at least not the consumer comfort index which jumped an unusually sharp 2.6 points in the February 11 week to 57.0 and a new high for the expansion" [Ecoonday]. "The assessment of the economy is the highest in 17 years and the buying climate is the best in 18 years. This report along with monthly consumer confidence data have been holding at long-term highs, unlike the consumer sentiment report which is flat nor retail sales which yesterday proved unexpectedly weak." So consumers are comfortable (survey) but not buying (data)? How does that work?
Retail Sales (yesterday): "Worse than expected with prior month revised lower as well, ties in with previous discussion about low personal income growth, with this report now indicating personal savings wasn't quite so low because spending was that much lower than first reported" [Mosler Economics].
Housing Market Index, February 2018: "Extremely upbeat is the continuing description of home-builder confidence" [Econoday]. "Assessments of current and future sales remain unusually strong…. Capacity is the welcome challenge for builders and the new home market as the supply of homes continues to lag demand." And: "This was at the consensus forecast, and another strong reading" [Calculated Risk].
Jobless Claims, February 10, 2018: "Claims remain near historic lows consistent with strong demand for labor" [Econoday]. (As readers know, claims are much harder to get these days than they have been historically, so it's not clear how "consistent" "consistent with" really is.)
Retail: "One key measure of retail supply chain efficiency, the inventory-to-sales ratio, ticked up in December after hearing down for the previous three months. Still, department store sales rose 0.8% from December to January even as sales remained flat at nonstore retailers—mostly online business. The household spending that is the main engine of the U.S. economy may still be humming, even if it's taking a pause after the holidays" [Wall Street Journal].
Commodities: "The true costs of artisanal mining" (infographic) [Mining.com]. "The activity is emerging as an significant socio-economic sector in a number of developing nations, to the point it has become a major of revenue for millions of people in about 80 countries worldwide — mostly in sub-Saharan Africa, Asia, Oceania, Central and South America — with more than 100 million people currently depending on ASM for their livelihoods." I love that phrase, "artisanal mining" (which is a flavor of "System D," the "informal economy").
Supply Chain: "Kenya's big flower exporters haven't been getting the love they need from airfreight carriers, even in the period leading up to Valentine's Day. An accelerating global economy has been pushing cargo aircraft away from the fertile East African nation in search of more profitable business" [Wall Street Journal]. "[T]ough shipping economics take a toll on trade out of Africa. Kenya has become a global powerhouse in perishables production—its No. 3 in the world in rose exports—but weak demand in the region means aircraft have little cargo to bring in. The economics are heartbreaking: they need to keep the flowers fresh, but that leaves profits wilting."
Supply Chain: "Maersk hits out at severe levels of corruption across maritime" [Splash 247]. "In its just published sustainability report, Maersk noted: '[W]e operate in an environment where facilitation payments and extortion are common occurrences.'"
Infrastructure: "The Trump administration's infrastructure plan has states and local governments looking at whether they can raise funds through recycling. The idea isn't for traditional recycling but , a system known as asset recycling that… raises important questions for policy makers and companies anxious to see upgrades in transportation infrastructure" [Wall Street Journal]. "Under the White House plan, the federal government would set up a pot of money to pay state and local governments when they privatize or lease existing assets to investors. That could create a pipeline of new deals for firms like infrastructure fund manager Macquarie, but it also could raise tensions with road users including truckers who oppose adding tolls to existing highways. Macquarie estimates , but the plan's backers first must sell lawmakers and their constituents on the idea." There it is. (MMT really breaks the conceptual logjam on how to oppose this, and happily MMT-inflected policy ideas are breakthing through to the mainstream, but the central insight, at least in political terms — which the Pentagon understands fully! — that Federal taxes do not fund Federal spending, has not.)
Infrastructure: "Trump's Hardest Construction Job" [The Editors, Bloomberg]. "Of course, with deficits rising [sigh] and elections looming, the odds of success are long. But credit where it's due: On a problem that Congress has avoided for too long, this plan offers a decent start."
The Bezzle: "Tesla Inc., the biggest-selling electric carmaker in the U.S., is in danger of being relegated to an expensive niche in China because Elon Musk can't clinch a deal to open a factory there" [Industry Week]. "More than seven months after Tesla said it was working with Shanghai's government to explore assembling cars, an agreement hasn't been finalized because the two sides disagree on the ownership structure for a proposed factory, according to people with direct knowledge of the situation. China's central government says the plant must be a joint venture with local partners, while Tesla wants to own the factory completely, the people said, asking not to be identified because the negotiations are confidential. Currently, all foreign automakers must partner with Chinese companies in order to manufacture locally. Tesla's sluggishness in starting local manufacturing means it's fumbling a chance to capitalize on China's hard sell for new-energy vehicles, including EVs, plug-in hybrids and fuel-cell vehicles."
Mr. Market: "Dow retakes 25,000 for the first time in 2 weeks, as stock market set for fifth gain in a row" [MarketWatch]. Wheeee!
Five Horsemen: "Seattle sluggers Amazon and Microsoft leave Silicon Valley stalwarts Facebook, Alphabet and Apple eating their dust" [Hat Tip, Jim Haygood].
Today's Fear & Greed Index: 11 Extreme Fear (previous close: 13, Extreme Fear) [CNN]. One week ago: 16 (Extreme Fear). (0 is Extreme Fear; 100 is Extreme Greed. Last updated Feb 13 at 7:00pmStill lagged by two days, WTF!!! Extreme Fear for a week now….
Class Warfare
"The Disappointing Recovery in U.S. Output after 2009" [Federal Reserve Bank of San Francisco]. "Some commentators have viewed the generally sluggish recovery from the deep U.S. recession of 2007–09 as a lingering consequence of financial and economic disruptions, perhaps reinforced by post-2008 regulatory changes. In this Letter, we find that neither of these are the main story of a slowing trend that, to an important extent, predated the recession. The seeds of the disappointing growth in output were sown before the recession in the form of slow productivity growth and a declining labor force participation rate." Interesting article. I'm left with the impression that elites — assuming arguendo that elites think of working people as cattle — elites, I say, put the MBAs in charge of the feed lot, and are now complaining about the quality of the hamburger. Of course, I'm only speculating.
"Just Released: Great Recession's Impact Lingers in Hardest-Hit Regions" [Liberty Street Economics]. "Mortgages are the largest form of household debt and have historically dominated the liability side of the household balance sheet. The map below depicts the percent change in aggregate mortgage balances by state since their peak in the third quarter of 2008. Although for the country as a whole mortgage balances remain slightly below their 2008:Q3 peak, on the state level the change in mortgage balances has been very mixed. In the following map, we disaggregate down to the county level, which reveals some surprising within-state patterns…." The map: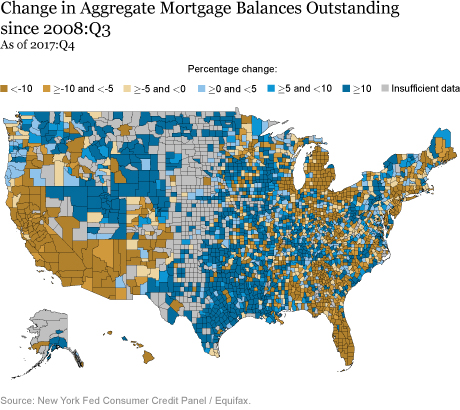 More: "With the exception of Manhattan and Brooklyn, the counties that have seen some growth since 2008:Q3 are the ones that did not experience large housing booms before the Great Recession. The slow overall recovery of mortgage balances reflects a combination of the steep decline and slow recovery of the housing market (including both sales volumes and prices), tight underwriting, mortgage defaults and charge-offs, and more aggressive debt paydown with reduced home equity extraction. The latter changes in behavior are in part attributable to a housing crisis hangover effect felt by many Americans who observed or personally experienced home and personal wealth losses."
On food stamps, this from reader LS:
Lambert:

I am constantly amazed at the articles decrying the changes to food stamps, which I agree are horrendous. I was talking to a friend who is definitely eligible for food stamps, and WIC, and I was asking her about her experiences applying. I was wondering if the difficulties in getting these benefits still exist, and they are even worse now, thanks to technology. NONE of the articles I have read address this. Do these people not talk to actual poor people?

The cycle for SNAP and WIC seems to go like this:

1) Apply online (you have to get access to the internet to do this, and if you are poor, that is probably not a bill you are paying).

2) Wait for case officer to contact you.

3) After a week, contact the case officer. They will insist they never saw your application, and refuse to schedule an appointment. Apply online again.

3) Repeat quarterly to maintain the benefits.

In order to break this cycle, you will have to apply online, go down to the office that day or the next day, and wait hours to see your case officer for an appointment, with the confirmation page in hand. These offices are only open from 8-5 with a break for the lunch hour, so you will have to take unpaid time off work to do this. You will be treated like garbage while you are there.

My friend has 3 kids, and her husband was injured on the job and his been out of work for a year. She works in retail. She definitely qualifies for these benefits, but they are too difficult to access if you are working fulltime.
"Why do white people like what I write?" [London Review of Books]. "A political culture where progress in the air was measured by the president's elegant bearing and penchant for diversity was ripe for demagoguery. The rising disaffection with a narcissistic and callous ruling class was signalled in different ways by the Tea Party, Occupy, Black Lives Matter and Bernie Sanders's insurgent candidacy. The final blow to the Washington (and New York) consensus was delivered by Trump, who correctly read the growing resentment of elites – black or white, meritocratic or dynastic – who presumed to think the White House was theirs. Writing in Wired magazine a month before Trump's election, Obama hailed the 'quintessentially American compulsion to race for new frontiers and push the boundaries of what's possible'. Over lunch at the White House, he assured Coates that Trump's victory was impossible. Coates felt 'the same'. He now says that 'adherents and beneficiaries' of white supremacy loathed and feared the black man in the White House – enough to make Trump 'president, and thus put him in position to injure the world'. 'Every white Trump voter is most certainly not a white supremacist,' Coates writes in a bitter epilogue to We Were Eight Years in Power. 'But every Trump voter felt it acceptable to hand the fate of the country over to one.' This, again, is true in a banal way, but inadequate as an explanation: Trump also benefited from the disappointment of white voters who had voted, often twice, for Obama, and of black voters who failed to turn out for Hillary Clinton. Moreover, to blame a racist 'whitelash' for Trump is to exculpate the political, business and media luminaries Coates has lately found himself with, especially the journalists disgraced, if not dislodged, by their collaboration in a calamitous racist-imperialist venture to make America great again." Well worth a read!
"The Listening Con" [The Baffler]. "As the real political power of the American public declined—whether we consider Americans as citizens, workers, people who breathe air and drink water—they were, paradoxically, listened to more than ever. They could give their opinion freely in a focus group, and feel the frisson of having influence. But increasingly, the average Americans could not join a union, or expect to be paid decently and fairly for their labor with some measure of job security—all things that give people real power."
News of the Wired
"Why is community radio in Guatemala important?" [Al Jazeera]. "There are more than 100 community radio stations operating in Guatemala, according to local media. The indigenous communities don't have explicit rights to use radio frequencies, though their right to exist is guaranteed by the country's Peace Accords."
"The Math of Tinder" [The Outline]. "Let's say you swipe through a thousand people, and swipe right on a hundred of them. Fifty match you back, optimistically. Twenty actually send you a message and you message 10 additional people, but only hear back from two of them. That leaves 22…." That's a lot of swiping!
* * *
Readers, feel free to contact me at lambert [UNDERSCORE] strether [DOT] corrente [AT] yahoo [DOT] com, with (a) links, and even better (b) sources I should curate regularly, (c) how to send me a check if you are allergic to PayPal, and (d) to find out how to send me images of plants. Vegetables are fine! Fungi are deemed to be honorary plants! If you want your handle to appear as a credit, please place it at the start of your mail in parentheses: (thus). Otherwise, I will anonymize by using your initials. See the previous Water Cooler (with plant) here. Today's plant (KH):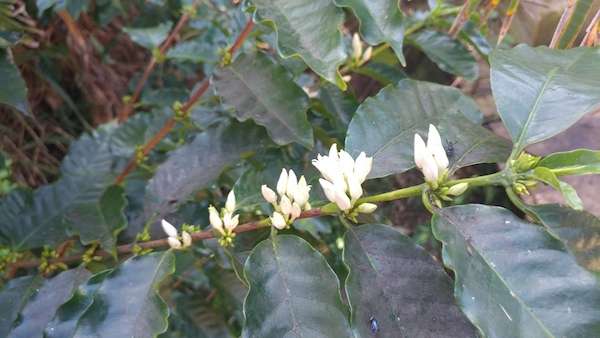 KH writes: "So another winter bloom here in Hawaii, coffee! Called Kona snow by locals. This plant is in North Kohala though."
But does Hawaii have mud season?
* * *
Readers: Water Cooler is a standalone entity not covered by the NC fundraiser. So do feel free to use the dropdown and click the hat to make a contribution today or any day. Here is why: Regular positive feedback both makes me feel good and lets me know I'm on the right track with coverage. When I get no donations for five or ten days I get worried. More tangibly, a constant trickle of small donations helps me with expenses, and I factor that trickle in when setting fundraising goals. So if you see something you especially appreciate, do feel free to click the hat!