By Lambert Strether of Corrente.
Patient readers, I am mortified to be behind the eight ball again. I'm going to update the post in two tranches, the first being a pantry clearout of political news, of which there is a lot. Then, I'll look at the business stories, and throw in a few more orts and scraps. So, in the meantime talk amongst yourselves and please check back. –lambert UPDATE 3:18PM First tranche. 3:52PM Second tranche. All done!
Politics
2018
I get fund-raising mail:

Yes, they know I'm so "big-hearted" they know I'll have no problem having the processing fee chiselled out of me…

Arizona: "Dems' opening salvos on McSally's Senate bid explain a lot … about Democrats" [Tucscon Sentinel (DonCoyote)]. "The Democrats' opening attack on U.S. Rep. Martha McSally's Senate campaign has arrived in media inboxes, courtesy of the Arizona Democratic Party. It is just inept, in so many ways. I'm going to just walk you through it because political messaging used to be my job… They're asking the media to run with the story that U.S. Sen. Rand Paul's endorsement of former state Rep. Kelli Ward proves McSally is the 'establishment candidate.; That's fine. This is true. She is the establishment pick. I mean, when Arizona's five Republican congressfolk sit down in a D.C. back room and decide she should be the one to make the move, she's pretty establishment. On the other hand, if the Dems are trying to make the campaign a referendum on who's less 'establishment,' the party should remember it's running U.S. Rep. Kyrsten Sinema. Sinema couldn't be more D.C. 'establishment' if she were made of marble. Sinema's eyeglasses come in just three styles: Ionic, Doric and Corinthian." This is fun stuff!

Pennsylvania: "Pennsylvania Special Election Loses Its Punch as New Districts Loom" [Wall Street Journal]. "Whoever wins Pennsylvania's congressional special election next month will likely find himself drawn out of the district by November. The Pennsylvania congressional district maps imposed Monday by the state Supreme Court placed the homes of both Republican Rick Saccone and Democrat Conor Lamb outside the new district's boundary, putting a shorter political shelf life on both men campaigning in the March 13 contest."

Kentucky: "Linda Belcher defeats Rebecca Johnson to reclaim District 49 seat" [Courier-Journal]. "[Democrat] Linda Belcher won the special election in Bullitt County on Tuesday night to replace Rep. Dan Johnson, who died by suicide amid sexual abuse allegations. Belcher secured 68.45 percent of the vote, according to the Bullitt County Clerk's office. [Republican] Rebecca Johnson, Dan Johnson's widow, secured 31.55 percent. There were 4,947 votes cast." And in the district "President Donald Trump won by a 72 percent to 23 percent majority…. Belcher's Tuesday victory marks the 37th state legislative seat that Democrats have picked up since Trump was elected."

California: "Ex-Clinton aide makes mystery bid for California governor" [Politico]. "Amanda Renteria, a former top Hillary Clinton campaign aide who baffled Democrats recently when she filed paperwork to run for California governor, still isn't talking. In the days since filing, Renteria made no campaign announcement, and she is not returning reporters' calls. She's raised no money and has no apparent political apparatus — a bizarre campaign opening more characteristic of a fringe candidate than a political professional."
New Cold War
"The Fundamental Uncertainty of Mueller's Russia Indictments" [Masha Gessen, The New Yorker]. Well worth a read. The lead:

On Friday, the special counsel Robert Mueller filed an indictment of thirteen Russians, for meddling with the 2016 election. Over the long weekend, four ways of interpreting the document solidified. The White House focussed on a statement by the deputy Attorney General, Rod Rosenstein, who said the indictment contains no allegation that any American knowingly colluded with the Russian effort. President Trump tweeted, "They are laughing their asses off in Moscow." Rob Goldman, Facebook's vice-president for ads, took to Twitter to assert that the primary purpose of Russian meddling was to "divide America," not to influence the election. Meanwhile, most of the legacy media interpreted the indictment as a major blow to Trump, who, they write, can no longer dismiss the allegations of Russian meddling as a hoax. Here is the bad news: all of this is true at the same time.

"Did Russia's Social Media Campaign To Discourage Black Voters Cost Clinton The Election?" [Buzzfeed]. From firewall against evil Communist Bernie Sanders to pitiful dupes of Satan incarnate Vladimir Putin…. My head is spinning! (To be fair, and as we would expect from Betteridge's Law, the article quotes experts who are quite skeptical. But that won't be the talking point!)

On to Moscow!

If you work in American politics or in the Gov't on any level and your first reaction to today's Mueller indictment is NOT "how are we going to prevent this from happening again and how are we going to punish Russia," then you need to rethink your priorities as a citizen.

— Chuck Todd (@chucktodd) February 16, 2018

"America's outrage over Russian election meddling is a blatant double standard" [Damon Linker, The Week]. "But if Putin's mischief-making constituted an act of war against the United States, then the U.S. has committed acts of war against an astonishingly long list of countries since the end of World War II. One study estimates that we interfered with no fewer than 81 elections in 45 nations from 1946 to 2000. Such efforts have been so brazen and uncontroversial that former CIA Director James Woolsey recently felt comfortable laughing about them with Laura Ingraham on Fox News.

This doesn't mean that we should respond to Putin's program of manipulation with indifference. Far from it. But it does mean that a response of self-righteous indignation is risible. To treat such meddling as an act of war on the part of Russia is either to invoke a blatant double standard that permits the U.S. to do things we stridently denounce in others — or it's to admit that our own actions have been far more pernicious than we like to think."
Health Care
I am not happy with this at all:

Gosh! Okay… I, Pete Buttigieg, politician, do henceforth and forthwith declare, most affirmatively and indubitably, unto the ages, that I do favor Medicare for All, as I do favor any measure that would help get all Americans covered. Now if you'll excuse me, potholes await.

— Pete Buttigieg (@PeteButtigieg) February 19, 2018

I don't like the tone ("Gosh"); any politician these days who thinks they deserve an automatic assumption that they're acting in good faith — e.g., Jon Favreau, newly minted single payer advocate — either has a tin ear or a screw loose. (Readers will recall that what I liked about Buttigieg was tactical; I think it's a very good idea to talk to voters and ask them what they want, which Buttigieg did with his coffee klatches). And you can see, right in that tweet, the damage that creatures like Andy Slavitt are doing by equating universal health care ("any measure that would help get all Americans… ") with Medicare for All. Single payer advocates were told in 2009 that ObamaCare was universal, and its advocates repeated that it was, long after it was evident it was not. Note also that Buttigieg confuses health care with health insurance ("… covered"). Coverage never cured anybody (except to the extent that coverage reduces stress and anxiety). Only care does that. All in all, an unedifying series of unforced rookie errors by Rhodes Scholar Buttigieg. How can you run for DNC chair if you don't understand the basics of policy?
Gunz
If only Oprah had given a $500K to Occupy or #BlackLivesMatter*:

George and Amal, I couldn't agree with you more. I am joining forces with you and will match your $500,000 donation to 'March For Our Lives.' These inspiring young people remind me of the Freedom Riders of the 60s who also said we've had ENOUGH and our voices will be heard.

— Oprah Winfrey (@Oprah) February 20, 2018

"Inspiring young people…." True, but we'll see how this goes… NOTE * Horizontal politics ("punching sideways") are always good. Vertical politics ("punching up") are always bad.

I hate that "thoughts and prayers" trope:

I saw this image of Rep. Mike Bost delivering Trump a bag of 'thoughts and prayers' and thought it was satire or The Onion.

Nope, this really happened. pic.twitter.com/bYWgwsnGiW

— Austin Braun (@AustinOnSocial) February 19, 2018

First, "faith apart from works is dead" (James 2:26). So pass some damn legislation! Second, "And when you pray, you must not be like the hypocrites; for they love to stand and pray in the synagogues and at the street corners, that they may be seen by men. Truly, I say to you, they have received their reward. But when you pray, go into your room and shut the door and pray to your Father who is in secret; and your Father who sees in secret will reward you" (Matthew 6:5-6). Listening to politicians yammer about thoughts and prayers on the Twitter makes my back teeth itch, much like being forced to listen to cable in an airport or doctor's waiting room. Please be silent!
Realignment and Legitimacy
"Who Counts?" [Eric Holder, The New Republic]. "An inaccurate census would have devastating consequences on the right to vote and to participate meaningfully in democracy. The apportionment of representatives to Congress depends on census data. States and municipalities rely on the census count not only to draw their congressional and state legislative districts but even to demarcate school districts. An inaccurate census affects which district you belong to, who represents you, and whether your vote will count."

"Could one Philly man's exoneration prompt Krasner to examine other decades-old murders?" [Philadelphia Inquirer]. "This month [new District Attorney Larry Krasner] named Patricia Cummings, a lawyer from Texas, to lead a unit dedicated to reviewing problematic old cases. And he has pledged to give the unit — which was criticized for a perceived lack of production under former District Attorney Seth Williams — more staff members and seek additional funding from City Council." Good news for Philly, I think.

* * *

I've been accumulated a bunch of DSA material. As you will see, they're doing a lot of interesting things, tactically and strategically.

"Our Electoral Strategy" [DSA National Electoral Committee]. This:

Discussion of independence from the Democrats tends to revolve around the question of the ballot line, but it shouldn't: most party power rests not in ballot access as such but in the network of consultants, politicos, lawyers, and party functionaries who control the means of electioneering in each state. Like most in DSA, we see the ballot line question as a tactical one to be addressed by local chapters in accordance with local circumstances—but we consider it essential that DSA escape the welter of Democratic patronage networks that have controlled and limited politics in the US for too long. To operate independently of this network we need to build our own electoral capacity, democratically controlled by DSA. Ultimately, it is not the name of the party under which a candidate runs that governs their decisions while in office, but the material conditions that inform the composition and capacity of the groups that form their coalition.

And:

In contrast to these local efforts, many national left of center political organizations have had only limited success in putting together a true nationwide grassroots movement. Democracy for America, Progressive Democrats of America, Move On, and Organizing for America, for instance, all started with much fanfare about their national organizing strategies to keep voters engaged as activists, but have ultimately become vehicles for raising and distributing money and collecting email lists: astroturf rather than grassroots. It is likely too soon to see whether Our Revolution will break free of this pattern, but if it does it will be because it continues to value and respect the local networks that sprang up around the Sanders campaign.

Concrete material benefits:

We are getting trained to administer Narcan to save people who have overdosed on opioids. pic.twitter.com/hSlPOb4jW4

— Huron Valley DSA (@HuronValleyDSA) February 20, 2018

Clever organizing:

Socialist Sprouts — a model of childcare at DSA events — is one of the absolute coolest things I learned about on the road. It lets children be involved in the movement, and makes caregivers more explicitly recognized for their participation. I hope other chapters follow suit! https://t.co/ml613R5rNR

— kill ? tim ? faust (@crulge) February 19, 2018

It's interesting to compare tactics like this to, on the one hand, the Democrat and Republican parties, and on the other, to Occupy and #BlackLivesMatter. Does anybody remember whether childcare was available at Zuccotti Park? If not, and just like the General Assembly process (as opposed to Roberts Rules) that discouraged working class attendance. For somebody like me, following this story is like tracking the formation of a new galaxy….

* * *

Michigan: "Under Trump, a growing number of metro Detroit millennials are turning to socialism" [Metro Times]. Despite the "age of Trump" frame in the headline, the article is interesting: "On the first Saturday of the year, more than 50 people were packed into a fluorescent-lit room at the Royal Oak Senior Center with the ultimate goal of overhauling the country's economic order. The crowd was mixed in age — about a third of its members looked to be senior citizens and a third appeared to be in their 20s. Across the spectrum, quite a few people wore flannel." So, right out of the box, we see that the editor-written headline ("millennials") contradicts the reporter's story ("mixed in age"). And what's wrong with flannel?
Stats Watch
Purchasing Managers' Index Composite Flash, February 2018: "A surge in services and continued strength in manufacturing pushed the PMI composite to a 27-month high" [Econoday]. " Services rebounded from recent softness where the index rose 2.6 points to 55.9, beating expectations of 53.5 and posting a 6-month high. Manufacturing, considered a leading indicator for the economy in general, rose 0.4 points to 55.9, a 40-month high. New work received by service providers boosted service sector activity, registering the largest rise since March 2015. Business confidence in the outlook for the next 12 months picked up to the strongest level since May 2015, and anecdotal evidence suggested that sales volumes were driven by high confidence among both consumers and businesses." We'll see if this survey shows up in the data….
Existing Home Sales, January 2018: "An uptick in supply and lower prices failed to boost existing home sales in January" [Econoday]. "While existing home sales tend to be volatile, the softness in today's report may cast some doubt on housing strength indicated by last week's report of a surge in permits to the best level of the expansion." And: "The rolling averages have been slowing in 2017, and they marginally decelerated this month. The rolling averages are now marginally in contraction. Housing inventory is now at historical lows for Januarys – and if you do not have enough houses for sale – then that means home sales cannot improve" [Econintersect].
MBA Mortgage Applications, February 2, 2016: "As interest rates continued to rise, purchase applications for home mortgages fell 6.0 percent on a seasonally adjusted basis" [Econoday]. And: "Deteriorating rapidly now?" (with charts on deteriorating loans for commercial real estate) [Mosler Economics].
Energy: "Frac Sand Shortage Threatens Shale Boom" [Oilprice.com]. "Frac sand is integral to growing shale production, increasingly so these days with more and more sand pumped down into a well. Shale drillers have credited the heavy doses of sand with squeezing out more oil and gas from the average well. Demand for frac sand surged from 34 million tons in 2012 to 61.5 million tons in 2014. Consumption fell in the ensuing years as drilling dried up when oil prices collapsed, but frac sand consumption surpassed previous highs in 2017 as drilling resoundingly came back." Hmm. Reminds me of the Saudis pumping water into their giant Ghawar field, in Twilight in the Desert.
Energy: "U.S. Crude Exports Hit A Major Milestone" [OilPrice.com]. "U.S. crude oil production continues to grow and exports in January also increased significantly compared to January 2017. According to EIA data, U.S. crude oil exports averaged almost 1.4 million bpd for the four weeks ending January 26, compared to around 700,000 bpd on average in January last year. U.S. crude oil production is currently expected to average 10.6 million bpd this year to an all-time high, and to further grow to average 11.2 million bpd next year."
Retail: "Amazon credit card adds Whole Foods to 5 percent cash back offer" [Reuters]. It's easy when you don't have to show a profit…
Retail: "Amazon employees just accidentally dropped a big clue about where the new headquarters could be" [Business Insider]. "A local news site called ARLnow.com says it recently saw an unusual spike in traffic to an article from December titled "County Wins Top Environmental Award from US Green Building Council" explaining how Arlington County was the first in the US to be selected for an environmental award. The site says the story recently saw a spike of about 6,000 pageviews mostly referred from what it identifies as an internal Amazon.com page." Clever! Unless it's a spoof, of course.
Retail: "Walmart Inc. is rethinking its online strategy after seeing the tough logistics behind e-commerce weigh on sales and profits. The world's biggest retailer says holiday goods crowded out space for everyday items at its warehouses and stores, leading to stock-outs and slower online sales growth in the key fourth quarter. The results, including a 28% slide in operating profit, mark a disappointment for a business that has spent billions building up online capabilities" [Wall Street Journal]. "[O]verall profit margins were hurt by growth in less-profitable online sales—a key economic quandary that continues to trouble retailers. Walmart now will stress its main web presence for customers over the Jet.com operation it acquired, and will go back to trying get the right goods in the right place at the right time."
Shipping: "New shipper survey reveals that small businesses face 'import overhead'" [Logistics Management]. "While importing continues to grow across both small and enterprise companies, almost 50% of the 300,000-plus American businesses who import still use spreadsheets to manage their international supply chain…. 42.4% of business owners spend more than 2 hours on managing each individual shipment.
Over 60% of midsize importers (10-50 annual imports) spend 2+ hours managing each shipment, wasting anywhere from 20 hours to 500 hours a year managing shipments. Among companies that import over 100 times a year, 37% spend more than two hours managing each individual shipment; 12% spend over ten hours."
Shipping: "Ultra-tight dray capacity forcing users to pay just to hold trucks" [DC Velocity]. "The availability of drayage capacity in the U.S. has recently become so tight that, in some markets, shippers and intermediaries are voluntarily paying a flat fee on top of the prevailing dray rate just to reserve a truck, according to an industry source. According to the source, shippers are ponying up the fee, which is often in the $200 to $300 range, without any prompting or mandate from the carriers. The practice appears to be most commonplace in Chicago, but it is not the only market where it is happening. In Chicago, the overall tightness of truck supply of any form is compounded by inclement winter weather across the Midwest, which has made it more difficult to find available dray. The source said the practice is occurring at ports, where dray trucks move containers from vessels to nearby locations such as a warehouse or rail head, and in domestic truck-rail service, where drivers deliver and pick up freight to and from rail ramps situated in high-density traffic corridors." A "flat fee"… This reminds me of what I believe is the line to use when stopped by the police in Malaysia: "Is there any way we can settle the matter?"
Big Ag: "Deere Raises Forecast Amid Signals of Farm Recovery" [Farm Journal]. "Deere said Friday in a statement that equipment sales are projected to increase by about 29 percent in the financial year that lasts through October, and by as much as 40 percent in its fiscal second quarter."
Supply Chain: "Soon after [DHL took over] the [KFC's UK] deliveries along with logistics partner QSL, media around the world are reporting on a "KFC crisis" after the unit of Yum! Brands Inc. closed more than half its U.K. stores because they'd run out of chicken. One local police office even pleaded with residents to not call the station 'if your favourite eatery is not serving the menu you desire'" [Wall Street Journal]. "It's a nightmare for the logistics operators, and a sign of the difficulty in pulling off big changes in a supply chain operation in a single swoop—particularly in a far-flung network with some 900 sites facing consumers. DHL is apologizing as the company and QSL scramble to get the chicken shops open. "
Supply Chain: "The robots are coming for the world's low-cost knitters. Garment factories across Bangladesh have been bringing in automated cutting, stitching and knitting machines in a bid to hold onto their place in global supply chains, a trend that's rolling across the apparel business as retailers push to keep consumer costs down and suppliers respond by cutting costs that already seem impossibly low" [Wall Street Journal]. That's gonna ripple back horribly to the villages….
Tech: "The 4 Dimensions of Digital Trust, Charted Across 42 Countries" [Harvard Business Review]. "In framing a definition of digital trust, we considered the factors that determine the quality of interactions between two parties using a digital medium: users, who are on the "giving" side of trust, and the companies that build the platforms. We refer to these parties, respectively, as givers (e.g. those who call up a car on a ride-sharing app, check news on social media or pay for an online transaction) and guarantors (e.g. the ride-sharing company, the social media platform, and the digital payments technology) of trust. In addition, on the side of the guarantors are those providing broad trust-building measures (like cybersecurity companies), laws and regulations (like the forthcoming GDPR), or the technology companies (like Akamai) that make the online experience seamless and convenient. Trust reduces several types of friction in a transaction between givers and guarantors. This friction has many causes — some are infrastructural or because of poor design and functionality; some are systemic, such as regulatory or legal requirements or identification and data security measures; and some are because of uncertainty between parties to the transaction. This translates into different ways to measure trust." Hmm.
The Bezzle: "Standardized Ethereum Recovery Proposals (ERPs) #867" [Github]. The summary: "Provide a standardized format for Ethereum Recovery Proposals (ERPs), which relate to recovery of certain classes of lost funds." "Lost" as in misplaced, stolen, defrauded… If I understand this correctly, an Ethereum developer has discovered that software contracts do not, in fact, map cleanly to real world contracts, where — to strike a blow at random — law enforcement and jail time put "skin in the game."
Infrastructure: "On American railroads, switch mistakes and speed cause an accident every other day" [Post and Courier]. "Every three days, somewhere in America, someone makes a mistake with the switches that control where trains go. And those mistakes cause accidents — usually because a locomotive is put on the wrong tracks. Every seven days, a train jumps the rails or collides into another because it's going too fast. Taken together, these errors occur every other day — a lapse in judgment or a simple oversight with consequences that are costly at best and fatal at worst."
The Fed: "FOMC Minutes: 'Labor market continued to strengthen and that economic activity expanded at a solid rate'" [Calculated Risk]. "Still on pace for 3 or 4 rate hikes in 2018, although few signs of 'broad-based pickup in wage growth.'"
Honey for the Bears: "The Disappointing Recovery in U.S. Output after 2009" [Federal Reserve Bank of San Francisco]. "U.S. output has expanded only slowly since the recession trough in 2009, counter to normal expectations of a rapid cyclical recovery. Removing cyclical effects reveals that the deep recession was superimposed on a sharply slowing trend in underlying growth. The slowing trend reflects two factors: slow growth of innovation and declining labor force participation. Both of these powerful adverse forces were in place before the recession and, thus, were not the result of the financial crisis or policy changes since 2009."
Five Horsemen: "Amazon threatens to blow the top off the chart again as it shakes off gravity's feeble tether" [Hat Tip, Jim Haygood].
Today's Fear & Greed Index: 17 Extreme Fear (previous close: 18, Extreme Fear) [CNN]. One week ago: 13 (Extreme Fear). (0 is Extreme Fear; 100 is Extreme Greed. Last updated Feb 19 at 7:00pm. Now only lagged by two days. Not helping with the fear, dudes!
Net Neutrality
"FCC Chairman Pai under investigation for possible collusion with Sinclair" [Communications Workers of America]. "the FCC's inspector general is investigating possible collusion between Chairman Ajit Pai and Sinclair Broadcasting. In particular, the investigation will focus on whether the Chairman or his aides pushed or timed agency rule changes to benefit Sinclair's $3.9 billion acquisition of Tribune Media. The Sinclair-Tribune merger would result in a massive broadcasting conglomerate that would reduce localism and viewpoint diversity, kill jobs, and harm consumers. The Sinclair-Tribune merger would allow Sinclair to reach 72 percent of all US television households, exceeding the national audience cap of 39 percent. But Chairman Pai reinstated the UHF discount, an outdated method of calculating audience reach which allows Sinclair to significantly undercount its reach to avoid the cap." Opening up a new front…
Class Warfare
"ACLU Finds Courts Nationwide Ordering Consumers to Be Arrested and Jailed at the Bidding of Private Debt Collection Companies | American Civil Liberties Union" [ACLU]. "In the first-ever report on the extent and impact of cooperation between courts and the private debt collection industry nationwide, the American Civil Liberties Union found courts in 26 states and Puerto Rico in which judges issued arrest warrants for alleged debtors at the request of private debt collectors. This practice violates the many state and federal laws as well as international human rights standards that prohibit the jailing of debtors. It worsens their financial struggles by subjecting them to court appearances, arrest warrants that appear on background checks, and jail time that interfere with their wages, their jobs, their ability to find housing, and more." Here is the full report.
News of the Wired
"No-sweat exercise may prolong life for elderly men: study" [Japan Times]. "A few hours a week of light exercise — walking the dog, puttering about in the garden — lower the risk of death in older men, even if workouts are brief, researchers said Tuesday. Their findings, reported in the British Journal of Sports Medicine, challenge two long-held assumptions about the benefits of physical activity for the elderly. To improve health and prolong life, according to many national health authorities, workouts must be strenuous and long-lasting…. The study, which tracked 1,200 men without heart disease in their early 70s and late 80s, says such guidelines should be revised. 'The results suggest that all activities — no matter how modest — are beneficial,' [lead author Barbara Jefferis, an epidemiologist at University College London] said." n = 1200. Yay!
"Here's looking at you, gran: the rise of elder tech" [Financial Times]. "For Rita, who turned 101 this year, retaining her independence is crucial. And thanks to innovations in technology she is still able to remain in her own home…. The scale of the innovations available is growing rapidly. Accenture, the professional services company, has just finished a pilot programme of an artificial intelligence-powered platform that allows relatives and care workers to monitor the daily activity of older relatives or friends." Sounds good, but "AI" + "Accenture" is an enormous red flag. IIRC, an AI has the intelligence of a moth. Why not just fund town nurses?
* * *
Readers, feel free to contact me at lambert [UNDERSCORE] strether [DOT] corrente [AT] yahoo [DOT] com, with (a) links, and even better (b) sources I should curate regularly, (c) how to send me a check if you are allergic to PayPal, and (d) to find out how to send me images of plants. Vegetables are fine! Fungi are deemed to be honorary plants! If you want your handle to appear as a credit, please place it at the start of your mail in parentheses: (thus). Otherwise, I will anonymize by using your initials. See the previous Water Cooler (with plant) here. Today's plant (pq):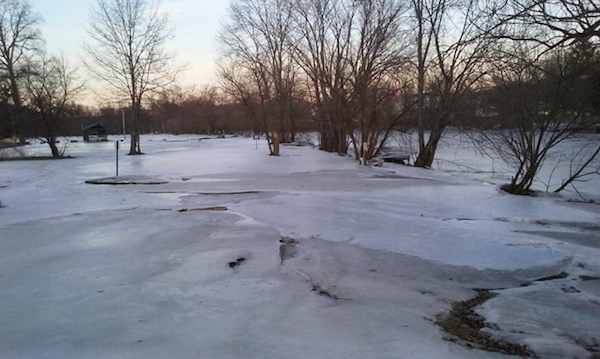 pq writes: "Hard-working trees: Following last month's prolonged sub-zero spell, the river through town was frozen solid enough to support a snowmobile. Then came the January thaw, which was so extreme that the ice melted into big chunks in just a few days and flooded the riverfront park. The picnic table in the 1/30 Plantidote was nearly submerged. The temperature plummeted again — 48 degrees in less than 24 hours! — and all that water froze. Can you imagine what it would look like if these sugar maples weren't standing between the flood and the river?
As always, thanks to the hard-working NC team for holding together a bank of sanity between the river of idiotic and the flood of stupid." You're welcome!
* * *
Readers: Water Cooler is a standalone entity not covered by the NC fundraiser. So do feel free to use the dropdown and click the hat to make a contribution today or any day. Here is why: Regular positive feedback both makes me feel good and lets me know I'm on the right track with coverage. When I get no donations for five or ten days I get worried. More tangibly, a constant trickle of small donations helps me with expenses, and I factor that trickle in when setting fundraising goals. So if you see something you especially appreciate, do feel free to click the hat!