By Lambert Strether of Corrente.
Politics
2020
"Sen. Bernie Sanders On Gun Control, Russian Meddling And Congressional Dysfunction" (audio) [Vermont Public Radio]. This seems to be the source for some of the quotes used by Politico, the Hill, and others. Unfortunately, there's no [family blogging] transcript, except for one portion on the Russkis, which I want contextualized. Unfortunately, I don't have time to listen to the whole thing, let alone transcribe it, so I wonder if some kind reader can listen and report. For example, via the twitter: "He lays down reasonable solutions to "Russians," including SECURING VOTING AND PAPER TRAILS ON BALLOTS." Well, I'm not happy with that either, because the paper ballot needs to be the official record, not a so-called paper trail, and e-voting machines, even with paper trails, are not hand-marked paper ballots, hand-counted in public which (IMNSHO) is the system we should all be demanding, including Senator Sanders. I'd also like very much to hear Sanders' views on Congressional dysfunction.
2018
"Despite Bright Spots for Trump, Disapproval Remains Intense" [Charles Cook, Cook Political Report]. Wonkish: "The Fox News poll always starts out with registered voters, which makes their numbers a couple of points better for Republicans than those of most other news organizations who begin with a base of all adults, then narrow down to registered and likely voters on ballot-test questions as the elections get closer. To my liberal friends who like to dispute anything connected with Fox, this difference between registered voters and adults explains much of the divergence between the polls of Fox and other major news organizations. I am only referring here to polls conducted over the telephone by live interviewers, not online polls or robo-phone polls…. Simply put, Trump does best among non-college-educated whites, men, and those over 45 years of age. He does worst among college-educated whites, women, those under 45 years old and, of course, nonwhites. Given that midterm elections are virtually always referenda on the incumbent president, this should be food for thought for GOP candidates and office-holders." "Does best" is an understatement; the polling shows intense polarization.

"Pence's net favorable rating of -10 (subtracting his favorable rating from his unfavorable rating) is the best of the six political leaders identified by Quinnipiac. Senate Democratic Leader Chuck Schumer is second with a net favorable rating of -11, followed by House Speaker Paul Ryan and Democratic House leader Nancy Pelosi tied with a net -13. President Donald Trump is also deeply underwater with a net favorable rating of -22, but that's nothing compared to Trump's GOP frenemy Mitch McConnell. The Senate Republican leader scored a dismal -36 net favorable rating: just 15 percent of voters view him favorably while 51 percent view him unfavorably" [RealClearPolitics].

Texas: "National Democrats come out against primary candidate Laura Moser in bid for Culberson's seat" [Texas Tribune]. "The DCCC posting, which features the kind of research that is often reserved for Republicans, notes that Moser only recently moved back to her hometown of Houston and that much of her campaign fundraising money has gone to her husband's political consulting firm. It also calls her a 'Washington insider.'" Democrats posting oppo on Democrats? Wowsers.

Texas: "EMILY's List Weighs in Hard in Texas Primary — Against a Leading Woman in the Trump Resistance" [The Intercept]. "Laura Moser, as creator of the popular text-messaging program Daily Action, gave hundreds of thousands of despondent progressives a single political action to take each day. Her project was emblematic of the new energy forming around the movement against Trump, led primarily by women and often by moms. (Moser is both.) It was those types of activists EMILY's List spent 2017 encouraging to make first-time bids for office. But that doesn't mean EMILY's List will get behind them. Also running is Lizzie Pannill Fletcher, a corporate lawyer who is backed by Houston mega-donor Sherry Merfish. EMILY's List endorsed her in November." Ka-ching.

Missouri: "Greitens didn't shoot straight with Missourians, can't govern under indictment" [Kansas City Star]. "We are not yet prepared to call for the governor to resign. But he should seriously consider declaring to the legislature — as allowed by the state constitution — that he is 'unable to discharge the powers and duties of his office.' … We take no joy in writing this recommendation. But Missourians deserve a full-time governor devoted to their welfare, not one focused on a felony accusation in court."
New Cold War
"The hysteria over Russian bots has reached new levels" [Thomas Frank, Guardian]. "The ads themselves are now thought to have been the product of highly advanced political intelligence. So effective were the troll-works, wrote Robert Kuttner on Monday, that we can say Trump 'literally became president in a Russia-sponsored coup d'etat.'" One might almost think Kutter is projecting…. More: "For thoughts on the finely tuned calculations behind this propaganda campaign, the Washington Post on Saturday turned to Brian Fallon, a former Hillary Clinton press secretary, who referred to the alleged Russian effort as follows: 'It seems like the creative instincts and the sophistication exceeds a lot of the US political operatives who do this for a living.' Of what, specifically, did this sophistication consist? In what startling insights was this creativity made manifest? 'Fallon said it was stunning to realize that the Russians understood how Trump was trying to woo disaffected [Bernie] Sanders supporters …' The whole thing is worth a read, but here's more:

If you're one of those people who frets about our democracy being in serious danger, I contend that the above passages from the Post's report should push your panic meter deep into the red.

This is the reason why: we have here a former spokesman for Clinton's 2016 presidential campaign, one of the best-funded, most consummately professional efforts of all time, and he thinks it was an act of off-the-hook perceptiveness to figure out that Trump was aiming for disgruntled Sanders voters. Even after Trump himself openly said that's what he was trying to do.

For a veteran politico to be stunned by this unremarkable fact, one of two things has to be true: either Democratic "political operatives" are incredibly bad at what they do, or else they are feigning amazement in order to get themselves off the hook for the lousy job they did in 2016. They themselves blew millions and came up empty, but to this handful of bargain-basement Russian trolls they ascribe all manner of ability. Clinton's glittering Jedi army was simply powerless against them.

Oddly, or not, Frank can't seem to get work in the United States after Listen, Liberal! (which you should consider reading if you have not). He's probably going to find getting work harder after this. Anyhow, this is the ad that converted me (via):

I'm so ashamed. How can I make amends? Where do I sign up for the liberal Democrat Drang nach Osten?

"Mueller Russia indictments cause 'discord'" [Columbia Journalism Review]. "However, 'discord' has buried in it the connotation that the parties at one another's throats would normally be in closer agreement. That makes it particularly apt to use 'sow' with "discord." A single seed, planted in a crack of a mighty rock, can grow and split that rock asunder." Yes, if it hadn't been for outside agitators causing "discord," all those happy darkies firewallers would have turned out in droves in the 2016 general election.

"But a veteran Washington former federal prosecutor who served during both the Clinton and Bush administrations believes there is a strategy that Mueller is quietly pursuing and that explains his actions so far" [Margaret Carlson, The Daily Beast]. "Seth Waxman, now a partner specializing in white-collar crime in Dickinson Wright's Washington office, has a theory of Mueller's case, which requires no novel reading of existing law to find Trump broke it. It employs the main weapon any federal prosecutor uses to police public corruption. It is Title 18 United States Code, section 201 that specifically makes it a crime for a public official to take 'anything of value,' a bribe, in exchange for government action, which can be prospective. Note that above I wrote 'public official.' That's because the law is generally wielded against public officials. Problem: Mueller is investigating conduct before Trump became one. Enter Waxman. He points out that in 1962, Congress extended the bribery law to cover activity prior to the assumption of office. It did so, he says, in order to close a 'loophole' afforded those 'who assume public office under a corrupt commitment." The upshot? Trump became covered by 18 USC not when he was sworn in but as of July 21, 2016 when he became his party's nominee in Cleveland, Ohio."

"Democrats want $300 million to fight possible Russia election tampering" [Reuters]. In other words, they want a boondoggle for their IT donors in Silicon Valley, and they want to keep the hysteria going for as long as they can. More: "Schumer also said Democrats want Trump administration officials to issue a public report detailing how Russia might interfere in the 2018 U.S. vote. They also want a classified report for state officials and relevant congressional committees." Presumably a version of the classifed report will be released? So voters can read it? (I don't know why I bother….)
Gunz
"However, pointing the finger at the gun lobby misses the underlying values that define the owning of a gun in the first place — the values of safety and freedom. In the American version of the 'hierarchy of needs,' these two values are at the top. According to Pew Research polling, 67 percent of gun owners own a weapon for "protection." Guns = safety and security. Those who want more gun restrictions argue that guns are often used to harm not protect. That even the most conscientious gun owners can cause accidents. But, gun owners don't see things that way. That may not make sense to many of us who don't own one, but it does to them" [Amy Walter, Cook Political Report]. Safety and freedom sound like great ideas!

Marion Hammer is a horrible human being [The New Yorker]. Well worth a read.

Arming teachers:

Folks, I'm beginning to think arming teachers might not be the best idea https://t.co/nb0x11jwl7

— Yes, You're Racist (@YesYoureRacist) February 22, 2018
Realignment and Legitimacy
"Public Corruption Cases Are Harder to Prove Than Ever" [Governing]. "Suppose you hope to land a big government contract. Here's one way you might go about getting it: You hire a lobbyist, who just happens to be a longtime friend of the governor. He hands the governor $10,000 in cash, maybe in a briefcase, like in the movies. The governor then picks up the phone, calls the head of the agency awarding the contract and you're in, ready to make your pitch. Maybe that sounds like a corrupt arrangement. But that scenario, suggested by Randall Eliason, a George Washington University law professor, would be perfectly legal under current interpretations of ethics laws. The recent mistrial and dismissal of charges against U.S. Sen. Robert Menendez made it clear that juries don't consider gifts between friends, no matter how valuable, to be proof of corruption." Third World stuff.

"Are voting-machine modems truly divorced from the Internet?" [Freedom to Tinker]. "The ES&S model DS200 optical-scan voting machine has a cell-phone modem that it uses to upload election-night results from the voting machine to the "county central" canvassing computer. We know it's a bad idea to connect voting machines (and canvassing computers) to the Internet, because this allows their vulnerabilities to be exploited by hackers anywhere in the world. (In fact, a judge in New Jersey ruled in 2009 that the state must not connect its voting machines and canvassing computers to the internet, for that very reason.) So the question is, does DS200's cell-phone modem, in effect, connect the voting machine to the Internet?…. [technical detail omitted] … So, in summary: phone calls are not unconnected to the Internet; the hacking of phone calls is easy (police departments with Stingray devices do it all the time); and even between the cell-towers (or land-line stations), your calls go over parts of the Internet. If your state laws, or a court with jurisdiction, say not to connect your voting machines to the Internet, then you probably shouldn't use telephone modems either."
Stats Watch
There are no stats of interest at Econoday today.
ECRI's WLI Growth Index: "This [Economic Cycle Research Institute] index is indicating modest growth six months from today" [Econintersect].
Housing: "Black Knight: National Mortgage Delinquency Rate decreased in January" [Calculated Risk]. "The number of delinquent properties, but not in foreclosure, is up 40,000 properties year-over-year, and the number of properties in the foreclosure process is down 144,000 properties year-over-year."
Housing: "As has been widely reported, the new home builders have been focused on higher priced homes – and this is clear in the house price data. Compared to the bubble peak, the NAR median price is up 4.4%, the Case-Shiller index is up 6.4%, however new home median prices are up 27.5%!" [Calculated Risk].
Housing: "Our analysis suggests that banks' appetite for mortgage credit risk has been increasing over time. Our findings match other evidence that residential mortgage lending standards have eased in recent quarters (including this mortgage index and this Federal Reserve Board lending survey), while remaining substantially tighter than during the housing boom (see this housing credit index). As other observers have noted, banks' greater willingness to originate jumbo mortgages is likely to continue, given the improving housing market and the attractive yield on such loans (see this October 2016 Wall Street Journal article, password required). Overall mortgage demand will, however, remain dependent on the evolution of long-term interest rates and the macroeconomy" [Liberty Street Economics].
Commodities: "Cobalt price: Supply scramble heats up with Canadian deal" [Mining.com]. "Investors piled into Cobalt 27 Capital Corp (TSX-V:KBLT) and RNC Minerals (TSX:RNX) on Thursday after the companies entered into a royalty deal on all future nickel and cobalt production at RNC Minerals' Dumont project in Quebec in a deal worth $70 million….. Annual production of the raw material is only around 100,000 tonnes primarily as a byproduct of nickel and copper mining with more than 60% coming from the Democratic Republic of the Congo, where fears about political instability and the challenges of ethical sourcing combine to supercharge supply concerns. The country is only set to tighten its grip on supply as Glencore restarts its Katanga mine, ERG's $1 billion RTR operation comes on stream later this year and Nzuri Copper's advanced Kalongwe project enters production. Prices for cobalt have nearly quadrupled since hitting record lows two years ago, trading at decades highs above $80,000 a tonne this week. Nickel, mainly used in the steel industry, is up 50% in the past six months on expectations of growing demand from electric vehicles."
Shipping: "European Commission issues massive fines for cartel behaviour among car carriers" [Splash 247]. "The European Commission has fined a raft of car carrier firms for taking part in cartels, in breach of EU antitrust rules. CSAV, K Line, MOL, NYK and Wallenius Wilhelmsen Logistics (WWL) have been found guilty of colluding on prices, the latest in a worldwide clampdown on car carrier carter beahvious that has seen fines dished out in three other continents to date. The cartel activity lasted from 2006 to 2012. The commission's investigation revealed that, to coordinate anticompetitive behaviour, the carriers' sales managers met at each other's offices, in bars, restaurants or other social gatherings and were in contact over the phone on a regular basis. In particular, they coordinated prices, allocated customers and exchanged commercially sensitive information about elements of the price, such as charges and surcharges added to prices to offset currency or oil prices fluctuations." That's real money!
Shipping: "The [Electronic Logging Devices (ELD)] mandate, which took effect Dec. 18, could result in a conversion of highway traffic to rail if businesses believe that over-the-road drivers may not be able to meet delivery targets; the ELD rule is expected to cut driver productivity by 3 to 10 percent as drivers in order to run more miles than allowed by law are now forced by technology to stay within federal hours-of-service (HOS) limits" [DC Velocity]. The deck: "ELD compliance issues for dray drivers could impact their operations, at a cost to the intermodal ecosystem." That's why I hate the word "ecosystem" when used as a profit for market; "ecosystem" takes no account of the legal and regulatory system (probably why Silicon Valley loves the word, come to think of it).
Shipping: "A growing recovery in shipping is helping rescue the sector's former top financier from possible liquidation. U.S. private-equity firms J.C. Flowers & Co. and Cerberus Capital Management LP plan to buy to buy German lender HSH Nordbank for $1.2 billion" [Wall Street Journal]. "The two German states that own HSH had been looking at a sale for around $245 million, but improved results and a substantial reduction in bad shipping loans have made the struggling lender more attractive."
Shipping: "Maersk's "Transformation" Under Scrutiny" [Logistics Management]. "According to published accounts of a presentation given to investors by Denmark's A.P. Moller-Maersk, the company intends to "transform" its logistics and supply chain model to compete with package delivery behemoths like UPS and Fedex. 'Good luck with that,' says Foster Finley, Managing Director, of the consultancy, AlixPartners. 'While we have the greatest respect for Maersk and its superb business culture, this represents a huge break out of its core competency,' said Finley. 'Furthermore, they don't have the shipper relationships that have been nurtured over the years by the world's largest integrators.' A more realistic scenario, said Finley, would for Maersk to concentrate its "last mile" strategies in U.S. mega-port cities like Los Angeles/Long Beach; New York/New Jersey; Charleston; and Savannah."
Transport: "UPS to deploy electric delivery cars at cost parity to diesel, gas powered units" [DC Velocity]. "UPS Inc. said today it will deploy 50 electrically powered package cars by year's end that will be comparable in acquisition costs to conventionally fueled trucks for electric vehicle investment, a move the transport and logistics giant said could be a breakthrough in large scale truck fleet adoption of electric vehicles…. Atlanta-based UPS said it has reached subsidy-free parity by working with Workhorse Group Inc., a Loveland, Ohio-based manufacturer of electric vehicles, to design and build a prototype from the ground up. The two companies said they have spent four years on the effort. The 50 vehicles will be utilized in densely populated urban areas like Los Angeles, Atlanta, and Dallas, and operate with a range of about 100 miles between charges, UPS said. Depending on the success of the initial deployment, UPS will expand use of the vehicles during 2019."
The Bezzle: "For self-driving cars, car washes are a nightmare" [CNN]. "A self-driving vehicle's exterior needs to be cleaned even more frequently than a typical car because the sensors must remain free of obstructions. Dirt, dead bugs, bird droppings or water spots can impact the vehicle's ability to drive safely…. 'For self-driving technology to scale, we can't have engineers paid $150,000 a year, running around the vehicles and wiping them down,' [Seeva CEO Diane Lansinger] said. "It's going to be quite awhile before we get away from the manual care."
The Bezzle: "Tesla Inc.'s sedan supply chain may be moving into a higher gear. The Silicon Valley auto maker is notifying some reservation holders new to the electric-car brand that they can begin ordering their Model 3 sedan…. suggesting production of the vehicle at Tesla's assembly plant is speeding up after a turbulent start last year" [Wall Street Journal]. "Tesla has received about 500,000 reservations for the Model 3 since revealing the sedan in 2016, but the move into the mass-market business has been rocky. It delivered about 1,600 of the vehicles during the final three months of 2017—well below its goal of building 5,000 on a weekly basis, or 250,000 on an annual basis." "Suggesting" is doing a lot of work in that sentence.
The Bezzle: "Tesla accused of knowingly selling defective vehicles in new lawsuit" [The Verge]. "A former Tesla employee claims the company knowingly sold defective cars, often referred to as 'lemons,' and that he was demoted and eventually fired after reporting the practice to his superiors. He made these allegations in a lawsuit filed in late January in New Jersey Superior Court under the Conscientious Employee Protection Act (CEPA)." Hey, move fast and break things… .
The Bezzle: "Recode Daily: Kylie Jenner shaded Snapchat and Snap shares sank $1.3 billion" [Recode]. If your business depends on a platform, you don't have a busienss. If your platform depends on a celebrity, you don't have a platform.
The Fed: "Stock market climbs as Fed report suggests no need for 4 rate hikes in 2018" [MarketWatch]. "U.S. stocks climbed Friday as U.S. benchmarks looked set to end an up-and-down stretch of trade on a high note, amid consternation about rising bond yields and the reemergence of long-stagnant inflation. A Federal Reserve monetary policy report, however, offered little sign that the central bank was overly concerned about the type of out-of-control inflation that might warrant more than three rate increases in 2018."
Mr. Market: "JPMorgan's Quants Warn Risks Are Growing for Bond Short-Squeeze" [Bloomberg]. "Short positioning in Treasury futures has climbed to a record, increasing the potential for an unraveling of trades betting on further declines in bond prices, Marko Kolanovic wrote in a note to clients. There's also been an extreme swing in sentiment, with investors unduly focusing on higher inflation risks, said Kolanovic, who heads the team in New York."
Five Horsemen: "SNAFU — Situation Normal; Amazon Fired Up" [Hat Tip, Jim Haygood].
Today's Fear & Greed Index: 15 Extreme Fear (previous close: 18, Extreme Fear) [CNN]. One week ago: 15 (Extreme Fear). (0 is Extreme Fear; 100 is Extreme Greed. Last updated Feb 21 at 7:00pm. Now only lagged by two days. What's the point of a Fear and Greed indicator that craps out at the ends of the scale?
Health Care
"Bipartisan Group of Governors Outline Health Care Compromise, Again" [Governing]. "Democratic Govs. John Hickenlooper of Colorado and Tom Wolf of Pennsylvania, Republican Govs. John Kasich of Ohio and Brian Sandoval of Nevada, and Independent Gov. Bill Walker of Alaska discussed their plan at the National Press Club in Washington, D.C. Their proposal — which expands on a letter they wrote to Congress in August — is aimed at stabilizing the marketplace, making plans more affordable and giving states more flexibility. The governors made a point to argue that, despite the partisan rhetoric in Congress, the goals of delivering high-quality care and reducing costs or covering more people and being fiscally responsible are not mutually exclusive."
Gaia
"Building a backup bee" [Food and Environment Reporting Network]. They're not "building" it; they're breeding it. "[Dr. Gordon Wardell] has investigated all aspects of [Blue Orchard Bee (BOB)] life in those cages and has figured out how to do what no one else has: economically raise large numbers of BOBs on a small parcel, making them a commercially viable alternative to honeybees for almond pollination…. Theresa Pitts-Singer, who for years has studied BOBs at the USDA's Utah bee lab, thinks the bees are finally close to becoming a managed pollinator, reaching a "tipping point" she never thought they would reach. She is convinced because BOBs are increasingly available and growers want them, even though they are not cheap. She says that for a long time only one orchard pollination model was dependable: renting honeybees. Now more people seem to accept that other models might work—from bringing more wild bees onto farms to alternatives such as BOBs."
Hey Ma, can we go barefoot?
"While in total darkness, and just 400 miles from the North Pole, the temperature there climbed above freezing Tuesday!"
By @wildweatherdan via #AGUblogshttps://t.co/BEZ6qPyrpH

— Am Geophysical Union (@theAGU) February 23, 2018
Class Warfare
"The New Working Class" [The New Republic]. "Although the "narrative makers" may have missed it, the working class has changed. Those who used to occupy its fringes—hotel housekeepers, retail clerks, and home care aides—are now its majority. Today, home health care is the fastest-growing industry in the United States, projected to add over a million new jobs to the economy in the next ten years. Retail jobs, according to the Bureau of Labor Statistics, currently make up 10 percent of all employment. These jobs have always been important, but as automation and outsourcing have decimated manufacturing, the relative significance of service work has increased…. This change in the composition of the workforce has the potential to redefine traditional alliances in the United States. Already, unconventional partnerships have formed across different groups: Walmart workers, restaurant workers, and domestic workers have organized and joined with community groups and movements such as Occupy Wall Street and the Movement for Black Lives. These alliances also take into account the importance of unpredictable scheduling, social isolation, safety concerns, and gendered and racialized expectations of who is "naturally" inclined to service work." Hence DSA is clever to be organizing childcare. (And adopting Roberts Rules, which (unlike the General Assembly) respects meeting-goers' time.)
New of The Wired
"Two-way communication is possible with a single quantum particle" [Science News]. "Using a single photon, or particle of light, two people can simultaneously send information to one another, scientists report in a new pair of papers. The feat relies on a quirk of quantum mechanics — superposition, the phenomenon through which particles can effectively occupy two places at once."
"Somebody Needs to Make a Movie About John Shuster and His Ragtag Team of Curling Rejects" [Slate]. You don't see Slate throw the West Fargo Pioneer a link very often!
* * *
Readers, feel free to contact me at lambert [UNDERSCORE] strether [DOT] corrente [AT] yahoo [DOT] com, with (a) links, and even better (b) sources I should curate regularly, (c) how to send me a check if you are allergic to PayPal, and (d) to find out how to send me images of plants. Vegetables are fine! Fungi are deemed to be honorary plants! If you want your handle to appear as a credit, please place it at the start of your mail in parentheses: (thus). Otherwise, I will anonymize by using your initials. See the previous Water Cooler (with plant) here. Today's plant (pq):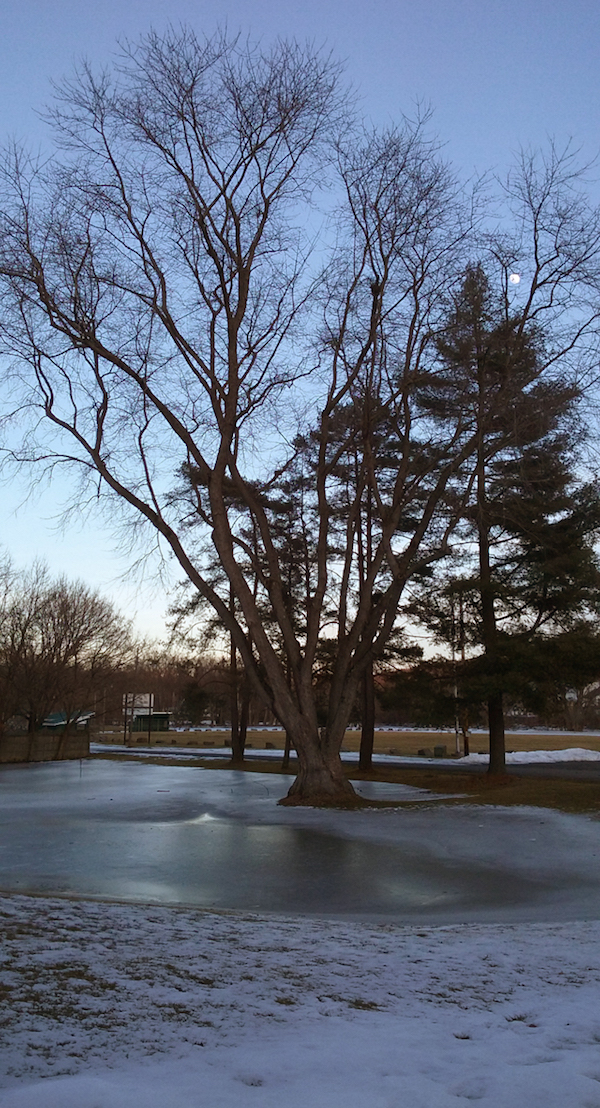 pq writes: "Flood waters from the January thaw pooled in low-lying areas and then froze when the temperature dove back down into the teens. The good news is, it won't be too long before the maple sap starts running. (I took this photo three days before the lunar eclipse.)"
* * *
Readers: Water Cooler is a standalone entity not covered by the NC fundraiser. So do feel free to use the dropdown and click the hat to make a contribution today or any day. Here is why: Regular positive feedback both makes me feel good and lets me know I'm on the right track with coverage. When I get no donations for five or ten days I get worried. More tangibly, a constant trickle of small donations helps me with expenses, and I factor that trickle in when setting fundraising goals. So if you see something you especially appreciate, do feel free to click the hat!