By Lambert Strether of Corrente.
Trade
"The outcome of talks unfolding in Mexico City this week could hinge on whether U.S. Trade Representative Robert Lighthizer will be willing to work with Canada's recent offers and others Mexico is expected to make. After the fall rounds ended in impasse and pessimism, with the Trump administration blaming its counterparts for refusing to engage, negotiators finally seemed to take a step forward in late January in the aftermath of the Montreal round, when Canada, in particular, began floating ideas for the first time to respond to U.S. priority issues like auto rules of origin and a five-year sunset provision" [Politico]. "If Lighthizer doesn't demonstrate the U.S. is willing to compromise, the goal of reaching a deal at all, let alone by the end of March, feels increasingly unachievable, public- and private-sector sources close to the talks told [Politico]."
"Not surprisingly, the administration is seeking a deal that counters NAFTA's job outsourcing trend and appeals to the Democratic-swing voters in Midwestern states that sent Trump to the White House – and the unions to which many of them belong" (PDF) [Lori Wallach, Public Citizen]. "And, certainly this administration does not want to repeat the Obama administration's strategic blunder of agreeing to a deal that cannot achieve majority support in Congress despite months of intense lobbying a la the Trans-Pacific Partnership. Agreement on the U.S. proposal on NAFTA's controversial investment chapter and its Investment-State Dispute Settlement (ISDS) system could be the key to unlocking the impasse. ISDS is unpopular in Congress, not only with Democrats but with a sizeable bloc of GOP committed to opposing any pact that includes ISDS. Progressive and conservative organizations and unions have long held the same view. ISDS has become a third rail issue because it both promotes job outsourcing and undermines what conservatives call sovereignty and progressives call democratic governance." Typically incisive analysis from Wallach; well worth a read in full.
"President Donald Trump's planned meeting with Mexican President Enrique Peña Nieto in Washington was dropped after the two leaders clashed during a phone call last week over Trump sticking by his demand that Mexico will pay for a border wall" [Politico].
Politics
2020
"Kamala Harris positions herself for White House run" [The Hill]. A Rolodex dump… And then there's this:

I strongly support @DianneFeinstein's reelection campaign, and am thankful she is again offering to serve our state. pic.twitter.com/0hR6clqrEz

— Kamala Harris (@KamalaHarris) October 9, 2017

"Elizabeth Warren's stealth campaign to shed 'Pocahontas'" [Politico]. "Warren has met with close to a dozen tribal leaders and prominent activists recently. She has also signed onto at least six bills directly related to Native American policy. It's clearly an organized effort: Four of those co-sponsorships came within two days of her speech, and Warren endorsed two bills around that time even though they'd been introduced months earlier."
2018
New York: Hoisting alert reader pq's comment on New York's 22nd Congressional District:

[S]everal election trackers New York 22nd] as a "race to watch." The Democratic Congressional Campaign Committee has listed the incumbent, Claudia Tenney, as a target for 2018, while they aren't going after Stefanik.

Tenney was elected to her first term in 2016. The 22nd district voted for Trump by about the same margin as Stefanik's 21st district, but it favored Romney in 2012 (by less than half a percentage point), and was evenly split between Obama and McCain in 2008. So, even though Stefanik's district flipped and Tenney's didn't, Tenney is the one whose seat isn't safe.

Her main Democratic opponent is State Assemblyman Anthony Brindisi. Politico reported that Brindisi had raised nearly twice as much as Tenney in 2017 Q3. She also will face Republican challengers in the primary.

I get Tenney's weekly e-mails. Her positions are straight party line, although considering that her district is solidly Republican, she may actually be listening to her constituents. Also, she at least discusses the issues. To her credit, she doesn't (she says) support Trump's proposed budget cuts to social programs like HEAP, Community Development Block Grants, and a few others. She hasn't said anything about Medicaid or SNAP (nothing about the food boxes), but I doubt she would support cuts, when so many of her constituents rely on these programs.

This may be New York State, but it's Rust Belt flyover country. Many people don't know that this area was the original Silicon Valley, headquarters of IBM and the dozens of companies that sprang up around it. All of that is long gone now. Disastrous flooding in 2006 and 2011 further kicked the region in the head.

Like the 21st district, the 22nd was solidly for Bernie in the Democratic primary. In fact, Bernie won all but three Upstate counties. It's also interesting that both districts ultimately elected women. There goes the theory that the gun-toting deplorables rejected Hillary only because she's a woman.

Would other New York readers care to comment?

"California Democrats deny Sen. Feinstein an endorsement" [CNN]. "Even had De León notched the endorsement, Feinstein is still heavily favored to win in November — in part because of her nearly unlimited resources, and her support among California independents and some Republicans." Sounds like the future of the Party!

UPDATE "California Democrats' snub of party icon Dianne Feinstein could be a speed bump — or a signal" [Los Angeles Times]. "Feinstein was warmly received by many delegates, including members of the party's women's caucus, who greeted her with a standing ovation."
New Cold War
"Collusion or not, Russia probe is worst political scandal in decades" [NBC News]. "Whether or not Mueller ever finds a smoking gun that Trump and his campaign colluded with Russia, this is already the biggest political scandal in decades." Er.

"Democratic memo shows no wiretap scandal" [Editorial Board, USA Today]. "According to the redacted Democratic memo, the Justice Department did tell the court that the dossier's author 'was hired by politically motivated' people to gather information 'to discredit' Trump's campaign."

"The Schiff Memo Harms Democrats More Than It Helps Them" [Andrew McCarthy, National Review]. "Another major takeaway from the Schiff memo is that the FBI and the DOJ withheld from the FISA court the fact that Steele's work was a project of the Clinton campaign." Quoting the warrant: "The FBI speculates that the identified U.S. Person was likely looking for information that could be used to discredit Candidate #1's campaign." My takeaway remains that when oppo becomes the basis for a FISA warrant, that's a Very Bad Thing. One might picture a cycle whereby the intelligence community feeds the political class tidbits of information, which is then laundered through opposition researchers, becomes the basis for FISA warrants, creating new information assets, which are then fed through the political class, with the cycle endlessly repeating. Is there any reason such a process would not be in place for all other political candidates, and not just Trump? Not that I'm foily.

"Sanders either didn't know, or has chosen to ignore, the fact that Russiagate is not only about weakening and punishing Donald Trump, but also about weakening and punishing – and censoring – what still remains of the contemporary American Left. And that includes Bernie Sanders, still considered the dangerous front-runner for the 2020 Democratic presidential nomination" [Sardonicky].

UPDATE Where does one begin:

Make it stop pic.twitter.com/aedMSdBoQn

— Spring Training Nick (@FurlinNick) February 23, 2018

I don't imagine that this sentiment is widespread, but that it exists at all is remarkable:

I wonder how much De Leon is backed by Russians?#SupportFeinstein

I have zero faith in the #CADems now. I will chose my own candidates! https://t.co/u1iyCGWcry

— chm, Stable Genius (@chmayer) February 26, 2018
Health Care
"Look for the Democrats to take control of the government by 2020 and seek to impose price controls through a British-style single-payer system or German-style insurance system" [Peter Morici, MarketWatch]. A fine example of the oft-overheated Republican imagination.
Gunz
"Iowa grants gun permits to the blind" [USA Today]. What could go wrong?

"Texas police shoot man who disarmed possible church shooter" [Houston Chronicle]. "In the time between when police were dispatched and when officers arrived, a handful of churchgoers wrestled Jones to the ground. One of the congregants was able to grab Jones' gun…. Officers entered the building and saw the churchgoer holding the gun and opened fire, according to the Amarillo Police Department. The churchgoer was hospitalized in stable condition." Read all the way to the end.

UPDATE Holy moley:


NRA isn't a "lobby group." It's a fellowship organization of gun owners. I can't take you seriously on any level now that you've demonstrated you don't know anything about the group your smearing. Enjoy your day.

— Dana Loesch (@DLoesch) February 25, 2018

"Fellowship organization." Really?

UPDATE "Teen Confronts DCCC-Endorsed Candidate Over His 100 Percent NRA Rating" [The Intercept]. Nice going, DCCC. The hour has produced the Blue Dog.

UPDATE "Sorry, Democrats: Your NRA Is Spelled AIPAC" [HuffPo]. "Bought is bought."
Realignment and Legitimacy
"Behind a Key Anti-Labor Case, a Web of Conservative Donors" [New York Times].

"Supreme Court Janus case is bigger than unions. Upward mobility is at stake." [Neera Tanden, USA Today]. No doubt Tanden didn't write the headline, which implies that upward mobility is significant; it's been declining sharply (see here and here). Tanden concludes: "Our nation's unions have played an indispensable role in providing millions of families with a road to the middle class. If the Supreme Court rules against unions in Janus, it will be ruling against America's middle class." Not the (vague and disempowering) "middle class"; the working class. The situtation would be even worse if Obama hadn't given us card chedk. Oh, wait….

"Teamsters Local 25 backs Massachusetts Gov. Charlie Baker for re-election" [MassLive].

"Democrats Did Better Than on Hundreds of Simulated Pennsylvania Maps" [New York Times]. "In the view of the majority of the Pennsylvania Supreme Court, "perhaps the most compelling evidence" that Republicans sacrificed traditional redistricting criteria for partisan gain was a political scientist's simulation of 500 possible congressional maps…. But what about the remedial map recently adopted by the court? It is not an outlier to the same extent as the Republican-drawn map. But if you look at what 2016 statewide results would have been with the new map, the overall Democratic performance arguably would have been better than in all 500 of Mr. Chen's simulations, according to an Upshot analysis."

UPDATE Interesting thread on polling methodologies and differences between pollsters ("house effects," "mode effects"):


There is a new CNN poll out today with approval at 35, disapproval at 58. That may seem a surprise with polling averages at 43 (HuffPo) and 42 (RCP) or 39.4 (538) or 44 (me, sort of).

It's not. And it raises an issue.

Let me elaborate. 1/x pic.twitter.com/83CB021DBO

— Charles Franklin (@PollsAndVotes) February 25, 2018

"State lawmakers voted Tuesday to block any efforts by cities and counties to find out — and inform the public — who is funneling money into local elections through nonprofit groups" [Tucson.com].
Stats Watch
New Home Sales, January 2018: "Sales of new homes slowed but not all the data in January's new home sales report are negative" [Econoday]. "The new home market surged into the end of last year but understandably slowed in January. Yet supply, that is the lack of it, is an overwhelming issue for the market and today's details, including gains underway for permits and starts which are growing in the mid-to-high single digits, are positives for the outlook." Then again: "New-home sales collapse in January as momentum wavers" [MarketWatch]. "Big picture: The government's reports on new housing construction are based on small samples, so the data are subject to stark revisions. Construction and sales have ground steadily higher in the years since the recession, but remain well below long-time averages, even as the housing market remains starved for supply."
Chicago Fed National Activity Index, January 2018: "Underpinned by employment, January was another solid month for the economy judging by the national activity index which held in moderately positive ground" [Econoday]. "This report helps highlight two of the most important features of the early 2018 economy: strength in employment and softness in consumer spending." But: "While the Chicago Fed National Activity Index is rather inclusive of the broad economy, much of the data within the index is already known by the time the initial and revision reports are made. The index also rarely creates a major move in the markets" [247 Wall Street].
Dallas Fed Manufacturing Survey, February 2018: "The Dallas Fed is clearly surpassing the Philly Fed as the very hottest of the regional and private manufacturing surveys. Dallas' general activity index jumped to 37.2 in February, easily above Econoday's high estimate and the strongest reading of the post-2008 expansion" [Econoday]. "Respondents in small-sample reports, like this one from Dallas, continue to report far stronger conditions than those tracked in definitive factory data where growth has been uneven and, as yet, moderate."
Commodities: "American mining companies are getting the lift they've long been waiting for, but it's not coming from new U.S. demand. American companies are shipping far more coal to Europe and Asia, bulking up international supply lines and helping stop a yearslong decline in the number of U.S. mining jobs. Exports of U.S. thermal coal used by utilities more than doubled last year to 42 million tons…. more than offsetting a steep drop in coal used at U.S. power plants as U.S. energy business moves toward natural gas. The export opportunities come from a tightening of global supply, attractive pricing in Western Europe and greater coal use in developing countries like India" [Wall Street Journal].
Shipping: "UPS said today it is following the legal process in seeking compensation from the European Union (EU) for the losses suffered as a result of its planned 2013 acquisition of TNT Express NV being unfairly prohibited by the EU" [Logistics Management].
Supply Chain: "Pacific Basin conflict and its impact on high tech manufacturing" [Logistics Management]. "According to Resilinc – a global supply chain mapping intelligence organization with a key focus on the high tech – a military conflict of any magnitude could have catastrophic consequences for this sector. Indeed, even using traditional weaponry would not only bring global supply chains to a grinding halt, but the time to recover back to current levels could take several years. This prediction is based on an analysis of several tiers of the global high-tech electronics industry supply chain…. [O]ne fabrication facility's capacity being taken off of the market could result in massive impacts on capacity, supply and pricing. This is particularly so given that almost 40% of worldwide wafer capacity is located in South Korea and Japan, the countries most threatened by North Korea."
Supply Chain: "A dispute over a marine container terminal in East Africa highlights growing international commercial and geopolitical concerns in the region. The nation of Djibouti seized the port facility run by DP World, and … the action marks a dramatic step in the tiny country's moves to take stronger control of a strategically important site where the Red Sea and Gulf of Aden meet" [Wall Street Journal]. "DP World, which owns a third of the Doraleh Container Terminal, is fighting the seizure, but some now expect Djibouti's government, which owns the rest of the site, to strike a deal with Chinese investors."
Tech: "Dropbox Gears Up for IPO" [247 Wall Street]. "Dropbox has filed an S-1 form with the U.S. Securities and Exchange Commission (SEC) regarding its initial public offering (IPO). The company did not mention any pricing details in the filing, but it values the entire offering up to $500 million. The company intends to list its shares on the Nasdaq under the symbol DBX."
Tech: "Dropbox filed IPO documents last week, and our analysis of these documents reveals considerable risk that the company's co-founders would hold lifetime control even if they would retain only a tiny minority of the company's equity capital" [The Harvard Law School Forum on Corporate Governance and Financial Regulation] (original).
Tech: "Y Combinator's future as a Silicon Valley kingmaker is at a make-or-break moment" [Quartz]. "But even as Y Combinator spreads the global gospel of startups, it's still got a backlog of unicorns—companies worth more than $1 billion—that have yet to go public. Now that Dropbox has taken the jump, other unicorns will be watching closely, including its siblings at Y Combinator. The success or failure of Dropbox will reflect on Y Combinator, too, and its status as a Silicon Valley kingmaker."
Mr. Market: "Fed's Bullard says the stock-market correction was 'benign'" [MarketWatch]. "'One thing about this sell-off in equity markets that just occurred, it did not seem to be associated with a re-think of global growth prospects or U.S. growth prospects, so in that sense, I think the sell-off was relatively benign compared with other ones that had been associated with some kind of market reassessment of risks globally,' Bullard told reporters after a speech to the National Association of Business Economics in Washington. 'That didn't really happen this time around, so that is an encouraging sign,' he added. Bullard noted that the St. Louis Fed's financial stress index has moved higher in the wake of the market retrenchment but it is still 'not at particularly high levels.' Bullard was also nonplussed by the recent rise in the 10-year Treasury yield…."
Five Horsemen: "Amazon and Microsoft both reach intraday records, as the Seattle sluggers carry on trouncing their Silicon Valley counterparts" [Hat Tip, Jim Haygood].
Today's Fear & Greed Index: 18 Extreme Fear (previous close: 15, Extreme Fear) [CNN]. One week ago: 18 (Extreme Fear). (0 is Extreme Fear; 100 is Extreme Greed. Last updated Feb 22 at 7:00pm. Now lagged by four days. What's the point of a Fear and Greed indicator that craps out at the ends of the scale?
Health Care
"The Pros And Cons Of 'Medicare Extra For All' Health Care Plan" [ShadowProof]. "Both the premium/tax rate as well as the cost-sharing in the plan are simply too high. I could not call this plan "affordable," and that is the biggest con of the entire plan… he Congressional Budget Office is likely to score a bill with small co-pays as significantly cheaper than one with free at-point-of-service care. Democratic members of Congress and the media put substantial weight on the CBO's estimates. . They can do research to convince the CBO it won't be more expensive. They can push for Democrats to ignore the CBO… On the other hand, any group pushing for significant cost-sharing should be required to explain why they made this choice, which CAP has not done." This is historically informed. CBO scoring was one club that "progressives" wielded against single payer in 2009-2010.
Sports Desk
Curling, which is having a moment, produces not one, but two, feel-good stories:
"How the 'Garlic Girls' Turned South Korea Into a Curling Country" [Wall Street Journal].
"U.S. Curling Team, Once Called 'Rejects,' Beats Canada to Advance to Final" [New York Times].
It's nice that the first thing the curling teams think of after winning isn't cashing in, as in "Dancing with the Stars."
Water
"A KINGDOM FROM DUST" [California Sunday (ST)]. "The aquifer, a sea of water beneath the clay that dates back centuries, isn't bottomless. It can be squeezed only so much. As the growers punch more holes into the ground looking for a vanishing resource, the earth is sinking. The choices for the Kern farmer now come down to two: He can reach deep into his pocket and buy high-priced water from an irrigation district with surplus supplies. Or he can devise a scheme to steal water from a neighbor up the road. I now hear whispers of water belonging to farmers two counties away being pumped out of the ground and hijacked in the dead of night to irrigate the nuts of Lost Hills." ST: "It's Chinatown, Jake."
Gaia
"Record low snowpack foretells troubling spring, summer" [New Mexico Political Report]. "The lack of snow in New Mexico's mountains will have implications for farmers and cities in the spring and summer. And certain tree populations in many of the state's mountain ranges, including the Sandias and Jemez Mountains, are already experiencing large-scale dieoffs. Drought and warming temperatures have weakened ponderosa pines and some conifers, which make them even more vulnerable to insect outbreaks. And communities should be preparing for wildfire season. 'We are standing at the driest start to any water year on record in the observational period, which goes back to the late 1890s,' [Kerry Jones says. 'There is no one alive today that's seen it drier for any start to a water year.'"
Neoliberal Epidemics
"Toxic 100 Air Polluters Index (2018 Report, Based on 2015 Data) [Political Economy Research Institute]. #1 is Zachry Group, a construction engineering firm. #2 is DowDuPont. #3 is Berkshire Hathaway. Interestingly, the table includes a column on "Environmental Justice," that is, the percentage of toxicity borne by the poor: ": Poor Share and Minority Share: Shares of the total population health risk borne by people living below the poverty line or by people in minority racial/ethnic groups. In the U.S. population, 13 percent live below the poverty line and 39 percent are members of minority racial/ethnic groups. Sources: US EPA, US Census, and CTIP."
Guillotine Watch
Why should I waste my beautiful mind….
Kim Kardashian gets candid about the perks of fame: 'Material things don't make me happy anymore.' https://t.co/M7oWfKVlCQ pic.twitter.com/rPBwtz70KP

— Entertainment Tonight (@etnow) February 25, 2018
Well, material things make me happy. Things like dental care. Being able to eat…
Class Warfare
The headline: "How poverty changes your mind-set" [Chicago Booth School]. The dedk: "Understanding psychology may be key to addressing the problem." Not quite as bad as it mght be: "Contrary to the refrain that bad decisions lead to poverty, data indicate that it is the cognitive toll of being poor that leads to bad decisions. And actually, decisions that may seem counterproductive could be entirely rational, even shrewd. The findings suggest that to successfully reduce poverty, it would help to take this psychology into account. In a 2013 study published in Science, researchers from the University of Warwick, Harvard, Princeton, and the University of British Columbia find that . Theirs is one of multiple studies suggesting that poverty can harm cognition. " This sounds an awful lot like Yves' "tax on time." The article rapidly devolved into a discussion of typical neoiberal nudges and tweaks, however.
"The Student Loan Sweatbox" [Credit Slips]. "Defaulting student loan borrowers will remain in a sweatbox for most of their working lives. Proposals to cut back on income-driven repayment options will only aggravate the burden, further shifting responsibility for funding education from taxpayers to a generation of students…. The only way out of the sweatbox for borrowers are 1) bankruptcy discharges granted based on "undue hardship", a very tough standard, 2) discharges based on death or permanent disability, and 3) write-offs of balances after 20 or 25 years of income-based repayment, or shorter periods for some public service loan forgiveness programs. These write-off amounts are modest now, but are growing as the bubble grows."
"These Union-Seeking Coders Will Test Trump's Job-Saving Promises" [Bloomberg]. "The [Lanetix] engineers say that about a week after a majority of them petitioned to unionize, higher-ups told them their positions were all being eliminated, effective immediately. The employees suspected this meant their jobs were headed to the new Eastern European engineering center announced weeks earlier, but the company wouldn't answer their questions. Now the coders are bringing their case to the National Labor Relations Board (NLRB), testing the Trump administration's repeated promises to stop U.S. companies from shifting jobs abroad."
New of The Wired
"Lost Art Of Bending Over: How Other Cultures Spare Their Spines" [NPR]. "'Table' Bending Versus 'C' Bending." Interesting.
"A gut feeling: Microbiome-brain-immune interactions modulate social and affective behaviors" [Science Direct]. "The expression of a wide range of social and affective behaviors, including aggression and investigation, as well as anxiety- and depressive-like behaviors, involves interactions among many different physiological systems, including the neuroendocrine and immune systems. Recent work suggests that the gut microbiome may also play a critical role in modulating behavior and likely functions as an important integrator across physiological systems. Microbes within the gut may communicate with the brain via both neural and humoral pathways, providing numerous avenues of research in the area of the gut-brain axis."
* * *
Readers, feel free to contact me at lambert [UNDERSCORE] strether [DOT] corrente [AT] yahoo [DOT] com, with (a) links, and even better (b) sources I should curate regularly, (c) how to send me a check if you are allergic to PayPal, and (d) to find out how to send me images of plants. Vegetables are fine! Fungi are deemed to be honorary plants! If you want your handle to appear as a credit, please place it at the start of your mail in parentheses: (thus). Otherwise, I will anonymize by using your initials. See the previous Water Cooler (with plant) here. Today's plant (Lee):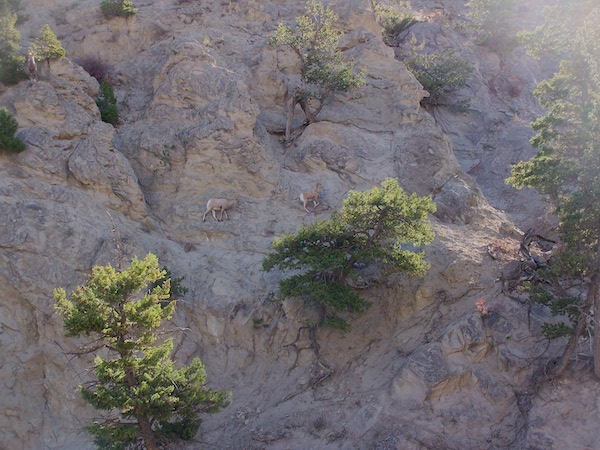 Lee: "Yellowstone: Life finds a way."
* * *
Readers: Water Cooler is a standalone entity not covered by the NC fundraiser. So do feel free to use the dropdown and click the hat to make a contribution today or any day. Here is why: Regular positive feedback both makes me feel good and lets me know I'm on the right track with coverage. When I get no donations for five or ten days I get worried. More tangibly, a constant trickle of small donations helps me with expenses, and I factor that trickle in when setting fundraising goals. So if you see something you especially appreciate, do feel free to click the hat!