Yves here. The idea of preferring skilled immigrants over other ways to allow them to enter has become popular in the UK, as the Tories have been talking up using an Australian-style points system to screen immigrants. At a high level, it screens for people who are young, educated, and have good language skills. The Trump Administration has also started advocating the idea of restricting family-based migration policies and preferring "skilled" immigrants.
I'm not surprised to see the Australian system hasn't worked out as well as expected. The trend in the US, and I wonder if it has been taking hold in Australia, is for jobs where employers are recruiting, to overspecify the requirements, as in to look for someone who has done precisely the same job at a very similar employer. Companies are not willing to train. For instance, as we've mentioned often, for at least the last 15 years, Slashdot has regularly had articles by new computer science grads lamenting that they can't land a job because there are no entry-level positions and the oldsters confirm that this is the case. More generally, in the US, the idea that there is a shortage of graduates with STEM degrees is also a myth.
Now consider some additional inconvenient facts. The first is that the general patten is that immigrants who do not have a corporate sponsor or a strong personal network where they land to help them get placed are more likely to take a step down socioeconomically even if their income in cash terms is higher than it would have been in their home country. For instance, many Jewish professionals who fled the Nazis wound up becoming doormen or equivalent.
More specifically, the factors that operate against even skilled migrants landing good jobs are:
1. Most job openings aren't made public. When I was in Australia, I was told that 80% of the hiring took place without the position ever having been given to a headhunter or hiring agency or otherwise advertised. That sounds about right.

2. Employers don't tend to hire people they can't assess. As I wrote in a Conference Board Review article:

Conservatism can lead to biased outcomes. There is a simple reason (beyond narcissism) why people like to hire in their own image: They understand and can readily evaluate their backgrounds. That's why the old-school tie isn't necessarily a cabal dedicated to self-promotion. Recruiters can probe course selections and extracurricular and social activities, and have an informed view of the candidate's character. An interviewer simply won't have the same comfort level with a candidate when he can't calibrate her accomplishments.

Columbia University professor Amar Bhide coined the phrase "novelty aversion" to describe how investors shun ventures that are unprecedented—notably, both Federal Express and Cisco found it difficult to secure early funding. It isn't much of a stretch to extend his logic to hiring and promotion. Both venture cap- italists and corporations are in the business of picking winners—the former attractive investments, the latter talented employees.

Some examples from the hoary old days when I was involved in recruiting: English was a tough major at Yale and a "gut" at Harvard. Harvard Business School would accept the producers of the Hasting Pudding Show straight out of college (something HBS was generally disinclined to do) because the Hasty Pudding Show was a very large undertaking (big budget plus always having a short run in Bermuda, and getting the show there was a mammoth operational task).

The bigger point is that if you need granular knowledge of US colleges and grad schools to make a good assessment of a candidate (or at best kid yourself into thinking you are making a good decision), how is anyone going to feel anywhere near as comfortable with a foreign applicant, where they will at best have only a dim sense of whether their schools are well regarded and are not likely to have much idea about the rigor of their course of study?

3. Most people are averse to hiring people for "skilled" and/or public-facing roles who are less than highly fluent and have no accent or at most, one they regard positively. Consider our post yesterday on how Southerners are treated outside the South.
By Massimiliano Tani, Professor of Finance and Economics, University of New South Wales, Canberra at Australian Defence Force Academy. Originally posted at The Conversation; cross posted from MacroBusiness
Australia's skilled migration system has helped us attract hundreds of thousands of highly qualified immigrants since 1988. But one side effect of the policy is that we seem to waste many of these skills.
Up to 40% of recent immigrants in Australia are over-educated (having more qualifications than necessary), making it hard for them to find suitable employment. This is almost four times the level of over-education seen in native-born Australians.
The problem could be a lack of coordination between Australia's migration system and employment policies. The migration system is devoted to supplying immigrants for perceived labour market skill shortfalls but employment policies pay less attention to getting the most out of every immigrant.
As a result we can simultaneously have a skill shortage and qualified migrants who are unable to fill these positions. This often occurs because, for example, they do not have relevant Australian experience.
This is an issue not only for the migrants themselves – who are under-used as employees – but for the rest of Australian society as well. The government receives less tax revenue than it otherwise would have from the migrants, which in turn has implications for public funding, savings, consumption and investment expenditure.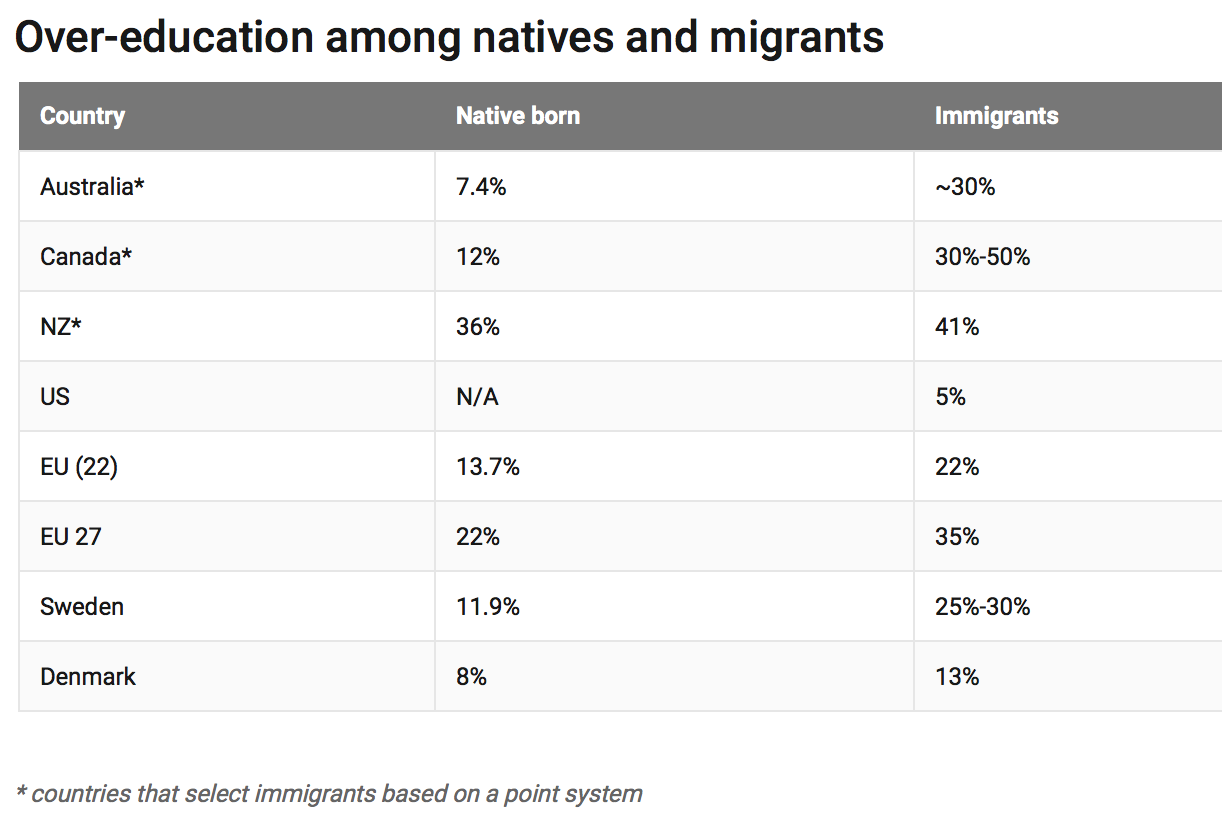 Australia's skilled migration program favours immigrants with particular characteristics – namely, they are young, university-educated, and English-speaking.
Australia still admits people who do not possess these characteristics, but in streams that are not directly motivated by economics – for example via family reunification or humanitarian visas.
The current system can lead to mismatches between the skills available in the market and those that employers actually need. One possible reason is the lag between the time employers inform immigration authorities about the skills they most need (or envisage needing in the future) and when migrants enter the labour market, which can be years later.
Addressing this gap requires tighter coordination between immigration and employment policies. But this is at odds with the current practice.
Australia's skilled migration policy is currently informed by employers (who say what skills are needed) but ultimately focuses on population management. Whether new immigrants find adequate employment to use their skills to the full is the responsibility of a different area of government, if at all.
No Australian employer has an incentive to be the first in offering new migrants the local labour market experience they so critically need. This seems especially so for professional jobs that are subject to occupational licensing. For example, migrants get accredited shortly after settlement but if they cannot acquire relevant Australian experience they either delay entering their desired field or move into a different one.
Coordinating Immigration and Employment
Coordinating Australia's immigration and employment policies could reduce some of this skill wastage.
For example, data on the employment outcomes of recent migrants could be compared to skill shortages identified by employers. This should be carried out jointly by an immigration-employment task force.
This would help to pinpoint the most serious cases of migrant over-education. The reasons could be identified (whether it is because of too many skilled migrants, skills of poor quality, or a lack of demand), and solutions developed.
Using these data, Australian immigration and employment policies could include targets related to migrants' skills. Doing so would rebalance the current focus of both immigration and employment policies so that Australia more efficiently uses all the resources we have available, and for which it competes internationally, as in the case of highly qualified migrants.
Since 1988, when the points-based system was introduced, Australia has been at the forefront of designing immigration policies that are attuned to the needs of the labour market. Immigration policy has focused on attracting migrants that could be immediately employed.
But the evidence shows we are wasting skills in levels similar to those of countries that do not implement selective immigration policies.
This suggests that immigration policy by itself is not the only tool responsible for migrants' labour market outcomes. Better coordination between immigration and employment policies is needed if we want to use skills from abroad to fill gaps and become more productive.