By Lambert Strether of Corrente.
Trade
"The apparently targeted killing of a Chinese shipping executive in Pakistan is sending shudders through China's trade community and the broader shipping world. Counterterrorism police are investigating the murder of Cosco Shipping Lines Co. local managing director Chen Zhu, who was shot as he sat in a car in the port city of Karachi" [Wall Street Journal]. "[T]he killing comes as Beijing invests more than $55 billion in infrastructure in Pakistan, a showcase country in China's $1 trillion "one belt, one road" transport-and-logistics program…. There was no initial suspect, and no claim of responsibility. But rebels in the region have threatened to attack Chinese people, accusing them of grabbing resources."
"Imports went for the gold in 2017 and set records in several major categories in the Commerce Department's monthly trade report. Those included combined goods and services, which hit nearly $2.9 trillion; services by itself ($533.9 billion); food, feeds, and beverages ($127.8 billion); capital goods ($640.6 billion); automotive vehicles, parts, and engines ($359.0 billion); and consumer goods ($602.2 billion). The U.S. also had record imports from 47 countries in 2017 led by China ($505.6 billion), Mexico ($314 billion) and Italy ($50 billion)" [Politico]. "Everyone's favorite underdog, exports, also had a good year. Combined goods and services were the second-highest on record at $2.4 trillion. They also increased 5.5 percent from 2016. Exports of services alone hit a record $777.9 billion. The United States also had record exports to 29 countries, led by Mexico ($243 billion), China ($130.4 billion), and the United Kingdom ($56.3 billion)."
"New U.S. trade figures could reverberate across the flow of goods on the Pacific. The U.S. trade deficit soared 12% last year to the highest level in nine years, as the imports that dominate trans-Pacific shipping jumped 6.7% to a record high. Goods imports were especially strong late in the year, growing 2.9% from November to December" [Wall Street Journal]. "The goods deficit with China alone rose 8% last year to a record $375.2 billion, or more than half the total U.S. trade gap. Broader trade expansion has been a boon to shipping companies, which have been helped by the strong growth in volumes in both directions. They're anxious to keep that business growing, whether it's balanced or not."
"U.S. Trade Representative Robert Lighthizer is headed to Capitol Hill this morning to give House Ways and Means members a rundown on NAFTA talks. The visit comes amid growing complaints from members and staff that Lighthizer is dropping the ball when it comes to keeping Congress up to speed on NAFTA negotiations" [Politico]. "The frustration over Lighthizer's engagement, particularly with regard to KORUS, spans across partisan lines in both chambers."
Politics
2018
"Taking back the House will be harder than Democrats think" [WaPo]. "For an electoral wave to rise high enough to wash a majority-making two dozen House seats into the Democratic column, the party will have to take territory that Hillary Clinton could not." And a nice metaphor: "One thing to remember about waves. Most of them break before they reach the shore."

"GOP Slackers Endanger House Majority" [National Journal]. "There doesn't need to be a Democratic tsunami to win some of these seats. All it takes are unprepared Republican members, overconfident about their reelection prospects and ideologically cocooned in their hard-right caucus. Here's how vulnerable many of these members are: Of the 23 Republicans representing seats that The Cook Political Report rates as "likely Republican," 12 were outraised by at least one Democratic challenger in the most recent fundraising quarter. By contrast, only one Democratic member in the same "likely Democratic" position was outraised by a GOP challenger. Many of these newly targeted Republicans posted unusually low fundraising numbers… The previous two wave elections in the House (2006, 2010) featured plenty of members who lost because they didn't do much to help themselves."

Pennsylvania: "PA-18 Special Election a Key Test for Dems' Labor Support" [RealClearPolitics]. "Winning back support from working-class voters has been a central Democratic concern since many bucked the party to support Donald Trump, helping him secure the presidency." In some Democrat factions, yes, not including the leadership. More: "Even though labor leaders backed Hillary Clinton and mobilized on her behalf, national exit polls showed she won 51 percent of union households, a seven-point drop from President Obama in 2012. Trump won 48 percent of union households, an eight-point uptick from Mitt Romney." And: "PA-18 is in the heart of Trump country: It's in the southwest corner of the state, covering a wide swath from the West Virginia border to the suburbs of Pittsburgh. It's overwhelmingly white, heavily working-class, and the president carried it by nearly 20 percentage points in 2016. It's a union-heavy area, with more than 87,000 union members or household members, from service employees to teachers to steelworkers and coal miners." And: "National Democrats have tried to prioritize that economic message, but have struggled to break through Trump's outsize control of the news cycle." No, they haven't. They prioritized other messages, including Russia and DACA. Now they are trying to pivot, or, more precisely, this writer's sources are trying to give him the impression they are: I'm sticking with my story, which is that the key constituency Democrats are going after is college-educated suburbanites.

Missouri: "Democrats snag Missouri House seat, Republicans hang onto 3 others in special election" [St Louis Post Dispatch]. "Democrat Mike Revis snagged nearly 52 percent of the vote compared to Republican David Linton's 48 percent… Revis, meanwhile, described himself as a centrist Democrat focused on education, expanded access to health care, and support for the labor community. He attributed the win to grass-roots organizing by his network of family, friends, fellow Democrats and the labor community." Not sure how this race is differentiated from the other three.
2016 Post Mortem
"IG poised to reignite war over FBI's Clinton case" [The Hill]. "[Michael Horowitz], the Department of Justice (DOJ) inspector general, is an increasingly critical player in the controversy surrounding the FBI, President Trump and the Russia investigation. With little fanfare, he has been conducting a sprawling probe of the FBI's handling of the 2016 investigation into Hillary Clinton's use of a private email server. His full report, which could set off shockwaves, is expected by the early spring."
Health Care
"Our broken health care politics are hurting instead of helping Americans" [Andy Slavitt, USA Today]. "Our new group, United States of Care, is looking for solutions that have the support to last — no matter which party is in charge of the government." (Here is @USofCare's "Board of Directors & Founder's Council.") Lambert here: Until @USofCare (1) discloses its funders, (2) puts some skin in the game on policy, and (3) includes just one single payer advocate on its Board of Directors*, it should be regarded as an AstroTurf organization, designed to — once again — head off #MedicareForAll in the event of a Democrat wave in 2016. (The DCCC and DSCC have been helping such an effort by crippling #MedicareForAll supporters whenever they can. They are, in other words, running the 2006 playbook all over again). I encourage readers to add @USofCare sightings in comments, for a future takedown. NOTE * By "advocate," I don't mean the newly converted Jon Favreau (!) but a subject matter expert from, say, PNHP. Somebody like Steffie Woolhandler would be nice.

Slavitt calls Stoller a troll. That won't end well:

UPDATE: So far, it looks like the launch of @ASlavitt's "United States of Care" is going slightly worse than @Verrit, but slightly better than @ScaramucciPost. pic.twitter.com/EJLAaQJkhF

— Respectable Lawyer (@RespectableLaw) February 7, 2018

That escalated quickly.

Fun fact: @USofCare board member Frist, when a medical student, obtained cats from shelters fraudulently, and dissected them.

UPDATE "Strange Bedfellows? Group Unites Old Foes in Hunt for Health Fix" [Bloomberg]. "The organization is trying to prepare for an eventual opening for bipartisan policy making, while heading off [Medicare for All] increasingly volatile swings in health policy when political fortunes shift in Washington. Already, potential Democratic contenders for the 2020 presidential election are signing on to Senator Bernie Sanders' 'Medicare for All' bill, which has more than a dozen co-sponsors in the Senate." And more on the 60 board members:

Among other health-care executives taking part are Bernard Tyson of Kaiser Permanente, David Torchiana of Partners Healthcare, Tony Tersigni of Ascension Health, Steve Safyer of Montefiore Medical Center, Judy Rich of Tucson Medical Center, BlueCross BlueShield North Carolina Chief Executive Officer Patrick Conway, Dignity Health's Lloyd Dean, and Richard Gilfillan of Trinity Health. Rhonda Medows, an executive vice president at Providence St. Joseph, is also on the board.

I'm sure all these executives are just dying to tear up their meal tickets…
Realignment and Legitimacy
"Missouri governor Eric Greitens, along with his staff, are the targets of a recently-filed public records-related lawsuit [PDF]. Two St. Louis County attorneys are accusing the governor of dodging public records laws with his use of Confide, an app that deletes text messages once they're read and prevents users from saving, forwarding, printing, or taking screenshots of the messages" [TechDirt]. "The governor's use of the app flies in the face of the presumption of openness."

"I Feel Like We're Replaying World War I': A Conversation With Ben Katchor" [Pacific Standard]. "'This is a crazy time, a mental age. You look at our politics and … well, I was shocked that Hillary [Clinton] was the best opponent that could be found to run against [Donald] Trump,' Katchor says. 'It's obviously a business, a racket, and it's controlled entirely by businessmen. How can you fail to address that in your art, even if only obliquely?'" Interview with the author of the classic comic strip, "Julius Knipl, Real Estate Photographer."
Stats Watch
MBA Mortgage Applications, week of February 2, 2018: "The volume of purchase applications for home mortgages remained unchanged on a seasonally adjusted basis" [Econoday]. "Mortgage rates continued to rise and accelerated their climb in the week." And: "Still going nowhere" [Mosler Economics].
Debt: "Canceling $1.4 trillion in student debt could have major benefits for the economy" [MarketWatch]. "Wiping away the $1.4 trillion in outstanding loan debt for the 44 million Americans who carry it could boost GDP by between $86 billion and $108 billion per year, on average for the 10 years following the debt cancellation, according to a report published by the Levy Economics Institute of Bard College…. Wiping away the $1.4 trillion in outstanding loan debt for the 44 million Americans who carry it could boost GDP by between $86 billion and $108 billion per year, on average for the 10 years following the debt cancellation, according to a report published by the Levy Economics Institute of Bard College." Remarkable to see the Levy Institute and Kelton getting a respectful mention on Wall Street!
Shipping: "Should the Shipped on Board Date and Bill of Lading Date be the same..??" [Shipping and Freight Resource]. "Releasing a bill of lading without a date will put the carrier at risk as the client can put any date they want and the carrier may be exposed to all sorts of claims and other issues including shipping and freight fraud etc." For shipping paperwork nerds. But also an implicit set of requirements for anybody seeking to automate the process.
Shipping: "Ohio's Rickenbacker joins US airport scramble to capture online retail traffic" [The Loadstar]. "The drive to attract e-commerce streams hinges on rapid customs clearance. The airport authority recently obtained approval for an expedited customs clearance facility at Rickenbacker…. Many B2C shipments do not require clearance, as they do not exceed the de minimis threshold, but they still have to be declared and face possible scrutiny from customs. Any factor that adds a day to transit time seriously undermines e-commerce logistics ambitions, due to the 'Amazon effect' of customer expectations of short delivery cycles."
Shipping: "Teamsters withdraw demands banning UPS use of drones, autonomous vehicles" [DC Velocity]. "Teamsters union negotiators have withdrawn a contract demand that UPS Inc. ban the use of drones and autonomous vehicles to carry out package delivery services, according to a dissident Teamster group. Denis Taylor, who heads the Teamsters' package division responsible for labor relations between the Atlanta-based company and the approximately 256,000 union members who handle UPS' main business line, pulled the proposal, according to a note published yesterday on the 'Teamsters United' website. Teamsters United was a slate formed prior to the union's 2016 general election largely out of dissatisfaction with the mainstream Teamster leadership…. According to the site, UPS has also proposed to launch Sunday deliveries with the option of using part-time drivers operating their personal vehicles. The company has also requested all new employees deliver packages using their personal vehicles, Teamsters United said. The union opposes both proposals."
Shipping: "Elon Musk's Tesla overshot Mars' orbit and is headed to the asteroid belt" [The Verge]. To be nice to Musk, the re-usable boosters are pretty keen.
Travel: "The fourth quarter of 2017 was not a normal one for the hotel industry with the lingering impacts of natural disasters artificially pumping up performance in some markets to the point that they buoyed overall performance numbers" [Hotel News Notes].
Housing: "The housing market continues to operate in a very lean environment. Home builders are building but are focusing their efforts on multi-family units to cater to a growing renting population. Builders are also shy about placing big bets given the recent memory of the previous housing bubble. Places where they can build freely like Arizona, Nevada, and Florida are known to pop as quickly as they go up in value. And in areas like California, where NIMBYism rules the day, people are now convinced that prices will never go down so the ratio of bulls to bears is extremely high" [Dr. Housing Bubble]. "Inventory has been bouncing near the lows for almost six years now… What this means for house buyers is that you are going to encounter slim pickings, house lusting shoppers, and a market sentiment favoring sellers. If you are buying, you are not in the driver's seat. If you are selling, you can command top dollar even for a shanty crap shack."
Big Ag: "Archer Daniels Midland Co. is looking to grow, but the question is whether it will merely buy more grain or acquire a competitor. The food-products supplier wants to push deeper into South America and Asia to capitalize on expanding agriculture production and growing populations" [Wall Street Journal]. "ADM is also looking to jumpstart expansion by taking over smaller rival Bunge Ltd. as it seeks to bulk up crop trading and processing in regions where it has a light footprint. The potential consolidation would mark a new step in for global agriculture commodities operations following several tough years marked by steep oversupply and massive harvests that has sent crop prices lower and pressured profit margins."
The Bezzle: "According to Good Jobs First's "Violation Tracker," since 2000, HSBC has accrued $4.8 billion in penalties in 23 criminal and civil enforcement actions" [FCPA Blog]. "HSBC's top offenses include banking violations, anti-money-laundering deficiencies, fraud, toxic security abuses, and mortgage abuses. While this total accounts for violations that occurred over nearly two decades, HSBC's chronic recidivism appears to have gained momentum in recent years."
The Bezzle: "Banks Cheer Return of Wild Markets" [Wall Street Journal]. "Banks have blamed placid markets for lackluster returns in their big trading operations. This week they're cheering the big market swings, seeing hope for a boost in fees that dropped off a cliff last year. '' said Peter Tchir, macro-investing strategist at New York-based Academy Securities LLC. 'Maybe we could see a return to better quarters' for banks across their fixed-income trading businesses, from currencies to interest-rate hedging."
The Bezzle: "Inside Airbnb's Battle to Stay Private" [Bloomberg]. "The founders and early employees have little financial incentive to push for an IPO. They have cashed in about $350 million worth of equity, said people with knowledge of the matter. Chesky found an ally in Sequoia Capital, the largest outside shareholder with a 13 percent stake. The venture capital firm didn't support a proposal to go public in 2018, one of the people said."
The Bezzle: "After McGinn left Facebook, he founded a new market research firm named Honest Data. On January 27th, he posted the results of a poll he had conducted regarding opinions of Facebook. The poll, which surveyed 2,000 Americans using Google Consumer Surveys, asked respondents to evaluate a list of companies and mark which ones 'are having a negative impact on society.' Among tech companies, 32 percent of Americans said Facebook is harmful. A separate survey, which placed Facebook among other large brands including Walmart, McDonald's, and Marlboro, found that 27 percent said it is harmful" [The Verge].
Mr. Market: "Was that a stock-market crash? Do the math, and check the yield curve" [MarketWatch]. "This selloff has occurred amid concerns that a sharp rise in interest rates will eventually choke off economic growth. But with very low unemployment, gross domestic product growing at a healthy pace and fourth-quarter S&P 500 SPX earnings rising in the double-digit range, there's still no sign of a slowdown on the horizon…. Although the selloff could continue over the shorter term, without an inverted yield curve or an extended decline into bear-market territory, the selloff, [22-year market veteran James Norman, president and head of equity strategy at QS Investors LLC], said, still looks pretty 'normal' and 'healthy.' And based on conversations with clients, and with friends and family, for that matter, there are still no signs of anything more than a correction on the horizon. 'We have not found that people are in any way panicked,' Norman said. "People have asked what's going on," but they are not scared to the point of action, he said."
Mr. Market: "Opinion: This is why the stock market is wrong to fear rising wages" [MarketWatch]. "One of the catalysts for the recent selloff in the stock market was the report last Friday that average hourly earnings (that would be wages) increased by 2.9% over the past year. This was the largest gain since the Great Recession, and it led to a lot of speculation that the Federal Reserve (just off Constitution Avenue in Washington, D.C.) would have to raise interest rates a little more than expected this year to make sure that wages (and inflation) don't go too high… My question to investors and policy makers on this point would be: Have you been in the real world lately? Do workers have any bargaining power over companies to set wages? Do companies actually raise their prices in response to paying higher wages? It may have been plausible in the 1970s, when many workers' pay was protected by automatic cost-of-living increases and when companies could easily raise prices, but the theory of wage-push inflation cannot be taken seriously in today's world. Do higher wages led to higher inflation? No…. Investors and policy makers who worry about high wages have it exactly backwards. Higher wages are exactly what the economy needs to keep the expansion going. Higher wages would lure more would-be workers back into the labor force. Higher wages would give companies an incentive to invest more in capital goods and services, which would in turn boost productivity and living standards. Higher wages would let more families to reach their dreams. Isn't that what the economy should do?"
Fodder for the Bulls: "Prime Working-Age Population At New Peak, First Time Since 2007" [Calculated Risk]. "The U.S. prime working age population peaked in 2007, and bottomed at the end of 2012. As of January 2018, according to the BLS, for the first time since 2007, there are now more people in the 25 to 54 age group than in 2007…. Changes in demographics are an important determinant of economic growth, and although most people focus on the aging of the "baby boomer" generation, the movement of younger cohorts into the prime working age is another key story…. The good news is the prime working age group should grow at 0.5% per year (depending on immigration policies), and this should boost economic activity."
Five Horsemen: "After the first hour of trading Amazon is at a fresh record high" [Hat Tip, Jim Haygood].
Today's Fear & Greed Index: 18 Extreme Fear (previous close: 17, Extreme Fear) [CNN]. One week ago: 62 (Greed). (0 is Extreme Fear; 100 is Extreme Greed. Last updated Feb 5 at 7:00pm. Lagged. The bots updating the index are too busy checking their portfolios?
Police State Watch
This story in Baltimore is finally getting some national press as shown in Links this morning. It's unbelievably rancid, even for the city of The Wire:
"Convicted Baltimore police detective testifies that he stole money with slain Det. Sean Suiter" [Baltimore Sun]. "A convicted Baltimore police detective testified Monday in the Gun Trace Task Force trial that he used to steal money with Det. Sean Suiter, the city homicide detective whose fatal shooting in November — one day before he was to have testified before a federal grand jury in the case — remains unsolved."
"How a Dirty Baltimore Cop's Vendetta Derailed a Promising Rapper's Career" [Noisey]. From 2017, still germane. "Moose should be reaping the rewards that come with his position as a trailblazer for the modern wave of Baltimore street rap. But he has been repeatedly held back by legal trouble, much of which can be traced straight to one Baltimore police officer who residents compare to Denzel Washington's dirty cop in Training Day and who is currently under federal indictment for corruption."
Class Warfare
"The Boss Recovery" [Jacobin]. "Stock markets have been swooning, in no small part because last Friday's US employment report showed that average hourly earnings (AHE) — the average wage, excluding benefits, received by private sector workers — rose smartly in January. This prompted fears that inflationary pressures are mounting, wages will eat into profits, and the Federal Reserve might raise interest rates more aggressively than had been thought as recently as last Thursday. Or, as the New York Times put it in a headline, with its patented mix of dullness and alarm: "Powell Becoming Fed Chief as Economy Starts to Show Strain." What these scaremongers aren't telling you is that it's only bosses that are getting the raises…. 80 percent of the workforce has seen no acceleration, on average, in wage growth — which, by the way, is barely ahead of inflation."
"Slavery and the American University" [New York Review of Books]. "From their very beginnings, the American university and American slavery have been intertwined, but only recently are we beginning to understand how deeply. In part, this can be attributed to an expansion of political will. Barely two decades ago, questions raised by a group of scholars and activists about Brown University's historic connection to slavery were met with what its then-president, Ruth Simmons, saw as insufficient answers, and so she appointed the first major university investigation. Not long before that, one of the earliest scholars to independently look into his university's ties to slavery, a law professor at the University of Alabama, began digging through the archives in part to dispel a local myth, he wrote, that "blacks were not present on the campus" before 1963, when "Vivian Malone and James Hood enrolled with the help of Nicholas Katzenbach and the National Guard." He found, instead, that they preceded its earliest students, and one of the university's first acts was the purchase of an enslaved man named Ben. In Virginia, a small consortium founded three years ago to share findings and methods has expanded to include nearly three dozen colleges and universities across North America and two in European port cities. Almost all of these projects trace their origins to protests or undergraduate classes, where a generation of students, faculty, archivists, activists, and librarians created forums for articulating their questions, and for finding one another."
"Modern feminists aren't a patch on the suffragettes" [The Spectator]. Backing the headine: "Of course, it is thanks to the efforts of the suffragettes that giving the vote to women was on the agenda at all. Over 1000 women were imprisoned, with many going on hunger strike during a sustained fight for suffrage. These brave women deserve all the commemorative concerts, plays, column inches and public debates. Today's feminists might like to compare themselves to the suffragettes, but they don't even come close." But the article is much more interesting on the expansion of the franchise than the headline indicates.
News of the Wired
For train fans:
While it is full steam ahead for China's high-speed rail network, the last steam engine drivers in remote #Xinjiang are coming to the end of the line. Their story: https://t.co/7kz3fTJfls pic.twitter.com/8EIbIN6QrA

— China Xinhua News (@XHNews) February 6, 2018
"In an Absolute State: Elevated Use of Absolutist Words Is a Marker Specific to Anxiety, Depression, and Suicidal Ideation" (PDF) [Clinical Psychological Science]. " Words, phrases, and ideas that denote totality, either of magnitude or probability, are often referred to as 'absolute.' Absolutist thoughts are independent of context and unqualified by nuance… Absolutist and nonabsolutist words indicate magnitudes or probabilities; absolute words do so without nuance (i.e., always, totally, entire), whereas nonabsolute words indicate some degree of nuance (i.e., rather, somewhat, likely)." Here's the list of absolutist words the authors developed: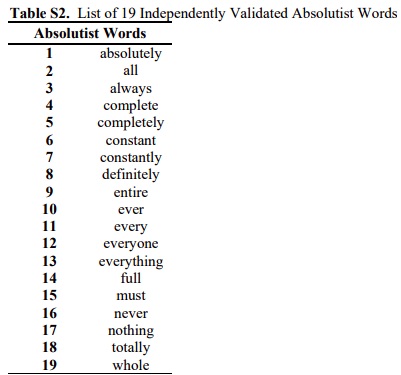 If this study is valid, I'd like very much to throw the absolutist words against a sample of political discourse…
"A Million Random Digits with 100,000 Normal Deviates" [Amazon]. ZOMG, the reviews!
* * *
Readers, feel free to contact me at lambert [UNDERSCORE] strether [DOT] corrente [AT] yahoo [DOT] com, with (a) links, and even better (b) sources I should curate regularly, (c) how to send me a check if you are allergic to PayPal, and (d) to find out how to send me images of plants. Vegetables are fine! Fungi are deemed to be honorary plants! If you want your handle to appear as a credit, please place it at the start of your mail in parentheses: (thus). Otherwise, I will anonymize by using your initials. See the previous Water Cooler (with plant) here. Today's plant (WB):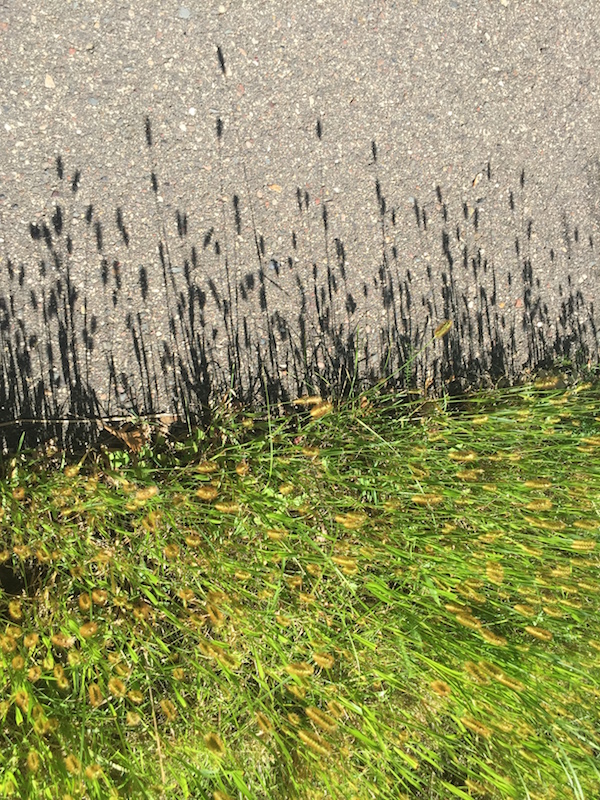 * * *
Readers: Water Cooler is a standalone entity not covered by the NC fundraiser. So do feel free to use the dropdown and click the hat to make a contribution today or any day. Here is why: Regular positive feedback both makes me feel good and lets me know I'm on the right track with coverage. When I get no donations for five or ten days I get worried. More tangibly, a constant trickle of small donations helps me with expenses, and I factor that trickle in when setting fundraising goals. So if you see something you especially appreciate, do feel free to click the hat!
[Readers, I have successfully fiddled with PayPal, and the hat is back! –lambert]