Long-term investors are not supposed to make market timing bets. That means you, CalPERS.
Even though CalPERS has an army of high-priced investment professionals giving it advice, staff has somehow managed to get the board to give it latitude to make some marked changes in asset allocation on a discretionary basis. And as I understand CalPERS' pay formulas, the worst is that staff has upside for taking bets that pay off, but they don't get dinged if their wagers hurt beneficiaries. Even if the system is loath to dock salaries of give zero bonuses (although that calls into question what "bonus" means), you would think CalPERS would come up with a quasi-clawback method, like having, say, 1/2 of bonuses held back over a five year period and docked if staff underperformed return targets. For instance, in his reinsurance unit, Warren Buffett pays out 15% of profits as bonuses….five years in arrears to make sure that all possible costs and losses have been charged against them.
CalPERS under its chief investment officer Ted Eliopoulos has been too clever, in a bad way, over the last eighteen months. It cuts its allocation to US stocks just before Trump took office, getting less benefit from that rally than it could have. CalPERS has had a 50% allocation to foreign stocks for years, betting on a weak dollar environment when the dollar has been strong. It cut its foreign investment targets, and if my recollection is right, not long before the dollar started to weaken.
Below we have the latest CalPERS asset allocation screw-up: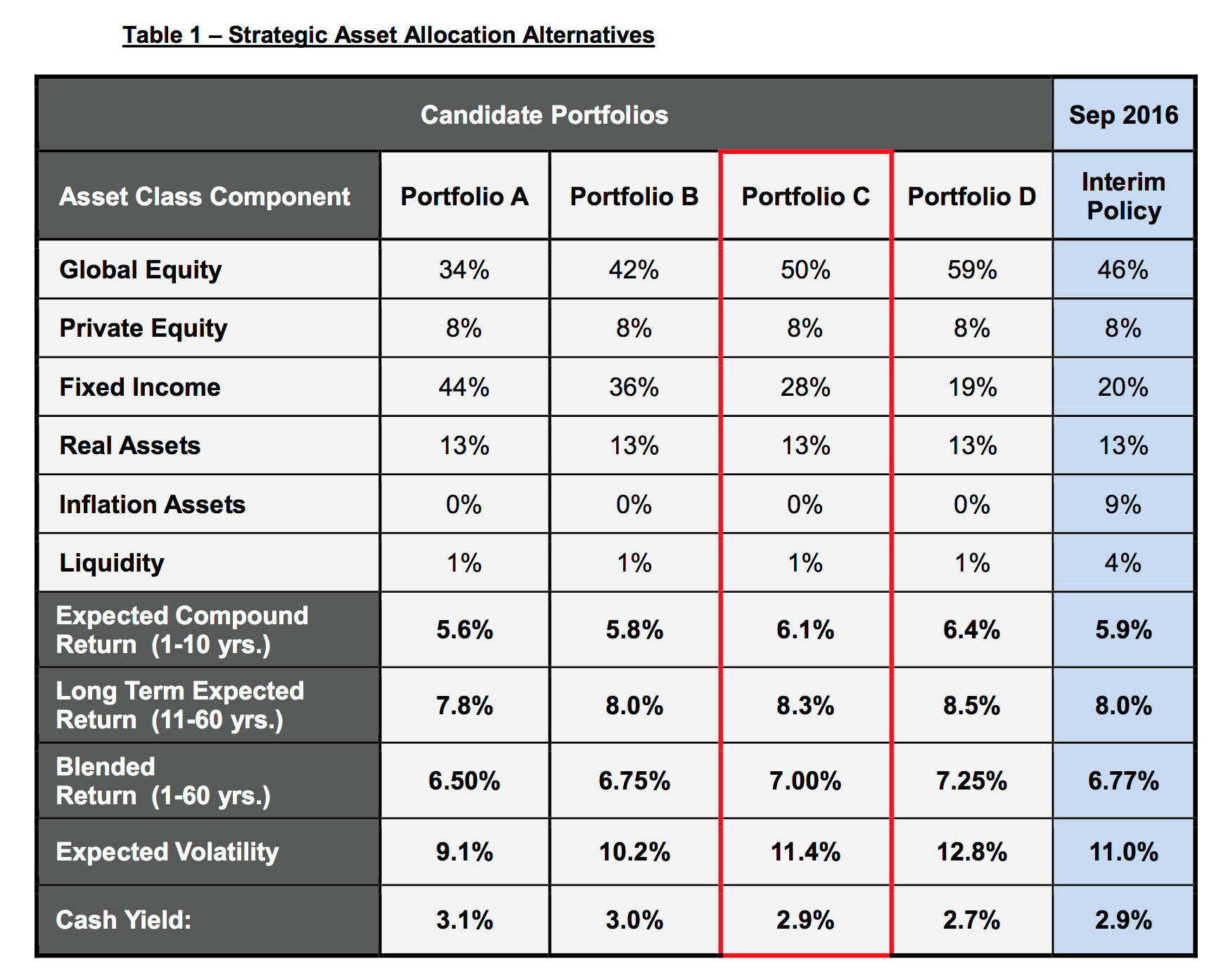 This change was approved at the December 2017 board meeting. My understanding is that asset allocation changes in liquid markets are typically implemented in a fairly expeditious manner.
"Inflation assets" is mainly TIPS, with some commodities, mainly tracking the Goldman GSCI, which is about 80% oil-related. So CalPERS dumped TIPS, which have been going nowhere for years, just as they were rallying as investors are getting edgy about inflation. Having said that, oil rallied over 2017 but with the market swoon, hasn't gone much of anywhere in 2018.
CalPERS increased its wager on fixed income, which looks like a violation of the classic investment rule, "Don't fight the Fed." That does not look like a great move given that the Fed has not been making market-reassuring noises even with the stock market decline of this week. It looks as if the central bank is keeping its eye on the fundamentals and the data keeps looking generally positive by "new normal" standards.
And as for equities, CalPERS, having missed most of the Trump rally, looks to be getting in late, which could prove to be too late.
Finally, CalPERS was so convinced that this was the time to go into "risk on" mode that it cut its cash levels.
But since everyone at CalPERS gets praised for merely showing up, you can be sure that nary a critical word will be said about these moves. CalPERS, like the Trump Administration, lives in its own bubble.