Cow escapes on way to slaughterhouse, smashes through metal fence, breaks arm of man trying to catch her then swims to safety on island in lake Independent. That cow is an inspiration to us all.
Household chemicals rival vehicles as smog source Nature
Two cheers for the return of volatility John Authers, FT. "It is far from clear that the investment industry any longer has the skills needed to help the markets in the process of price discovery. Bottom-up stockpicking based on crunching the fundamentals of a company balance sheet is a dying art. It has not been such a useful skill for some time." Hmm.
How a French Fraudster Climbed the World of International Arms Dealing OCCRP (Richard Smith).
The playboy who got away with $242m – using 'black magic' BBC (Richard Smith).
Waymo Gets the O.K. for a Commercial Driverless Ride-Hailing Service Bloomberg
Sale of $5bn lithium stake to test electric car hype FT
Liberals write off $200M in student loans feds will never collect CBC. Canadian Liberals.
Arkansas banned a weedkiller. Now, Monsanto is suing Grist. Dicamba.
Syraqistan
Turkey denies use of chemicals in Syria's Afrin, says accusations baseless Reuters (Re Silc). Re Silc: "What would McMaster say? He never lies." And Public reports 'clearly show' Assad's use of chemical weapons: McMaster Reuters (Re Silc). Re Silc: "Must be the Niger yellow cake scam again. Where is Judith Miller?" Readers, serious question: Is there anybody who does not understand those short-hand references?
'An Endless War': Why 4 U.S. Soldiers Died in a Remote African Desert NYT (Re Silc). Re Silc: "It's a jobs program."
Brexit
May gives credible but uncompelling view on post-Brexit defence FT

There can be no Brexit deal without Tory unity Spectator. Um…

Could Brexit leave us in a French Revolution scenario of having no bread to feed ourselves? Irish Independent
Germany edges toward Chinese-style rating of citizens Handelsblatt
China?
What Could the United States Have Done – If Anything – To Prevent China's Rise? Foreign Policy

Sacred Tibetan monastery in Lhasa hit by fire BBC

Chinese New Year, but where's the money? Le Monde Diplomatique
New Cold War
Sorry to be a bit heavy on this topic, but it's drowning out everything else. I've thrown the topics into three buckets: Warmongering, sometimes hysterical; technical/analytical; and critical:

Trump's Conspicuous Silence Leaves a Struggle Against Russia Without a Leader NYT

Why Americans need to close ranks against Putin's attack on our democracy WaPo

How Russia turned the internet against America Politico

Putin's chef, a troll farm and Russia's plot to hijack US democracy Guardian

Foreign Disinformation is a Threat to Military Readiness, Too Defense One. Ka-ching.

* * *

Russian Influence Campaign: What's in the Latest Mueller Indictment Lawfare

Trump Official Calls Russian Meddling Charges Indisputable Bloomberg

Updated Mueller Docket Census: We Still Don't Know What 6 Prosecutors Are Doing emptywheel. Six undropped shoes?

1 big thing: We know nothing; Mueller knows all Axios

This Is What $1.25 Million Dollars a Month Bought the Russians Foreign Policy. More than Clinton's $1.4 billion, it seems. If Democrats really want to win, why don't they just hire these guys?

How Much Did Russian Interference Affect The 2016 Election? Nate Silver, FiveThirtyEight. The last paragraph is key.

* * *

Mueller Indictment – The "Russian Influence" Is A Commercial Marketing Scheme Moon of Alabama

Anti-Trumpists Use Mueller Indictments to Escalate Tensions With Nuclear-Armed Russia Consortium News

Russiagate or Deep State? What Some Progressives Get Wrong on Russia. Foreign Policy in Focus

Russia Isn't the Only One Meddling in Elections. We Do It, Too. NYT (Re Silc).

Woke Russian:

I'm actually surprised I haven't been indicted. I'm Russian, I was in the U.S. in 2016 and I published columns critical of both Clinton and Trump w/o registering as a foreign agent.

— Leonid Bershidsky (@Bershidsky) February 17, 2018
Trump Transition
Why the president's 2019 budget request was more of a 'policy document' than anything else Federal News Radio

The Business World Is Livid Over Trump's Immigration "Train Wreck" Vanity Fair

How the New Tax Law Could Slow Disaster Recovery in Small Towns Governing. Things are more like they are now than they ever have been before.
Our Famously Free Press
Chronicle of a white supremacist PR crisis and the making of a hoax Media Matters. Normally, I don't link to Media Matters, but this is the best round-up I could find.
Cruise ship company sorry about 'disruptive' brawl 9 News. Seems like more than a "brawl'!
Guillotine Watch
Renting Giant Cruise Ships Is the New Wave in Private Yachting Bloomberg

Chinese government creates gate-guarded private village for hedge-funds near Hangzhou Boing Boing
Class Warfare
Behind the Explosion in Socialism Among American Teens In These Times YSDSA.

The Fate of the Revolution Jacobin. Tunisia.
A Ruling Over Embedded Tweets Could Change Online Publishing Wired
'Make things pono': Kamehameha Schools settles sex abuse case Hawaii News Now
I am a knife LRB. "As Judith Butler has argued, the performative is always melancholic, since the performer knows the role they are enacting is no more than skin deep ('melancholic' also because of all the other buried and unconsciously grieved sexual lives one might have led)." Or political lives, one might add.
Antidote du jour: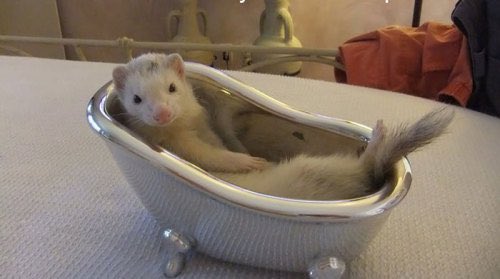 Bonus antidote. Continuing to level up my cat game:
i should've know this was in istanbul

taksim metro cat – 0 fuks given pic.twitter.com/V3tcayO618

— Bitchcoin (@SubMedina) February 16, 2018
See yesterday's Links and Antidote du Jour here.