Kangaroo strikes back against hunter with headbutt that breaks his jaw Independent (Re Silc).
Retreat From a Rising Sea: A Book Review Weather Underground
How Japan is preparing for the great flood New Statesman
Ocean array alters view of Atlantic 'conveyor belt' Science. Just leave the Gulf of Maine alone!
Why the Hot Cryptocurrency Ripple is Going Down in Flames Time (UserFriendly). Musical interlude.
Why Commodity Coins Are Gaining Popularity OilPrice.com
Mystery of Audi's duplicate VINs deepens Handelsblatt
'No Cash' Signs Everywhere Has Sweden Worried It's Gone Too Far Bloomberg
Syraqistan
Israel says it is ready to act against Iran after Syrian incident FT. Bibi waving a chunk of drone wing around in Parliament. Did he check with Colin Powell?

Tillerson throws Erdogan a bone in Syria Asia Times
Brexit
I don't like Brexit – I just don't see how it can be stopped Owen Jones, Guardian

Theresa May's Brexit Vision Is Starting to Take Shape Bloomberg
The worst view to take on Corbyn's Czech connection is: 'Who cares?' Guardian
Like many others, Dr Hadiza Bawa-Garba was left in charge of a failing aircraft New Stateman. Neoliberal sabotage at the NHS proceeds apace.
Why is Virgin East Coast ditching its quiet coach? The Spectator. Money, presumably, but look for increased incidence of "train rage."
German Politics Enters Era of Instability Der Spiegel
EU plan to bolster defence co-operation sparks US concern FT
China?
John Kelly, Chinese officials caused commotion over nuclear football in Beijing, report says FOX

Australia, US, India and Japan in talks to establish 'alternative' to China's Belt and Road (just don't call it a rival) South China Morning Post
New Cold War
1 big thing: Flummoxed Facebook helped Mueller Axios. Facebook supplied Mueller with content (allegedly) created by the Internet Research agency. For example:

This is one of the dank memes that swung the election? Really? (I understand that a "theory of the case" is different from the real world, political effects of that theory in action. It's the latter I think is most important.)

'They are laughing their asses off in Moscow': Trump takes on the FBI, Russia probe and 2016 election WaPo

Clinton spokesman calls Trump's lack of response to Russia threat 'un-American' Politico

Courageous of Eskow to say this in the current climate:

I lived through the sixties (as a high schooler, but a politically active one) and was raised on stories of the McCarthy era. This all feels very, very familiar.

— Richard (RJ) Eskow (@rjeskow) February 17, 2018

Russian Meddling Was a Drop in an Ocean of American-Made Discord NYT. "A peaceful land, a quiet people. That has always been my rule."

Russia's Clash With the West Is About Geography, Not Ideology Foreign Policy
The Social Media Threat to Society and Security George Soros, Project Syndicate
Trump Transition
In Trump's 2019 Budget, Lockheed Looms Almost as Large as State Dept. Antiwar.com (Re Silc).

Private equity chiefs face conversion dilemma FT. "Groups agonise over whether to follow Ares' move to become a corporation and pay less tax."

Staffing the White House The Economist
Cook County judge convicted of mortgage fraud Chicago Tribune (KP). It still goes on…..
Lending discrimination, redlining still plague St. Louis, new data show St. Louis Post-Dispatch. Ditto.
Sex in Politics… Not.
Do You Believe Her Now? Jill Abramson, New York Magazine and The Forgotten Testimonies Against Clarence Thomas Jill Abramson, New York Magazine. Somebody doesn't like that loveable goof Joe Biden….
Amidst Election Security Worries, Suddenly Paper Ballots Are Making a Comeback The Intercept (OregonCharles). Not among the people fomenting security hysteria, that's for sure. There's no money in paper ballots! Except maybe for the printers….
Gunz
America's unique gun violence problem, explained in 17 maps and charts Vox

Nikolas Cruz: 'We had this monster living under our roof and we didn't know.' Sun-Sentinel. Interview with Kimberly and James Snead, who took Cruz in after his mother died. Two points caught my eye:

Five days before the shooting, Kimberly Snead took Cruz to the office of a therapist she has been seeing. Cruz said he was open to therapy but didn't like medication. He took a business card and was figuring out what his health insurance would cover.

And:

They made Cruz buy a locking gun safe to put in his room the day he moved in. Cruz had a handful of guns, including the AR-15 and two other rifles that Snead said would be considered assault rifles. Cruz, a hunter, also had knives, BB guns and pellet guns.

Snead thought he had the only key to the cabinet but has figured out Cruz must have kept a key for himself. The family kept their own rifles, bought after a burglary a couple of years ago, in a separate locked cabinet.

Rather like two-factor authentication….

In Wake of Florida Massacre, Gun Control Advocates Look to Connecticut NYT

The Unique Horror of a Bulletproof Backpack Sales surge after a mass shooting. The Cut

Hey Muslims, Let's Join the NRA. We Could Help Solve Gun Violence. The Intercept. "Conservatives would lose their minds." Liberals have been using that logic for years. I don't see a good reason to double down on it.
Big Brother Is Watching You Watch
Google files patent for robot that writes your Facebook posts, emails and tweets – but will need FULL access to scan your accounts Daily Mail (RB).
Class Warfare
Florida = Honduras: Inequality kills. Greg Palast (JBird).
The Big Number: 12 percent of older teens have had significant head injuries WaPo
Another flu pandemic is coming, and the world isn't prepared South China Morning Post
Dirty talk: How pollution is snuffing out plants' scent messages New Scientist. I'm guessing this is the study on which this article is based.
The Politics of Shame Current Affairs
Antidote du jour (KP):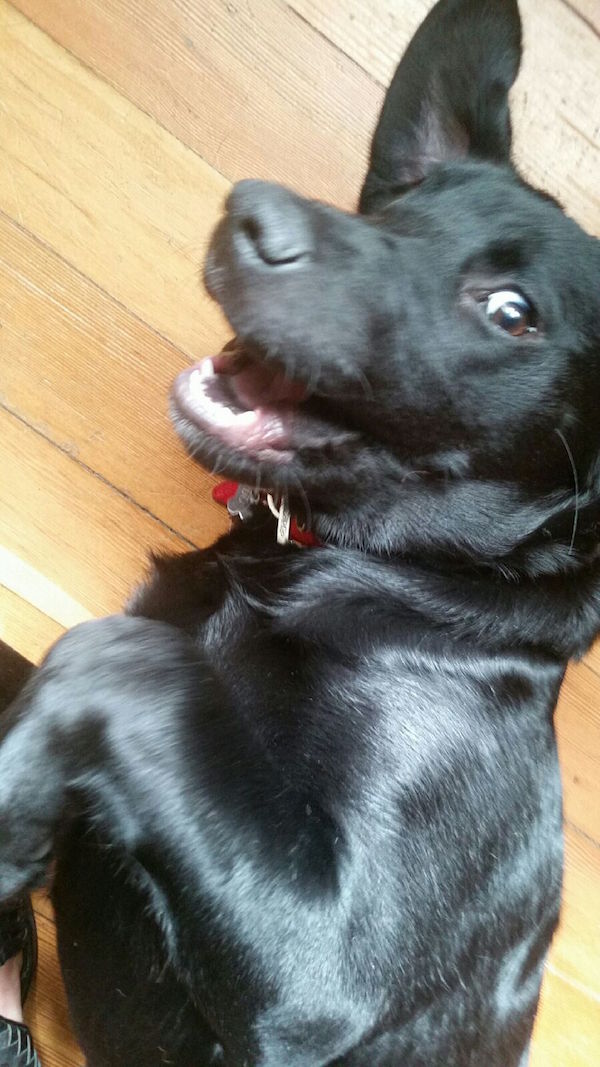 KP writes: "My lab/golden pup, Mijo."
Bonus Antidote, thread (DK):
The best historical artefacts are the accidental ones that freeze a moment in time forever.

I thought I'd try to find all the times pets have ruined their owner's day & recorded that instant for all of history. pic.twitter.com/w9ojHeVuIU

— Paul ?? Cooper (@PaulMMCooper) February 17, 2018
See yesterday's Links and Antidote du Jour here.