A good default assumption with Brexit is that nothing is simple. And as we are seeing again and again, the Government is making its difficult position even worse by acting as if things are or could be simple when there is no obvious mechanism for achieving that. One we will discuss today is the UK's questionable assumption that the parties to the EU's free trade agreements like South Korea could simply cut and paste "the UK" in place of "the EU" in existing agreements.
We've discussed before in passing why these other countries might not want to be so accommodating. The UK needs a waiver and those usually come at a price of some sort. But it turns out that this is a very thorny issue, sufficiently so that we will wind up giving a superficial treatment. But for those with the appetite for more detail, we are embedding a report by Dr Michael Gasiorek and Peter Holmes of the UK Trade Policy Observatory, which discussed at length, with considerable additional detail, by Peter Ungphakorn at his trade β blog.
It is telling that the UK Trade Policy Observatory paper was released in December yet its findings haven't gotten much notice, particularly since all of these agreements become non-opeartive as far as the UK is concerned as of the end of March, 2019. An EU transition period will not apply to third-party pacts. Ungphakorn's conclusion goes a long way toward explaining why the British officialdom has been averting its eyes from the free trade agreement thicket:
Leaving the EU means the British government will either have to convert the EU's free trade agreements with other countries into UK deals, or risk losing them, when Brexit is supposed to be about to allowing Britain more freedom to enjoy trade agreements with the world outside the EU.
We posted earlier this month on how the British officialdom was starting to realize it needed to Do Something in UK Asks the Rest of the World to Be Super Duper Nice and Act as Its Old Deals Are Still Valid Post Brexit.
Free trade agreements among other things commit the parties to trying to reduce trade barriers and include specific measures to do so.
Note that there is an underlying problem with Brexit even before looking at the niceties. Free trade agreements presuppose that the parties want to get closer. That implies convergence or at least closer coordination on policies and standards. The UK's former chief negotiator Sir Ivan Rogers pointed out that a country doing trade deals, as the UK says it wants and needs to, while wanting to get further from its partners is unprecedented and will almost certainly make negotiations more difficult.
The UK has a lot of free trade agreements, to the degree that there isn't even a crisp number as to how many due to differences in definitions. The UK Trade Policy paper says that UK is party to 37 with 60 countries while the UK has said there are over 100 countries.
Gasiorek and Holmes put the total of UK imports and exports represented by what it counts as 37 pacts as roughly 15% to 17% of total UK trade, most of it tariff free. Switzerland represents 4% of imports and 5% of exports; no other country accounts for more than 2% of either. But for some sectors, these free trade agreement countries in aggregate are important: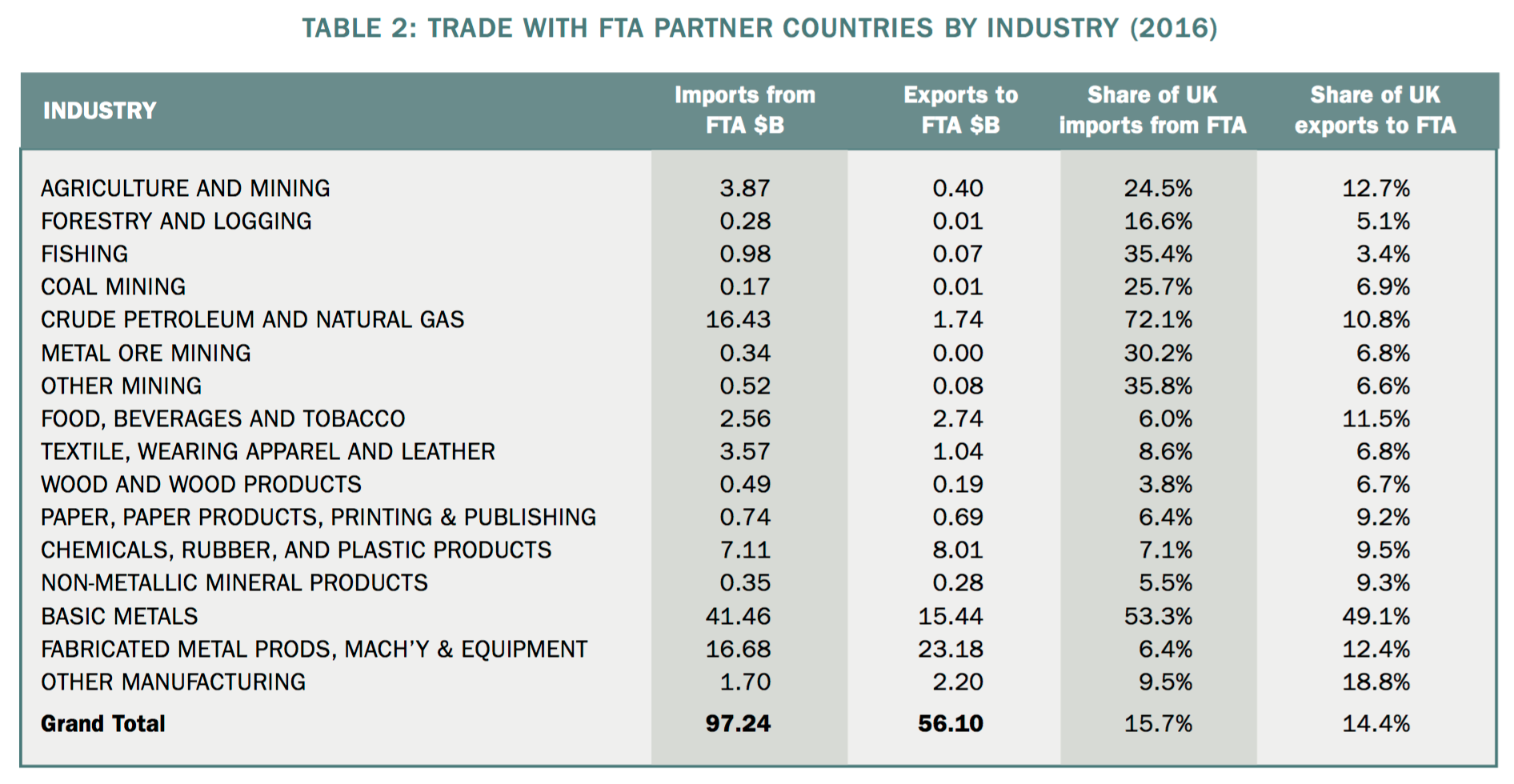 The study lays out three broad alternatives. One is that the other countries play nice and honor the UK request to pretend the deals are still effective. The second is "cut and paste" or grandfathering. The third is to negotiate new deals, which seems impossible given the Groundhog Day inability of the UK to move forward with the EU on the main event.
Even though either of the first two options seems a lot easier, and the only path that appears viable during the transition period, "easier" is a long way from easy. This is a partial list of the complicating factors:
Countries who feel they've been hurt could object to the "pretend nothing has changed" option and could go to the WTO. That could include not just other countries but some of the free trade agreement members themselves who believe Brexit has hurt their access to the EU.

It's easier to hold up an extension or fudge of a free trade deal than take one's chances at the WTO, so one should assume most if not all free trade agreement participants will do that. Expect them to seek compensation or other important concessions when they have the most leverage, prior to Brexit.

Some of the free trade agreements contain quotas, which makes a simple "pretend it's all the same" or "copy and paste" unworkable. And if you still have doubts, have a look at Peter Ungphakorn's post, where he works through some pages of the EU-South Korea free trade agreement to demonstrate that this isn't just scrivener's work. And that's before you get to the fact that South Korea has been making noises that it is unhappy with its trade deficit with the UK and therefore wants better terms.

Many countries will be concerned about how Brexit could be used to undermine other trade agreements. For instance, if the UK manages to get a great post Brexit deal with the US of 0% tariffs in return for taking our chlorinated chicken, and the UK and the EU agree to a trade treaty with a similar 0% tariff, but the EU and the US have a trade agreement with 5% tariffs and no chlorinated chicken allowed, the EU is not going to want US chlorinated chicken and/or tariff-free goods sneaking into the EU via the UK. Stuff like that is the reason trade agreements run to thousands of pages.
The Gasiorek/Holmes paper describes some of the thorny features that are common in trade deals and impede the sort of handwave solutions the UK prefers. Let's look at one, Rules of Origin, which is meant to address the problem we just mentioned. of non-UK goods slipping into a country like the EU via the UK on a preferential basis when those particularly non-UK goods aren't entitled to it. And here is the sort of complication that results:
• Suppose the UK and the EU signed a Free Trade Agreement in which the rule was that goods needed to have a minimum of 40% domestic value added to be considered as originating. Suppose the UK exported a good to the EU which were made up of 30% UK value added, 35% intermediates from the US, and 35% intermediate inputs from Korea. That good could not enter the EU duty free because there would be insuf cient UK value added in it.

• Even if the UK grandfathered the EU-Korea agreement this would still apply – because there is still insuf cient UK value added in the good being exported to the EU. And of course the same could apply with regard to goods being exported by the EU to the UK.
Now there is a remedy of sorts, called diagonal cumulation…but it makes Brexit look like even more of a farce:
With diagonal cumulation all countries (in this example the UK, Korea and the EU) would have to agree that that intermediate inputs which could enter any of the partners duty free if exported directly, could be used by one of the other countries in their production and exports, and that the value of that input would count for originating purposes. This would mean that the UK could use Korean inputs, count the value of those inputs to see whether the good was "made in the UK", and export to the EU duty free if there was sufficient UK (+ Korean) value added….

However, while diagonal cumulation helps, it does not mean that trade will be on the same basis as is currently the case. At present, the UK is free to export a good to the EU with no restrictions on the value of imported intermediates from third countries. Even with diagonal cumulation there will still be a limit as to how much can be imported while retaining duty free access to the EU market.

An additional problem is that it is well known that the EU can be quite demanding in agreeing to diagonal cumulation. More specifically, it typically only agrees to this if ALL the countries involved (hence in the example above the EU, the UK and Korea) have Free Trade Agreements among themselves, and all apply the EU's Rules of Origin. The Rules of Origin the EU likes to insist on – and has done so with the EEA countries, the Balkans, and the Southern Mediterranean partner countries are the Pan- European Mediterranean preferential Rules of Origin. Hence, in order for the UK to get diagonal cumulation it will probably have to agree to apply the Pan-European Mediterranean Rules of Origin but on political grounds, if nothing else, it may not wish to do so.
Ungphakorn helpfully goes through other trade barriers like safeguards and also has more detail on those nasty rules of origin (such as what it takes to prove what came from where).
This video may help:
Grandfathering the EU's Free Trade Agreements from University of Sussex on Vimeo.
Now you have a dim appreciation of why it takes so long to negotiate trade agreements, and I suspect our commentariat will provide more gory details. Needless to say, declamations in Oxbridge cut-glass accents won't make things go any faster.
Brexit Grandfathering