By Lambert Strether of Corrente.
I'm putting "Apple" in the headline so some crawler picks it up and feeds it to some Apple cube-dweller who will then trash it, because this rant doesn't have anything to do with making hardware thin, or removing ports so users are forced to purchased dongles to use their existing hardware, or anything else that Apple cares about, like flimsy apps as opposed to productive applications.
Preamble: I was developing Table I for my latest worksheet on the mid-terms, adding a new column for "Challengers." As you can see, there's a lot of formatting going on in the cells of that column: Bold, italic, colors, lots of links. Since I was creating the table in the OpenOffice spreadsheet — I wanted to be able to sort — and then exporting the table as HTML to incorporate it into an NC post, I first created a small test file. Everything exported perfectly. I then spent six or seven hours adding the links. (Not wasted effort, since I expect to use those links over and over).
I then exported the table. OpenOffice crashed. When I recovered the file, the formatting in the "Challengers" column was all gone, except for three or four links. (I recreated the table today, using an HTML editor.)
The Main Act: I sought another spreadsheet, one that wouldn't crash and eat all my work. The online documentation I could find for Microsoft Word said that I couldn't put more than one link in a cell, except by using Visual Basic, and I required more than one (as you can see). Good thing I checked before laying out any money. I then checked to see if Apple made a spreadsheet that met my simple requirement: Indeed it did: Numbers.
I downloaded Numbers and attempted to install it. It failed: I have Mac OS version 10.11.6; it demands 10.13, and 10.13 only. The dreaded High Sierra.
Well, maybe it's time to upgrade after all. I go through the tedious exercise of proving my identity to the horrid Apple store and download what turns out to be an Installer for High Sierra.
I click the Installer. Nothing happens for many minutes — this is apparently the Installer downloading what it needs or checking the hard disk or going out for coffee or something — until I get an approval dialog to actually download the software.
Enter password.
OK.
[Long pause].
Notification that installing High Sierra will take, oh, around fourteen (14) hours. Fine…
There's a progress bar, but it doesn't move for long periods of time, and the time remaining inexplicably does not change.
Nothing is happening, but it's hard to see hours of downloading as a sunk cost.
Finally, I have the bright idea to open the Log window, and yes, stuff is periodically happening… Until it doesn't.
I check the log again, after a half-hour or so of nothing. The last line reads:
softwareupdate_notify_agent[43094]: AssertionMgr: Cancel com.apple.softwareupdate.NotifyAgentAssertion assertion for pid 43094
OK, I get that. The installer cancelled the installation. Do you see what that means?
The only way I can tell if the Installation has failed is by checking the log file.
Which a dull normal will never think to do.
I cancel, and try again. Surely the Installer is clever enough to have saved the *.dmg files is already downloaded, so I don't have wait for it to start the whole process again from the beginning?
Silly me. This install fails, too, after several hours, but at a different point. With, naturally, no error message or any indication of what to do or who to contact.
Apple, this is literally, as the kids say, the worst UI/UX I have ever had. I don't know why whichever idiot wrote the installer didn't even have the courtesy — heck, the simple human decency — to write a progress bar that actually informed the user of progress being made. Steve Jobs would have ripped out their windpipe with his bare hands, and good for him, too.
Except the person who made it impossible for me to upgrade to High Sierra — although this may have been a blessing in disguise, since at least all my data is intact — wasn't an idiot at all, were they?
Your horrid High Sierra installation process isn't a bug. It's a feature. You don't want me to be able to upgrade this machine in the hopes that I'll buy a new one. It's exactly the same strategy that you used with your iPhone battery scam. Jobs may have been a psycho, but at least his business model didn't involve ripping off his customers.
Over my dead body, "Tim" — if I may call you "Tim" — will you force me to spend any more money on Mac hardware. Take your stock options and your ginormous salary and get stuffed. Bloody your nose by walking into a glass wall or something.
Signed, Mac User Since The 512KE
Addendum: So, around ten or twelve hours for the post, and my Mac tied up for six or eight hours, since I didn't dare move it away from an Internet connection, or challenge it in any way. Well played, all. The post is worth reading, IMNSHO.
* * *
Patient readers, having ranted, I will now proceed to a normal Water Cooler in due course. –Lambert UPDATE 4:15PM All done.
Trade
"Experts expect China's retaliation to be swift and harsh, especially against U.S. exporters like U.S. farmers who rely on the Chinese market as a major destination for soybeans, pork and other commodities" [Politico]. ""I think China is going to have to respond. The question is, are they going to do that in a targeted way or are they going to escalate dramatically,' said Matthew Goodman, a senior adviser and Asian economic expert at the Center for Strategic and International Studies."
Politics
Midterns
PA-18: "Pennsylvania race still too close to call but Republicans already spinning a loss by Saccone" [USA Today] (although, in a classy gesture, Lamb has already declared victory). "A source familiar with GOP thinking who was not authorized to talk about Saccone's strategy Wednesday said Republicans were preparing to petition for a recount. Because the race is not statewide, no automatic recount will be triggered even if Lamb's lead is just a fraction of a point."

PA-18: "As of this writing, Democrat Conor Lamb is clinging to a lead of roughly 600 votes in the special election for Pennsylvania's 18th Congressional District. There are probably not enough uncounted votes out there for Republican Rick Saccone to pull out the win" [RealClearPolitics]. "There are over 100 districts that are bluer than this one. While not all of them will feature Republican retirements, Democrats who are perfectly tailored for the electorates, and problematic Republicans, a lot of them will. "

PA-18: The story is turnout:

#PA18 is not over yet, but every Republican elected official in the country should print this picture and frame it. This chart, showing the drop-off in GOP votes relative to Democratic turnout, is the single biggest issue for them going into November 2018https://t.co/WwuUK8g1GN pic.twitter.com/leJylYNXia

— G. Elliott Morris??‍♂️ (@gelliottmorris) March 14, 2018

After we've seen what the Democrats have been doing to boost turnout, I shudder to think what Republicans can do, when they put their minds to it.

PA-18: "Pennsylvania 18: A Red Flag for the GOP" [Roll Call]. "The real story is Saccone badly underperforming Trump. Clearly, either some Trump voters didn't turn out, or other Trump voters defected to Lamb. Or both things happened. No matter what, the result is a problem for Republicans in western Pennsylvania but also in other suburban areas…. Of course, there are always reasons to be cautious about reading too much into the results of a special election, especially when we don't have exit polling to help us understand who voted and how demographic groups behaved….. Finally, the election demonstrated once again that it is unwise to over-value second-tier polls in state and local races." A pleasing lack of pom-pom waving.

PA-18: "Republicans backed away from their signature tax-cut law in the final days of a closely watched special House election in the Pittsburgh suburbs — even though it's the very accomplishment on which they had banked their midterm election hopes" [Politico]. But here is the key point: "And even in surveys that show greater support for the law than other polls, like the POLITICO/Morning Consult poll, as a result of changes to the tax code." And that is the sort of thing voters notice; the Republian equivalent for universal concrete material benefits (systemically destructive though it is, it's nice to have a little more money right now.

PA-18: "12 Thoughts Without Even Knowing Who Won in Pennsylvania" [Nathan Gonzales, Inside Elections]. Technical and well worth a read. This is interesting: "in Pennsylvania's 18th, House Majority PAC, the go-to Democratic outside group on the House side, contributed $347,500 to VoteVets, which happened to make a $350,000 independent expenditure for a television ad, "Look Closely." VoteVets seems like a better messenger in this race compared to a super PAC aligned with Democratic leadership." So, it takes two levels of indirection to launder away the awfulness of the liberal Democrat brand. Everything is fine.

PA-18:

#PA18 is the first electoral test of tax law messaging since it took effect in paychecks. Saccone supported it, Lamb didn't. Republicans abandoned the issue in the final weeks.https://t.co/1mstMHmQOa pic.twitter.com/eyyVSa38zJ

— Sahil Kapur (@sahilkapur) March 14, 2018

PA-18: "Lamb's victory suggests it may again be possible for both wings of the Democratic Party to work together" [The Nation]. "Unlike Laura Moser, whose support for Sanders got her monstered by the DCCC, Lamb was not attacked by embittered Clintonites—or by the Fight for $15 crowd or the Single-Payer-or-Bust brigade. As Bernie Sanders showed in his endorsement of Hillary Clinton, the left has a long history of working for candidates who don't agree with us on every issue. So far, though, the traffic has been mostly one way. And Conor Lamb's upset victory, sweet as it is, has done nothing to change that." No, it doesn't, at least theoretically, since Lamb's district is going away; not a hill to die on. That said, there's only one way to make the "the traffic" two-way: Challenge liberal candidates where found. And start beating them.

PA-18: "[T]he DCCC was comfortable looking past Lamb's dig at Pelosi and quietly funneling $1 million into his campaign that funded field staff and get-out-the-vote efforts, while the committee's progressive critics—such as Our Revolution, Democracy for America, Progressive Change Campaign Committee and Justice Democrats—left Lamb off their endorsement lists" [Politico],

PA-18: "In a whopping 110 Republican-held House districts across the country, Trump won in 2016 by less than he did in Pennsylvania's 18th. Democrats only need to win 24 of them to take back a House majority in November" [Rolling Stone]. "Lamb, for all his fresh-faced charm, ran and won as a Trump Democrat – a flashback to the "Republican Lite" candidacies the Democrats specialized in during the Clinton '90s and '00s. He was so reluctant to criticize the president that NBC reporter Kacie Hunt made it her mission on Tuesday to ask him about Trump and try to extract something. Lamb wouldn't rise to the bait." Same Democrat playbook as 2006: Blue Dogs like Conor Lamb and Doug Jones are a the leadership's firewall against #MedicareForAll.

PA-18, for the sake of completeness: "Democrats Can Run the Conor Lamb Strategy Over and Over" [Jonathan Chait, New York Magazine]. Moar veterans!
Gunz
More like this, please. Well, sorta:
I'm from #PA18. Last time I was there I spent the night in a bar debating immigration with a Bernie guy who a week earlier blew off his index finger with his own gun while drunk. Hope this helps

— Brendan James (@deep_beige) March 14, 2018
New Cold War
Many people think that torture is bad:
Somewhat encouraging news on this front, from recent Pew poll: 58% of adults under 30 don't think it's OK for gov't to use torture. Those btwn 30-64 are roughly divided in their views. Most 65 & older (54%) say torture is acceptable in some circumstances. https://t.co/kGlsk4J0bS https://t.co/2ellRQo83U

— Roy Eidelson (@royeidelson) March 13, 2018
But for some, the idea that torture is bad is very new:
Pretty rich to see all the liberals who spent all of 2017 praising the intelligence community as a bulwark of democracy are now OUTRAGED Gina Haspel is CIA Director.

— Eugene Puryear (@EugenePuryear) March 13, 2018
And others think we should "look forward" and not back;
Sen. Feinstein, who led the Senate Intel torture report, has kind words for Trump's pick to be CIA director, Gina Haspel. "We've had a long personal talk," she said about the Bush-era programs. "Everything I know is that she has been a good deputy director of the CIA."

— Jeremy Herb (@jeremyherb) March 13, 2018
After all, if we prosecute torturers for war crimes in 2009, how do we appeal to suburban Republican types in 2018, let alone run MILO candidates? THINK, people!
Realignment and Legitimacy
"Optimistic, diverse, dynamic, moving forward":

Neolib archipelago: banking, wall street & tech districts.
Look at rent. Look at the homeless & how they're treated
Their schools? depleted by charter desegregation.
These areas use prison labor rather than paying living wages for those services: will they hire ex-prisoners?Nope! pic.twitter.com/11R0dlkFF7

— h(A)rm-money (@FrankMicko1) March 13, 2018
Twirling, twirling, twirling towards freedom…
"The fight for the soul of the Democratic Party" [Damon Linker, The Week]. "Faction #1: The centrist establishment… Faction #2: The economic populists… Faction #3: The multicultural populists." Personally, I think factions #1 and #3 are the same faction, at least in the sense that they are united in their animus to faction #2.
"Polk County voters report issues with Iowa ID law during sales tax election" [Des Moines Register]. "Voters on Tuesday were asked to present an ID. Those who could not were supposed to sign an oath verifying their identity and receive a regular ballot…. Sasek said he was told that he'd need to show an ID before voting. He pushed back… Sasek said the exchange was cordial — "" — and eventually he was allowed to sign an oath and cast a regular ballot." Gotta root out that attitude…
Stats Watch
Retail Sales, February 2018: "The big tax cut isn't being passed to the nation's retailers. Retail sales once again missed expectations badly" [Econoday]. "The job market may be high and confidence near long-term time highs but the consumer is definitely not on a spending spree." Maybe the job market just isn't all that high? More: "But there really should be no alarm on the consumer as retail sales in fact remain positive, evident in the total year-on-year rate…." And but: "Worse than expected and now down for the last three months, not adjusted for inflation. And all in line with the narrative about personal income going flat and the falling savings rate" [Mosler Economics]. And but: "This was a disappointing report – many were expecting a bounce back from the previous month's soft reports" [Econintersect]. "still, our analysis says this months' growth was above average for the growth seen in the last 12 months." And but: "The increase in February was well below expectations, however sales in January were revised up (although sales in December were revised down). A disappointing report" [Calculated Risk].
Business Inventories, January 2018: "Inventory growth proved strong in January, up 0.6 percent led by a 0.8 percent gain for wholesalers and a 0.7 percent build for retailers and including a 0.3 percent inventory rise at manufacturers" [Econoday]. "Builds in February and March, however, are not certain given a decline in total sales which fell 0.2 percent and which does not point to the need for restocking." But: "Inventories are elevated this month. Our primary monitoring tool – the 3 month rolling averages for sales – was little changed and remains in expansion. As the monthly data has significant variation, the 3 month averages are the way to view this series. Overall business sales are improving since the low point in 2015" [Econintersect].
Producer Price Index (Final Demand), February 2018: "Prices at the wholesale level proved soft in February" [Econoday]. "However much price readings may be soaring in reports like the Philly Fed or the ISM, today's results, which follow yesterday's consumer price report and last week's average hourly earnings data, confirm the month of February as a subdued one for inflation." Surveys don't match the data, film at 11. And: Although the monthly growth numbers appear high, the year-over-year numbers changed little from last month – except for unprocessed goods for intermediate demand which doubled" [Econintersect].
Atlanta Fed Business Inflation Expectations, March 2018: "Year-ahead inflation expectations among businesses edged 1 tenth higher in March to what is a still subdued rate" [Econoday].
Commodities: "Here's a supply-chain problem that's leaving a sour taste in the food industry. Global prices for vanilla are climbing as supplies of the staple food ingredient wane and production in agriculture markets is falling far behind demand" [Wall Street Journal].
Retail: "How Amazon's Bottomless Appetite Became Corporate America's Nightmare" [Bloomberg]. "No other company in Amazon's ballpark is growing as quickly. Its roughly $180 billion in annual sales remains dwarfed by Walmart's $500 billion, but sales at the big-box retailer inched up 3 percent in the year ended on Jan. 31. Amazon's revenue rose at least 25 percent in 2017, excluding sales from Whole Foods. That also means Amazon is growing faster than it did three years ago, when it was half its present size."
Retail: "Is the Retail Industry Dying?" [247 Wall Street]. "A recent report by Deloitte would argue against it, suggesting instead that in fact a retail renaissance is occurring…. With retail sales increasing 3.5% in 2017, compared to a gross domestic product growth rate of 2.3% the same year, the retail sector is showing signs of healthy growth; thus, the so-called retail apocalypse is a myth, according to a new study from Deloitte…. Rather than a battle of online against brick-and-mortar, Deloitte found that retail is changing in line with consumer income bifurcation, with both high-end and price-conscious retailers seeing revenues soar…." Readers, are you seeing this?
Shipping: "LA area Port Traffic Increases YoY in February" [Calculated Risk]. "Container traffic gives us an idea about the volume of goods being exported and imported – and usually some hints about the trade report since LA area ports handle about 40% of the nation's container port traffic…. Trade has been strong – especially inbound – and setting record volumes most months recently. In general imports have been increasing, and exports are mostly moving sideways recently."
Shipping: "It's no wonder U.S. freight channels are overflowing. Container imports into the neighboring ports of Los Angeles and Long Beach soared more than 32% from a year ago in February…, as strong economic growth and a push to restock inventories ahead of the Lunar New Year came together at the Southern California gateways" [Wall Street Journal]. "[T]ruckload carriers and logistics operators say they're still coping with the flood of February shipments and most economic signals suggest no letup in demand.
The Bezzle: "People Are Suing Equifax in Small-Claims Court and It's Totally Brilliant. Here's Why" [Inc.] " I imagine it's unlikely Equifax thought it would be dealing with individual plaintiffs, suing for fairly small dollar amounts, in very informal courtrooms across the country…. Ultimately, Haigh won an $8,000 judgment against the credit reporting giant–later reduced to $5,500 on appeal. In the process, his company started funding other people's small claims suits against Equifax, too." And $5K is not nothing.
The Bezzle: "The 600+ Companies PayPal Shares Your Data With" [Schneir on Security]. Here's a handy visualization.
The Bezzle: "Theranos, CEO Holmes, and Former President Balwani Charged With Massive Fraud" [United States Securities and Exchange Commission]. "The Securities and Exchange Commission today charged Silicon Valley-based private company Theranos Inc., its founder and CEO Elizabeth Holmes, and its former President Ramesh "Sunny" Balwani with in which they exaggerated or made false statements about the company's technology, business, and financial performance." No jail time. Naturally.
Transportation: "Dog's death on United flight should result in family being 'significantly compensated', says lawyer of man dragged from flight" [MarketWatch]. Now, whenever you put your luggage in an overhead bin on a United flight, you can wonder whether a dog died in that bin. Maybe United should put up a plaque or something. To clarify.
Transportation: " Volkswagen aims to sell three million electric vehicles a year by 2025, dwarfing the sales of 102,807 high-end cars that Tesla reported last year. Global demand for electric cars is still only a tiny fraction of new-car sales, and it is far from certain that huge investments by car makers will pay off. But Volkswagen is spending big to ensure a flow of batteries from suppliers in China and South Korea for its production line" [Wall Street Journal].
Honey for the Bears: "Should Investors Be Concerned That More CEOs Are Abandoning Ship?" [247 Wall Street]. There's a trope right on the tip of my mind… Something about "sinking ships"…. I know it'll come to me….
Five Horsemen: "Amazon carries on its Battle of the Round Number at $1,600 a share, as its Big Tech counterparts tread water" [Hat Tip, Jim Haygood].
NakedCap Mania-Panic Index: "Mania-panic index holds steady at 56 (complacency) as yesterday's market decline exerts little impact on its seven component series" [Hat Tip, Jim Haygood]. (The NakedCap mania-panic index is an equally-weighted average of seven technical indicators derived from stock indexes, volatility (VIX), Treasuries, junk bonds, equity options, and internal measures of new highs vs new lows and up volume vs down volume … each converted to a scale of 0 to 100 before averaging, using thirty years of history for five of the seven series.)
Class Warfare
"Socialist Survivalism: A Democracy Beyond Democracy" [Melville House]. "Right now, everybody feels as if they have been thrown into a situation that no one asked for, no one understands, and no one knows how to respond to, including conservatives. For their part, the oligarchs are trying to stay calm." This quite a rant.
"Say goodbye to the information age: it's all about reputation now" [Aeon]. "The greater the amount of information that circulates, the more we rely on so-called reputational devices to evaluate it. What makes this paradoxical is that the vastly increased access to information and knowledge we have today does not empower us or make us more cognitively autonomous. Rather, it renders us more dependent on other people's judgments and evaluations of the information with which we are faced."
News of The Wired
Hawking does the best maths trolling.

Passes away on Einstein's birthday and Pi Day.

Dude.

— Theo ate all the π (@tprstly) March 14, 2018
* * *
Readers, feel free to contact me at lambert [UNDERSCORE] strether [DOT] corrente [AT] yahoo [DOT] com, with (a) links, and even better (b) sources I should curate regularly, (c) how to send me a check if you are allergic to PayPal, and (d) to find out how to send me images of plants. Vegetables are fine! Fungi are deemed to be honorary plants! If you want your handle to appear as a credit, please place it at the start of your mail in parentheses: (thus). Otherwise, I will anonymize by using your initials. See the previous Water Cooler (with plant) here. Today's plant (MQ):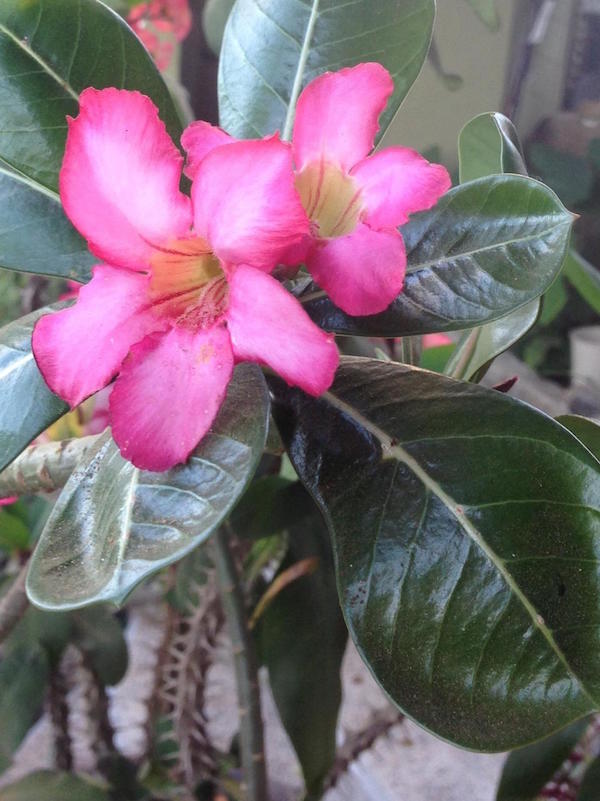 MQ writes: "A few pics from our family reunion just an hour north of Puerto Vallarta on the West coast." It seems that there's no more snow in Puerto Vallarta!
* * *
Readers: Water Cooler is a standalone entity not covered by the NC fundraiser. So do feel free to use the dropdown and click the hat to make a contribution today or any day. Here is why: Regular positive feedback both makes me feel good and lets me know I'm on the right track with coverage. When I get no donations for five or ten days I get worried. More tangibly, a constant trickle of small donations helps me with expenses, and I factor that trickle in when setting fundraising goals. So if you see something you especially appreciate, do feel free to click the hat!