By Lambert Strether of Corrente.
Trade
"President Donald Trump's decision to impose tariffs on imports of steel and aluminum has elicited more criticism from members of his own party on the Hill than any policy so far — but don't expect them to do anything about it just yet" [Politico]. "Republican leaders are getting gun-shy on directly overriding Trump even as Sen. Jeff Flake took the lead in the fight against the new duties on Monday, introducing legislation to nullify tariffs that he previously called 'this very unfortunate exercise in protectionism.'" The tariffs were popular in PA-18; so popular Democrat Conor Lamb supports them, too.
Politics
2020
"What Elizabeth Warren Is In For" [The American Prospect]. "Warren is a skilled and charismatic politician, so she might be able to convince the broader electorate that Trump's insulting nickname ["Pocohantas"] says more about him than it does about her." The Berkshire Eagle, which is locally owned and not crazypants, points out that a DNA test would make this non-issue go away. I can't speak to the technicalities of DNA testing, but if they are right, that's a very simple solution.

Sanders in Arizona. "The agenda of the billionaire class…."

FEROCIOUS BERNIE IN ARIZONA —
When #MAGA trash trolls start disrupting the event, Bernie amps it up to 11. pic.twitter.com/9KJKKarcde

— Our Revolution CCC (@pausetheprocess) March 13, 2018

More on billionaires:


This is what happens when you have a multi-billionaire who has never attended or taught in a public school as the secretary of education. pic.twitter.com/5Ospir4LZD

— Bernie Sanders (@SenSanders) March 12, 2018



Midterns
"House 2018: 26 Ratings Changes, All in Favor of Democrats" [Sabato's Crystal Ball]. "Amazingly enough, the special election in Pennsylvania's 18th Congressional District now looks like a Toss-up. That's one of 26 House ratings changes we're making this week, all in favor of Democrats…. Democrats have been consistently overperforming Hillary Clinton's 2016 presidential performance in special elections held since Donald Trump's election. My colleague Geoffrey Skelley has been tracking these elections, which are mostly for state legislative seats but also include a handful of congressional specials, and he calculates that Democrats have been running on average 13 points ahead of Hillary Clinton's 2016 margin in the nearly 90 races held so far featuring a Democrat and a Republican." Makes you wonder if the candidate was part of the problem…..

"Nine months from Election Day, political veterans eyeing the House landscape struggle to even identify a single Democratic House hopeful — of the hundreds running — who openly opposes abortion rights" [McClatchy]. "[Conor] Lamb isn't the only recent special election Democratic nominee who supported abortion rights despite running in a deeply conservative area: Doug Jones, running in Alabama, also backed a woman's right to an abortion. Jones won that race, besting embattled Republican nominee Roy Moore."

"Democratic Campaign Committee Endorses NRA-Backed Blue Dogs in Midterm Elections" [Truthout]. "The influence of the Blue Dogs in DCCC recruitment is evident in the candidates endorsed by the DCCC, many of whom are facing progressive challengers in primaries. As part of the DCCC's "Red to Blue" program to help support Democrats in districts currently held by Republicans, the Democratic Party is manufacturing primary nominees who have long records in support from the NRA."

* * *

PA-18, tonight! "All elections have consequences, but on a scale of zero-to-life-changing, Tuesday's special election in Pennsylvania's 18th District between Republican Rick Saccone and Democrat Conor Lamb has fewer real-world consequences than most" [Roll Call]. "The race will not only not change the balance of power in Congress, it won't even determine who will get a leg up to win the seat this fall. That's because the district will be entirely redrawn when the primaries for the seat take place two months from now and at least one candidate, Lamb, won't even live there for a possible rematch…. The race is also not a test for the tariff issue in the Rust Belt, since both candidates support President Donald Trump's decision to impose tariffs on foreign-made steel and aluminum. Nor is it a question of the power of the gun control issue in the wake of the Florida school shooting, because Saccone and Lamb have similar positions there, too….. Instead, , plain and simple…. Poor Rick. And poor Conor, too, while we're at it. Because the sheer lunacy of hyping these special elections up to national spectator events has done a disservice to both candidates." But we've got to cover it anyhow!

PA-18: "The Fight for a Disappearing District in Pennsylvania" [Roll Call]. "Most of the 18th District's population will be in the new 14th District, though the new congressional map is still being challenged in the courts. The new seat tilts more heavily toward Republicans. Under the new lines, Trump would have carried the district by 29 points. Saccone is already circulating petitions in the new 14th district, since signatures are due on March 20. Lamb has also said he would run for a full term in Congress this year, but he hasn't said from where."

PA-18: "On special election eve, Trump Jr. stumps for Rick Saccone, tours chocolate factory in Western Pa." [Trib Live]. "Donald Trump Jr. toured Sarris Candies in Canonsburg Monday afternoon, sampling chocolates and ice cream… Norm Candelore, a Sarris manager, led Trump Jr. and Saccone through the chocolate factory, which was preparing for Easter with racks of chocolate bunnies, eggs and baskets. Candelore said the company, founded in 1960, has added 80 jobs since Congress passed a tax reform plan championed by Trump. Candelore said the company had been successful for decades, but that changes in the tax bill prompted management to hire permanent workers when in the past they would have taken on temporary staff."

PA-18: "Pennsylvania Democrats aim to draw in union workers who voted for Trump" [Guardian]. "As Democrats rev up their Get Out the Vote machine for Conor Lamb, Democratic nominee for the political dynamite special election in Pennsylvania's 18th congressional district on Tuesday, they are relying heavily on organized labor, which has over 80,000 members in the district, to turn out the vote. They are hoping that this leads to a victory in the district, which voted for Trump by a 17% margin, but still on paper at least has 70,000 more registered Democrats than Republicans." It would be nice if just once labor got something from the Democrats for supporting them. Like card check. Remember card check?

PA-18: "Lamb said he doesn't think the race is a referendum on Trump and didn't think the president's announcement on tariffs would sway voters" [Trib Live]. "'I just think opinions are divided about it, and me and Mr. Saccone both agree that we should stick up for the steel workers,' Lamb said."

PA-18: "Conor Lamb's Campaign for Trump Voters in PA-18" [The New Yorker]. "Up close the special election in PA-18 looks more complicated. Many of the people who will vote for Lamb are Trump voters who still support the President. If elected, Lamb will have to reconcile the local realities of a district that stretches from Appalachia in the south to wealthy liberal Pittsburgh suburbs in the north, as well as navigate a polarized national landscape that will put pressure on his conservative views about energy and guns." And then there's this:

For the past seven years, I've reported from Washington County [in PA-18], an area hit hard by the collapse of the steel industry and more recently by the slow death of coal. In the wake of these industries, deep drilling for natural gas has created revenue that has helped to keep hotels and diners and chainsaw-repair shops, among many other small businesses, afloat. The influx of money has also further divided the residents of small, rural communities, separating the larger landowners who are earning money from gas operations from those who see little benefit.

Who "see little benefit," can't afford to buy bottled water, and cope with the trucks on the roads.

PA-18: "The Needle's Back. Maybe This Time, It Will Really Be Wrong." [New York Times]. "Our live forecast is just a formal means to do for online viewers what analysts like Mr. Kornacki or Mr. King have been doing for television viewers for years. It looks at where votes remain to be counted, and makes an educated guess about how those votes will break based on past election results and trends evident in initial returns."
Gunz
"Why the Gun Issue Has Shifted (It's Not What You Think)" [Stuart Rothenberg, Inside Elections]. Not Parkland. "the reason why the gun control issue was a big advantage for the GOP for decades but now favors the Democrats can be traced to the shift in the electoral coalitions of the two parties… The gun issued changed the political arithmetic so completely in the Republicans' favor that Democrats, increasingly located in the suburbs and in America's cities, gave up on culturally conservative voters and decided the party should avoid talking about gun control if it hoped to woo any working-class whites…. Now, suburban voters increasingly find that on guns they have more in common with their urban friends than with their rural ones. Some restrictions on guns, in particular, seem increasingly reasonable to swing voters after numerous mass shootings. As the issue has become more salient politically, it has also become potentially more effective for Democrats."
2016 Post Mortem
Here's the video of Hillary's "dynamic places" speech, just in time to inspire and unify our divided country:

"Girls trip! Hillary Clinton takes private jet for sight seeing tour and stay with maharaja friend in India – after claiming Trump won because his voters 'don't like black people' and 'told their wives not to vote for her'" [Daily Mail]. There's a lot here, but this hasn't garnered a lot of attention: Clinton: "[W]hat the map doesn't show you is that I won the places that represent two-thirds of America's Gross Domestic Product." For starters, what's the solution? Re-introduce income qualifications for voting?
New Cold War
"Russia Investigation" (PDF) [House Intelligence Committee]. This is the one-page summary. Proposed recommendations:

The draft report includes 25+ proposed recommendations for Congress and the executive branch to improve:

Election security, including protecting vote tallies;
Support to European allies;
The U.S. government response to cyber-attacks;
Campaign finance transparency; and
Counterintelligence practices related to political campaigns and unauthorized disclosures.

I'd like very much to see that section on election security; I would bet that there's no mention at all of hand-marked paper ballots, hand-counted in public (an erasure that commands bipartisan support).

"Draft GOP report: No coordination between Trump and Russia" [AP]. "Republicans on the House Intelligence Committee have completed a draft report concluding there was no collusion or coordination between Donald Trump's presidential campaign and Russia, a finding that pleased the White House but enraged Democrats who had not yet seen the document…. [T]he public will not see the report until Democrats have reviewed it and the intelligence community has decided what information can become public, a process that could take weeks. Democrats are expected to issue a separate report with far different conclusions."

"Broadside for the Trump Era: McCarthyism 1947–1960" (PDF) [Verso]. Handy infographic.
Realignment and Legitimacy
"Democrats and the Crisis of Legitimacy" [Rob Urie, Counterpunch (OregonCharles)]. "These mass exoduses [from both major parties] have several implications: (1) with voters fleeing both duopoly Parties, it is the political system that has lost credibility, (2) the back-and-forth of faux 'opposition' that provided the illusion of political difference has lost potency as a driver of domestic politics and (3) charges that foreign influence determined the 2016 electoral outcomes are wholly implausible when placed in the context of the scale of voter disaffection with the duopoly Party system…. For instance, 71% of eligible voters didn't vote for the Democratic Party candidate. 73% didn't vote for Donald Trump…. Carried to its logical conclusion, as long as there are an odd number of votes cast to prevent a tie, the duopoly Party leaderships are indifferent to how few voters participate in the electoral process."

"The wild, wild world of Sheriff David Clarke" [The Spectator]. "Clarke filed for divorce from his wife two weeks ago, on the day before this year's Conservative Political Action Conference. Since last year, he has been seen regularly with Hedieh Mirahmadi, a Muslim woman who has a job conducting sensitivity training with law enforcement agencies." Forbidden sex is always the best, isn't it?

UPDATE "Little Big Man" [John Steppling]. "Adorno noted that the fascist community is one in which there is no real joy, but only the release of repressed material and frustration, but a frustration merged with others frustrations." A bit dense; perhaps somebody who knows the Frankfurt School better than I do can comment. I like the illustrations, though, especially John Heartfield's.
Stats Watch
Consumer Price Index, February 2018: "Last week's average hourly earnings did in fact set the pace for February's inflation readings, and the word is subdue" [Econoday]. "Prices are not risking extra vigilance from the Federal Reserve. Until wages get moving, overall inflation may very well continue to run flat with only the slightest hint of upward pitch." And: "Shelter, apparel, and motor vehicle price changes remained the driver for inflation. Core inflation remain below 2.0 % year-over-year" [Econintersect].
NFIB Small Business Optimism Index, February 2018: "Confidence among small business owners approached record-setting heights in February" [Econoday]. "The only decline among the ten main components was registered in plans to increase employment, which fell 2 points to a still strong showing at a net 18 percent. Overall strength in employment continues to be evident from current job openings, which remained unchanged but at an impressive net 32 percent. But small business owners reiterated reports of difficulties in finding qualified applicants for positions they were trying to fill, and they identified the lack of qualified workers as their number one problem at the highest rate since 2000. The situation is prompting business owners to increase wages, and of small business owners, also the highest rate since 2000." Yet another survey not (yet?) reflected in data. And: "The historically high numbers include a jump in small business owners increasing capital outlays and raising compensation" [Econintersect]. "For the first time since 2006, taxes received the fewest votes as the number one business problem for small business."
Bank loans: "Actually dropped a bit last week" [Mosler Economics].
Employment Situation (last week): "Nice surprise on the upside, though there's discussion it's weather-related, as highlighted below. The growth rate moved up some as per the chart shows, but remains in a multi-year downtrend, with the low growth in hourly earnings an indication that demand remains very weak" [Mosler Economics].
Commodities: "Gold miner now in the blockchain business" [Mining.com]. "Vancouver-based Caza Gold and Arctic Blockchain have agreed to merge through a transaction described as a 'reverse takeover' of Caza by Arctic. This means that the former will change its business from a mining issuer to a technology issuer." Wonder if they've found a way to salt the blockchain. Kidding!
Commodities: "The world's biggest mining companies are growing more concerned about costs even as they count up big profits. Barely into a commodities rebound, the sector faces a fresh cost crunch as production and transportation prices begin to climb…, placing new pressure on suppliers including the dry-bulk carriers that are still trying to climb out of the financial hole created by the long commodities downturn" [Wall Street Journal]. "New stresses are spreading from production to distribution. Workers are demanding higher wages in countries like Chile, where truck drivers argue better copper prices should translate to better pay. And the Baltic Dry Index measure of shipping prices has been tracking lower this year after rebounding late last year, suggesting shipping customers may be pushing back harder against rate increases."
Shipping: "Robotics at a tipping point" [Logistics Management]. "I'm going to go out on a limb, but I'm now convinced that robotic materials handling is at a tipping point in materials handling, and it feels as if the adoption rate is about to take off [for two reasons]. "The first is the over-night emergence of one start-up after another, thanks to funding that is pouring in from an investment community that previously ignored our space. [Second,] it starts with labor. DC operators tend to congregate in logistics hubs, where everyone is vying for their piece of a finite workforce. 'It's becoming more and more difficult to find labor, especially around peak, in a lot of the markets where we're in,' says [Alan McDonald, senior director of continuous improvement, at GEODIS, another global 3PL giant like DHL]. 'A big part of our strategy is how do we make the current employees we have more productive and to reduce the requirement for more labor at peak.'"
Shipping; "While venture capitalists and tech gurus are fretting over cryptocurrencies, the future of the underlying blockchain technology may be in the warehouse. Nitty-gritty research on the technology is underway in logistics, far from hype that surrounds cryptocurrencies like bitcoin,… the behind-the-scenes efforts may bring much-needed change to some of the world's most critical, if unsexy, industries" [Wall Street Journal]. "Already, , helping the company trace their journey from manufacturer to store shelf. Maersk Line uses the same technology from IBM to track shipping containers, making it faster and easier to get them through customs and transfer them from one freight-handler to the next. Blockchain is gaining traction in logistics because it's well-suited to transactions that require trust and a permanent record and involve many different parties. And critically, the technology has buzz that attracts developers and investment, providing a new jolt to operations that have made only small progress in technology in recent years." I'm guessing it's the buzz that's the most important, since a distributed open ledger isn't a new idea. Am I too cynical?
Five Horsemen: "Amazon fights the Battle of the Round Number at a $1,600 share price, as its four Big Tech counterparts dither" [Hat Tip, Jim Haygood].
NakedCap Mania-Panic Index: "Mania-panic index rises to 56 (complacency) as new 52-week highs outpaced new lows by 147 to 25 yesterday" [Hat Tip, Jim Haygood]. (The NakedCap mania-panic index is an equally-weighted average of seven technical indicators derived from stock indexes, volatility (VIX), Treasuries, junk bonds, equity options, and internal measures of new highs vs new lows and up volume vs down volume … each converted to a scale of 0 to 100 before averaging, using thirty years of history for five of the seven series.)
Rapture Index: Closes up 1 on Anti-Semitism. "There has been a increase in anti-Semitic activity" [Rapture Ready]. Record High, October, 10 2016: 189. Current: 185.
Gaia
"The cliff that changed our understanding of time" [BBC]. "Up close, the contrast between the vertical sheets of oceanic rock along the bottom of the cliff and the horizontal layers of sandstone high above were clearly visible. Back in 1788, few people understood the significance of that contrast. It took an Enlightenment thinker – 62-year-old farmer James Hutton, who made this journey around Siccar Point more than two centuries ago – to realise that it proved the existence of 'deep time'." And what started Hutton thinking? Soil!
"One of the difficulties he faced was a lot of soil erosion," said Colin Campbell, chief executive of research centre The James Hutton Institute. "He was forever wondering how to keep the soil on the land and stop it disappearing off in rainstorms down the rivers. But he started to realise there was a renewal process, so while the soil would wash away, eventually new soil would form, and this cycle took large amounts of time."
Health Care'
"Red-state changes could strengthen ACA, Medicaid" [Axios]. "Democrats, advocates and liberals will continue to resist red state strategies and waivers they believe are harmful. Conservatives in red states will pursue changes they want to make to the ACA and Medicaid. That is how our system works. The end result, which won't make either side happy, could well be a broader political constituency for both the ACA and Medicaid."
Neoliberal Epidemics
"Trends and Patterns of Geographic Variation in Mortality From Substance Use Disorders and Intentional Injuries Among US Counties, 1980-2014 [JAMA]. Deaths of despair still going strong. Finding: "In this study of 2 ,848 ,768 deaths in the United States from 1980 to 2014, mortality rates varied widely among counties and increased by 618.3% for drug use disorders but decreased by 8.1% for alcohol use disorders, 6.0% for self-harm, and 44.9% for interpersonal violence. Mortality rates due to drug use disorders increased in every county, while mortality rates due to alcohol use disorders, self-harm, and interpersonal violence increased in some counties and decreased in others." I wonder what the labor market would like like, if not for the excess mortality….
"Should Doctors Use Naloxone Even If It Doesn't Save Lives?" [The Incidental Economist].
Class Warfare
"Interviews Show Teachers on a Collision Course with Unwavering Lawmakers" [Oklahoma Watch]. "OEA President Alicia Priest suggested lawmakers revisit earlier proposals that failed to get the three-fourths vote required of revenue bills. Among those was the Step Up Oklahoma plan, pitched by civic and business leaders, that would have raised taxes on cigarettes, motor fuel and oil and gas production. Other Step Up changes were proposed in separate bills. But early indications were that legislators' lines in the sand weren't shifting…. The legislators – Oklahoma Watch reached out to 35 of them – included a strange-bedfellows mix of fiscally conservative Republicans reluctant to consider most tax increases and Democrats seeking a tax package that draws more from the oil and gas industry and higher earners. All had voted no on the Step Up Oklahoma plan."
News of The Wired
"Novel study is first to demonstrate brain mechanisms that give "The Iceman" unusual resistance to cold" [Wayne State Universities]. " Dutch adventurer Wim Hof is known as 'The Iceman' for good reason. Hof established several world records for prolonged resistance to cold exposure, an ability he attributes to a self-developed set of techniques of breathing and meditation — known as the Wim Hof Method — that have been covered by the BBC, CNN, National Geographic and other global media outlets. Yet, how his brain responds during cold exposure and what brain mechanisms may endow him with this resistance have not been studied — until now. ….. The researchers hypothesize that by generating a stress-induced analgesic response in periaqueductal gray matter, the Wim Hof Method may promote the spontaneous release of opioids and cannabinoids in the brain. This effect has the potential to create a feeling of well-being, mood control and reduced anxiety." One for New Englanders!
* * *
Readers, feel free to contact me at lambert [UNDERSCORE] strether [DOT] corrente [AT] yahoo [DOT] com, with (a) links, and even better (b) sources I should curate regularly, (c) how to send me a check if you are allergic to PayPal, and (d) to find out how to send me images of plants. Vegetables are fine! Fungi are deemed to be honorary plants! If you want your handle to appear as a credit, please place it at the start of your mail in parentheses: (thus). Otherwise, I will anonymize by using your initials. See the previous Water Cooler (with plant) here. Today's plant (PH):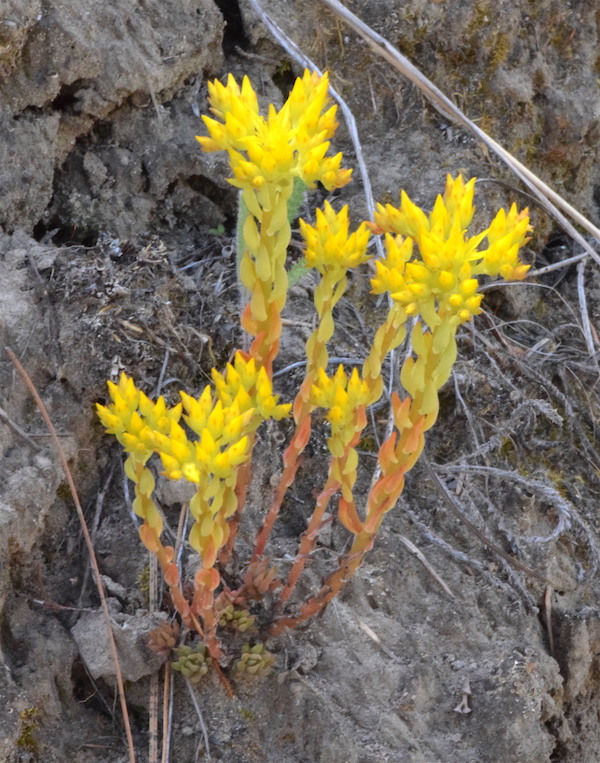 PH writes: "Herewith a few more from south-central British Columbia: Lance-leaved Stonecrop, Sedum lanceolatum : Crassulaceae, Stonecrop family." Isn't that a pretty yellow!
* * *
Readers: Water Cooler is a standalone entity not covered by the NC fundraiser. So do feel free to use the dropdown and click the hat to make a contribution today or any day. Here is why: Regular positive feedback both makes me feel good and lets me know I'm on the right track with coverage. When I get no donations for five or ten days I get worried. More tangibly, a constant trickle of small donations helps me with expenses, and I factor that trickle in when setting fundraising goals. So if you see something you especially appreciate, do feel free to click the hat!