By Lambert Strether of Corrente.
Trade
"President Donald Trump said the tariffs would hit goods with a combined total value of "about $60 billion," although the administration said earlier they would cover $50 billion of imports. That amounts to about 10% of U.S. imports from China, and the administration chose 1,300 product categories that may be covered. China quickly fired a retaliatory shot back against what called a "vile" action, targeting for higher tariffs $3 billion in U.S. goods, including fruit, pork, recycled aluminum and steel pipes. Bigger items like Boeing Co. aircraft and soybeans weren't on Beijing's list, suggesting there's still room for negotiations, or for the confrontation to escalate" [Wall Street Journal].
"'I don't think this is a trade war,' says veteran Wall Street strategist" [MarketWatch]. "'We have been to this dance before,' [veteran strategist Marc Chandler] writes at his Marc to Market blog. 'Countries will respond with some symbolic retaliation on a small number of goods that make a little more than a rounding error in bilateral trade, take some measures to ensure that the defection of the U.S. does not lead to an import surge, and appeal to the conflict resolution mechanism at the WTO.'"
Politics
2020
"2020 Dems compete for top campaign operatives" [The Hill]. Robbie Mook is quoted as an authority. IIRC, Sanders' campaign manager ran a comic book store. So maybe candidate and message count too?
New Cold War
"US imposes sanctions on Iranians for hacking" [Digital Journal]. "The United States imposed sanctions on Friday on 10 Iranians and an Iranian company for alleged hacking of hundreds of universities in the US and abroad and the theft of 'valuable intellectual property and data.'" That was fast.
Midterms
"Deja Vu All Over Again. Health Care Takes Center Stage in 2018 Campaigns" [Amy Walter, Cook Political Report]. "A nurse and former HHS official under President Obama, Lauren Underwood won the primary for the exurban Chicago-based 14th district currently held by GOP Rep. Randy Hultgren. Her ads featured her in scrubs, where she boasted of her work in 'expanding ' while 'our congressman has not looked out for the folks in the 14th district.' Betsy Dirksen Londrigan, who won the Democratic primary to face Rep. Rodney Davis in the Springfield-based 13th district, talked of her son's rare and almost fatal infection, arguing that 'Trump's health care plan would have bankrupted us.' Last week, I met half a dozen Democratic candidates running for GOP-held seats. Every one of them mentioned health care as one of the main reasons for their candidacy. Most mentioned the vote the GOP incumbent had taken last year to repeal Obamacare, framing it as a Republican attempt to 'take away health care' from district constituents that will raise the cost of insurance." Note the propagation of the "access to care" — as opposed to "care" — talking point. "Access," as we know, involve co-pays, deductibles, narrow networks, eligibility requirements… Everything makes ObamaCare unfair and broken by design.

"A Creeping Sense of Doom for Republicans" [Charles Cook, Cook Political Report]. "In my meetings with GOP strategists, there is a sense of doom and resignation. On and off the Hill, Republicans are now settling into the new normal of their 2018 midterm-election plight. Unemployment and inflation are both low, consumer confidence is high, and GDP growth for this quarter is expected to come in around 2.5 percent—although it should be noted that the U.S. economy is growing pretty much at the same pace as the rest of the world in what economists call synchronized global growth. Despite those favorable indicators, Trump's approval ratings remain at historically and toxically low numbers and his party is heading into a very challenging midterm-election campaign. At least today, it looks fairly likely Republicans will lose their House majority, while there is enormous uncertainty about how their 51-49 Senate majority will fare…. While things certainly could change between now and Nov. 6, they would have to change quite a bit for Republicans to salvage their House majority and take advantage of what should be a great opportunity to gain Senate seats."

"Insiders See Democratic House Gains of 30-45 seats" [Stuart Rothenberg, Inside Politics]. "Seven and a half months before the midterm elections, the combination of attitudinal and behavioral evidence leads to a single conclusion: The Democrats are very likely to win control of the House in November. Just as important, Republican and Democratic campaign strategists also agree that an electoral wave has already formed…. 'It's baked in now,' one veteran Republican campaign veteran told me, noting the GOP's problems with women and college-educated voters. 'We knew single women hated [the Republican Party]. We couldn't do anything about that. But married women were different. We figured out how to deal with them by talking about pocketbook issues. But now college-educated women hate us. Even with the current economy. It's the bullying, the nastiness, the tweeting. It's all about Trump's behavior.' Republican insiders also worry that a chunk of 'Trump voters" won't turn out in November even though they still like the president personally. 'There are blue-collar Democrats who voted for Trump but don't care about the Republican Party. They are unlikely to turn out for a Republican candidate in the fall, though they could still help Trump in 2020,' one GOP consultant said."

IL: "In Chicago primaries, a string of defeats for the Democratic establishment at the hands of progressive Democrats" [Boing Boing]. "Four Democratic challengers backed by United Working Families (linked with the progressive Working Families Party) have successfully challenged establishment Dems backed by Chicago's legendarily unassailable "Democratic machine," effectively winning their offices at the same time, because the Democrat candidate always gets elected to those offices, thanks to Republicans not bothering to field candidates… The four upsets include the office of the County Assessor (who determines property taxes — traditionally an office that was able to trade favors for large Democratic Machine cash "contributions"), which went to Fritz Kaegi, who campaigned on a promise to eliminate the racial bias in assessments that overtaxed black and Latino neighborhoods to subsidize affluent white neighborhoods. Kaegi's opponent raked in millions in campaign contributions from property tax-appeal lawyers, and won the endorsement of the Dem establishment, including state house speaker Mike Madigan and Congressman Luis Gutierrez. Other upsets: Aaron Ortiz beat Daniel J. Burke in a state-house nomination bid; Ortiz campaigned for legal marijuana, free college tuition, single payer healthcare, and an end to cash bail. Another house race was upset by teacher's union organizer Brandon Johnson, beating Richard Boykin, and Delia Ramirez easily took the 4th House District nomination."

NY: "Cynthia Nixon can beat Andrew Cuomo" [The Week]. "Cuomo has three large weaknesses. The first is how his self-image of Mr. Competence has been severely tarnished by his grotesque mismanagement of the New York subway.… The second is his history of treachery. Cuomo is one of those instinctively vicious politicians who thinks that betraying people, especially weaker and left-leaning ones, is the right thing to do almost by definition…. The third is his legendary thin-skinned pettiness…. Nixon is well-suited to press the attack on all three points." Maybe. IIRC, Teachout did surprisingly well. Perhaps Nixon will do even better.

TX: "DCCC Boosts Texas Runoff Candidates, Risking Backlash" [RealClearPolitics]. "The committee added Colin Allred, a former NFL linebacker running in a Dallas district, and Gina Ortiz Jones, an Air Force veteran running in a perennial swing district on the border with Mexico, to the DCCC's Red to Blue program, which gives beneficiaries fundraising and campaign support. Both Allred and Ortiz Jones are former Obama administration officials running for Congress for the first time, and both finished first in their respective primaries earlier this month, though each fell short of 50 percent, triggering the runoffs." About MILO Ortiz's opponent: "Treviño was a convention delegate for Bernie Sanders in 2016 and was endorsed by Our Revolution, a progressive group run by Sanders allies." So what the liberal Democrats learned from 2016 was to rig their primaries openly. Will Treviño still have to attend a unity event with Ortiz Jones after being screwed by the Democrat nomenklatura?
Realignment and Legitimacy
"A new survey released by the Polling Institute at St. Leo University reveals some discouraging trends. While it's not news that America is a deeply divided country, many of us appear to be losing hope we can reduce those divisions. Just 33 percent say they're 'optimistic' about reducing political discord in America, a significant drop from the 49 percent who expressed optimism in March of last year. Even more disturbing: People appear to be more accepting of stifling speech and committing crimes on behalf of their political beliefs. Forty-two percent of those surveyed said 'not all free speech patterns should be protected,' up almost seven points from last year. Nineteen percent said that 'at times, physical violence during demonstrations is justified,' up one point from last year. And 17 percent said that damaging property is also sometimes justified during demonstrations, up three points from the previous year" [RealClearPolitics]. The published results give no indication of partisan or ideological affiliation.
Stats Watch
Durable Goods Orders, February 2018: "Significant strength is the verdict for February's durable goods orders and with it, significant strength is now the tangible outlook for this year's factory sector" [Econoday]."Durable goods orders jumped 3.1 percent in February to just top Econoday's high estimate with ex-transportation orders, at a gain of 1.2 percent, very near the high estimate. The most convincing strength in the report comes from (nondefense ex-aircraft) where orders surged 1.8 percent, which is well beyond the high estimate…. Year-on-year rates of growth are moving from the mid-single digits to the high single digits led by 8.9 percent overall with ex-transportation up 8.1 percent and capital goods up 8.0 percent. Today's report helps confirm the enormous strength that has been posted over the last year by regional and private factory surveys and points to a sector that will increasingly contribute to employment growth and to GDP growth." So the surveys are right and the data is wrong? But: "Civilian and defence aircraft were the main tailwind this month. This series has wide swings monthly so our primary metric is the unadjusted three month rolling average which marginally declined. I consider this a weaker report than what is observed at first glance" [Econintersect].
New Home Sales, February 2018: "Near expectations" [Econoday]. "Prices, however, are showing traction… Sales, whether for new homes or existing, have been struggling to gain traction so far this year. But they did end last year on an up note and heavy weather always makes winter a tough time to judge for housing. But rising supply and a strong jobs market are pluses for the new home market going into the spring selling season which will help offset drag from rising mortgage rates." And but: 'This month the backward revisions were upward" [Econintersect]. "Because of weather and other factors, the rolling averages are the way to view this series – and the rolling averages remain average for the levels seen since the beginning of 2016…. This data series is suffering from methodology issues which manifest as significant backward revision. Home sales move in spurts and jumps – so this is why we view this series using a three month rolling average." And: "Disappointing growth, but no worries – yet!" [Calculated Risk].
Energy: "Radar images show large swath of West Texas oil patch is heaving and sinking at alarming rates" [SMU Research News]. "Analysis indicates decades of oil production activity have destabilized localities in an area of about 4,000 square miles populated by small towns, roadways and a vast network of oil and gas pipelines and storage tanks.Two giant sinkholes near Wink, Texas, may just be the tip of the iceberg, according to a new study that found alarming rates of new ground movement extending far beyond the infamous sinkholes. That's the finding of a geophysical team from Southern Methodist University, Dallas that previously reported the rapid rate at which the sinkholes are expanding and new ones forming… The SMU researchers caution that ground movement may extend beyond what radar observed in the four-county area. The entire region is highly vulnerable to human activity due to its geology — water-soluble salt and limestone formations, and shale formations."
Shipping: "New York dry bulk investment fund launches" [Splash 247]. "The Breakwave Dry Bulk Shipping ETF has been created by Breakwave Advisors and ETF Managers Group (ETFMG). The fund, called BDRY for short, provides long exposure to the dry bulk shipping market through a portfolio of near-dated freight futures contracts on dry bulk indices. This offers investors exposure to dry bulk freight without the need for a futures trading account. BDRY is designed to reduce the effects of rolling contracts by using a laddered strategy to buy contracts while letting existing positions expire and settle in cash. 'We are thrilled to bring such an innovative product to the market, allowing investors to participate directly in the exciting world of dry bulk shipping' said John Kartsonas, founder and managing partner of Breakwave Advisors." I think if the world of dry bulk shipping gets exciting, then something is terribly wrong.
Shipping: "At least 2,000 commercial truck drivers will need to be medically re-certified in order to continue operating after the federal government today said it would revoke the medical certificates issued to drivers in the past two years by an Alabama chiropractor who was arrested and indicted on multiple criminal offenses" [DC Velocity].
The Bezzle: "Why Are Phantoms And Vampires Plaguing Tesla's Model 3?" [Seeking Alpha]. A frankly speculative theory. Nevertheless: "If the phantom touch and vampire drain issues are not resulting from the pedestal design, and can be fixed with an OTA software update, then those problems may soon be forgotten. However, their emergence is yet another reminder that Tesla took huge shortcuts on the usual production parts approval process, and production line validation, and beta testing."
The Bezzle: "Tesla Shows Signs of a Model 3 Surge" [Bloomberg]. "Our model is, by design, slow to respond to such changes in the data. In order to avoid over-reacting to unusual batches, we've averaged our production rates over time. That means our model's current estimated production rate is still being held back by February's temporary manufacturing pause. We expect the improving trend will continue next week, based on the data [registered and spotted VINs] we've already received." Note that the numbers are still well short of Musk's self-serving fantasies, and given Tesla's quality assurance problems (see above) I'd like to know what they did to get those autos out the door.
Concentration: "Repost: Given Facebook's current scandals, this seems like a good time to revisit this argument" [Observational Epidemiology]. Better than the headline: "For most of the 20th century, the government kept a vigilant watch for even potential accumulation of media power. Ownership was restricted. Movie studios were forced to sell their theaters (see United States v. Paramount Pictures, Inc). The largest radio network was effectively forced to split in two (that's why we have ABC broadcasting today). Media companies were tightly regulated, their workforce was heavily unionized, and they were forced to jump through all manner of hoops before expanding into new markets to insure that the public good was being served. In short, the companies were subjected to conditions which we have been told prevent growth, stifle innovation, and kill jobs. We can never know what would've happened had the government given these companies a freer hand but we can say with certainty that for media, the Post-war era was a period of explosive growth, fantastic advances, and incredible successes both economically and culturally. It's worth noting that the biggest entertainment franchises of the market-worshiping, anything-goes 21st century were mostly created under the yoke of 20th century regulation."
Tech: "Silicon Valley's Regulatory Exceptionalism Comes to an End" [Lawfare]. "Nor is talk of regulation hypothetical. Congress just passed (and President Trump is expected to sign) the 'Allow States and Victims to Fight Online Sex Trafficking Act of 2017' (also known as SESTA or FOSTA). This landmark bill will make online platforms liable if they're used to facilitate sex trafficking. As I've written before, the background immunity that the law abrogates, Section 230 of the Communications Decency Act (CDA) of 1996, 'is the most important legal driver of digital free expression' and enjoys 'enjoys near-mythic status among internet activists and technology companies.' Talk of amending CDA 230 liability has always been 'a third rail of internet-policy debates.' Yet it's finally happened—and though backers of SESTA and FOSTA have played down the bill's effects on CDA 230, the legislation is likely to have important consequences. Now that Congress has limited CDA 230, it has made "make conceptual space for the kind of regulation … that technology companies have until now successfully fended off." And the law signals that Congress is playing for keeps; if it's willing to amend the Magna Carta of the internet, it's hard to imagine any area of technological regulation that's off limits."
Tech: "How Congress Censored the Internet" [Electronic Frontier Foundation]. "The U.S. Senate just voted 97-2 to pass the Allow States and Victims to Fight Online Sex Trafficking Act (FOSTA, H.R. 1865), a bill that silences online speech by forcing Internet platforms to censor their users. As lobbyists and members of Congress applaud themselves for enacting a law tackling the problem of trafficking, let's be clear: Congress just made trafficking victims less safe, not more…. The history of SESTA/FOSTA—a bad bill that turned into a worse bill and then was rushed through votes in both houses of Congress—is a story about Congress' failure to see that its good intentions can result in bad law. It's a story of Congress' failure to listen to the constituents who'd be most affected by the laws it passed. It's also the story of some players in the tech sector choosing to settle for compromises and half-wins that will put ordinary people in danger."
Tech: Well, this is interesting:
Downloaded my facebook data as a ZIP file

Somehow it has my entire call history with my partner's mum pic.twitter.com/CIRUguf4vD

— Dylan McKay (@dylanmckaynz) March 21, 2018
Tech: And speaking of Facebook:
This Mark Zuckerberg IM is now old enough to vote. It has aged exceptionally well. pic.twitter.com/4Cq3e94QrN

— Wyeth Ruthven (@wyethwire) March 21, 2018
Tech: "Robotic process automation [RPA] efforts suffer from poor planning. Software robots don't need to take breaks, they don't make mistakes, and they can do the boring work for human employees. But there are growing pains associated with deploying robotic process automation, analysts say. A study by The Hackett Group finds that companies are failing to optimize processes or address data quality issues before introducing RPA to the workforce, and they're underestimating the amount of time and resources required to deploy the robots" [Wall Street Journal]. If you think call centers and help lines are bad now, just wait 'til the robots are doing it.
Tech: Tim Berners-Lee on the Facebook Fracas. Thread:
This is a serious moment for the web's future. But I want us to remain hopeful. The problems we see today are bugs in the system. Bugs can cause damage, but bugs are created by people, and can be fixed by people. 1/9

— Tim Berners-Lee (@timberners_lee) March 22, 2018
Oddly, or not, Sir Tim doesn't mention concentration, and doesn't advocate that platforms be broken up.
Tech: We're not the only ones who know that Google Search has been crapified. Thread:
Google's news search is completely worthless now too. Go ahead and try it if you hate yourself. https://t.co/XHivAy3drb

— SwiftOnSecurity (@SwiftOnSecurity) March 22, 2018
The Fed: "Opinion: The Federal Reserve's Powell might keep the party going longer than expected" [MarketWatch]. "In truth, no one knows just how low the unemployment rate can go before 'bad things' start to happen. But Powell seems open minded to the possibility that, in the low-inflation world we find ourselves in, it could be very low. In testimony to Congress in February, he said it's possible that it could be as low as 3.5%. Which would be the lowest since 1969."
The Fed: "The Great Inflation Mystery" [Bloomberg]. "Here are some of the things about inflation the Fed and other central banks are uncertain of: what causes it; what effects it has; what to count in measuring it (stock prices?); how low, or high, it should be; and how to move it up and down. The Fed, in other words, is driving blind. Daniel Tarullo, in a tell-all address at the Brookings Institution in October after his resignation from the Fed's Board of Governors, said, 'We do not, at present, have a theory of inflation dynamics that works sufficiently well to be of use for the business of real-time monetary policymaking.'" Alrighty then.
Five Horsemen: "In late morning trade, the Fab Five hovered near unchanged after yesterday's shellacking" [Hat Tip, Jim Haygood].
NakedCap Mania-Panic Index: "The mania-panic index fell to a year-to-date low of 29 as the S&P 500 slid below its 125-day moving average and underperformed bonds during the past month" [Hat Tip, Jim Haygood]. (The NakedCap mania-panic index is an equally-weighted average of seven technical indicators derived from stock indexes, volatility (VIX), Treasuries, junk bonds, equity options, and internal measures of new highs vs new lows and up volume vs down volume … each converted to a scale of 0 to 100 before averaging, using thirty years of history for five of the seven series.)
Health Care
Water
"How to invest in water: A long-term bet on an essential commodity with limited supply" [MarketWatch]. "With global demand for water expected to explode in the coming years, fund managers are recommending investing in the space as a long-term bet on an essential commodity whose supplies are limited…. The Guggenheim S&P Global Water Index ETF has gained 11% in the last 12 months, while the PowerShares Water Resources ETF has added 20% and the PowerShares Global Water Portfolio has risen about 15%."
Gaia
"The Great Pacific Garbage Patch Isn't What You Think it Is" [National Geographic]. "Microplastics make up 94 percent of an estimated 1.8 trillion pieces of plastic in the patch. But that only amounts to eight percent of the total tonnage. As it turns out, of the 79,000 metric tons of plastic in the patch, most of it is abandoned fishing gear—not plastic bottles or packaging drawing headlines today."
Class Warfare
"Scotland Yard has admitted Special Branch officers passed information to a controversial network that blacklisted construction workers" [BBC]. "It follows a six-year battle to find out if the Metropolitan Police supplied the intelligence on trade unionists. The force says its investigation had 'proven' the allegation, which will be investigated by a public inquiry. Workers who say they were unfairly barred from jobs have already received millions of pounds in compensation."
News of The Wired
"A Pillowcase Makes a Fine Substitute Pouch for an Orphaned Kangaroo" [BLCKGRD]. An 2011 sighting of John Bolton with pre-#Resistance act of Resistance. (BLCKDGRD is another old-school blogger, apparently hit hard by recent Facebook algo changes.) And then there's this.
'Do Crowds Know Best? Some Reflections on CBS Correspondent David Begnaud's Experiment in Crowdsourcing Journalism on Puerto Rico #6MonthsAfterMaria" [The Puerto Rico Data Lab]. "[C]rowdsourcing works best when a majority of the people who responded to his 'call-out' have some prior knowledge of the issues being considered. Thus, this particular analysis does not answer whether or not crowds are always right. But it does demonstrate that a majority of the followers who responded to Begnaud's call for information knew quite a bit about Puerto Rico's and its challenges following Hurricane Maria."
"Why Amazon's Data Centers Are Hidden in Spy Country" [The Atlantic]. Well worth a read. Speculating freely: Amazon locating it's second headquarters in the Beltway is a foregone conclusion, and not just because The Jeff Bezos Shopper circulates there.
* * *
Readers, feel free to contact me at lambert [UNDERSCORE] strether [DOT] corrente [AT] yahoo [DOT] com, with (a) links, and even better (b) sources I should curate regularly, (c) how to send me a check if you are allergic to PayPal, and (d) to find out how to send me images of plants. Vegetables are fine! Fungi are deemed to be honorary plants! If you want your handle to appear as a credit, please place it at the start of your mail in parentheses: (thus). Otherwise, I will anonymize by using your initials. See the previous Water Cooler (with plant) here. Today's plant (Oguk):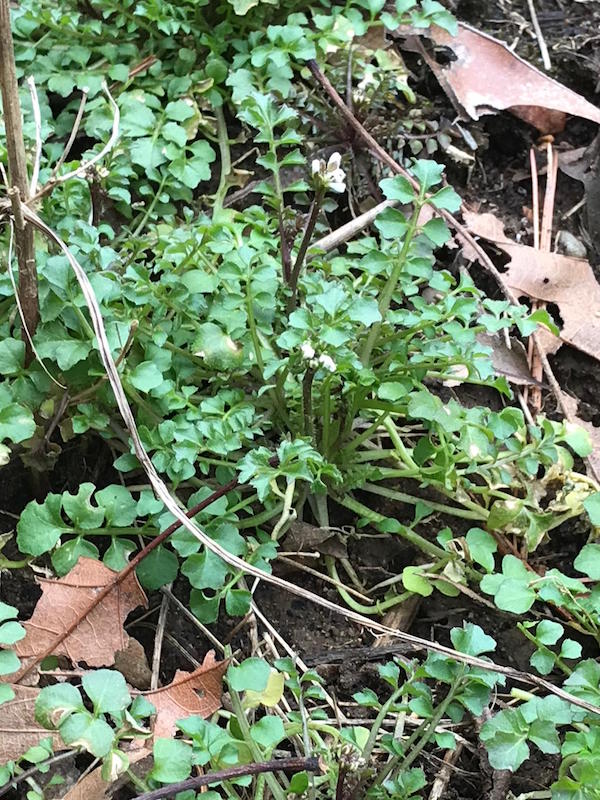 Oguk writes: "This is coming up all over my (small) garden right now. Apparently, it is Pennsylvania bittercress. 'All parts of C. pensylvanica are considered edible.' Tastes a little like horseradish."
* * *
Readers: Water Cooler is a standalone entity not covered by the NC fundraiser. So do feel free to use the dropdown and click the hat to make a contribution today or any day. Here is why: Regular positive feedback both makes me feel good and lets me know I'm on the right track with coverage. When I get no donations for five or ten days I get worried. More tangibly, a constant trickle of small donations helps me with expenses, and I factor that trickle in when setting fundraising goals. So if you see something you especially appreciate, do feel free to click the hat!