By Lambert Strether of Corrente.
Trade
"The United States and South Korea have agreed to a new currency pact that will bar either country from devaluing their currency for an unfair trade advantage, senior administration officials announced on Tuesday evening" [Politico]. "The new currency side agreement, which the U.S. announced in parallel with a newly renegotiated KORUS deal demanded by President Donald Trump, is being finalized by the U.S. Treasury Department and South Korea's finance ministry. But it is not actually part of the revamped KORUS pact and is not enforceable through that agreement's binding dispute settlement provisions."
"'It's unclear how the proposed changes to the [KORUS] pact itself would reverse the doubling of our Korea trade deficit under KORUS, but the new currency agreement could make a difference if it has teeth, delaying the U.S. tariff cuts on Korean trucks could stop the big imbalance from getting even worse, and the parallel steel agreement is significant" [Lori Wallach, Public Citizen]. "The limited revisions to KORUS do not the promised new American trade agreement model make, which puts added pressure on NAFTA renegotiations to deliver a deal that eliminates the job outsourcing incentives in our past trade deals and adds strong labor and environmental standards with swift and certain enforcement. Success on many key issues that were not addressed at all in this deal – such as the elimination of job outsourcing incentives and the controversial ISDS tribunals, the tightening of automobile rules of origin, and the addition of strictly enforced labor and environmental standards – will determine if a renegotiated NAFTA can get the bipartisan support necessary to get it passed."
"The scrap aluminum industry is getting caught in the crossfire between Beijing and Washington over Trump's new tariffs on imports of steel and aluminum. The collateral damage? More beverage cans and used auto parts could be left in U.S. landfills" [Politico]. "In Beijing, a spokeswoman for the foreign ministry defended China's decision to ban what she referred to as 'foreign garbage.'" In Maine, we call it "out-of-state trash," but whatever.
"FOLLOW THE MONEY: Did Administration Officials' Financial Entanglements with China Delay Trump's Promised Tough-on-China Trade Policy?" (PDF) [Public Citizen]. "Washington insiders and pundits are obsessed with an 'ideological' battle over trade in the White House. They argue that philosophical battle lines have been drawn between a pro status-quo team led by exiting National Economic Council Director Gary Cohn and a trade-change team led by White House National Trade Council Director Peter Navarro and U.S. Trade Representative (USTR) Robert Lighthizer. But the . Suspicions about how Jared Kushner may be using official meetings to help his family's debt-ridden firm have made recent headlines. But less attention has been paid to how the widespread business connections – some ongoing – between Trump Cabinet officials and other senior staff and Chinese-government run or connected firms may have affected administration trade policies on China." I'm not getting this. What does this have to do with Russia or Stormy Daniels?
"Concerns over a deepening U.S.-China trade conflict are reaching into supply chains around the Pacific Rim. From Japan's electronics to Australia's iron ore miners, the Asia-Pacific region's economies depend on selling parts and materials to feed China's export machine" [Wall Street Journal]. "Australia, for instance, sends 30% of its exports to China, including iron ore and metallurgical coal, the main ingredients in steel. The impact is already being felt in some areas. U.S. tariffs on imported solar panels were aimed at China but also hurt a Singapore manufacturer that has been a big exporter to the U.S. Yet the U.S. actions may not be bad news for everyone. Greater restrictions on Chinese auto exports, for instance, could boost Japanese and German car shipments."
Politics
2018 Midterms
"How Veterans Are Powering the Democrats' 2018 Hopes" [Politico]. "With Honor, a 'cross-partisan' organization that aims to 'help elect principled next-generation veterans in order to solve our biggest problems and fix a Congress that is dysfunctional,' counts approximately 300 veterans who have run for Congress during this cycle—roughly half of whom chose to serve after, and in many cases because of, September 11, 2001. Although specific numbers are hard to come by, the spike is stark—'a substantial increase,' With Honor co-founder and CEO Rye Barcott told me, "from any prior cycle" in modern memory. While the perception might exist that most veterans lean Republican, some 51 percent of the veterans who are or have been 2018 candidates, based on With Honor's tally, are actually Democrats." More: "" The example, one Max Rose: "A Healthcare Expert with Solutions." Rose's issues page — and kudos to him for actually having one, against DCCC advice — says: "True universal healthcare coverage," which is centrist bafflegab, but more encouragingly: "lowering the age of Medicare eligibility to 55," "creating a public option," and "all payer rate setting nationwide as it is in Maryland; and make insurance companies nonprofits." Why not eliminate the complexity and go with #MedicareForAll?

"Dems to party: Go on offense with Trump's alleged affairs" [The Hill]. "'Even a small drop in evangelical support for Republicans would be devastating,' the strategist said. 'You want to dampen Republican enthusiasm. We should take a lesson from the Republican playbook and let an 'all of the above' strategy take hold from different messengers across different targeted platforms."" Ideally, Stormy would turn out to be a Russian agent, neatly closing the loop.

"The nation's top conservative donors and fundraisers are increasingly alarmed by the prospect of a midterm election wave that could cost Republicans control of the House" [The Hill]. "More than a half-dozen senior Republican donors and fundraisers interviewed by The Hill acknowledged that protecting the Senate majority might at some point become the only sensible investment for Republican donors…. [F}or now, the party's moneyed class believes the House majority will hinge on just a handful of races. Donors are moving ahead as if their dollars could be the determining factor in whether Republicans maintain a majority. 'Money has never been a problem for our party and I don't think it will be for this cycle either, although we could be outgunned in some places, which is unusual,' said [Chart Westcott, a conservative donor and biotechnology investor from Dallas]. 'But it's foolish to cede the House. . Folks will be looking to get the most bang for their buck, but I don't think anyone is saying we shouldn't fight this battle.'" "You have to defend every seat and every district." Democrats: lol no.

"Analysis: How Can the GOP Turn Out Trump Voters?" [Stuart Rothenberg, Roll Call]. "Republican strategists across the ideological spectrum agree there isn't much they can do about the Democrats' sky-high energy levels. But conservatives who have rallied behind the president are still looking for ways to boost enthusiasm among Trump voters that would minimize the damage in the fall and keep the House in GOP control…. Conservative strategists cite a handful of possible issues: (1) 'phase two' of tax reform, (2) workfare for those on public assistance, (3) infrastructure, (4) paid parental leave, (5) health care, and even (6) term limits for Congress." Well, paid parental leave is for Communists, and the rest sounds like pretty thin gruel. More: "There is one kicker that might change the trajectory of the election enough to help the GOP — a Supreme Court retirement or vacancy that would need to be filled after the elections." So RBG better not go up in any small planes. And: "Finally, Republican strategists from both the populist and establishment wings of the party agree that losing the House in November would not necessarily be a terrible thing for Trump's 2020 re-election bid. While control of that chamber would give Democrats a platform from which to investigate the president, his family and the entire administration, it would also give Trump something he desperately needs: a very visible enemy." Or maybe Trump found one; "a malefactor of great wealth." See below (though this could all change in one news cycle, Trump being Trump).

UPDATE "Poll shows Dennis Kucinich and Richard Cordray tied in governor's primary" [Cleveland Plain-Dealer]. "Kucinich and Cordray each clock in at 21 percent, with four other candidates in the single digits and 46 percent still undecided as the May 8 primary date approaches. The poll was conducted by SurveyUSA for Cleveland 19 news and has a margin of error of 5.3 percentage points for the primary and 3.5 points for the general election. The survey was taken from March 16 and March 20."
2016 Post Mortem
"The Cambridge Analytica Con" [Yasha Levine, The Baffler (DJG)]. "[T]he Cambridge Analytica freakout [is] not just anti-historical, it's also profoundly anti-political. People are still trying to blame Donald Trump's surprise 2016 electoral victory on something, anything—other than America's degenerate politics and a political class that has presided over a stunning national decline. The keepers of conventional wisdom all insist in one way or another that Trump won because something novel and unique happened; that something had to have gone horribly wrong. And if you're able to identify and isolate this something and get rid of it, everything will go back to normal—back to status quo, when everything was good."
Realignment and Legitimacy
"The GOP's Dwindling Base" [Charles Cook, The Cook Report]. A review of the Republican's awful generics — "Democrats leading by 38 points among voters age 18-29, 30 points among moderates, 12 points among independents, 11 points in the Midwest and 6 points in the suburbs" — then this pivot: " it's simply astonishing that economic indicators—including consumer, small-business, and big-business confidence—are so strong, and yet the party controlling the White House, House, and Senate is in such trouble. Another paradox is that we have a president who, by conventional standards, was the least prepared, most erratic, and most undisciplined in modern history, and yet the country and the economy are doing pretty well." Conclusion: "Despite that resiliency, voters have vented their spleens and thrown out House and/or Senate majorities in four of the last six midterm elections, and they look poised to do so again in November." In other words, just like 2006, 2008, 2010, 2014, and 2016, this is a "change versus more of the same" elections, and voters are likely to go for change. And exactly as Democrat wave years like 2007, and in the "hope and change" year of 2009, they're unlikely to get it; in fact, liberal Democrats, by entrenching Blue Dogs wherever they can, are working hard for "more of the same."
Stats Watch
GDP, Q4 2017 (Final): "The fourth quarter was very solid and actually understated given the strength of consumer spending. Excluding both inventories and exports, GDP rose 4.5 percent which is also 2 tenths higher than the second estimate. For the ongoing first quarter, consumer spending, or the lack of it, is the question" [Econoday]. "Fourth-quarter GDP is revised 4 tenths higher in the third estimate to a 2.9 percent annualized rate that beats Econoday's consensus by 2 tenths. Consumer spending gets a 2 tenth upgrade to a 4.0 percent rate as spending on services is revised 2 tenths higher to 2.3 percent with nondurable spending getting a 5 tenths upgrade to 4.8 percent. Spending on durables is revised 1 tenth lower to a still very strong 13.7 percent that reflected hurricane-replacement for autos and which pulled vehicle sales out of the ongoing quarter. Contribution from consumer spending to the fourth quarter's total growth rate was 2.8 percentage points, almost the entire GDP rate." And but: "The increase in GDP in this third estimate was primarily due to an increase in consumer services spending and less negative inventory change. The consumer spending improved from the previous quarter. I am not a fan of quarter-over-quarter exaggerated method of measuring GDP – but my year-over-year preferred method showed moderate acceleration from last quarter" [Econintersect]. And: "This was above the consensus forecast" [Calculated Risk].
International Trade in Goods, February 2018: "The nation's trade deficit in goods failed to improve in February, at a very steep $75.4 billion which is nearly $1.5 billion deeper than Econoday's consensus and little changed from January's revised $75.3 billion" [Econoday]. "Imports rose 1.4 percent in the month with foods rising sharply along with imports of capital goods and industrial supplies as well. Imports of vehicles rose sizably but not consumer goods which posted only a small gain. Exports are actually strong in this report, up 2.2 percent with gains centered in vehicles, which are usually a weak category, and also capital goods which is the nation's strength. Exports of consumer goods, a major weakness, declined sharply after bouncing higher in January."
Corporate Profits, Q4 2017: "Going into 2018, corporate profits weren't getting any tax-related boost" [Econoday]. "After-tax corporate profits fell a year-on-year 6.0 percent in the fourth quarter."
Retail Inventories, February 2018 (Advance): "Retail inventories rose 0.4 percent in February and follow a 0.7 percent build in January. These results together with a large build in the wholesale sector and a build underway in manufacturing point to a positive inventory contribution to first-quarter GDP" [Econoday].
Wholesale Inventories, February 2018 (Advance): "Wholesale inventories rose a very sharp 1.1 percent in February which is more than double Econoday's consensus and comes on top of an upwardly revised 1.0 percent build in January" [Econoday]. "These results are consistent with economic strength and together with builds for retail and durable goods in manufacturing, they point to a positive inventory contribution to first-quarter GDP."
MBA Mortgage Applications, week of March 23, 2018: "Purchase applications for home mortgages rose a seasonally adjusted 3 percent in the March 23 week, increasing the year-on-year gain in applications by 2 percentage points to 8 percent" [Econoday].
Pending Home Sales Index, February 2018: "Existing home sales have been struggling to move higher but today's pending home sales index will raise expectations for improvement" [Econoday]. But: "The rolling averages are in negative territory. The data is very noisy and must be averaged to make sense of the situation. There is no signs of a surge in home sales, although the trends continue to be downward" [Econoday].
Banks: "JPMorgan is making a bigger push into payments technology as digital banking becomes a strategic priority" [Lending Times]. "In 2016, the bank spent $9.5B on technology and Dimon has committed $300M alone to improve JPMorgan's technology for its asset management products. Relative to its peer group, JPM claims the highest number of mobile banking customers and its Chase Mobile app currently sports a 4.7 (out of 5) rating in the App Store."
Real Estate: "Warehouses Are Now Worth More Than Offices, Thanks to Amazon" [Transport Topics]. "Giant, high-tech warehouses, to be precise. These 'big box' affairs are defined as having at least 200,000 square feet and 28-foot ceilings, in a report by Colliers International Group Inc. that calls out the surge in their value. Colliers looked at 14 North American markets (all but one, Toronto, in the U.S.) and found that such warehouses sold last year at an average capitalization rate of 5.8%. That's comfortably lower than the 6.7% cap rate for U.S. office space, including suburban and rural properties, and neck and neck with offices in central business districts, at 5.7%. Cap rates, which measure yield, fall as asset values rise. These are not the sleepy warehouses of old. Distribution centers today are hives of activity. As e-commerce companies race to get that Original EggMazing Easter Egg Decorator Kit to your doorstep ever faster, they need sophisticated equipment to assemble orders and a swelling workforce to manage it all. The report itself didn't look at office properties, and markets dominated by offices aren't always the same as major industrial markets. Still, the rise of the warehouse's value is unmistakable nationwide…."
Energy: "Wisconsin frac sand industry roars back, but new competition looms" [LaCrosse Tribune]. "After a strong 2017, U.S. frac sand demand is expected to grow again this year and could hit an all-time high in 2019, according to producers and industry analysts. 'They can pretty much sell all the sand they want,' said Kent Syverson, an industry consultant and chair of the geology department at UW-Eau Claire…. Western Wisconsin sand mines have been around for decades, but according to the U.S. Geological Survey, production of industrial sand jumped 10-fold between 2010 and 2014, as advances in hydraulic fracturing allowed drillers to reach previously untapped oil and gas reserves trapped deep underground. Mixed with water and chemicals and pumped into the ground at high pressure, the coarse, round sand found under much of western Wisconsin is an ideal "proppant" to hold open fissures in rock formations. That growth was curtailed in 2015 as falling oil prices led to a slowdown in drilling, especially in areas like North Dakota. As drills went idle, so did Wisconsin's sand mines, which have laid off hundreds of workers. State-level production data is not yet available for 2016, but national numbers show that after dropping about 30 percent, production surged last year to 105 million tons, just shy of the all-time record, and experts predict it will grow in 2018. Historically about a third of the national supply has come from Wisconsin." With handy map; I hadn't realized that the frac sand mining industry had such an enormous footprint.
Retail: "There's no secret to the growth strategy at online lingerie seller Adore Me Inc. The New York-based startup plans to open 200 to 300 stores in the U.S. over the next five years…, hoping storefronts help it take market share from industry leader Victoria's Secret. It's the latest step by web-based retailers to build their own version of a multi-channel distribution strategy" [Wall Street Journal]. "Several online startups, including eyeglass maker Warby Parker and sneaker brand Greats, have opened physical stores even as some traditional brick-and-mortar chains have retreated. Lingerie has been protected somewhat from web sales because fit and comfort can be hard to assess online. But a shift toward simpler sizing and lenient return policies has made the category more viable online." "Simpler sizing" sounds like crapification, to me; I used to be able to buy shoes that fit well; now I can't. Perhaps readers can comment. But new brands opening physical locations makes me speculate that one issue with "traditional brick-and-mortar chains" wasn't ZOMG!!! The Internet!!!! but inability to refresh and reinvent their brands, infected as they were with private equity parasites.
Shipping: "Shipping's false idols of equity and debt" [Splash 247]. "If we go back to what got shipowners in their mess post-2008, it was cheap capital and over-ordering of ships. We are not going back to the exact same problems because banks this time are holding back loan capital from shipowners, even good shipowners. And this has forced on a new problem…. But what we have now is a pear-shaped mess. On the one hand we have high leverage players either hanging on by a thread or working through the mess of assets they got in at recent cycle highs. … And then we have a combination of new capital and survivors financing principally through equity cash raises…. What these owners and bankers have often missed, or more likely wholesale ignored, is that there is a cost to equity, which is far higher than debt….. When we look at WACC, the weighted average cost of capital, equity is usually a far more costly component – and yet many in the market behave as if it is free. Including the long-term tested investors."
Supply Chain: "Blockchain is everywhere" [Logistics Management]. "'When you look at the technology, the greatest value proposition of blockchain lies today in the supply chain for sectors like food, pharma, and high-value goods,' [keynote speaker Adrian Gonzalez, head of Adelante SCM] said. 'We are seeing some of that happening in pilot programs. My fear is that people will view it as a silver bullet solution for supply chain visibility. But the challenges related to supply chain visibility are not related to just software. There is still a lot of [bad] data and data across multiple different standards and computers, with different nomenclatures. There is the challenge of aggregating and cleansing data. Blockchain does not solve that.'" Sanity!
The Bezzle: "FMCSA Seeking Public Comment on Rules for Automated Commercial Vehicles" [Transport Topics]. "The Federal Motor Carrier Safety Administration is seeking public comment through May 10 on regulations that may need to be updated, modified or eliminated to 'facilitate the safe introduction of automated driving systems for commercial motor vehicles.'"
The Bezzle: "Exclusive: Arizona governor and Uber kept self-driving program secret, emails reveal" [Guardian]. "Uber's behind-the-scenes efforts to court [Arizona governor Doug Ducey], and the governor's apparent willingness to satisfy the company, is made clear in the emails, which were sent between 2015 and 2007 and obtained by the Guardian through public records requests. They reveal how Uber offered workspace for Ducey's staff in San Francisco, praised the governor lavishly, and promised to bring money and jobs to his state. Ducey, meanwhile, helped Uber deal with other officials in Arizona, issued decrees that were friendly to the company, tweeted out an advert at the company's request, and even seems to have been open to wearing an Uber T-shirt at an official event."
UPDATE The Bezzle: Wowsers:
Third Circuit rules for Uber in antitrust suit. States that even if Uber established its dominance through violating state regulations, that doesn't violate antitrust laws; in fact, it increased competition https://t.co/ITOB5l3sea pic.twitter.com/f7hsiuTu6u

— Lina Khan (@linamkhan) March 28, 2018
Yeah, gee, it's not like enormous market power subsidized by venture capital gives companies impunity or something.
The Bezzle: "Trump hates Amazon, not Facebook" [Axios]. "Capitol Hill wants Facebook's blood, but President Trump isn't interested. Instead, the tech behemoth Trump wants to go after is Amazon, according to five sources who've discussed it with him." Holy moly:
What we're hearing: Trump has talked about changing Amazon's tax treatment because he's worried about mom-and-pop retailers being put out of business.

A source who's spoken to POTUS: "He's wondered aloud if there may be any way to go after Amazon with antitrust or competition law." Trump's deep-seated antipathy toward Amazon surfaces when discussing tax policy and antitrust cases. The president would love to clip CEO Jeff Bezos' wings. But he doesn't have a plan to make that happen.
Behind the president's thinking: Trump's wealthy friends tell him Amazon is destroying their businesses. His real estate buddies tell him — and he agrees — that Amazon is killing shopping malls and brick-and-mortar retailers.
It's gonna be funny to watch liberal Democrats rush to the defense of a ginormous monopoly. Idea: Nationalize the cloud?
The Bezzle: "Amazon sheds $52 billion in market value after report on Trump threat" [Reuters]. "Amazon.com Inc's shares fell as much as 7 percent on Wednesday, wiping out about $52 billion from the company's market value, after a report that U.S. President Donald Trump wants to go after the U.S. tech giant.
The Bezzle: "Amazon's stock tumbles into correction territory" [MarketWatch]. "Many on Wall Street define a correction as a decline of at least 10% to up to 20% from a significant high. The stock was currently 10.9% below the March 12 record close of $1,598.39. A close at or below $1,438.55 would mark the first correction since October. Despite the selloff, the stock has still run up 20% over the past three months." Note the comments.
Five Horsemen: "Ex-juggernaut Amazon takes a fearful header" [Hat Tip, Jim Haygood].
NakedCap Mania-Panic Index: "The mania-panic index fell to 22 (worry) yesterday. New 52-week lows began exceeding new 52-week highs on March 14th and have carried on doing so for ten days straight" [Hat Tip, Jim Haygood]. (The NakedCap mania-panic index is an equally-weighted average of seven technical indicators derived from stock indexes, volatility (VIX), Treasuries, junk bonds, equity options, and internal measures of new highs vs new lows and up volume vs down volume … each converted to a scale of 0 to 100 before averaging, using thirty years of history for five of the seven series.)
Facebook Fracas
"Soylent Analytica: The Graph is too Damn Open" [Truth on the Market]. "the situation with Cambridge Analytica offers an important cautionary tale about one of the perennial proposals for how to promote competition between social media platforms: "opening up the social graph." The basic idea of these proposals is to make it easier for users of these platforms to migrate between platforms or to use the features of different platforms through data portability and interoperability. Specific proposals have taken various forms over the years, but generally they would require firms like Facebook to either make users' data exportable in a standardized form so that users could easily migrate it to other platforms or to adopt a standardized API that would allow other platforms to interoperate with data stored on the Facebook platform…. In other words, proposals to 'open the social graph are proposals to make it easier to export massive volumes of Facebook user data to third parties at efficient scale…. The easier that Facebook makes it for its users' data to be exported at scale, the easier Facebook makes it for its users' data to be exfiltrated at scale."
There's always a quote:
Facebook: "This is their information. They own it"
BBC: "And you won't sell it?"
FB: "No! Of course not."

Please help this 2009 interview of Facebook's CEO get seen by people who don't use Twitter. Here's a download link so you can pull and repost it: https://t.co/c32DmpVIig pic.twitter.com/quERsO5WZi

— Edward Snowden (@Snowden) March 27, 2018
"Cambridge Analytica controversy must spur researchers to update data ethics" [Nature]. "Guidance does exist. A number of projects are grappling with the ethical challenges of big data…. Sticking points remain, a major one being that consent is often not practical when retrospectively accessing data from millions of individuals." Not if we actually did own our personal data (such that Facebook, et al., had to rent it from us.)
"Facebook, please just hire one normal person" [The Outline]. Amusingly bad Facebook surveys.
Class Warfare
"Farmworkers to Wendy's: No, We Didn't "Exploit" #MeToo" [In These Times]. "[Corporate spokesperson Heidi Schauer] told journalist Kari Lydersen, 'There's no new news here, aside from the [Coalition of Immokalee Workers (CIW)] trying to exploit the positive momentum that has been generated by and for women in the #MeToo and Time's Up movement to advance their interests.'" Something wrong with working people trying to advance their interests, apparently.
News of The Wired
"What We Know (and Don't Know) About How to Lose Weight" [New York Times]. Sounds like Pollan was right: "Eat food, not too much, mostly plants." I wish I was better at the last two.
"The Last Conversation You'll Ever Need to Have About Eating Right" [Grub Street]. "I want to lose weight. Is diet really more important than exercise? Yes. It is much easier to outeat running than to outrun all of the tempting calories that modern marketing encourages us to cram in. Both diet and exercise are important to health, and exercise is important in weight maintenance. But to lose weight, the preferential focus needs to be on controlling calories in, more than calories out." The algorithm isn't working. So I guess I'd better control my inputs.
The crapification of the Internet experience [Hacker News]. "It seems like the web is being optimized for casual users, and using the internet is no longer as skill you can improve to create a path towards a more meaningful web experience." Many horror stories that readers may have shared.
"Bring back the landline. When we moved, my landline number was retained, but I understand the line itself was moved from copper to digital – which obviates the point of the exercise: namely, when Sandy hit, and the electricity went out, I disconnected my portable phone system, plugged in an old standard phone I retained against just such an eventuality, and could communicate with the outside world" [MidasWatch]. Amen.
The usual news from the Internet of Sh*t:
i… cannot… https://t.co/hB8k1RcJIm

— Internet of Shit (@internetofshit) March 27, 2018
Good news from the Internet of Sh*t:
EXCITING NEWS

The US government (@USCPSC) is holding a hearing on the challenges the Internet of Things present to society.

YOU CAN SUBMIT A COMMENT. This is why we're here – so let's make this hearing matter by sending as many as we can.https://t.co/UKpMmH7bIX

— Internet of Shit (@internetofshit) March 28, 2018
Or at least not unbad news.
* * *
Readers, feel free to contact me at lambert [UNDERSCORE] strether [DOT] corrente [AT] yahoo [DOT] com, with (a) links, and even better (b) sources I should curate regularly, (c) how to send me a check if you are allergic to PayPal, and (d) to find out how to send me images of plants. Vegetables are fine! Fungi are deemed to be honorary plants! If you want your handle to appear as a credit, please place it at the start of your mail in parentheses: (thus). Otherwise, I will anonymize by using your initials. See the previous Water Cooler (with plant) here. Today's plant (TH):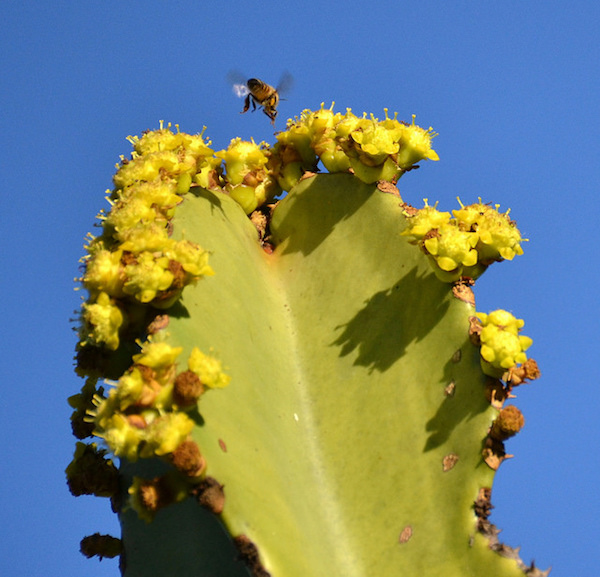 Busy bee!
* * *
Readers: Water Cooler is a standalone entity not covered by the NC fundraiser. So do feel free to use the dropdown and click the hat to make a contribution today or any day. Here is why: Regular positive feedback both makes me feel good and lets me know I'm on the right track with coverage. When I get no donations for five or ten days I get worried. More tangibly, a constant trickle of small donations helps me with expenses, and I factor that trickle in when setting fundraising goals. So if you see something you especially appreciate, do feel free to click the hat!