By Lambert Strether of Corrente.
Trade
"Industrial supply chains in the U.S. are starting to heat up in anticipation of new tariffs on imported steel and aluminum. United States Steel Corp. says it will fire up a blast furnace in Granite City, Ill., and call back 500 workers, while Century Aluminum Co. is preparing to restart lines at a smelter in Kentucky that have been curtailed since 2015" [Wall Street Journal]. "The impact on metal markets is already forming, with American producers firing up more furnaces so they don't lose out to foreign competitors if they can't make enough metal to meet demand, even at higher prices." We'll see if this is reflected in the data…
Politics
2020
"In her first major national political move amid widespread assumption that she's preparing a run for president, Elizabeth Warren announced Wednesday that she's donated $5,000 to every state Democratic Party in the country" [Politico]. "Warren also wrote a $15,000 check to the Democratic National Committee, which in November she had accused of being 'rigged' for Hillary Clinton in 2016. The DNC has been struggling with fundraising, banking half as much as the Republican National Committee in 2017, and scrambling to invest in state parties to meet the promises made by DNC chair Tom Perez."

"Our Opinion: Warren must resolve debate on heritage" [Editorial Board, Berkshire Eagle]. "[T]hose who wish her ill will never allow the Native American question to recede; Sen. Warren's potential appeal as a national candidate constitutes too much of a threat. Therefore, we offer a simple suggestion that could not even have been contemplated when Warren first listed her heritage on an employment form. The same technology that can match a perpetrator to a crime with virtually 100 percent certainty could settle the question of her heritage for all time."

"Are we seeing signs of a Democratic wave in the primaries?" [Jill Abramson, Guardian]. "[M]y Democratic sources say that there are already 20 credible presidential challengers giving serious thought to opposing Donald Trump in 2020. The list, unsurprisingly, includes a raft of Democratic senators, and, perhaps surprisingly, at least three strong women, New York's Kirsten Gillibrand, Minnesota's Amy Klobuchar and Massachusetts's Elizabeth Warren. Other credible potential candidates include New Jersey's Cory Booker, an African American, Connecticut's Chris Murphy, a passionate promoter of stiffer gun laws, and Virginia's Tim Kaine, who was not stellar as Hillary Clinton's running mate but recently brought donors in Boston to tears with a performance of This Land is Your Land, played on his harmonica. Bernie Sanders is almost certain to run again. What is striking about this batch of senators is that all of them are strikingly liberal. New York's governor, Andrew Cuomo, and Los Angeles's mayor, Eric Garcetti, also left of center, are thought to be regional presidential contenders from the two coasts." That's odd. I would have thought Kaine brought his donors to tears by gutting Dodd-Frank.
Midterms
"About That Blue Wave …" [New York Times]. "[In Texas,] Democrats had near-record turnout, with more than one million voters over all taking part in their primaries. Sounds impressive, right? But Republicans had actual record-breaking turnout, exceeding their previous midterm high-water mark, which was set in 2010. All told, with more than 1.5 million votes cast, Republicans had nearly 50 percent more voters take part in their primary than the Democrats in theirs. There does not seem to be an enthusiasm gap between Democrats and Republicans…. [N]ot only can the blue wave narrative distract us from what is happening on the ground, it can also help drive Republican enthusiasm and undermine Democratic turnout — not quite the double whammy Democratic strategists are looking for." Thinking abotu the wave, and putting a little cotton in my ears to silence the yammering and the beating drums: Historically, the party of a sitting President loses seats in the midterms. Again historically, the generic ballot correlates to seats lost, as does, historically, Presidential popularity. But these are all aspects, as it were, of the zeitgeist. They cannot be shown to cause anything. Seats are won or lost in concrete elections, in the districts. So remember: Nobody knows anything.

"The Primaries Project: What to expect in the 2018 Midterms" [Brookings Institution]. A new project. "So what will we be looking for this year? On the Republican side, we'll be looking at the degree to which "Trumpism"—that is, sharing the president's issue positions and attitudes toward government—has trickled down to the congressional primary level. We'll be identifying and counting the number of "mini-Trumps" running in this year's primaries and we'll be seeing how they do, especially in races against more mainstream Republicans. On the Democratic side, we'll be looking for the progressive resurgence that has often been trumpeted as an outcome of Bernie Sanders' run for president in 2016. We'll see whether or not there are more self-identified progressives running, and whether they are explicitly identifying with Sanders and the organizations his candidacy has produced." So I'm not the only one with a project…

"Bernie Sanders tells Democrats to back off primary attacks" [AP]. "The Vermont senator said it's 'appalling' that the party's congressional campaign arm targeted Laura Moser ahead of Tuesday's primary election. Moser, an activist, is endorsed by Sanders' Our Revolution group. Sanders told The Associated Press on Wednesday that such attacks are 'not acceptable.' Sanders, whose Our Revolution is backing candidates nationwide, is headed to Texas this week for rallies in San Antonio and Lubbock."

* * *

TX: "Now Democrats in the seventh district, a longtime Republican stronghold that swung harder to Hillary Clinton than any other district in the country in 2016, will be faced with an unusual choice: a progressive candidate denounced by the official campaign organ of the House Democratic caucus [Moser], or a more moderate candidate rejected by the AFL-CIO [Fletcher]" [Mother Jones]. So Emily's list endorsed a candidate rejected by the AFL-CIO….

TX: "Democratic turnout could signal blue wave in November — but not in Texas" [Harry Enten, CNN]. "Democratic turnout did top one million in a midterm primary for the first time since 2002, but it still lagged well behind the over 1.5 million votes cast in the Republican primary. Put another way, 60% of all votes cast in Tuesday night's primary went to Republican candidates. That's 20 points more than the 40% that went to Democratic candidates.The margin has shrunk significantly from 2010 and 2014, when the margin between votes cast in the Republican and Democratic primaries ran closer to 40 percentage points. The margin, however, is not any better and is actually slightly worse for them than it was in 2006, another year when Democrats turned out exceptionally well."

TX: "Kirsten Gillibrand, the junior senator from New York, had a great night Tuesday — in Texas" [Politico]. "The Democrat went out on a limb in a state far from home — she endorsed or contributed to seven female candidates in contested congressional primaries from El Paso to Houston — and came out with an unblemished record."

PA: "A black Democratic candidate for Congress in Pennsylvania is accusing the Democratic Congressional Campaign Committee of undermining his campaign and trying to nudge him out of the race in favor of white candidates" [WaPo]. "Across the country, tensions are boiling over between party activists and the Washington-based committees that usually shape midterm campaigns — with insurgent candidates seeing advantages in attacking the so-called "establishment," and anticipating little harm when the party comes after them." Maybe… There aren't all that many examples in the article.

FL: "'Angry' Shalala says Trump motivated her run for Congress" [McClatchy]. "On Wednesday, the former University of Miami president officially rolled out her campaign to succeed the retiring Ileana Ros-Lehtinen… Shalala, , says the ruling party in America has frustrated her by undercutting education, the working class, the environment, civil rights for women, immigrants and the LGBTQ community. Shalala has , and most recently served as …" Alrighty then…

OH: "[Sherrod] Brown is running for re-election this year in Ohio, which Trump won by eight percentage points. But his support for the president's tariff plan has less to do with that and more to do with seeing an issue he has long championed finally elevated and acted upon. 'This has been really one of the causes of Sherrod's career, working to fix the trade dynamic that has really sold out a ton of Ohio workers across the state,' said his campaign manager, Justin Barasky. 'When Trump says he wants to do something about it, Sherrod is unsurprisingly going to be supportive of doing something'" [RealClearPolitics].
Realignment and Legitimacy
He's asking a good question:

What issue do you think got more coverage on CNN today, the effort to deregulate the major banks or Donald Trump and a porn star? Think hard! pic.twitter.com/zVHuZk2kjB

— Bernie Sanders (@SenSanders) March 8, 2018

The estimate may be a little on the high side:

my general suspicion is that on close investigation 99.7 percent of the top elite crust (national politicians, business executives, etc) will be found to be crooks

— ryan cooper (@ryanlcooper) March 8, 2018

But not that much.

"Are 'Progressives' Becoming the Debasers of National Conversations?" [Medium]. "It's one thing to reject PAC money, this indeed is a noble sentiment and a practice that seems to be catching on as more and more Democrats have pledged not to take money from these institutions. But to reject PAC money, on the one hand, and accept donations from powerful interests on the other is not necessarily righteous. Bryce and O'Rourke have both been bankrolled by corporate donations from 1% corporations including Amazon, Apple, Time Warner, Google and Raymond James. Accepting corporate cash is profoundly antithetical to the platform of the Justice Democrats PAC, who endorsed Bryce while appealing for, 'a strong Democratic Party that doesn't cater to corporate donors.'"

"This Is How American Democracy Could End" [Vice]. Interviiew with political scientist Yascha Mounk (The People Vs. Democracy).
Stats Watch
Chain Store Sales, February 2018: "Retail sales proved weak in both December and January and today's chain-store results, which are no better than mixed, point to another soft month for February" [Econintersect].
Consumer Credit, January 2018: "The consumer pulled in during January, evident not only in the month's very soft results for consumer spending but also in credit outstanding which rose a lower-than-expected $13.9 billion and included an undersized $0.7 billion rise for revolving credit" [Econoday]. "Non-revolving credit rose an intrend $13.2 billion reflecting increases in both vehicle loans and also student loans." And: "Consumer credit growth was low in 2017 until the what now looks to have been a one time 'dip into savings' at year end, with a pronounced flattening most recently" [Mosler Economics].
Bloomberg Consumer Comfort Index, week of March 4, 2018: Volatility in the stock market isn't holding down the consumer comfort index which rose 6 tenths…. only 2 tenths shy of a new expansion high" [Econoday].
Challenger Job-Cut Report, February 2018: "Another low level of layoff announcements offers confirmation that demand for labor is strong" [Econintersect]. Given the givens on labor force participation…
Jobless Claims, week of March 3, 2018: "Jobless claims popped higher from the prior week's 49-year low" [Econoday]. And: "This was higher than the consensus forecast. The low level of claims suggest relatively few layoffs" [Calculated Risk]. And: "Meanwhile, retailers led in hiring announcements, as Lowe's and The Home Depot announced the addition of 133,000 seasonal jobs for Spring. The 139,000 hiring announcements are the most announced in February since Challenger began tracking hiring in 2006" [Econintersect],
Quarterly Services Survey, Q4 2017: "Information sector revenue for the fourth quarter of 2017 was $405.6 billion, down from an advance estimate of $424.1 billion for an increase of 1.3 percent compared to the third quarter and a 6.5 percent increase from fourth-quarter 2016" [Econoday].
Real Estate: "Leading Index for Commercial Real Estate Increases Slightly in February" [Calculated Risk]. "According to Dodge, this index leads "construction spending for nonresidential buildings by a full year". This suggests further growth in 2018."
Commodities: "The rebound in global metals markets is starting to show some cracks. A rally that had helped boost troubled the commodities business has partly reversed this year, signaling that investor conviction in a rosy economic outlook is giving way to concern over slowing demand and unease that metals have turned into risky assets" [Wall Street Journal]. "[C]opper futures have slipped 4.3% this year after reaching a near four-year high in December and that prices for zinc and lead are falling. Global steel and aluminum prices are down, even as U.S. prices for the metals have risen on the back of President Donald Trump's pledge for new tariffs on imports. The unease could undermine a fragile recovery for bulk carriers that began last year."
Commodities: "Cobalt consumers main victims of Congo's new mining code — analysts" [Mining.com]. "The Democratic Republic of Congo imminent law that more than double the tax miners operating in the country pay on exports of cobalt, will severely affect buyers of the metal, a key component in the lithium-ion batteries that power electric cars and mobile phones…. The new mining code qualifies cobalt as a "strategic commodity" and so increases royalty on exports of that metal to 5% from 2%. Taxes on base metals, in turn, will rise to 3.5%."
Retail: "Amazon Targets Medicaid Recipients as It Widens War for Low-Income Shoppers" [Wall Street Journal]. "The online retail giant said Wednesday that it will extend its $5.99 monthly Prime membership to the roughly 20% of the U.S. population that is signed up for Medicaid. Last year, the company introduced the discount—Prime membership ordinarily costs $12.99 a month or $99 a year—by offering it to people who obtain government assistance with cards typically used for the food-stamp program, formally called the Supplemental Nutrition Assistance Program…. Amazon's pursuit of more low-income shoppers comes as analysts estimate Prime membership has reached more than half of all U.S. households with internet and largely saturated the wealthier segment. Even as shopping increasingly shifts online, many low-income customers continue to frequent brick-and-mortar stores, where they can pay with cash or a SNAP card." Maybe I'm being stupid, here, but how on earth did Amazon get hold of Medicaid and SNAP lists? If it didn't buy the lists, how are accounts verified?
Retail: "America's junk epidemic" [The Week]. "'This is why we can't have nice things' is a cliché that has lost its meaning. The reason we can't have nice things in America in 2018 is that we don't want them…. Most Americans would rather have junk, though. Given a choice between purchasing a handful of moderately expensive items and buying replaceable crap whenever they want — and probably having it shipped rather than entering a store — people will choose the latter unless they are very rich…. What is the solution to the cheap stuff crisis? The first step is to hasten the end of an arrangement in which it's possible for our companies to rely upon cheap foreign labor…. Finally, it's absolutely necessary to prosecute out of existence corporations like Apple whose business models depend upon a strategy of planned obsolescence. There is no reason that a telephone should not be made to last 15 or 20 years."
Shipping: "Earlier this week, the Federal Maritime Commission said it voted to kick off an investigation that will focus on the practices of vessel operating common carriers and marine terminal operators related to detention, demurrage, and per diem charges" [Logistics Management]. "'The [Coalition for Fair Port Practices] raised substantive issues in both their petition and their testimony at our January hearing investigating carrier and terminal detention and demurrage practices,' said FMC Acting Chairman Michael A. Khouri in A statement. ;Various alleged practices were described that—without countervailing or explanatory testimony and evidence—. However; without any filed complaints by cargo stakeholders, where the crucible of adversary proceedings can bring light and transparency to such practices, I supported this investigatory fact finding so as to more fully develop a tested factual record.'"
Shipping: "Container shipping rates could plunge after Asia-Latin America capacity hike" [The Loadstar]. "Container lines on the Asia-west coast South America tradelane are preparing for a fight for market share, as capacity is set to spike by 18%, year on year."
The Bezzle: "Japan punishes seven cryptocurrency exchanges over regulatory lapses" [Reuters]. "Japan punished seven cryptocurrency exchanges, ordering two of them to suspend business, in an effort to shore up consumer protection after a $530 million theft of digital money from Tokyo-based Coincheck Inc earlier this year."
The Bezzle: "Switzerland's Crypto Crush Marred by $1 Billion Spat" [Bloomberg]. "One of the highest profile digital-currency projects in Switzerland, a country that's been among the most enthusiastic advocates for cryptocurrencies, is under fire from both outsiders and insiders over allegations of false marketing and mismanagement, prompting its president to resign. Now the Tezos Foundation, which raised $232 million in an initial coin offering, is engaged in the most American of pursuits: a round of lawsuits…. A group of investors are claiming in a California court that the entrepreneurs behind the offering misleadingly marketed the purchase of "Tezzie" tokens as part of a charitable contribution, which would leave investors with nothing if the project collapses."
The Bezzle: "Uber Spent $10.7 Billion in Nine Years. Does It Have Enough to Show for It?" [Bloomberg] Betteridge's Law… "An analysis of Uber's financial position, based on Bloomberg reporting and voluntary disclosures by the privately held company, shows that Uber is a corporate anomaly. Few companies in history have grown so fast or lost so much money in such a short period of time. Uber has developed what may be considered a Peter Pan syndrome. After reaching a stage of maturity most companies never realize, it has yet to turn a profit and remains deeply in the red… Uber traditionally prefers a loss calculation that doesn't include interest, tax, stock-based compensation and other expenses…. Back in the dot-com days of the late 1990s, a similar measure was favored by analysts trying to persuade investors to put money in untried companies. It was mostly abandoned after many of them failed to make the difficult journey to profitability, and investors started demanding concrete results and a clearer picture of the bottom line. Uber is well-advised to follow suit before selling shares to the public as early as next year."
The Bezzle: "Tesla's $2.6 billion payday for Elon Musk faces opposition" [MarketWatch]. "Tesla's proposal 'is in that it provides increasingly outsized compensation for levels of success ranging from noteworthy to unparalleled,' while at the same time allowing Musk to keep his distance from the company, proxy service Glass Lewis said in a report Monday."
The Bezzle: "Why Your Autonomous Car Might Come With Its Own Drone" [Fast Company]. "The studio imagines creating a new layer of public infrastructure in the form of security drones that can warn self-driving cars of things they can't see." If there's a need for this, robot car algos don't work; this is an alternative approach to the detailed maps advocated by the FT.
The Bezzle: "Raging human drivers slap, body slam innocent self-driving cars" [Ars Technica]. "Since the beginning of the year, six collision reports involving autonomous vehicles have been officially filed with the California Department of Motor Vehicles. Of those, two involve humans mildly attacking the car in question." "Mildly attacking."
Infrastructure: "Before anyone gets too excited about what these respective plans promise, let's remember it comes down to money. It always does, right? And, as usual, there does not appear to be a revenue source that anyone can agree on…another familiar Congressional theme to be sure" [Logistics Management]. "Things like a repatriation of funds, tolling, raising the gas tax (please), and others have been floated but nothing seems to stick or at least gain widespread approval. Until that happens, nothing else really does either."
The Fed: "The Fed and the red-hot, overheating US economy" [Credit Writedowns]. Good post. The bottom line: "In my view, the US economy is not red-hot. I don't fear overheating. But I believe the Fed does. And it will act accordingly.The regime shift is happening now. We'll just have to see how the economy responds."
Five Horsemen: "Juggernaut Amazon's rise gives the world's richest man a few more billion in pocket change" [Hat Tip, Jim Haygood].
NakedCap Mania-Panic Index: "The mania-panic index rose to 41 (worry), driven by stocks' strong 21-day gain from the Feb 9th dip — a base-period effect that will fade by mid-March" [Hat Tip, Jim Haygood]. (The NakedCap mania-panic index is an equally-weighted average of seven technical indicators derived from stock indexes, volatility (VIX), Treasuries, junk bonds, equity options, and internal measures of new highs vs new lows and up volume vs down volume … each converted to a scale of 0 to 100 before averaging, using thirty years of history for five of the seven series.)
Our Famously Free Press
Maybe The World's Greatest Newspaper shouldn't have axed all those copy editors?
I'm horrified to be the guilty editor here. But thankfully @YLindaQiu's excellent work stands so far above it.

Also, I have now deleted the excellent Millenial-Snake Person Chrome extension. https://t.co/rd4KH2469r pic.twitter.com/Mh057RMCp9

— Justin Bank (@bankonjustin) March 7, 2018
Gaia
"Degrowth's Light Touch" [Society for U.S. Intellectual History]. "Constant metamorphosis, driven by insatiability, is to be 'more alive.' In [Marshall Berman's All that is Solid Melts into Air], and in our dominant modern imaginary, the dynamic of modernization is justified by perceiving it as but an expression of the dynamic of the life process itself. 'To say that our society is falling apart is only to say that it is alive and well.' This is the modernist insight. There is no endpoint to growing, and there is no endpoint to knowing, and so the modern search for meaning becomes an endless quest. Valorized in this way, human insatiability reaches the level of tragedy. The 'deepest horrors' of modernization spring from our 'most honorable aims' and our 'most authentic achievements.' Yet they lead to a condition, both material and spiritual, in which all that is solid melts into air. Melt may not be the right verb, however. As the economic reinforces the semiotic, and the semiotic reinforces the economic in turn, burn or combust may be more fitting."
From above, far up:
#TexasWeek? When looking at a view of Texas at night you may notice a large swath of light south of San Antonio. This apparent sprawling metropolis is actually composed of thousands upon thousands of fracking sites across the Eagle Ford Shale, all of which constantly belch CH₄: pic.twitter.com/jqGwRf6d8a

— ? IPM ?????? (@IPM_Tweets) March 1, 2018
From above, close in:
One of the most surreal things I've seen for a while – a patch of pebble-patterned floor vinyl (with seaweed attached) washed up on the shingle of #southsea beach the other day pic.twitter.com/c5WasuIUFN

— Howard Hurd (@howardhurd) March 6, 2018
Neoliberal Epidemics
"No hugging: are we living through a crisis of touch?" [Guardian]. "In countless ways social touch is being nudged from our lives. In the UK, doctors were warned last month to avoid comforting patients with hugs lest they provoke legal action, and a government report found that foster carers were frightened to hug children in their care for the same reason. In the US the girl scouts caused a furore last December when it admonished parents for telling their daughters to hug relatives because "she doesn't owe anyone a hug". Teachers hesitate to touch pupils. And in the UK, in a loneliness epidemic, half a million older people go at least five days a week without seeing or touching a soul. Sensing this deficit, a touch industry is burgeoning in Europe, Australia and the US, where professional cuddlers operate workshops, parties and one-to-one sessions to soothe the touch-deprived. At Cuddle Up To Me, a cuddle "retail centre" in Portland, Oregon, clients browse a 72-cuddle menu. Poses includes the Alligator, the Mamma Bear and, less appealingly, the Tarantino. In Japan, a "Tranquility chair" has been developed, its soft arms wrapping the sitter in a floppy embrace." Idea: Replace the professional cuddlers with robots!
Class Warfare
"Your Data Is Crucial to a Robotic Age. Shouldn't You Be Paid for It?" [Eduardo Porter, New York Times]. "How about paying people for the data they produced to train the robots? If A.I. accounted for 10 percent of the economy and the big-data companies paid two-thirds of their income for data — the same as labor's share of income across the economy — the share of income going to "workers" would rise drastically. By Mr. Weyl and Mr. Posner's reckoning, the median household of four would gain $20,000 a year."
News of The Wired
"Unexpected challenges of making money on the internet" [Kapwing]. Helpful tips…
"For Old-School Film Projectionists, the Pictures Never Got Small" [Vanity Fair]. "Katz also knows that many contemporary film buffs don't share his aesthetic preferences. He compares the rarefied nature of watching and enjoying new films on 35mm and 70mm to collecting and listening to new music on vinyl records: "I think it sounds better, but there's a whole generation that doesn't see it that way." That generation also probably doesn't know about all the little things projectionists like Katz do to make their experiences more memorable, like raising the volume in theaters during winter screenings—because heavy coats tend to absorb so much sound that audiences often can't hear dialogue clearly."
"'The Big Lebowski' is 20. We reached out to the critics who panned it to see what they think now." [WaPo]. "Yeah, well, you know, that's just, like, your opinion, man."
When sheet metal ruled the Earth:
Le Salon de Coiffure, Pontiac for 1965 https://t.co/TIiQrpUYZ1 pic.twitter.com/HkZyS6NOVp

— Cory Doctorow (@doctorow) March 8, 2018
* * *
Readers, feel free to contact me at lambert [UNDERSCORE] strether [DOT] corrente [AT] yahoo [DOT] com, with (a) links, and even better (b) sources I should curate regularly, (c) how to send me a check if you are allergic to PayPal, and (d) to find out how to send me images of plants. Vegetables are fine! Fungi are deemed to be honorary plants! If you want your handle to appear as a credit, please place it at the start of your mail in parentheses: (thus). Otherwise, I will anonymize by using your initials. See the previous Water Cooler (with plant) here. Today's plant (CC):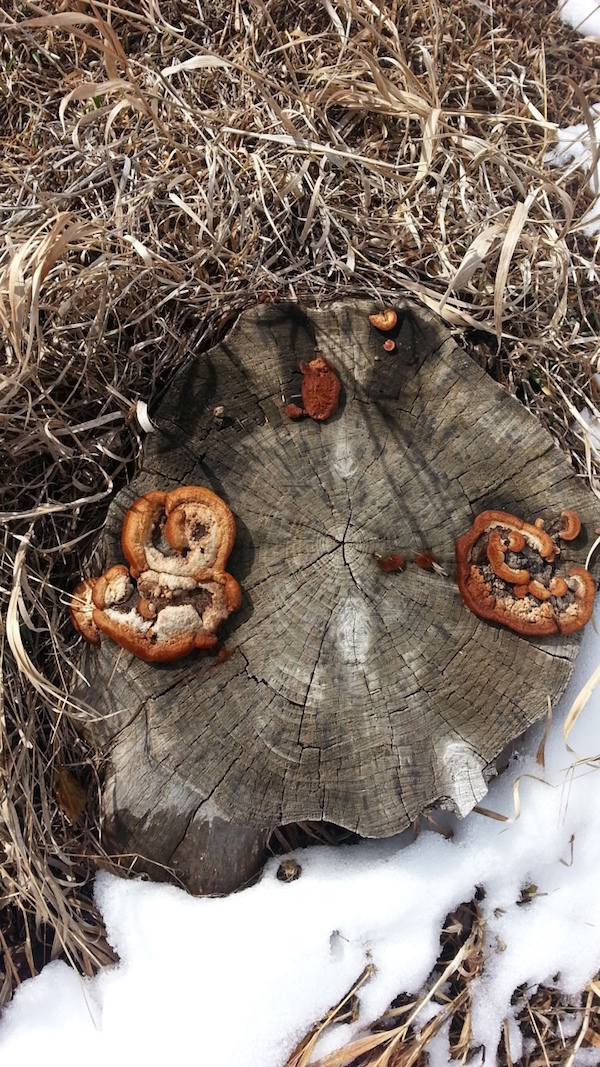 CC writes from Colorado: "This fungus developed on a stump of one of the several spruce trees that had to be removed due to Ips beetle infestation."
* * *
Readers: Water Cooler is a standalone entity not covered by the NC fundraiser. So do feel free to use the dropdown and click the hat to make a contribution today or any day. Here is why: Regular positive feedback both makes me feel good and lets me know I'm on the right track with coverage. When I get no donations for five or ten days I get worried. More tangibly, a constant trickle of small donations helps me with expenses, and I factor that trickle in when setting fundraising goals. So if you see something you especially appreciate, do feel free to click the hat!