By Lambert Strether of Corrente.
Trade
"Trump's tariff proposal sparked an intense battle in the administration between free-trade supporters led by Cohn and the nationalist wing, which included White House trade adviser Peter Navarro, Commerce Secretary Wilbur Ross and U.S. Trade Representative Robert Lighthizer. Trump ultimately ignored the free traders, who launched a last-ditch effort to change his mind with a White House meeting Thursday with executives from industries likely to be hurt by the tariffs. That meeting has now been canceled" [Politico].
"Why a full-blown Trump trade war won't happen" [MarketWatch]. "Donald Trump's plan to impose big tariffs on foreign steel and aluminum has spawned lots of talk about a destabilizing global trade war that's an echo of the Great Depression, but the White House move is better characterized, for now, as a mere skirmish. The real worry is the skirmish will metastasize into something far worse, especially in light of the president's mercurial approach to policy. Smoldering disputes over steel and a handful of other goods, however, are far from the raging fire that is a global trade war. That's why the world hasn't seen one in a very long time. Trade disputes — as opposed to trade wars — are common and long predate Trump. The U.S., for example, only gets 2% of steel imports from China even though the Asian country produces about half of the world's supply. How come? The Obama administration hit Chinese steel with heavy tariffs in 2016 that sharply reduced imports, and those remain in place."
Politics
2020
He's running:

Why is Congress busy worrying about the needs of huge financial institutions, but ignores the concerns of ordinary Americans? The answer is simple. Follow the money.

— Bernie Sanders (@SenSanders) March 6, 2018

"[Sanders] pressed his calls for universal coverage and said 'I think that the most cost-effective way to do that is by expanding Medicare, eliminating the private insurance companies, and then saving tremendous amounts of money in administrative costs.'" [The Hill]. "'I believe in a Medicare for all, single-payer, but to the degree that people are talking about guaranteeing health care to all people, it's a step.'" Please don't dilute the message, Senator Sanders; CAP and @USofCare are very far from being your friends.

"Biden hits campaign trail for red-state Dems" [The Hill]. Conor Lamb (PA-18), Jon Tester (D-MT), and Heidi Heitkamp (D-ND). "The appearances highlight how Biden's star power is attractive to Democrats seeking to hold on to or win back offices on political ground where their party is vulnerable. It also shows the concerted effort that Biden is making to remain front and center on the national stage as he considers whether to run for president for a third time." It also shows Biden fully on board with the Democrat effort to forestall #MedicareForAll. Lamb, Tester, and Heitkamp are all Blue Dogs. For more on Heitkamp, see below.

"Deval Patrick says a run for the White House in 2020 is on his 'radar screen'" [Boston Globe]. "Patrick, who described himself in the interview as a 'pro-growth Democrat,' joined Boston-based Bain Capital as a managing director after leaving office in January 2015."
Midterms
TX: "Here's what happened in the 2018 Texas primaries" [Texas Monthly]. Some snippets: 1. "More than 1.5 million people voted in the Republican primary, with close to 100 percent reporting, compared to about 1 million Democrats, also with a near 100 percent reporting." Hard to see how that signals a wave that will "turn Texas Blue," as the slogan has it, though of course that doesn't preclude the pickup of individual seats. 2. "Laura Moser secured a slot in the party's primary runoff Tuesday, despite rare attempts [Rare? Really?] by national Democrats to end her bid over concerns she is too liberal for the district. Moser, (24%) a journalist and activist, will face attorney Lizzie Pannill Fletcher (30%) in the May 22 runoff — which will likely be a brutal intra-party fight and could divide west Houston and the national Democratic Party." I'd be happier if there were 10 such races.

TX: " Of the nearly 50 women running for Congress in Texas, more than half won their primaries outright or advanced to runoffs. What's more, at least three of those runoffs in May will feature women going head-to-head, including a key race for Democrats in their bid to take control of the U.S. House this fall" [AP]. From a policy standpoint, I don't know why I should care about this. We should have learned from Obama that ascriptive identity doesn't map directly to political views. The United Daughters of the Confederacy, after all, played a key role in propagating the Lost Cause mythology, greatly damaging the country.

TX: "Ratings Update: Texas Primaries Narrow Democratic Fields" [Inside Elections]. Some snippets: 1. "The primaries are significant considering Democrats have multiple targeted races including the 7th, 23rd and 32nd Districts. But the Democratic nominee won't be known in each race until after the May 22 runoff. That doesn't mean Democrats can't win in November. In spite of competitive and expensive Democratic primaries, President Donald Trump will likely unify and energize the Democratic Party in each race before November." 2. "Fletcher has an endorsement from EMILY's List and should be equipped to run a competitive primary, but if the district becomes a proxy war for the Bernie Sanders faction of the party, the race could become unpredictable."

TX: "While Democrats outperformed previous midterm turnout levels, the results also produced some tough lessons. Hoping to capitalize on gradual demographic shifts and newfound energy, Democrats have placed their long-shot hope of turning Texas purple in the hands of Rep. Beto O'Rourke, who won the party's nomination to challenge Sen. Ted Cruz in the general election. But the vaunted El Paso congressman received less than half of the vote total Cruz did, suggesting the GOP base is still formidable on the statewide level" [RealClearPolitics]. "Still, the primaries demonstrated that Democrats are prepared to compete everywhere, as they had no shortage of viable candidates vying for federal and local offices. Texas is hosting a handful of key House races in the kinds of suburban swing districts Democrats are targeting nationwide, where voter enthusiasm could make a difference." Just so long as they don't support #MedicareForAll, they'll have all the support the Party can give!
Our Famously Free Press
I have a weakness for Chris Cilizza for the same reason I like brandy-and-cigars election handicappers: They are consistent and so I can discount what they write properly. But people seem to be upset with him:

It's not accurate. It's not funny. It's not clever. It's not analysis. It's facile. It shows an actual lack of understanding of reality tv (can't believe I'm typing that). It's mediocre. It's a time when viewers need to understand what's going on at the highest levels of govt.

— Soledad O'Brien (@soledadobrien) March 7, 2018

Dear me! And then this:

This is absolutely as sociopathic as everyone says it is, but the thing I keep coming back to is that Cillizza, whose brain is an infected potato, is going to get paid more money than Cody Bellinger next year. https://t.co/1bEUhepxpB

— David Roth (@david_j_roth) March 7, 2018

Roth is, of course, editor of Foreign Policy, the Heart of the Blob, who's been War Scaring and Red Scaring since forever, but especially since his favored candidate, Hillary Clinton, lost.

Anyhow, the article that caused the dustup: "Donald Trump is producing the greatest reality show ever" [Chris Cilizza, CNN]. Judge for yourself. I think "sociopathic" is a little harsh, especially coming from Roth (and his crowd).
New Cold War
"Democrats Need to Unite the Country Against Russia" [Mother Jones]. From January, still germane. "In tying the Republicans to an enemy, the Democrats have the potential to break the Republicans. Do they stand with America or do they stand with Russia? The best part is that the Democrats do not have to lie, distort or otherwise misrepresent reality to make the case." "The best part…

As I've been saying, the Russian War Scare unites liberals and conservatives against the left.

Do you oppose fracking? Did you support the nuclear-freeze movement in the 1980s? Then you've likely been influenced by Russian manipulation & deception campaigns. https://t.co/RQQRiMuFWk

— Tom Cotton (@TomCottonAR) March 7, 2018
Realignment and Legitimacy
"One of the fundamental ideas of the thread was that the country had entered a period where our normal ways of talking about subjective probability made no sense in terms of politics. You could still make directional and even ordinal statements, but we were so far outside of the range of data and precedent that you could no longer confidently assign upper and lower bounds to the probability of a number of events including the destruction of the Republican Party. Note, I never said that this was "likely" to happen, but rather you can't say that it can't happen now" [Observational Epidemiology]. "If I were writing this today, there are obviously things I would handle differently, but I'm reasonably comfortable standing by the main points." As Charles Cook said (in essence) yesteday: Nobody knows anything. If you're a volatility voter, that's not necessarily such a bad thing.

* * *

"Can the Bernie Sanders 'Our Revolution' Put Progressive Populism Back Into the Texas Democratic Party?" [Texas Monthly]. " Sanders supporters are infiltrating the party as a new and revitalized progressive wing of the party. They are among a crowd of 346 candidates under age 40 seeking office this year. Although the actual number of Sanders progressives running for office is small, they are persistent." So Moser is not the only one. More: " Across Texas, the Sanders-supporting Our Revolution Texas is organizing the election of precinct chairs while preparing to reignite populism in the state. The Texas operation is a spinoff of Sanders's national organization, which includes former Texas Agriculture Commissioner Jim Hightower as a board member. 'My slogan for Texas is: We're not here to protest the government. We're here to become the government,' Hightower told me. 'It's not an attempt to take over the Democratic Party. It's an attempt to build the progressive force, a progressive voice into the Democratic Party.'… Whether any of these candidates wins in Tuesday's voting or makes it to runoffs is not the most important thing, Hightower said. The effort has to start somewhere and build. And as part of that, Hightower said he expects Sanders to fill a 3,000-seat stadium at Trinity University on Friday night for a post-election rally. 'We've got really good people and have a really serious objective, and it's perfectly OK for us not to be taken seriously by the establishment right now, because we've got to do it, whether they know about it or not.'"

"The Outside Group Aligned With Bernie Sanders Is Backing Stacey Abrams In Georgia's Tight Governor's Race" [Buzzfeed]. "An outside political group backed by Sen. Bernie Sanders is set to announce two endorsements Monday in Democratic gubernatorial primaries: Connie Johnson in Oklahoma, and Stacey Abrams in Georgia, a spokesperson for the group told BuzzFeed News. The endorsement from Our Revolution, a 501(c)(4) Sanders started to build off the momentum of his near-victory in the 2016 Democratic presidential primary, is one of the strongest signals that national progressive groups are in favor Abrams' political strategy. Abrams is aiming to expand the state party's electorate by identifying and turning out unlikely voters, as well as investing in the base, instead of working to win back white votes that have gone Republican in recent years." I hate that "outside group" phrase. Why isn't the DNC called an "outside group"? They certainly were just that in the Ossoff race! Anyhow, I find this encouraging for two reasons: First, a focus on expanding the electorate (which liberal Democrats most definitely are actively avoiding). Second, "a spokesperson for the group told BuzzFeed News." That shows basic blocking and tackling is being done.

"Dem split intensifies as Senate relief bill moves forward" [American Banker]. "'This bill is all about helping the big banks,' Sen. Elizabeth Warren, D-Mass., said at a press conference Tuesday morning. 'All I know is how the American people feel about bank deregulation, and telling a bank that it can be deregulated, and everyone who votes for this bill has to acknowledge this.' But at a competing press conference, Sen. of North Dakota, one of the Democrats who helped steer the bill out of the Senate Banking Committee, said she won't let the bill be 'papered by misstatements.' 'This is our moment to get this done,' said Heitkamp, who was joined by other Democrats supporting the legislation." "This is our moment…." Wowsers. The headline is accurate to the extent that the Democrats are run running a "revolving hero(es)(ines)." play, but I believe Warren comes by her convictions on bankers honestly.

"US senator grills CEO over the myth of the hacker-proof voting machine" [Ars Technica]. Ron Wyden and good for him:

On Tuesday, US Senator Ron Wyden (D-Ore.) sent ES&S Chief Executive Tom Burt a letter that in essence asked two questions:

Has ES&S sold any products on which remote-access software was pre-installed?
Have ES&S officials or technical support personnel ever recommended that customers install remote-access software on voting machines or other election systems?

The article includes ES&S's response which, as I read it, denies #1, but leaves wiggle room on #2. Can readers confirm?

"Blocked From Voting, Kansans Get Their Day In Court With Kris Kobach" [HuffPo]. "Kansas Secretary of State Kris Kobach (R), who is a defendant in the case and is serving as his own lawyer, questioned how much of a burden it would have been for Stricker to prove he was a citizen to election officials, noting that there was an election office near the hotel where he worked, so he could have taken his birth certificate there during his lunch hour. Stricker said he frequently works nearly 12-hour days and often eats lunch at his desk.* Plus, in 2014 he had just started a new job and was wary about taking a lunch hour to go to the election office. He has since refused to register on principle, saying an average Kansan shouldn't have to take legal action to register. The Kansas law has also been blocked since 2016, when a federal judge stepped in and issued a temporary injunction, a decision that allowed 18,000 people who had tried to register at the DMV but failed to prove their citizenship to vote that year." * Class warfare makes it hard to vote. Who knew.

"Six Ways the 'Resistance' Gave Trump a Dictator's Toolkit" [Truthdig]. "Think about this. Besides unlimited trade authority, many Democrats also voted to continue to give Trump unlimited war powers with the Authorization for Use of Military Force (AUMF). Thirteen Democratic senators voted to continue to have no congressional oversight over Trump's wars… A few weeks ago, Congress passed a spending bill that took away the remaining congressional oversight of the intelligence community. Before that, they voted to continue giving Trump unlimited surveillance abilities."
Stats Watch
ADP Employment Report, February 2018: "ADP sees a strong employment report for Friday, calling for a 235,000 rise in private payrolls which is well above Econoday's high estimate" [Econoday]. "But ADP has been running on the high side of the government's data in recent months which will limit the impact of today's results on expectations." And but: "This month the rate of ADPs private employment year-over-year growth remained in the tight range seen over the last year" [Econintersect]. "ADP employment has not been a good predictor of BLS non-farm private job growth."
International Trade, January 2018: [Econoday]. "The nation's trade deficit widened sharply in January, to $56.6 billion which is beyond Econoday's deepest estimate and marks a negative start to first-quarter net exports. Imports, at $257.5 billion, were unchanged in the month but not exports which fell a sharp 1.3 percent to $200.9 billion. Exports of services were steady at $66.7 billion while exports of goods fell 2.2 percent to $134.2 billion. And here to blame are industrial supplies, which includes primary metals, down $1.3 billion to $41.5 billion and also capital goods, a central focus of U.S. strength that fell $2.6 billion to $44.9 billion and includes a $1.8 billion decline in civilian aircraft exports to $3.8 billion." And: "The data in this series wobbles and the 3 month rolling averages are the best way to look at this series. The 3 month averages are little changed for exports and slowing for imports. However, imports are declining slower than exports – thus the trade balance worsened" [Econintersect]. "The data is worse if one considers inflation is grabbing hold in exports and imports – and the headline numbers are not inflation adjusted."
Productivity and Costs, Q4 2017 (Revised): "Productivity in the fourth quarter is revised slightly to no change from an initial decline of 0.1 percent though the revision for unit labor costs is more tangible, now at plus 2.5 percent vs 2.0 percent initially" [Econoday]. "This reflects an upward revision to compensation now at plus 2.4 percent with hours worked, up 3.3 percent, and output, up 3.2 percent, both unchanged. A rising cost for labor relative to output is a negative for profit margins as companies, given lack of traction for selling prices, have to absorb the imbalance." And but: "A simple summary of the headlines for this release is that productivity contracted while the labor costs grew. However, year-over-year analysis show equal growth" [Econintersect].
Commodities: "Villagers denounce irregular operations by the Zimbabwe Consolidated Diamond Company" [Mining.com]. "According to Chairman Malvern Mudiwa [of the Marange Development Trust], the different kinds of abuses that villagers have been enduring for decades have intensified. He said that locals are subjected to beatings, are asked to relocate with little notice and with no compensation, and air pollution, environmental degradation, and poverty are rampant."
Shipping: "Shippers fear huge surge in costs if IMO rules box ships must slow down" [The Loadstar]. "World Shipping Council (WSC) vice president Bryan Wood-Thomas said the [International Maritime Organization] would next month meet to discuss curbs on greenhouse gas (GHG) emissions from shipping – and potentially the enforced reduction of ship speeds. Shipping consultant Franck Kayser, until recently chief operations officer at CMA CGM, said his 'coffee pot' prediction was that if speed limits were enforced – reductions of 10-30% – shippers could be faced with freight rates increasing 25-30% and bunker adjustment factors (BAFs) rising 50%."
Shipping: "More money is flowing to companies that help retailers stave off the behemoth of digital commerce. Private-equity firms GTCR LLC and Sycamore Partners will pay $1.1 billion to buy technology platform CommerceHub Inc…. taking private a business that connects some of the world's biggest retailers to brand suppliers and then gets goods to online customers" [Wall Street Journal]. "The strategy helps retailers including Walmart Inc. and Best Buy Co. build up the products they offer to consumers online without bulking up inventory at their own distribution centers. The company uses a tactic called drop-shipping to speed goods along,
Shipping: "Supply chain bottlenecks could be a bonus for buoyant air freight sector" [The Loadstar]. "Air freight volumes jumped some 8% in January and, while Chinese New Year may have distorted year-on-year figures, analysts believe the drivers of growth remain buoyant. IATA's air freight market analysis shows a month-on-month increase from the last part of 2017, and suggests 'rising bottlenecks' within the supply chain would likely 'benefit air freight over other modes of transport'…. However, IATA notes reports suggesting bottlenecks in the supply chain may be most acute in capital goods – particularly steel – which could limit the benefit to air freight."
Infrastructure: "Highway and port backers probably never thought infrastructure started in the laundry room, but that may be where investors are heading. With big projects involving roads and trains stations in short supply, many investors are finding ways to put their money to work by stretching the definition of infrastructure to other deals they hope will offer steady returns…. [I]ncreasingly fund managers are looking at targets like airport luggage trolleys, coin-operated laundry machines and college-town apartment buildings that may lack industrial scale but won't tie up money for years" [Wall Street Journal]. We've got some of those apartment buildings (cheapjack townhouses) in my college town; I think the only money that stayed in the town went to whoever paved the roads and did the landscaping. But we went ahead and gave them the tax breaks anyhow.
Mr. Market: "Why Would Billionaire Oprah Sell Weight Watchers Shares?" [MarketWatch]. "Billionaire media personality Oprah Winfrey sold a portion of her holdings in Weight Watchers International Inc. It is unlikely she needs the money, which makes the decision unexpected and hard to understand….. Perhaps the Weight Watchers stake is among the most liquid assets she has. Her net worth, according to Forbes, is $2.7 billion. Much of her fortune is tied up in companies that are private, which means access to capital from those is limited…. Alternatively, Winfrey may have lost some of her confidence in Weight Watchers…. Weight Watchers did not post strong guidance for 2018."
Mr. Market: "The Dow Jones Industrial Average on Wednesday afternoon gave up its year-to-date gains, as Wall Street wrestled with news that National Economic Adviser Gary Cohn has resigned from the White House. Market participants fear that Cohn's departure suggests that President Donald Trump will push forward on tariffs and on steel and aluminum imports that the key adviser has opposed. Moreover, Cohn was viewed as a chief engineer of the president's pro-business agenda" [MarketWatch].
Five Horsemen: "Owing to its astronomical run-up, Amazon is close to displacing Alphabet as the second-largest cap stock after No. 1 Apple" [Hat Tip, Jim Haygood].
NakedCap Mania-Panic Index: "The Mania-panic index rose to 37 (worry) on improvement in all but one of its components.
" [Hat Tip, Jim Haygood]. (The NakedCap mania-panic index is an equally-weighted average of seven technical indicators derived from stock indexes, volatility (VIX), Treasuries, junk bonds, equity options, and internal measures of new highs vs new lows and up volume vs down volume … each converted to a scale of 0 to 100 before averaging, using thirty years of history for five of the seven series.)
Neoliberal Epidemics
"Overshadowed by the Opioid Crisis: A Comeback by Cocaine" [New York Times]. "The opioid epidemic just keeps getting worse, presenting challenges discussed at length at a White House summit last week. But opioids are not America's only significant drug problem. Among illicit drugs, cocaine is the No. 2 killer and claims the lives of more African-Americans than heroin does."
Class Warfare
"West Virginia answers teacher strike with 5 percent pay raise" [Stillwater News Press]. "West Virginia Gov. Jim Justice signed legislation Tuesday afternoon that will provide all public employees in West Virginia with a 5 percent pay raise, ending a nine-day teacher walkout that closed all public schools to about 277,000 students in the state…. Still on the table is public employees' health care managed through the Public Employees Insurance Agency. A task force to study remedies to rising health care costs and premiums will meet next week to begin its effort to find a stable funding source for the program…. Democrats said they supported the new version of the bill, but expressed concern that its cost may bring cuts to other programs." Since this was a wildcat strike, I'll defer to the judgment of the teachers. Assuming the health care task force is legic, what concerns me the most is Justice's divide-and-conquer strategy of paying for the raised with Medicaid cuts. Hard to think the teachers haven't thought that through, though.
"I Work at a West Virginia High School. Here's My Message About Our Protest." [Esquire]. "At its core, the West Virginia work stoppage was about a 5 percent raise and a permanent fix to our increasing health insurance costs." And this: "When we return to the classrooms and hallways, we will be wearing our red shirts and we will walk into school together, 55 strong. And if you're reading this and you're a public school employee somewhere else in the country: Don't be afraid. Fight for your worth. Your students will watch you, and they'll thank you for it later."
* * *
"If poor people knew how rich rich people are, there would be riots in the streets"" [Real World Economics Review]. "[E]ven the experts underestimate the degree of inequality in the United States. The usual numbers that are produced and disseminated indicate that, in 2014 (the last year for which data are available), the top 1 percent of Americans owned one third (35 percent) of total household wealth while the bottom 90 percent had less than half (45.3 percent) of the wealth. According to my calculations, illustrated in the chart at the top of the post, the situation in the United States is much worse. In 2014, the top 1 percent (red line) owned almost two thirds of the financial or business wealth, while the bottom 90 percent (blue line) had only six percent. That represents an enormous change from the already-unequal situation in 1978, when the shares were much closer (28.6 percent for the top 1 percent and 23.2 percent for the bottom 90 percent)…. Why the large difference between my numbers and theirs? …. If we take out housing and pensions and calculate just the shares of financial or business wealth—and, thus, equities, fixed-income claims, and business assets—the degree of inequality is much, much worse."
News of The Wired
"People Don't Actually Know Themselves Very Well" [The Atlantic]. "Sixteen rigorous studies of thousands of people at work have shown that people's coworkers are better than they are at recognizing how their personality will affect their job performance. As a social scientist, if I want to get a read on your personality, I could ask you to fill out a survey on how stable, dependable, friendly, outgoing, and curious you are. But I would be much better off asking your coworkers to rate you on those same traits: They're often more than twice as accurate."
"Why being a loner may be good for your health" [BBC]. Forced loneliness, not so good. But: "For those of us who just prefer plenty of alone time, emerging research suggests some good news: there are upsides to being reclusive – for both our work lives and our emotional well-being..,. emerging research suggests some potential benefits to being a loner – including for our creativity, mental health and even leadership skills."
* * *
Readers, feel free to contact me at lambert [UNDERSCORE] strether [DOT] corrente [AT] yahoo [DOT] com, with (a) links, and even better (b) sources I should curate regularly, (c) how to send me a check if you are allergic to PayPal, and (d) to find out how to send me images of plants. Vegetables are fine! Fungi are deemed to be honorary plants! If you want your handle to appear as a credit, please place it at the start of your mail in parentheses: (thus). Otherwise, I will anonymize by using your initials. See the previous Water Cooler (with plant) here. Today's plant (Chuck Roast):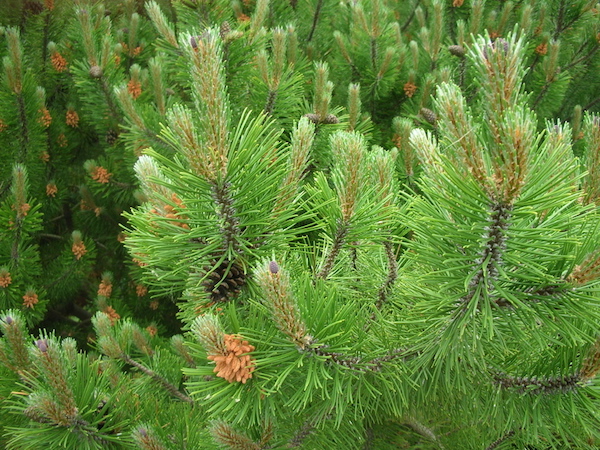 Chuck Roast writes: "Springtime in South Portland." Yay!
* * *
Readers: Water Cooler is a standalone entity not covered by the NC fundraiser. So do feel free to use the dropdown and click the hat to make a contribution today or any day. Here is why: Regular positive feedback both makes me feel good and lets me know I'm on the right track with coverage. When I get no donations for five or ten days I get worried. More tangibly, a constant trickle of small donations helps me with expenses, and I factor that trickle in when setting fundraising goals. So if you see something you especially appreciate, do feel free to click the hat!