CalPERS staff seems to relish poking its beneficiaries and the public in the eye. As an image at the end of this post shows, CalPERS is making a great pretense of being a supporter of Sunshine Week, "A week dedicated to promoting transparent and open government."
Yet as always, CalPERS actions make clear what its real priorities are.
This very same "Sunshine" week, CalPERS published two board agenda items that show the giant pension fund is going hard in reverse on transparency and accountability.
We have embedded the two relevant documents at the end of this post. One is a plan to get rid of transcription of board meetings, including closed session transcripts. We've embedded text of the agenda item at the end of the post; you can also view it here. The second is to implement a timed agenda for conducting board meetings.
Let us stress that there is no good reason for CalPERS to be adopting either measure. We'll deal with the timed agenda first, since it is easier to dispatch.
Staff already provides a private timed agenda. The truth is they do a bad job of estimating how long an item will take. Often the 5 minute item goes 30 minutes and the 30 minute item lasts 5. It's one thing to prepare one for informal use to try to assess whether an agenda is overloaded. It's quite another to try to use a device which has a track record of being wildly inaccurate to dictate in advance how long various items will be discussed. See an example embedded at the end of this post.
It is also not hard to see that staff could use the timed agenda to gag board inquiries into issues they don't want probed. This amounts to a crude and obvious power grab by staff and undermines the board's ability to perform its fiduciary duties.
Message of Timed Agenda: Staff and Board Members Are Lazy
A timed agenda for something as important as board meetings, shows that CalPERS is adopting behaviors that ridiculed in the corporate/governance realm. One of many classic jokes goes like this:
A bus company received complaints about drivers failing to make stops on their routes even when passengers were waiting to be picked up. When asked, the drivers responded, "I can't make my schedule if I pick people up."
The only reason for adopting a timed agenda is to get meetings wrapped up faster so no one has to stay late. This sends a crystal clear message that the board and staff give higher priority to preserving their leisure time than to performing their duties on behalf of CalPERS beneficiaries and California taxpayers. For an organization that is in serious trouble, and CalPERS underfunding remains a looming, unsolved problem, this is exactly the wrong message. The board and staff can't be bothered to roll up their sleeves and in fact are fobbing off their duties when the going gets tough.
This also sends the message that board members regard serving at CalPERS as a sinecure. Anyone opposing an incumbent should use a vote for a timed agenda as concrete evidence that the board member isn't willing to do the hard work needed to protect pensions.
Message of Getting Rid of Transcripts: CalPERS Has Something to Hide
Let us stress there is no good reason for CalPERS to end its decades-long policy of having its board meetings transcribed by court reporters. That was one of many practices that gave CalPERS credibility around the world as a well-managed institution and was a powerful card in its corporate activism efforts (yes, it is now very hard to believe that CalPERS was once esteemed as a model of good governance).
As David Snyder of the First Amendment Coalition stressed, the $80,000 to $85,000 cost is inconsequential for an institution the size of CalPERS, with an operating budget of $1,675,851,000 for the current fiscal year and even more so in light of its importance as a governance mechanism.
And even though the board agenda item claims that CalPERS needs to engage in belt-tightening, internal sources tell me that there has been no move to crack down on abuses, like the widespread use of business class travel,1 or the failure to challenge the necessity of going to conferences, particularly ones that look like junkets by virtue of being overseas yet having little or no unique content.
In addition, CalPERS' pretense that audio recordings would be just as good, or even good enough, is ludicrous. Not only do audio recordings of meetings regularly fail to capture the voices of people who speak softly or are not located near the microphone, but even with pristine recordings, it is difficult to match voices to speakers. As law professor and white collar criminologist Bill Black said:
CalPERS was once a great organization that was the model for public sector investment. It pioneered combining expertise, integrity, and high transparency. CalPERS lost its way when it was taken over by Wall Street failures who epitomized conflicts of interest, sleaze, and opaqueness. CalPERS' current management claims to be trying to trying to clean up these abuses, but we now learn that it is about to do away with one of CalPERS' crown jewels of transparency – providing transcripts of its board meetings to the public.

As a former SVP, general counsel, and corporate secretary of a large financial institution I can state from personal experience that audio tapes of a board meeting are close to useless in providing effective transparency. CalPERS' proposal to substitute audio tapes for transcripts is a transparent evisceration of corporate transparency.
Here are some of the bad reasons for CalPERS to be eliminating transcripts:
Damages CalPERS' credibility in its Environmental, Social Responsibility, and Governance initiatives. CalPERS is trying to bolster its flagging reputation by being a prominent player in ESG. For instance, at Monday's Investment Committee meeting, Treasurer and gubernatorial candidate John Chiang has organized a presentation by students calling for investors to divest their holdings in retailers that sell guns and other participants in the supply chain (CalPERS has already divested from gun manufacturers)
It is hard to take CalPERS' efforts to exhort companies to do better seriously when it is visibly renouncing good governance practices. This looks like rank hypocrisy.
Weakens board oversight. CalPERS already has too little in the way of adult supervision. This move would take CalPERS further in that bad direction.
General counsel Matt Jacobs claims in his agenda item that the transcripts were, according to him, not used much by staff and board members. That is contrary to the observation of former CalPERS insiders, who say that staff used closed session transcripts in preparing for meetings.
Moreover, frequency of use is not the relevant test. $85,000 is nothing compared to the cost of an error or abuse by CalPERS. A single intervention by the board or the press could easily save CalPERS millions of dollars.
Even if one were to make the strained argument that $85,000 is a consequential expense in the context of a $1,675,851,000 budget, the cost of transcripts is like the cost of insurance. It is widely recognized that is it rational to overpay, in economic terms, for insurance. In colloquial terms, an ounce of prevention is worth a pound of cure.
Finally, the agenda item makes it seem as if the only aspect worth considering is the impact of ending transcription of open board meetings . It finesses the fact that the transcripts of closed session will also be scrapped. These are even more important than open session records in terms of enabling board members to hold staff accountable, since the most sensitive issues are relegated to closed session.
The fact that staff now actively impedes board member access to closed session records should serve as a huge red flag, as well as proof that the real motivation for this change is to stymie board oversight. New board member Margaret Brown realized in her first closed session meeting that there was so much back story to a critical pending decision, that of outsourcing private equity, that she asked to read closed session transcripts for the last year. She ran into numerous obstacles, including:
Being told she needed to be briefed by CalPERS staff members before being allowed to see the transcripts (that briefing never happened, suggesting it was a delaying tactic)

Being allowed to read only a paper copy that was redacted to show only the discussion directly related to the private equity initiative. The fact that she was not immediately given an electronic copy so she could read it when it was convenient for her, as well as search it, makes it abundantly clear that staff thinks it is in charge and can bully board members. The staff is supposed to report to the board, not the other way around. Moreover, Brown said she wanted to read the entire past year of board closed session transcripts to get up to speed on other topics, but the response to this request makes clear that CalPERS is determined to keep board members as much in the dark as possible.

Being treated like a child or a criminal by being required to read the limited records only in a staff member's office with the staff member in the room supervising her
I am told that Brown is not the only current board member who has been given a hard time about getting closed session transcripts.
Supports a culture of casual lying. We have documented how top staff members, including general counsel Matt Jacobs, chief investment office Ted Eliopoulos, and former chief operating investment officer Wylie Tollette, have told demonstrable lies to the board. While some might arguably be mere "mis-statements," many are so clearly at odds with the record or information that the staff member surely must have known as to make it close to certain that these were knowing misrepresentations.
Keep in mind that our posts only scratch the surface of how regularly staff deceives the board and beneficiaries. For instance, in a recent board meeting, the staff member responsible for elections, Kim Malm, told several important falsehoods. They could have been challenged by comparing what she said to CalPERS records, including past transcripts. Eliminating the transcripts is a way to further weaken the board's and public's ability to oversee staff.
Impedes journalists and activists. CalPERS is already receiving largely negative coverage in the press, even from the typically friendly trade press. This move is going to further alienate journalists. Even if they never made use of CalPERS transcripts, they would want to have that option. And they are sensitive enough to institutional behavior
Serves as a board protection racket. One of the key messages that successful insurgent candidate Margaret Brown used in her campaign was that the incumbent board member Michael Bilbrey, had said nothing substantive in Investment Committee meetings for the previous year. She was able to verify that because someone who had been thinking of challenging Bilbrey had obtained the Investment Committee transcripts and provided them to Brown when he decided not to oppose Bilbrey. It would be extraordinarily difficult to do this type of investigation using the YouTube videos that CalPERS posts.2
* * *
CalPERs is an enormously important institution, even in its fallen state. It is remarkable to see, again and again, when caught out being incompetent or not operating in an honest and open manner, rather than fixing the problem or at least making earnest effort to improve, CalPERS instead doubles down. CalPERS already had a governance train wreck, in the form of a past CEO now in Federal prison for taking bribes. The message from CalPERS that it is going to continue to do as it pleases, even as its performance deteriorates. What will it take for the legislature to intervene?
____
1 40% to 50% of the investment office staff fly business class. They are able to do so despite being government employees by getting a doctor's note saying that it is medically necessary, with the usual justification being a back problem. Insiders report that there are known cases where individuals claiming to have bad backs engage regularly in vigorous sports, including tennis, which would seem to be counter-indicated by their supposed disability. Wall Street banks, where business class travel is the norm, will pay only for coach travel, even for managing directors, when times are bad. More generally, we have also pointed out that independent of the class of travel, some business trips are of dubious value, such as many of the meetings for supposed oversight of private equity funds in which CalPERS invests. These meetings are a form of soft corruption. The private equity firm provides lavish meals and for the big funds, costly entertainment, with heavily staged presentations that amount to marketing. CalPERS would do a far more effective job of private equity oversight, and would also greatly increase the competence of its private equity team, if it had its PE staffers cut back dramatically on their travel time and instead had them read the considerable written materials provided by the general partners, such as their SEC form ADVs, and compared what they were doing with their legal obligations under the limited partnership agreements.
2 Even though YouTube videos do provide a time stamped closed caption that can be downloaded, having tried to use them myself, they are close to useless. They do not identify speakers. In addition, the manner in which the time stamps are incorporated makes it extremely difficult even to read the text. While it would be possible to use a text editor to strip that out, the process is cumbersome and therefore a major deterrent.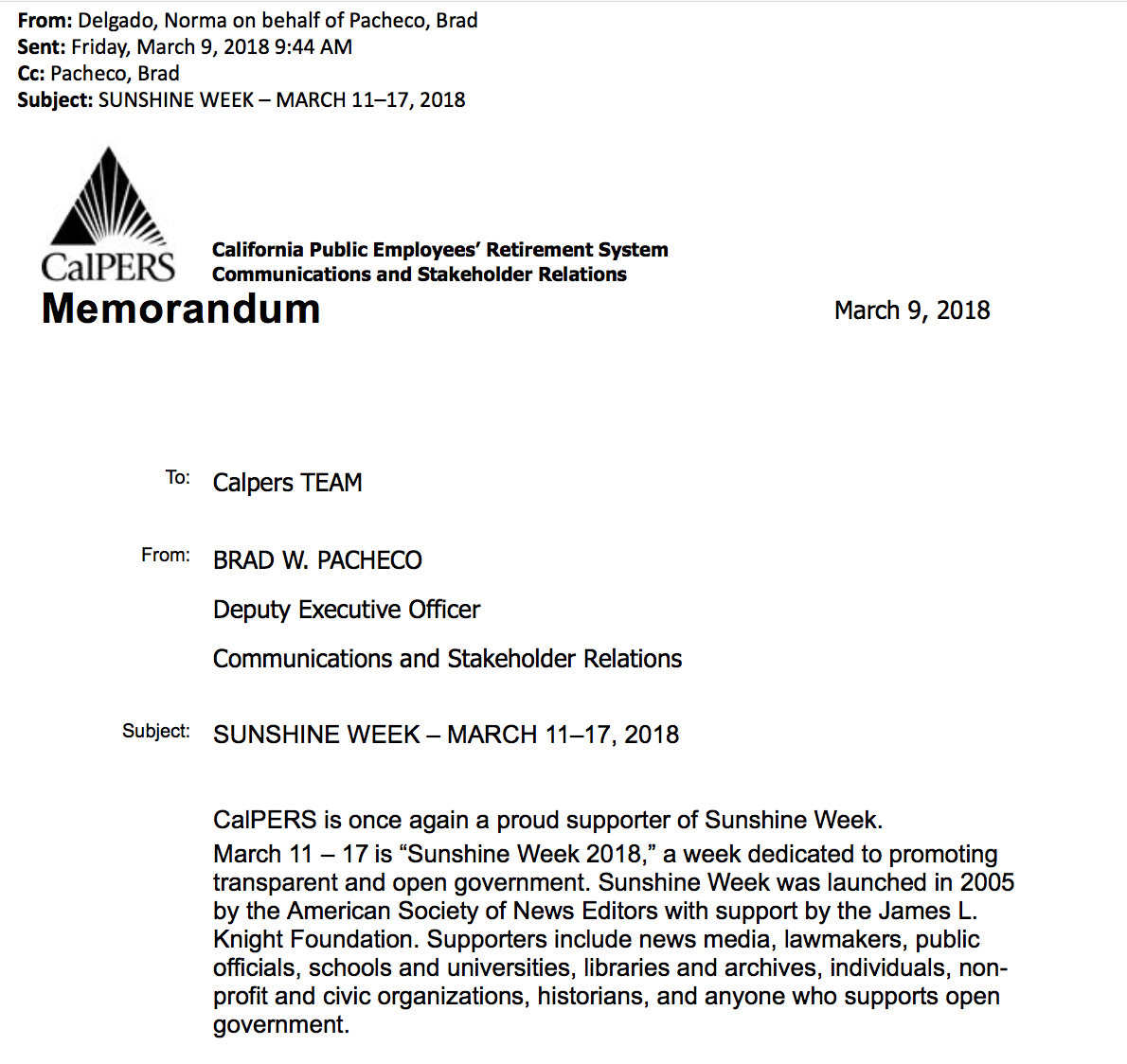 CalPERS Agenda Item 8, March 20 board meeting

timed agenda IC may 2016