Pre-Columbian people spread fruit species across Latin America Ars Technica
As the cost of dog cloning drops, here's which breeds lead the pack MarketWatch
Cold-blooded? Study finds female pythons care for their young Japan Times
Exclusive: Wells Fargo faces sanctions for auto insurance payouts – sources Reuters
Despite woes, Wells Fargo gives CEO a $4.6 million raise Mercury-News. Attaboy.
Senior ex-Equifax executive charged with insider trading Ars Technica
Toys R Us planning to liquidate its US operations ABC
Hedge fund Alden siphoned 100s of millions from newspapers in scheme to gamble on other investments, suit says News Matters
Denver Post Lays Off Thirty Employees, Nearly One-Third of Newsroom Staff WestWord
Google, Facebook and Apple face 'digital tax' on EU turnover FT
Venezuelan Debt: Further Thoughts on "Why Not Accelerate and Sue Venezuela Now?" Credit Slips
National Security Agencies Have Spoken: Private Equity Ownership Imperils America Harold Meyerson, The American Prospect
Brexit
Unilever Chooses Single Base in Netherlands in Blow to May Bloomberg

Meet the Brexit negotiators: David Davis and Michel Barnier FT
Syraqistan
Even A Big Four Audit Can't Nail Down Kingdom Holding Numbers Francine McKenna, Forbes. Still germane.

A Bogus 'Compromise' Senate Bill Would Prolong Atrocities in Yemen The Nation
U.S. troops involved in at least 10 undisclosed firefights in West Africa: report MarketWatch. Africa seems like a promising theatre for conflict investment, and probably safer than Ukraine or the South China Sea.
India
India's PNB uncovers more fraud at troubled Mumbai branch Reuters
China?
Is Beijing planning to take Taiwan back … by force? South China Morning Post

China's Credit Crunch The Diplomat

House Proposal Targets Confucius Institutes as Foreign Agents Foreign Policy
Arms trade growing rapidly in Asia and won't stop anytime soon Asian Correspondent
Korea Aims to Avert a Youth Unemployment 'Catastrophe' Bloomberg. Yeah, but are young Koreans out hopping trains?
Night of the demons Jakarta Post
Bali switches off internet services for 24 hours for New Year 'quiet reflection' Guardian
New Cold War
British PM May expels 23 Russian spies but stops well short of bothering Putin Reuters

Are 'Novichok' Poisons Real? – May's Claims Fall Apart Moon of Alabama

The Real Collusion Story National Review. A long read, worth a cup of coffee, amazingly enough.
The rise of Putin's young technocrats FT
On the Russian Presidential Campaign Trail in Siberia Part Two: Putin, Grudinin, Titov and the Meaning of Life Medium
Trump Transition
Haspel Nominated to Lead CIA, Pompeo to Replace Tillerson The Cipher Brief

Taibbi: Trump's CIA Pick Took Part in Silencing Torture Suspect Matt Taibbi, Rolling Stone. My head is spinning on this one. Obama admits "we tortured some folks" but prefers to "look forward as opposed to looking backwards." Obama appointed Bush torture advocate John Brennan as a key advisor. Then Trump appoints a another torturer — one very well-respected by the "intelligence community" (see link above) — and everybody loses their minds. Wouldn't it have been simpler to try all the torturers as war criminals back when we had the chance? Some kind soul should survey all the MILOs running on the Democrat ticket, and ask them what they think about this. Just to clarify where we are.

Don't Bork Gina Haspel Rich Lowry, Politico. "[T]he interrogation program [sic] wasn't a rogue operation. It was approved at the highest level of the U.S. government." Say it, Rich. Say it with me. "I was…." "I was only…." "I was only following…."

Ex-CIA chief Panetta backs Haspel nomination CNN. Remember Panetta at the Democratic National Convention? When the Sanders supporters chanting "No more war" were drowned out by Clinton supporters chanting "USA! USA!" Good times…

There's a new secretary of state. Who cares? Politico

* * *

Senate passes rollback of banking rules enacted after financial crisis WaPo. Minsky moment, here we come!

Highlights of the Senate banking bill Politico. If "highlights" is the word we want…

Trump names CNBC host Larry Kudlow as economic adviser, White House confirms USA Today

EPA drops rule requiring mining companies to have money to clean up pollution Chicago Tribune (DK).

Visas Issued to Foreign Students Fall, Partly Due to Trump Immigration Policy WSJ
Gunz
Health Care
CMS star ratings disproportionately benefit specialty hospitals, data show Modern Health Care
Neoliberal Epidemics
Concern at rising infant mortality rate in England and Wales Guardian
Class Warfare
Facebook co-founder Chris Hughes says the 1 percent should give cash to working people Recode. That's called noblesse oblige, one of the less malevolent aspects of feudalism. One imagines Hughes tossing coins to the peasants from his gilded coach…

Busting the Myth of 'Welfare Makes People Lazy' The Atlantic
Verizon Will Fix Broadband Networks, Landlines to Resolve Investigation ExtremeTech
About a quarter of U.S. adults say they are 'almost constantly' online Pew Research Center
Antidote du jour (via):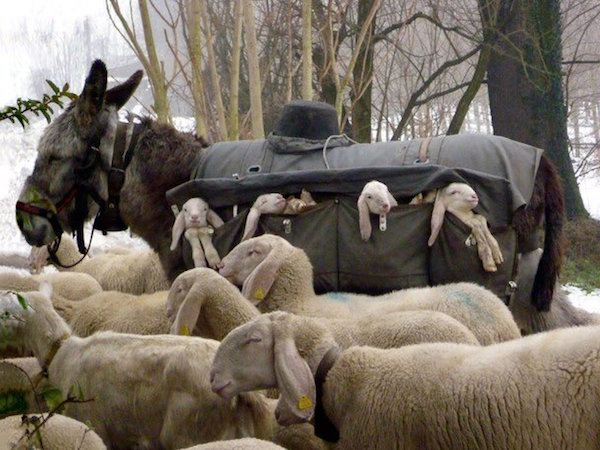 See yesterday's Links and Antidote du Jour here.