Yves here. Trump has a pattern of big talk, then backing down in terms of what he actually does. But there is a large business constituency that is sick of China stealing their intellectual property. The possible moves that Wolf describes below are very wide ranging. While other members of the corporate classes would very much not want dealing with China to get ugly, it is possible that Trump could implement a narrower version of the policy below. Barring visas for Chinese students attending US universities, for instance, takes money from the higher ed complex, which leans heavily Democratic party. And there's even an argument for that, since there is evidence that a lot of schools considerably relax their admission standards to let Chinese nationals in, and even in some cases charge them more than US students.
By Wolf Richter, a San Francisco based executive, entrepreneur, start up specialist, and author, with extensive international work experience. Originally published at Wolf Street
This is the big one. It makes steel and aluminum tariffs look like a game.
If this is true – it was leaked by a "source familiar with international trade" to the Nikkei Asian Review and isn't based on a White House announcement – then it's going to add a lot of fuel to the already heated trade dispute between the US and China, and may ultimately make the steel and aluminum tariffs look like a game.
To punish China for its intellectual property theft, including IP infringements such as counterfeiting, and to retaliate against Chinese investment rules that require technology transfers to Chinese partners in order to set up shop in China, the Trump administration is considering a proposal by the Office of the US Trade Representative (USTR) that would impose:
Tariffs on a large variety of Chinese products, including tech products and consumer goods like clothing.
Restrictions on investment by Chinese companies in the US, the first impact of which we have already seen by Trump's order yesterday blocking all Chinese takeovers of large US tech companies.
And limits on visas for certain Chinese nationals.
The USTR also urged US allies, including Japan, to implement similar measures and synchronize their policies, according to the "source familiar with international trade," cited by the Nikkei Asian Review.
Germany, Japan, and other countries have long fumed over the required technology transfers to Chinese partners. At the same time, Chinese companies, often state-owned, have been on a shopping spree in Germany, going after robotics know-how and other industries, which has caused a lot of soul-searching in the business community in Germany. Japan too "has long opposed China's intellectual property practices," as the Nikkei put it. Now the USTR has asked these countries to do something about it. 
The probe by the USTR started in August last year, invoking Section 301 of the US Trade Act of 1974. The act, because it conflicts with WTO rules against imposing trade restrictions unilaterally, hasn't been used since 1995, when the WTO began sorting out trade disputes.
But in August 2017, the USTR announced that it had "formally initiated" an investigation of China under Section 301:
The investigation will seek to determine whether acts, policies, and practices of the Government of China related to technology transfer, intellectual property, and innovation are unreasonable or discriminatory and burden or restrict U.S. commerce.
The investigation would "look into Chinese laws, policies, and practices which may be harming American intellectual property rights, innovation, or technology development."
Section 301 of the Trade Act of 1974, as amended, gives the U.S. Trade Representative broad authority to respond to a foreign country's unfair trade practices. If USTR makes an affirmative determination of actionable conduct, it has the authority to take all appropriate and feasible action to obtain the elimination of the act, policy, or practice, subject to the direction of the President, if any. The statute includes authorization to take any actions that are within the President's power with respect to trade in goods or services, or any other area of pertinent relations with the foreign country.
Trump had pledged to crack down on the causes of the huge US trade deficit. In terms of the magnitude of the trade deficit, no country comes even close to China (chart shows China and Hong Kong combined due the transshipments via Hong Kong):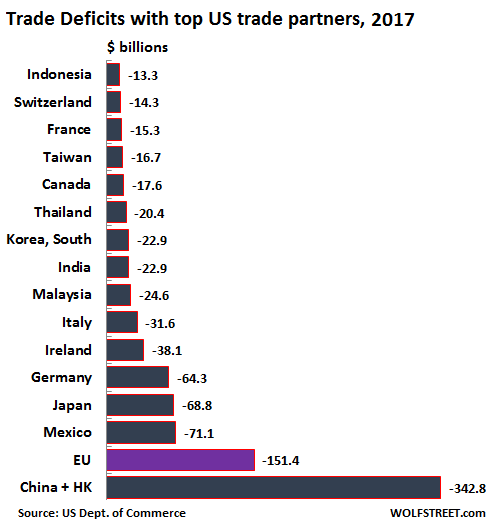 The trade deficit in goods alone was $796 billion in 2017, of which the deficit with China accounted for $342 billion. China exported to the US three times as much as it imported from the US.
Though the USTR has tried to get US allies on board, at least the Japanese government rejected the proposal, saying that it would be difficult to implement since Japan lacks a law similar to Section 301, a US trade official told the Nikkei. The official said that Japan had proposed instead a joint suit against China via the WTO. That would make sense to say for Japan; it has only a small trade deficit with China/Hong Kong and in many months a trade surplus.
That the Trump administration invoked Section 301 rattled the Chinese government. In February, it sent its top diplomat, Yang Jiechi, to Washington on a fence-mending mission. This resolved nothing. At the beginning of March, it sent President Xi Jinping's top economic adviser, Liu He, for a bigger five-day fence-mending mission.
It was doomed from the beginning. China had planned to send a delegation of about 40 people along with Liu He, sources told the SCMP, but the US government objected, and in the end the delegation was cut to about 10.
Liu met with Treasury Secretary Steven Mnuchin, US Trade Representative Robert Lighthizer, and White House economic adviser Gary Cohn, and afterward announced China's intention to reduce its trade surplus with the US. According to the SCMP, Chinese state media portrayed Liu's mission positively.
But on March 7, after the mission was over, Trump tweeted: "The U.S. is acting swiftly on Intellectual Property theft. We cannot allow this to happen as it has for many years!" It seems to have been an apt suggestion that the USTR's proposal was on the way. The proposal's drastic remedies and the chance that Trump would support them might have been the real reason why Cohn quit, rather than the now softened steel and aluminum tariffs that seemed to be hitting the wrong targets.
Trump's Executive Order blocked not only the $117-billion hostile takeover of Qualcomm, but any "substantially equivalent" foreign takeover in the future. Read…  Trump's Order Stops ALL Foreign Takeovers of Large US Tech Companies