Happy St. Patrick's Day! Kiss a leprechaun or drink some green beer for me.
I am again in Starbucks, plodding away due to Verizon having an outage that has now lasted a full three days. I am having to give up one of my three "must have" weekly weight training sessions as a result :-(
One might reasonably ask why someone who depends on the Internet has no backup connectivity on premises. The reasons are:
1. Smartphones are the usual solution. I have only a dumbphone to reduce my surveillance state observation surface

2. I wasted money getting a hotspot, Karma. It is a 4G network and advertises that it has signal all over Manhattan. However, it does not get signal in my apartment. I chewed out the Karma people. I had used it once or twice in airports that didn't have free WiFi, so it was definitely a signal issue, not a device issue. I also have trouble getting regular cell phone signal in my apartment (admittedly not on a 4G network), so it isn't clear that a smartphone would be a remedy even if I were willing to get one. I am the Typhoid Mary of technology, which is another reason I stick with antiques that I know work. It fits my profile to have a dead zone in my apartment
National Park Service proposes reintroducing wolves on Isle Royale Quetico Superior Foundation (Chuck L)
How a Norwegian comment section turned chaos into order—with a simple quiz ars technica (Dr. Kevin). Sorry, I am not impressed. First, humans are the ones writing the quizzes. This takes author time away from generating new content. No evidence that this takes less time than the sort of (hopefully) light touch, trigger driven moderation we use. Second, doing the quiz is a barrier to commenting and also takes user time away from reading other posts. I'd never comment on a site that made me do that and I might even avoid it out of pique.
Romanian court tells man he is not alive Guardian
Why Irish America Is Not Evergreen New York Review of Books
Why we must have the right to call Allah gay spiked (Chuck L). I would go for "bisexual" but the same general principle applies.
Entire broadband industry will help FCC defend net neutrality repeal ars technica
North Korea
What to Expect From a Trump / Kim Summit Counterpunch
China?
The Myth of a Neo-Imperial China Pepe Escobar, Counterpunch
Aung San Suu Kyi: lawyers seek prosecution for crimes against humanity Guardian
Deutsche Bank Just Never Disappoints Wolf Richter
"A REMARKABLE NATIONAL EFFORT": THE DISMAL ARITHMETIC OF AUSTERITY Critical Macro Finance. UK example.
Oxfam hit by second sex scandal over Haiti The Times. Some readers were annoyed when we treated the first set of stories as a big deal…
New Cold War
Foreign secretary blames Putin for attack on spy Financial Times. Lead story.

Russian spy poisoning: chemist says non-state actor couldn't carry out attack Guardian

FEC probes whether NRA got illegal Russian donations Politico

It's all Putin's fault… but still he wins Pepe Escobar, Asia Times

Governments Decree 'Truth' About Skripal – Dissenters Will Be Punished Moon of Alabama

Shakespeare said it best William Blum (Wat)

Another observation from our reader who knows Salisbury (he sent this yesterday right after his initial comment but I somehow missed it):

If anyone had wanted him dead, they could have simply knifed him in the city centre on a Friday night. It would have gone completely unnoticed https://www.police.uk/wiltshire/Wiltshire%20South/crime/violent-crime/stats/#crime_trend in all the other crimes. The place is one of those typically genteel English towns (it's only a city because its a cathedral city) where everything is peaceful and quiet in the sticks, the local hotheads get boozed up and let off steam in the pub quarter in the city centre. I wouldn't go there after dark unless I had to and was with a group.

NATO Expansion: What Yeltsin Heard National Security Archive. Chuck L: "And we wonder why the Russians are pissed off!"
Syraqistan
NATO Relocates Middle East Airbase from Turkey to Jordan 21st Century Wire. Chuck L: "This is a big deal:
It is now clear that NATO is not sure, metaphorically speaking, which direction is Turkey going to fly in, and where it may eventually land. It is panicking and searching, 'just in case', for an exit strategy; almost for an escape plan from the most important regional power."

Iran, Syria and Saudi Arabia: Top three stunning admissions from the top U.S. general in the Middle East Haaretz (Chuck L)
Big Brother is Watching You Watch
Facial Scanning Now Arriving At U.S. Airports NPR. If this takes hold, my air traveling days are at an end. Write your Congressman and say that this is an outrage and a violation of privacy. The best route is for all California readers to write the Governor and AG and if you are in any sanctuary cities, the mayor and city's counsel and say this is among other things, designed to target undocumented immigrants and will also sweep Muslims and ordinary Americans who deserve to have their privacy preserved into a dragnet. Note that airport are municipally owned, and Orlando is a de facto Disney colony. If you are in New York, I would also write our mayor. Send copies to the customer service addresses of the major airlines (use your frequent flier # if you have one) and tell them you will avoid hubs that have this equipment in place.

Amazon Is Hiring More Developers For Alexa Than Google Is Hiring For Everything Slashdot

Facebook Announces Plan To Combat Fake News Stories By Making Them Actually Happen Onion (David L)
Imperial Collapse Watch
The Tip of the Iceberg: My Lai Fifty Years On Counterpunch
Trump Transition
Stormy Daniels Faces $20 Million in Damages in Trump Lawsuit Bloomberg. I was wondering why it took so long for this to happen. She'd almost certainly breached the NDA already with what she'd said to the press and in her suit. In a well drafted NDA, the mere disclosure of its existence is a breach.
John Kelly: Rex Tillerson Was on the Toilet When I Told Him He'd Be Getting Fired Daily Beast. Reminiscent of Tywin Lannister's end. Nevertheless, why would anyone work for the Trump Administration after this? "Firing" him was bad enough, particularly since it's not hard to infer that the reason for his ouster had nada to do with his performance and everything to do with his not-sufficiently-aggressive stance on Iran. But this is childish and nasty.
FBI's Andrew McCabe is fired a little more than 24 hours before he could retire Washington Post (Kevin W). More petty vindictiveness. Earth to Trump: Punching down is a sign of weakness.
JUST IN: Statement from Andrew McCabe: "I am being singled out and treated this way because of the role I played, the actions I took, and the events I witnessed in the aftermath of the firing of James Comey." https://t.co/t2XUf57p21 pic.twitter.com/Y6uv6gZ5pA

— ABC News (@ABC) March 17, 2018
Cabinet shakeups give Democrats a chance to block Trump picks Politico
The Democrats May Need a Blue Tsunami to Win Back the House in 2018 Alternet
Hensarling's last stand: Blocking banking bill Politico (Chuck L)
Kill Me Now
The Obama Presidency Gets Some Early High Historiography Counterpunch (Michael Hudson)

Trump is a freak of political nature. Here's how you can beat him. Washington Post (UserFriendly) The Dems refuse to get that their combination of vilification ("deplorables") and patronization ("let them eat STEM training") is losing them the bottom 80%. Do you see anything in this rant that is about policy? Nope. And that is no accident.
Gunz
When ALL Gun Owners are Shunned Global Guerrillas. Chuck L: "Robb uses guns in his example, but this could be applied to a wide variety of aspects of life."
FIU bridge death toll reaches 6; cracking had been reported to state days before collapse Miami Herald
Is this strip-mining or journalism? 'Sobs, gasps, expletives' over latest Denver Post layoffs. Washington Post
Paulson takes an axe to his struggling hedge fund Financial Times. We were one of the few to see that Paulson was not all he is cracked up to be. Anyone who read Greg Zuckerberg's account of the subprime short strategy that made Paulson super rich, The Greatest Trade Ever, would see that it wasn't Paulson but a subordinate who identified the opportunity. More important, Paulson had business career of not living up to his potential yet having an ego like the outdoors. Ruthless examination is important in a hedgie (they have to be willing to abandon trading ideas when they aren't working out) and the need for validation is a big obstacle. Finally, there was considerable evidence even in the book that Paulson was lousy at risk management and took highly concentrated bets. That's great when it works out, but the odds favor it catching up with you over time.
Justice Department Widens Wells Fargo Sales Investigation to Wealth Management Wall Street Journal. The FBI is conducting interviews. This is serious. Yet the board increased Tim Sloan's bonus. Moreover, they may have a disclosure problem. I haven't verified it, but see this comment from Doug Jones in the Journal's comment section:
The last SEC filing I saw from Wells said their legal liabilities in these matters was now over

$4 billion. Is Mr. Sloan a mental cripple that he cannot call Vice President Autumn C. Way in Minnesota to corroborate this hole that remains open in the hull of the ship?
Class Warfare
Antidote du jour (Kittie Wilson via Lawrence R):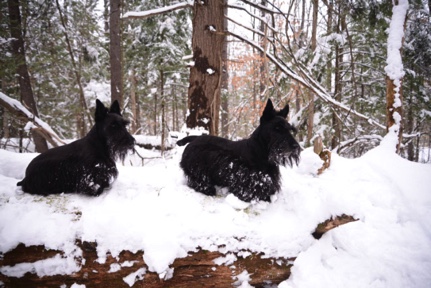 See yesterday's Links and Antidote du Jour here.