Dear patient readers,
Even though my connectivity woes are temporarily in remission, I am behind due to that plus work on longer-term stuff that may or may not pan out. I owe you a post or two on trade…
A big win for our Richard Smith, who writes:
Bonkers pretext, but an unexpectedly nuclear result, so who's griping? Before the victory dance, let's see if this survives pushback from the serious private equity boys.
However, he notes that the other side was not putting up much of a fight even before the RussiaRussia angle came into play.
Thursday's front page of the Herald. pic.twitter.com/fgIiehWxKF

— HeraldScotland (@heraldscotland) March 21, 2018
Have You Herd? Farmer Writes A Memoo Using Cows And Satellite Imagery NPR (David L). Reminiscent of the LED sheep, which we feature at the end of this post.
Biodiversity Scientist Warns: "We're Sleepwalking Into a Mass Extinction" Inverse (David L). "Into"? It's already well underway.
An Alien Star Nudged Our Solar System 70,000 Years Ago And We're Still Seeing The Effects Science Alert (Kevin W)
Bitcoin Could Become Illegal Almost Everywhere, After Shocking Discovery in The Blockchain Science Alert (David L)
World's Media Bungled Twin Astronauts Study So Bad That NASA Had to Step In The Wire (J-LS)
India
'Stalking' fear on Aadhaar The Telegraph (India, J-LS)

The diamond tycoon behind India's alleged US$2 billion fraud South China Morning Post. J-LS: "A decent summary of the current state of play of the crisis that's roiling India. Pass the popcorn."
Brexit
EU leaders accused of not protecting citizens' rights in Brexit deal Guardian. This appears to be one of the few places where the EU made a concession to the UK by failing to nail down the issue. Note the deal has not been approved by the European Council. This had initially been deemed to be so important that citizens rights plus the Brexit tab were the first two items to be sorted out (then Ireland was elevated to the same level). No idea if they will demand that this be tidied up.

Brexiteers furious as Franco-Dutch company poised to win contract to make iconic blue British passport Telegraph. Help me.
New Cold War
Syraqistan
Tariff Tantrum
Trump to Announce $50 Billion in China Tariffs, Sources Say Bloomberg
Trump Transition
Mueller Investigated Sessions for Perjury on Russia Statements Bloomberg

Can the trans-Atlantic relationship survive Donald Trump? DW

Stranger Than Fiction Steve Almond, The Baffler. Chuck L:

This story, and its story within a story, really is amazing. From near the end, after the last of the excerpts:

I pitched the book to editors as a picaresque aimed at skewering "a world of instantaneous hype and commodification." Their concerns centered on two issues: plausibility and likability. Nobody, I was told, would ever vote for a guy like Bucky. And nobody would root for a character like him. Bucky couldn't just be an assembly of appetites and bilious insights. He needed to have a soul, or at least something like it.

And so I began to second guess my hero. Or rather, I began to encumber him. I handed him a young son to parent (while on tour) and an estranged daughter who was, in early drafts, kidnapped by Somali pirates, and later morphed into a recovering addict. Bucky became more "sympathetic" but in the process—and there's a cruel lesson here, for those not afraid to see it—he became less authentic.

Alas, I began to fall out of love with Bucky. I'd conceived of him as an outgrowth of our civic dysfunction. But there was a part of me that adored his antics. He was a creature energized by his id: anarchic, shameless, joyful in his repudiation of liberal guilt. Another way of saying this would be that I'd created Bucky to give life to my own repressed fantasies. Then I'd strangled the life out of him, using my superego as the murder weapon.
Bernie Sanders: Russia and Stormy Daniels distract us from real problem of inequality Guardian. MSM acknowledgment of the online town hall earlier this week.
Most Riders Removed From Omnibus, A Win for the Public Public Citizen
Austin bombing suspect blows himself up with swat team closing in Guardian
Facebook Fracas
Under Fire and Losing Trust, Facebook Plays the Victim and Zuckerberg's Response Doesn't 'Cut It,' Facebook's Critics Say Bloomberg

Advertisers threaten to pull out of Facebook over Cambridge Analytica The Times

What's genius for Obama is scandal when it comes to Trump The Hill (UserFriendly). Important.

India will put Facebook in the dock if needed: Ravi Shankar Prasad Economic Times of India (J-LS)

Facebook whistle-blower Christopher Wylie says company not taking enough action on data concerns Globe and Mail. Mario B highlights this part, noting, "Those dastardly Russians work even from London, UK!":

Mr. Wylie, who grew up in Victoria and later moved to London, became interested in studying how personality traits could be used in political campaigns while working with the Liberal Democrats. That work brought him into contact in 2013 with Mr. Nix, who was running a London-based company called SCL Group whose clients were mainly military-related.

"When I was there, one of the bread-and-butter things of the company … was rumour campaigns and undermining people's confidence in civic institutions so that they don't trust the results," he said, referring to SCL.

Here is how to delete Facebook TechCrunch (Arizona Slim). But see this:

Keep in mind, Facebook still likely has access to a good deal of your data long after you've deleted your account. Plus, Facebook owns WhatsApp and Instagram . So if you really want to stop feeding data into the Facebook machine, you likely need to go ahead and delete those apps as well.

So basically all you have stopped is FB nagging you to reactive the account.

Facebook can still track you even if you delete your account — here's how to stop it Business Insider (Chuck L). But note caveat at the very end.
Uber's Killer Car
Video Shows Uber Robot Car Rammed Into Pedestrian Wall Street Journal. Key section:

A newly released video of the fatal accident involving a pedestrian and an Uber Technologies Inc. self-driving car appears to show the vehicle heading straight into a woman walking her bike across the road without slowing down or swerving to avoid her.

The video, collected by Tempe, Ariz., police from cameras inside and outside the Uber vehicle, appears to also show the human safety operator at the wheel was looking down for approximately five seconds until the moment of impact. This person's role is to take over controls to help prevent accidents or erratic driving from the robot vehicle.

Uber Video Shows the Kind of Crash Self-Driving Cars Are Made to Avoid Wired (Kevin W). Per above, drive not looking when the car is about to go into a big intersection???? So he thinks he's there only to intervene

We linked to an article from Spengler at Asia Times yesterday which showed a picture of the intersection. It is one of those ginormous intersections that are inherently dangerous for pedestrians to cross. Basically, anyone who does that is relying on drivers to see them and give them a berth.
Kill Me Now
The Bezzle
Elon Musk could make more than $50 billion from pay plan shareholders approved…but he has a lot to deliver CNBC (J-LS)

Cor sues NY for $567,000 the state won't pay because of pending criminal case Syracuse.com. Bob: "The bigger one is at the bottom of the link:

In the previous lawsuit, Cor sued in October 2017 to evict Fort Schuyler from the film hub, arguing that the state failed to either buy the property or pay rent under a ground lease. State officials in December paid $2.9 million to settle the case — $1.2 million to buy the parcel and $1.7 million to settle the lease.
Retirees Reshape Where Americans Live Wall Street Journal
The Perfect Oil Field Oily Stuff (Joe Costello). He extracts this section, emphasis his:
The Burgan field in Kuwait has produced something in the order of 32.5G BO. Development has required a minimal number of very low maintenance wells (estimate 573 wells).

Since 2009 the US has spent over $700B($230B debt) of upstream capital to drill and complete 81,600 shale oil wells. Total LTO recovery to date is 8G BO. 32 billion barrels of oil – 573 wells vs 8 billion barrels of oil and 81000 wells
Costello adds:
So every time you hear the US is is new Saudi of oil, it's total BS, shale is at least $100 barrel oil, its always been there, the reason it wasn't drilled is because it was expensive, at least $5 at the pump expensive. So what ever you're paying for gas, between that and $5 is subsidized by debt.
Powell's Fed Debut Shows Shift Away From Theory, Models Bloomberg
Class Warfare
Antidote du jour (Kittie Wilson via Lawrence R):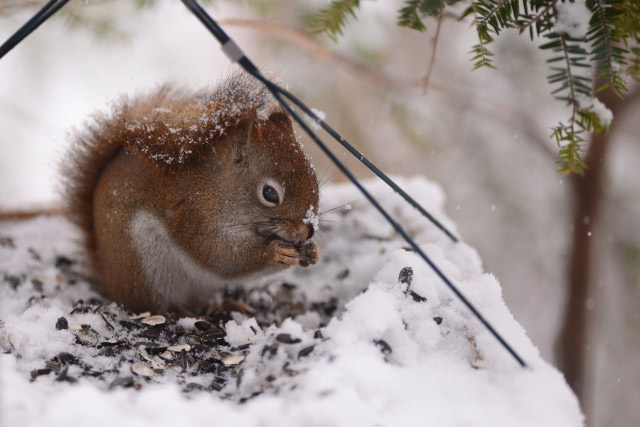 And a bonus from Richard Smith: "Clearly a ringer."
Local farmer just sold me a Border Collie puppy, he's a feisty little bugger. pic.twitter.com/1MFtwukoc4

— Tuffer (@TufferB) March 20, 2018
Speaking of border collies:
See yesterday's Links and Antidote du Jour here