Frog skin secretions offer the first ray of hope in a deadly fungal epidemic PopSci (David L)
Alarmed conservationists call for urgent action to fix 'America's wildlife crisis': One-third of species are vulnerable to extinction, a crisis ravaging swaths of creatures, conservationists say in call to fund recovery plans Guardian
Video games may help ageing pooches stay mentally nimble PhysOrg
We Talked to the Flat Earther Who Took to the Sky in a DIY Rocket Vice. Failed Darwin Award candidate.
California will now require coffee to be sold with a cancer warning — here's what the science says Business Insider (David L)
How network theory predicts the value of Bitcoin MIT Technology Review
AI touch myself: Scientists create self-replicating neural network The Next Web (David L)
China?
Orwellian Debt Collection in China Credit Slips
Marcel Fratzscher on the dark side of the German economy — now with transcript!! FT Alphaville. A real eye-opener.
Brexit
Disaster road: The Brexit Irish border plan and why it won't work Politics.co.uk (AFXH). This is an absolutely devastating must read post if you have any interest in Brexit. It's been obvious from afar that the all the UK has in the way of Irish border solutions are magic sparkle ponies. But this kneecaps in gory detail the wooly-headed ideas the Government has been serving up. I would normally write it up but the beauty of this article is its granularity. Thus it's better to read the original than any attempt to simplify it.

Europe dumps 300,000 UK-owned .EU domains into the Brexit bin The Register (Chuck L)
London's Struggling Property Market Only Has One Hotspot Left Bloomberg
How Slovakia Stood up to a Journalist Murder and Kicked out its PM Washington Post. Margarita:
How WAPO distorts reality: Although some of the article is correct, the young journalist was not investigating Fico's finances, but mis-use of Euro funds in eastern Slovakia. But WAPO's writers state that he was investigating PM's finances – implying the cause of the subsequent murder.
New Cold War
British establishment goes mad. Do they understand what will be a World War? Defend Democracy

"She Is Risen!" – Last Act Of 'Novichok' Drama Revealed: "The Skripals' Resurrection" Moon of Alabama

Russia to expel more than 150 western diplomats Financial Times
Syraqistan
MBS feted in the US despite war atrocities in Yemen Pepe Escobar, Asia Times

None of This Month's Craziest Nuclear Stories Involved North Korea ConsortiumNews (Chuck L)

Saudi Prince Denies Kushner Is in his Pocket Washington Post. Margarita flags this part, emphasis hers:

Asked about the Saudi-funded spread of Wahhabism, the austere faith that is dominant in the kingdom and that some have accused of being a source of global terrorism, Mohammed said that investments in mosques and madrassas overseas were rooted in the Cold War, when allies asked Saudi Arabia to use its resources to prevent inroads in Muslim countries by the Soviet Union.

Successive Saudi governments lost track of the effort, he said, and now "we have to get it all back." Funding now comes largely from Saudi-based "foundations," he said, rather than from the government."
Big Brother is Watching You Watch
Check Your Mute List On Twitter For Possible New Censorship Shenanigans Caitlin Johnstone (Randy K)

What the @#$%&!? Microsoft bans nudity, swearing in Skype, emails, Office 365 docs The Register (Kevin W)

Under Armour is urging 150 million customers to take action after its wildly popular fitness app was hacked Business Insider (David L)
Imperial Collapse Watch
The Geo-Political Poker Game: Where's the 'Off-Ramp'? by Alastair Crooke Sic Semper Tyrannis
Trump Transition
The King Assassination Case and the Mueller Probe Consortiumnews. Chuck L:
Bob Natz should have done more homework before writing about this subject. The sentence,

The HSCA report, therefore, stands as the single most authoritative interpretation of the case, and the closest thing we have to a definitive last word.

is just laughable. In the late 1990s the King family won a wrongful death civil suit against Lloyd Jowers (a former Memphis cop and in 1968 a restaurant owner) and various unnamed federal, state and local government entities. It was a jury trial. The plaintiff's attorney was William Pepper who is a lawyer in the vein of the late William Kunstler, but less well known . That is, he takes on controversial, politically charged cases no one else will touch. Prior to James Earl Ray's death in 1998 Pepper had been working for years to get him a new trial, and had compiled compelling evidence of government involvement in the assassination and setting Ray up as the patsy. After Ray died that case became moot, but somehow Pepper got connected to the King family and they agreed to bring the suit. Pepper wrote several books on the assassination, each of the latter including findings that had not emerged in the earlier ones. The latest, and perhaps final one is The Plot to Kill King: The Truth Behind the Assassination of Martin Luther King.
Walmart Is in Early-Stage Acquisition Talks With Humana Wall Street Journal
Gunz
Never Again: Is gun control movement too white? BBC

One No-Brainer Way to Bring Gun Deaths Down Other Worlds

The amount of fan mail the Parkland shooter is receiving is unreal CNN
Evidence of Violent Extremism of Little Interest When Killer Is White FAIR (UserFriendly)
Facebook Fracas
Facebook is defending itself again after an internal memo suggested growth was more important than user safety Recode (Kevin W)

Want to Purge Your Social Media Timelines? Can You Spare a Few Hours? New York Times
Uber's Killer Car
Uber avoids legal battle with family of autonomous vehicle victim Reuters (EM)
Tesla Recalls 123,000 Model S Cars Over Bolt Issue Wall Street Journal (Kevin w). 44% of the vehicles Tesla ever sold.
Wasn't going to tweet for awhile (newsletter time) but this warrants an exception. Classic two hours after the close before a three-day weekend news release. Unbelievable (almost)! https://t.co/xxq4L7Izbm

— fred hickey (@htsfhickey) March 29, 2018
Tesla Asks for Model 3 Factory Volunteers to Prove 'Haters' Wrong Bloomberg. I seem to have missed where Tesla offered the employees bonuses for doing what sure sounds like extra work.
Court Dismisses Exxon's Effort to Block Climate Investigation New York Times (David L)
Too Many Experts Can Hurt Your Innovation Projects Harvard Business Review (David L). Looks like overgeneralizing from a skewed sample. While I hate resorting to stereotypes, the reputation of doctors, even among doctors, is that they are generally risk averse and not very good managers (this may be partly a function of the intense academic demands resulting in them being less able to participate in organizations where you can observe how people behave in groups and develop some skill in navigating them). The pattern I have observed with "experts" in "innovation projects" is that they are most often geeks of some sort and are not able to identify with typical users, be they individuals or staffers in particular corporate roles. They are temperamentally willing to fool around with things that are novel precisely because they think novelty is fun, and so they perceive the behavioral cost of learning new things and having to change behavior as not even a cost but a benefit. By contrast, most mere mortals want things that work and are reliable and don't want to change things unless there is a very compelling reason to do so.
Class Warfare
AFR Report: Private Equity's Failing Grade in the For-Profit College Industry Americans for Financial Reform

Harvard Admits 4.6% of Applicants; Other Ivy League Schools Get Tougher, Too Wall Street Journal

Britain's social ills cannot be blamed on rising inequality Financial Times. Better than the headline. Here is the thesis: "Discontent is better explained by regional disparities and non-existent wage growth." However, I beg to differ. High levels of inequality are correlated strongly with poor social outcomes, like crime levels, suicides, teen out-of-wedlock births, and health. Poor but equal societies fare better in many if mot most important respects than rich and highly unequal ones.

Oklahoma Teachers Win Pay Raise, But Say Strike Will Proceed to Challenge 'Decade of Neglect' Common Dreams

Globalization's Backlash Is Here, at Just the Wrong Time New York Times (David L)
The problem of hyper-liberalism John Gray, Times Literary Supplement
Antidote du jour. Despite the over the top cuteness, I hope none of you are thinking of getting live Easter bunnies and chickies for kids. Bad bad idea. They are cat food futures.
Chocolate will do just fine. You can always take children to a petting or adult zoo if you think they need a bigger dose of animal viewing.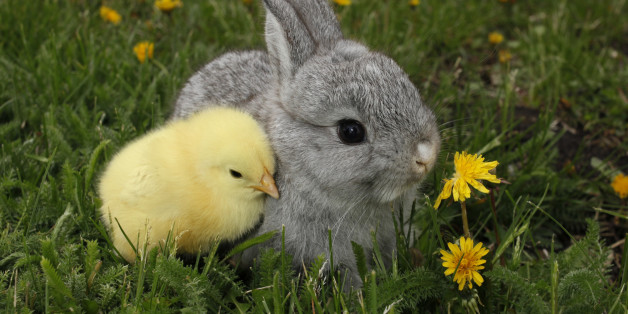 And a bonus antidote, from Richard Smith:
Nen miesen Tagesstart gehabt?
Das ist Fred.
Besser? ☺ pic.twitter.com/nMDYJmaqK5

— Lisa Helmus (@lisasbuecher) March 28, 2018
See yesterday's Links and Antidote du Jour here