In case you managed to miss it, the Dow was down over 700 points yesterday, which happened to be only the worst loss since February, on the Trump Administration's formal announcement that it was going to levy 25% tariffs on as much as $60 billion of Chinese imports. In typical Trumpian fashion, since the list of goods to be targeted has yet to be sorted out, the total is expected to be in the $50 to $60 billion range. As Belgian Prime Minister Charles Michel pointed out, Trump hadn't committed to anything legally, so nothing is final.
And earlier in the week, the Administration made it sound as if companies would have input on which goods would be targeted. From the Journal:
But the tariffs won't be imposed immediately. Rather, U.S. industry will be given an opportunity to comment on which products should be subject to the duties. As part of the package, the White House will announce possible investment restrictions by Chinese firms in the U.S. and will direct the Treasury Department to outline rules governing investment from China.
Asia stocks also swooned overnight, with the Nikkei taking the worst of it by falling 4.5%. The Hang Seng closed down 3.3%. The reaction in Europe is more muted, with the Dax down 0.8% right now and the FTSE off 0.4%. The reason for the comparative calm may be due to the prospect that the EU will get waivers from the previously-announced aluminum and steel tariffs, plus the fact that China so far has opted for only a mild response. From the Financial Times:
China's ambassador, Cui Tiankai, called the US accusations of IP theft "totally groundless" and also warned that Beijing would stand up for itself. 

"We don't want a trade war," he said. "But we are not afraid of it . . . We will certainly fight back and retaliate. If people want to play tough, we will play tough with them and see who will last longer."

China's Ministry of Commerce said on Friday it was planning tariffs on 128 US products accounting for roughly $3bn in imports.
Note that China has avenues for retaliation besides tariffs that it might deploy after the US decides what exactly it is doing, such as withholding shipments of strategically important goods and through unofficial channels, encouraging consumer boycotts of US goods.
Too many pundits are reacting as if this move is a threat to global trade. In a rare show of common sense, a Bloomberg newcaster pointed out:
We're talking about 25% tariffs, we're only talking about $12.5 billion lets's say maximum of tariffs at this stage. I mean, if you compare that to even the notional size of the US-China deficit or the billions of dollars of theft that the President's talking about, it feel pretty small fry.
Now in fact, the maximum could be $15 billion, but the same general point applies.
The upset, of course, is not about the magnitude of this action, but that the US, and more specifically, the fabulously erratic Trump, is seen as threatening to break a system that has worked well for those on the top. However, Trump's earlier domestic populist threats turned out to be eyewash. He also is also nowhere on his wall.
But given that Trump has not finalized his China salvo, the incentives of his opponents are to exaggerate the significance of this move via big scary headlines like Trump Closes Era of Constructive Economic Engagement With China. Huh? Under Obama, the US and China engaged in tit for tat WTO suits. In the first term of the Obama Administration, the Treasury was under a great deal of pressure to certify China as a currency manipulator, to the degree that China would almost always manage to manufacture a month of an apparent trade deficit with the US right before the certification date. And the TPP was clearly meant to isolate China economically and politically. So how was that not a retreat from "engagement"?
One reason for what looks to be an overreaction is that the "free trade" ideology is so deeply ingrained that any attack on it is treated as heresy. And because Trump has expressed contempt for international institutions like NATO, which are also seen as sacrosanct, any out of paradigm move, even if not a big deal in isolation, is seen as a dangerous precedent.
But another reason for the reaction is more arguably more specific even if not as well acknowledged. Liberalized trade has been a good thing for the US…if you are on top of the food chain.
A panel at last fall's Institute for New Economic Thinking discussed at length how the classic Ricardian story of comparative advantage made for a nice, tidy, but trivial mathematical proof, and that the more sophisticated arguments in favor of more open trade were less definitive. From UC Berkeley professor Brad DeLong's presentation:
….leaving political/economic doctrines supporting free trade that are truly justified by more arcane and sophisticated arguments. And I must say these complicated and sophisticated arguments are not just more complicated, but also more debatable and dubious than as an ironclad mathematical demonstration that via free trade, Portugal can sell for the labor of 80 of its men, the goods it would take 90 of its men to make, while England can sell the labor of 100 of its men and return product that it would take 110 to make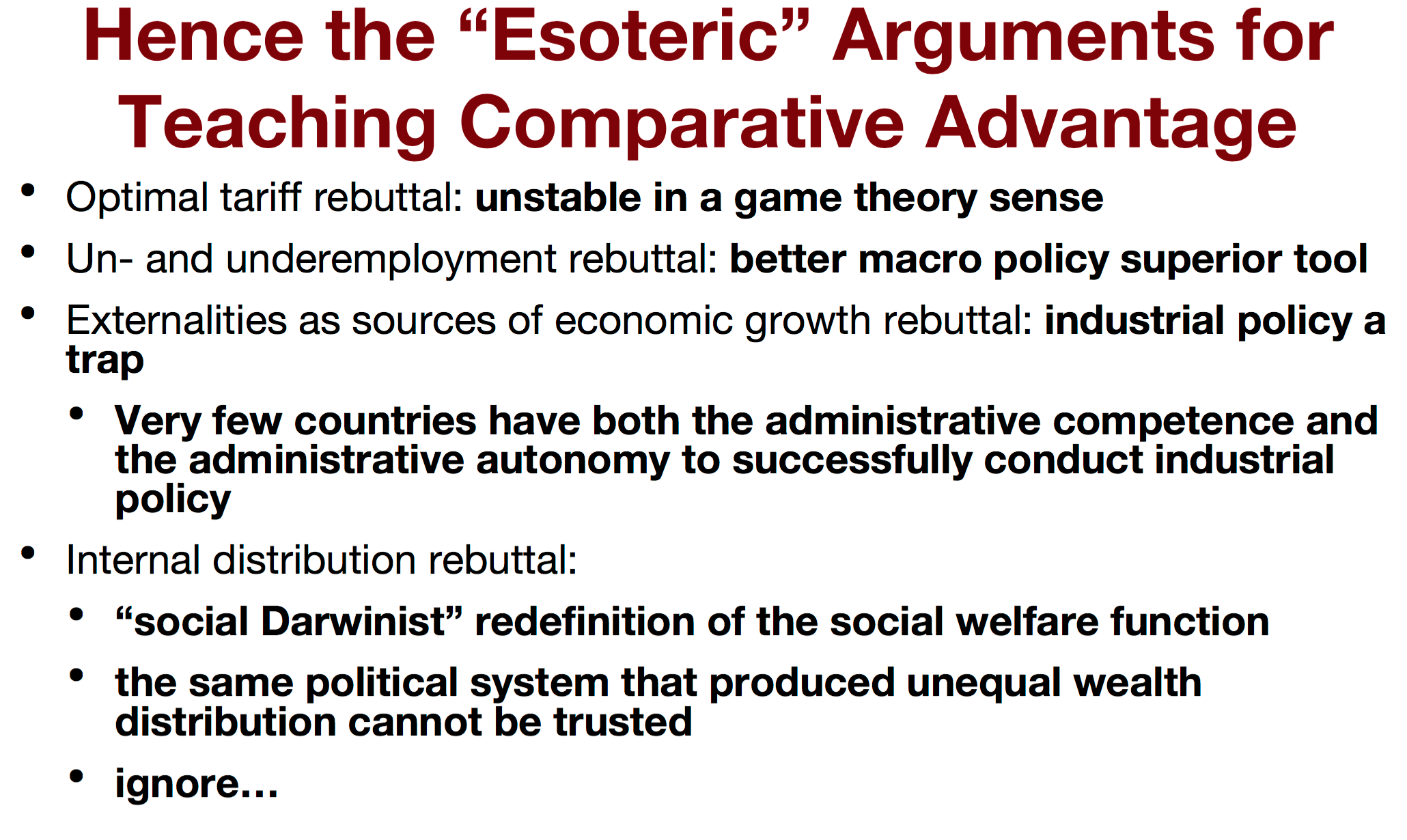 DeLong made clear in his talk that the social Darwinist argument was tantamount to saying that the poor getting poorer and the rich getting richer from trade was a Good Thing. He added:
In that case, we cannot escape the conclusion that comparative advantage is the ideology of a market system that works for the interest of the wealthy. For comparative advantage is the market economy on the international scale, and the market economy is, via the Negishi weights that it assigns to the social welfare function that it actually maximizes, is a collective human device for satisfying the wants of the well off, and the well off are those who control the scarce resources that are useful for producing things for which the rich of the world have a serious jones.
Pia Malaney, Co-Founder and Director of The Center for Innovation, Growth and Society (CIGS) and Senior Economist at the Institute for New Economic Thinking, discussed at length how the typical economist's calculation of trade benefits ignored many social costs: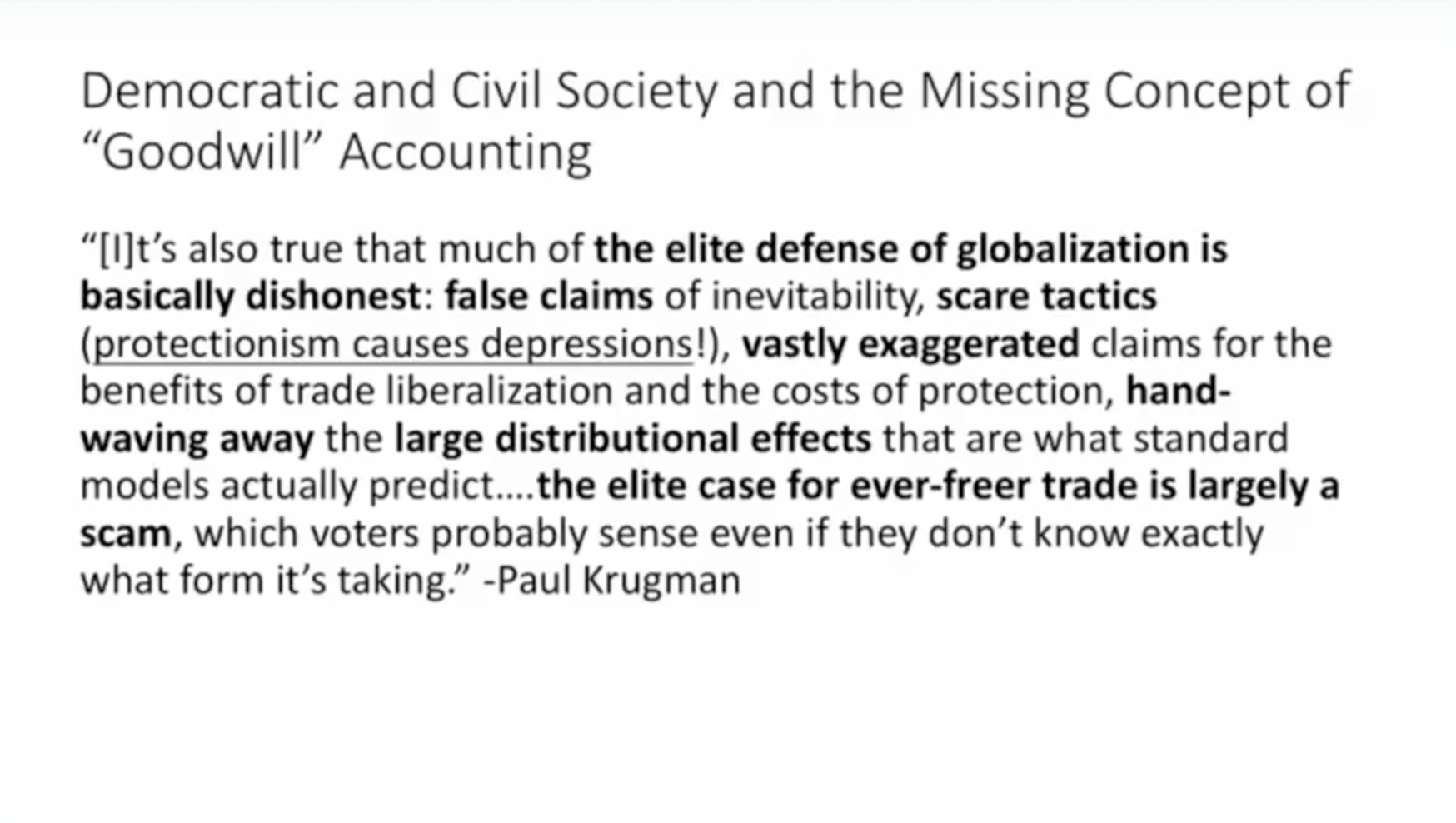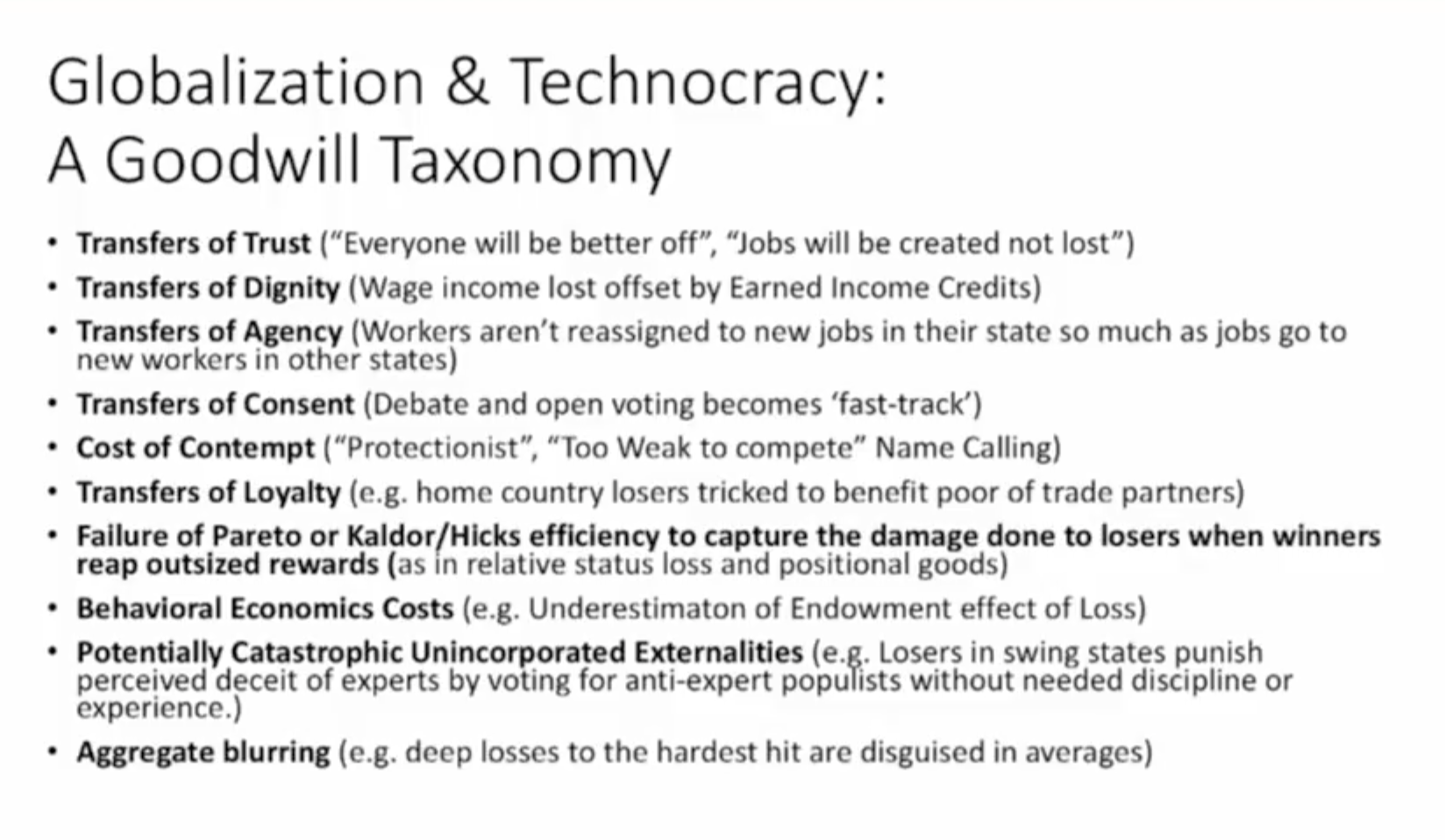 Joe Stiglitz pointed out that trade destruction routinely occurs before job creation, even with good macroeconomics. In addition, labor is not mobile, it isn't costless to move. Workers don't have access to resources to relocate and also lack information. These are inherent rigidities. "In the face of these market failures, trade libearlizaion can be Pareto inferior. Everybody can be worse off."
As Pia Malaney said near the close of the panel, to applause:
The other thing I want to point out is I think there's really this issue of the Star Chamber that economists essentially don't bring other people into the conversation as it really exists in our minds thank you I think what we saw in this 2016 backlash is that people said you guys know something that you're not telling us you know we know all these issues with the free trade model and I think at heart we knew that there was a social Darwinist model underlying our policies and that's just terrifying.
In fact, we've seen the social Darwinist face of the Democrats behind the faux caring mask, with their lack of interest in the opioid crisis, their open contempt for the working class, and their insulting "Let them eat training" solutions to the loss of good, stable jobs. A 2016 Wall Street Journal story describes that these programs are typically counterproductive:
Government efforts for laid-off workers haven't helped much. Washington's formal program to retrain workers hurt by import competition, called Trade Adjustment Assistance, pays for two years of college tuition and extends unemployment-insurance payouts.

A 2012 evaluation ordered by the Labor Department found that program participants, especially those older than 50, generally made less money four years after starting the program than those who didn't sign up. The others went back to work more quickly.
We'll return to this topic, but one point to bear in mind: even though, as we said at the top, the level of official angst over Trump's trade moves is way out in front of events. However, the fact that trade liberalization has in many ways worked out as might be expected (creating job losses among laborer in high-income countries, as the Samuelson-Stolper theorem predicted), ordinary people were and continue to be sold a large bill of goods. But that does not mean that big changes, particularly going aggressively to more autarkical economies, will necessarily help working people in the near or even medium term. As we've discussed elsewhere, in complex systems, you can't map a simple path for how to get to a desired goal because it is impossible for you to know the terrain well enough to do that. Thus the best path is typically incremental and indirect.
In other words, the best way to tackle trade-created problems is not by trying to redesign the international trade architecture but to improve social structures and find ways to create more jobs at home that address domestic needs.