Physical Therapist Gets Komodo Dragon With Arthritis Fired Up Again CBS4 (J-LS)
More than 150 whales stranded on Australian beach DW
In field tests, device harvests water from desert air PhysOrg (Robert M). Anticipated in Dune.
The Disappearance of Books Threatens to Erode Fine Arts Libraries Hyperallergic (J-LS)
Great Pacific Garbage Patch plastic pollution dwarfs previous estimates and is 'growing exponentially abc.net.au (Kevin W)
Chevron's lawyer, speaking for major oil companies, says climate change is real and it's your fault The Verge
World's Largest Animal Study On Cell Tower Radiation Confirms Cancer Link Slashdot
New Cold War
Russia may annul election results at two polling stations: officials Reuters (Kevin W)

Russian Scientists Explain 'Novichok' – High Time For Britain To Come Clean (Updated) Moon of Alabama

Anti-anti-communism Aeon (witters)
Syraqistan
Israel Jails Ahed Tamimi's Mother for Facebook Live Video of Palestinian Teen Slapping Soldier Intercept

How Many Millions of People Have Been Killed in America's Post-9/11 Wars? – Part One: Iraq Consortium News
Big Brother is Watching You Watch
Best Buy Drops Telecom Giant Over National Security Threat SafeHaven. Wowsers. Only spying by the US surveillance state permitted.
Trade Tantrum
China promises to hit US with tariffs as stocks plunge amid fear of trade war Guardian

World's Wealthiest Lose $71 Billion in Market Selloff Bloomberg

From Politico's daily European e-mail:

THE EU … ON TRUMP: In the end, EU leaders at the Council summit in Brussels on Thursday were fed up waiting for Donald Trump's administration to produce implementation provisions, or any legal text at all, on the Union's desperately-awaited exemption from steel tariffs. Instead, they had to go off a few not-particularly-detailed lines from the U.S. president, and they wrapped up their meeting to get a few hours of sleep. Formal conclusions on Trump and trade will land only today, assuming that Washington legalese eventuates at some point before the leaders head home.

German Chancellor Angela Merkel put it this way on her way out: "It's not yet possible to say conclusively how exactly decisions [in the White House] actually have been taken." In case increased "unjustified" tariffs were to kick in against EU exporters despite Trump's (more so, his people's) assurances, the EU would respond with adequate counter-measures. And while U.K. Prime Minister Theresa May was originally set to go home Thursday, to ensure the union is able to answer Trump's tariffs as a unit, she will stick around today.

All things considered, talking the U.S. administration into exempting the EU from steep tariffs that would have otherwise kicked in today was a major coup for everyone involved; chief among them, EU Trade Commissioner Cecilia Malmström. Now comes the hard part: Trump will want something in return — the question is what.

These Are the Farm Commodities China May Target in Trade Dispute Bloomberg
Trump Transition
Winners and losers from the $1.3T omnibus The Hill
US House of Representatives approves record military budget WSWS
Deplorables II: The Dismal Dems in Stormy Times Counterpunch
The Clintons have 'at least a one-way open marriage', pollster says Daily Mail. J-LS:
Worth a look not for the headline claims about their open marriage, but for Mark Penn's acknowledgment that it's illogical to blame the Russians for HRC's loss– but as he admits, try telling that to her elite supporters– and also for the Mail's sidebar: EVERYONE AND EVERYTHING HILLARY CLINTON HAS BLAMED FOR LOSING THE ELECTION – 42 AND COUNTING.
Facebook Fracas
Police State Watch
Justine Damond shooting suspect given bail on condition of giving up passport Guardian. Kevin W: " I thought that this story was over. Looks like it is just beginning."

Sacramento police shoot and kill unarmed man in his backyard WSWS
Uber's Killer Car
Two weeks ago, The Drive published "The Human Driving Manifesto," in which I claimed there was absolutely no evidence self-driving cars were safer than humans—at least not yet—and that we have a moral obligation to improve human driving safety even regardless…

Oh, did I mentioned that the driver had a history of traffic violations dating back to 1998? And that Uber claimed she passed all background checks? Uber, you've got a minimum standard problem….

Did the Uber brake? It doesn't appear that it did. If not, why not?

The Volvo XC90 has Automatic Emergency Braking (AEB), which — under optimal conditions — would be triggered by some combination of forward radar and camera. I've tested it, and it's pretty good. It would appear to have been deactivated so as to allow for unimpeded testing of Uber's self-driving suite. If not, why didn't it work? If so, what measures did Uber take to ensure braking in the event the self-driving system being tested failed?
Toys R Us founder Charles Lazarus dies at 94 as his company folds BBC
Elon Musk Is the Henry Ford of His Age. That's Bad. Bloomberg
Bernanke, Geithner & Paulson on the 2008 financial crisis Barry Ritholtz. If they believe what they say, the need to be a lot noisier.
What Are Zombie Retail Stores Really Worth: Answers Emerge Wolf Richter
THE BATTLE FOR PARADISE: Puerto Ricans and Ultrarich "Puertopians" Are Locked in a Pitched Struggle Over How to Remake the Island Intercept. Glenn F: " Naomi Klein, for the first time since Hurricane Maria, puts the pieces together and synthesizes what is happening on the ground there in a very coherent manner."
Class Warfare
What If Off-Duty Employees Unplugged?x Wall Street Journal

South Korea to shut off computers to stop people working late BBC

Gender pay gap is widest when women hit 50, reveals new research Independent

Scott Walker Is Making It Harder to Receive Welfare in Wisconsin. Will This Become a Nationwide Blueprint? Truthout

The Hudson Report: Ep 1 Michael Hudson (UserFriendly). "Left Out, a podcast produced by Michael Palmieri, Dante Dallavalle, and Paul Sliker, creates in-depth conversations with the most interesting political thinkers, heterodox economists, and organizers on the Left."

Replaced by robots: 8 jobs that could be hit hard by the A.I. revolution Digital Trends (David L)
Antidote du jour. Crittermom: "In response to a request from a reader for more reptiles, I offer this Horned Lizard, most commonly called a 'Horny Toad'. Its expression mirrors how I've felt these past couple weeks while sick in bed."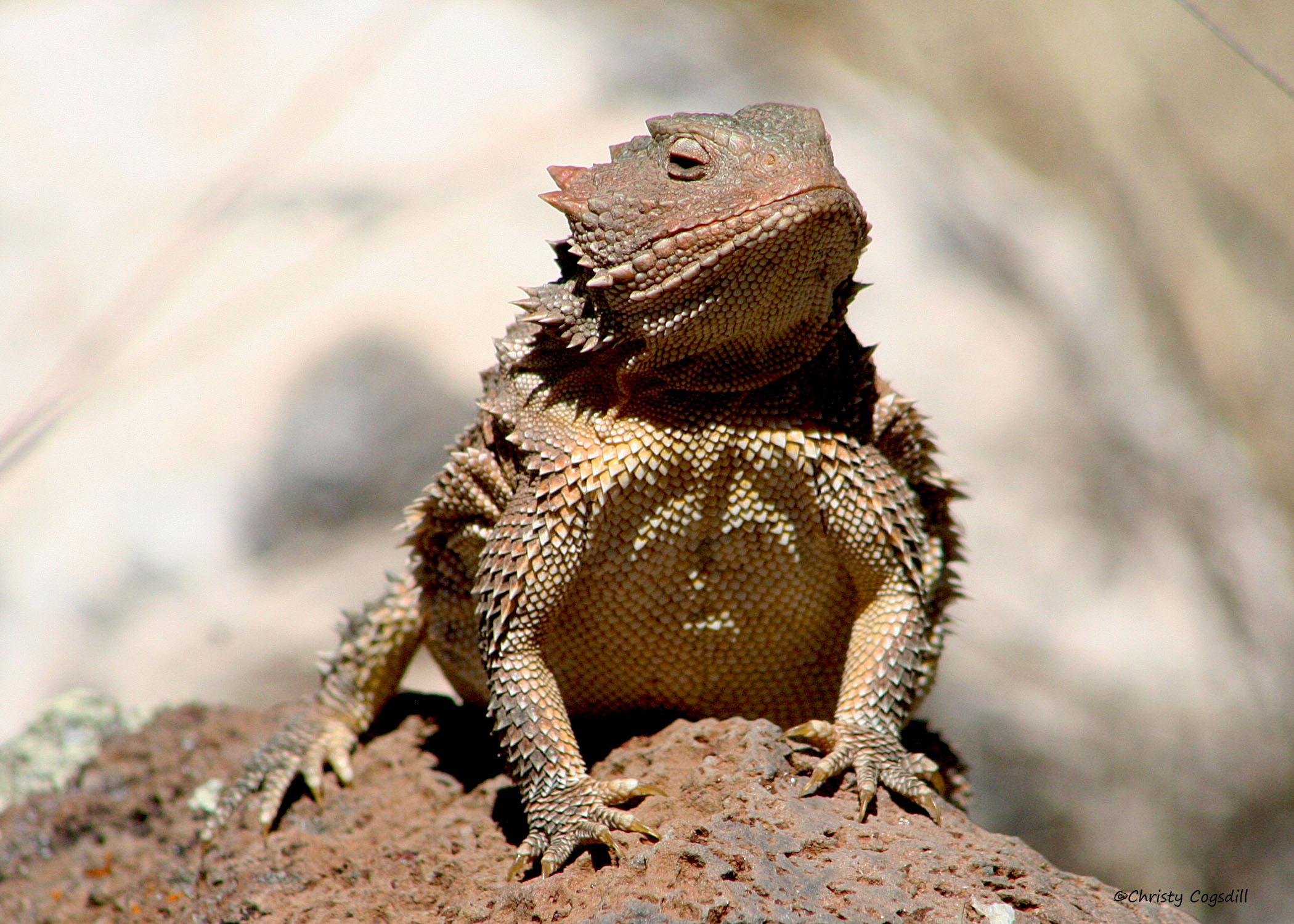 And a sort of anti-antidote from Richard Smith. Click through to the comments on the tweet for a better idea of what is happening:
A group of bees avenge their friend who got killed by a hornet pic.twitter.com/8C1YlQ9OgG

— Nature is Scary (@TheScaryNature) March 20, 2018
See yesterday's Links and Antidote du Jour here